Game Guides
Ni no Kuni: Cross Worlds – In-Depth Guide for Classes and their Skills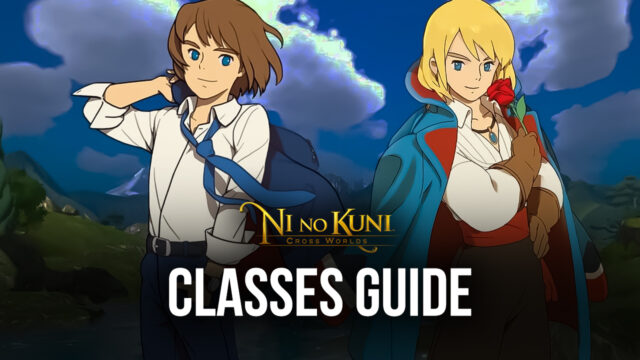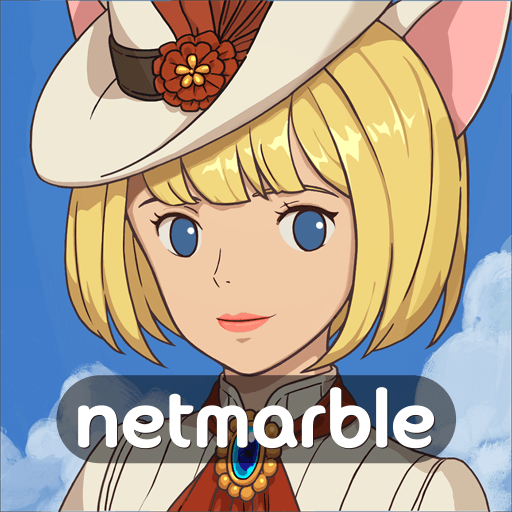 The newest game in the Ni no Kuni series is Ni no Kuni: Cross Worlds, the MMORPG title developed by Level-5 and published by Netmarble jointly. The game is an open-world MMO-Esque stylized RPG with the Ni no Kuni video game franchise at the heart of it. Players can experience breath-taking graphics rendered on the Unreal Engine 4 which produces some amazing animations and vivid color patterns. The game is launched as a free-to-play title on Google Play Store and iOS App Store.
Ni no Kuni: Cross Worlds is a game that takes on the concept of the Isekai theme (meaning Otherworld in Japanese) where players are transported to a virtual world with the help of a game called Soul Divers, quite ironically. The game also tells that their souls are captured inside this virtual world and are unable to get out. The gameplay for Ni no Kuni: Cross Worlds is of a classic hack 'n' style where the players can control their characters freely and use their available skills either by dragging and dropping or simply tapping on them to auto-target the enemies. Players can experience a variety of different strategic combinations of skills which are available to be customized according to the class of the player's character that they have chosen.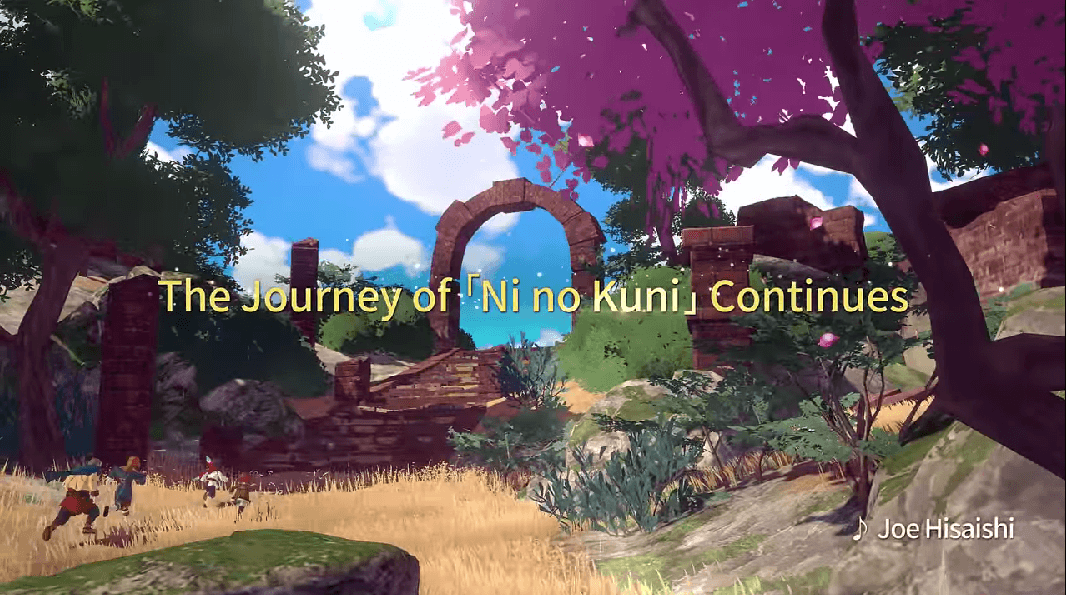 Talking of customization, the characters in Ni no Kuni: Cross Worlds are completely customizable and can be built from scratch according to the player's wishes. Monsters in Ni no Kuni: Cross Worlds are called Familiars which are like pets/mounts in other similar MMORPG titles. Players can collect these Familiars which come in different sizes and rarities, depending on the region and terrain of the map they are currently in. Familiars are those pets that you make along the way of your journey and they can even help you in battles. The game also features city-building aspects of sorts with each player having their own land or farm called Familiar's Forest where they can choose to cultivate different crops, decorate with flowers, furniture, artwork, plant trees, construct houses, etc.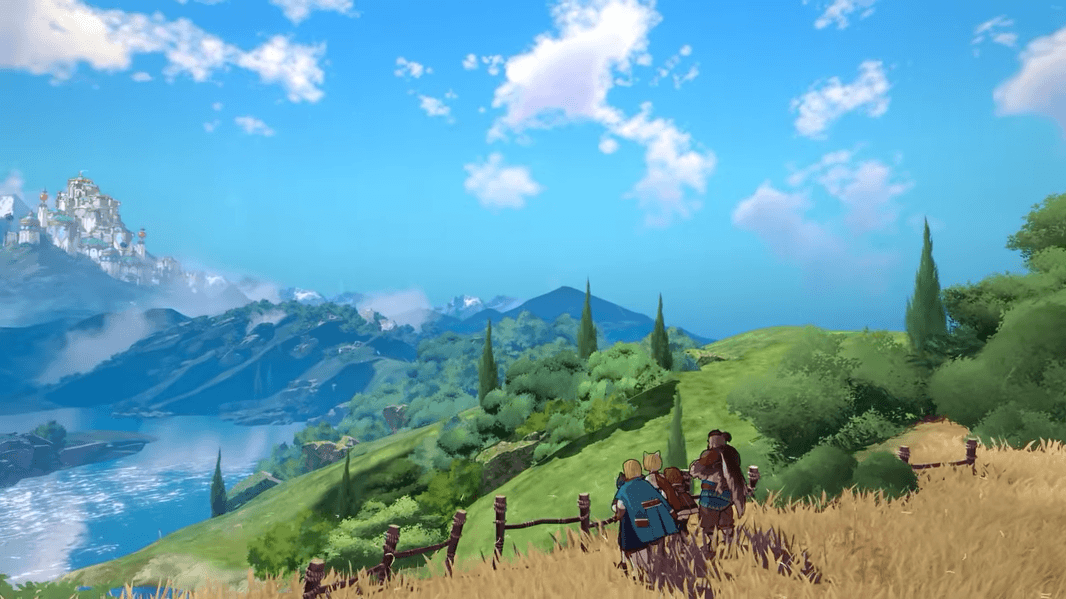 All the classes are gender locked which might pose a problem with some players. Ni no Kuni: Cross Worlds offers 5 different classes of characters to choose and play from and this feature is much reminiscent of MMORPG titles. The 5 different classes available to be played and chosen are:
Engineer

– Genius Gunner

Destroyer

– Hammer-Swinging Bloke

Rogue

– Mischievous Archer

Swordsman –

A Melee Fighter who's good with swords

Witch –

A mischievous witch who deals magical damage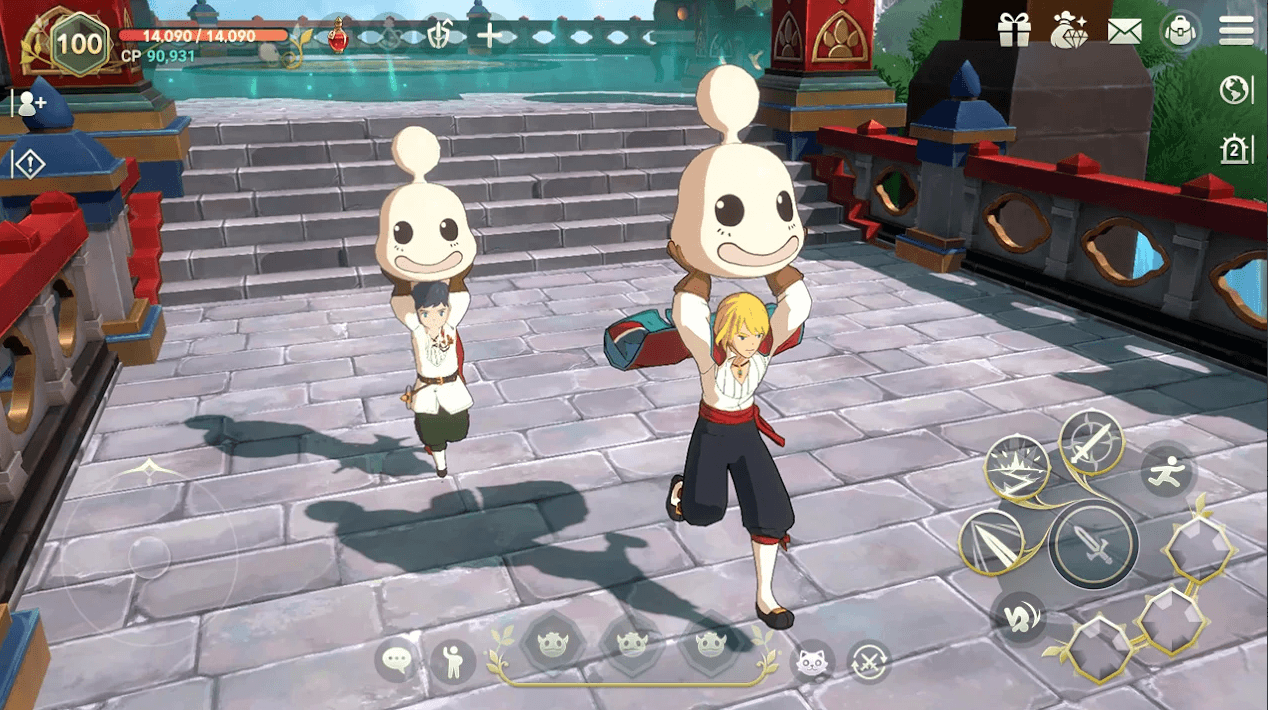 Each character that you create in Ni no Kuni: Cross Worlds has 6 different abilities and they are segregated into different categories according to the type of ability it is. The segregation of abilities usually follows this pattern:
Core Abilities

– The universal abilities which players can freely choose from and are not class-specific.

Class Abilities

– The class-specific abilities are limited to the type of class that the player has chosen.

Passive Abilities

– The passive abilities are limited to the type of class that the player has chosen.
Swordsman
Swordsman is the melee character class in Ni no Kuni: Cross Worlds which specializes in dealing damage, sustaining damage, providing buffs, and even tanking damage if they are built that way. In short, they are able to play the jack of all trades but master of none. Their abilities are usually melee or short-ranged since they make use of the Sword weapon to fight the enemies. They are preferred for new players who do not have much idea about MMORPGs as they can easily switch between offense and defense.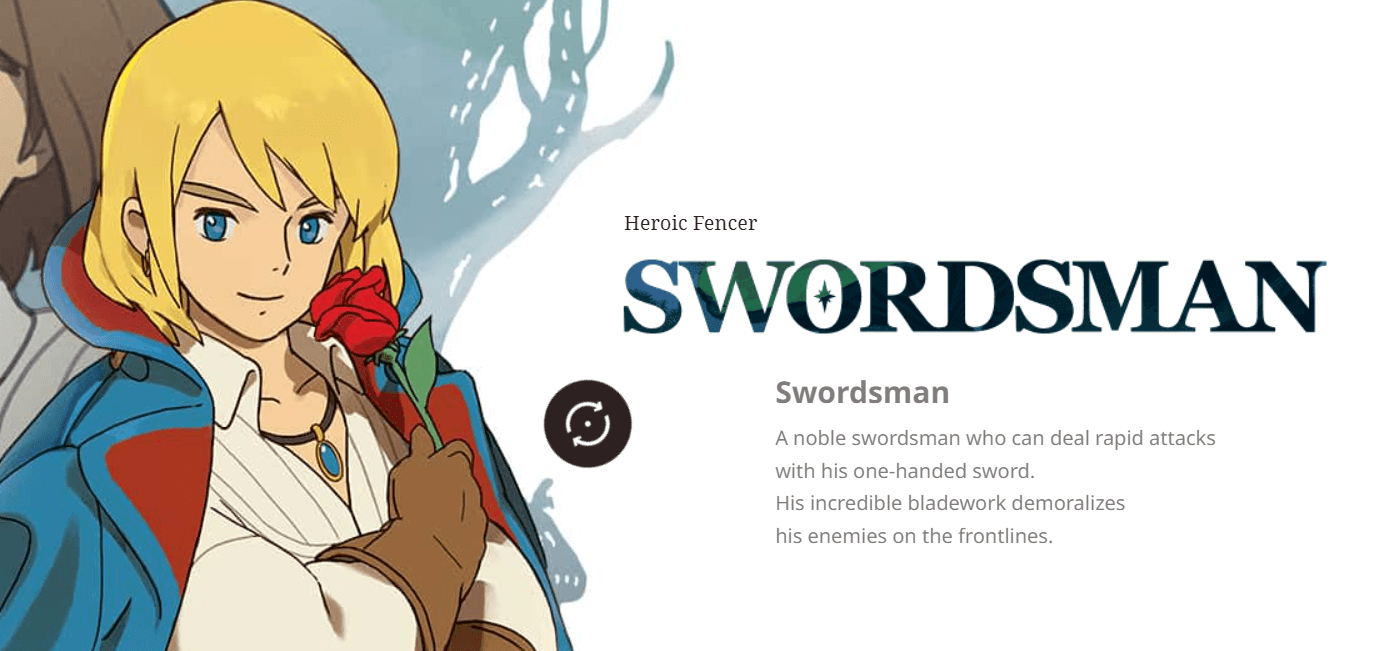 Swordsman Class Core Abilities
Flash

– Unleash a flurry of attacks and inflict Movement Slowing on enemies around you! Deals 232% + 124 damage, and slows enemy movement by 20% for 3 seconds!

Flying Slash

– A jumping attack swinging down from the air dealing damage and slowing enemies! Deals 208% + 114 damage and slows enemy movement by 15% for 3 seconds!

Spinning Swords

– The Swordsman spins around and forwards and slashes all enemies in his path! Deals 164% +89 damage and knocks enemies down for 1.5 seconds!

Magical Sword Cut (Ultimate Ability)

– A giant magical sword cut against enemies dealing massive damage! Deals 456% Damage and 100% increased damage against monsters!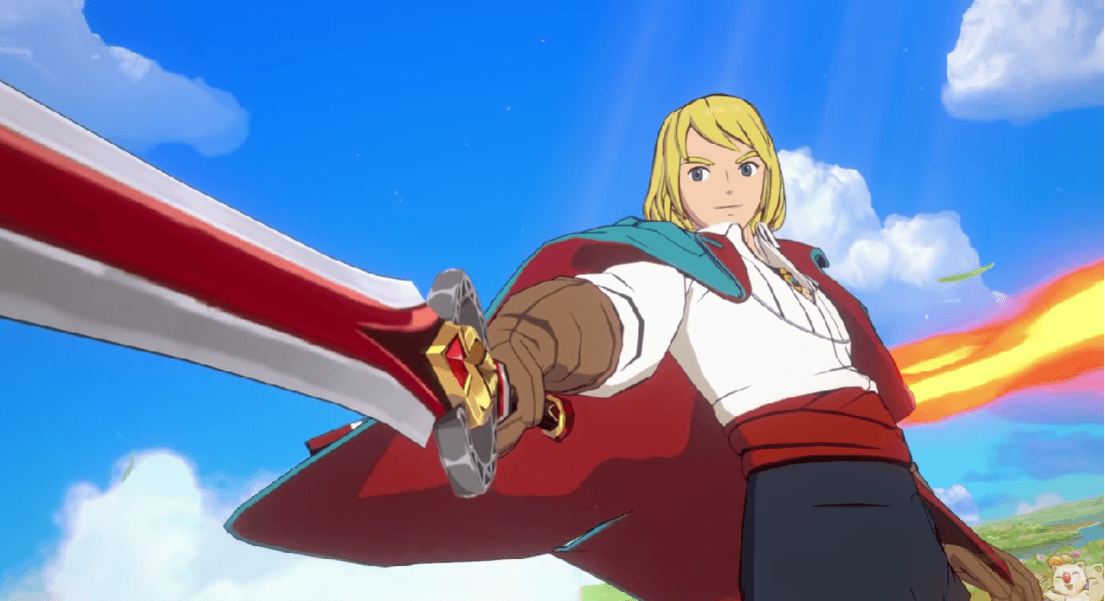 Swordsman Class Passive Abilities
Defense Call

– Normal attacks have a chance to boost party defense!

Last Stand

– Boost own attack and reduce damage taken when falling under 30% Health!

Fortress

– Boosts Defense for a short period of time, can stack up to 6 times!

Death Seal

– Normal attacks boost their own attack and can inflict a stun every 30 seconds!

Blind Attack

– Boosts damage against Blind Enemies!
Rogue
Rogues are a unique class in Ni no Kuni: Cross Worlds which are usually medium to long-ranged characters and provide a ton of party-wide buffs to all allies. They are classified as pseudo-DPS type class where they can deal a ton of damage while also being annoying as supporters/disablers by providing team-wide damage buffs and crowd control skills that can stop the enemies in their tracks. Rogues are like Archers/Marksmen in other MMORPG titles but with a unique proposition of doubling down as supporters as well. They are extremely mobile on the battlefield as well.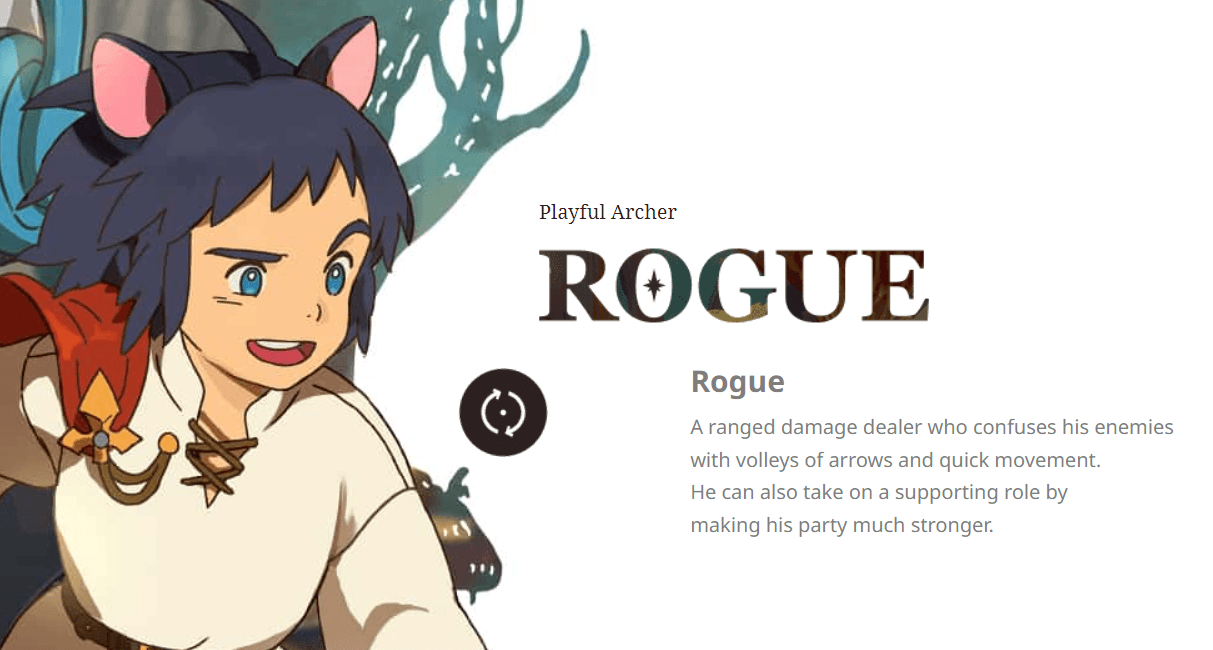 Rogue Class Core Abilities
Rain of Arrows

– Rain down arrows on your enemies! Each attack deals 15% +187 Damage. It also slows enemy movement by 11%

Multi-Shot

– Shoot forward in a cone, pushing enemies away! Deals 170% Damage and jumps back with the Rogue!

Evasion Shot

– Shoot forward in a line, while dodging back! Deals 180% Damage in a cone in front of the rogue and push everyone away! Enemies caught are also slowed by 11% for 3 seconds!

Spirit Arrow (Ultimate Ability)

– Summon a great spirit shooting a powerful arrow at your enemies. Deal 460% damage to all enemies in front. Monsters gain 100% increased damage.
Rogue Class Passive Abilities
Quick Move

– Every 5 attacks increase your attack and movement speed for 5 seconds!

Burst Charge

– Increases your party's Ultimate Gauge gathering!

Barrier Breaker

– Increase damage against targets with a barrier or slow effect!

Enmity

– When attacking, boost damage for 5 seconds, but increase damage taken!

Death Hunter

– When targeted by enemies, boost your damage! Stacks up to 7 times!
Destroyer
Destroyers are the classic Barbarian-type class in Ni no Kuni: Cross Worlds where they can deal damage while also taking an exceptional amount of damage to protect allies and weaker classes. Their presence is of great importance in team battles as they can absorb a lot of damage as a Tank. They can do this by increasing their Defense and provoking nearby enemies which leads them to focus their attacks on the Destroyer. They are also quite resistant to Crowd control effects and can move freely in between AOE targeted attacks.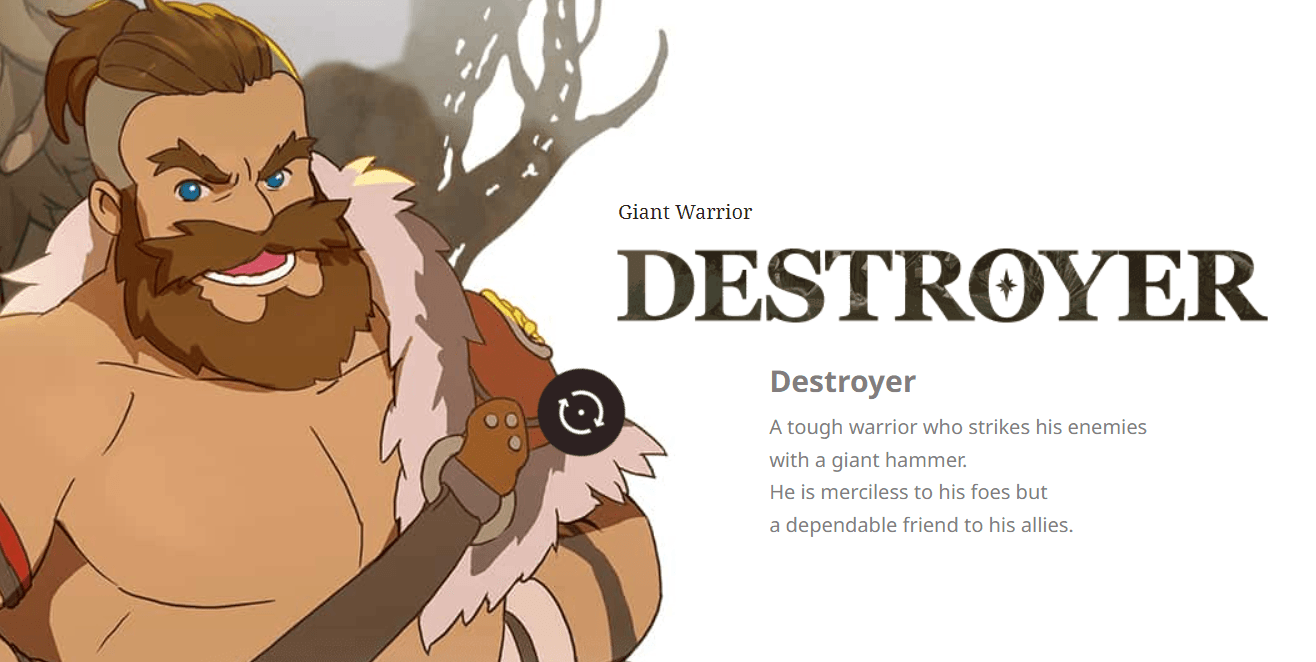 Destroyer Class Core Abilities
Full Swing

– Spin to Win! Each spin deals 32% + 17 Damage.

Brutal Strike

– Swing your hammer twice, dealing damage! Knockdown for 1.5 seconds. 1st attack dealt 76% damage and 2nd attack dealt 114% damage!

Ground Slam

– Leap into the air, slamming down on enemies! Jump forward dealing 180% + 97 Damage and slow down enemies by 20% for 3 seconds!

Hammer of Fury (Ultimate Ability)

– Summon a giant hammer to crush down your foes! Deals 469% damage to all enemies in an AOE area. Deals 100% more damage against monsters.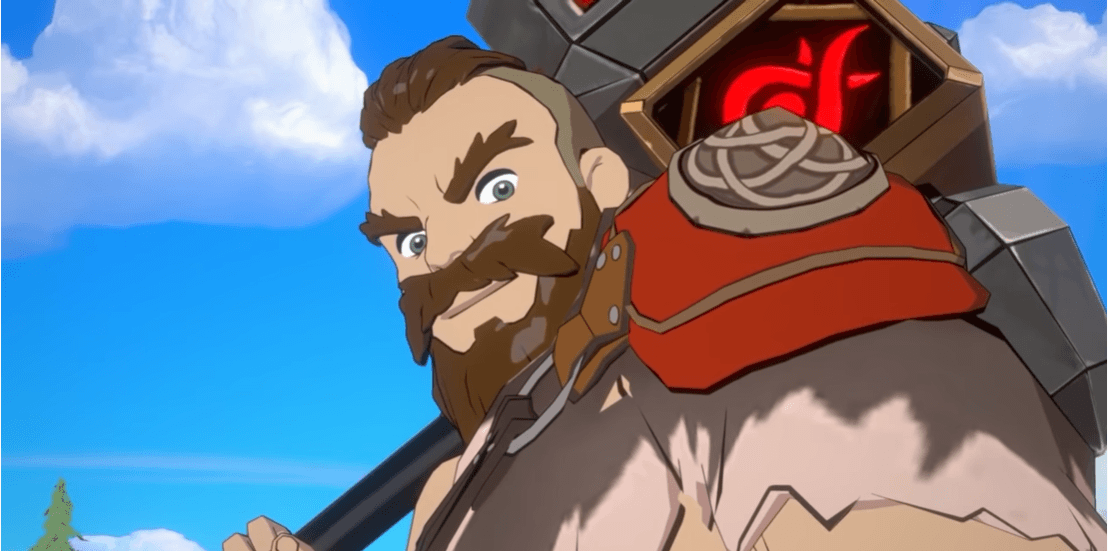 Destroyer Class Passive Abilities
Just Guard

– Chance to reduce all damage for 7 seconds when taking hits!

Indomitable Soul

– Heals you when falling under 20% Health!

Oath of Revenge

– Boost Defense, Attack Speed, and Movement speed on taking large damage!

Counter Slow

– On taking damage, chance to reduce enemy attack speed and movement speed!

Stand Firm

– Each time you take damage, there is a chance the attack cannot be more than 50% of your health!
Engineer
Engineers are the ranged characters in Ni no Kuni: Cross Worlds which specialize in healing allies and providing them with a variety of buffs. They are one of the key parts of winning high-level end-game battles as their healing efficacy is nothing to be laughed at. They do this with the help of skills that boost their healing abilities as well as grant healing efficacy to their familiars. They can also change the direction of the battles with the attack buffs they provide to allies which can turn the tide of the battle. Some skills can also revive dead allies and only core Engineers can do this. They are not recommended for beginners as they require great positioning.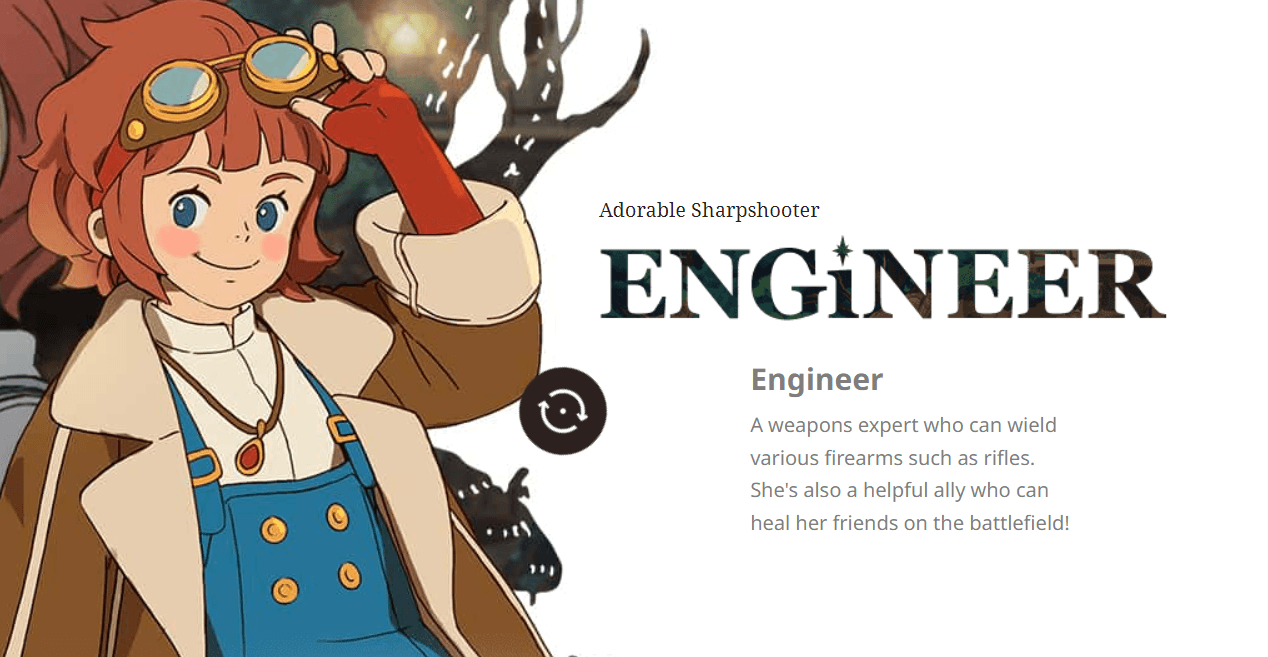 Engineer Class Core Abilities
Burst Coil

– Call down artillery shots from the air! Deal 150% + 84 Damage and 1-second stun in a radius!

Elemental Blast

– Unleash your weapon's element in a line of damage! Deal 212% +16 Damage and slow down enemy movement by 15% for 2 seconds!

Explosive Bullet

– Fire a powerful Bullet in a line! Shoot an explosive bullet creating a circle AoE Explosion of 162% + 87 damage!

Artillery Strike (Ultimate Ability)

– Summon 2 cannons that deal damage to enemies in front of you. Deals 447% damage in a line in front of the engineer. Monsters take 100% increased damage.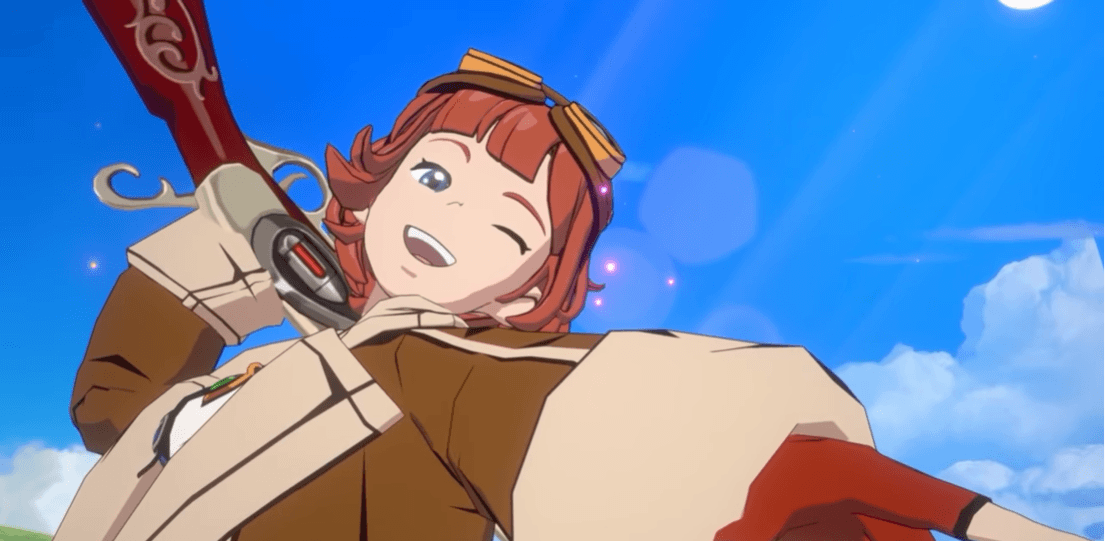 Engineer Class Passive Abilities
Protection of Light

– When attacked, the chance to gain a barrier Barrier boosts the attack when it ends!

Pure Medic

– Boosts your healing Powers, including your familiars!

Conversion

– Healing over maximum HP, will Convert your healing into a barrier!

Fast Trick

– When attacking, chance to reduce your cooldowns by 1 second every 15 seconds!

Barrier Mastery

– When you have a barrier, gain resistance against crowd control!
Witch
Witches are the medium-long ranged class of characters in Ni no Kuni: Cross Worlds that specialize in dealing a ton of damage and are the best Attacker/DPS in the game. Witches have some of the highest damage dealing multipliers and all of the abilities are either AOE targeted skills or self-boosting skills. Witches can also absorb HP to recover their Health. They are also able to buff the firepower of all allies in team battles and are the core DPS of any team. They are recommended for beginners who just want to deal with a whole lot of damage but the catch with them is that they are very weak in terms of receiving damage.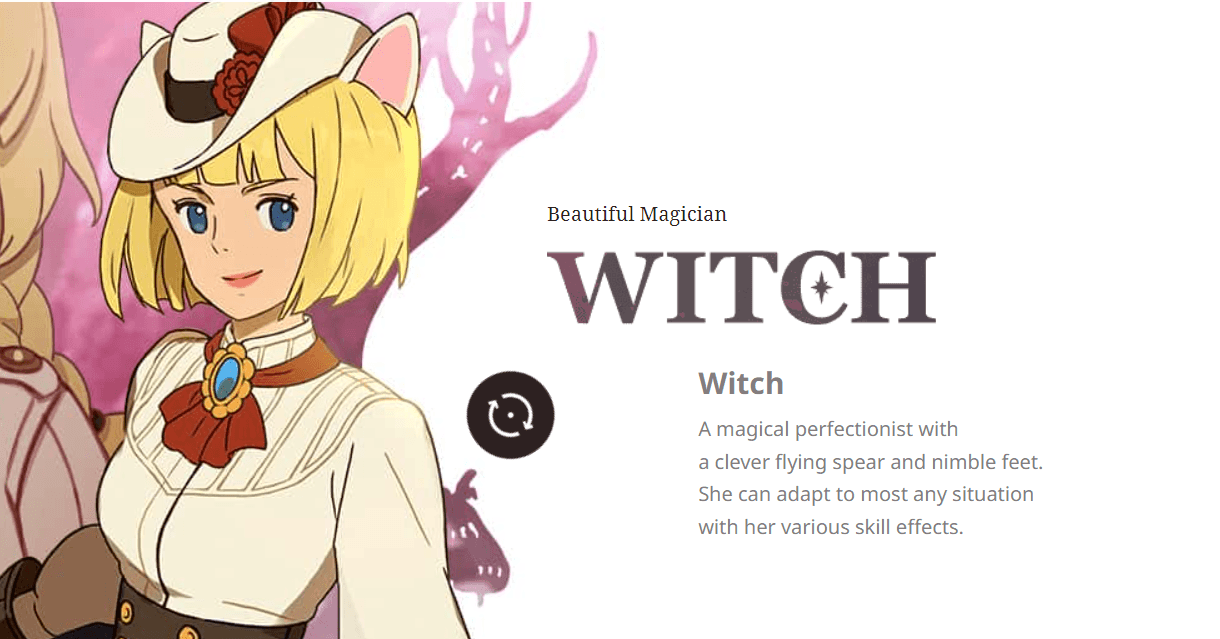 Witch Class Core Abilities
Piercing Storm

– Thrust your spear towards the enemy, knocking them down! Deal 180% +96 Damage and knockdown for 1.5 seconds!

Dancing Spear

– Leap into the air, to unleash a spinning attack while supporting yourself! Deal 246% +132 Damage while giving a 10% protection shield for the duration of the attack.

Storm Spear

– Spin your spear around dealing damage and slowing enemies! Deal 172% +92 Damage and slow enemy movement by 20% for 3 seconds!

Rain of Spears (Ultimate Ability)

– Rain down spears from the sky to destroy your enemies! Each spear deals 80% damage and Monsters takes 100% more damage.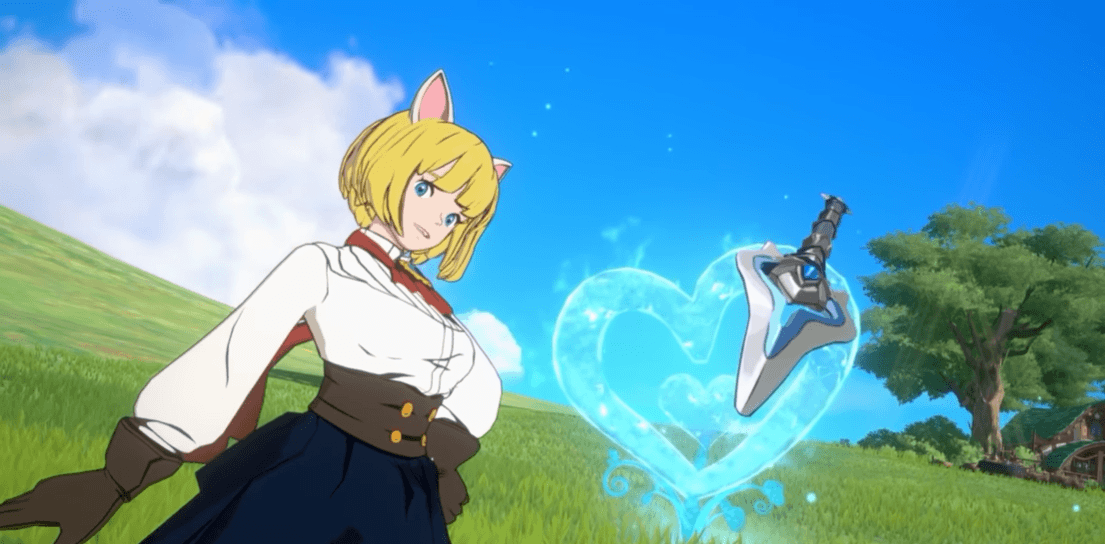 Witch Class Passive Abilities
Rapid Stream

– Normal attacks have a chance to boost party attack speed!

Armor Crash

– Normal attacks reduce enemy defenses for 6 seconds. It stacks for 5 times!

Bright Mirror

– Every 8 Basic attacks, increase damage and guarantee a critical hit!

Final Illusion

– Boosts defense under 20% HP for a duration of time!

Emergency Maneuvers

– Chance to boost evasion on taking damage! Can stack up to 5 times!
Ni no Kuni: Cross Worlds boasts the next generation graphics and vivid animations using the Unreal 4 Engine. With such high graphical requirements and the grindy nature of the MMORPG genre, playing Ni no Kuni: Cross Worlds on a bigger screen of your PC with your keyboard and mouse via BlueStacks is highly recommended!