Game Guides
Outerplane – Valentine Character Guide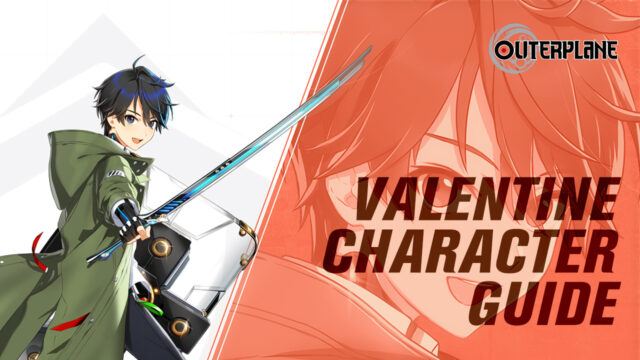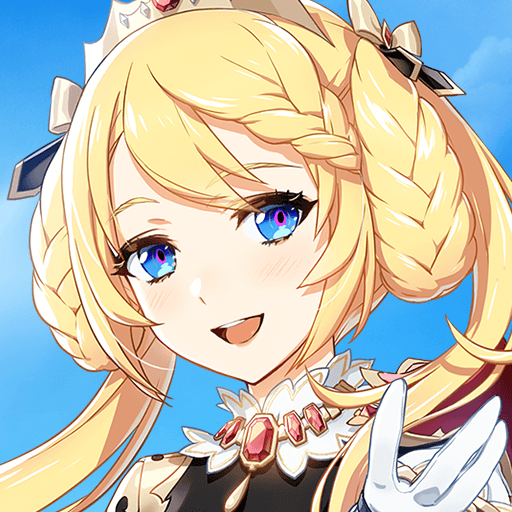 Outerplane, the turn-based RPG by Smilegate launched recently for 3 SEA countries, namely Singapore, Malaysia, and Philippines. The game is said to be a splitting image of another one of Smilegate's projects Epic Seven, although completely in 3D and endowed with new assets. Drawing similarilities from multiple turn-based games, Outerplane has had an amazing launch. It swiftly rose to the number 1 spot on the Play Store rankings in Singapore under just 2 days! Smilegate have assured that the game will be launched globally once minor issues are ironed out. No exact release date is yet given. Outerplane is currently available as a free-to-play game on both the Google Play Store and iOS App Store with in-game microtransactions enabled.
Table of Contents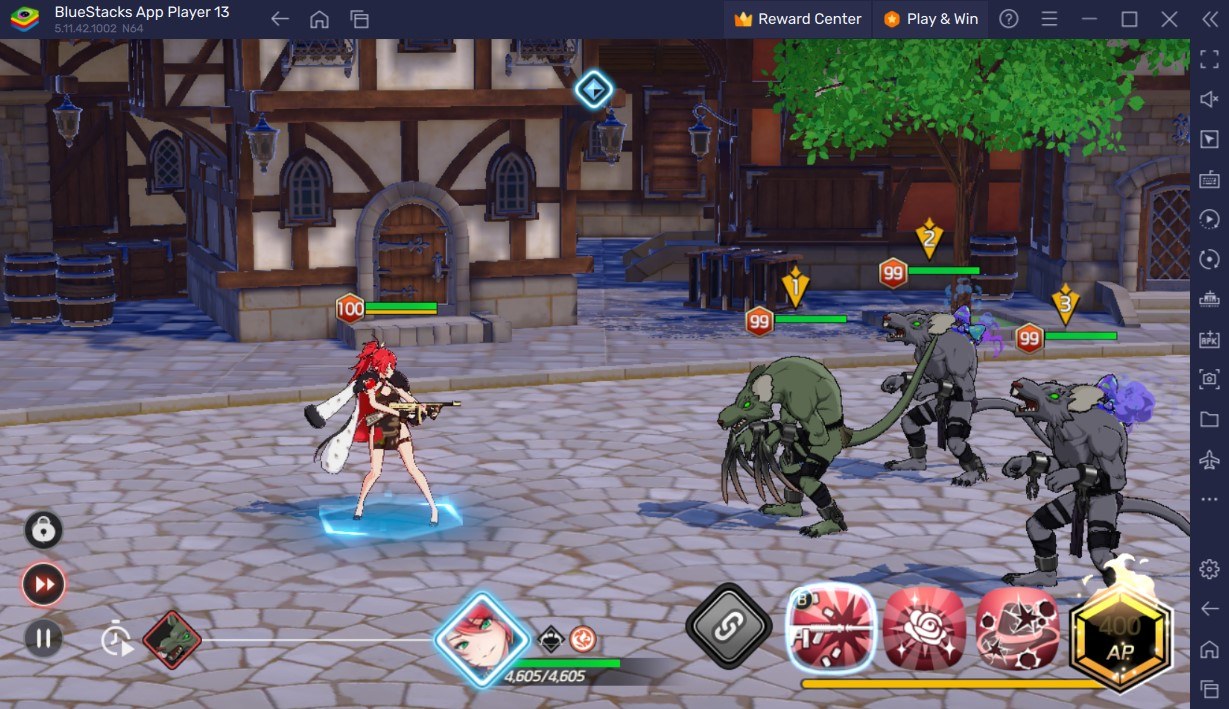 In this character guide for Valentine, we will be listing all of her active and passive abilities, Valentine's Transcendence bonuses, Gear recommendations, and teams/synergies.
Valentine Active and Passive Skills
Valentine is a 3-Star Fire elemental hero that is classified as a Ranger in-game. Valentine is notably one of the first characters any player will hear of if they search the best hero in Outerplane as of now. This is due to her superior utility as a damage dealer and buffer. She is best suited with many DPS type heroes as she brings some crucial buffs such as Increased Critical Hit Rate and Increased Critical Hit Damage. Furthermore, her damage multipliers are above average and she can decrease the Priority of all enemies while increasing priority of allies. She is used in both PvE and PvP game modes, being extensively beneficial in majority of the content. Players can recruit Valentine only through getting lucky on the Normal Recruit Banner. It's speculated that she might have a rate-up banner for her in the future, but nothing is yet confirmed.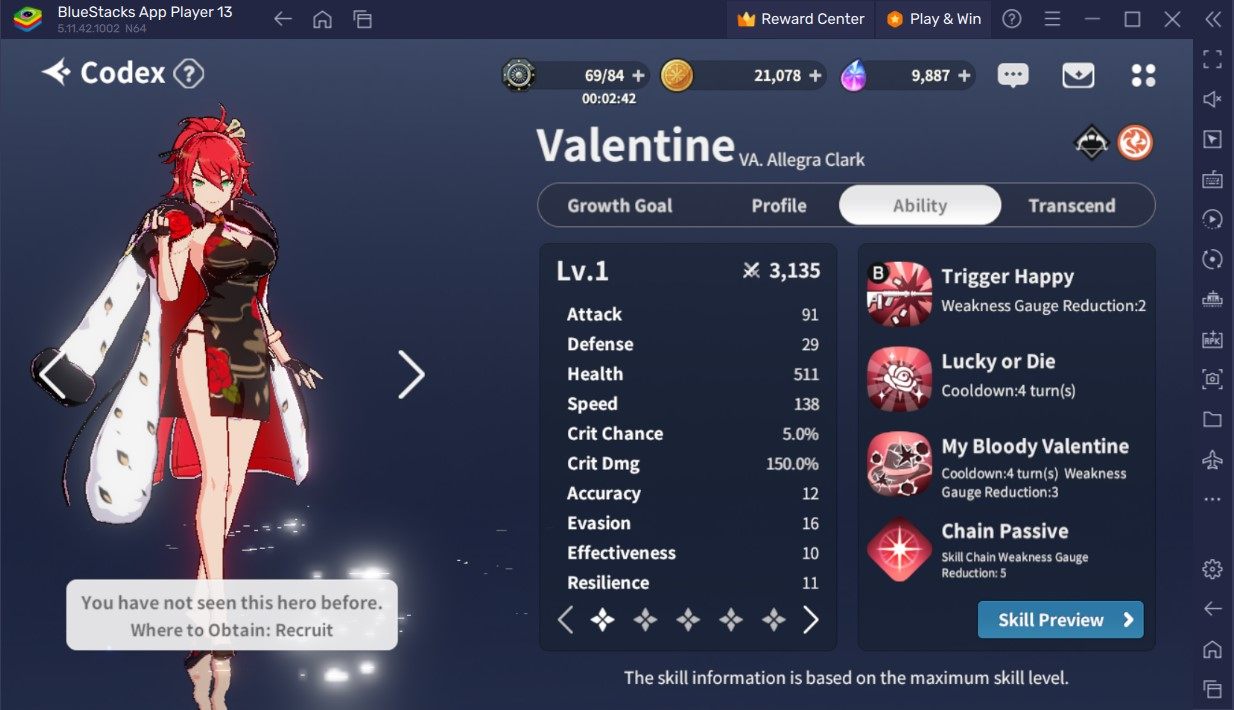 Here is a list of Valentine's skills: –
Trigger Happy (Basic Ability)
Attacks an enemy and increases the Priority of the with the highest Attack by 20%.
Burst Skills
Level 1: Recovers all allies priority. Enhances recovery amount by 10%.
Level 2: Activates dual attack with 1 ally
Level 3: Activates dual attack with 2 allies
Lucky or Die (Active Ability)
Increases all allies Critical Hit Chance and Critical Damage for 3 turns. Gain an extra turn after using this skill.
My Bloody Valentine (Ultimate Ability)
Attacks all enemies and reduces the target's Priority by 25%.
Chain Finish Effect: After attacking, has a 100% chance to increase all allies Critical Hit Damage for 2 turns.
Dual Attack Effect: After attacking, increases the priority of the ally with the highest Attack by 20%.
Valentine Transcendence Effects
Transcendence in Outerplane is one of those features that allows heroes to get stronger passively. They are given fixed bonus stats along with some special passives that help all allies. Sadly, they can be quite tough to obtain as they require a lot of fragments of the particular hero in order to transcend them. In total, each transcendence cost for hero fragments increases as you move up. Every hero can be transcended up to 6-Stars. Each phase of transcendence is marked by an increase in star value of the hero. Being a fragment collector, free-to-play players might struggle to increase the transcendence of heroes at the early game.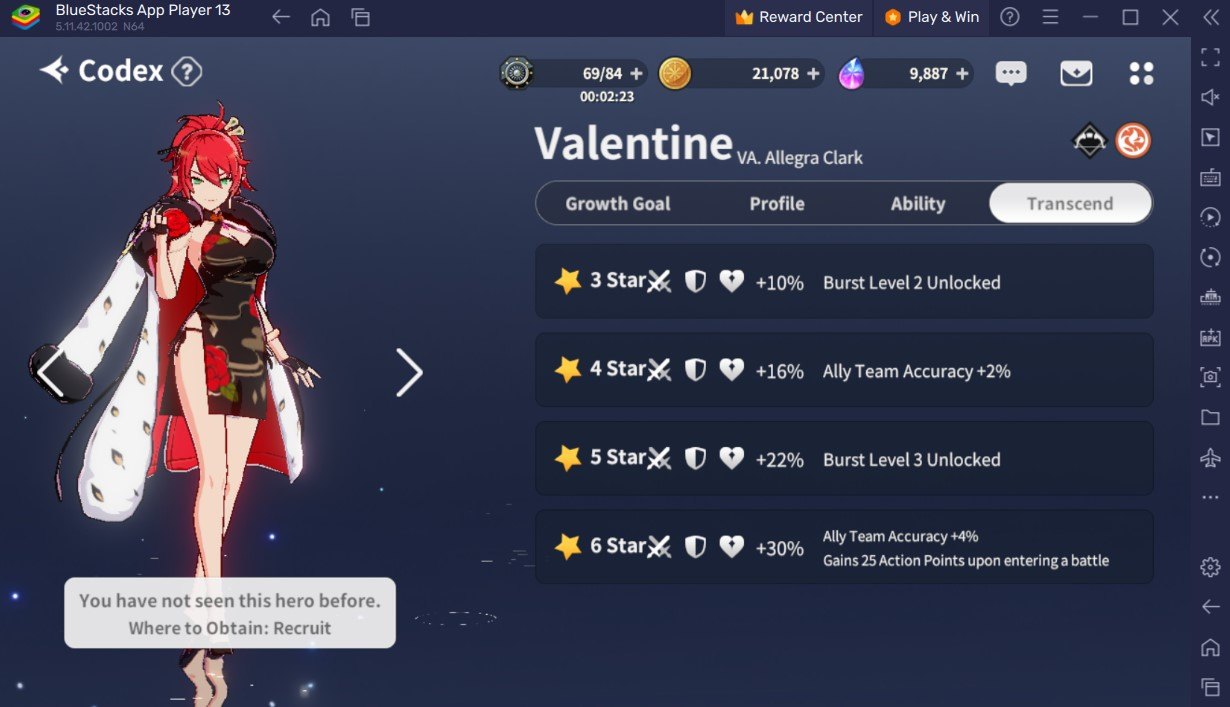 Here are the different Transcendence bonuses for Valentine:
3-Star Transcendence: Burst Level 2 Unlocked
Stats upgraded by HP + 10%, Defense + 10%, and Attack + 10%.
4-Star Transcendence: Ally Team Accuracy + 2%
Stats upgraded by HP + 16%, Defense + 16%, and Attack + 16%.
5-Star Transcendence: Burst Level 3 Unlocked
Stats upgraded by HP + 22%, Defense + 22%, and Attack + 22%.
6-Star Transcendence: Ally Team Accuracy + 4%; Gains 25 Action Points upon entering a battle
Stats upgraded by HP + 30%, Defense + 30%, and Attack + 30%.
Valentine Gear Recommendations
Valentine needs to be geared a bit differently from your regular DPS type heroes. This is due to the fact that she needs to go first in order to provide the crucial buffs for other members of your team. Also, it helps when she goes first as she can setup for other allies with her ultimate ability that reduces the priority of all enemies. Hence, a bit of Speed is necessary to make the best use of her. A little Accuracy also helps as she can decrease priority of all enemies. Keep in mind that we do not include stats as they are fixed to the Gears. Let's take a look at the gear recommendations for Valentine: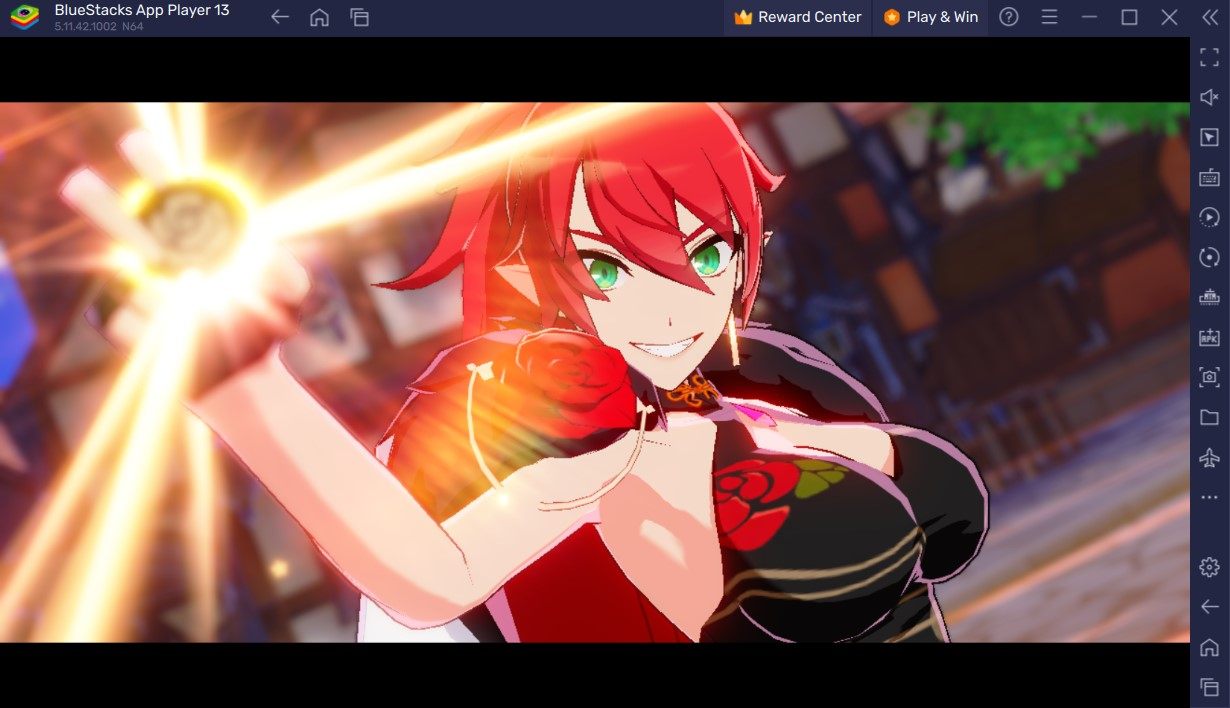 Carotta Play Set (2-Set) – Increases AD by 32
Carotta Play Set (3-Set) – Increases Damage dealt by basic attacks by 20%.
Mikey Play Set (2-Set) – Unyielding is increased by 10%
Mikey Play Set (3-Set) – Deals 25% more P.DMG to targets whose HP falls below 50%. If the characters is Umbra, then deals 40% more.
Valentine Team Building and Synergies
We have already established so far that Valentine is one of the best support DPS heroes in the game. Her damage is nothing to be joked about as well, competing with many of the highest damage dealers in the game. She is perfectly paired with other DPS champions such as Noa and Maxwell. This is because of her damage empowering buffs that she brings along with priority increase for allies with the highest Attack. She can also be paired with heroes like Dolly to help her land her crowd control by going first. Apart from these heroes, other potential candidates include your usual Defenders and Healers like Veronica, Saeran, and more.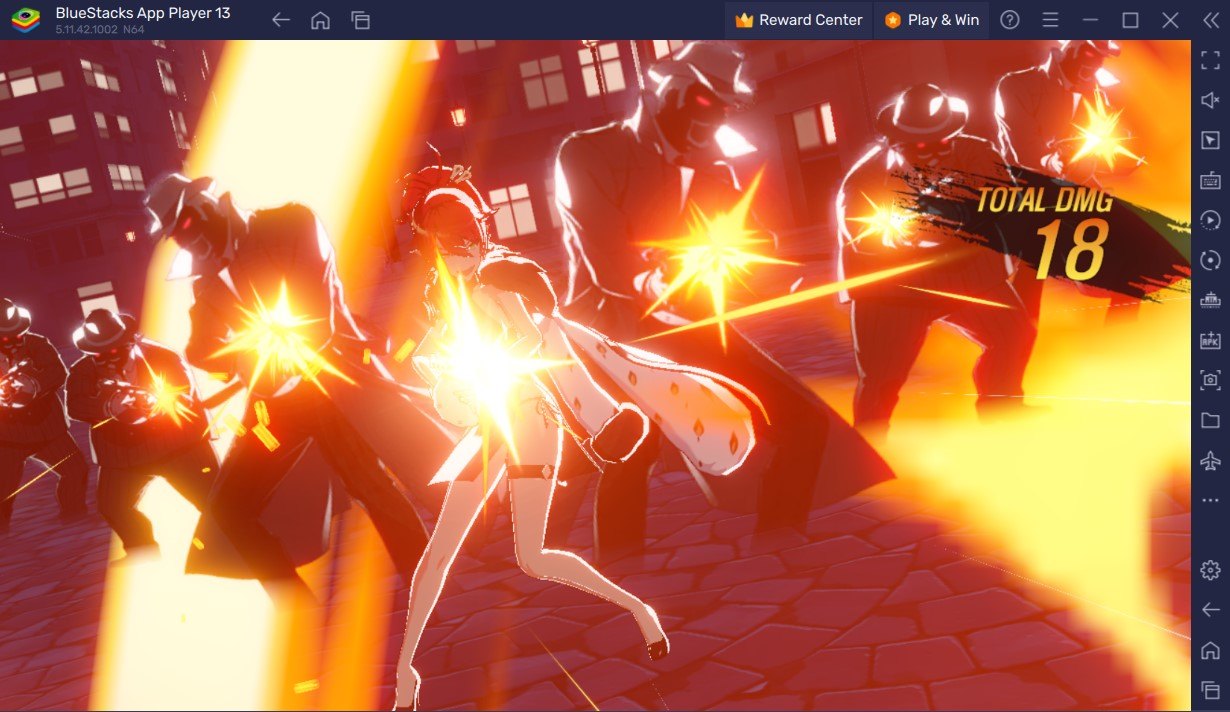 Here are some recommended team formations for Valentine:
Valentine + Saeran + Maxwell + Noa (Best Possible team)
Valentine + K + Eva + Noa (Great F2P team)
Valentine + Noa + Dolly + Snow (Great Arena Team)
That is it from our side for everything you need to know regarding Valentine in Outerplane! Get the best gameplay experience for Outerplane on your PC using BlueStacks.