Game Guides
Battle Tips – A Guide on the Main Campaign in Puzzles & Survival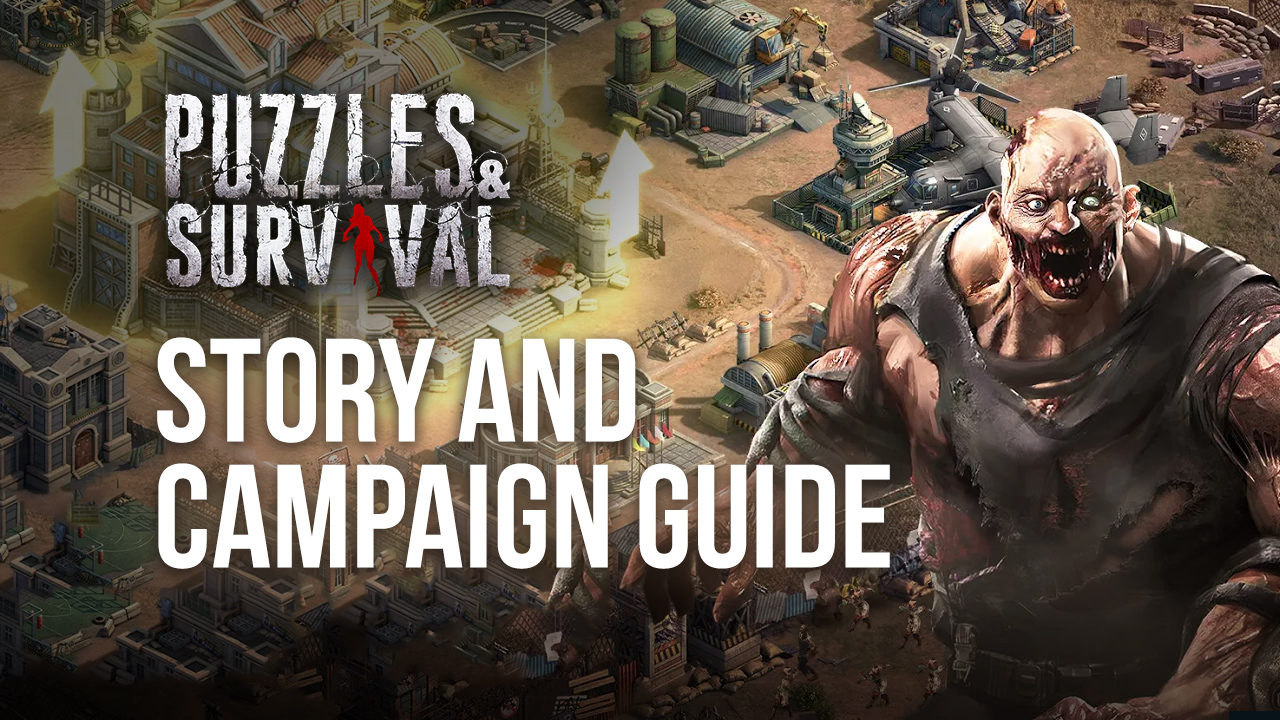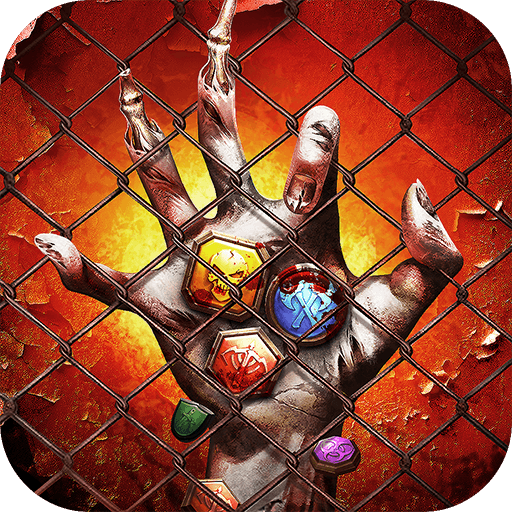 What distances Puzzles & Survival from other tile-matching games in the market is the variety of things that you can do in the game. The game not only has a main campaign but also base-building and separate map where you can participate in PvP raids on the sanctuaries of other players.
For this article, we'll be focusing on the game's campaign – which consists of the main gameplay – and we'll also give you a rundown of how to play the game as well as some tips for beating every level. Moreover, we'll discuss heroes and how they can help you survive in the zombie apocalypse.
The Main Campaign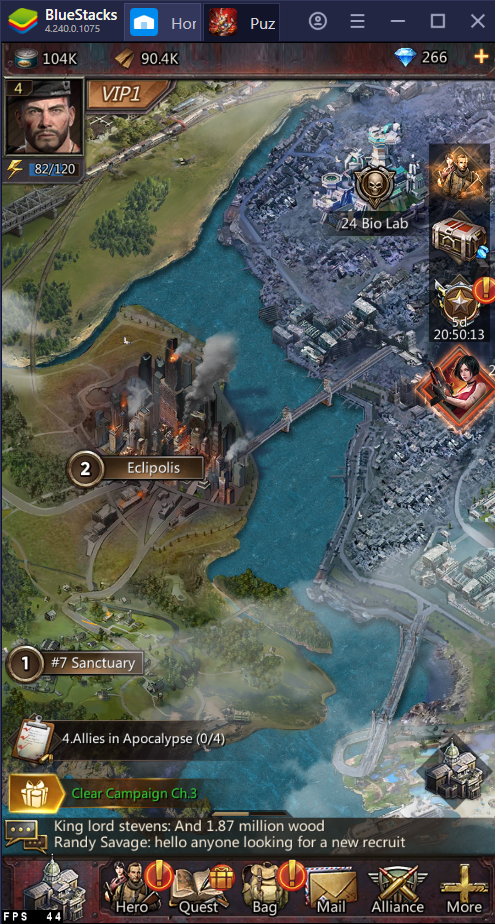 In Puzzles & Survival, the main campaign is the primary medium of progression where all of the puzzle-solving will take place. It consists of 24 levels (referred to as "chapters") with each level consisting of several sub-levels that all need to be cleared in order to get to the next level.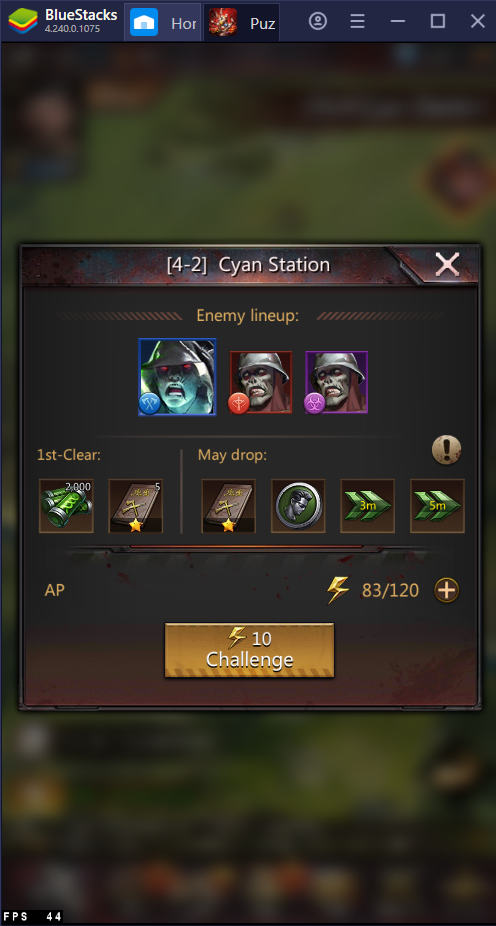 Each sub-level has a different set of enemies so we suggest taking note of this in order to prepare for battle. Completing each sub-level will also reward you with antiserum and combat manuals – which are used to upgrade and evolve heroes respectively (we'll talk more about these later) – and may also drop additional rewards such as speedups, which fastens the construction or renovation time of buildings in your sanctuary.
Another thing to keep in mind is that playing sub-levels will consume AP (think of it as your energy). More specifically, 10 AP will be consumed for every attempt so make sure to beat every sub-level to prevent AP from going to waste.
However, how exactly does gameplay work here in Puzzles & Survival?
How to Battle Zombies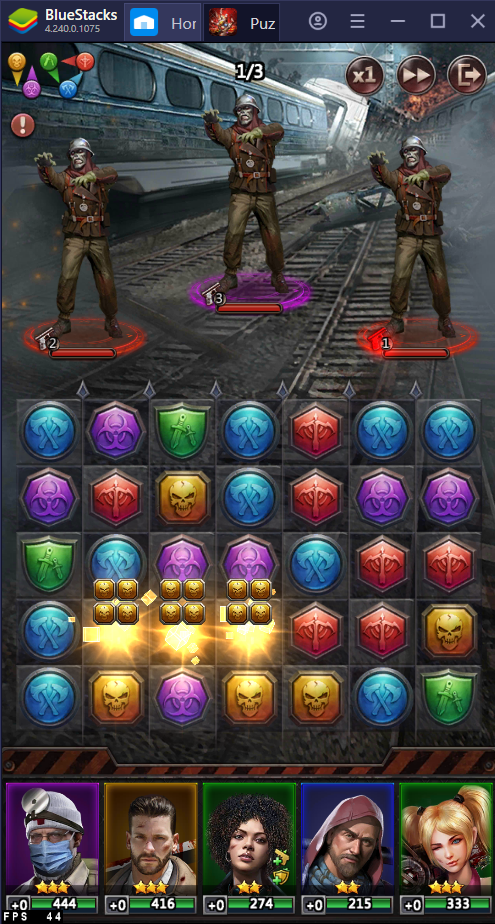 The game utilizes tile-matching puzzles as a way to damage zombies in-game. The rules are not very far from other tile-matching games like Candy Crush Saga. In order to deal damage, you need to match at least three colors either horizontally or vertically. The orientation of the match will actually matter in this game since it determines the direction of the attack. Matching vertically will only deal damage in one line; however, matching horizontally will deal damage at a much wider range albeit at the cost of lesser damage.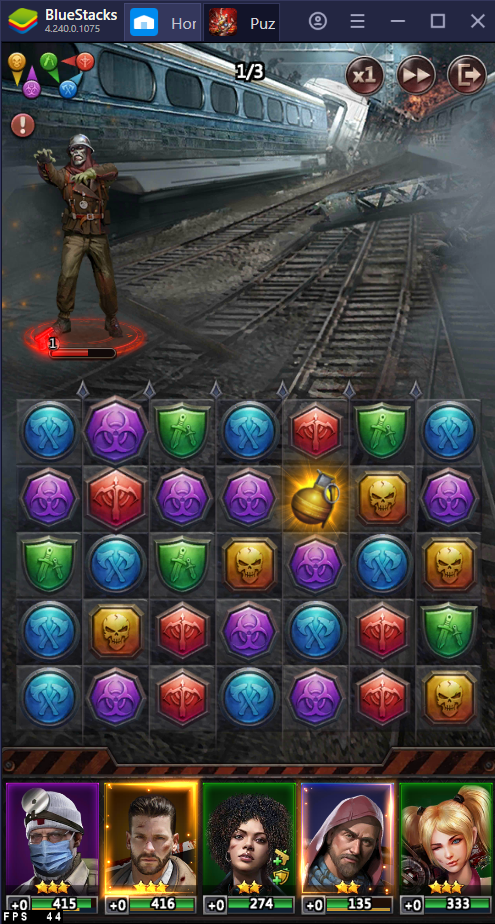 Managing to match more than three colors will give you special items that will give you a great advantage, namely a grenade and a stun grenade. You can unlock the grenade after matching four colors and tapping this will deal damage in a cross shape. On the other hand, a stun grenade is unlocked after five matches and tapping this will activate specific colors to damage the zombies. The colors that will be activated depends on what color was five-matched. For instance, matching five yellows will give you a yellow stun grenade and this will in turn, activate all other yellow on the puzzle board.
Enemy Weaknesses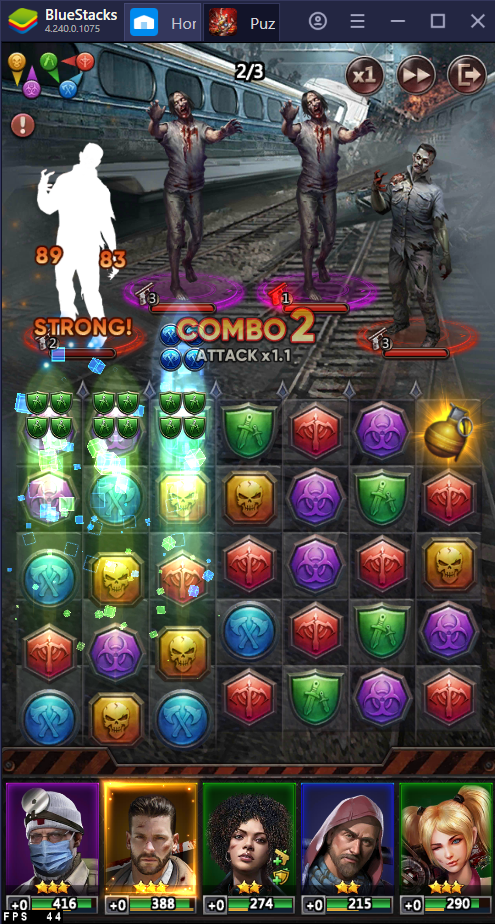 The colors in Puzzles & Survival are more than just decoration. In actuality, the colors actually represent the type of the zombies and each type will react to differently to attacks depending on what color was used to attack them in the first place. For instance, a purple-type zombie will receive double damage from yellow colors while it will receive lesser damage from purple and green colors.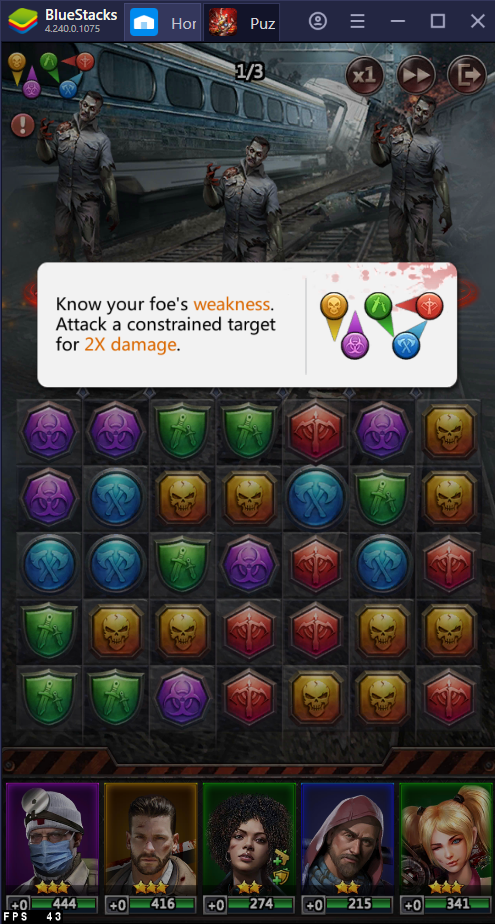 The type of the zombies can be seen by the color of the circle underneath them while in-game. Their type can also be viewed before starting a sub-level. The picture above shows the game's visual representation for this "weakness" system and this is actually constantly glued on the top-left of the screen. If you want a tabular presentation, we made one below:
Type and Color
Deals More Damage to
Receives More Damage from

Wary (Yellow)

+200% to Avid

+50% to Wary

–

Avid (Purple)

+200% to Wary

+50% to Avid

Wary

Brave (Green)

+200% to Calm

+50% to Rash

Wary, Avid

Calm (Blue)

+200% to Rash

+50% to Brave

Wary, Avid, Brave

Rash (Red)

+200% to Brave

+50% to Calm

Wary, Avid, Brave, Calm
Utilizing Heroes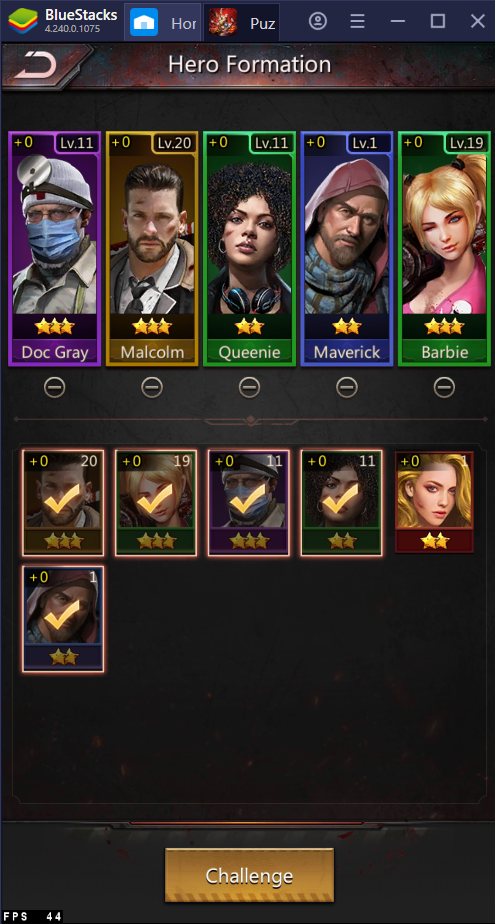 Heroes are the ones who turn the tables of the game. In the game, heroes have Hero Skills which can provide great support in combat. In each sub-level, you can deploy up to five heroes to your team.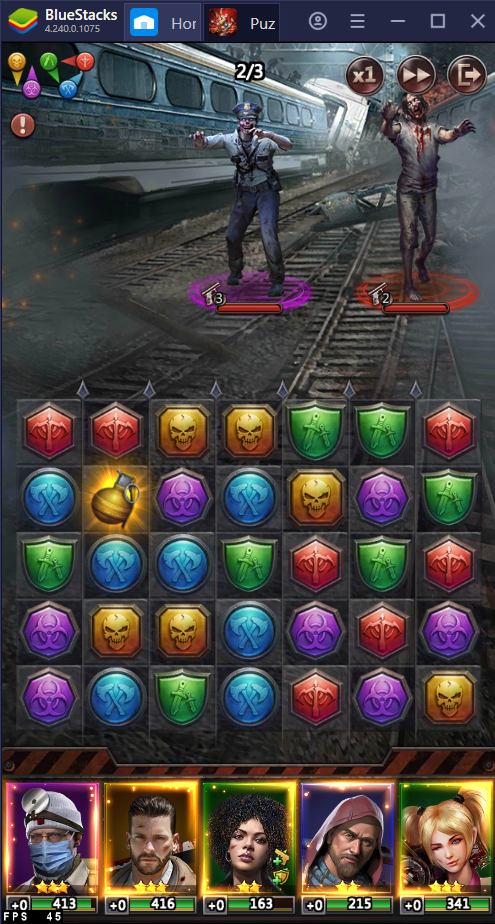 Like the zombies, heroes also utilize the same type system. Activating their Hero Skill depends on the number of times you make matches with the color of the hero's type. The progress of their skill activation is measured with a yellow bar at the bottom of their green HP bar located at the bottom of the screen. So for instance, matching a number of yellow colors will eventually activate a yellow hero's Hero Skill.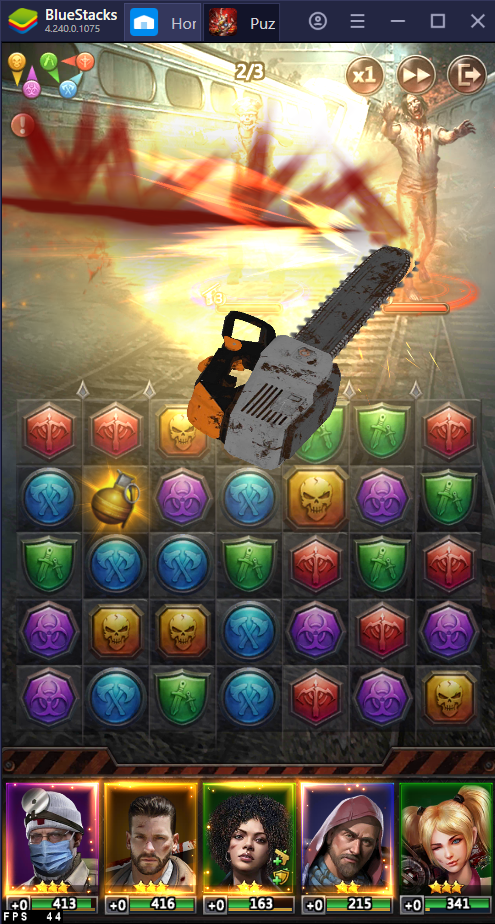 Some heroes can only attack individual targets (though they pack more punch in their attack) while some can damage every enemy at once. Moreover, some heroes do not directly attack zombies but instead help other heroes who can by giving them stat boosts or HP restoration.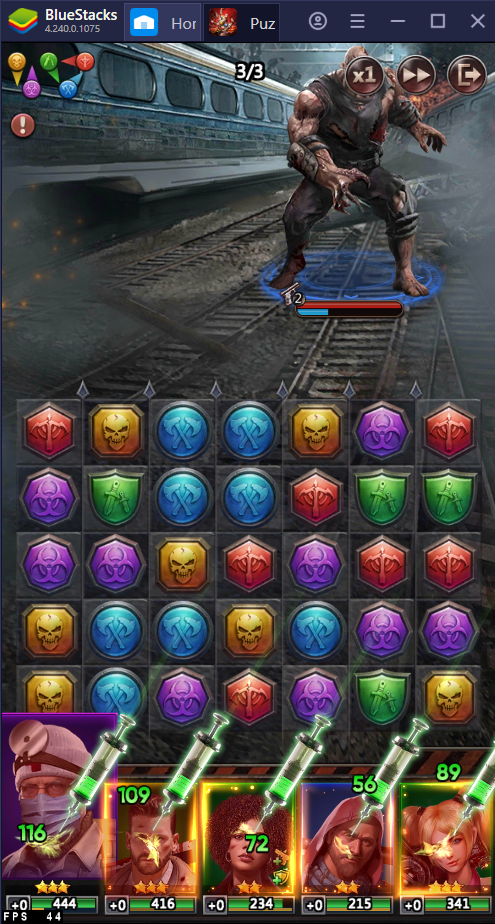 We suggest having at least one healer in your team. In fact, the earliest healer that you'll get in the game is Doc Gray and his Hero Skill is capable of partially restoring the HP of all other heroes, including himself. You will immediately lose a sub-level when all of your heroes are killed by the zombies so it's extremely important to have a healer in the group.
Heroes are incredibly useful in clearing the main campaign in Puzzles & Survival so it's a wise idea to stock up on plenty of heroes for better variety in your team and also upgrade existing ones. To know more about how to do this, read this guide on upgrading heroes as well as your sanctuary troops.