Game Guides
Build and Upgrade More – Resource Guide for Puzzles & Survival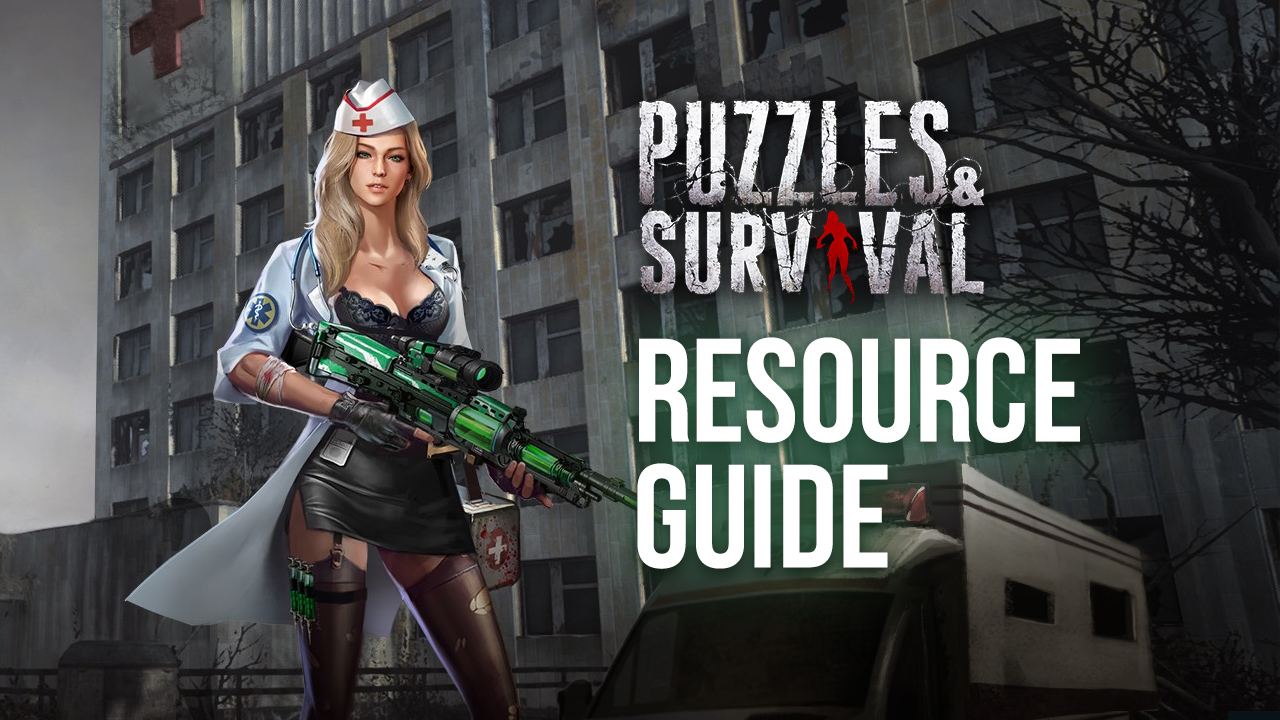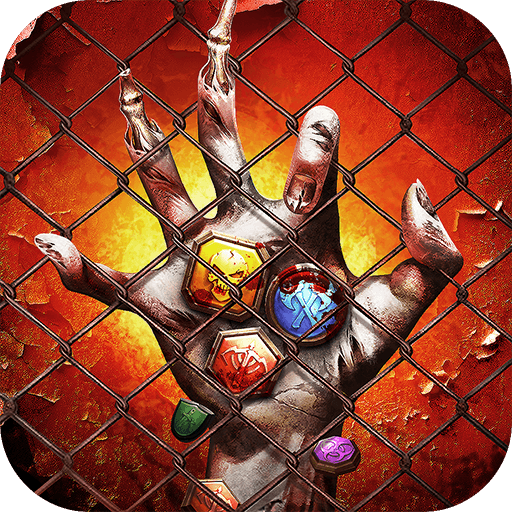 In the world of Puzzles & Survival, having plenty of resources is key to ensuring your survival in the zombie apocalypse. With items such as food and wood, you can train your sanctuary troops as well as build more facilities in your sanctuary respectively. Moreover, you can even upgrade your heroes with antiserum to make it easier for you and your team to defeat zombies in the main campaign. These are just some of things that you can do with a sufficient amount of resources so it's paramount to have a lot of stock of them.
We'll give you a rundown of the numerous ways you can acquire resources in Puzzles & Survival with this game guide. Firstly, let's tackle the area that's wholly dedicated to resource-gathering.
Scavenging the World Map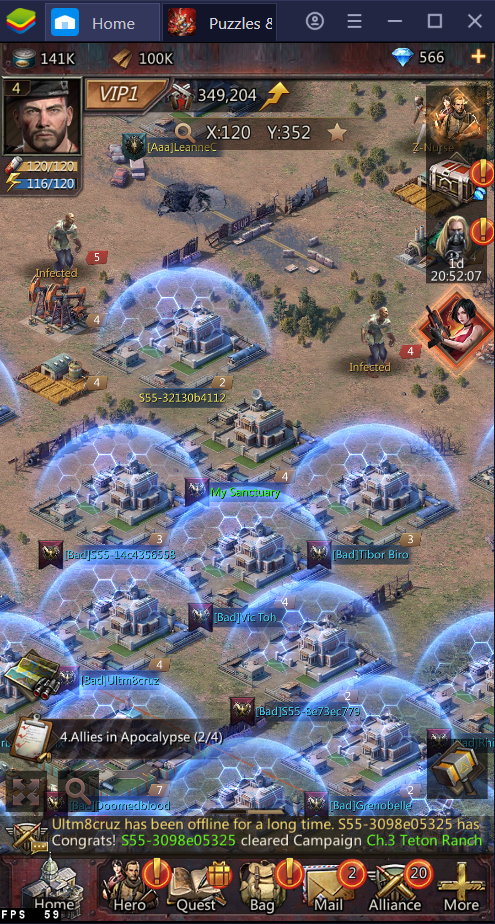 Aside from the main campaign, Puzzles & Survival lets you explore a separate map that contains numerous locations that you can scavenge for resources. These locations are indicated by the small buildings scattered all across the map.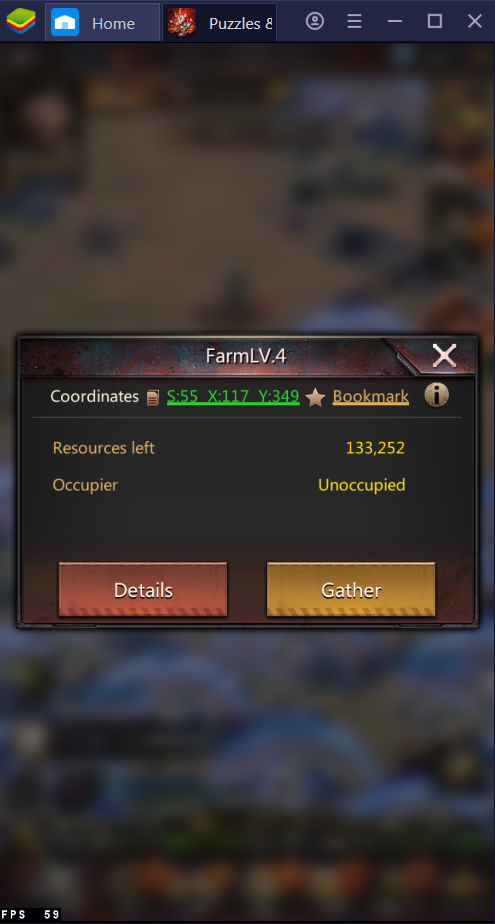 Additionally, these buildings have number beside them which indicate what level that building is. The ones with higher levels contain the most resources but are also more difficult to scavenge.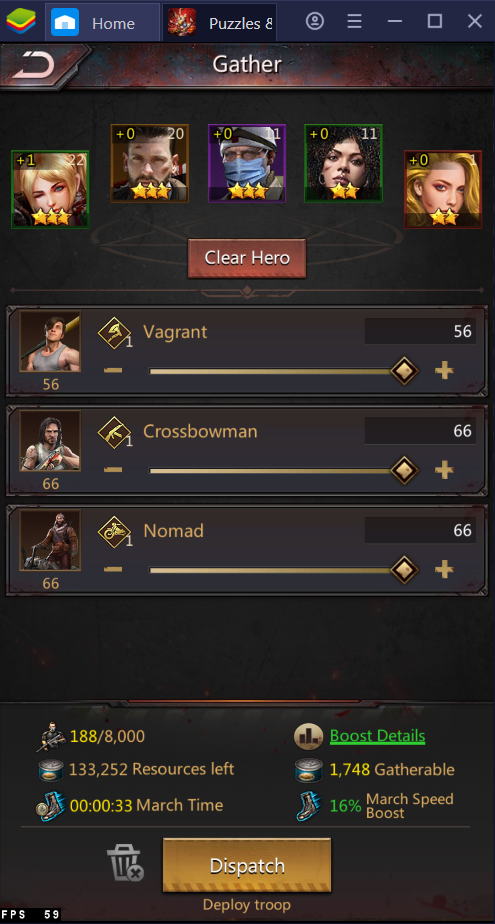 In order to acquire the resources contained in these buildings, you must deploy a number of troops – which can be trained in the sanctuary's boot camps – on a scavenger hunt. Dispatching more troops means that more resources can be acquired so make sure you train a large army to get the most out of the scavenging. Furthermore, you can even dispatch heroes and your troops will actually receive stat boosts depending on their type and the heroes deployed.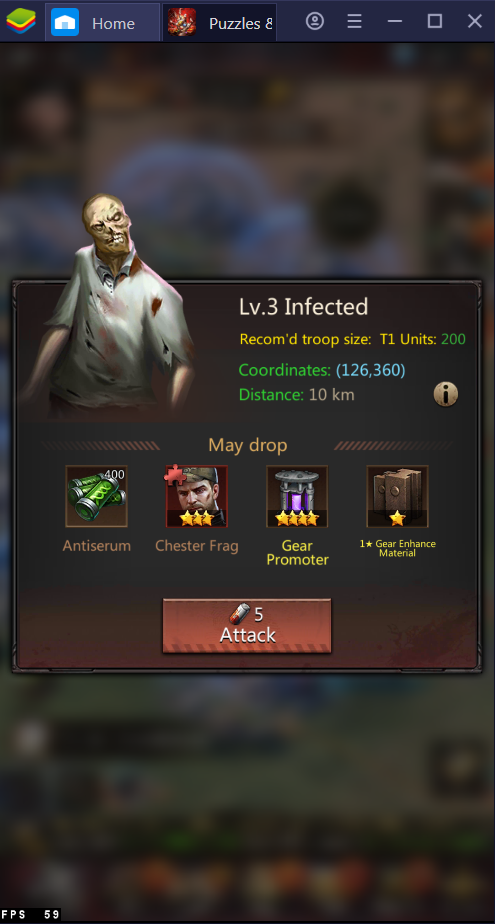 You can also send your troops to fight off infected, which are represented by the huge zombie figures on the map. Just like the buildings, each infected has their respective level and higher-level zombies will require more troops to be defeated.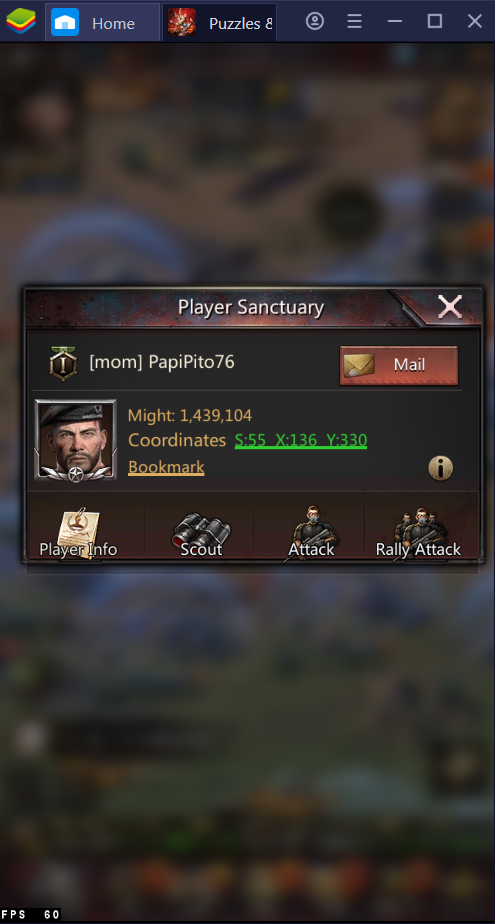 A rewarding but very risky way of gathering resources is directly attacking the sanctuaries of other players. You can attack either by yourself or with an ally (if you are part of an alliance). Before attacking through, we recommend scouting the enemy base first to know exactly which resources are available for taking. It is also important to note that the game has a shield system wherein players with shields on their sanctuaries cannot be attacked nor scouted. Attacking non-shielded sanctuaries will automatically remove your own sanctuary's shield, if it has one.
Constructing and Upgrading Facilities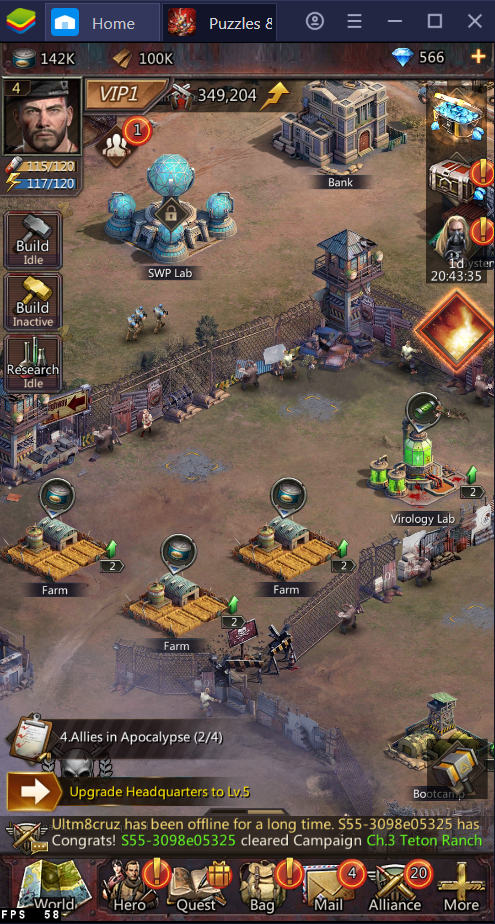 Gathering resources starts in your very own sanctuary. There are specific buildings that generate specific resources and you can build these in areas outside of your base.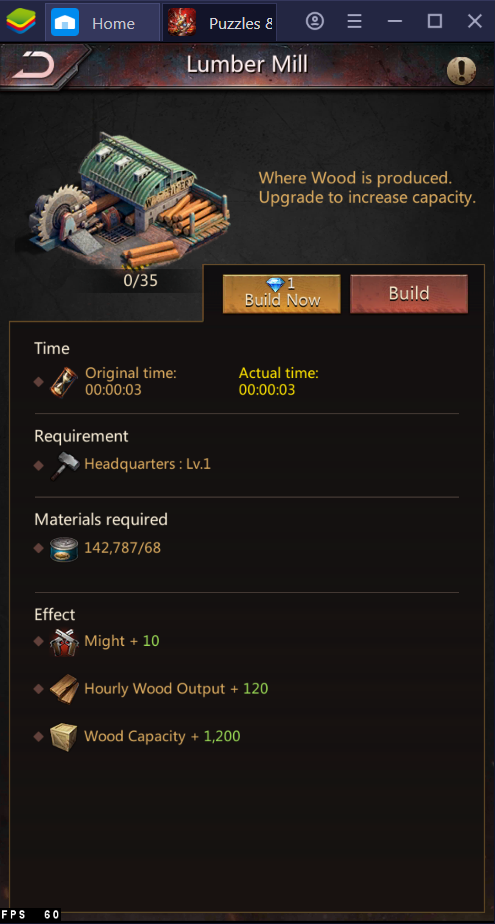 Building facilities for your sanctuary will have some pre-requisites such as a specific headquarters level and wood (lumber mills and virology labs will require food instead). We recommend having at least two of each building in order to equally maximize output without compromising too much on the other resources.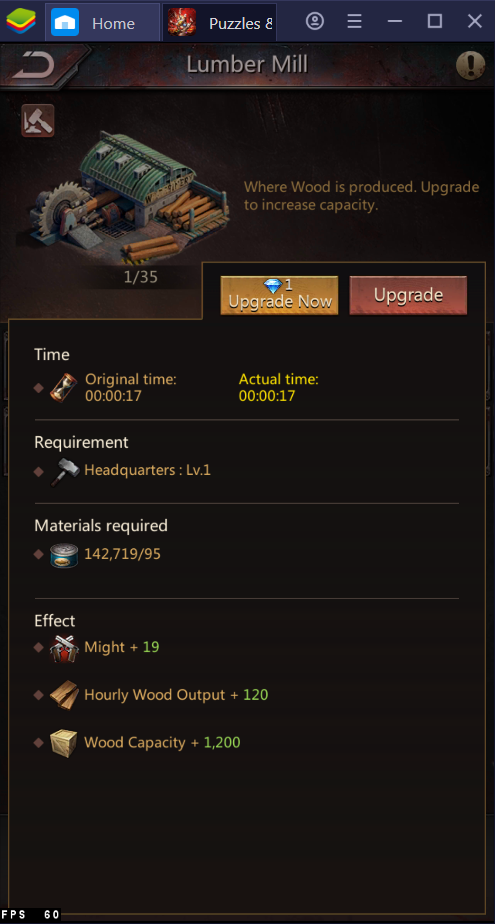 Also, don't forget to upgrade each facility to further boost the output of resources. Building and upgrading facilities can take a lot of time to accomplish but fortunately, you can instantly finish the process by spending diamonds.
Boost Output with the Research Center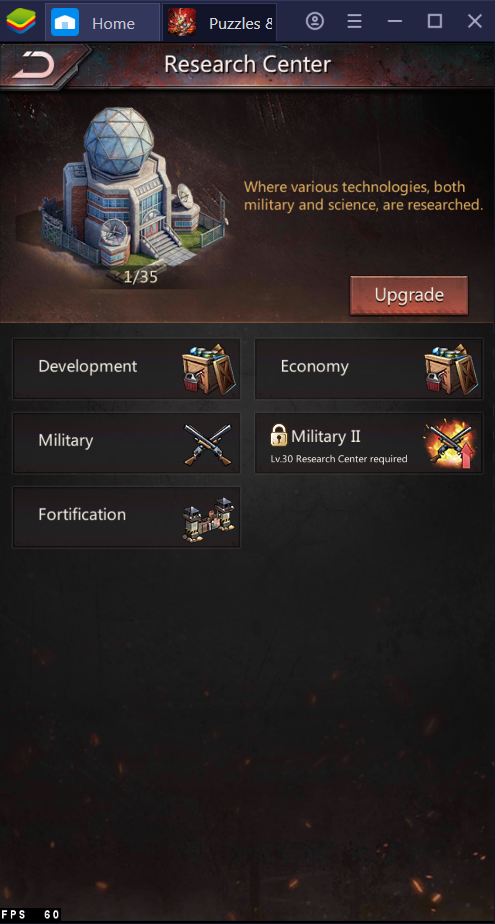 Your sanctuary has a research center where you can invest time and resources on improving different aspects of the game such as troop strength, construction time, and the like. What we're most interested in however is the "Economy" aspect of the research center.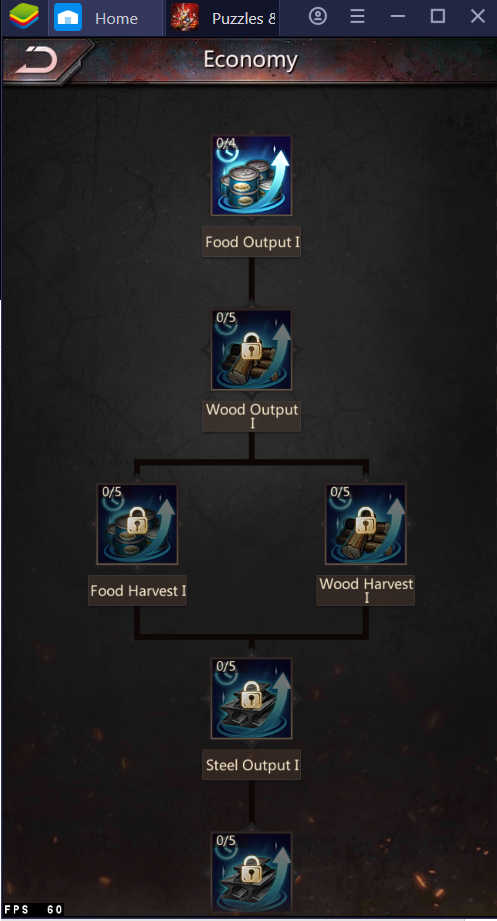 Researching on "Economy" will provide output boosts (through percentages) to the game's main in-game resources such as food, wood, steel, and gas. Unfortunately, you cannot freely choose which resource should receive a bigger output. Instead, the research center functions like a skill tree in which you need to finish upgrading the first resource output before moving on to the next.
Play the Campaign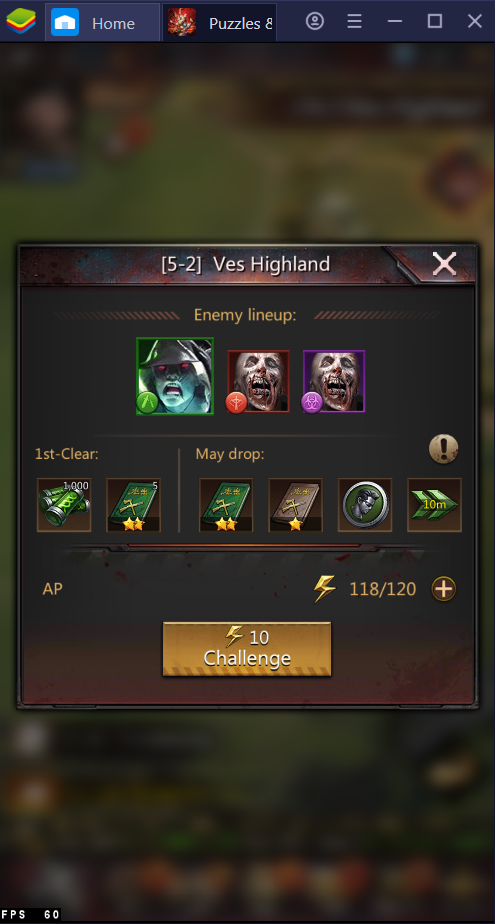 Simply clearing the levels and sub-levels of the main campaign will reward you with resources needed to upgrade your heroes such as antiserum and combat manuals. Completing levels will give you fixed rewards – the ones under 1st– Clear – and will also randomly give you additional rewards – the ones under "May drop".
Completing Quests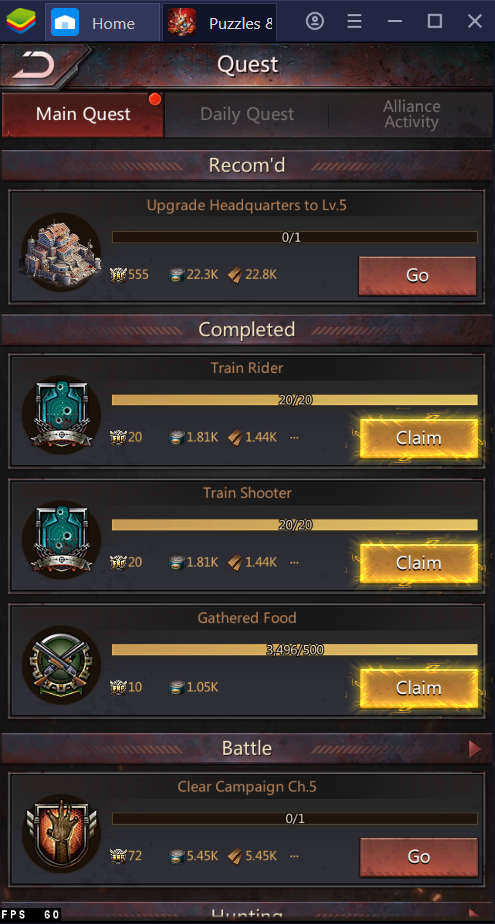 A quick and easy way to gather resources in Puzzles & Survival is completing quests. There are three quests but the first one we'll discuss are the main quests, which give out huge rewards upon completion. The tasks that main quests order you to do are things that you eventually do as you progress through the game (such as levelling up your headquarters and training specific types of troops) so accomplishing these quests should not be that difficult. The only downside to main quests is that there's too few of them and you'll eventually complete everything eventually. This is where daily quests come in.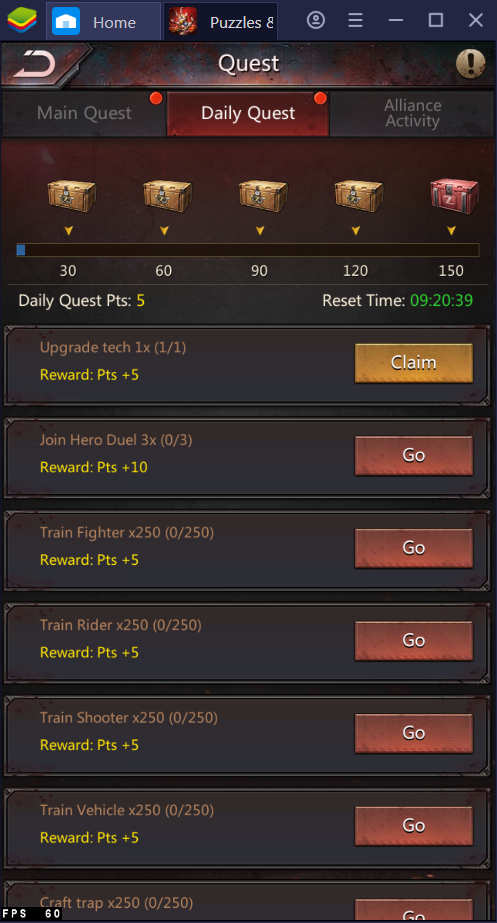 Unlocked after your upgrading to a Level 5 Headquarters, daily quests offer you a myriad of quests that can only be accomplished within 24 hours. Completing daily quests will reward you with points and after reaching a certain number of points, you unlock a chest containing rewards. These rewards do not really contain actual in-game resources but instead give you things like AP and Stamina, which you can spend for activities that actually gather resources.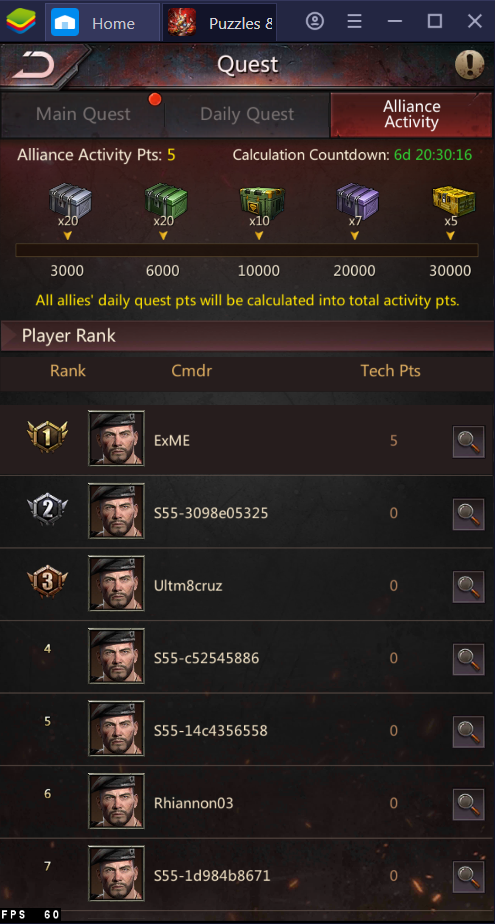 If you want to open chests that contain a lot of the main resources, then you're going to have to focus on Alliance Activity, which are weekly quests done within an alliance. Alliance Activities function similarly to the daily quests in a sense that completing certain tasks will earn points and earning enough will unlock chests. The points earned by you and your alliance mates will be accumulated so all of you need to be diligent in doing these quests in order to open all of the chests within a week.
If you haven't done so, we recommend joining an alliance since you'll get perks such as the aforementioned Alliance Activities as well as the ability to attack other sanctuaries with the help of your allies.