Game Guides
Rage of the Righteous Tips and Tricks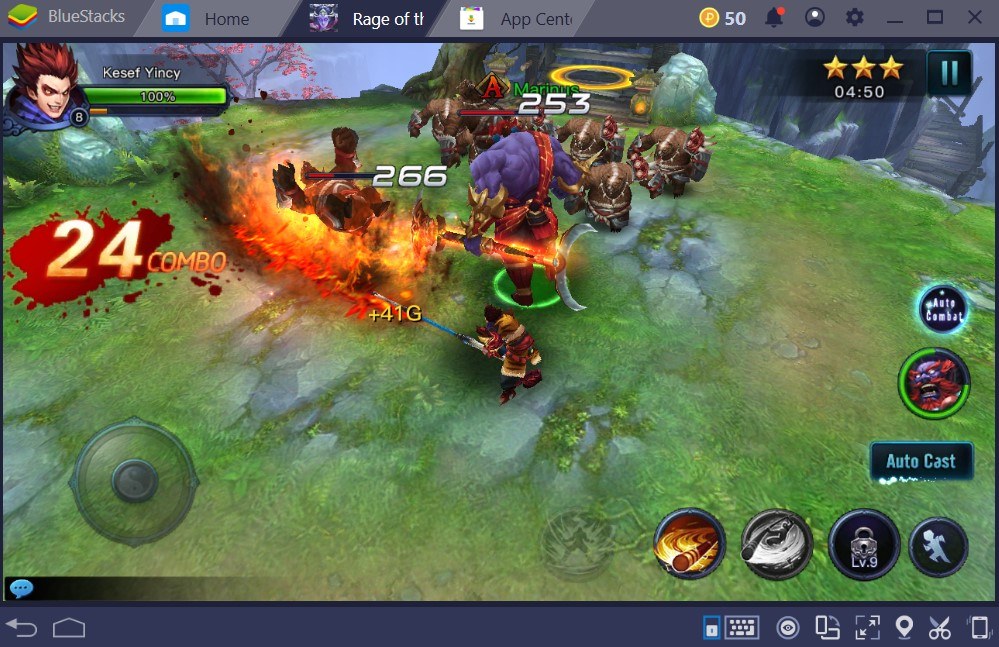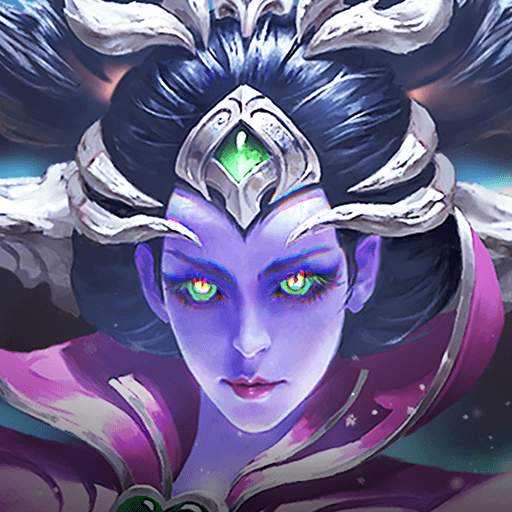 The immersive world of Rage of the Righteous might feel overwhelming at first. However, with some tips and tricks, you will get a hold of some of the key functions that the game offers and your journey will become less cumbersome.
Before starting the game, you will be selecting one of the four main characters to start your journey. All of them are unique and require a certain type of gameplay. If you are new to the genre or just a fan of casual gaming, some characters may suit your gameplay more, compared to others. However, this article will be about tips and tricks that can ease up your overall gameplay experience regardless of which character you choose before starting your journey. Once again, it is important to know that by playing the game on BlueStacks , you will enjoy the overall gameplay experience much more due to it's easy to modify control functions. If you are not sure how to install and modify your controls for Rage of the Righteous on BlueStacks, be sure to check out our relevant article.
Use the Auto Combat Function
If you are familiar with the MMO genre, then you should be familiar with constant grinding. Rage of the Righteous is no exception to this factor. You will have to cleanse many dungeons in order to gain experience points and enhance your character to become more powerful. However, this might feel daunting after some time. Exaggerated amount of grinding might repel some players off and they might end up stop playing the game. But thanks to the great 'Auto Combat' function in Rage of the Righteous, this doesn't become a problem for the players. When you are in a dungeon for a quest, you can easily turn on the auto combat function for your character to engage in fights by him/herself.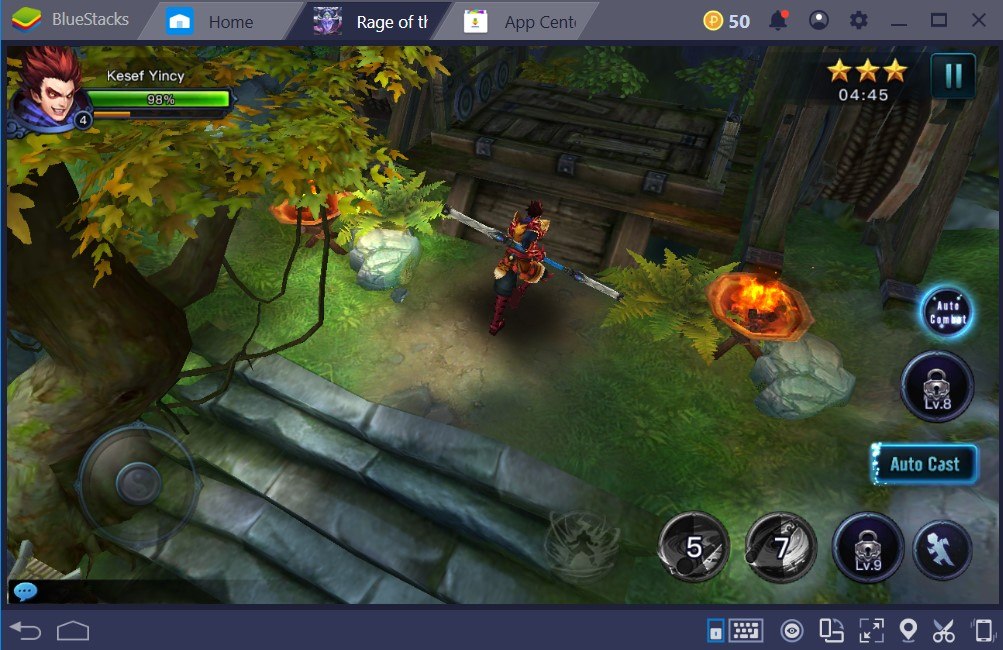 By activating the auto-combat function, you won't need to touch a single button. Your hero will kill every single minion and even the boss by him/herself. You might get through much of the earlier dungeons in the game using the auto-combat function. However, at later stages, the fights become harder and require more precise combat tactics such as dodging on time and using your skills more strategically.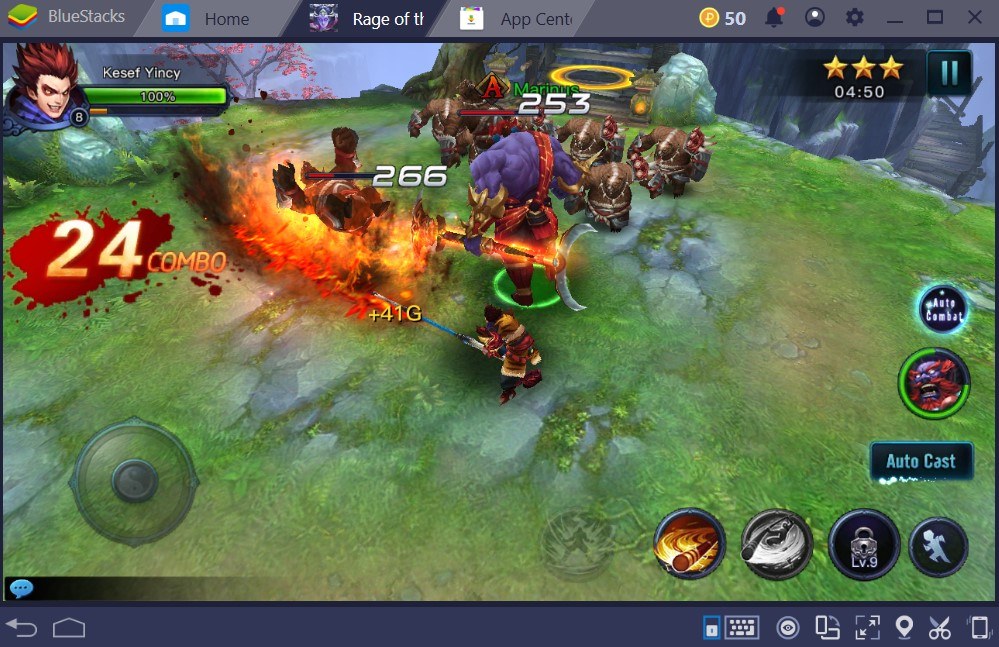 For utilizing the auto-combat function in the best way possible, we recommend assigning it a button using the BlueStacks controls options. Assign a keyboard key and toggle it on and off when necessary. This function will ease up many mandatory boring fights at the early stages of the game; so do not forget to use it.
Enhancing your Equipment
Seeing your character getting stronger is one of the most satisfying things to see while playing an MMO game. A new shiny sword and an armor set make the endless grinding worth it. In Rage of the Righteous, you will constantly complete new quests and gather new equipment. This equipment can be a part of a set or sometimes you can obtain the whole set. Also, instead of replacing a piece of equipment, you can enhance it and make it stronger. However, enhancing every single equipment you have would not be a smart move. The key is to know what to enhance and when. During the early stages of the game, you will constantly get new and better equipment; so it would be a good idea to keep your resources required for enhancing and wait for the more powerful items.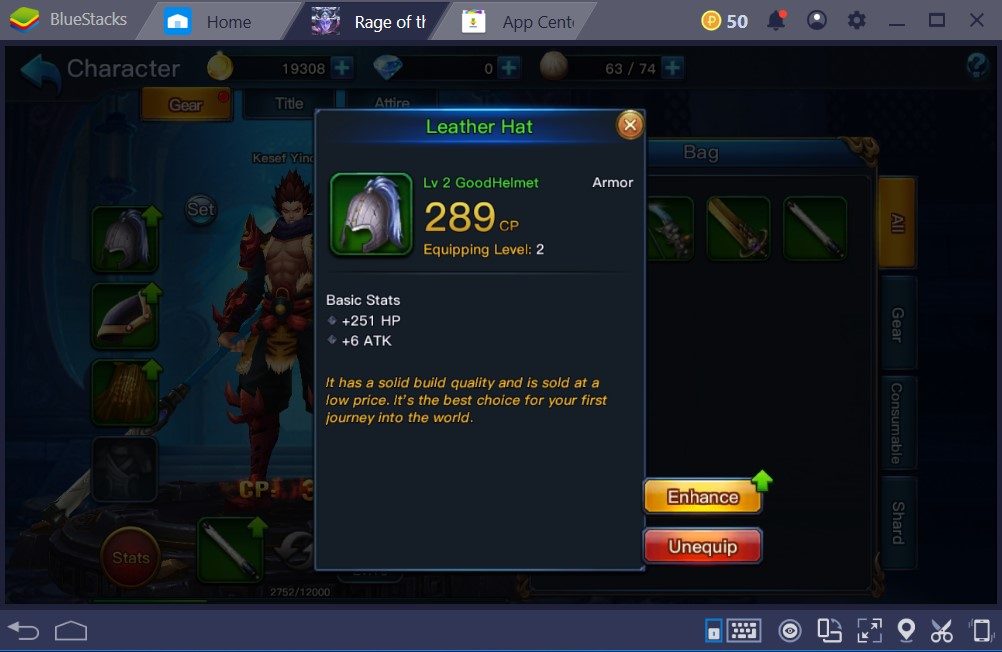 To teach you how the enhance system works, Rage of the Righteous will make you enhance one of your equipment in the early stages of the game. This is a mandatory action and doesn't cost you many resources.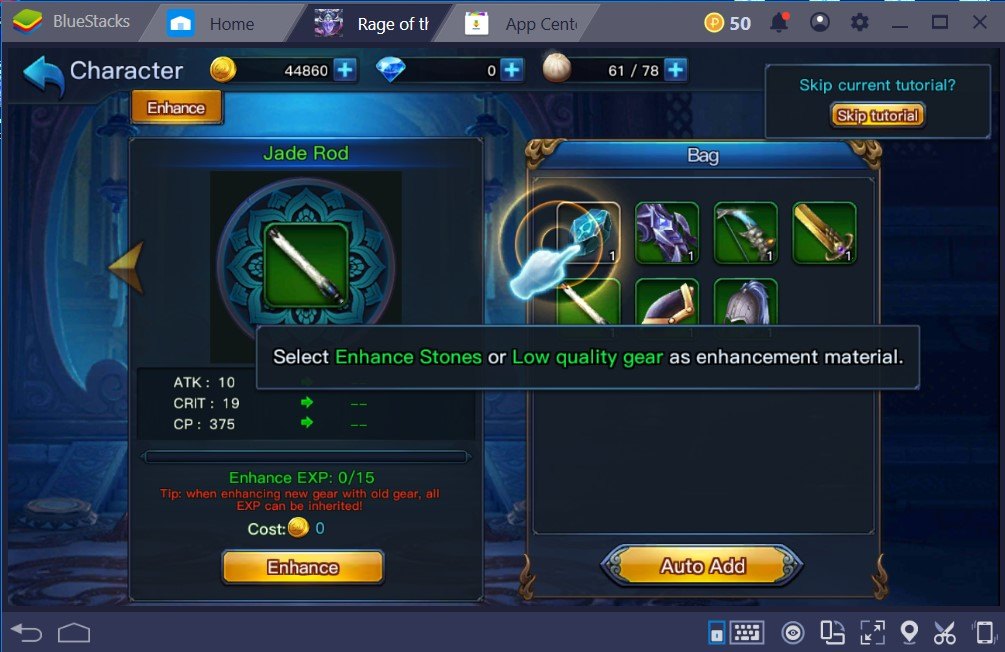 The game will provide you with one free 'enhance stone' to show you how the enhance method works. Use it and make your first enhancement. However, after the initial enhancement, don't waste your resources yet. Just go and clean more and more dungeons to acquire better equipment first.
Upgrade Your Skills
We can easily say that upgrading your character's special skills is far more important than upgrading its equipment at the early stages of the game. Skills are your primary firepower to annihilate your enemies. Your character will have three main skills and you should try to upgrade all of them as you level up.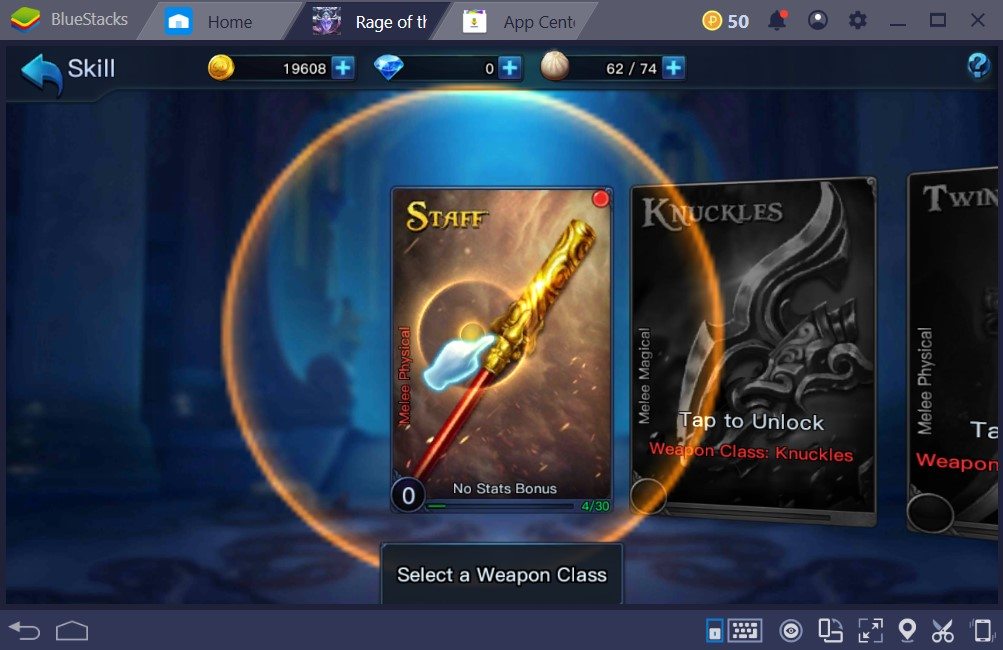 Enter the skills menu and choose the weapon of your character. As you can see from the image, we are using the 'Monkey' character for this instance.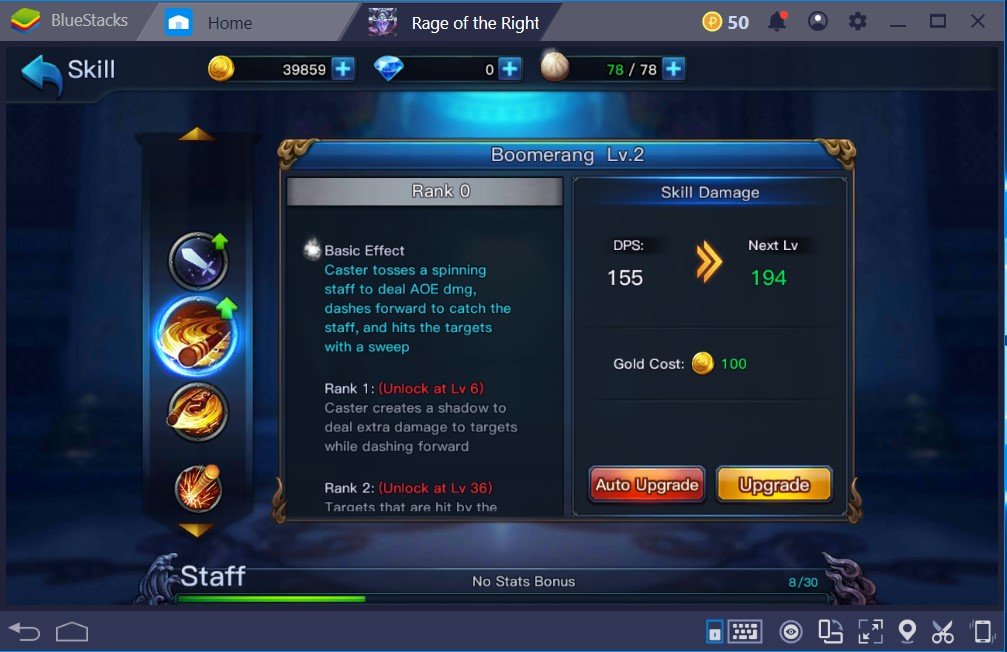 From here, choose the skill you want to upgrade and just click on the corresponding 'Upgrade' button. Upgraded skills make a massive difference in the battlefield so be sure to not forget about them.
Use Your Rage
The game is called 'Rage of the Righteous' for a reason. While fighting hordes of countless enemies, your character will fill-up with rage. Rage function is extremely important to use while in combat. It deals massive damage to your enemies and it is free to use. It fills up while fighting and when it is full, the game will notify you to use it. Assign a proper keyboard key for the rage function using your BlueStacks controls and deal that massive damage.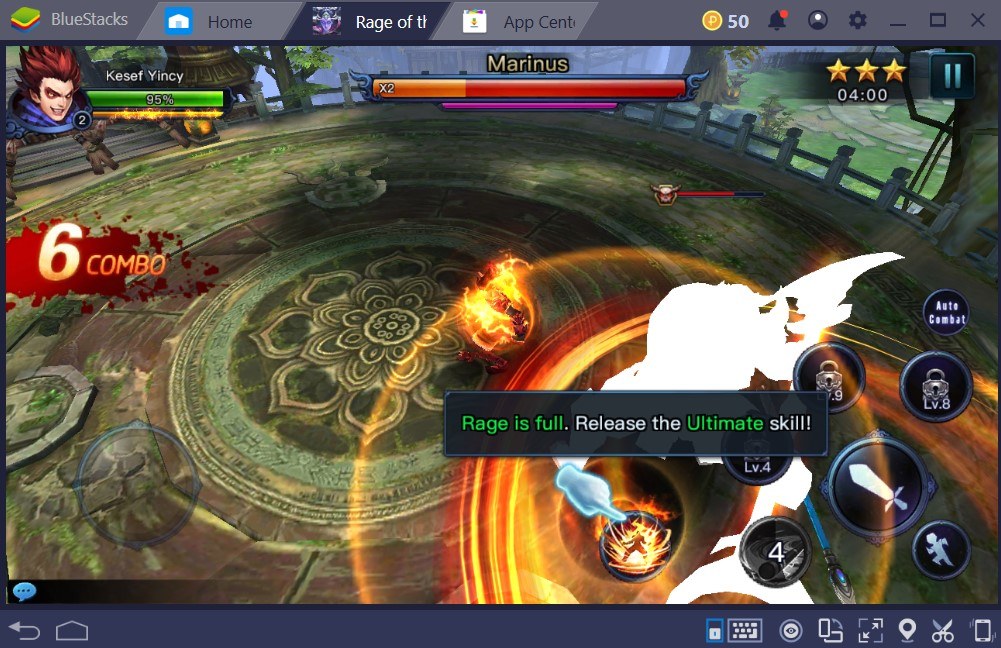 Because rage function is free to use does not mean you can just spam it whenever you want. You will only be able to use your rage once or twice per dungeon. Sometimes you might feel overwhelmed by the hordes of countless minions or you might need that last powerful hit to finish that colossal boss – the choice is yours. Just know that it's a very important tool that requires strategic thinking.
Rage of the Righteous is a great MMO game for core and casual gamers. If you like action but despise grinding, using the auto-combat function might be a lifesaving tool. Following these tips and tricks while playing the game on BlueStacks will be the key to become a powerful hero filled with righteous rage.