Game Guides
Roblox on PC – How to Use BlueStacks Tools When Playing Any Roblox Game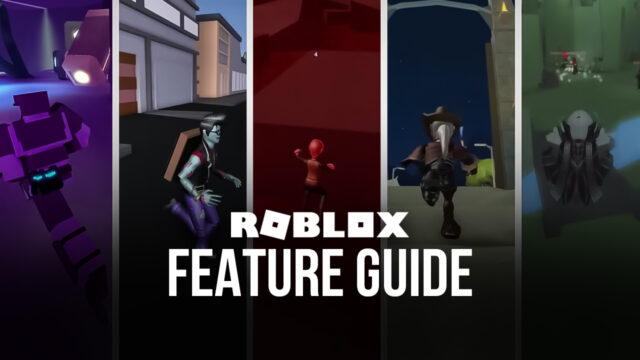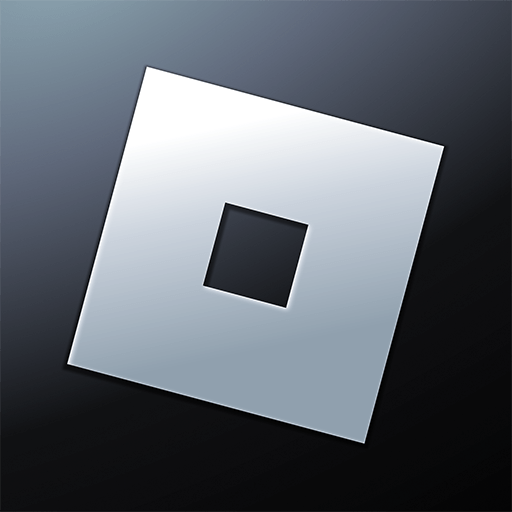 Roblox is a brilliant title in the sense that it's more than just a game; it's more akin to a gaming platform where players can browse and download from an endless catalog of games and go on all sorts of adventures, either with friends or on their own. Whether you're a fan of mystery and thriller titles, enjoy some good ol' fashioned shooters, or simply love fun and peaceful hubs to chill and chat with your friends, there's definitely something for everyone in Roblox.
One of the particularities of Roblox is the wide variety of customization options, both for the player characters, as well as for the games that everyone can play. After all, Roblox is just a gaming platform, while the games are written and coded by the community itself, which is frankly amazing in terms of sheer potential. Depending on the Roblox game you choose, however, the controls and mechanics can vary wildly, and especially in competitive games, having good controls and performance is pivotal to your success.
Luckily, Roblox is available on multiple different platforms including PC, Mac, Android, and iOS and you can also play Roblox online. And while you can already play it natively on PC, you might want to play the mobile version. Specifically, if you emulate Roblox on PC using BlueStacks, you'll have access to a variety of tools and features that could give you the edge you need to excel at your favorite games. Check out our installation guide for Roblox to learn how to get started with the mobile version of this game on your PC.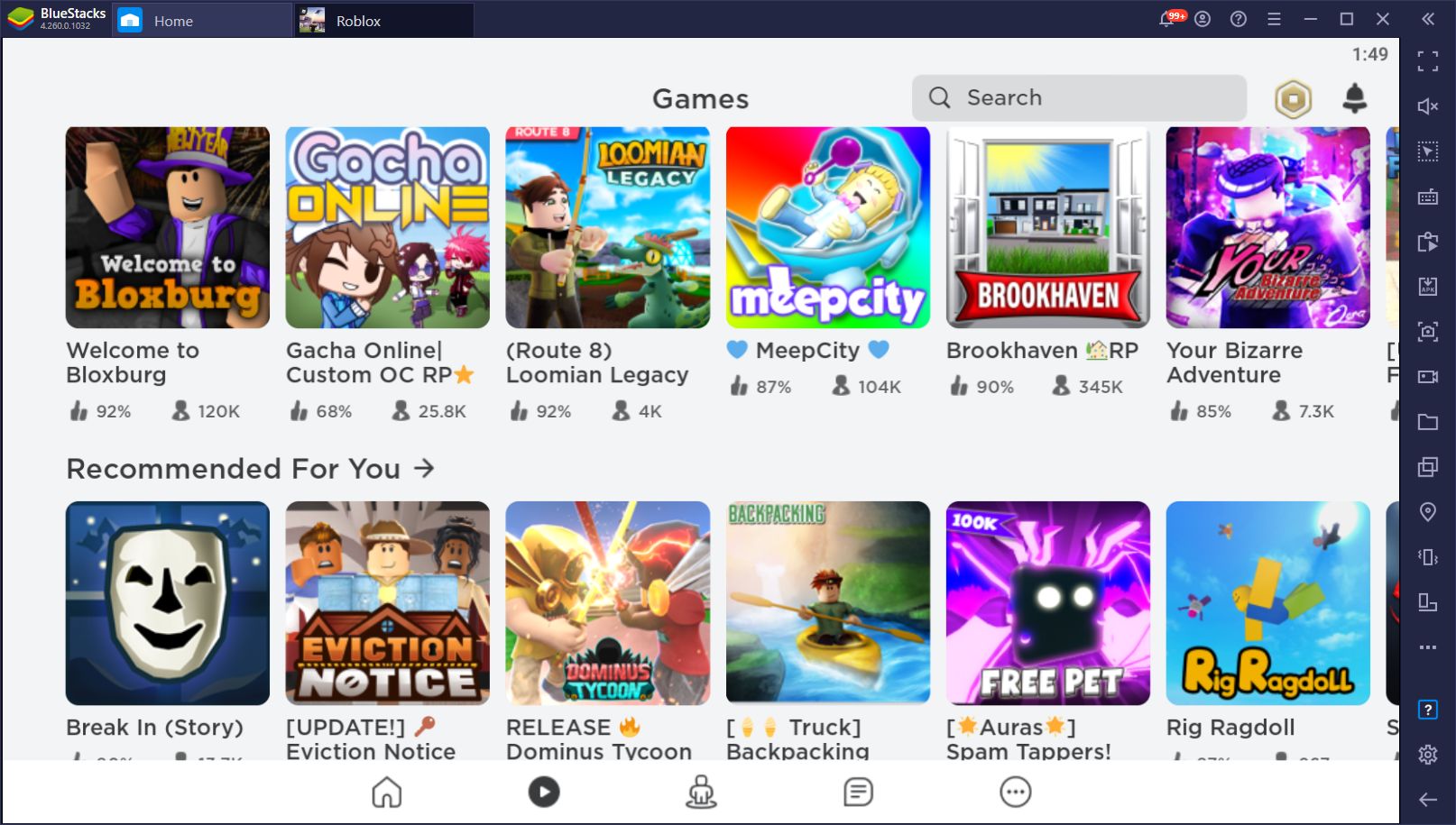 Regardless, now that you have Roblox up and running, we're going to show you how to use our BlueStacks tools to beat the competition in your favorite Roblox games.
Master the Controls in Any Roblox Game With Ease
As we just mentioned, while the basic movement controls will be the same across most Roblox games, the exact mechanics will vary according to the title you choose. Some of these games might have specific buttons or other inputs in order to interact with their elements, which might require different button presses.
Regardless of these mechanics, you can significantly streamline the controls in any Roblox game by playing on BlueStacks and using the Keymapping tool. This feature can be used to create custom control schemes for any mobile game so that you can play them on PC using your mouse and keyboard. For Roblox, this means that you can freely customize your control schemes for any game, and easily streamline them for ease of use. While other players will be stuck struggling with awkward inputs, you will easily outmatch them by playing on BlueStacks.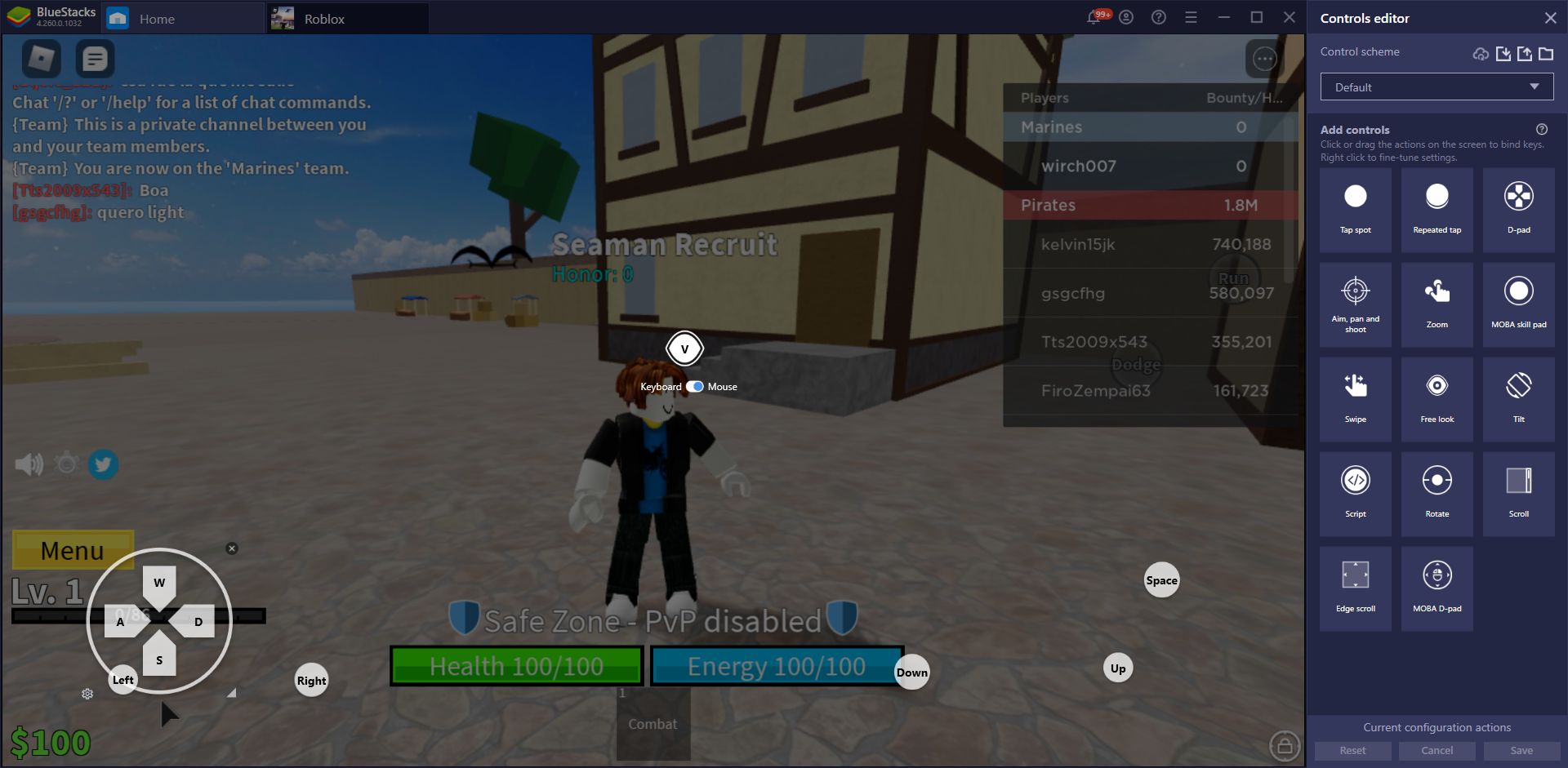 While Roblox already has a predefined control scheme created by our team, you can easily modify the bindings via the Game Guide panel by pressing Ctrl + Shift + H. However, since there are countless custom Roblox games to download and play, we can't possibly create control schemes for each one, which is why our default scheme is a bit lackluster. But no worries, you can easily customize and even add new controls to the scheme via the Keymapping Tool menu, which you can access by pressing Ctrl + Shift + A.
In this new screen, you can drag functions from the panel on the right to anywhere on the screen, and then bind these functions to any buttons on your mouse or keyboard. The exact use varies according to the specific function, with some of them used for tapping, swiping, and even acting as virtual d-pads, among others. There are more than enough of these functions to cover most aspects of any Roblox game, so you can mix and match them in any way you need.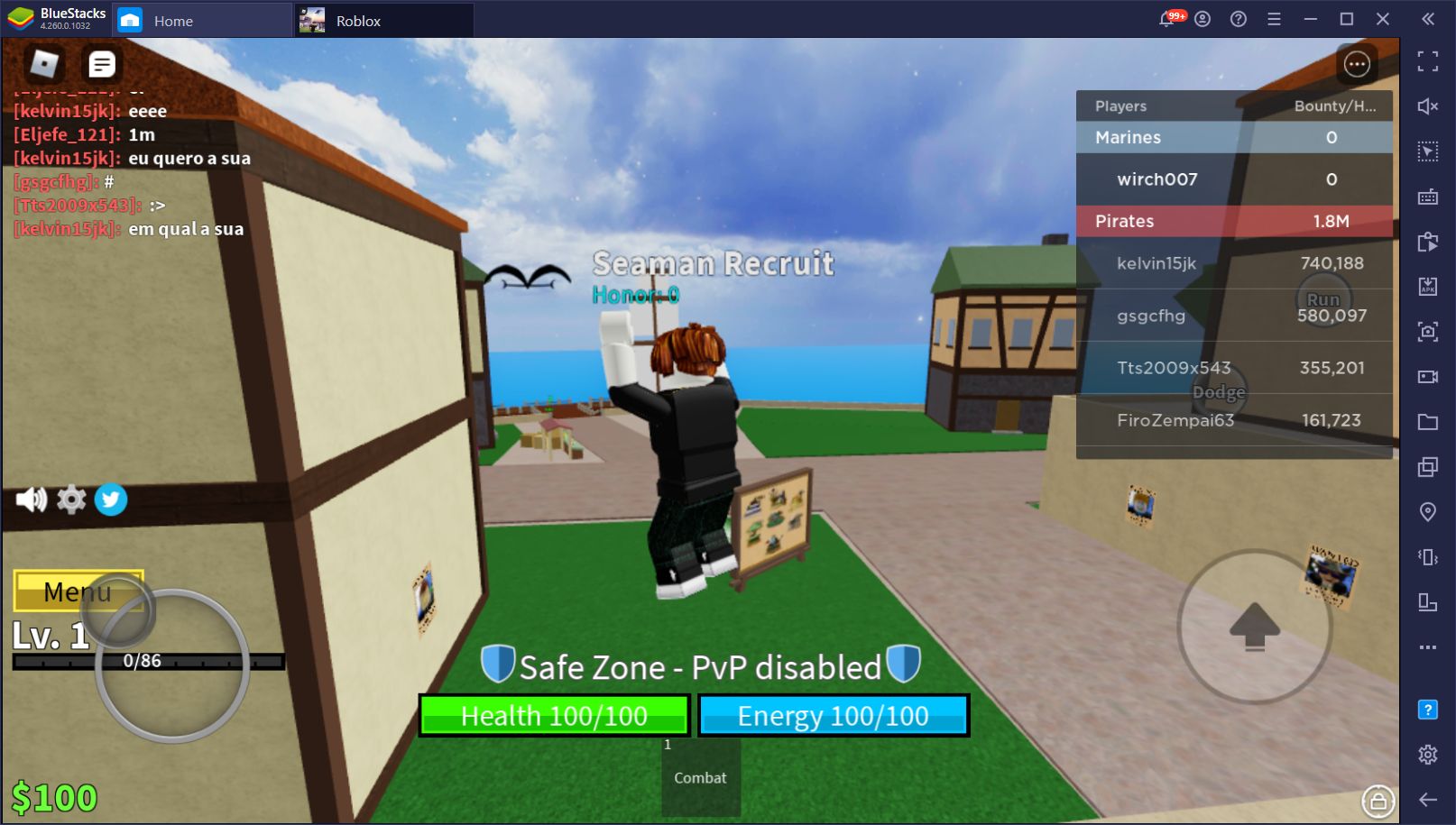 Keep in mind that, if you play with other people, you can also share your control schemes, and even import the schemes of your friends, since the Keymapping tool allows you to both export and import these configurations as .xml files.
Automate Repetitive Actions in Any Roblox Game
Just like the controls vary per game, the exact mechanics and objectives are different in every single Roblox game. While you might need to catch a robber in one game, another might be just about baking cakes—they're just THAT varied!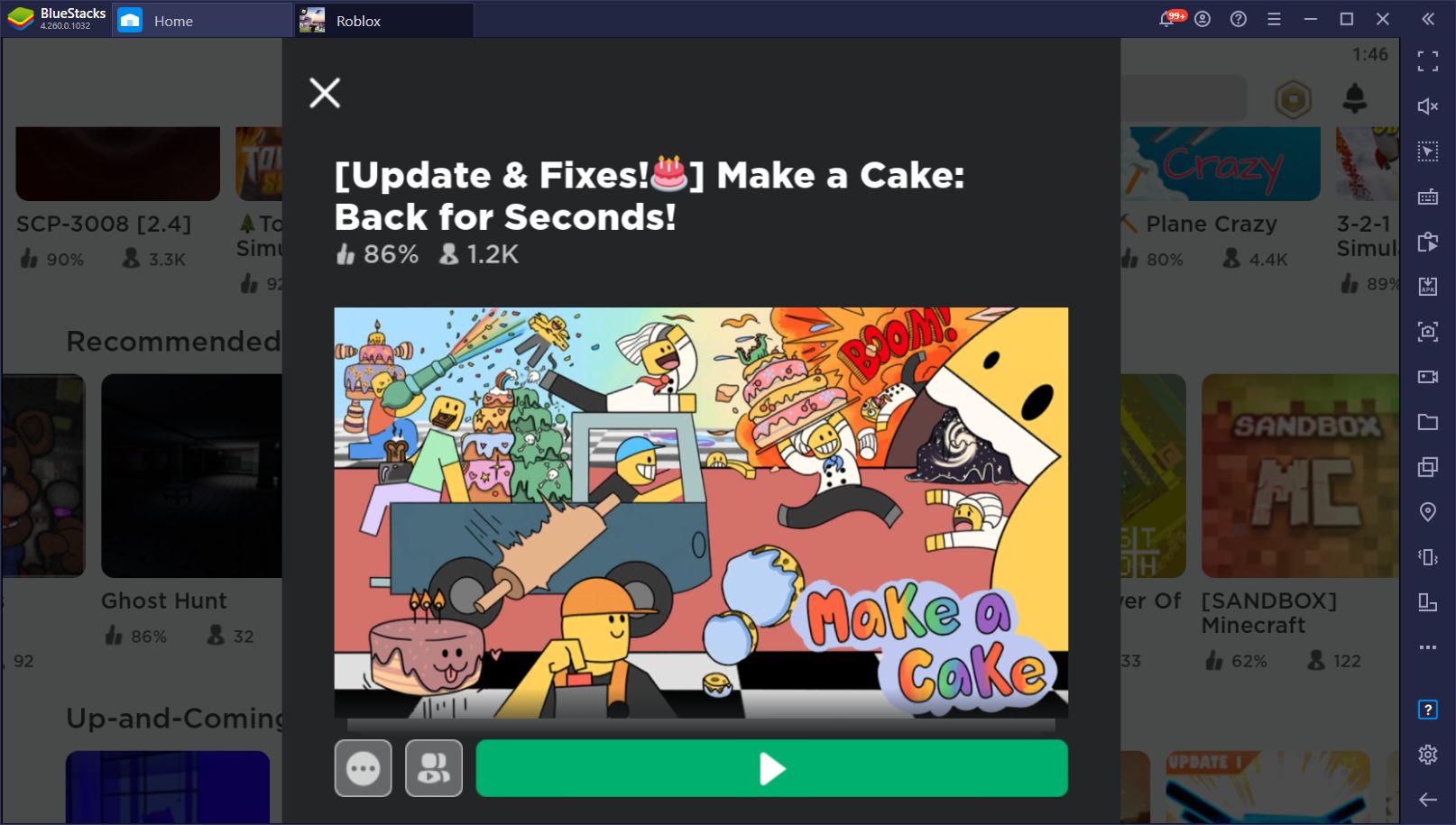 Regardless of these variations, some games might have repetitive mechanics that require doing the same actions over and over in order to progress and score points. For instance, in the Make a Cake game (what, you thought we were kidding with that example?), you must take the cake batter to specific spots so that they can be made into many different types of cakes, after which you can share them with your friends, eat them yourself, or feed them to the giant. However, the exact method for producing these cakes is often the same, which means that you could automate it with a macro.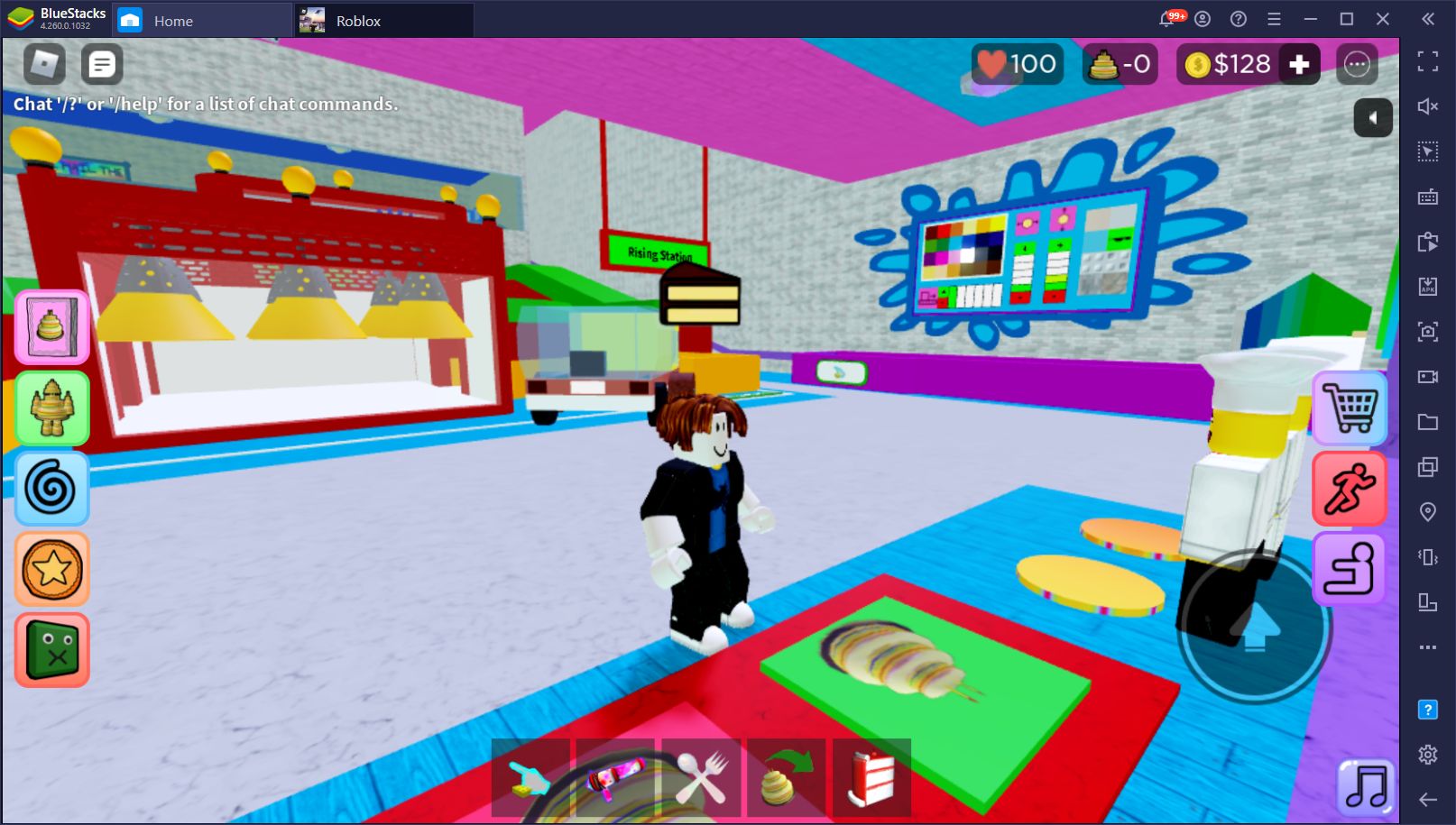 Luckily, this is exactly what the Macro Recorder is all about as this BlueStacks tool is all about as it allows you to record yourself performance repetitive tasks, and then use the resulting macro to automate them on every subsequent occasion. If you're ever playing a Roblox game that often requires you to press certain button sequences, or performs the same repetitive actions to progress, just use a macro and save yourself tons of hassle.
You can access the Macro Recorder by pressing Ctrl + Shift + 7, after which you can either record a new macro or delete an existing one. To record, just click on "Record new macro" and then do whatever it is you want to record. Once you're done, click on the stop button on the top right, and then give your macro a name and a keybinding. You can also customize the behavior of your macro, including setting it to loop at specific intervals, by clicking on the gear icon beside them in the macro menu.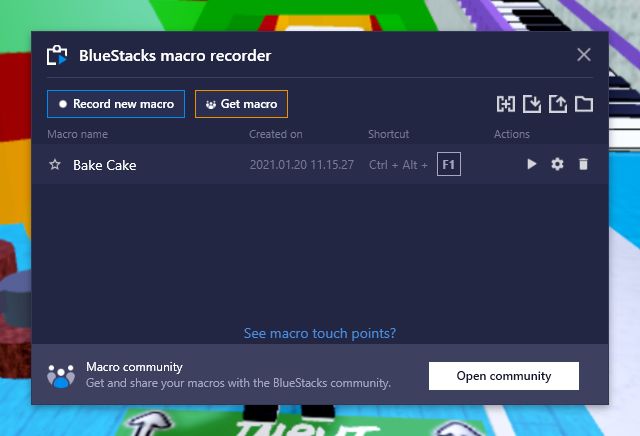 The possibilities and things you can achieve with these macros in Roblox are endless. All it takes is a bit of effort and creativity, after which you can win in your favorite games with the press of a button.
Are you already playing Roblox on PC with BlueStacks? What do you think of our BlueStacks tools for enjoying this awesome game? Let us know your thoughts in the comments below!