Game Guides
Soul Tide Tier List – Best Dolls to Use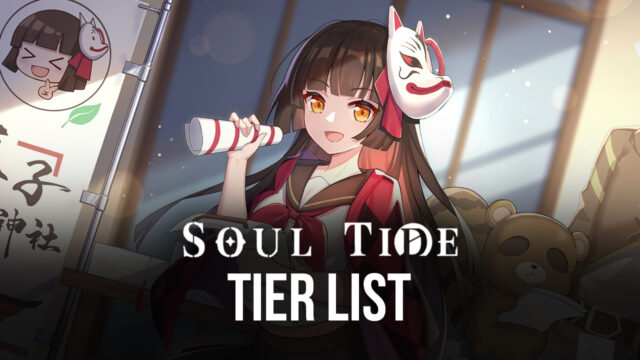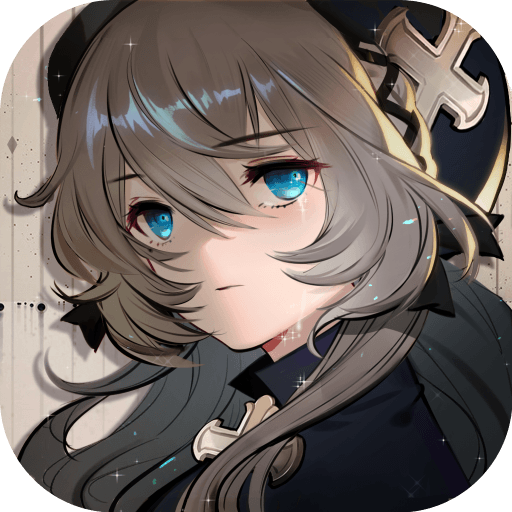 Tier Lists are the best way to decide what characters to look forward to and invest your resources into as they decidedly provide more value in progression. We are bringing our own Tier List for Soul Tide which will state the best Dolls to use for faster progression in-game. Players can judge according to their own judgment and use their formations for a more enjoyable experience.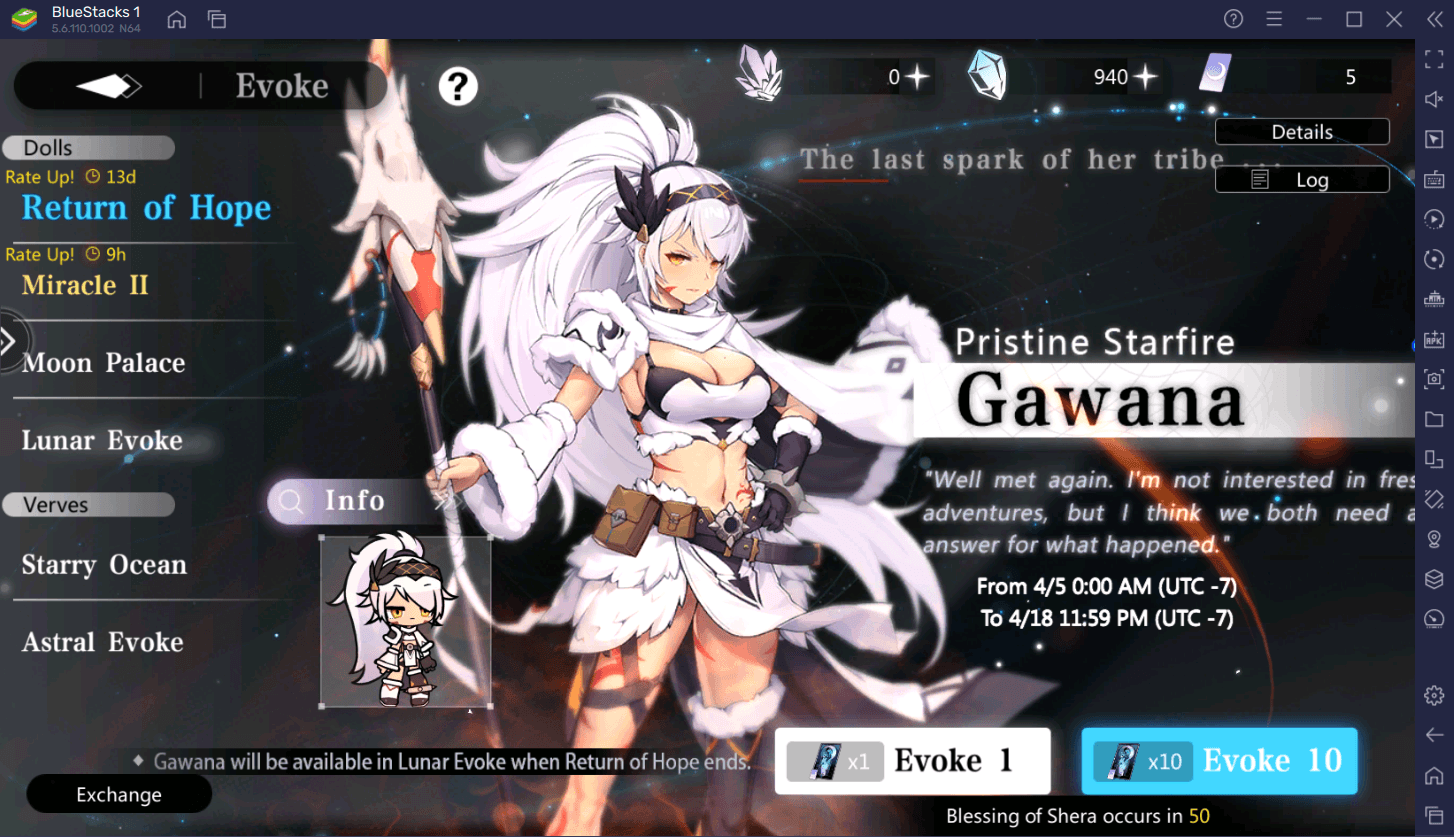 The Lemcnsun Limited title Soul Tide is a hero collector/fragment collector gacha game that requires the players to summon for their favorite characters called Dolls through their gacha system called "Evoke". The gacha system in Soul Tide is pretty straightforward – you pay the premium currencies Crystals or Lunarite to summon in the Evoke system. You can also use the different summoning currencies called Astral Cards and Lunar Cards to summon for either character banners or verve banners. Yes, Soul Tide has a mixed gacha system where players summon for 4 different things: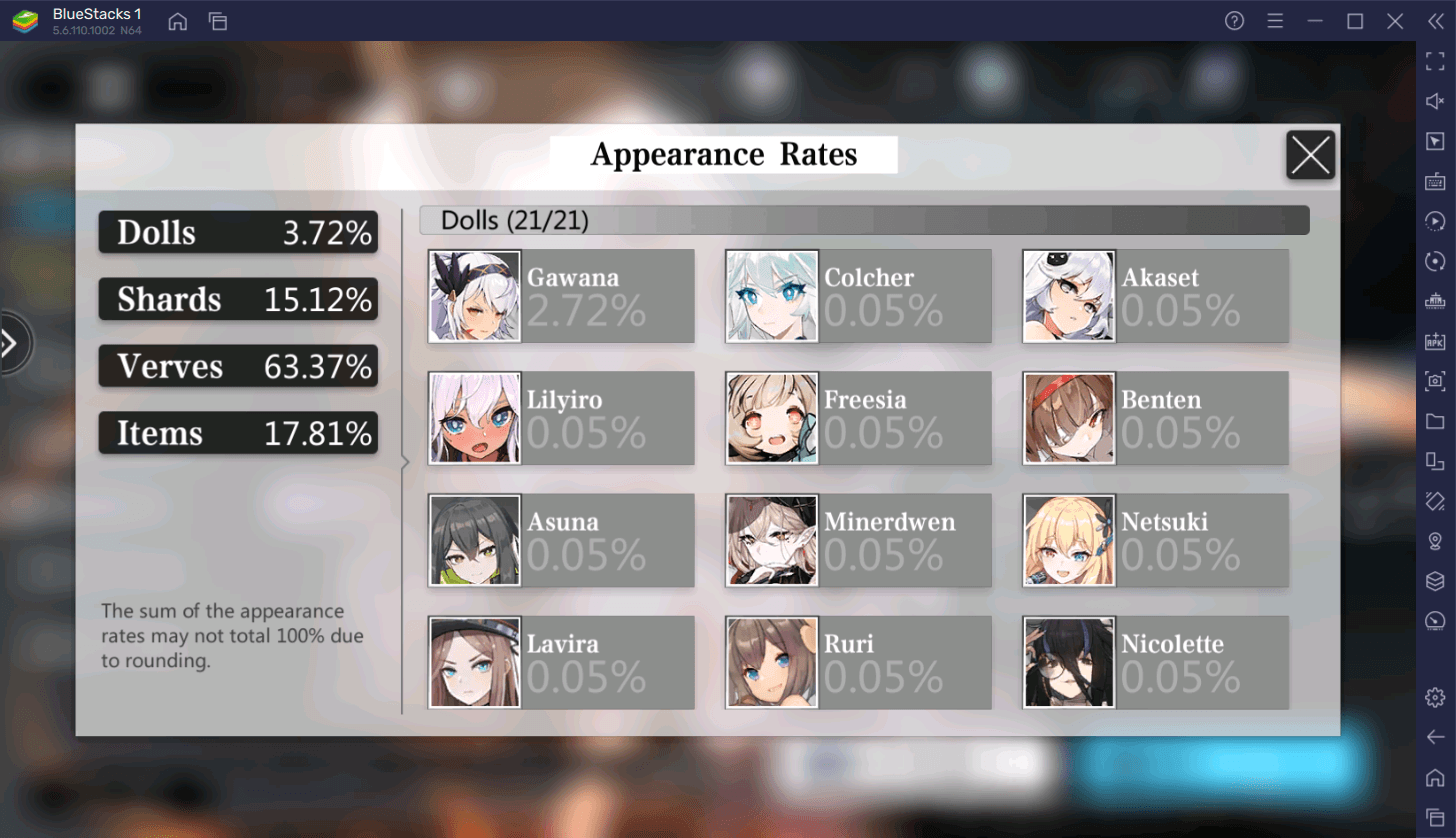 Each item is listed in the banner descriptions and the percentage to summon them is also mentioned. Hence, it is considerably tough to obtain whole Dolls from the gacha system. We recommend to re-roll for a Doll for an optimal start on Soul Tide. Re-rolling can be pretty time-consuming and can take up to 15 minutes per reroll in Soul Tide. We highly recommend using BlueStack's Multi-Instance Manager to re-roll efficiently on different instances for a faster re-roll process on your PC with BlueStacks using a keyboard and mouse.
S Tier Dolls
S tier Dolls are going to be those Dolls that can fit in any team composition and provide the highest utility in the team compositions they are present in. If multiple S tier dolls are used in the same formation, that formation will be considered excellent to clear the Main Story very easily and efficiently. Let's look at some of the Dolls listed in this tier: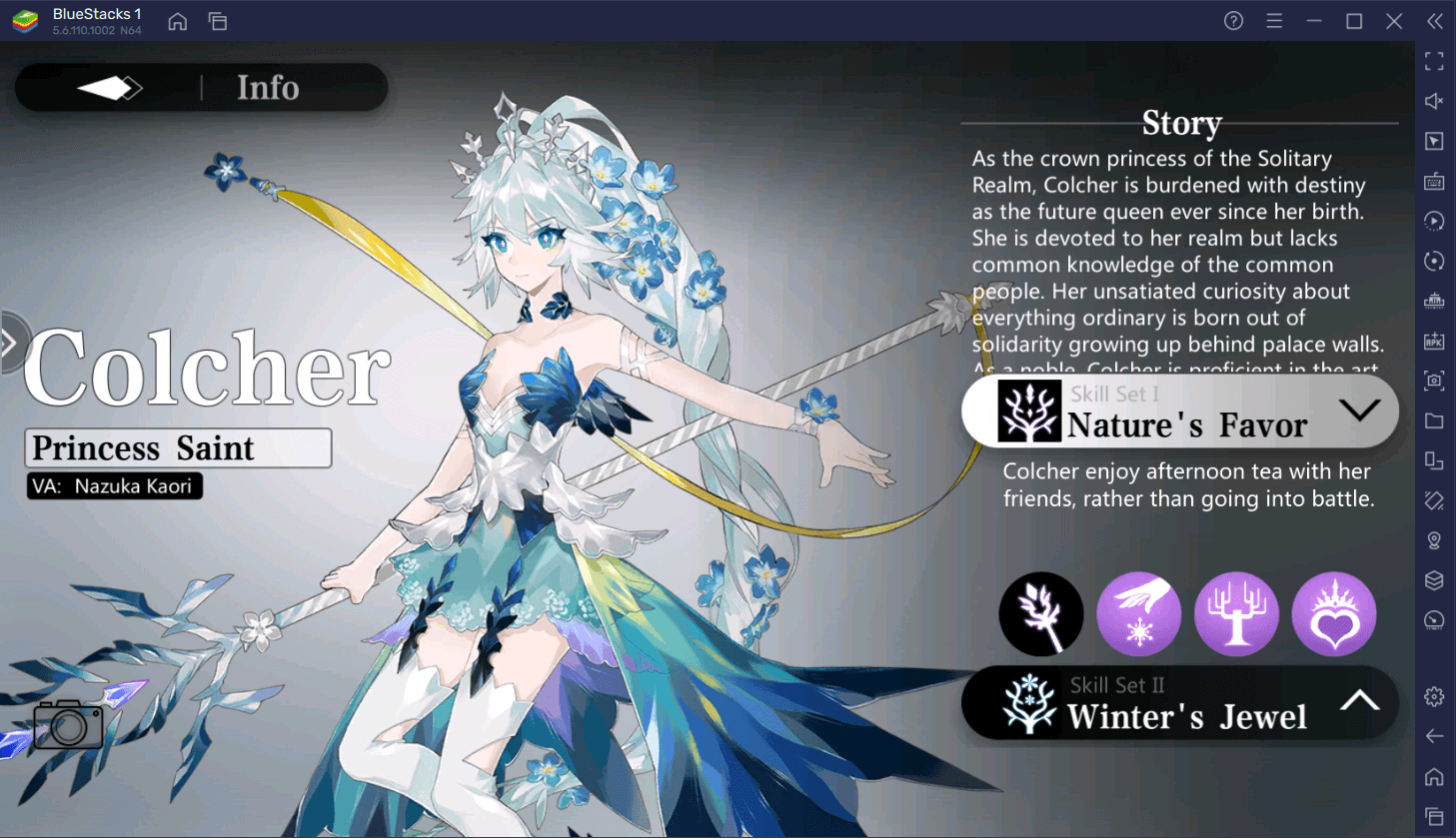 Colcher
Colcher is a Shadow/Ice type Doll that specializes in giving all allies multiple heals as well as a unique Buff called Echoes which can give all Dolls in your team a chance to repeat their ultimate move without any SP cost but dealing 60% reduced damage. She can also cleanse 1 debuff and heal your entire team with her 2nd skill Embrace of Nature. Colcher's 2nd skill set which revolved around Ice type makes her an excellent Ice damage dealer who can take reduced damage while also increasing the damage she deals with the more Chill stacks she has on enemies. She also can freeze all enemies for 1 turn with a 30% chance with her Glacial Spikes skill.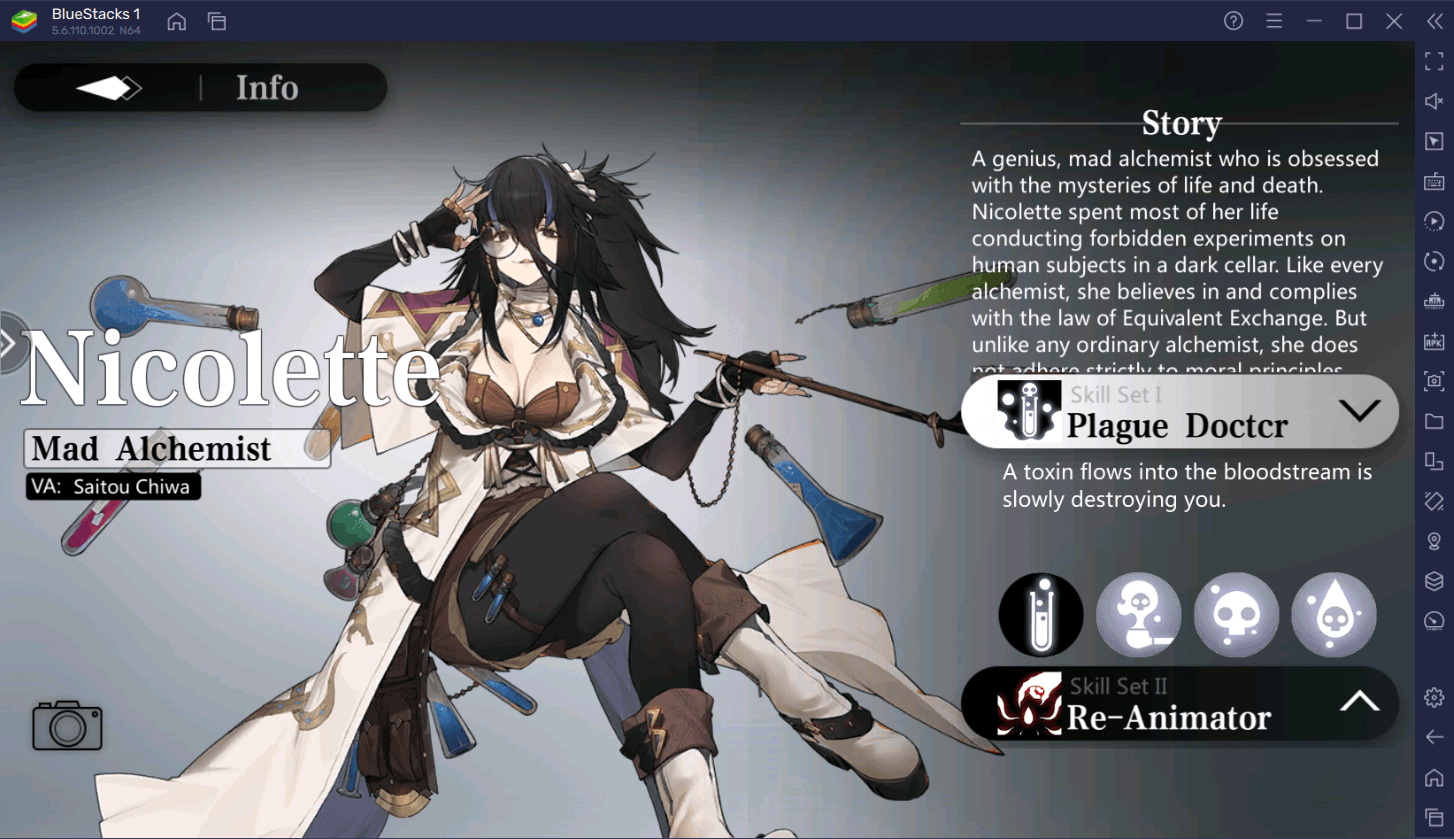 Nicolette
Nicolette is a Physical/Fire-type Doll that specializes in empowering Fire-type teams if players choose to go with her Fire skillset or be a great DoT stylized DPS unit that can inflict multiple stacks of Bleeds with her skills. She also deals 60% more damage from Bleeds to enemies as stated in her passive ability Internal Bleeding. This skill can be skilled up to further increase the chance to 120%. Her Fire skill set makes her an excellent Supporter for Fire-based team compositions as she can increase the damage, they deal by giving them a buff called Fire Chilli. Her ultimate move Forbidden Equation provides a 15% Attack and Defense increase along with a 25% Maximum HP increase buff which is stackable.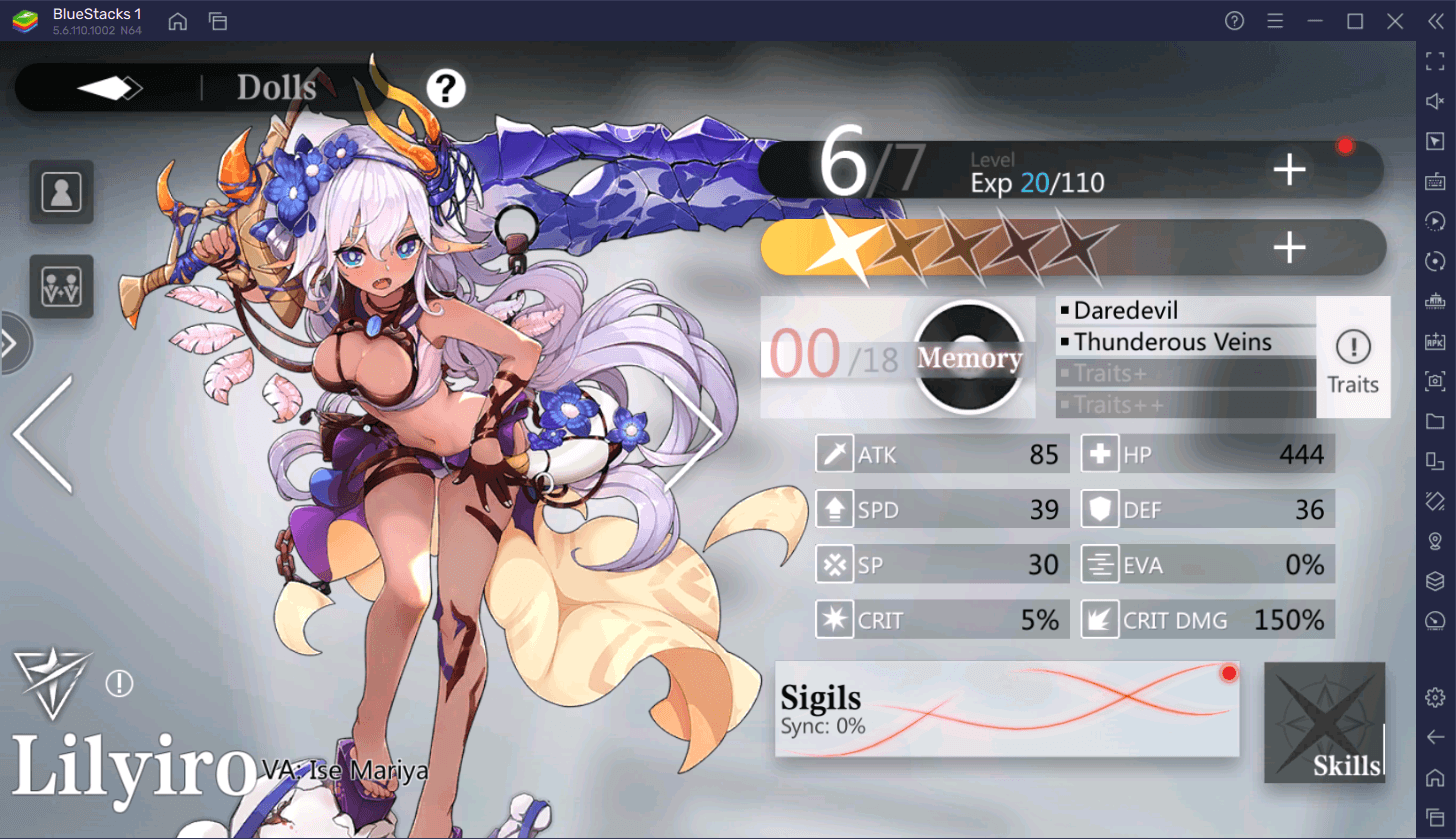 Lilyiro
Lilyiro is a Physical/Thunder type Doll which is a pure single targeted damaging damage dealer that can nuke enemies. Soul Tide is a PvE game with no PvP aspects available currently. This makes the combat go longer and there is no rush to finish the matches fast if you have healers on your team. Lilyiro excels in PvE modes like these as her passive skill Shura states she increases her Critical Hit Chance and Critical Hit Damage by 1% and 3% respectively at the start of each turn, stacking up to 10 turns. This can further be skilled to 3% and 5% each. Her ultimate ability Meteor Mash deals 50% increased critical hit damage when she uses this skill and deals 300% of her Attack damage to the selected enemy.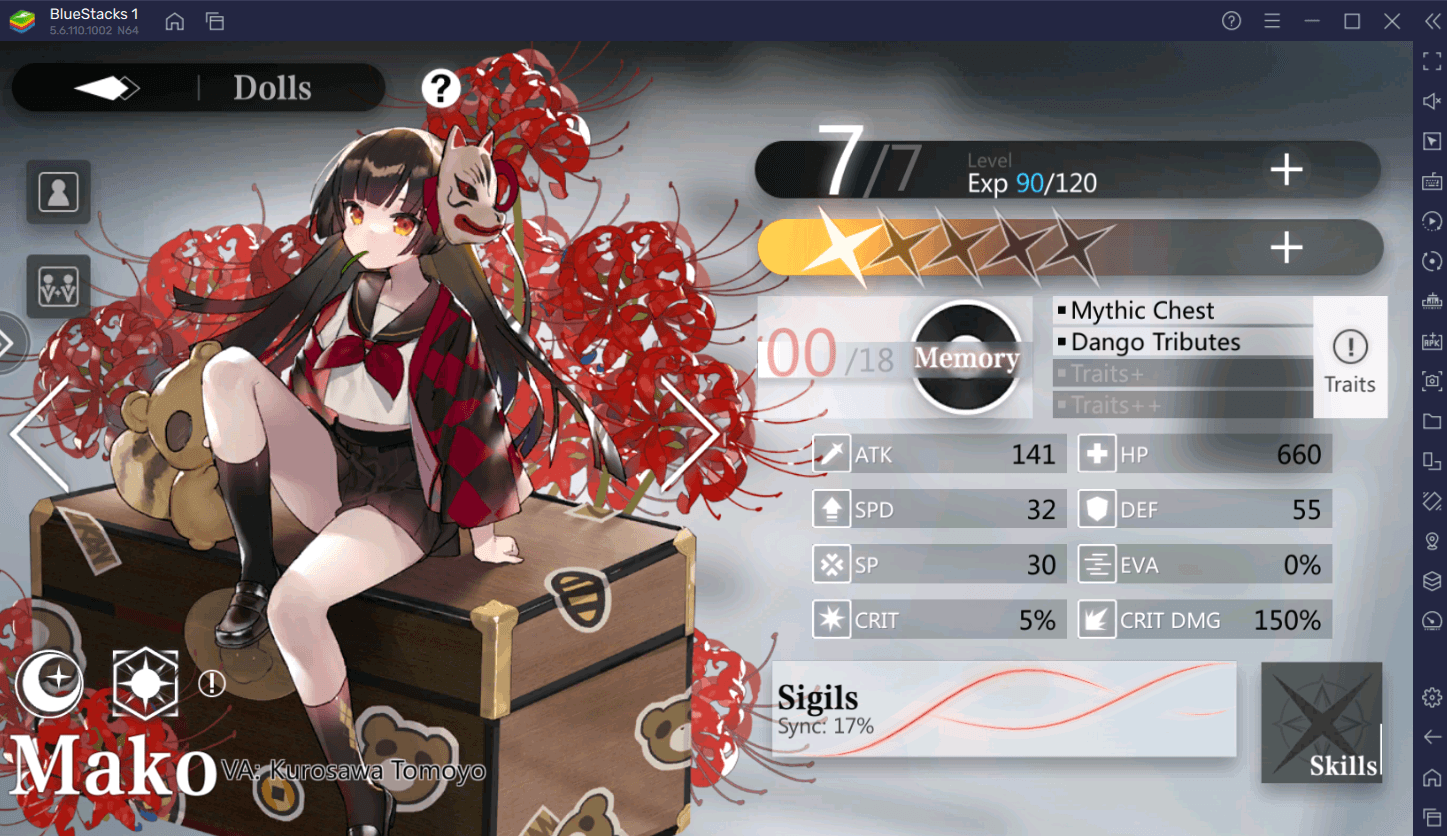 Mako
Mako is a Fire/Shadow type Doll that enhances the damage dealt by Fire heroes in your team significantly as well as is a great Supporter for your team. Her skill Purifying Skill increases the damage dealt by Fire heroes by 35% for 2 turns and has a 50% chance to remove 1 debuff from all Dolls. Her ultimate ability Fiery Rebirth is a great supportive ability that gives a Doll of your choice the Nirvana buff for 2 turns. This buff states that if the Doll takes fatal damage, she will get her Health restored. Hence, it protects the Dolls from death.
A Tier Dolls
A Tier Dolls are those Dolls that are really good in certain team compositions and some might even become S tier in certain compositions. Overall, they are those Dolls that are excellent and viable to use but falter in comparison to those Dolls in the S tier. Let's take a look at some of the Dolls in this tier: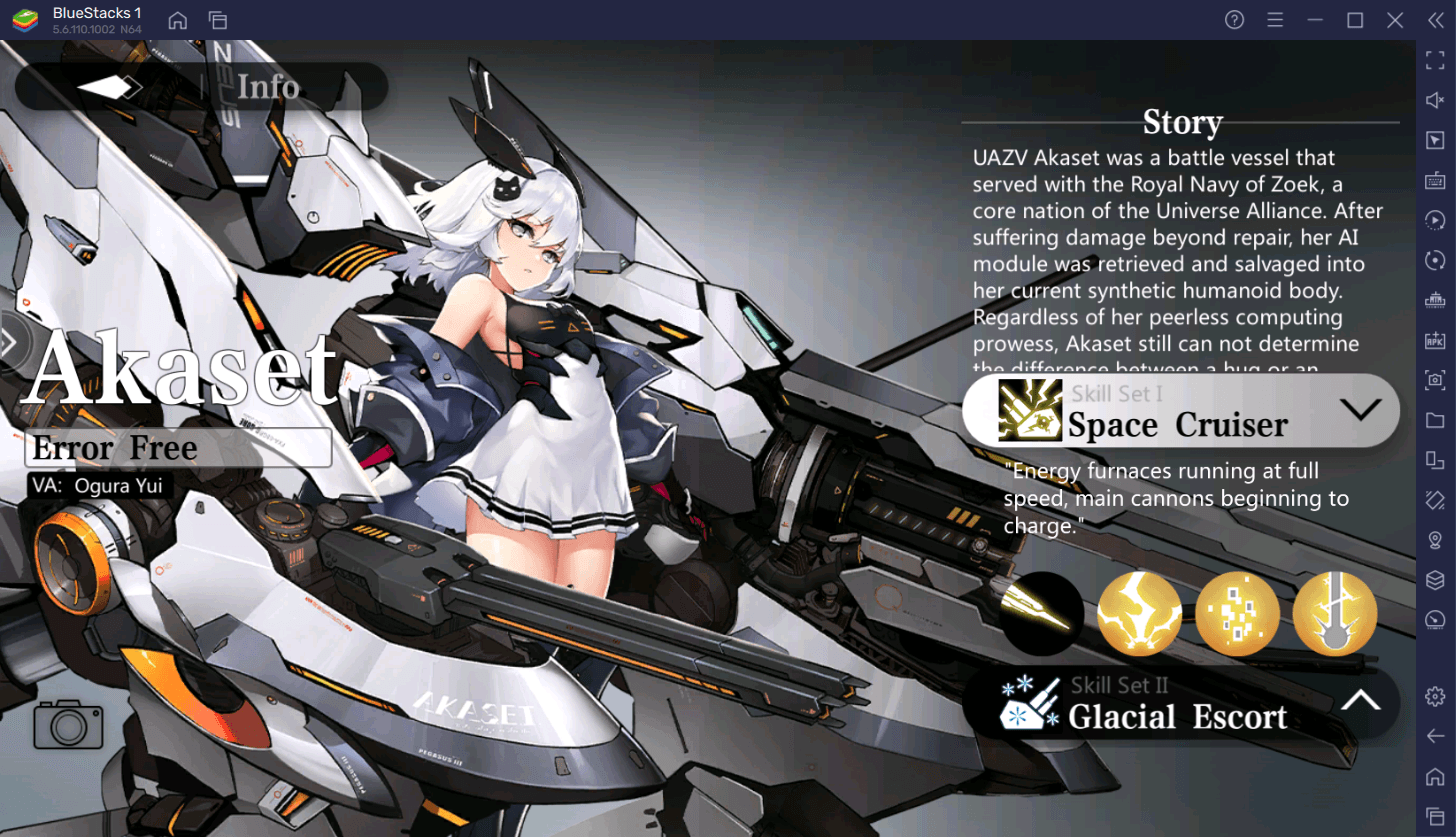 Akaset
Akaset is a Thunder/Ice type Doll that specializes in debuffing the enemies so that they deal decreased damage but take increased damage from AOE attacks. AOE attacks are those attacks that target all enemies. Luckily, Akaset's 2nd EMP Storm is an AOE skill that deals 90% Lightning damage and increases the damage the enemies take by 10% for 2 turns. Her Ice skill set makes her an excellent Support/Defender type unit that can decrease the damage she and the Dolls on your team take quite significantly. Her ultimate skill I-Field gives all Dolls 2 charges of I-Field which reduce the incoming damage by 25% and this buff is Stackable.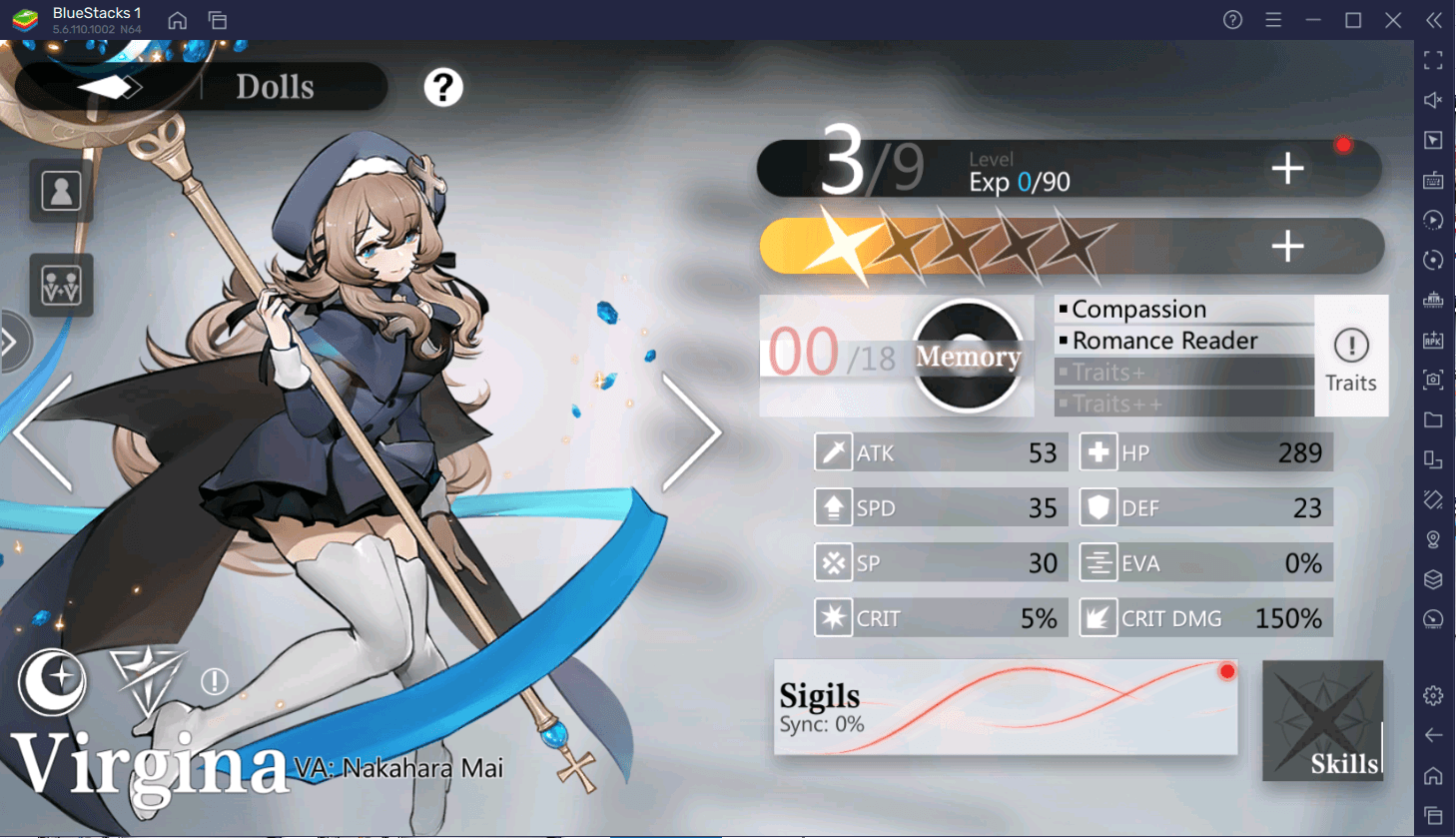 Virgina
Virgina is a Shadow-type Doll that specializes in Supporting your Dolls or doing DPS with her 2nd skillset skills. She is one of the Dolls you get at the beginning of the game for free after completing the tutorial. Virgina can heal and dispels debuffs from the target with her 1st skill Waxing. She increases the Attack of Dolls by 10% with her skill Conviction. Her 2nd skillset ultimate skill Startide is an AOE damaging skill that targets all enemies and lowers their Defense by 20%. She is a great setup hero for nuking squishy targets.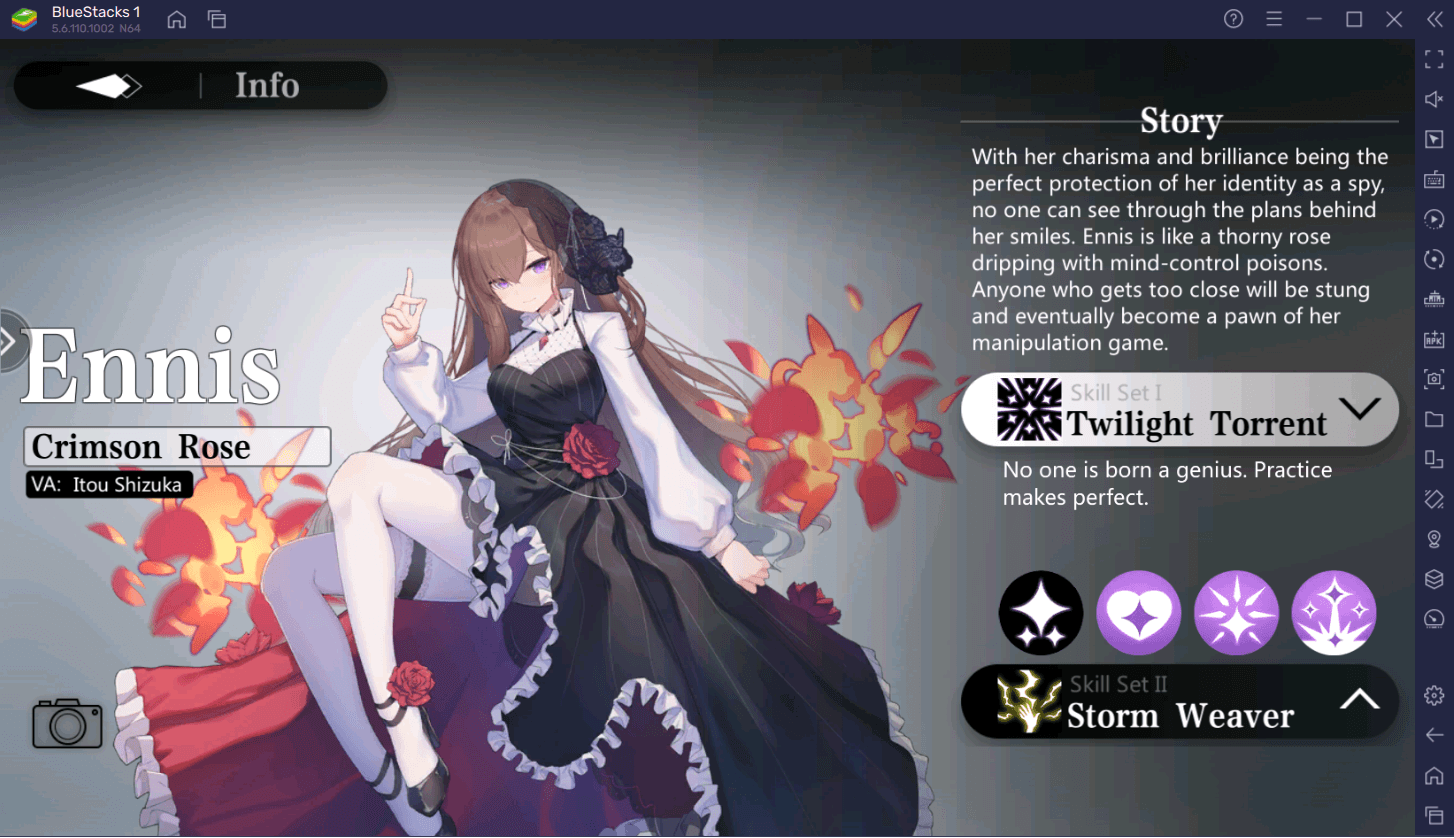 Ennis
Ennis is a Shadow/Thunder type Doll that is capable of increasing her Attack with her skills which provide more value the higher SP and HP% she has. Her 1st skill from the Shadow skillset states she heals some amount from the damage she does which makes her self-sustainability quite high. Her 2nd skill Excellence states she gains 1% Attack per 20 SP, stacking up to a maximum of 10 times. Her ultimate ability Shadow Blast costs 80 SP and is a single targeted damaging ability that deals 300% Shadow damage to the target while increasing her Attack by 1% per 10% HP she has while gaining another 5% Attack if she is above 70% HP.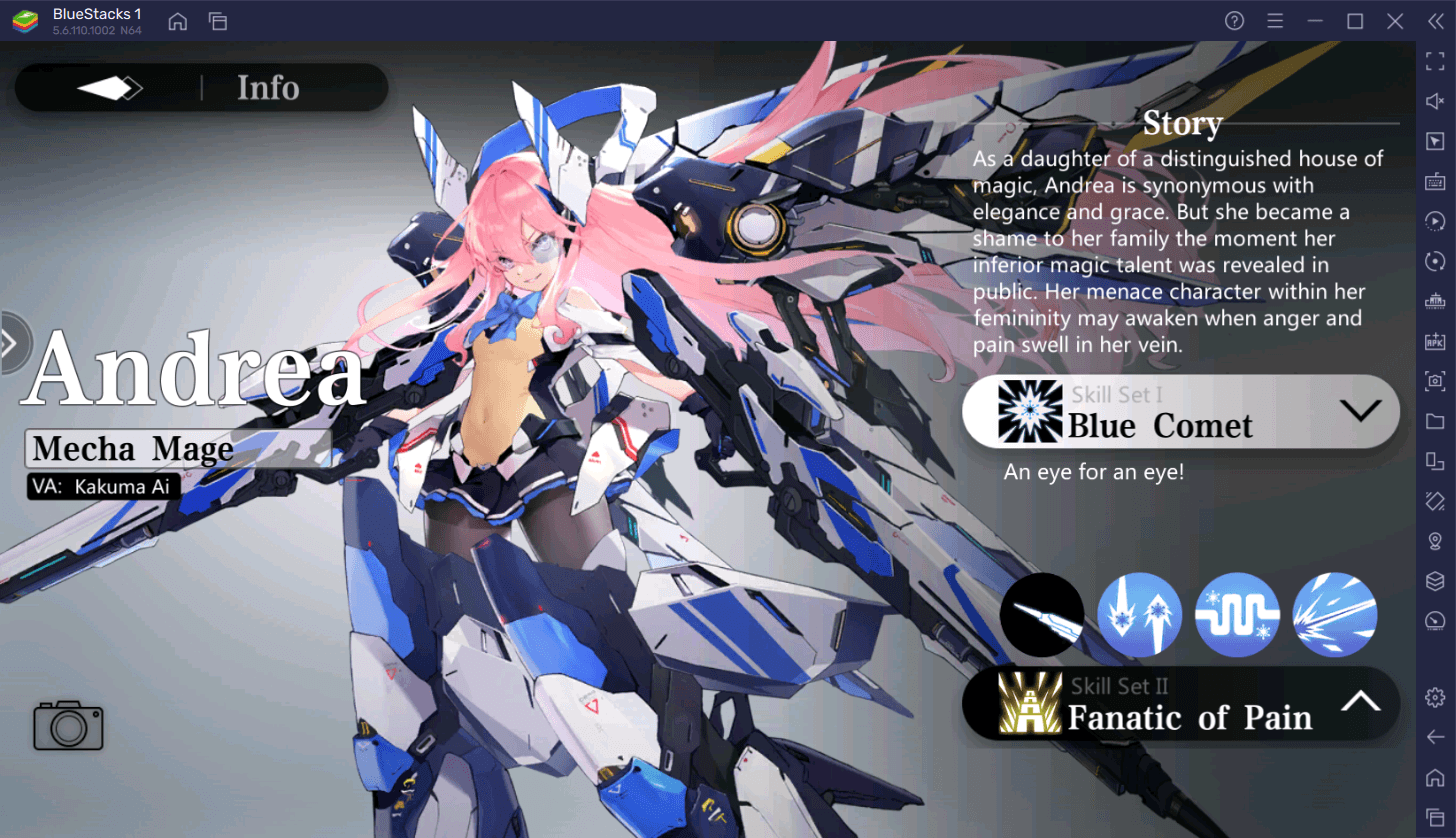 Andrea
Andrea is an Ice/Thunder type Doll that specializes in dealing damage to Front row enemies and more damage the more she attacks. She does with her 2nd skill from the Ice skill set called Spell Amplifier which states she gets 1% increased Frost damage stack per direct damage she does and at 6 stacks, she gains 10% additional attack. Her Thunder skill set makes her an excellent Defender unit that can take the damage from other Dolls upon herself. This is called redirect damage which she has in her Pain Amplifier and Psycho-Flame skills.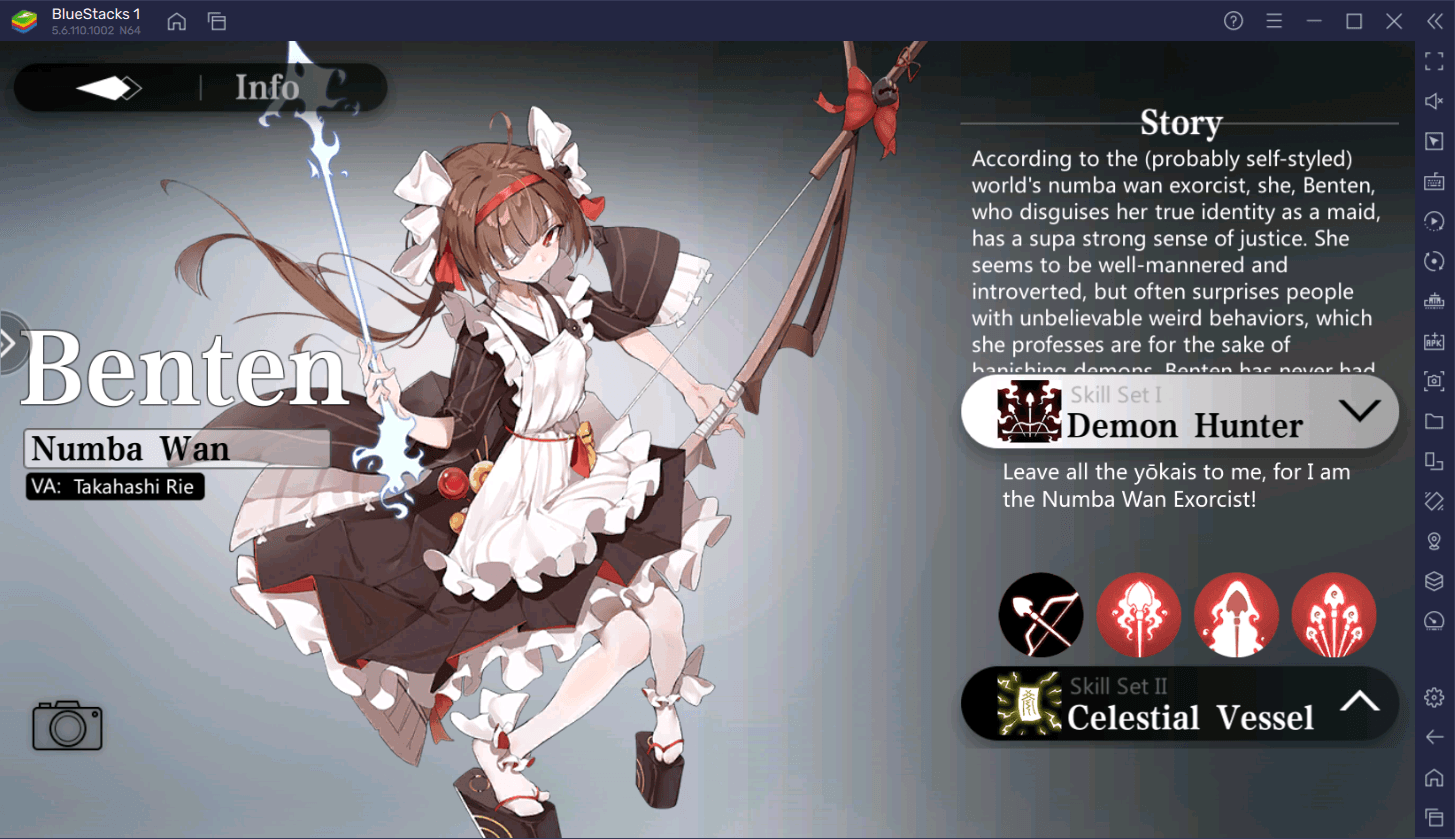 Benten
Benten is a Fire/Thunder Doll that works excellent as a secondary DPS unit in-game. Her fire skill set's 2nd skill Echoing Shot states she has a 30% chance to deal damage to a random enemy after a Doll from the same team deals damage. Her ultimate ability Supa Barrage targets 5 random enemies and hits them for mixed damage of Physical and Fire damage. The last shot always deals 95% Fire damage. Her Thunder skill set makes her a great damage booster and supporter for Thunder teams as she increases damage dealt by Thunder skills by 20% and her ultimate ability Supa Fuda heals all Dolls by 80% of Benten's Attack and gives all Dolls Bliss buff for 2 turns. This buff heals the Dolls by 10% of Benten's Attack after they finish their turn.
B Tier Dolls
B Tier Dolls are those dolls that are usable but far inferior compared to other dolls mentioned above. This might be due to their dependence on a particular element or their sheer low multipliers on their skills. Let's look at some of the dolls in this tier: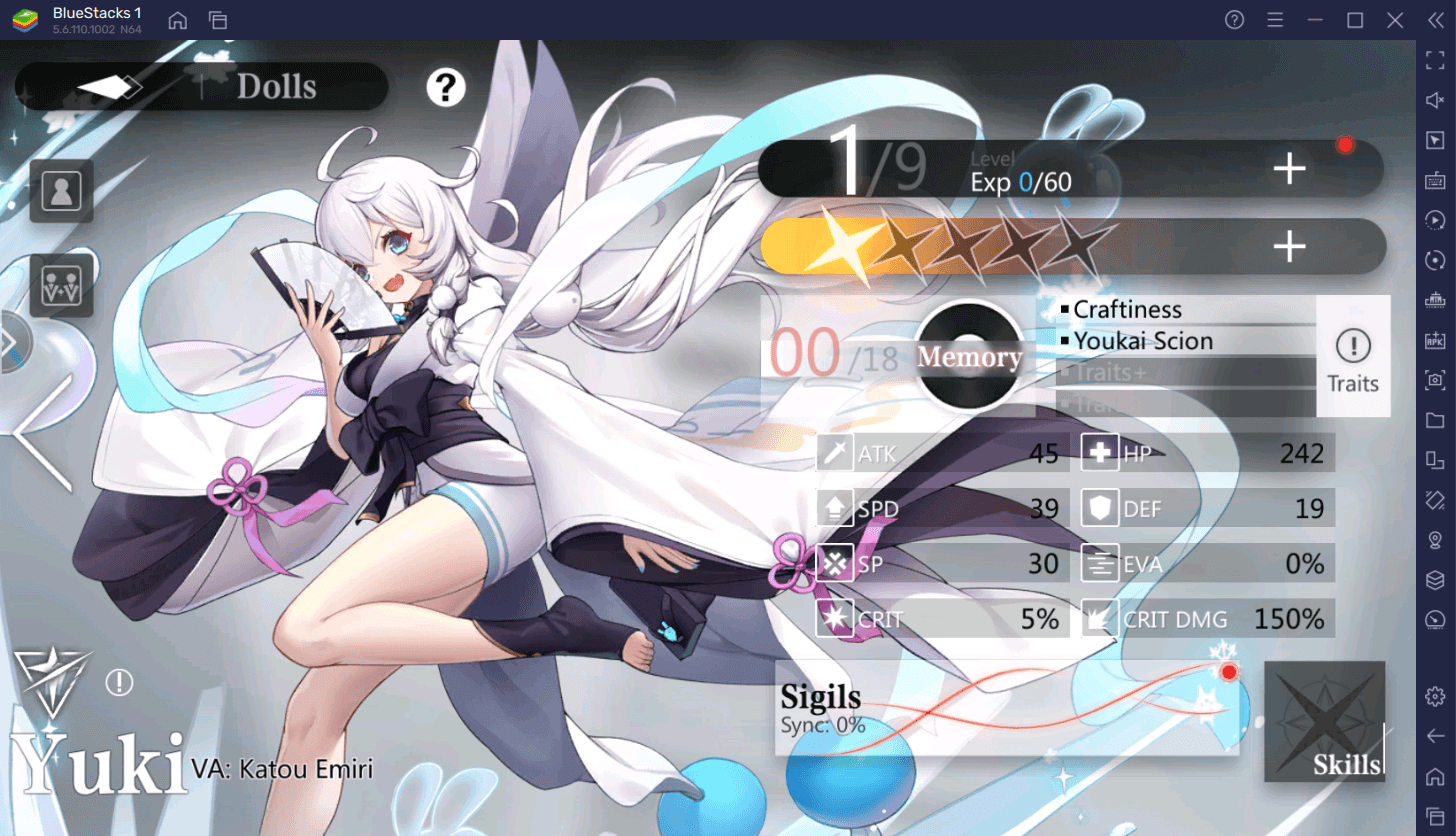 Yuki
Yuki is an Ice/Shadow type Doll that specializes in dealing more damage against enemies who are affected by more harmful effects. Her Ice skill set's 2nd skill Shatter states she deals 35% more damage to enemies who are affected by harmful effects. Her ultimate skill Snowland Park is an AOE damaging skill that deals damage to all enemies and can inflict Freeze debuff. This skill also deals 50% more damage against enemies who are already under Freeze debuff.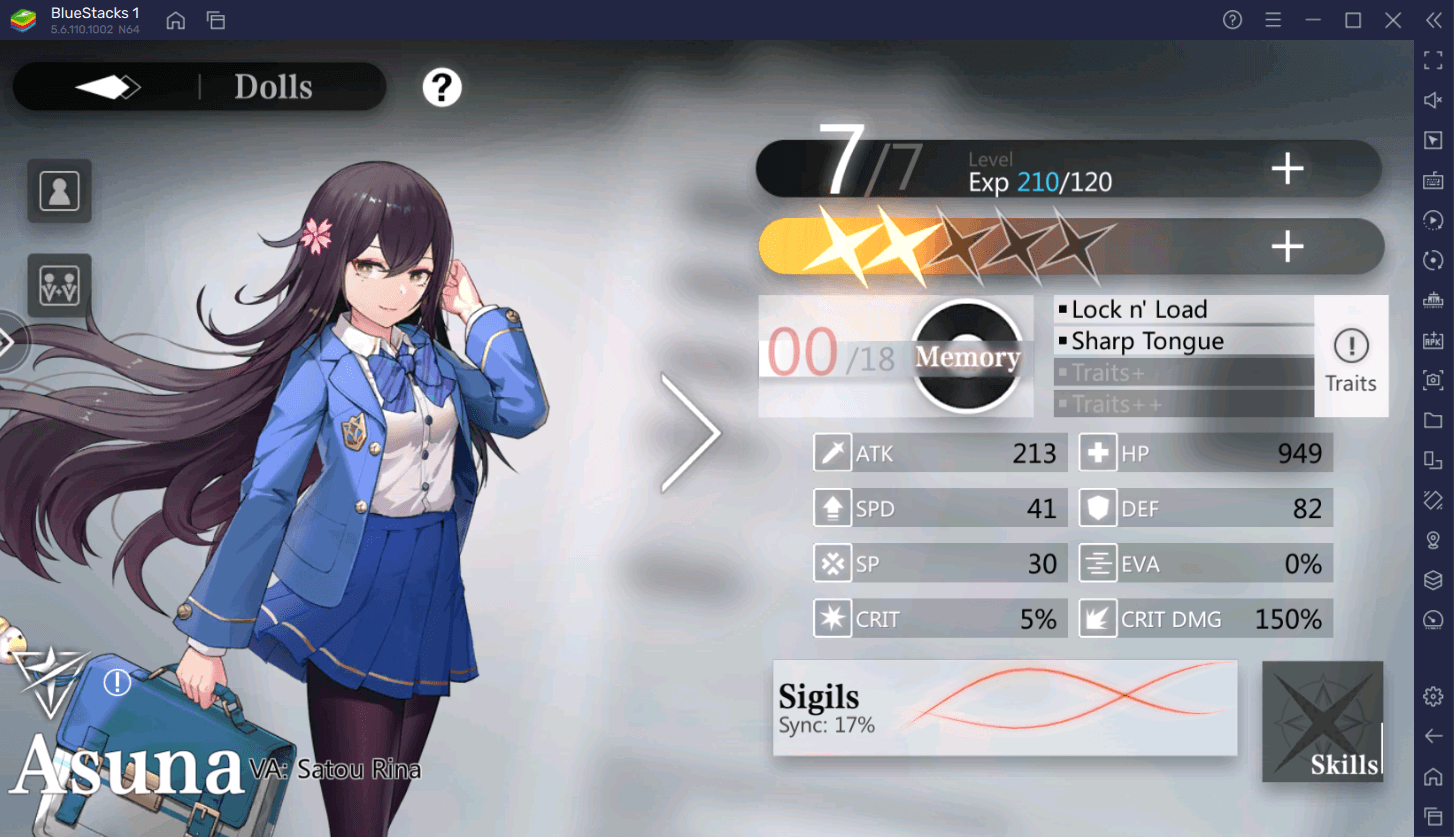 Asuna
Asuna is a Physical type Doll that specializes in doing massive single targeted damage to the enemy. She is also capable of increasing her own Attack and Critical Hit Chance by 5% and 20% for 2 turns respectively with her skill called Sniper Mode. Her ultimate ability from 1st skillset Inevitable Finale is a single targeted damaging ability that deals 300% of her Attack damage to the enemy and ignores 50% of the enemy's defense if this skill lands as a critical hit. Her 2nd skill set also makes her a decent DPS, although with less damage compared to her 1st skill set.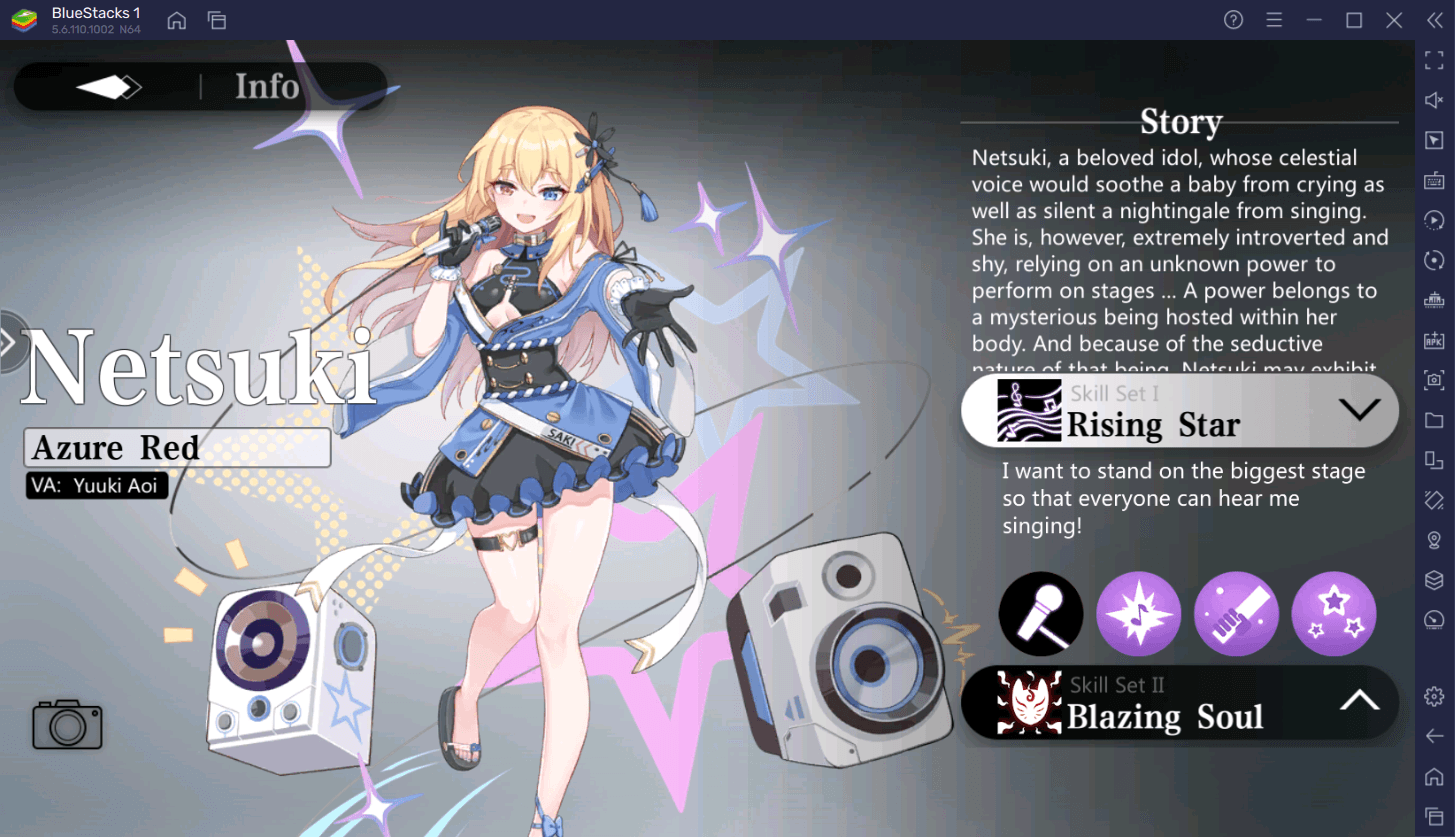 Netsuki
Netsuki is a Shadow/Fire-type Doll which is a unique Support Doll as she is capable of granting 16 SP to all allies while also increasing the Shadow Doll's damage by 10% with the help of her 1st skillset ultimate ability Dream. She also has an AOE damaging ability that targets all enemies and inflicts a Charm debuff on them for 1 turn with a 30% chance. Charm drastically reduces the damage they do. The rest of her skills make her a good healer as she can heal Dolls and the more Dolls she heals, the greater the healing amount. Her 2nd skill set is very bad for Fire-type and we recommend not choosing any of those skills.
Soul Tide can consume a lot of battery and put strain on the smaller capacity of mobile devices. Playing Soul Tide on a bigger screen without worrying about battery drainage and lag-free gameplay is highly recommended. Hence, we recommend playing Soul Tide on a PC with BlueStacks using a keyboard and mouse.