Game Guides
Sword Master Story – How To Enjoy This Gacha RPG Auto-Battler on PC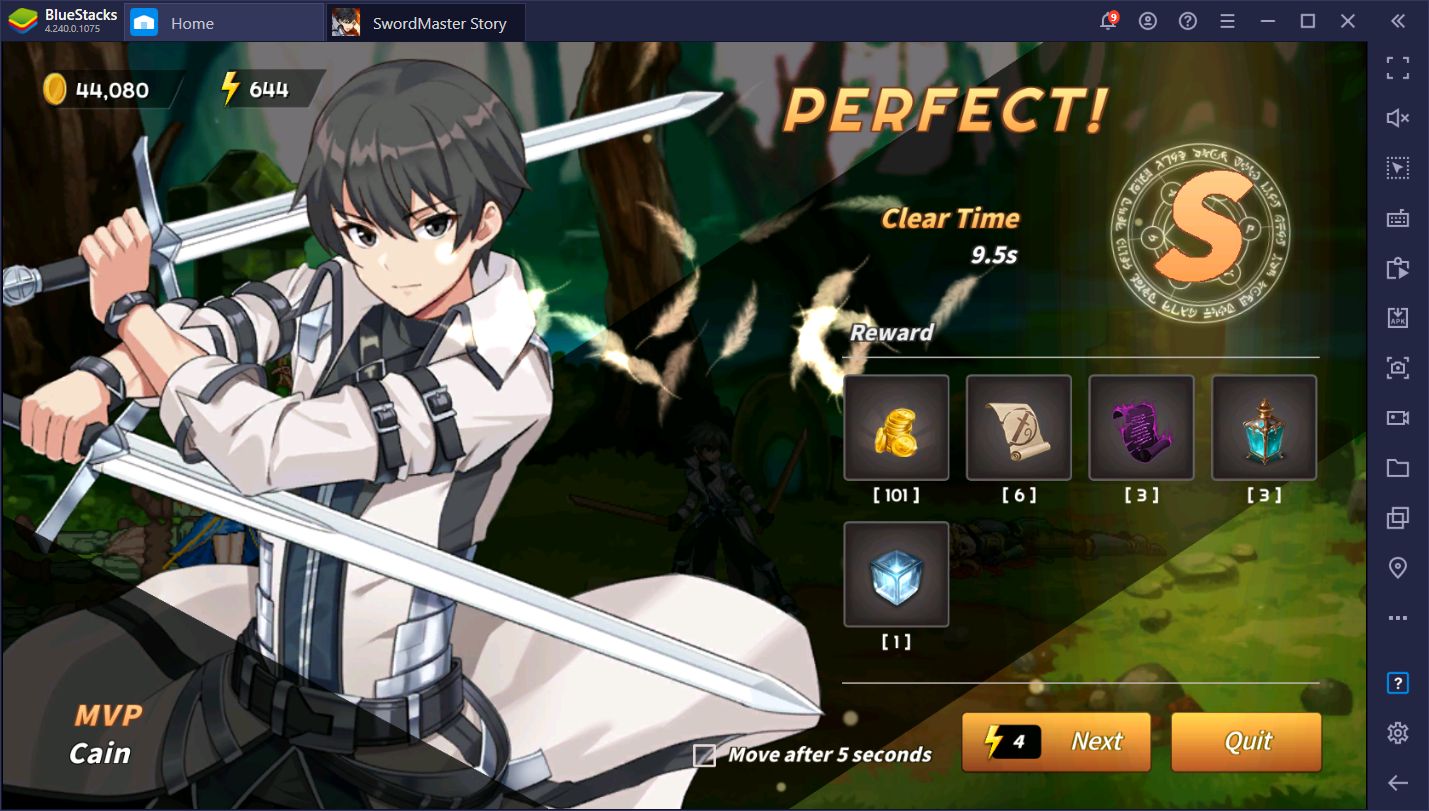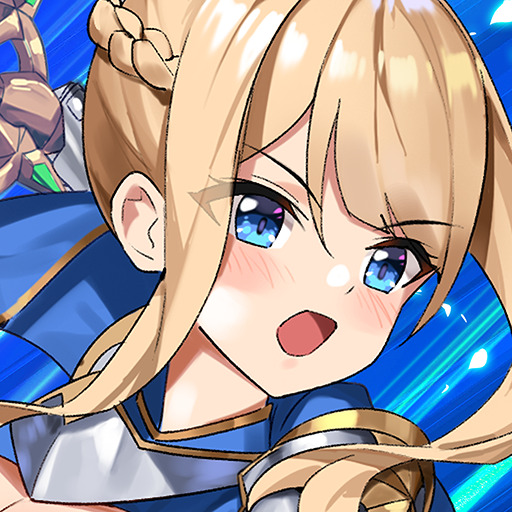 For many enthusiasts, the mobile gaming industry is considered as the "gacha platform", mostly due to the large proliferation of titles of this genre. While Android and iOS games definitely span a wide variety of genres, it's undeniable that gacha RPGs make up a good chunk of the catalog. Regardless, while most of these games share similar hero-summoning and recruitment systems, it's their combat and other underlying mechanics that set them apart from the rest. In this regard, the new Sword Master Story definitely stands out due to its fast-paced and chaotic combat. Get the most from your experience Sword Master Story on PC.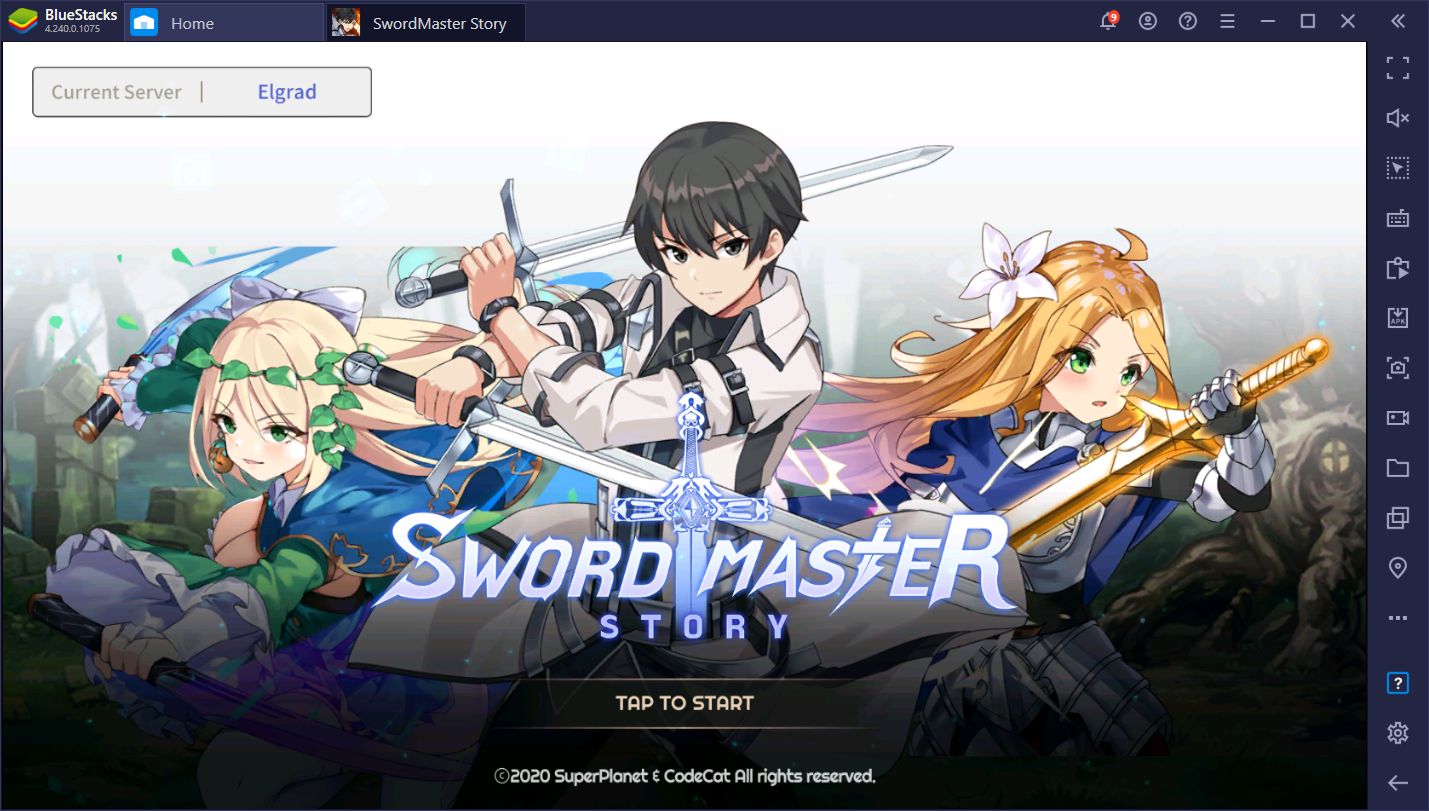 Lots of gacha games feature turn-based combat, or other slower mechanics that require lots of strategy. Similarly, there are many games that offer a focus on automated combat. Sword Master Story falls into the latter category but, unlike its peers, it combines its auto-combat with a fast and chaotic presentation where your characters engage the enemy with blinding speed and no mercy. The result is that your characters cut through their opponents like a hot knife through butter, and stages last only a few seconds.
This focus on speed definitely adds a layer of satisfaction to the gameplay since every single upgrade you perform further increases your power and makes them destroy their enemies even faster. But let's talk about the game mechanics later on another occasion. For now, we want to focus on how we can improve your experience with Sword Master Story. Specifically, we're going to show you how to play this game on your PC, with a much larger screen, and with many different features to enhance your gameplay.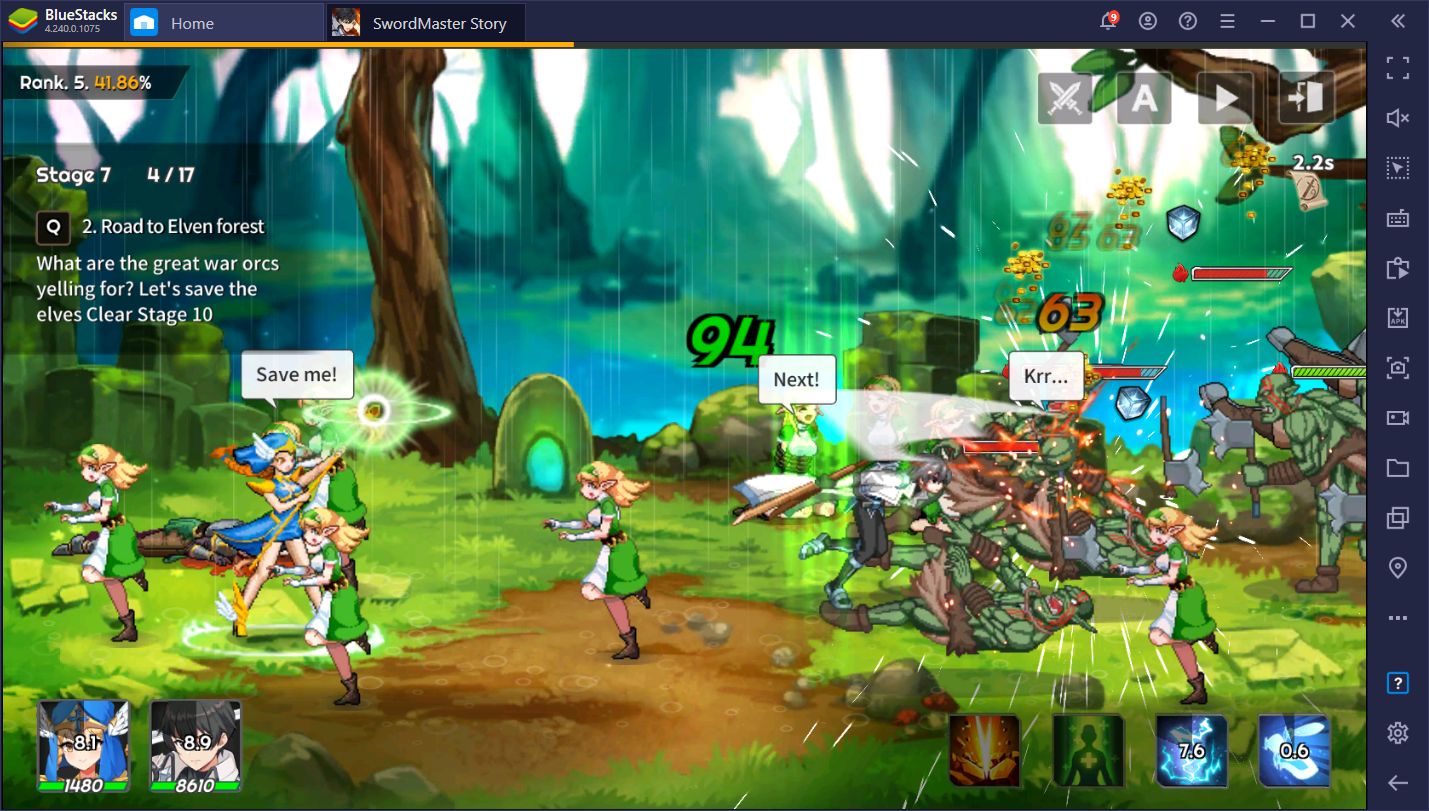 Installing and Playing Sword Master Story on PC
Playing Sword Master Story, as well as any of your favorite Android games, on PC is as simple as by using our powerful Android app player, BlueStacks. In just a few minutes, you can set up our emulator, and start enjoying the very best experience with your mobile games.
To Install Sword Master Story on PC, please follow these simple steps:
Download the latest version of BlueStacks from our website and run the installer. After the process finishes, the emulator will launch automatically.
Once BlueStacks has booted up, use the search bar on the top right to look for Sword Master Story on our Game Center.
Click on the game's portrait on the search results to go to its Play Store page, and then install it just like you would with an app on your phone.
Once installed, you can find the game's icon on the BlueStacks home screen. Click on it to start playing.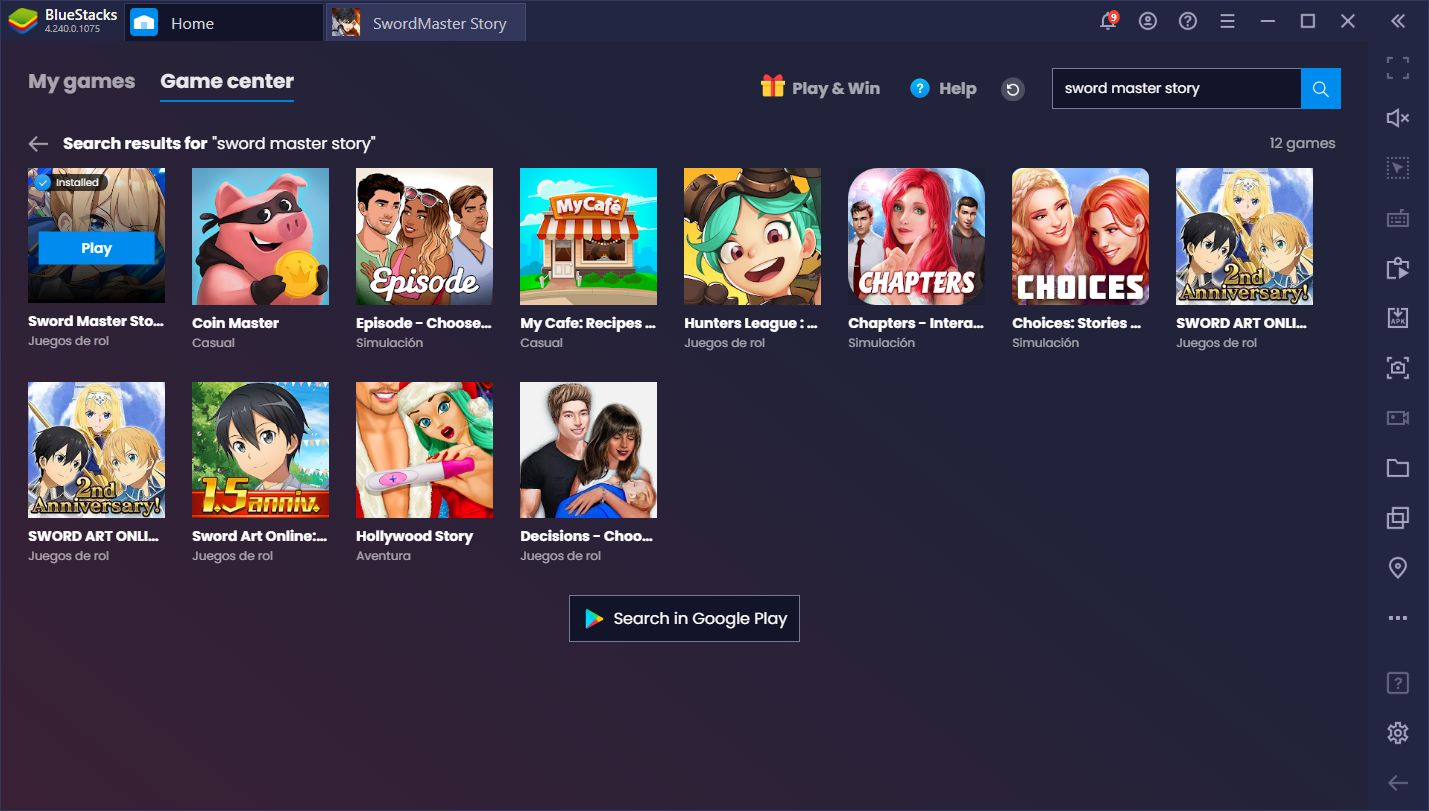 Aside from being really simple to install and get started, playing on BlueStacks significantly enhances your experience with any mobile game. Not only do you get better performance than the most expensive phones on the market, but you'll also be playing mobile games on a large computer monitor or TV, and using your physical mouse and keyboard instead of relying on awkward touchscreen controls.
For Sword Master Story, getting a good view of the battlefield on a large screen is vital, particularly since battles often finish as quick as they begin, in a blink-and-you'll-miss-it fashion. Being able to appreciate every single detail on the screen will help you to make the best decisions in battle.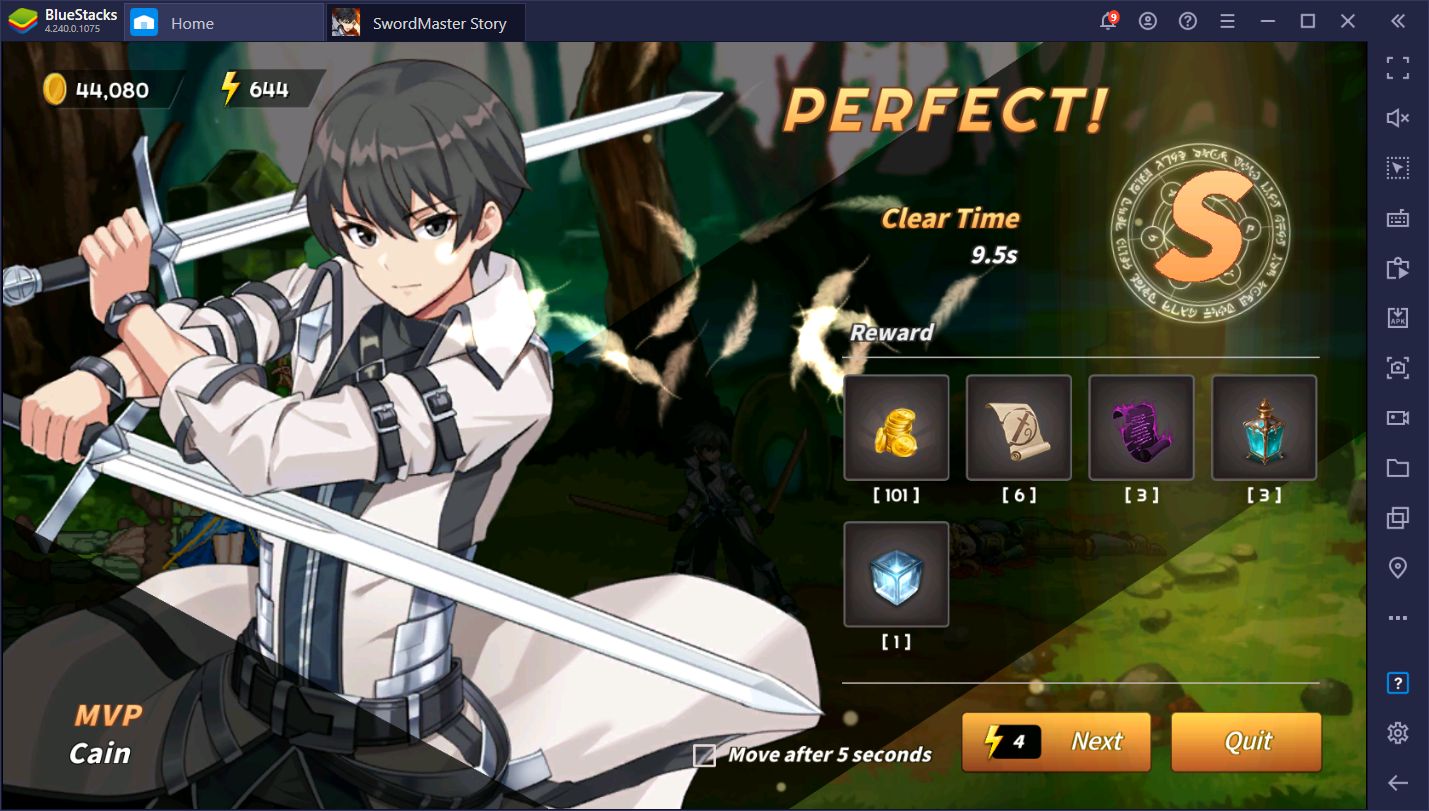 However, superior hardware aside, BlueStacks also has exclusive features that put it above all other Android emulators on the market.
Freely Customize Your Controls With the Keymapping Tool
As we mentioned above, BlueStacks allows you to play mobile games using your mouse and keyboard instead of relying on touchscreen controls. However, with the Keymapping Tool, you can take this versatility even further since this feature lets you freely customize your controls as you see fit.
You can access this feature by pressing Ctrl + Shift + A. The Keymapping Tool menu lets you modify your controls in many different ways such as changing your current bindings, moving them around the screen, and even adding new bindings from the list of predefined functions on the rightmost panel.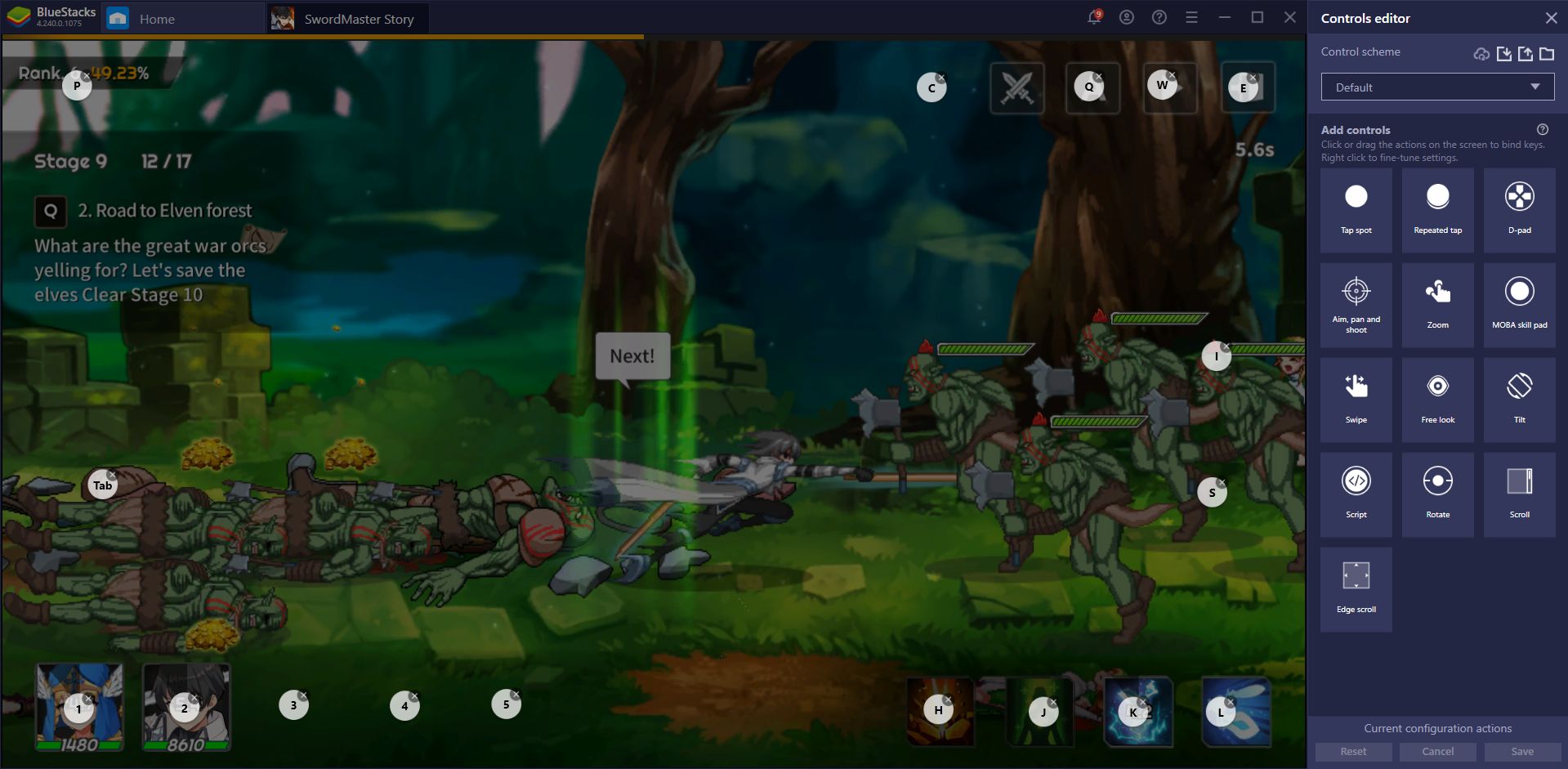 And once you're done, you can even export your control schemes to share with anyone else, or save it as a backup in case you lose your current config.
Reroll With Ease Using the Instance Manager
As a gacha game, you'll likely be spending lots of your time in Sword Master Story farming for currency that you will use in summonings, with the goal of unlocking the strongest characters. While this is pretty much standard in the gacha genre, the low odds of getting a good character can be very infuriating, which is like many players choose to reroll before starting their journeys.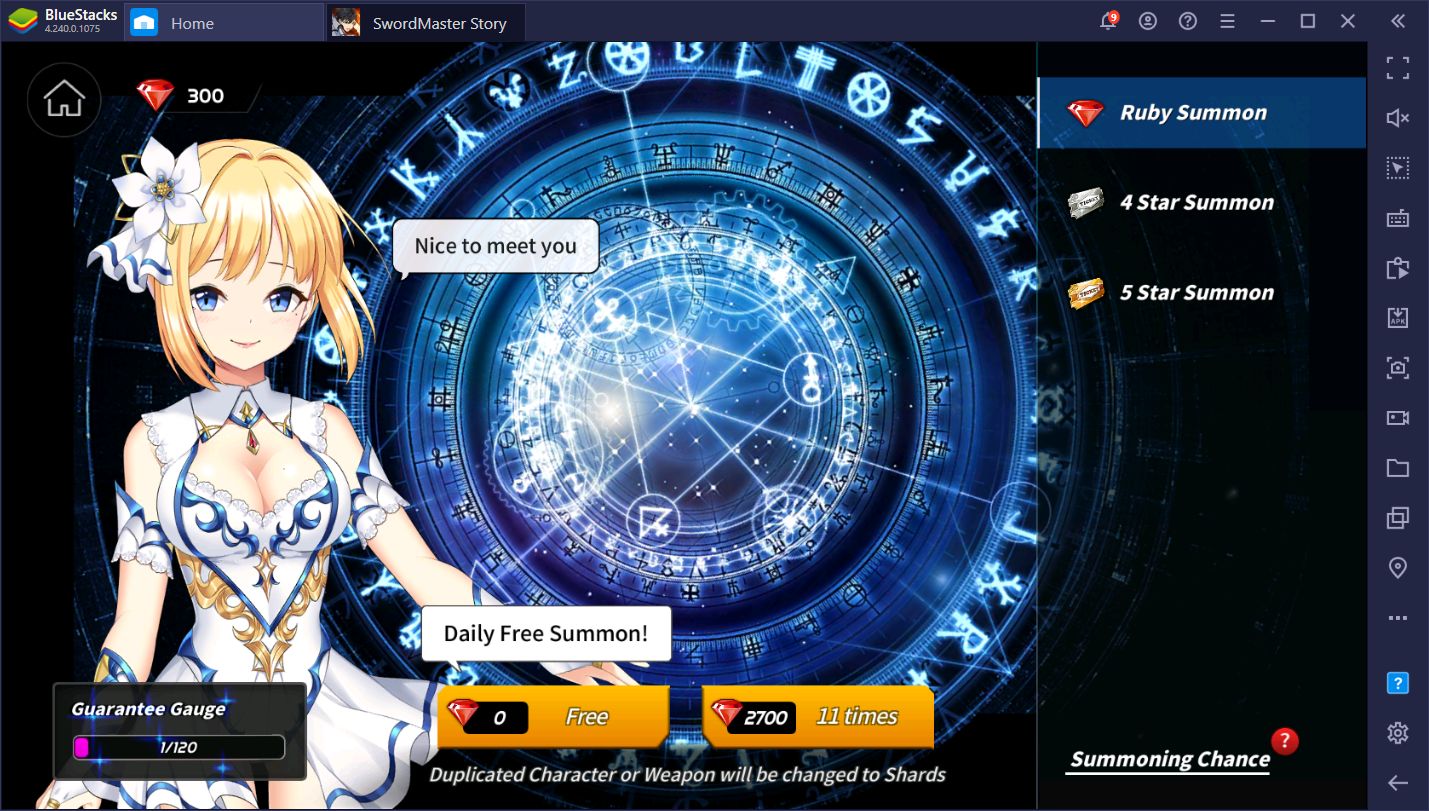 The term "rerolling" refers to the process of starting in a gacha game, progressing until you get to the first random summoning (which is sometimes free), and resetting your progress if you're not satisfied with what you get. Sadly, due to the low odds of getting good heroes, this can take countless attempts. Nevertheless, once you DO summon a good champion, you'll have a much better time starting out—some characters could even carry you all the way to endgame.
The length of the rerolling process varies per game, with some giving you a free summoning a few minutes into the game, and others requiring you to spend hours farming for that first 10x. Regardless of the length, however, you can significantly expedite the process by using the BlueStacks Instance Manager. This tool allows you to create multiple instances of BlueStacks and, using unique Google accounts in each, download and access the same game on several windows simultaneously. In this sense, you can reroll with triple or quadruple the frequency, depending on how many instances your PC can handle.
If we add the Multi-Instance Sync feature to the mix, you don't even have to bother with progressing on each window individually since, by activating the Sync, you can focus on gaming on your main instance while BlueStacks mirrors your actions on all other active windows.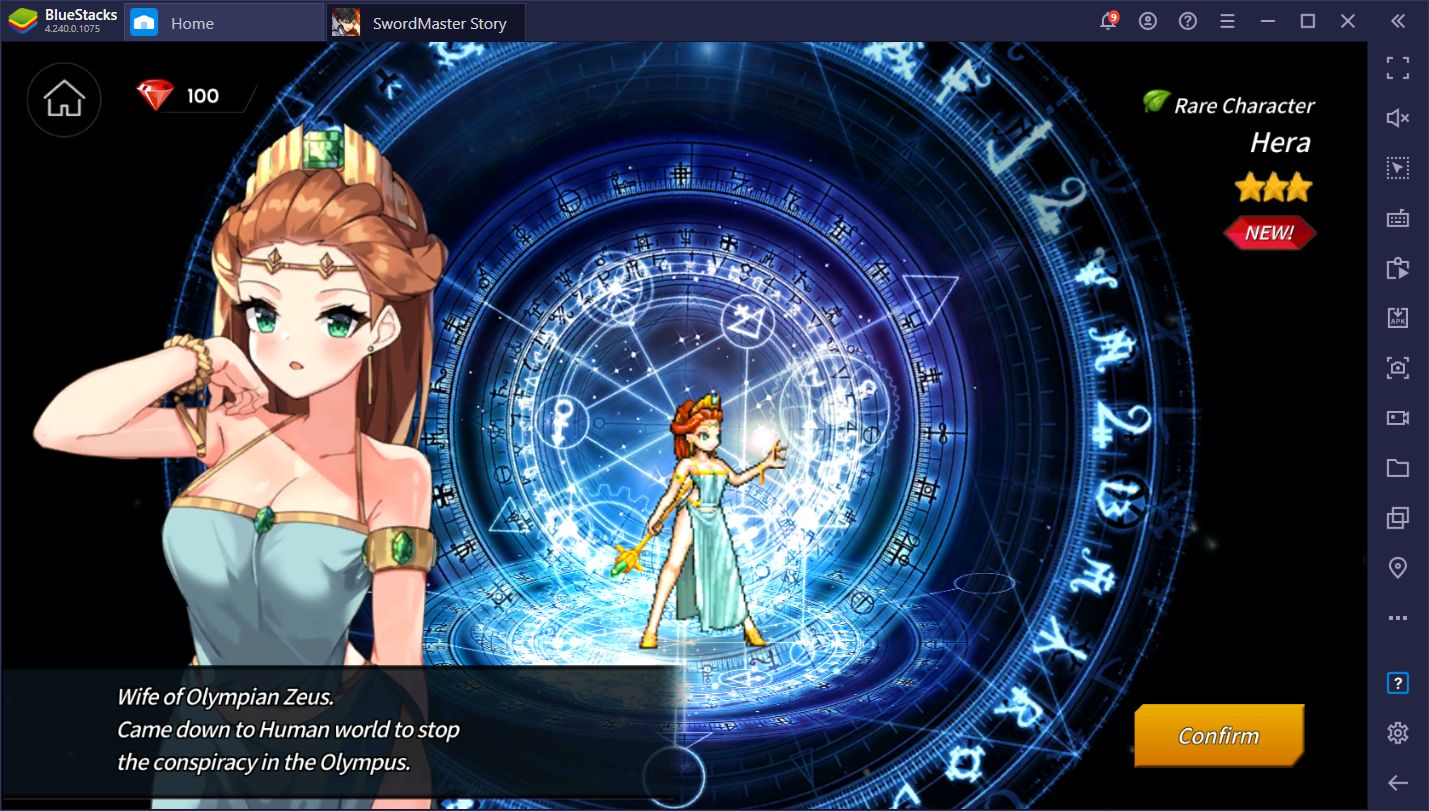 Playing Sword Master Story on PC with BlueStacks is, for many reasons, the best way to enjoy this awesome new gacha RPG. Not only do you get to play on superior hardware with better performance and controls, but you'll also have access to numerous features designed to improve your experience.