The Seven Deadly Sins: Grand Cross released just a few hours ago and we could not be more excited! Based on the popular anime Netflix show of the same name, or Nanatsu no Taizai for our Japan-inclined readers, this gacha game recreates the events of the show on our screens, with awesome graphics and brilliant action setpieces. There's even a ton of narrative and cutscenes, for those who enjoy games with deep stories and good localization. Especially if you play it on BlueStacks, you'll be able to enjoy 7DS with the best possible graphics and performance, without having to break the bank on an expensive phone.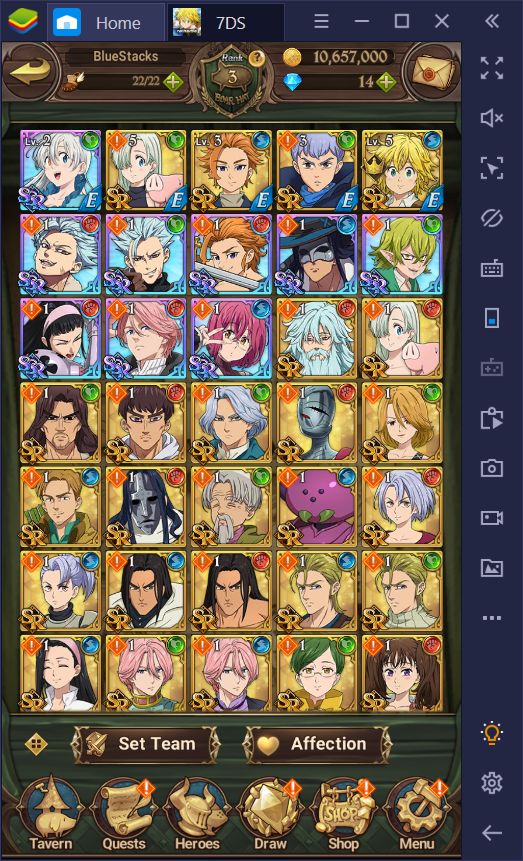 Nevertheless, engaging stories and narratives aside, The Seven Deadly Sins is a gacha at its core. As most titles that fall into this genre, there's a lot of grinding to be had, especially when it comes to unlocking some of the most powerful characters in the game. Speaking of which, if you want to be the best at this game from the very beginning, then you'll definitely want to pull the best characters as fast as you can, which is why rerolling is such a big thing in 7DS. Luckily, we wrote a guide about how to reroll in this gacha game, as well as how to optimize the process using our BlueStacks tools.
However, now that The Seven Deadly Sins: Grand Cross has finally released globally, we went ahead and studied the best possible characters that you can unlock at launch, and created this guide so that you know exactly what to look for. If you're rerolling in 7DS, then keep an eye out for these powerful characters: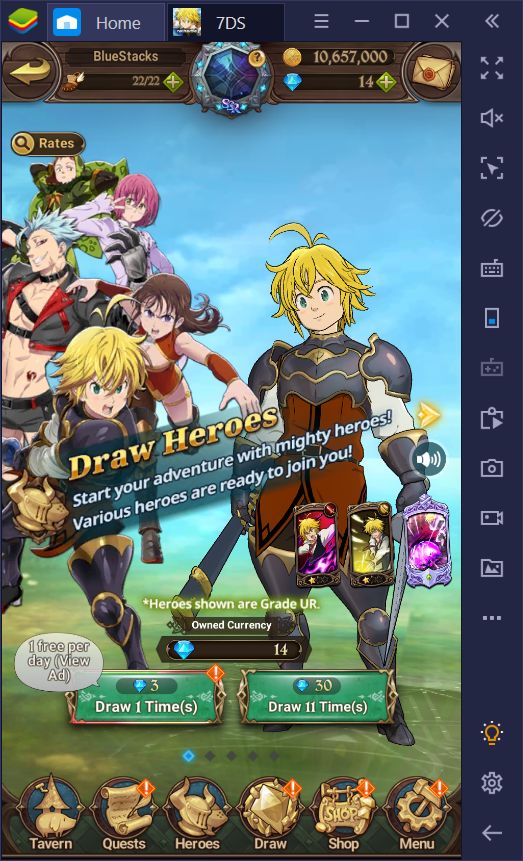 The Best Characters You Can Get as of Launch
While it's not strictly necessary to summon powerful characters to excel and progress in The Seven Deadly Sins, they will become mandatory for triumphing in PvP, especially once other lucky players summon the strongest characters in the current meta. In this sense, if you're looking for the absolute best of the best—the cream of the crop—then consider rerolling for these two characters:
1. [The Grizzly Sin of Sloth] King the Fairy King (SSR)
Don't let his whimsical looks fool you, the Fairy King in 7DS is one of the strongest supporters in the game, and can also deal quite a bit of damage with his ultimate skill.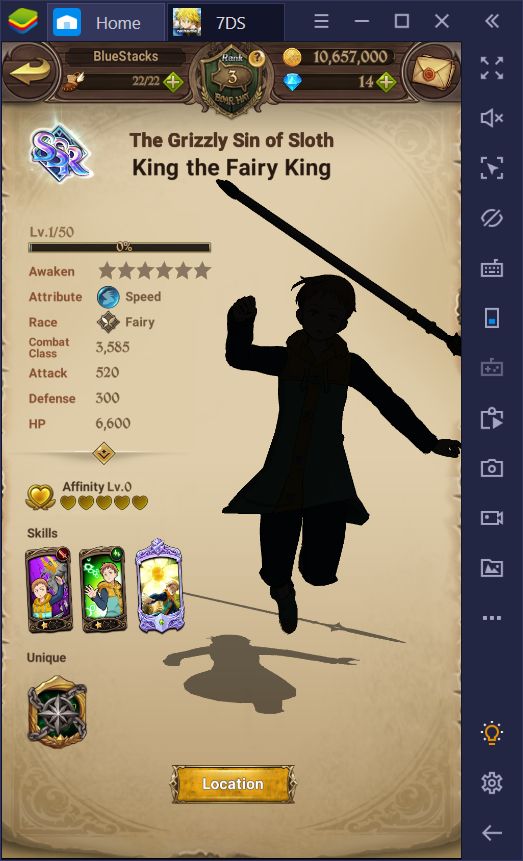 His first skill only deals a bit of damage at level 1. However, once upgraded, it acquires a fossilization effect that incapacitates a character for up to two turns. This is a great way to put an enemy out of commission while you deal with the rest. His second skill can not only remove debuffs from the entire party, but it can also heal up to 50% of the party's missing HP at max level. His ultimate packs quite a punch, too, as it deals 420% shatter damage at the base level, which goes through enemy defenses.
2. [The Fox Sin of Greed] Adventurer Ban (SSR)
With a huge potential for AoE damage as well as a stellar debuff that allows him to sap stats from his foes and use them to strengthen himself, Adventurer Ban is one tough nut to crack, despite being relatively weak when it comes to defense.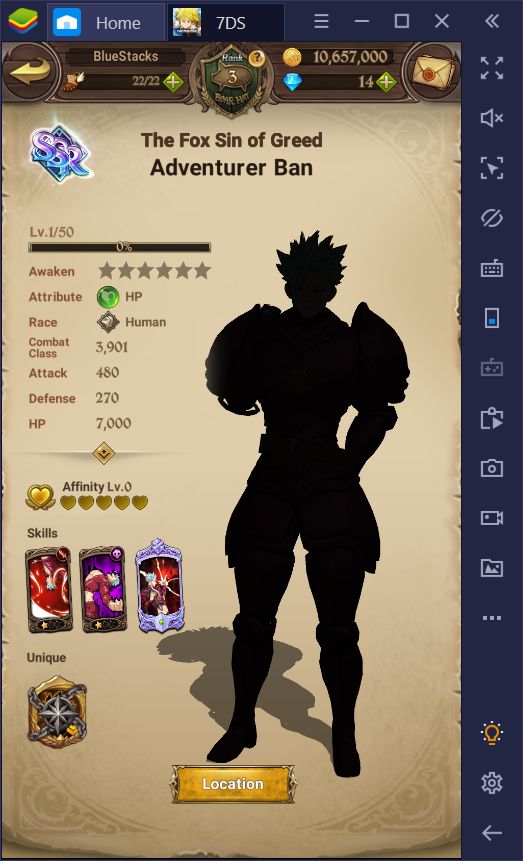 Starting off with his most basic skill, Drain, which is nothing more than an AoE attack that targets all enemies. However, once upgraded to at least level 2, not only does its damage increase, but it also adds a lifesteal effect, healing Ban for up to 30% of the total damage dealt. His second skill, Snatch, is also quite powerful, as it allows Ban to steal up to 50% of all enemies' attack and defense stats, and add it to his own for 3 turns. His ultimate skill is similar to Snatch, but only affects a single target, lasts for 2 turns, and deals considerable damage as well.
Additional Awesome Characters to Look Out For
While not as powerful as the two we mentioned above, these characters bring a ton of utility to the group and perform well in many situations.
1. [Camelot's Sword] New King Arthur (SSR)
Arthur is a great supporter in PvP since he can not only block the enemy's recovery, but he can also buff the attack and defense of his entire team by 30% for up to three turns. Once upgraded to level 3, this buff also grants debuff immunity for the duration of the effect. He also does quite a bit of damage with his ultimate skill since it's sever damage, which has double the chance to crit.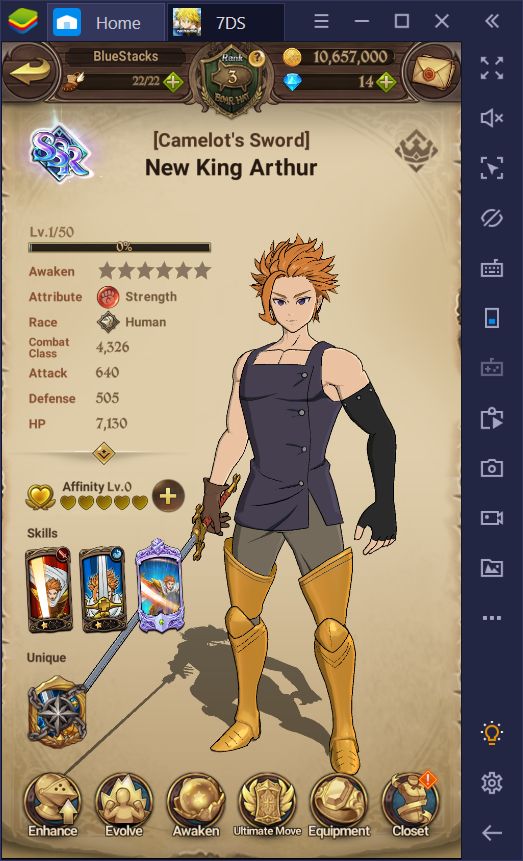 2. [Boar Hat Tavern] Hostess Elizabeth (SR)
Another awesome candidate for a PvP build, Elizabeth can block the enemy's attack skills for up 2 turns with her first skill. She can also accelerate the party's ultimate move with her second skill by up to two orbs while also healing them for 300% attack power. This unique combination of skills makes her ideal for rusher builds in PvP.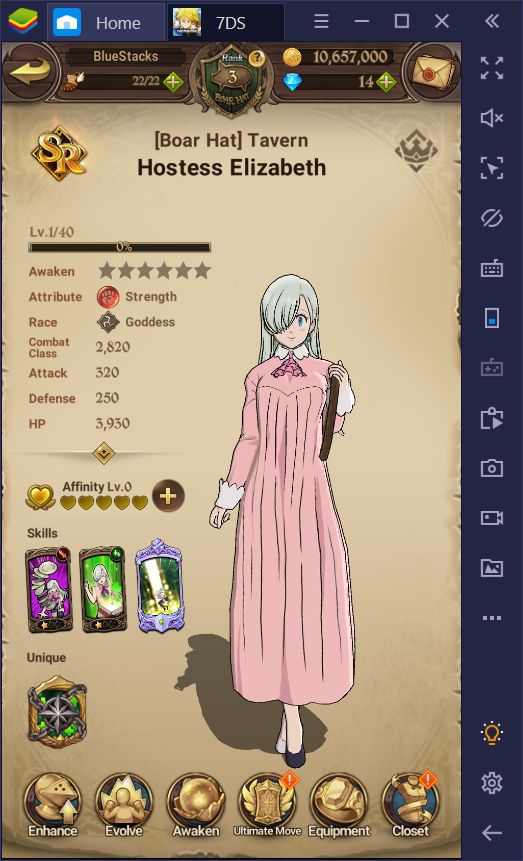 3. [Chivalrous] Holy Knight Gilthunder (SR)
Gilthunder is quite straightforward in its kit since he offers skills for both damage and buffing. His buff, however, is one of the strongest attack buffs in the game, increasing the attack of the entire party by up to 60% for 3 turns. His Lightning also deals moderate damage, which is doubled against enemies that are buffed.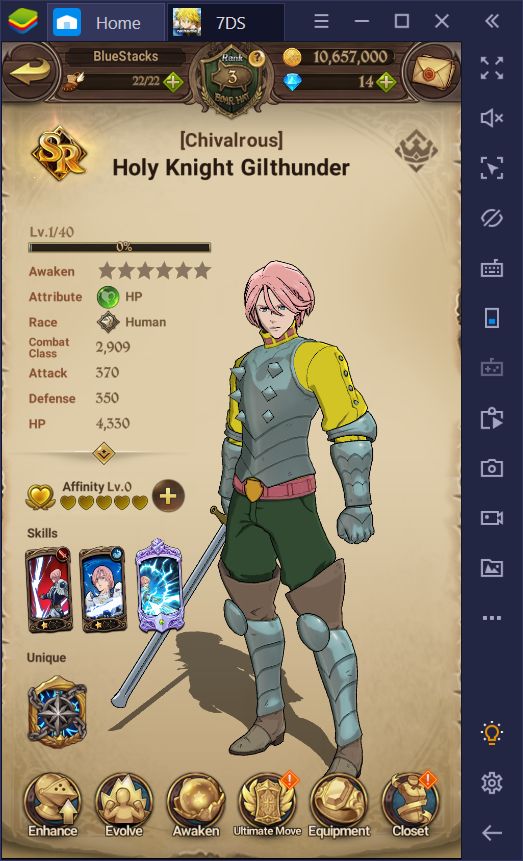 4. [Overpower] Hunter Slater (SSR)
Slater is a tank buster, with two powerful attack skills that can shatter the defenses of any foe, while also disabling any stances they might be using for the turn. His Iron Slash skill, in particular, has the potential to deal massive damage since it's not only 400% power at level 3, but also sever-type damage, which has double the crit chance.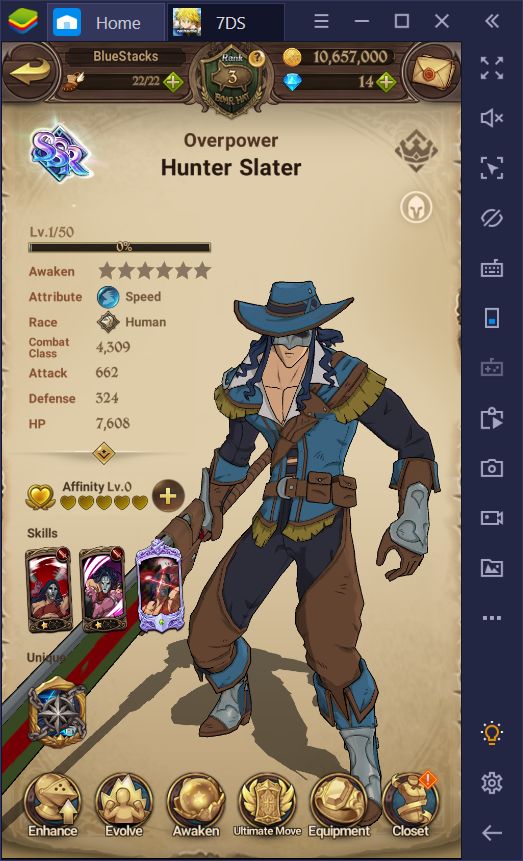 5. [The Seven Deadly Sins] Captain Meliodas (SSR)
Green Meliodas is a tricky character to use in 7DS, considering that one of his most powerful skills is counter-based, which means that it fails against aware enemies, or to those who have stance-canceling skills. However, his damage is great and straightforward but also lacks any additional effects. The same goes for his ultimate, which not only does a ton of damage, but also disables stances, and stuns the enemy for a turn.
And there you have it; seven of the most powerful characters for summoning in The Seven Deadly Sins: Grand Cross. Let's just say that we have one suggestion per sin! Who are your favorite characters in this gacha game? Let us know you comments in the section below!