Game Guides
Tips and Tricks for Progressing in The Seven Deadly Sins: Grand Cross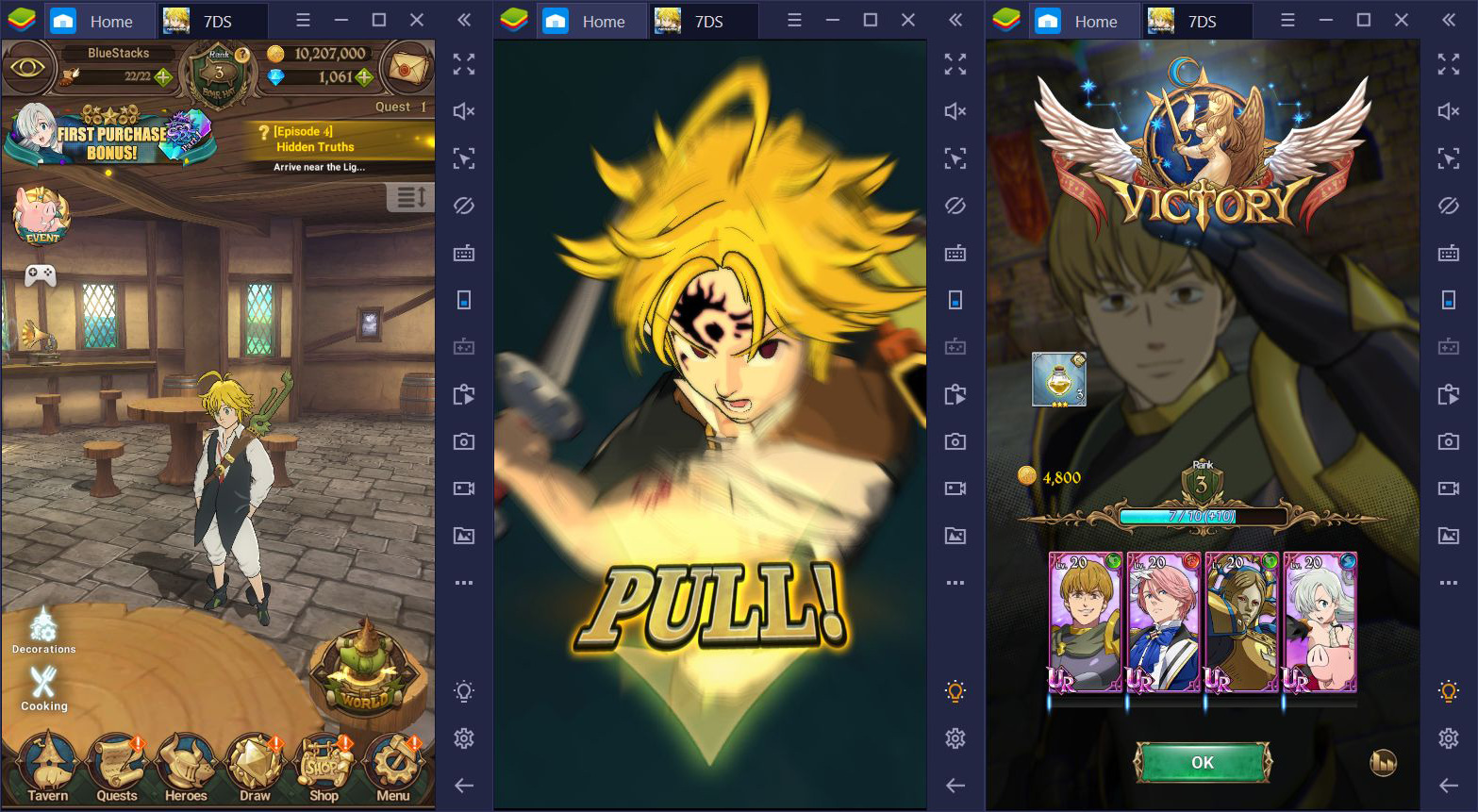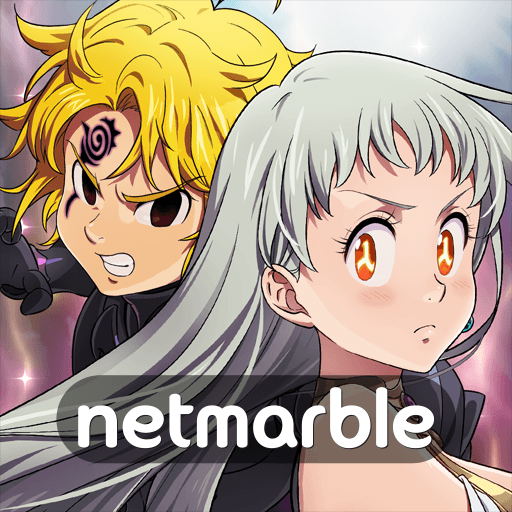 There's a new kid on the block as The Seven Deadly Sins: Grand Cross has just released on the market. Based on the very popular Netflix anime, Nanatsu no Taizai, this game adaptation is faithful to its source material as it brings the events of the show to life on your screen in glorious high-res, 3D goodness. And the best part? This game is already available for downloading and playing it on PC with BlueStacks!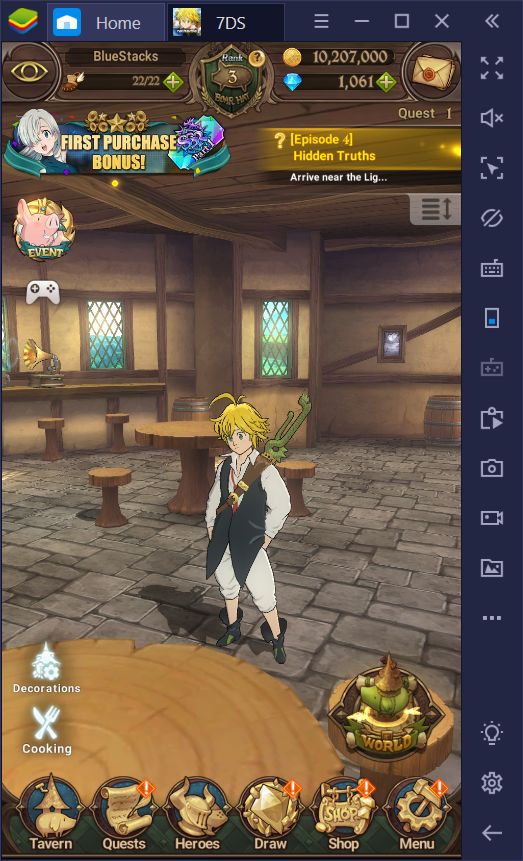 Whether you play on your phone or on PC with BlueStacks, the fact remains that 7DS is quite a unique game. While it's definitely a gacha title with all the bells and whistles, it differs greatly from the other games in the genre thanks to its unique card-based combat system that adds many layers of strategy to each encounter. In this sense, while you can definitely brute-force your way through the easiest fights, you'll need to stop and think about every decision when you're up against the toughest enemies in the game. Find out more about what we are talking about in our compilation of guides on combat, rerolling, characters, farming and much more.
We already explored the combat system in the Seven Deadly Sins in another guide. This time around, we want to focus on the players who have already begun their journey in this gacha game, and that would like to find the best tips and tricks to progress at a decent pace.
Participate in Regular Events to Receive Unique Prizes
It's not uncommon for mobile games to host regular events that offer many enticing and valuable items as rewards. In the case of 7DS, the current launch event is called Jericho's One-Shot Defense Training and consists of several unique trials in the form of fights you must complete using a preset team of characters. For every chapter of the event you complete, you'll receive awesome rewards, including valuable materials such as hero enhance potions, which are used for leveling up your team, among many others.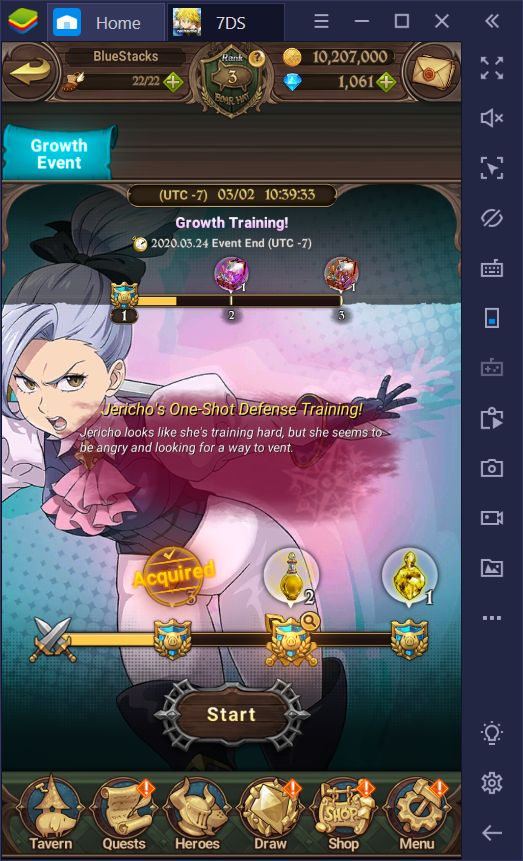 Take care, though, as some of these events are quite tough to beat and will likely require a proper strategy to do so. Luckily, you don't really have to care about your team composition since it's already decided for you.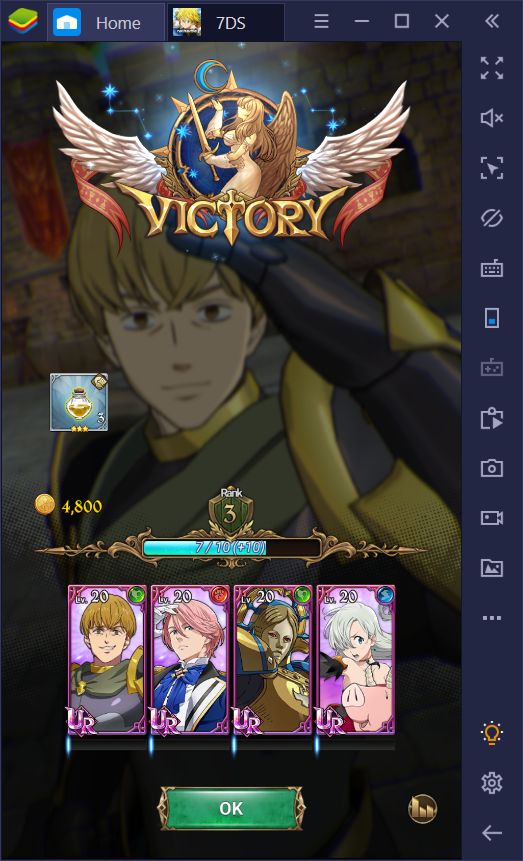 Claim Your Preregistration and Welcome Rewards
One thing we noticed in the Seven Deadly Sins: Grand Cross, is that the game offers an insane amount of rewards for new players—almost an unreasonable amount of rewards, even. These prizes go from tons of diamonds and gold as the welcome rewards, and weapons, coins, and chests in the pre-registration rewards.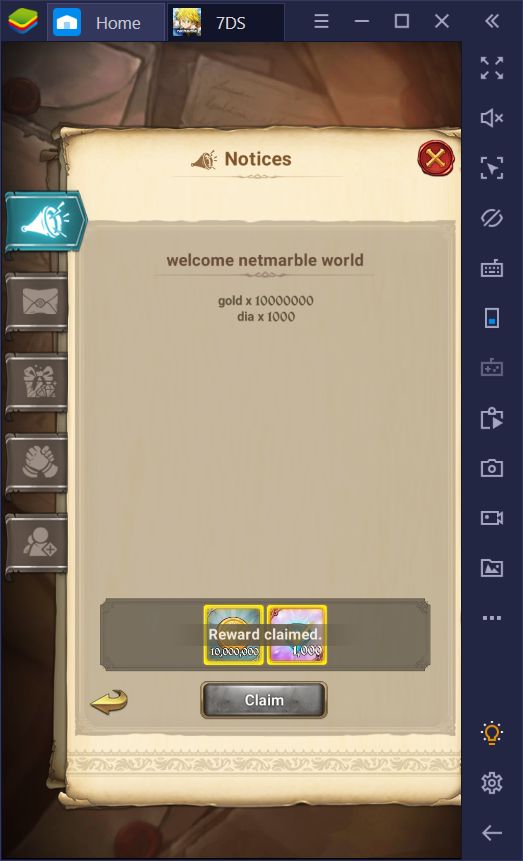 We're not sure if these gifts are actually permanent or if they're given as a preview for testers before the game's launch since they seem too good to be true. But just in case they are, we STRONGLY suggest picking up your welcome rewards as they will give you the resources for performing several 11x summonings, which will directly help to support your rerolling efforts in The Seven Deadly Sins: Grand Cross.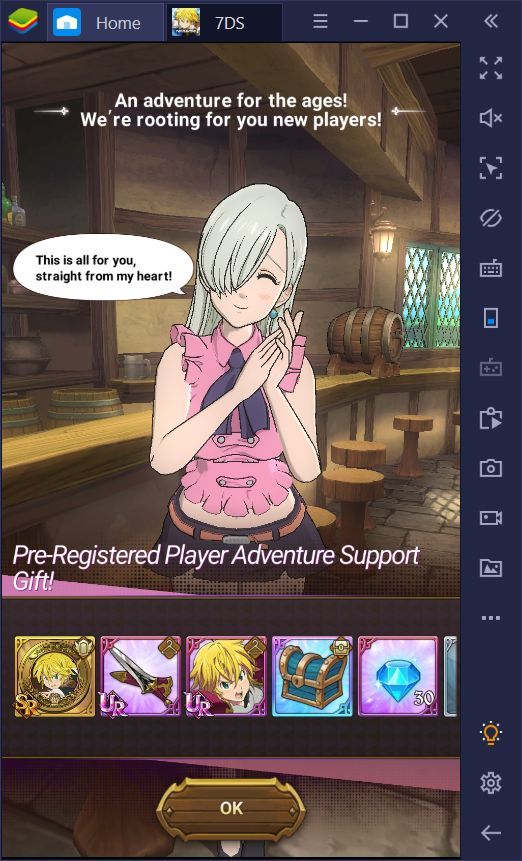 The pre-registration rewards, however, are more reasonable and are likely permanent. Regardless, don't forget to claim them from Elizabeth once you unlock the Tavern feature.
Use Surplus Character Coins for Upgrading Your Most Powerful Characters
It's not uncommon to receive multiple instances of the same character as you continue to play and progress in 7DS. These surplus iterations, however, will be automatically turned into character coins, which you can then use for upgrading several aspects of the hero or heroine in question. Specifically, excess coins are used, alongside increasing amounts of gold, to upgrade a character's ultimate skill which, on their own, are already very powerful. By further upgrading these skills, you can magnify their effects considerably.
A character's ultimate skill can be upgraded up to five times, to a max of level 6.
When Rerolling, Aim for These Powerful Characters
As a gacha game with very lenient summoning mechanics, you can bet that you'll spend lots of time rerolling in Seven Deadly Sins: Grand Cross. While the possibility of actually summoning an SSR character is quite slim, the first 10x summoning is actually quite early into the game, which grants you a free shot at summoning powerful heroes. If you're using the Instance Manager and Multi-Instance Sync tools, you can even reroll with several different accounts simultaneously, significantly expediting the time it will take until you actually summon a decent character.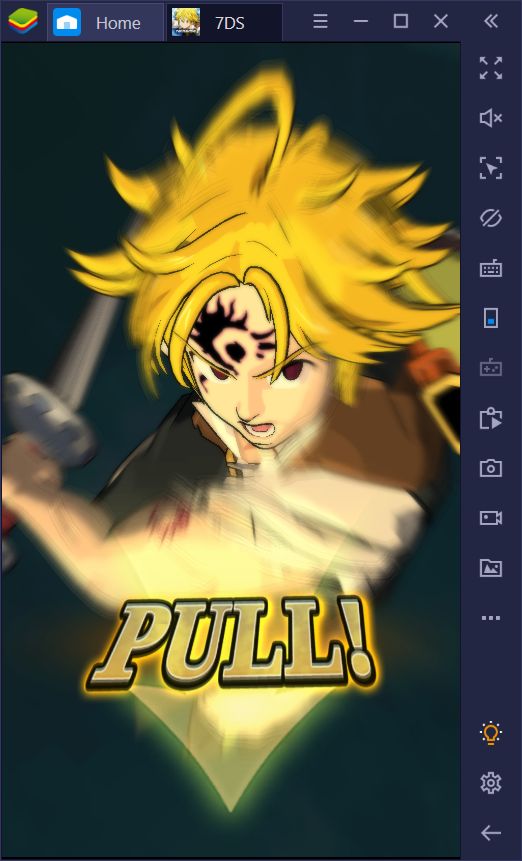 Nevertheless, if you're looking for some of the best characters in the game, at the moment of writing, then you'll want to aim for these bad boys and gals: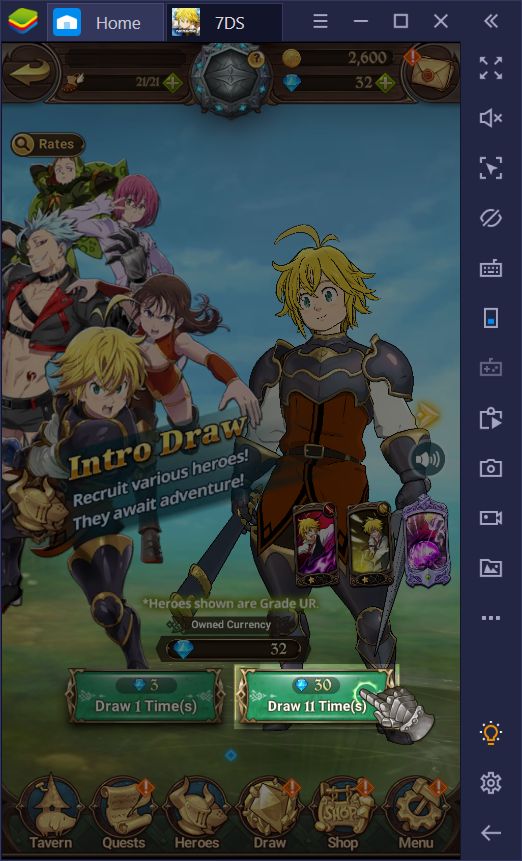 [Liones's Hero] Gowther (SSR)
[The Grizzly Sin of Sloth] King (SSR)
[Snatch] Brawler Ban (SSR)
[Tempest] Holy Knight Howzer (SSR)
These are just a few quick suggestions to get you started in Seven Deadly Sins. If you want to learn more about the most powerful heroes in the game, feel free to read our guide we wrote on the topic.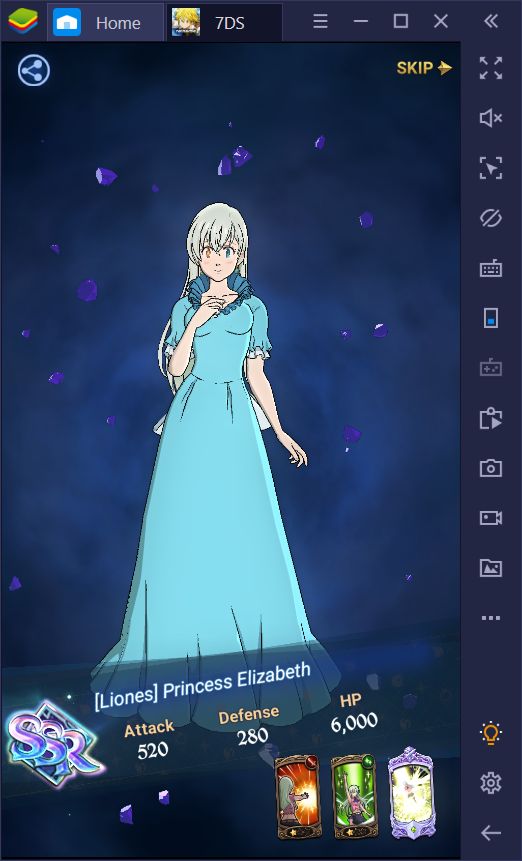 Attacking versus Upgrading Cards
When it comes to issuing commands in battle, there are three main options you can choose from.
For starters, you could simply place down a card to unleash its effect as your turn resolves, which is what you'll be doing most of the time. However, if you'd rather bide your time and wait for better cards, you can simply click on the remaining empty card slots on the field to pass your turn. However, there is another course of action that you can take, which has the potential of granting you a much better payoff: Combining cards.
On every turn, you can sacrifice one of your card slots on the field for a chance at manually moving a card on your hand to another slot, most likely beside another card of the same type. When two identical cards are beside each other in your hand, they will combine automatically into the same card, but of a higher level. These upgraded cards are quite stronger than their base counterparts, and can even offer unique special skills that are not present in the non-upgraded versions.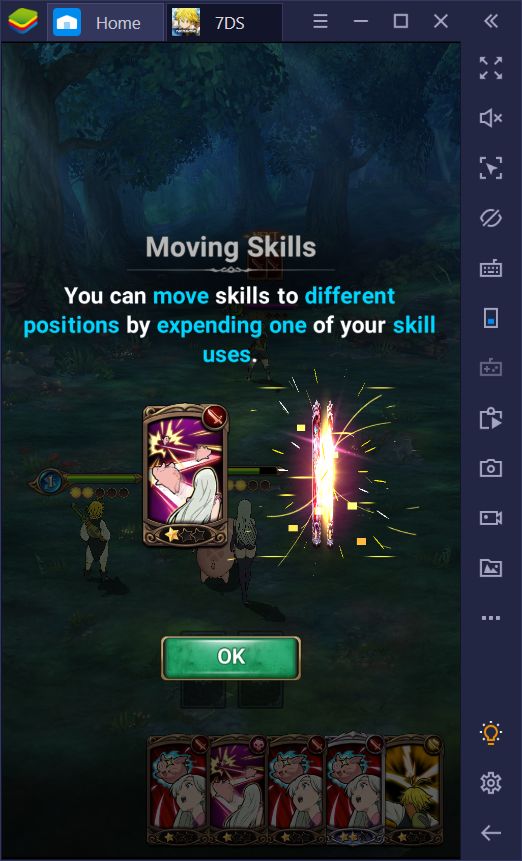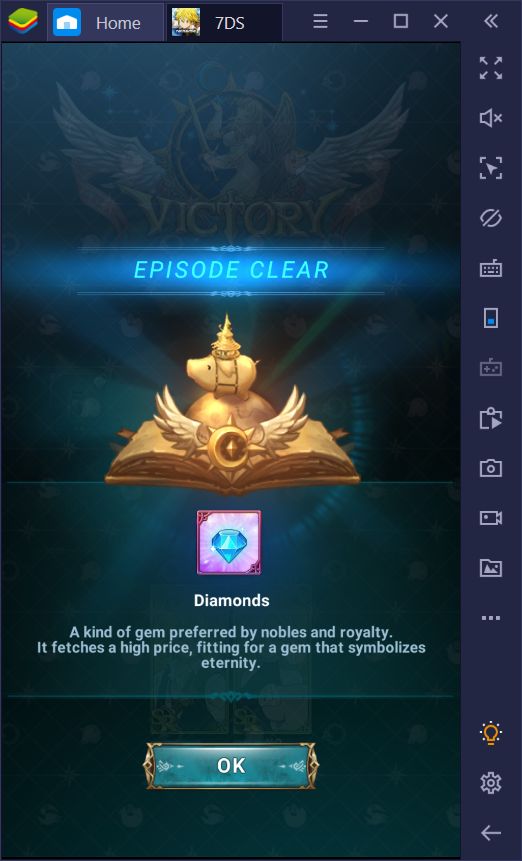 Though most of the time you could get away with not upgrading your cards, this process is crucial for tackling bosses, as well as some of the toughest challenges that the game has to offer. In fact, some cards aren't even worth using them in their base forms as their effects are very limited. In these cases, you have to rely on upgrading them in order to unleash their true potential.
Progress Through the Main Story Whenever Possible
Side quests and optional challenges are the lifeblood of many gacha games like 7DS. Many exclusive features and awesome prizes are usually locked behind these missions. However, while crucial, these tasks are ancillary to the main plot, which is where the big rewards lie. In this sense, if you're looking to score big, your best bet is to speed through the main missions as they will give you many valuable prizes, including diamonds, for beating them the first time. You can check the rewards for completing each stage in the Quests menu, in the tab corresponding to the current ongoing chapter.