Game Guides
Final Boss Taizoo Guide- The Seven Deadly Sins: Grand Cross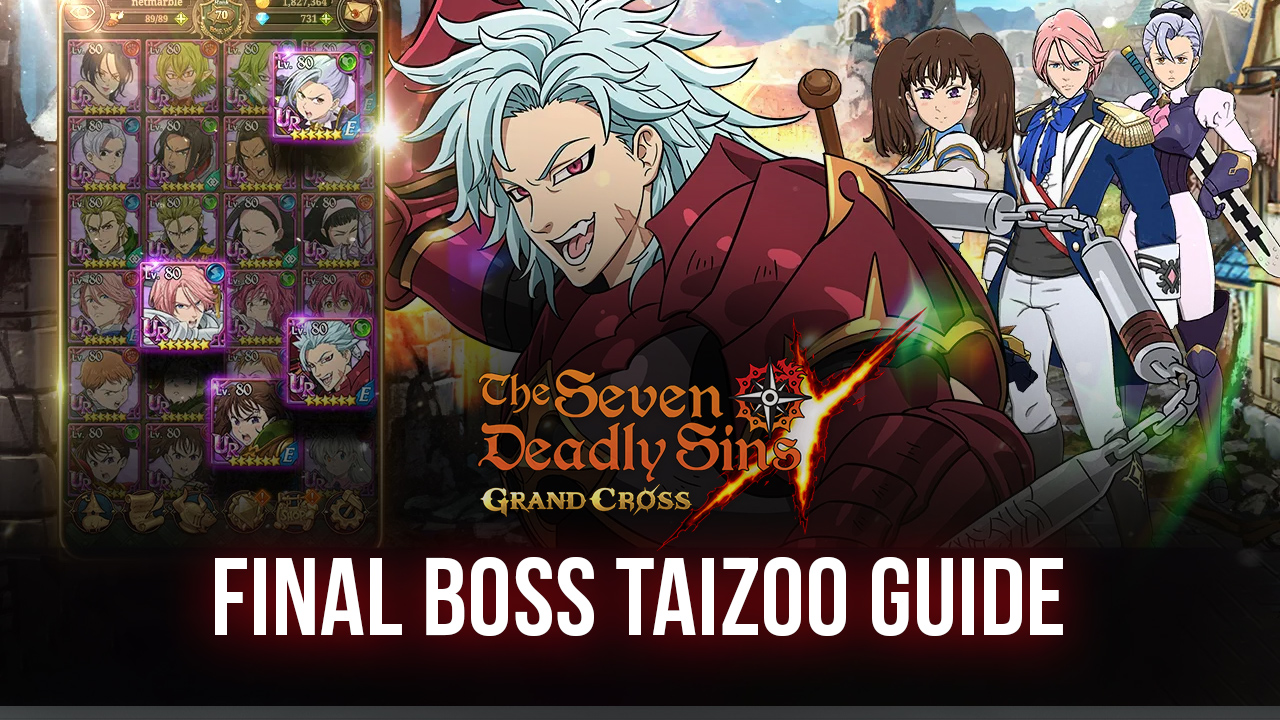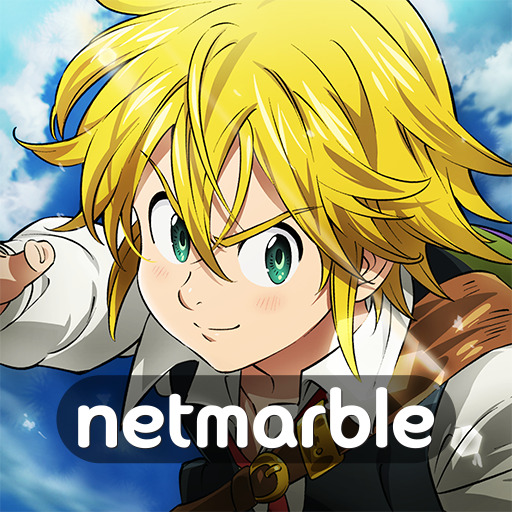 Final Boss Taizoo is a new addition to the game with the release of Part 2 of the festival event in The Seven Deadly Sins: Grand Cross. The final boss is usually based on Seven Deadly Sins, however this time it is featuring Taizoo, Twigo, and Waillo a.k.a Taizoo and Friends. All three units have different passives, so you need to be very careful in selecting your team. Let us look at all the information that you should know about this Final Boss. The Final Boss is a Limited-Time Event and is only available till December 7, 10:59 PM PST.
Passive Abilities
Before you jump into the battle, you need to know what you're dealing with. The skills are the same as your normal unit, like the AoE attack of Twigo, Reflection of Taizoo, so there's nothing much to discuss about it. However, it's the passive that'll give you a massive advantage if you use it in your favor.
1. Taizoo
Immune to Freeze/ Petrify/ Stun.

Immune to effects which decrease stats.

Increase Attack by 50% when alone on the battlefield.

Decreases damage taken from Giants by 150%.
2. Twigo
Immune to Freeze/ Petrify/ Stun.

Immune to effects which decrease stats.

Attacks while ignoring Evasion.

Increases damage taken from Goddesses by 150%.
3. Waillo
Immune to Freeze/ Petrify/ Stun.

Immune to effects which decrease stats.

Steals 1 orb(s) from the target's Ultimate Move Gauge when attacking.

Increases damage taken from Fairies by 150%.
Use these in your favor to maximize your damage output and score good points.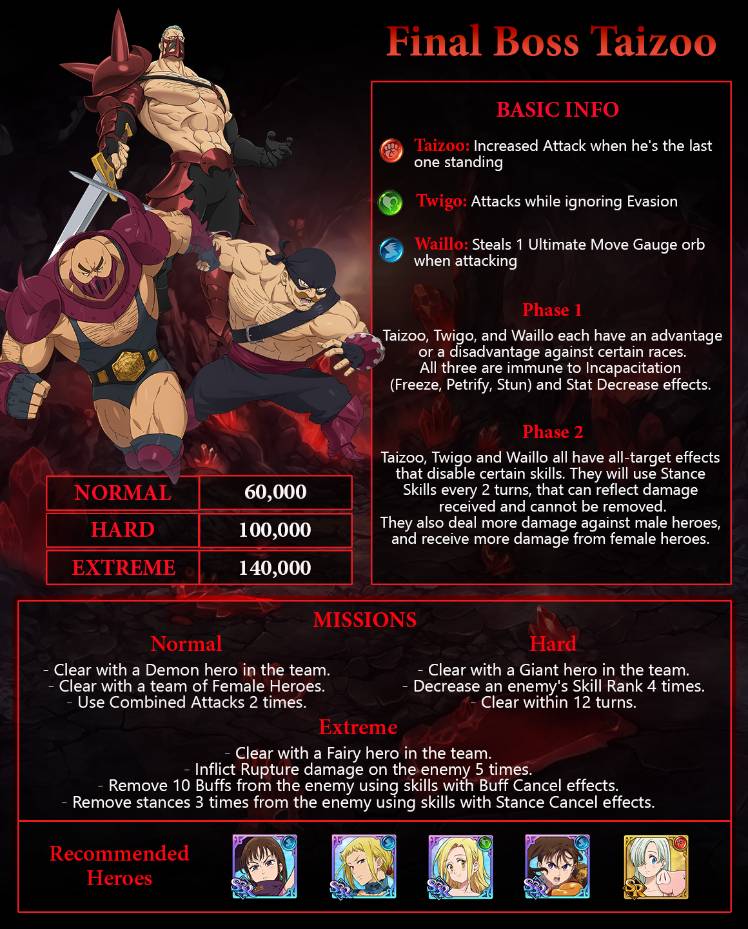 Team Composition
The best team to counter Final Boss Taizoo is Blue Giant Diane, Blue Matrona, Blue King, and Blue Marmas. This team is selected because the boss takes additional damage from Giants and Fairies unit because of their passive, while Marmas is there to increase the HP with his passive, for scoring more points.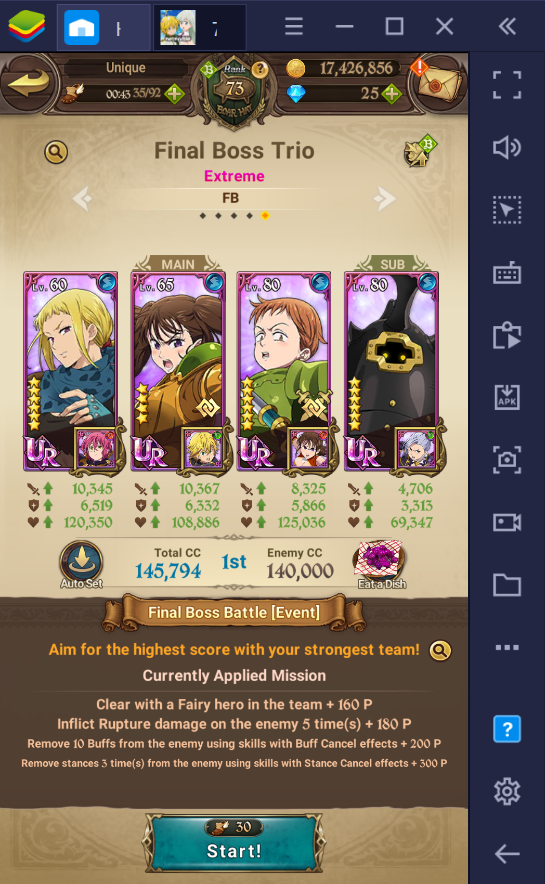 Strategy to Follow
Use your Diane and Matrona single target attack on Taizoo and King's attack card on Waillo. Repeat this till you kill both of them and then finish off Twigo accordingly based on your RNG. Your main aim is to have both King and Diane's ultimate move ready before entering phase 2.
As phase 2 starts, use your King's ultimate move, heal up if you have a silver heal (for scoring more points with more remaining HP) and then finally finish off with Diane's ultimate move. In phase 2, the boss takes additional damage from 'female units', so if you have a high-level Diane Ultimate, you can easily finish all of them in one go.
Note: Use HP food for more points.
Rewards and Rankings
The reward and ranking system is slightly different from the previous final bosses. This time there's only Top 30% as the highest reward level which will help you receive all the rewards like diamonds, anvils, and hammers.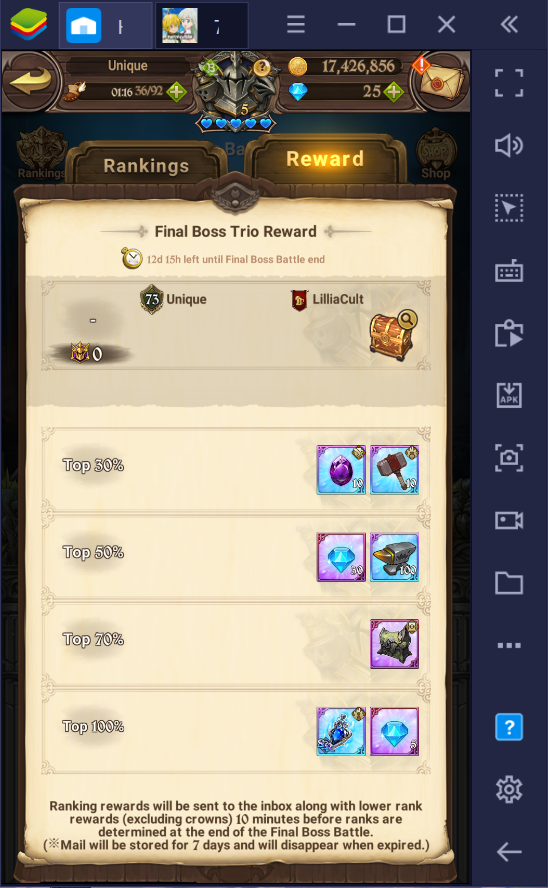 Along with the Top 30% rewards, there's another gauge meter which gives you rewards based on the total number of points you score per run. You can get free tickets for the new Oslo & Hawk banner and diamonds as well.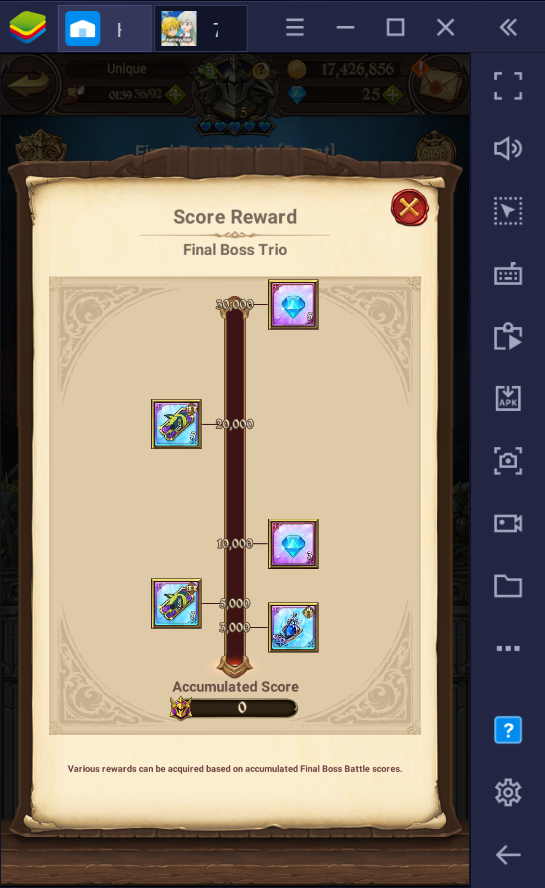 Alternate Heroes
If you got all the tickets from the Daily Check-in event during the Matrona banner, you should have at least 1/6 from the confirmed reward of completing one rotation. However, for any reason you don't have a unit from the above-mentioned team, here are some worthy heroes that you can use as a replacement.
SSR Green Elaine-

Green Elaine has an AoE attack card and since she is a 'Fairy' unit, she can take advantage of Waillo's passive, just like King.

SSR Red Giant Diane-

Red Giant Diane can almost do the same job as the blue one so she's also a good substitute unit.

Blue SR Jericho–

If you want to prioritize damage over HP, then you can use her in place of Marmas.
Have a look at some Tips on The Seven Deadly Sins: Grand Cross that'll help you progress in the game with ease.