Game Guides
Best Teams to Use for PvP in The Seven Deadly Sins: Grand Cross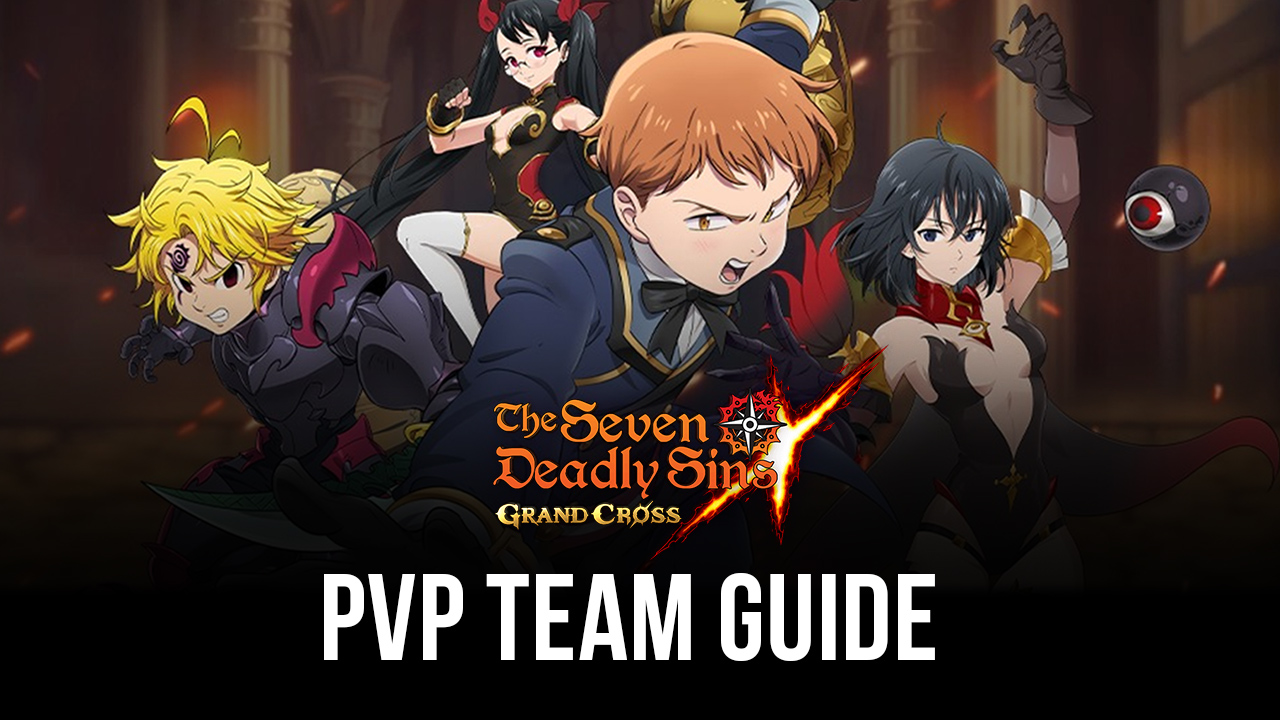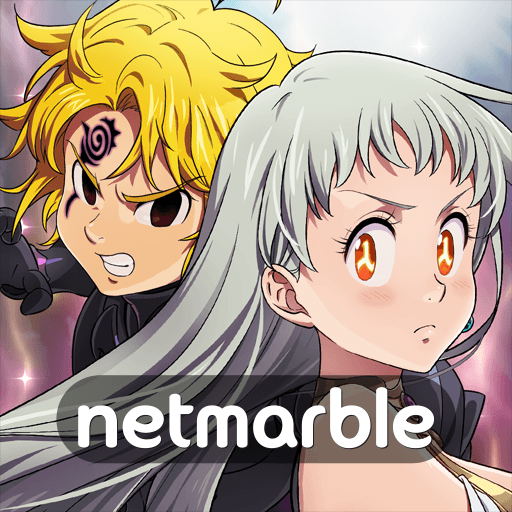 Vaizel Fight Festival is the most competitive aspect of The Seven Deadly Sins: Grand Cross where the weak cannot survive. Amazing teams with even more amazing strategies just put you down on your knees. No random teams or luck will help you out, just pure strength and skills (and of course a little bit of money to pull on new banners). You can battle other players in real-time in two different types of settings: Normal and Elite PvP. Normal PvP does not include equipment stats and only your hero's base stats and costume stats whereas Elite PvP includes everything along with your equipment stats. So, let's have a look at the top teams that rules the PvP world of The Seven Deadly Sins: Grand Cross.
Lostvayne Goddess Liz Team
This team is based on the ongoing 'Meta', all you need to do is to deal damage with Lostvayne Meliodas attacks while Goddess Elizabeth provides protection and stuns on her silver and gold attack card. Green Gowther gives a 7% increase in attack-related stats per turn (limit 5 times) which will help as the battle goes on and Green Merlin is in the sub-slot because of her passive that gives one additional ultimate move gauge orb. You can use C.C food or Ult Gauge food based on your preference.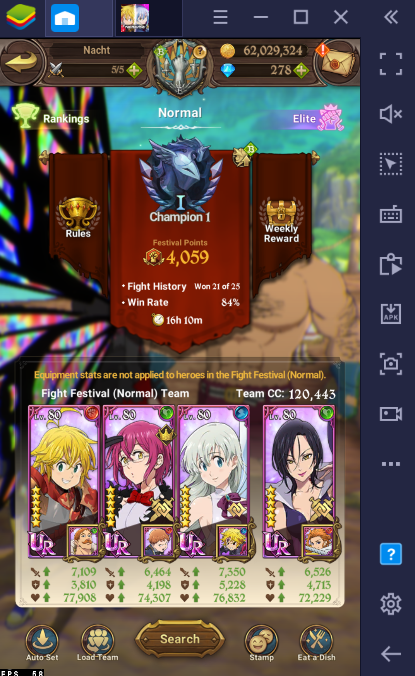 Lostvayne Ult Rush Team
If you don't have Goddess Elizabeth because of the fast-paced banner, no need to worry as we've got another 'Meta' team for you. The main of this team is to rush Lostvayne Meliodas's ultimate move by swiping or merging cards. Heal your team with king and Gowther will provide you with rank-ups and attack-related stats boost per turn. Merlin provides an additional ult move gauge and use C.C or Ult Gauge food based on your preference.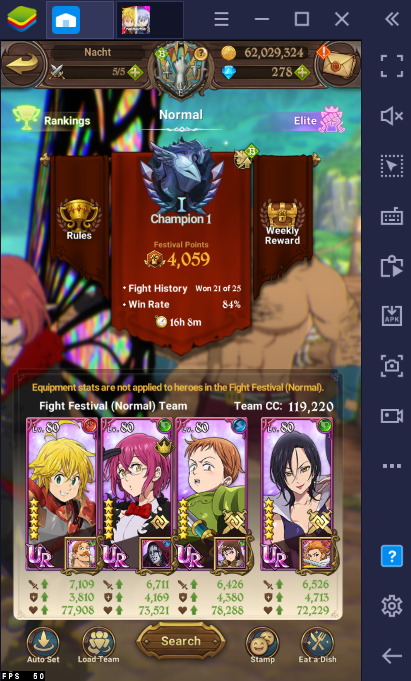 The Pierce team is the forever 'Meta' team. You can use the pierce team against anyone and at any point in time. Rest depends upon your luck and strategy that you take while battling. Deal massive damage with Demon Meliodas pierce cards as Kyo's passive stacks tones of ignite on the enemy. Use Lillia for extra pierce and heals and keep red King in the back to reduce the damage output of opponents. You can use Pierce, C.C, or HP food based on your type of battle style.
Note: You can also use Omega Rugal in place of Kyo, whichever suits your taste.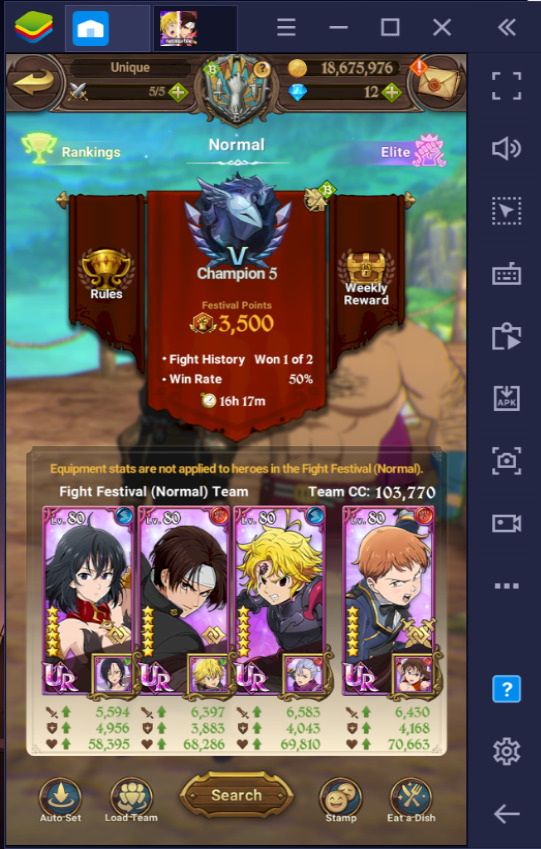 Mono Red Team
Mono Red was at the top when Red Escanor was introduced in the game, but now not many people use it. It's still a pretty good team if you're lacking most of the meta units. All you need to have a gold rank Arthur buff card as soon as possible and use it. After that just deal massive damage with your Escanor and pretty much one-shot your opponent. Use red King in the back because this team is weak against pierce team. Use Attack, C.C, or Evade food based on your preference.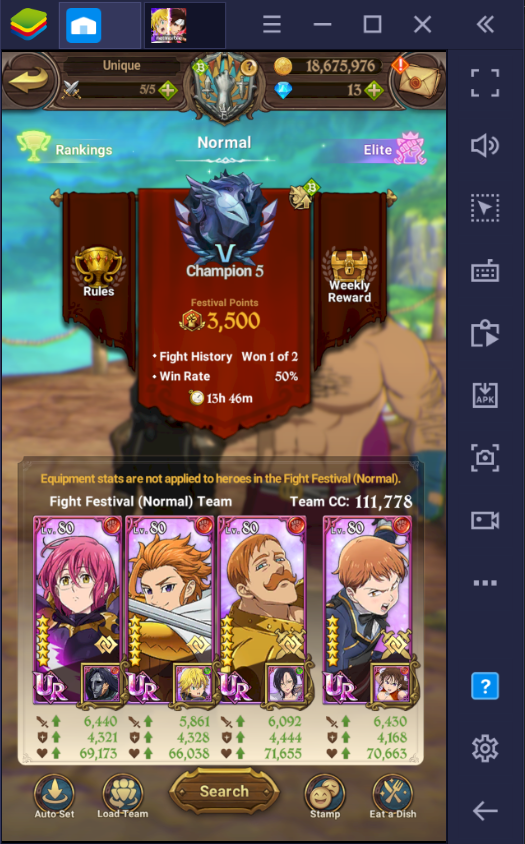 Escanor Ult Rush Team
Escanor Ult Rush Team works in the same way as Lostvayne Ult Rush Team but in this, you rush Escanor ult. Since Escanor ultimate is a single target, take out the most annoying hero that your opponent has either the healer or the DPS unit. Use Ult Gauge Food and upgrade Escanor's cards with Gowther and use them on turn 1. This team is built around getting Escanor's ultimate on turn 2 every time.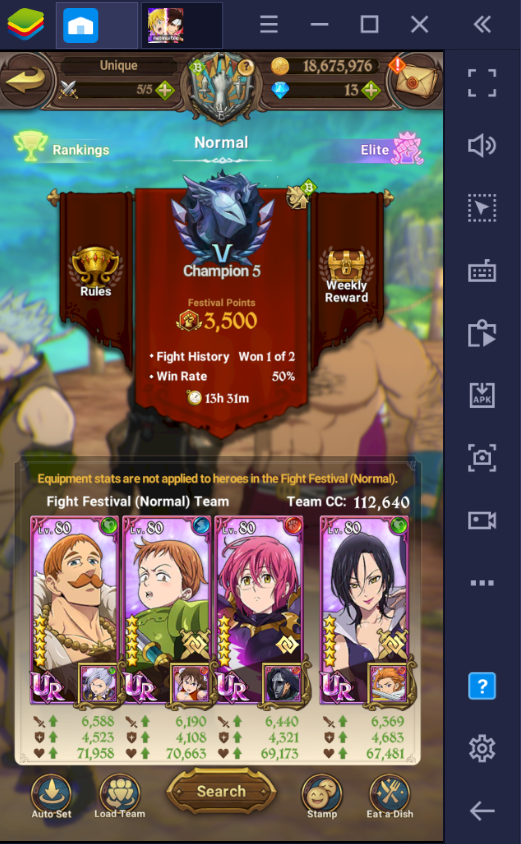 Escanor Pierce Team Combo
This team is used to deal AoE damage with Meliodas and finish off the remaining HP with Escanor. This is a well-balanced team and the aim is to rush Escanor ultimate as soon as possible. You can use Red Gowther in place of Meliodas or Lillia if you want, however it works best with this composition. Eat HP, Attack, or C.C Food depending on whether you want to finish the fight fast or want to survive more.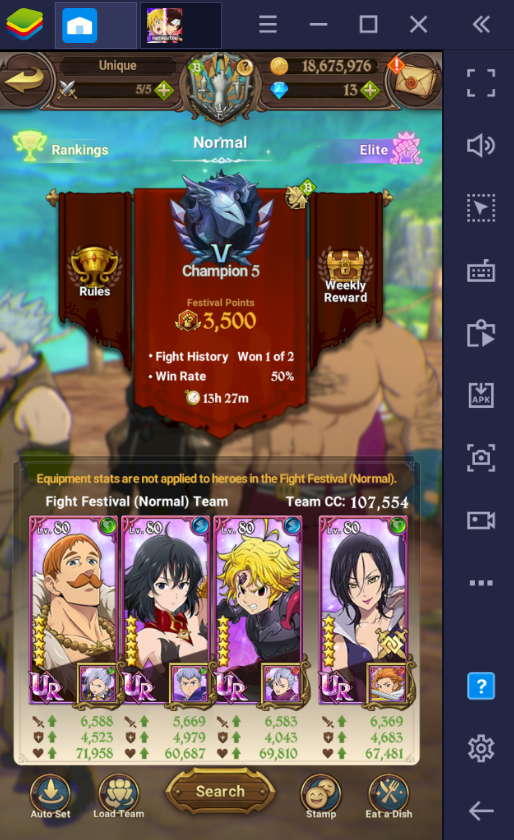 Check out more about all the Worthy Heroes that you can invest and use to boost your progress in the game and enjoy its full potential on PC with BlueStacks.