Game Guides
Destroy Your Enemies in Warhammer: Chaos & Conquest With our BlueStacks Tools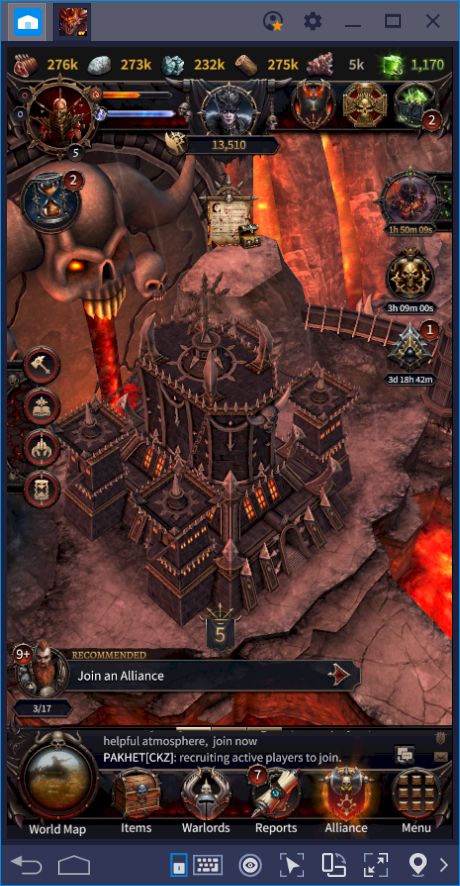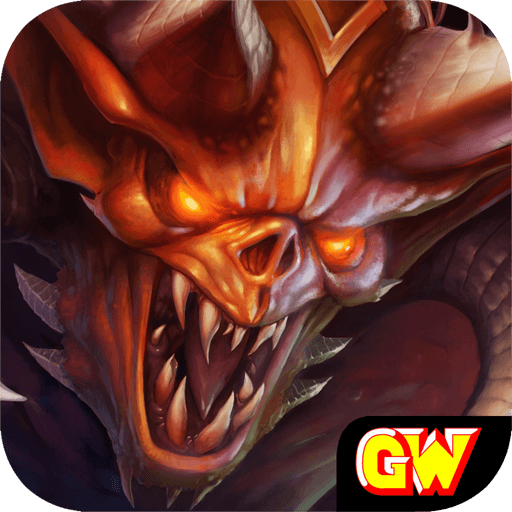 Being an evil warlord in Warhammer: Chaos & Conquest is difficult—trust us; we've been there. You have to keep up with your building efforts, train many demonic underlings,
outfit your champions for battle, and wage constant war with your puny neighbors. All in all, it's a tough job that can ultimately be very rewarding, but that not many of us will know how to achieve from the start. However, while we covered the essential aspects of how to get started in our beginner's guide, we left out a critical piece of the puzzle: Using BlueStacks to your advantage.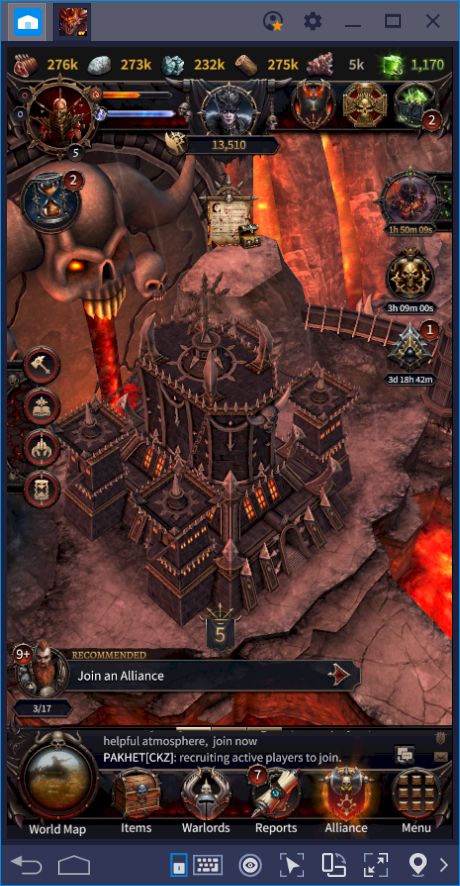 The truth is, while managing your Chaos Fortress in this game can be a hassle, it doesn't have to be. With a little help from the outside, BlueStacks can turn your experience with any mobile game into something more akin to that of a computer game.
Why Game on BlueStacks?
For starters, you can download your favorite games straight from our App Center and install it on BlueStacks—just as you would on a regular phone. Furthermore, you can play them on a much larger screen while using your mouse to simulate finger taps on the screen.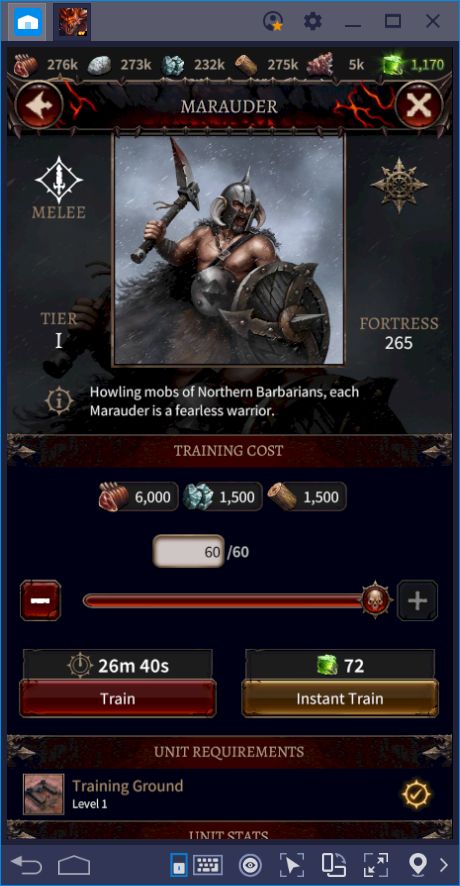 In our case, we're enjoying Chaos & Conquest on our 24" screen, using our gaming mouse and keyboard, and from the comfort of our office chair. What's more, we also have a second monitor where we can place all our BlueStacks guides so we can look up the best advice at all times. If this isn't prime comfy gaming, then we don't know what is.
Jokes aside, BlueStacks is developed by gamers, for gamers. It takes the best that your PC has to offer and uses it to recreate an Android environment with a performance that surpasses even the strongest and most expensive phones on the market. In this sense, you can expect silky smooth framerates, outstanding visual quality, and improved control thanks to your mouse and keyboard.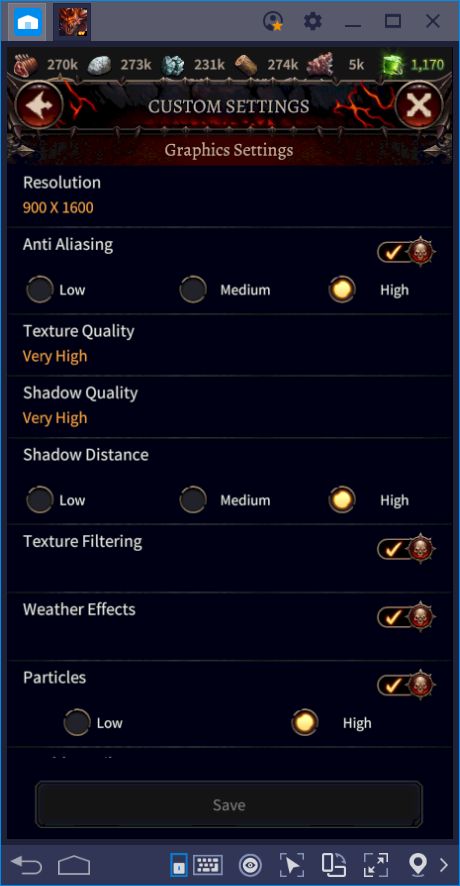 In conquest games like this one, where general gameplay is slower and more strategic, our platform gives you the edge by allowing you to sift through menus and enqueue actions faster and with more precision that you could on a phone. And if being better at a game, at no cost, and with no effort required on your part is not enough to convince, then keep reading!
Accelerate Your Progress With the Keymapping Tool
These games are all about waiting for timers to count down. Want to build a new structure? Wait for the timer. Looking to upgrade a building? Wait for the time to count down. Want to grow your army with new troops? Timer again. However, in a game where timers predominate, the player who can enqueue the most actions per minute is the one who reaps the benefits. In other words, while you can't accelerate the timers (not for free, at least), you can speed up the rate in which you issue upgrades.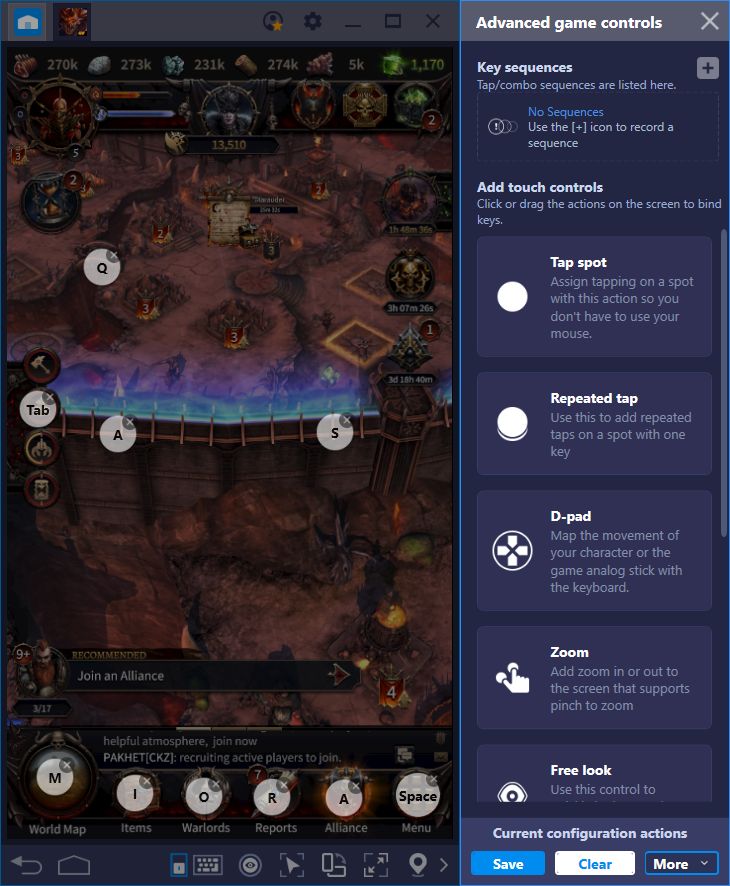 With the BlueStacks Keymapping Tool, you can streamline issuing commands in Chaos & Conquest. Through this feature, you can configure all sorts of personalized control schemes by adding shortcuts on the screen. In this sense, you can set a specific key on your keyboard to open the map menu or to issue upgrade on a currently-selected building via another button. In this sense, instead of having to click all over the screen to manage your fortress, you can do so via a series of well-placed keyboard shortcuts.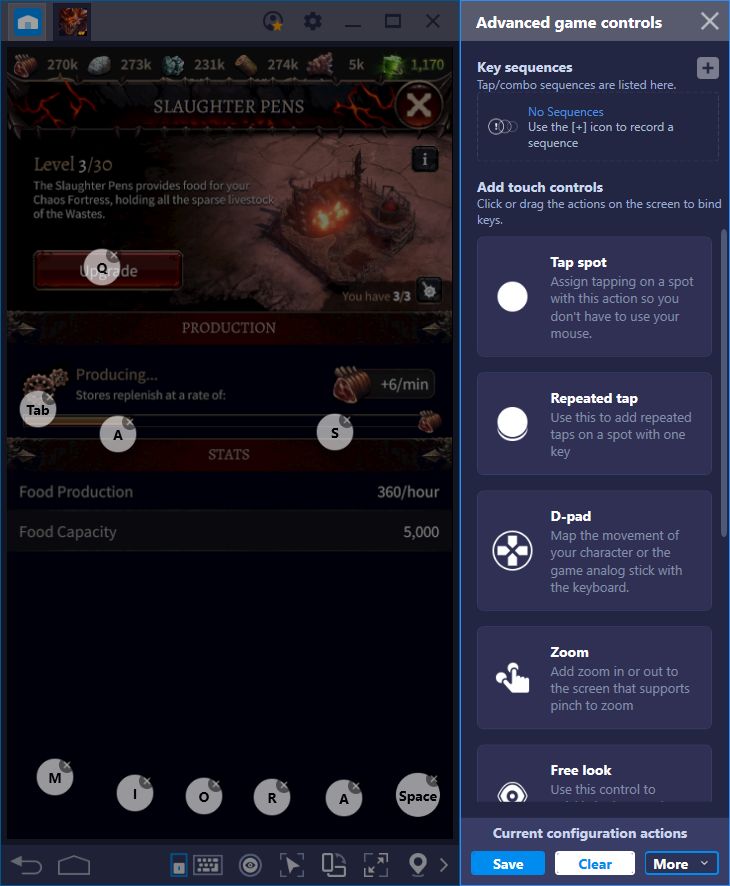 Take a look at our basic setup: This game is played exclusively in a portrait orientation, so there's not much screen real estate to work with. Nevertheless, by placing several shortcuts on the lower panel, we can streamline the navigation through most of the game's menus. Similarly, by placing a shortcut where the "upgrade" button is located in the building menus, we can quickly issue further constructions on the same building without having to click on it manually. Lastly, we can open up the overview of currently active projects by pressing Tab at any moment.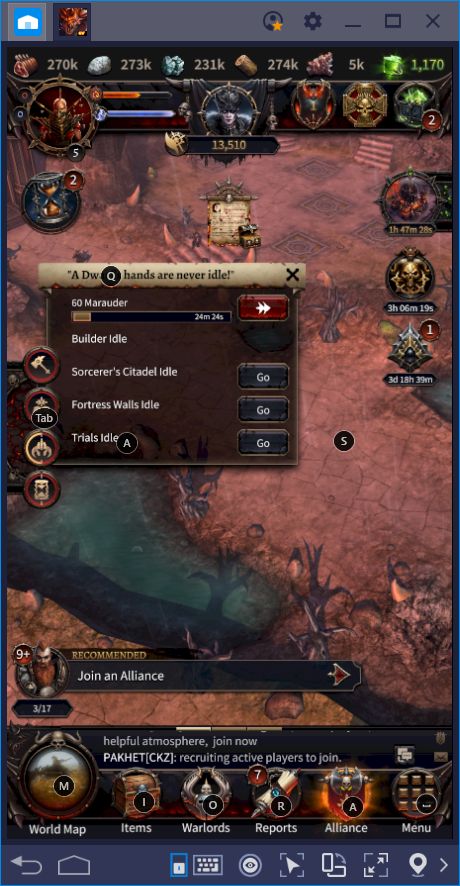 Being able to manage your fortress using only your keyboard is a huge boon, which will pay off in the long run. Not only will you upgrade and progress faster, but you'll also likely outpace the players that are just getting started alongside you.
Double (Or Triple) Your Power with the Instance Manager
Teamwork is a quintessential aspect of these conquest games. There are players that you won't be able to outplay with only your forces. These players have likely been in the game far longer than yourself, and have a larger and more powerful army to show for it. However, their strength doesn't mean that they're impervious to assault. In fact, the best ways to destroy these dominant players is via a many-pronged attack.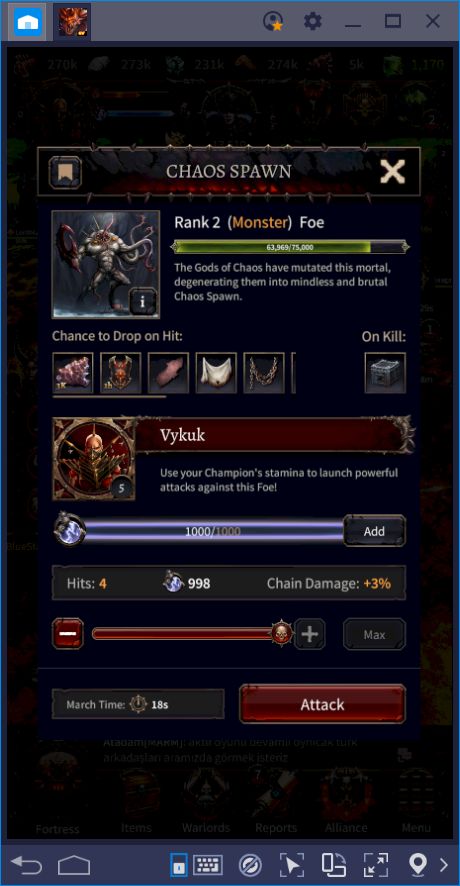 By combining forces with your teammates, you can whittle down a tough foe and slowly reduce his numbers. In this manner, they will start bleeding power and will become an easier target with each attack. Before long, his forces will be depleted, and he will become an easy target that you can raid for resources.
However, if you thought raising a powerful army was tough enough, it's because you still haven't tried organizing a raid with your teammates. The act of coordinating a joint attack against a mighty enemy is complicated, mainly due to time zone differences. Luckily, BlueStacks allows you to cut the middleman and organize great raids by yourself.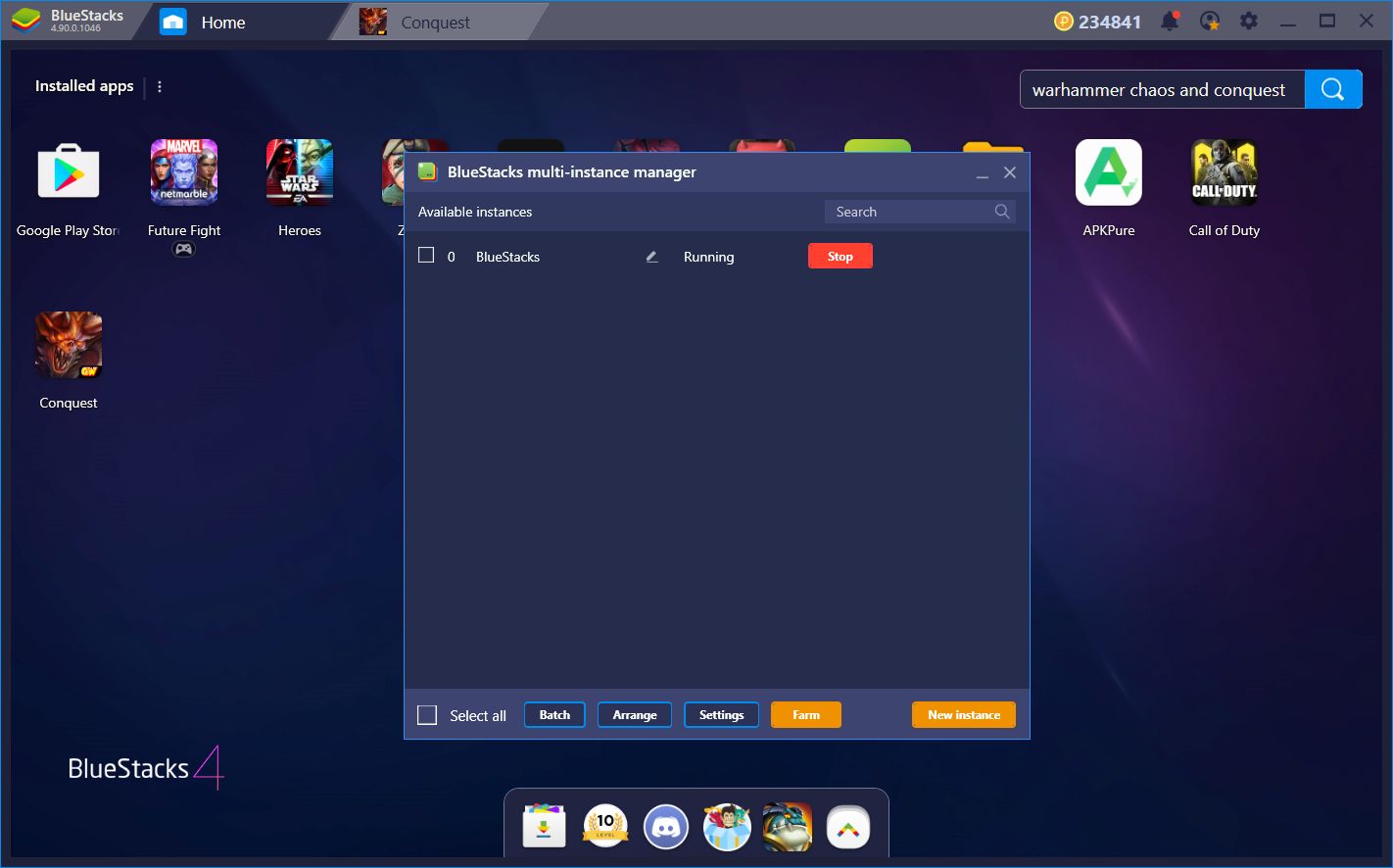 With the Instance Manager, you can create as many simultaneous iterations of BlueStacks as your PC can handle, and use them to access the game via multiple Google accounts. In other words, you can use your own forces to create alliances, and even coordinate massive assaults against your foes on multiple fronts, all from the comfort of your desk chair.
With such power at your disposal, you'd think that the Instance Manager is challenging to use. However, creating multiple instances is very simple and takes only a few seconds. Developing and growing numerous cities simultaneously, on the other hand, is a bit more challenging. However, with the tools at your disposal, we have a strong belief that you'll be able to pull it off.