Game Guides
Become a WW2 Military Commander with Z Day: Hearts of Heroes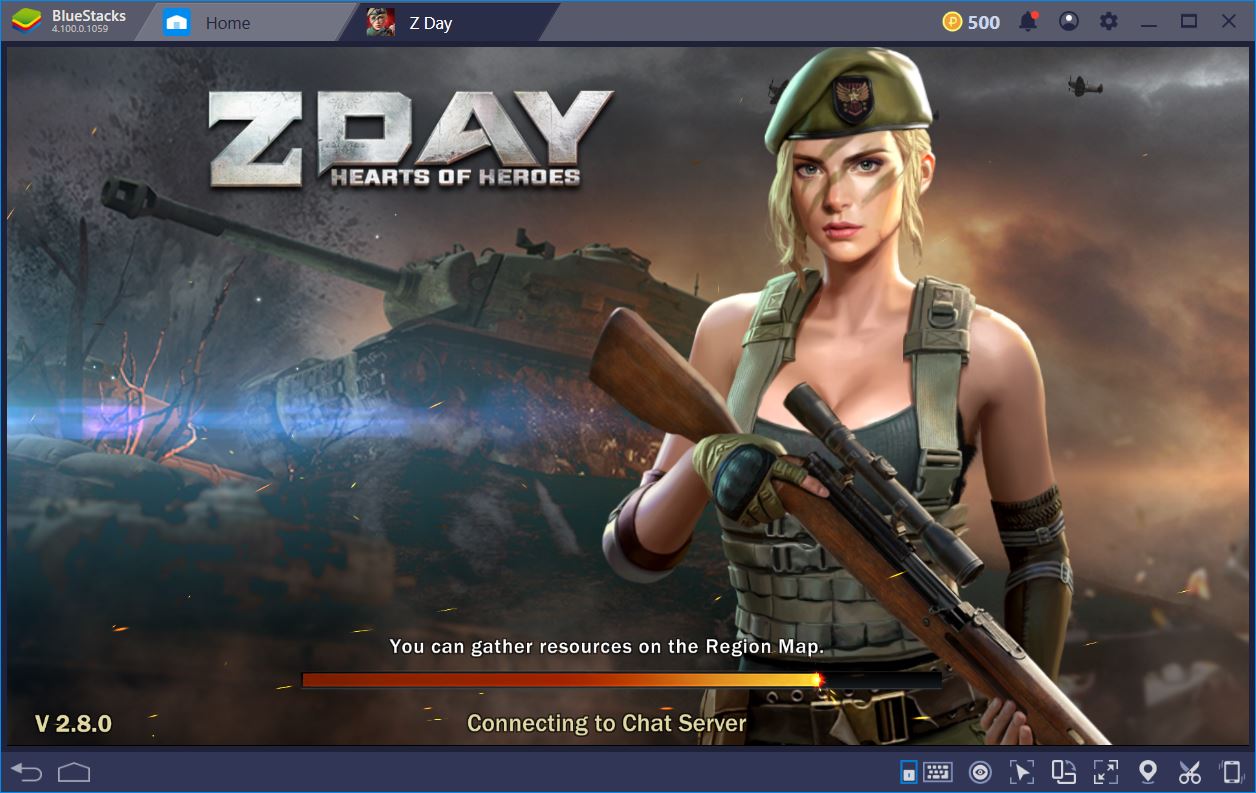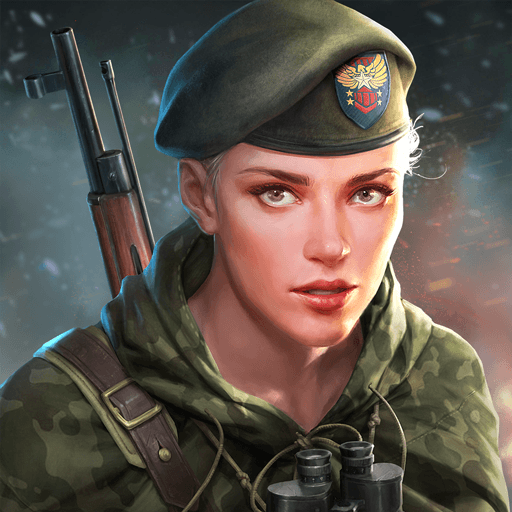 Although initially released only for the Android platform, Z Day: Hearts of Heroes was made available for iOS at the end of 2018. A bit too late, in our opinion. Now, as the game developers celebrate a year of Z Day, we players have a much better understanding of what this alternate history, World-War-2-themed MMO RTS game is about.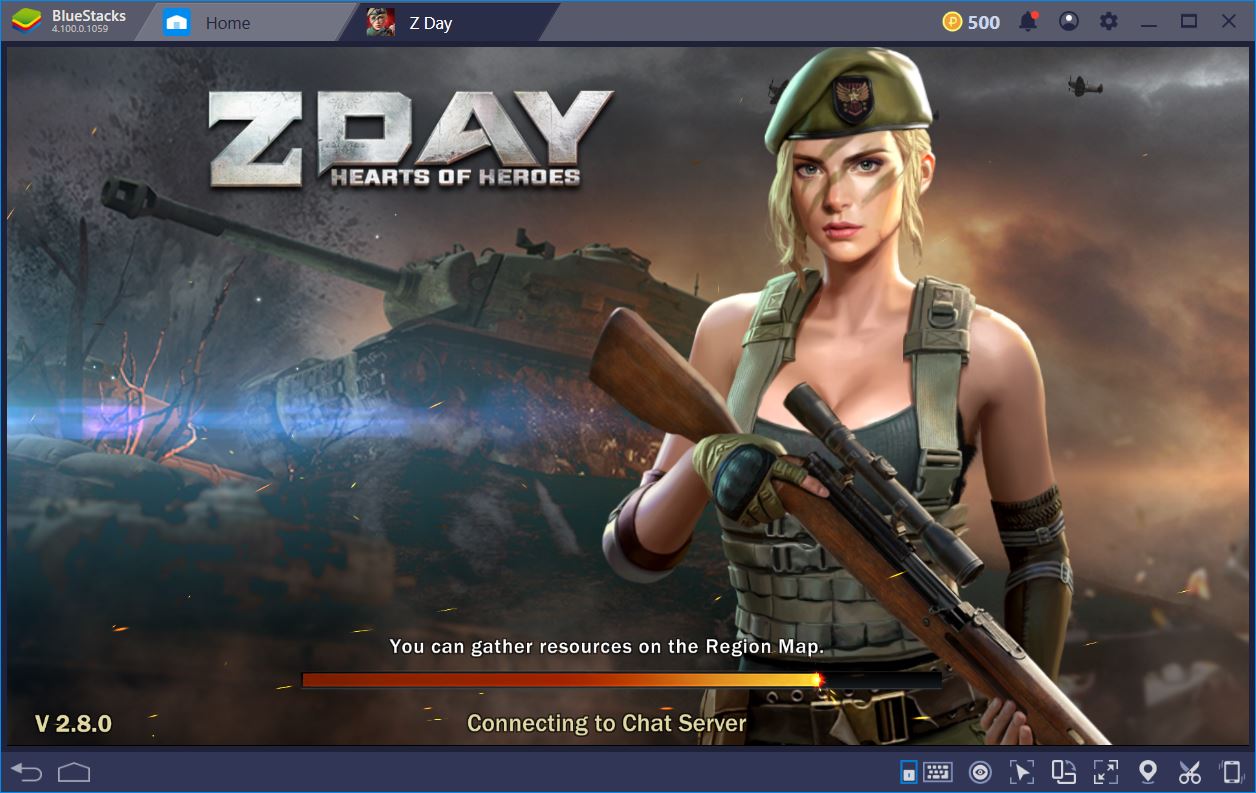 The main plot behind Z Day is a speculation based on the manifold experiments that the Nazi regime ran during their domination of the European continent. In this universe, they (now referred to as the Raid Enemies and New Race troops) managed to build an experimental bomb of terrifying proportions with the help of antimatter. Using it, these maniacs hell-bent on world domination destroyed almost all of the governments opposing them.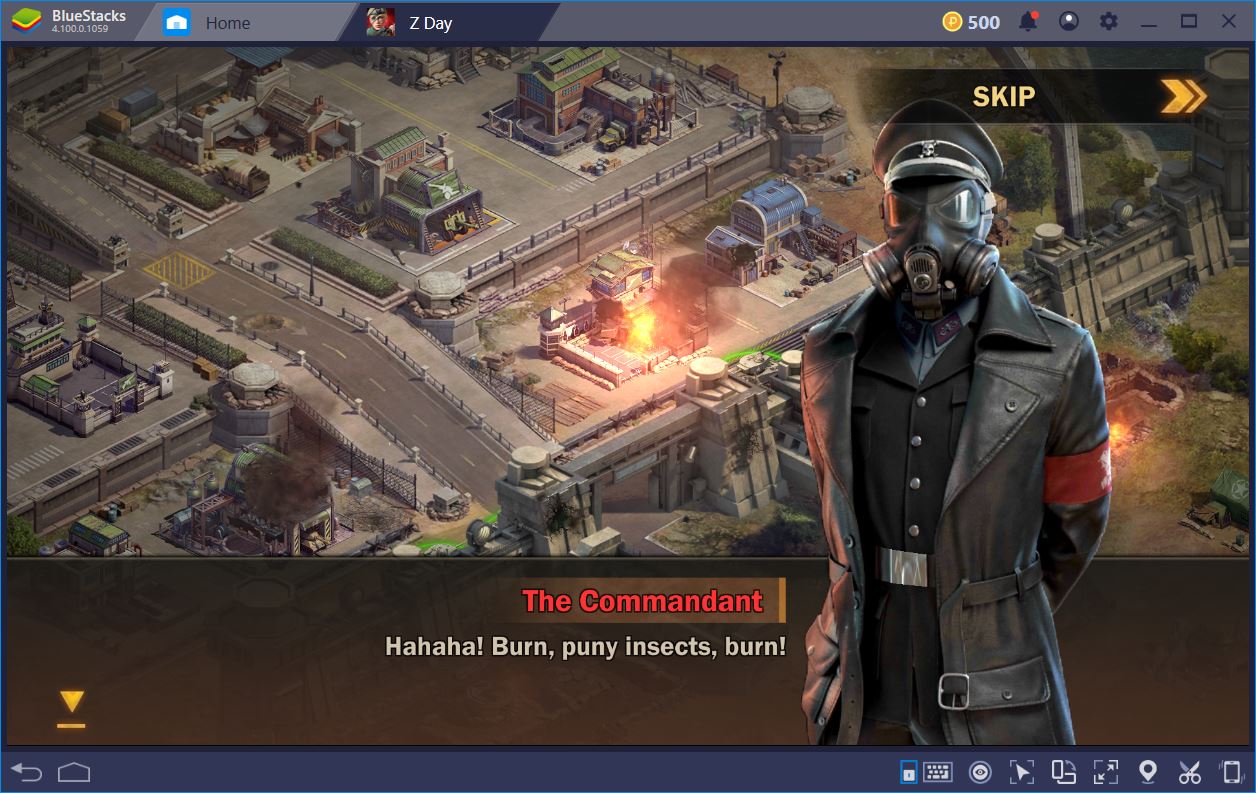 Only few dare oppose the New Race and these commanders are the ones with true hearts of heroes. Players are thus thrown into an underdog race for antimatter, for gathering enough troops to withstand the constant attacks of zombies and enemy military, as well as for the survival of humanity itself.
First Gameplay Impressions
We found Z Day's premise to be a great tool for player immersion. It has a global conflict at its core, zombies, cool units, war heroes, and much, much more. To give you a broad perspective, the game is a freemium base-building strategy where players are tasked with the unenvious role of a military base commander. They have to build their camp from scratch, advance their technology and headquarters, amass vast armies, and wage war with other players, as well as opposing NPCs.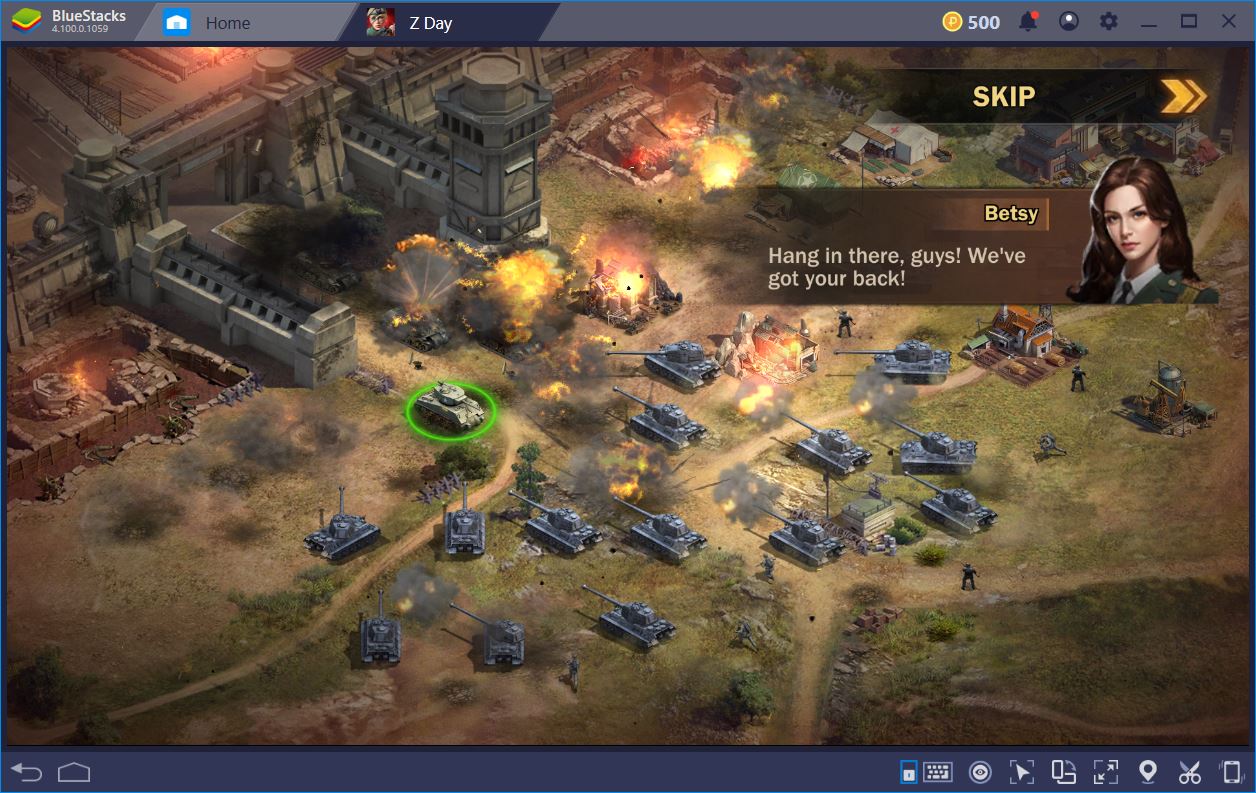 If this were not enough, you can join alliances and pool your resources together for even greater challenges. Aside from simple PvP, there are alliance battles, region battles, and even global conflicts over multiple regions. The potential for conquest is almost limitless, which brings up an interesting problem – in the quest for total domination, do players risk becoming their own enemies by wanting more power and control? Perhaps.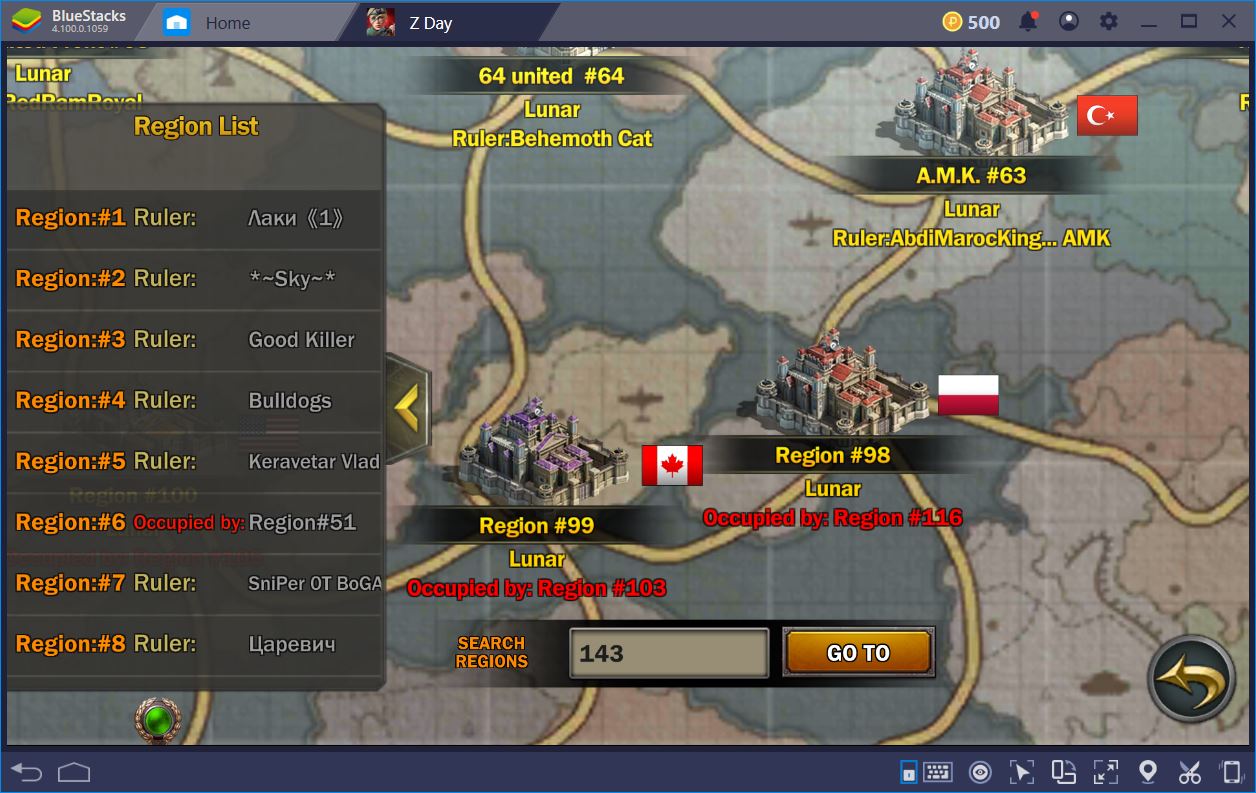 For now, though, we'd like to focus less on philosophy and more on just how fun Z Day is. Remember that feeling of starting a new game, getting all those resources, and realizing how much amazing potential for entertainment there is? Well, we also got that with Z Day. Luckily, we weren't let down for one second. We spent the first hours in-game by base building. After all, we began in a ruinous world and the situation was so dire that our soldiers didn't even have food to keep them going.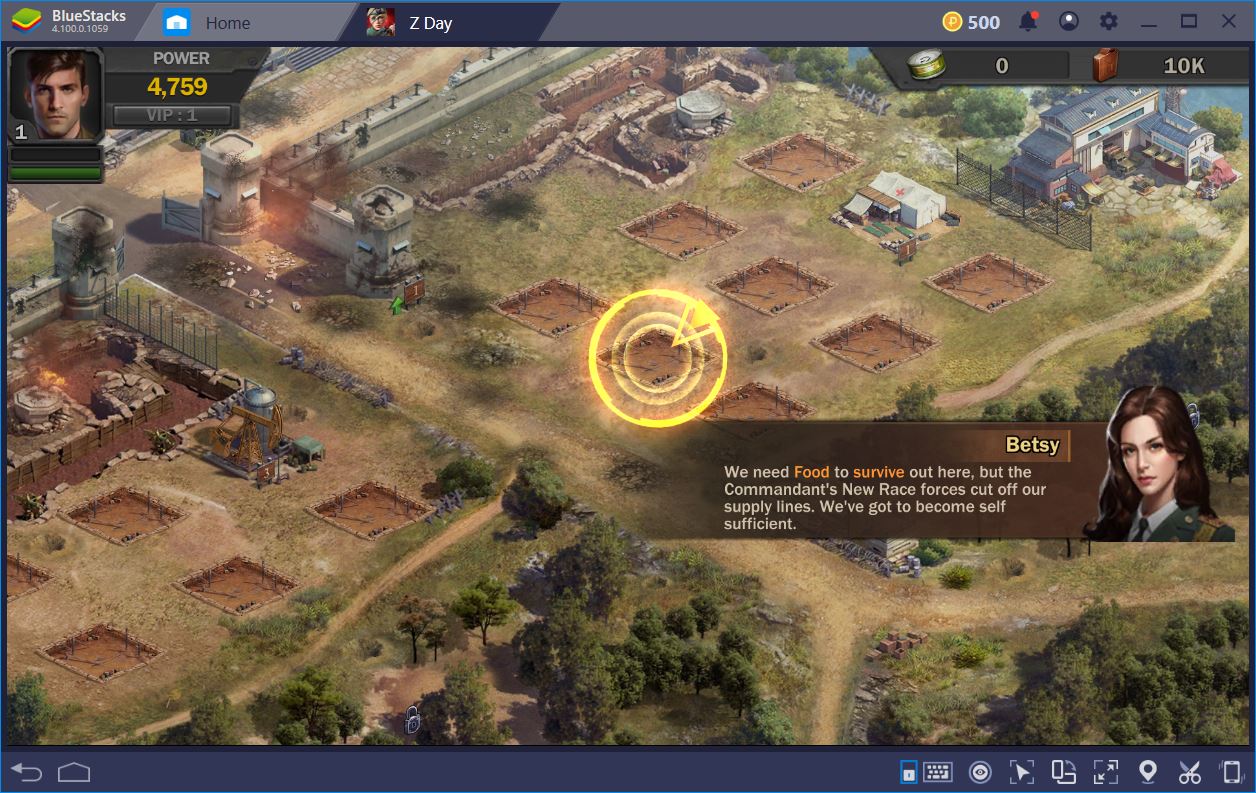 Once you're done with the Food Factory, Oil Well, and Hospital, you can start on those buildings that give you all the fun stuff, namely the Vehicle Plant, Battery Workshop, Shooting Range, Drill Grounds, and more. We have to admit that, after a half hour worth of construction, we were quite proud of what we managed to achieve.
As with any self-respecting real-time strategy, you have missions to complete and resources to collect from your production facilities. But more on that in a later article.
Advanced Game Mechanics
Z Day is not your average strategy MMO. Once you've joined an alliance, you're given the possibility to move your base next to them, so that you can better defend against threats, as well as coordinate attacks with more ease. Aside from New Race troops and resource tiles, the game also pits you up against zombies and zombified animals. As much as we love anything furry, we too have our limits.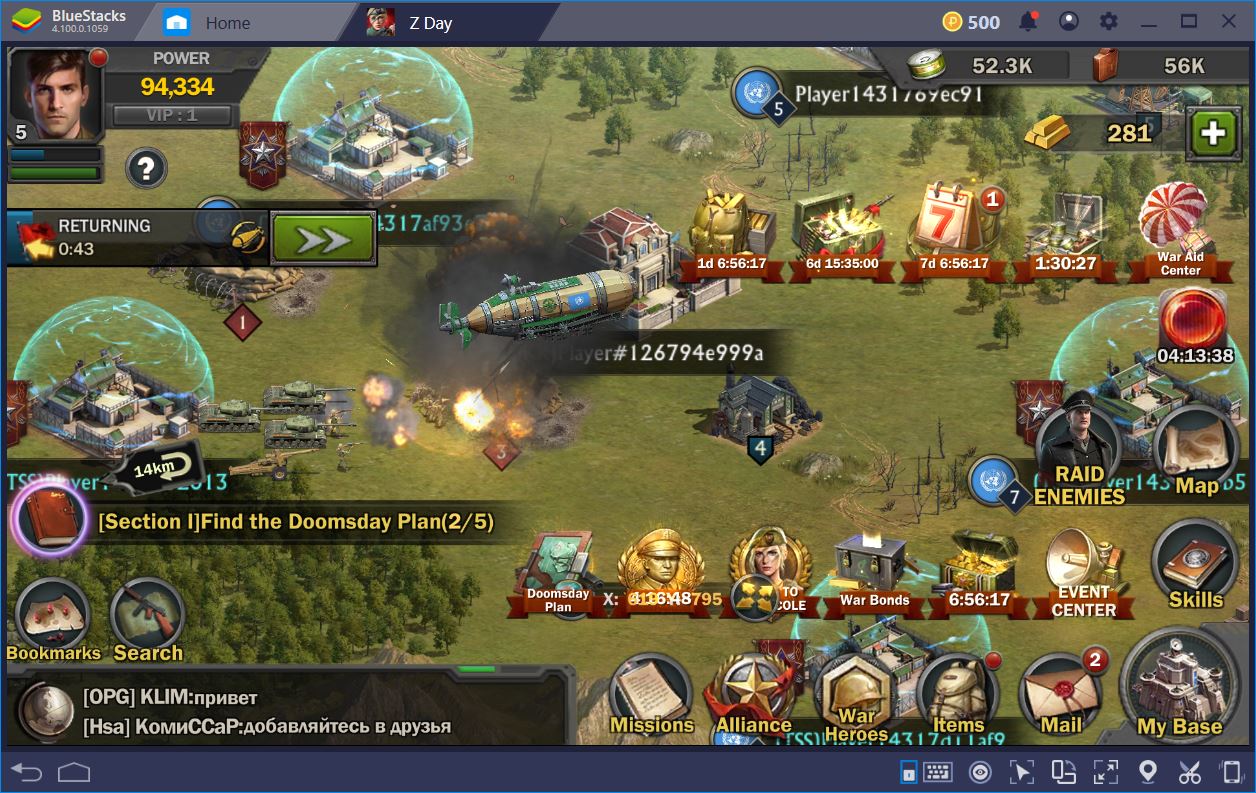 Another cool mechanic is Hero Expeditions. Just south of your HQ, you'll find a helipad ready to send a group of select few into dangerous enemy territory. These are hands-on engagements where your ability to strategize will be put to the test.
First, you have to select which team composition you're going for. For now, we lined up the heroes that seemed the best out of the gate, as well as Nicole, who we've grown to trust and rely on as a close advisor. During these expeditions, you can enhance your team's effectiveness if you have enough antimatter. If we were you, we'd be extra careful about how we spend it, though.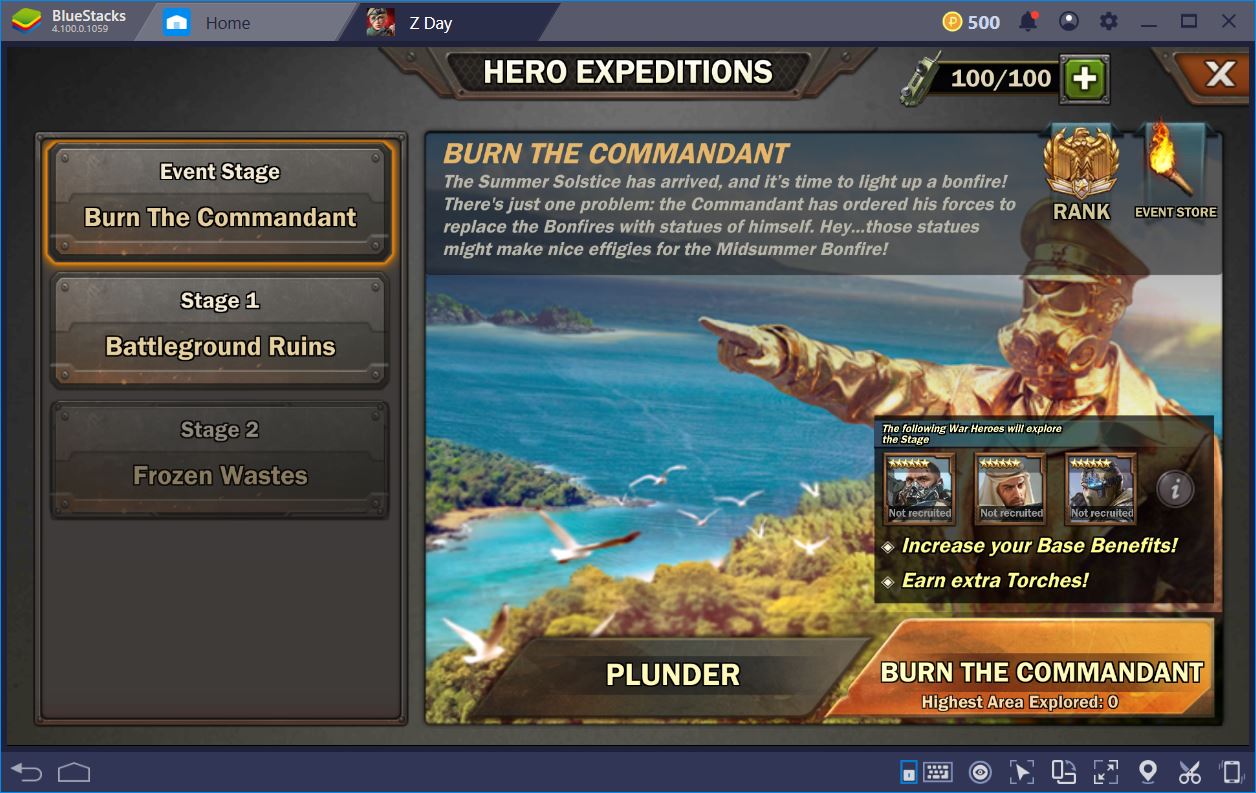 Expeditions offer multiple stages that have to be explored on a tile-by-tile basis. After clicking on one, you can either get a reward or uncover an enemy unit. Some of these tend to be quit tricky to deal with, so make sure to read the expedition handbook so that you know what you're dealing with.
Sometimes, it's better to uncover more units of the same kind, while in other circumstances, you might want to deal with the threat as soon as it appears. For more tricks of this kind, feel free to check out our BlueStacks guide to the most valuable beginner tips.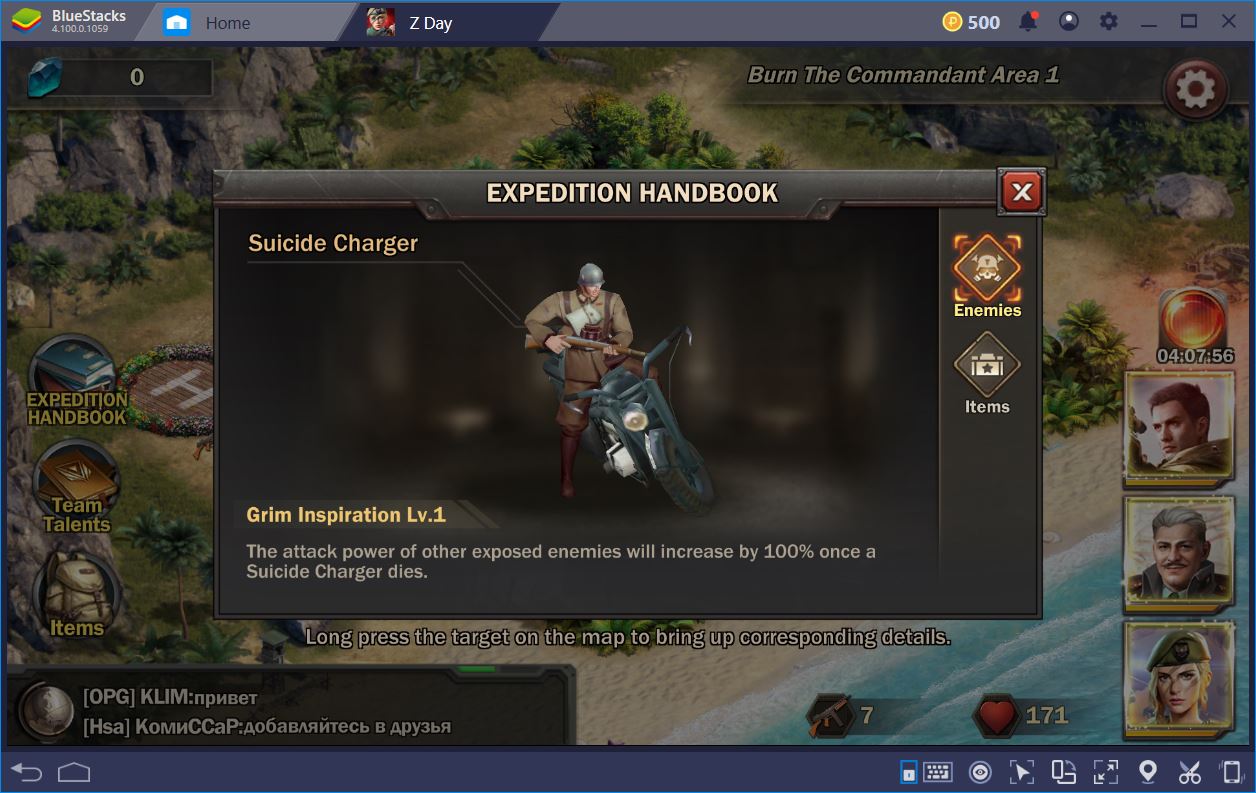 Now, your heroes come into play by means of their attack power, as well as the abilities they offer you. For instance, Nicole has carpet bombing, which can uncover an entire stage, as well as deal massive damage to the enemies hidden under each tile. Her cooldown is pretty long though, so we'd be extra careful on when and how you use it.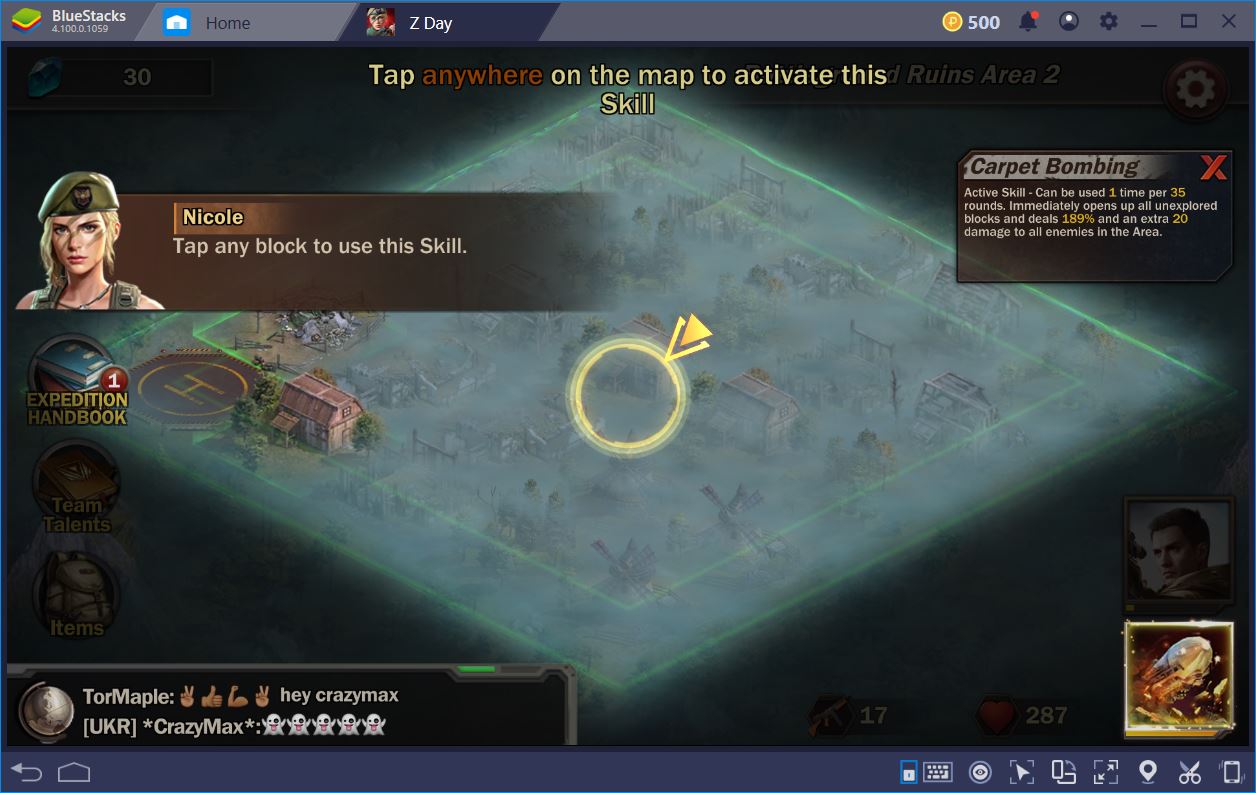 A Great Game that's Even Better on BlueStacks
Overall, we're pleased with Z Day: Hearts of Heroes. The game has a complex and immersive premise that makes you want to play and discover more of its universe. Its PvP mechanics are impressive, to say the least, whereas the regional/alliance chat rooms are ridden with players ready to lend a hand. Moreover, there's a neat feature to translate other languages. We wouldn't rely on it too much, tough, because it's only as good as Google translate in its best days. Still, a nice feature.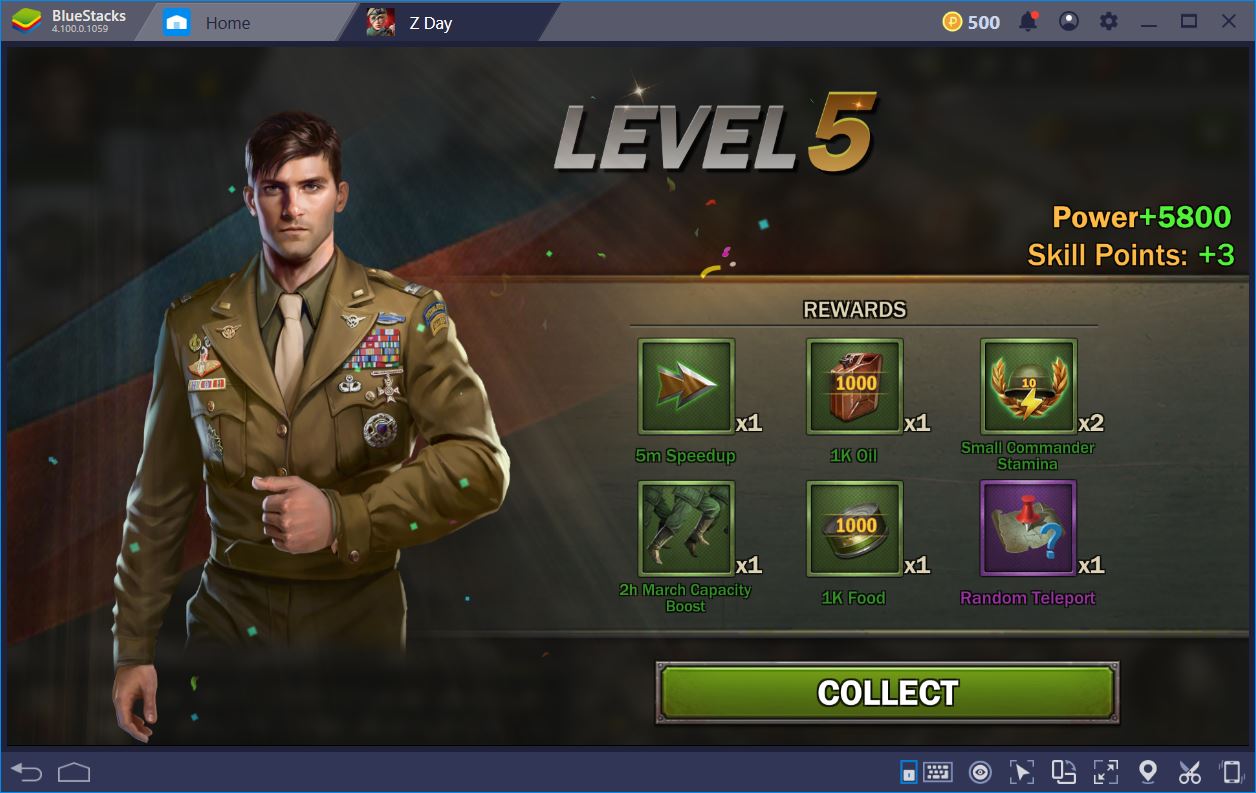 For now, we're keen on leveling up and increasing our combat power even more, as we're eager to explore the full extent of what Z Day has to offer. For those of you with a penchant for military-themed strategy games, such as the golden era of the Command and Conquer series, this game is right up your alley! Now, where are those pesky New Race fellas? We're feeling a bit thirsty for some loot.