News
Free Fire Max Open Pre-Registrations For MENA Region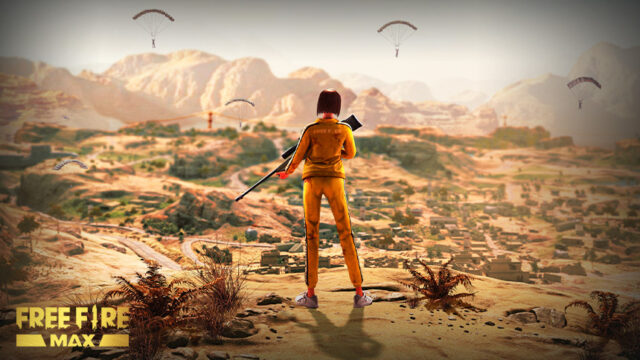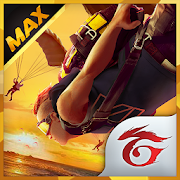 Free Fire Max has opened pre-registrations for the MENA region, with the open beta launch for the Middle Eastern and North African region set to be done in 38 days as per the ticker on their official website. So far, over 500,000 users have completed pre-registration for the open beta launch in the MENA region.
Garena has chosen to capitalise on the mega successful Free Fire franchise by branching into Free Fire Max, which will also be a battle royale, albeit one that is strictly just for mobile users compared to Free Fire, which is also available on other platforms. Call it a Free Fire with an enhanced and more immersive graphical experience, if you will. Free Fire Max witnesses 50 players drop on to a deserted island. The players will then scavenge for items, materials, weapons and more all while having the same aim of emerging victorious and the last player alive among the 50 players in that lobby. Free Fire Max also has a squad option that will allow up to 4 players to team up and try to win as a squad, with the experience enhanced thanks to the addition of the in-game voice chat feature.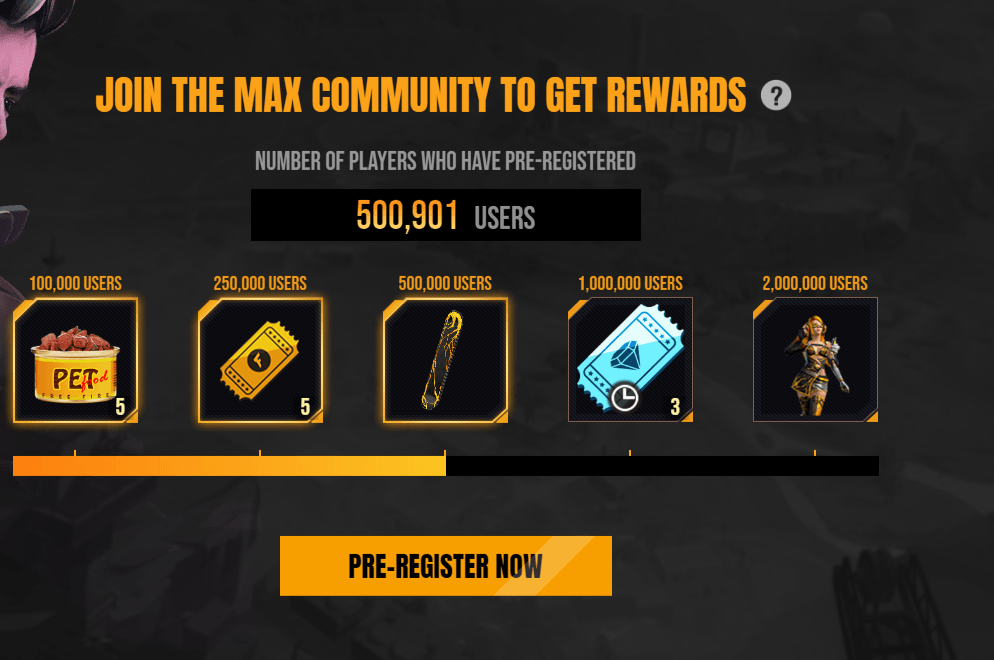 Players can also play Free Fire Max with their already existing Free Fire accounts, thanks to the Firelink technology that helps maintain users' achievements and progress in both the games on a single account without much hassle, thus bringing a pseudo cross-platform feature to the Free Fire universe, with players able to play every game mode with both Free Fire and Free Fire Max players, irrespective of the game they have open on their mobile screens.
Players that pre-register will also be privy to certain rewards. There are thresholds in terms of the number of pre-registrations done and rewards will be unlocked for all early birds provided as and when they cross certain milestones. Currently, three thresholds have been crossed, which guarantees everyone who pre-registered 5 pet food cans, 5 Tickets and a Skateboard skin. Further thresholds are kept at 1 million and 2 million users, with the respective milestones yielding 3 Diamond Tickets and a female character or skin.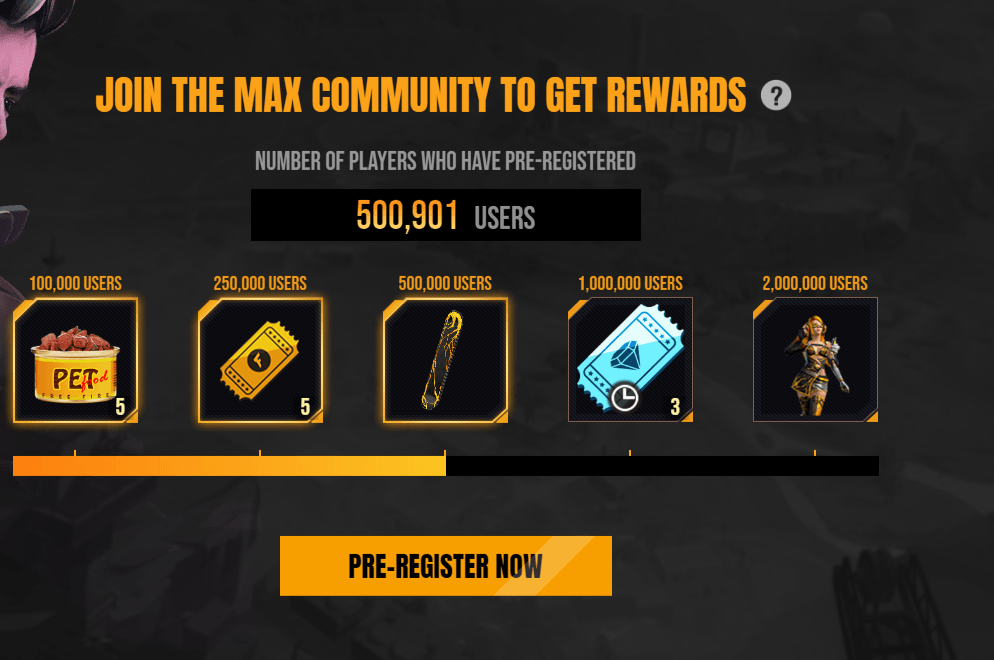 The rewards don't stop there, for players also receive rewards for inviting friends who successfully pre-register for the open beta launch. There are rewards for every successful invite, with upto 5 successful invites yielding varied rewards like Weapon Tickets, Diamond Tickets, Crates, Free Fire Max tickets and more!
Furthermore, there is a competitive leaderboard for successful invites, with the top 10 at the end of the pre-registration phase set to receive an exclusive male character or skin.
With 38 days left for the open beta launch, users will be expecting that at least the maximum thresholds in the pre-registration rewards phase are crossed while they also remain in a race to get the most successful invites for exclusive rewards.