Updates
Epic Seven Global Server 2nd Anniversary – 70x Summons, Free Buffs, and Other Goodies in This Upcoming Event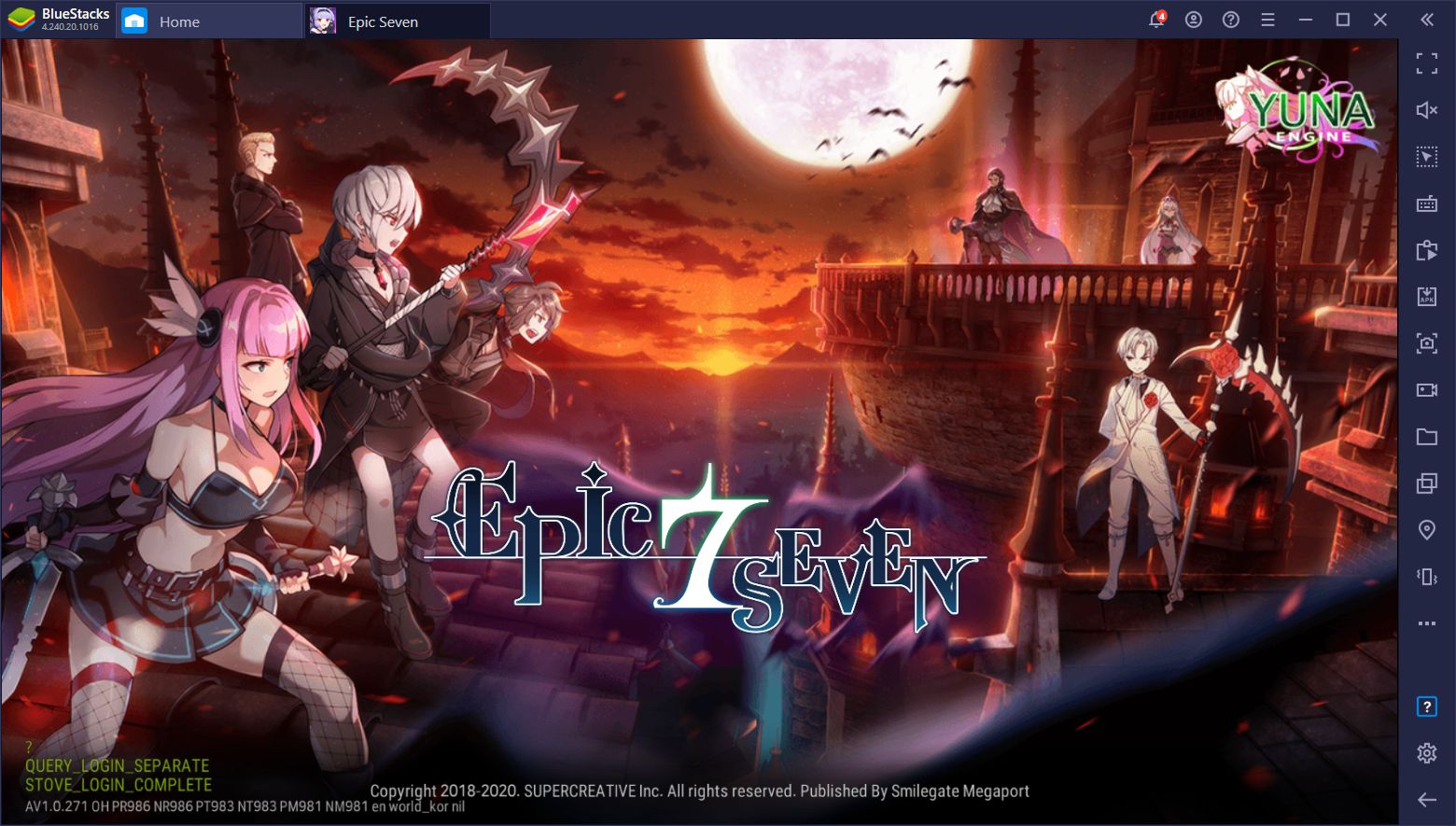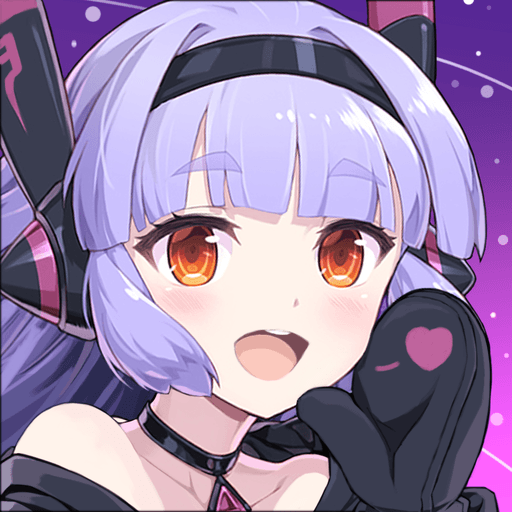 Here at BlueStacks, we have some interesting insider info about Epic Seven that will definitely interest you. We're kidding about the "insider info" part, but we definitely aren't exaggerating when we say one of the biggest events in the game is coming very soon, giving players ample opportunities to bolster their roster of heroes, and enjoy lots of free stuff for a limited time.
This upcoming event is commemorating the game's 2-year anniversary and, as their way of saying thanks to all the loyal supporters and followers, the devs are going to be giving out free prizes to those who log in during the event period.
Epic Seven 2-Year Anniversary Event
Though it still hasn't been confirmed in-game, the Epic Seven team hosted a livestream with Mashuu and Nue where, 50 minutes in, they started talking about the upcoming Global Server 2nd Anniversary Event. We recommend taking a look if you want to hear the full story:
If you can't watch the video, they basically talk all about the newest patch content throughout the entire video, including all the Halloween celebration challenges, and all the additions we mentioned in our previous article, including the new items, artifacts, heroes, skins, and other useful items you can find. It's a very informative watch, especially if you're interested in keeping up to date with every happening in the game.
However, if you've played Epic Seven in the past few days, you'll already know about most of the stuff they talk about in the stream. What you probably didn't know, however, since it hasn't even been mentioned on Stove's website nor in-game, is that there's an upcoming 2nd Anniversary event, which is happening very soon.
This event will include lots of free items and giveaways, among which the most important are the 7-Day Check-In Event, which will give players prizes simply for booting up the game and checking in every day during the event, the 70 Free Summons Event, and all the Free Buffs that will be in effect during the event period.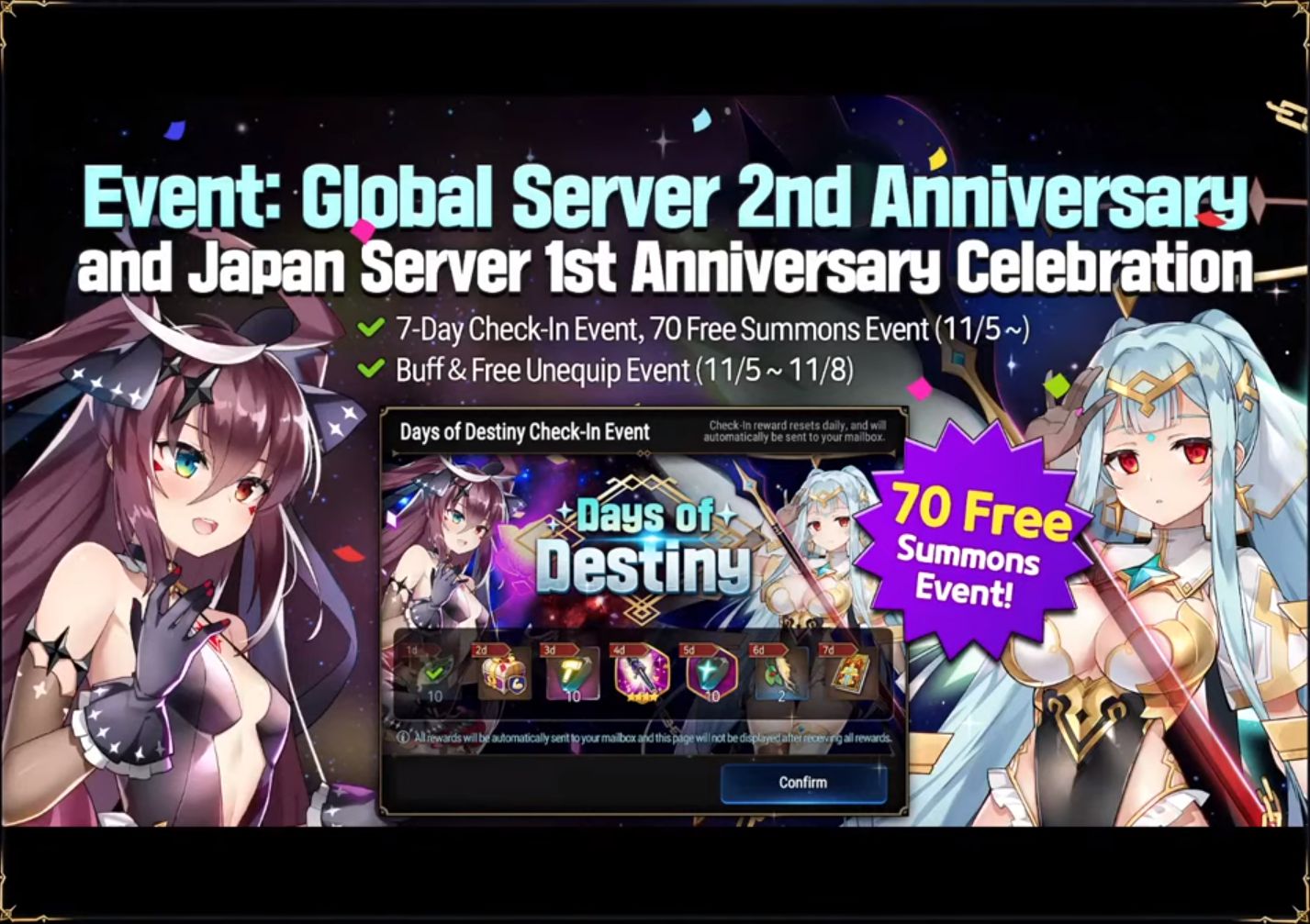 And by the way, you definitely read that right: Throughout the anniversary celebration, players will get 70 free summons, which is honestly massive. If you've been wanting to unlock a specific character, this will be your best bet, unless you want to whale out, which is fine, but why do that when you could roll for free during the event?
Other than the 70 free summons, the login event will also give players a unique artifact on day 4, which we know nothing about other than the fact that it's new. Moreover, during three days of the event, players will receive free buffs, and will also be able to unequip gear for free.
The Global Server 2nd Anniversary Event for Epic Seven is kicking off this 11/5, and will last for at least one week. However, the event buffs and free unequip component will only last until 11/8, so you will only have 3 days to perform all the adjustments to your gear for free.
Are you excited for the upcoming anniversary event? What hero would you like to get from the 70 free summons? Leave us your comments in the section below!