Updates
Epic Seven December Patch Brings New Christmas Events, a New Character, and Other Interesting Additions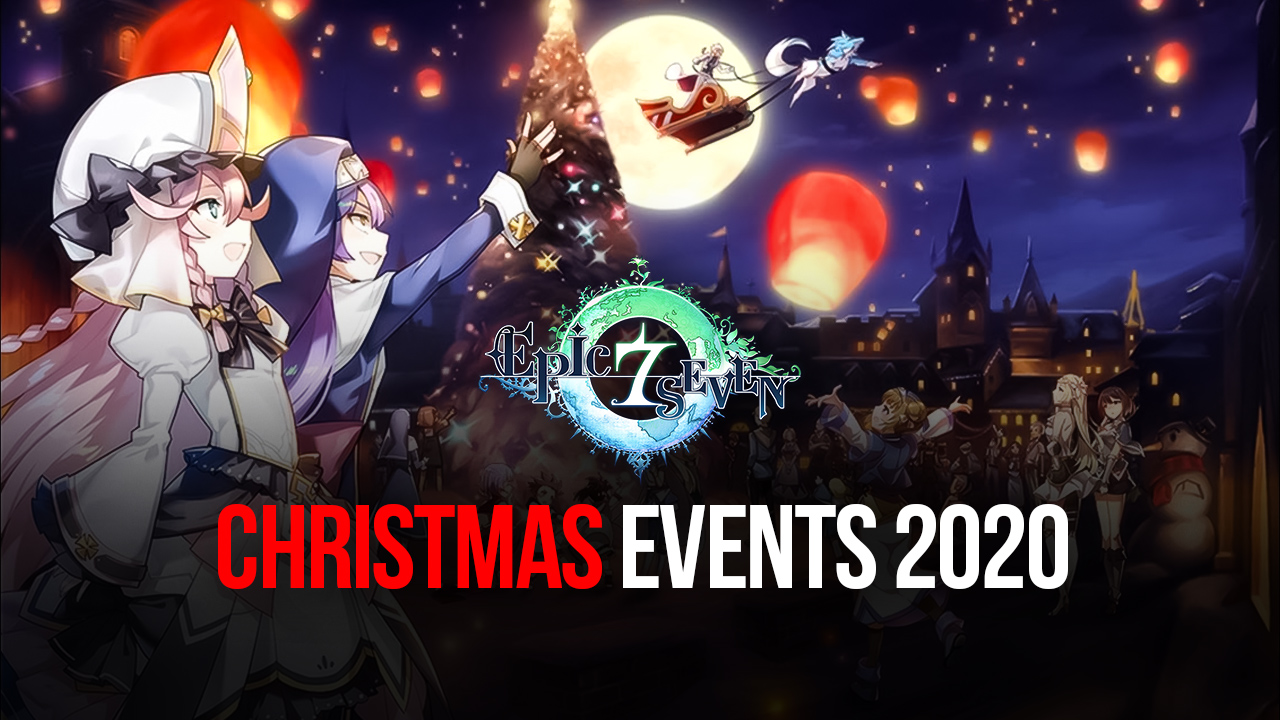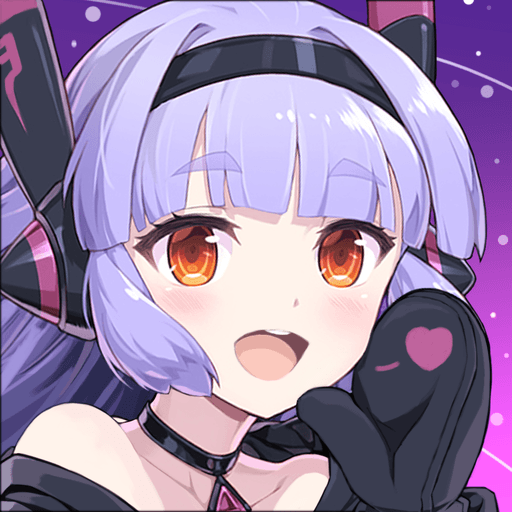 Remember when we mentioned in our Epic Seven Christmas article how Stove had only implemented the Present Extravaganza event but showed no signs of adding more challenges this year? Well, that all went out the window today as the latest December update for Epic Seven not only brings us lots of new challenges, but also a new side story, a new character, and many other interesting things to find in the popular turn-based mobile RPG.

In this article, we'll be breaking down everything that's new in the Epic Seven December patch that is releasing on the 24th.
Adventures in Winter Wonderland Side Story
The most concerning part about the Present Extravaganza event was the fact that, as we just mentioned, Stove had only mentioned this event as part of the Christmas celebrations, and didn't mention whether or not there would be any other events coming this December. If that were the case, 2020 would be comparatively inferior to the previous year, which also brought us a new side story at the time.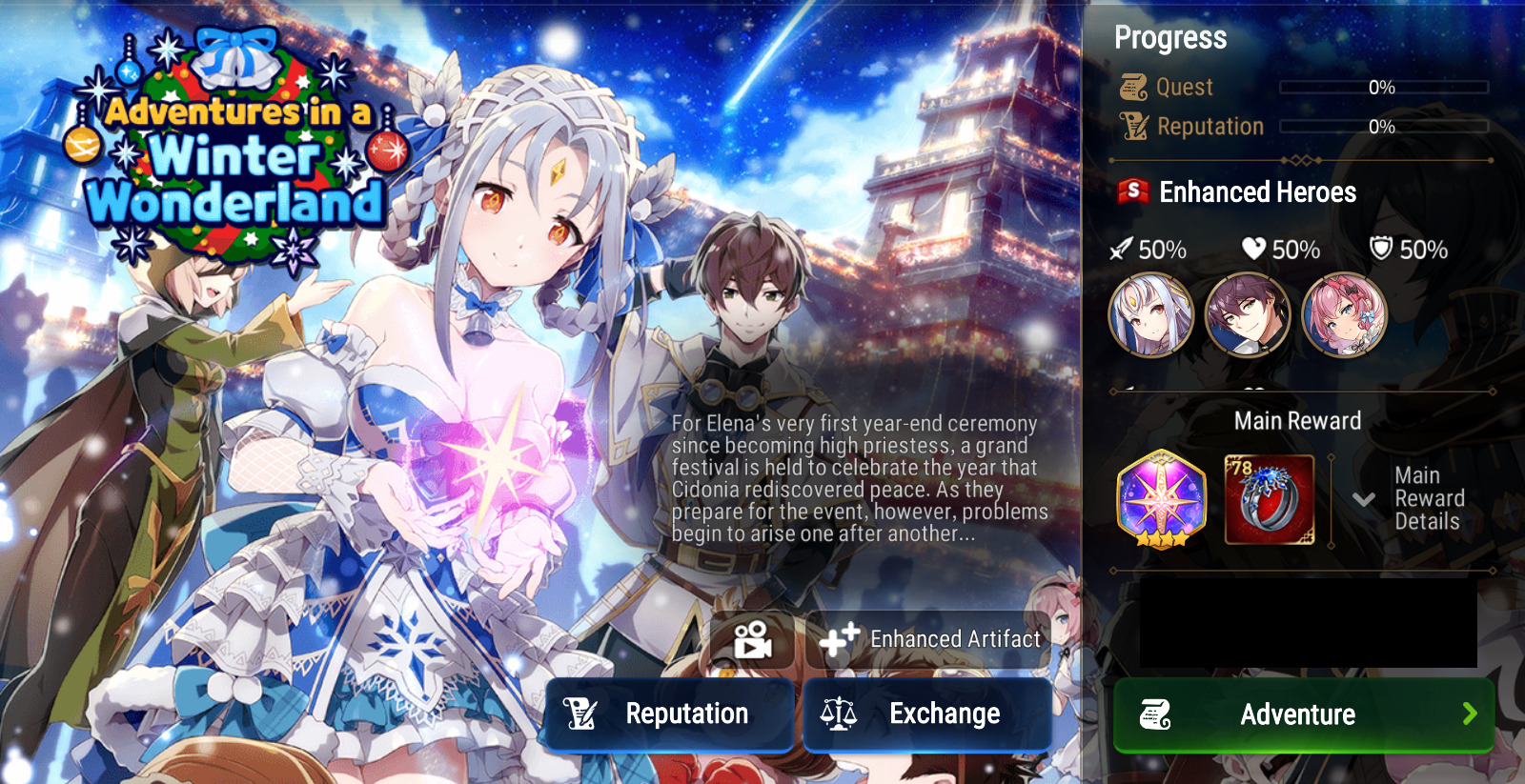 Luckily, Stove announced just a few moments ago that the December update for Epic Seven is also bringing a new side story this year, "Adventures in Winter Wonderland", which gives players access to a variety of special stages in various difficulties, with the chance to enjoy a brand new storyline, while also scoring unique prizes. As usual, this side story will be released in parts, with part 1 releasing after the upcoming maintenance and spanning stages 1 through 10; part 2 a week later and spanning stages 11-20, and part 3 releasing another week later and offering the last stage of the event.
For completing the stages in the event, players will be able to earn special currency that can be traded in the event shop for prizes. However, the story stages don't give currency, so players will have to complete optional stages in higher difficulties in order to farm the special currency. Moreover, during week 1, players will be able to equip specific artifacts to their heroes in order to gain bigger boosts, as well as bonuses to the amount of currency received at the end of the stage. The Enhanced Artifacts in questions are listed on the side story's main screen.
This part of the Christmas event will also offer special Gift Stages which, upon completion, grant the player special gift items that can be given to any character to boost their friendship level considerably. Each chapter of the side story will have 1 gift stage, and players can enter up to 10 times per chapter. These gifts can be given to the characters via the hero management menu.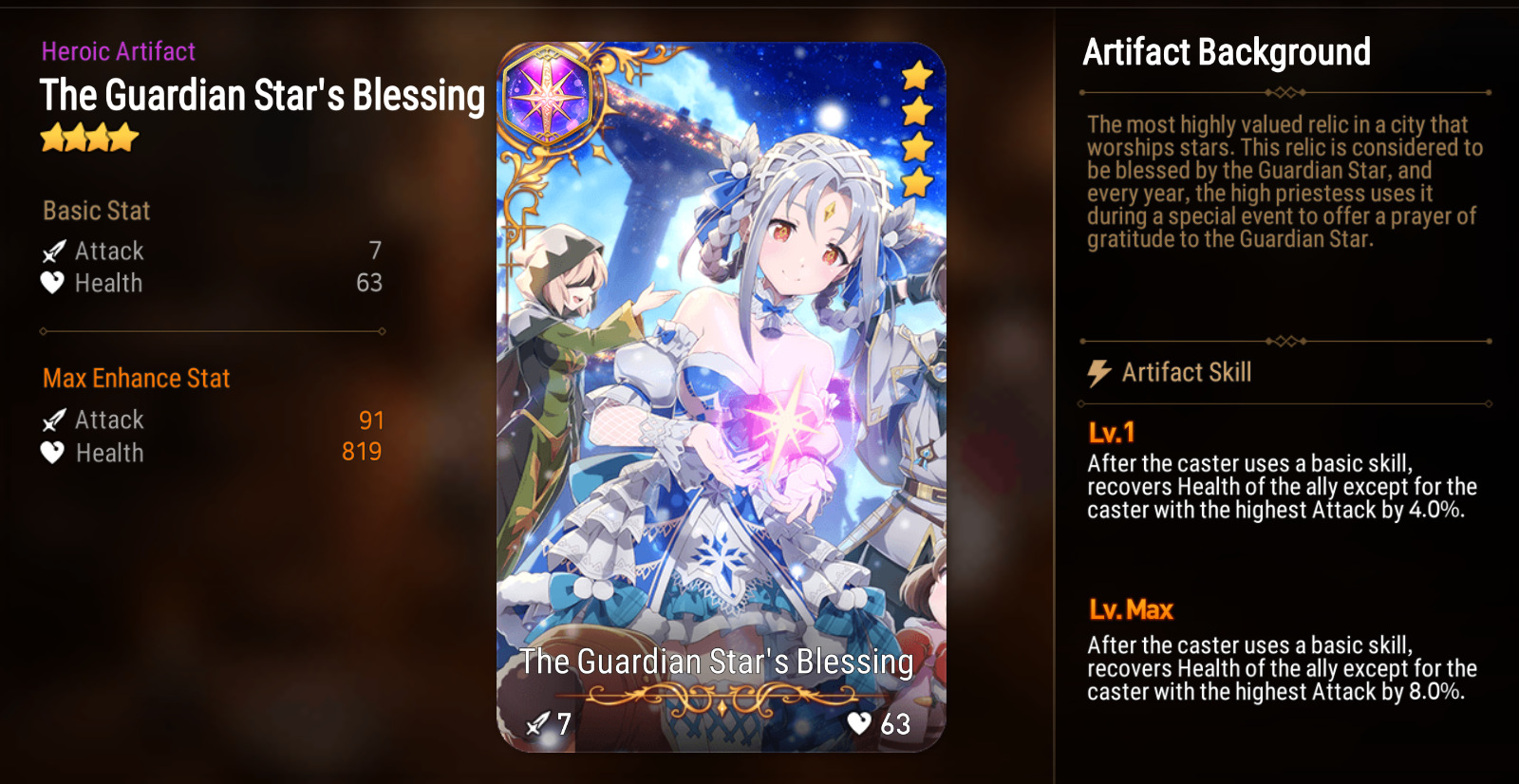 By completing the side story, players will receive a new 4* artifact called "The Guardian Star's Blessing". Also, some of the best prizes that can be received from the event store after farming currency are two Epic Accessories. These pieces of equipment have fixed set bonuses, main stats, and substats, but can be enhanced to increase these bonuses.
New Character: Fairytale Tenebria
Aside from a brand new story to discover, the Epic Seven December update also brings a brand new character to the fold, Fairytale Tenebria. Check out the official preview video below to see her in action:
Tenebria is an ice elemental mage with a new and unique property: the ability to inflict Redirected Provoke. This new status effect forces the target to attack the enemy with the highest max health, which means that it's useful for forcing enemies to attack your tanks, even if their usual Provoke skills are on cooldown or otherwise unavailable.
She can inflict this new status effect with her Tea Party skill, which is also useful for dispelling a single buff on all enemies, while also blocking them from receiving new buffs for the duration. Moreover, her Redirected Provoke fits nicely with her Wild Card ability, which has the "Shuffle" passive. This skill allows Tenebria to attack the entire enemy team whenever any of her allies are attacked. The damage inflicted by Shuffle increases if the attacked ally has the Provoke or Redirected Provoke status.
New Artifact
As is the case whenever a new character is added to the game, there's also a new Artifact coming to Epic Seven, "Fairy Tale for a Nightmare".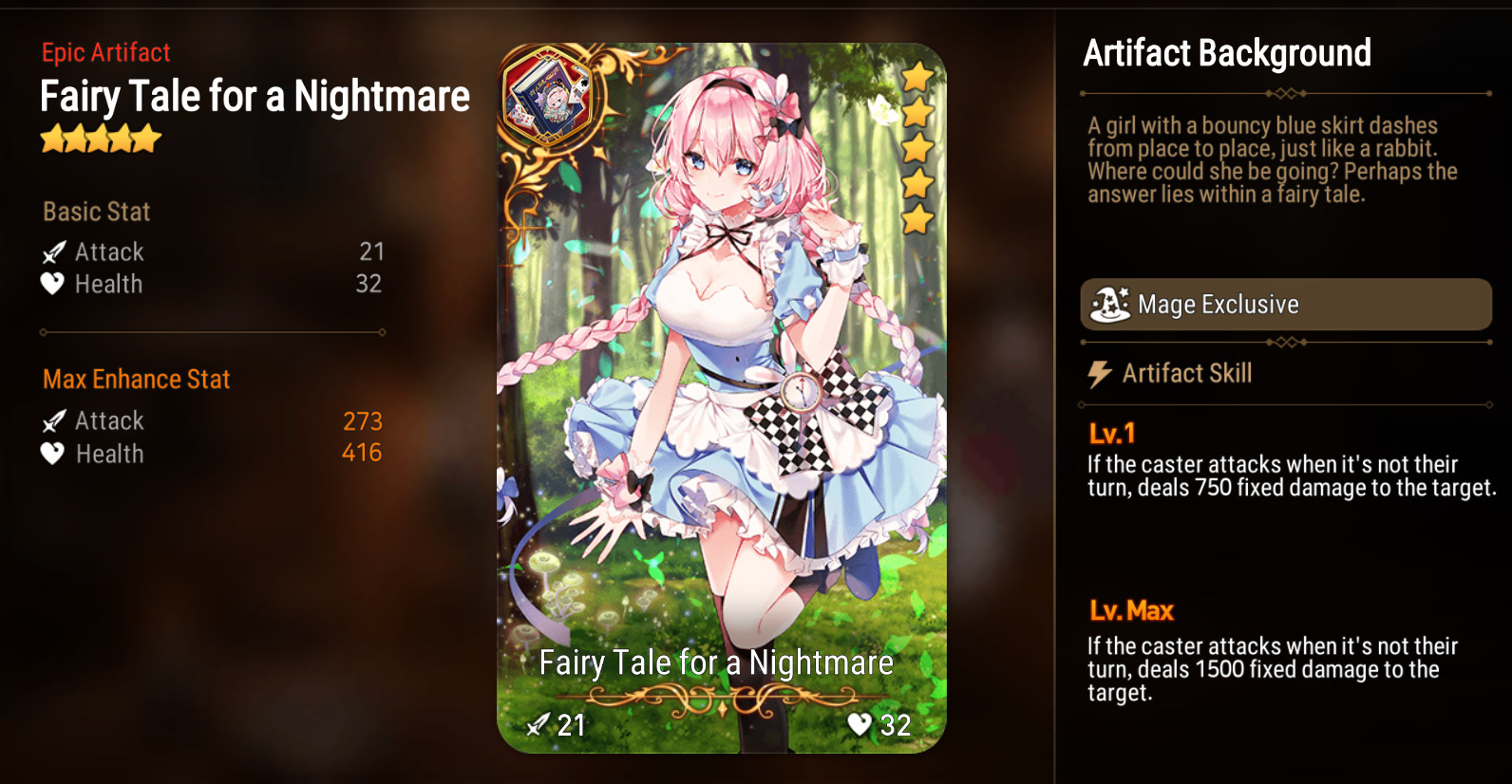 Right off the bat, aside from being featured front and center in the Artifact's art, we can definitely tell that this item was made for Tenebria. This artifact, when equipped, allows the user to inflict additional damage whenever they attack outside their turn. In this sense, whenever Tenebria´s Shuffle passive is triggered, she'll deal up to 1,500 extra damage to the entire enemy team on hit.
Players can unlock this new artifact via normal summoning, as well as by summoning from the "Fairytale Tenebria & Fairy Tale for a Nightmare Drop Rate Up" banner.
World Arena Ardor Season
After the end of the previous pre-season, the new Ardor Season in the World Arena is coming to Epic Seven. From December 25, players will be able to fight in the new arena season to prove their might over their enemies, while also scoring some unique prizes for their troubles.

Aside from the street cred and other items that can be obtained from participating and winning battles, players who manage to climb the rankings will receive different rewards depending on their final rank. Furthermore, by reaching certain ranking milestones, everyone will be able to score unique rewards such as a new avatar frame, an epic skin for Fallen Cecilia, and a background pack.
Christmas Decorations in the Tavern
Last but not least, the Tavern is getting a facelift this Christmas season with a bunch of decorations and a brand new festive look. Throughout Christmas, players will be able to spend time chilling in their hub beside the Christmas tree and delight in all the new decorations, preferably with a glass of non-alcoholic eggnog in hand!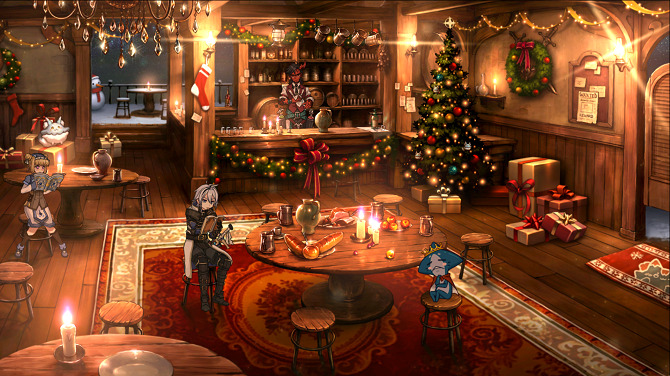 These are just some of the most important additions that are coming to Epic Seven with the December update. Feel free to check out the official patch notes if you want to learn more about the upcoming additions, which should be releasing tomorrow, December 24. Let us know your thoughts and opinions about all of these new features in the comments below!