Updates
Epic Seven – Closer Charles, Summertime Iseria, and Summer Special Side Story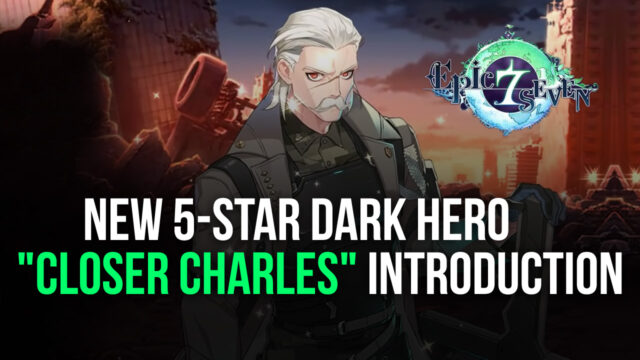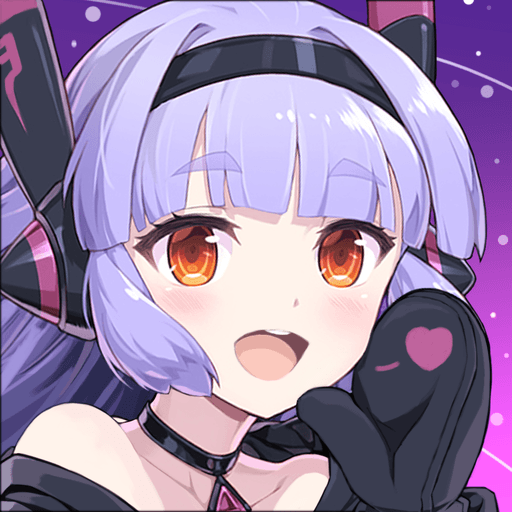 Epic Seven, the popular free-to-play turn-based RPG by Smilegate is back with more new heroes and content with its scheduled bi-weekly update live streams on their official YouTube channel hosted by community managers Mashuu and Nue. These live streams give all players a list of things to look forward to, like the new events coming, new content updates, and the various new heroes introduced to the game. Players can also get more freebies just by completing the surveys shared in the platform chats. Nowadays, epic seven is being more updated with providing these freebies by just directly sending them to the mailbox of all players. These chests can be unlocked by inputting a password shared on the stream. The password for this week's stream was – epicseven7.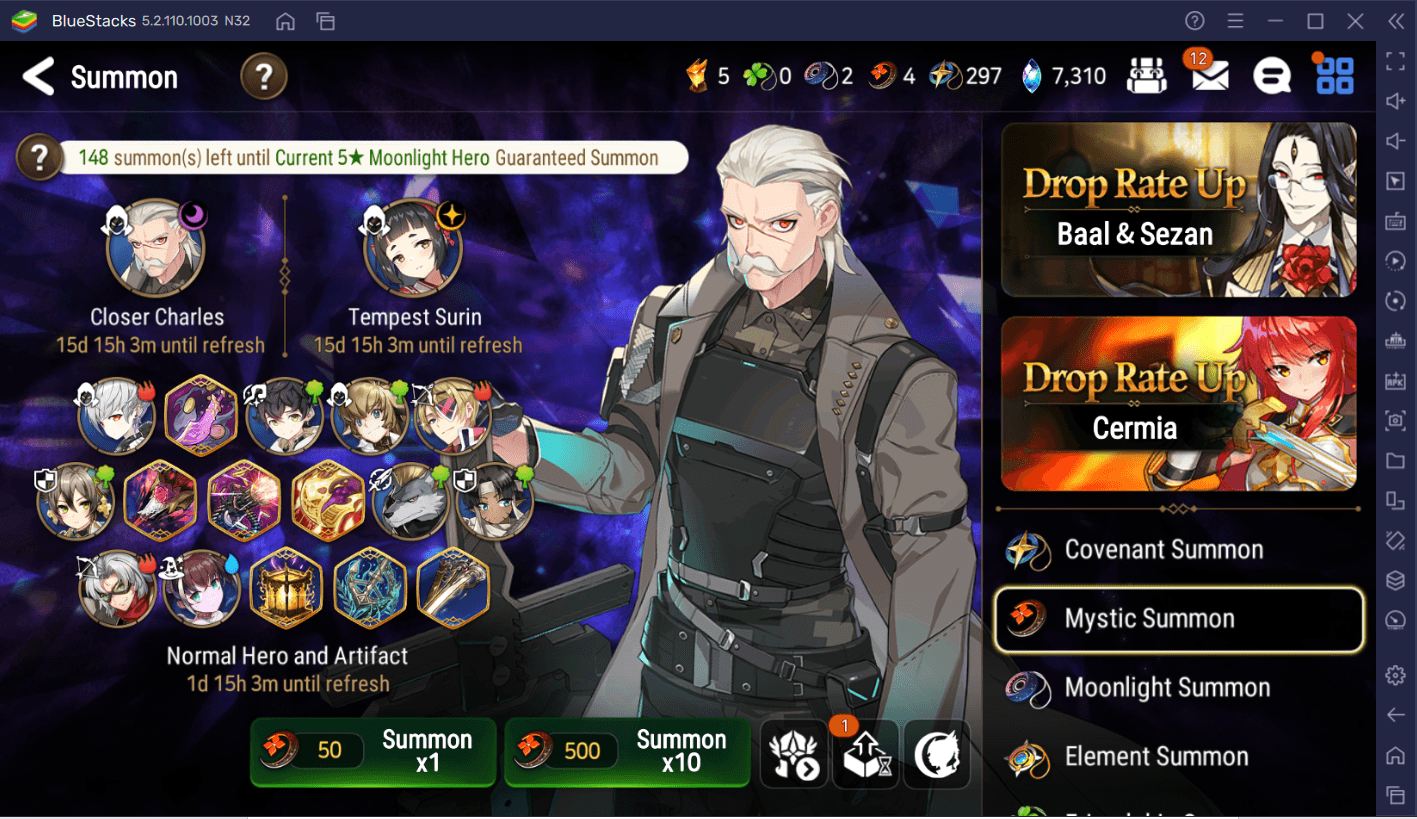 This update introduced a lot of new content and some interesting new heroes. The first hero introduced was the moonlight version of Charles called Closer Charles, the 5-Star Dark elemental unit from the Thief class. The newest hero previewed during the live stream was the much-anticipated Summertime Iseria which was teased to all the players during the previous summer event preview. Summertime Iseria is a 5-Star Fire elemental unit from the Ranger class. Along with the new unit, comes a new special summer side story called The Order of the Sword and the Lord of Summer. This is a 2-week side story, especially for the new unit Summertime Iseria. Apart from this, a new recall for the 4-Star Moonlight unit Roaming Warrior Leo due to the upcoming changes to Bombs. Let's get into the details of this patch.
Closer Charles – New 5-Star Dark Hero
Closer Charles is the newest moonlight 5-Star unit coming to Epic Seven. He was teased to players long before the Epic Festival 2021 update in a teaser video which made players already excited for his potential release. Well, Smilegate finally revealed the unit in their live stream. Closer Charles is a 5-Star Dark elemental unit who is classified as a Thief in the game. Players can summon him in the Mystic Medals banner along with Tempest Surin on 19th August 2021 after maintenance. He is a great unit for cleave teams with his passive combat readiness push whenever a unit is at 30% HP or less which lets him take a turn and he can then increase the combat readiness of all allies while also giving them an Attack buff with his 3rd skill Descent. This skill also grants him Evasion for 3 turns.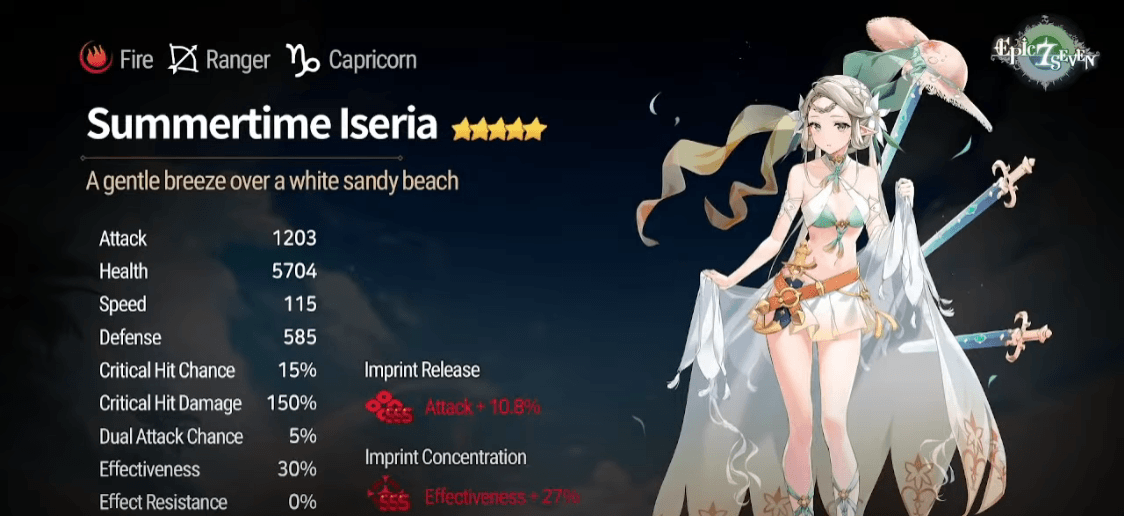 His passive ability Closer states that whenever an ally except for the caster attacks and if the enemy's health is 30% or lower, then Closer Charles gains 50% combat readiness push as well as Perception buff for 2 turns. This passive activates once every 2 turns. Perception buff is a new one that was only seen with Green Violet till Now but Closer Charles is the second unit now to receive this buff. This is an uncleansable buff that increases the user's Critical Hit Rate and Critical Hit Damage by 15% each. Closer Charles's first skill Elimination is a single target damaging skill. If Closer Charles has a Perception buff then this skill changes to Demolition. Demolition is a single targeted damaging skill that deals damage according to the enemy's lost health amount. Whenever an enemy is defeated by Demolition, the skill cooldown of his 3rd skill Descent will decrease by 1 turn and this skill does not proc Dual Attacks.
His skills are as follows: –
Elimination – Sharply cuts the enemy. When used on the caster's turn, if the caster is granted perception, uses Demolition instead of Elimination.
Demolition: Attacks the enemy with a sword. Damage dealt increases proportional to the target's lost Health. When the enemy is defeated, decrease the cooldown of Descent by 1 turn. This attack does not trigger a Dual Attack.
Closer (Passive) – After an ally except for the caster attacks, if the enemy's health is less than 30%, increases Combat Readiness of the caster by 35% and grants perception for 2 turns. Can only be activated once every 2 turns.
Descent – Attacks all enemies after descending, increasing Attack of all allies for 2 turns before increasing Combat Readiness by 20%. Increases Evasion of the caster for 3 turns.
Summertime Iseria – New 5-Star Limited-Time Unit
Summertime Iseria is the new limited unit coming to Epic Seven and was revealed by Smilegate in their official patch preview stream which is hosted by their community managers Mashuuu and Nue. The stream also introduced a new 5-Star artifact for her called Star of The Deep Sea. Players can summon for her in her own Limited Time Summon banner on 26th August 2021.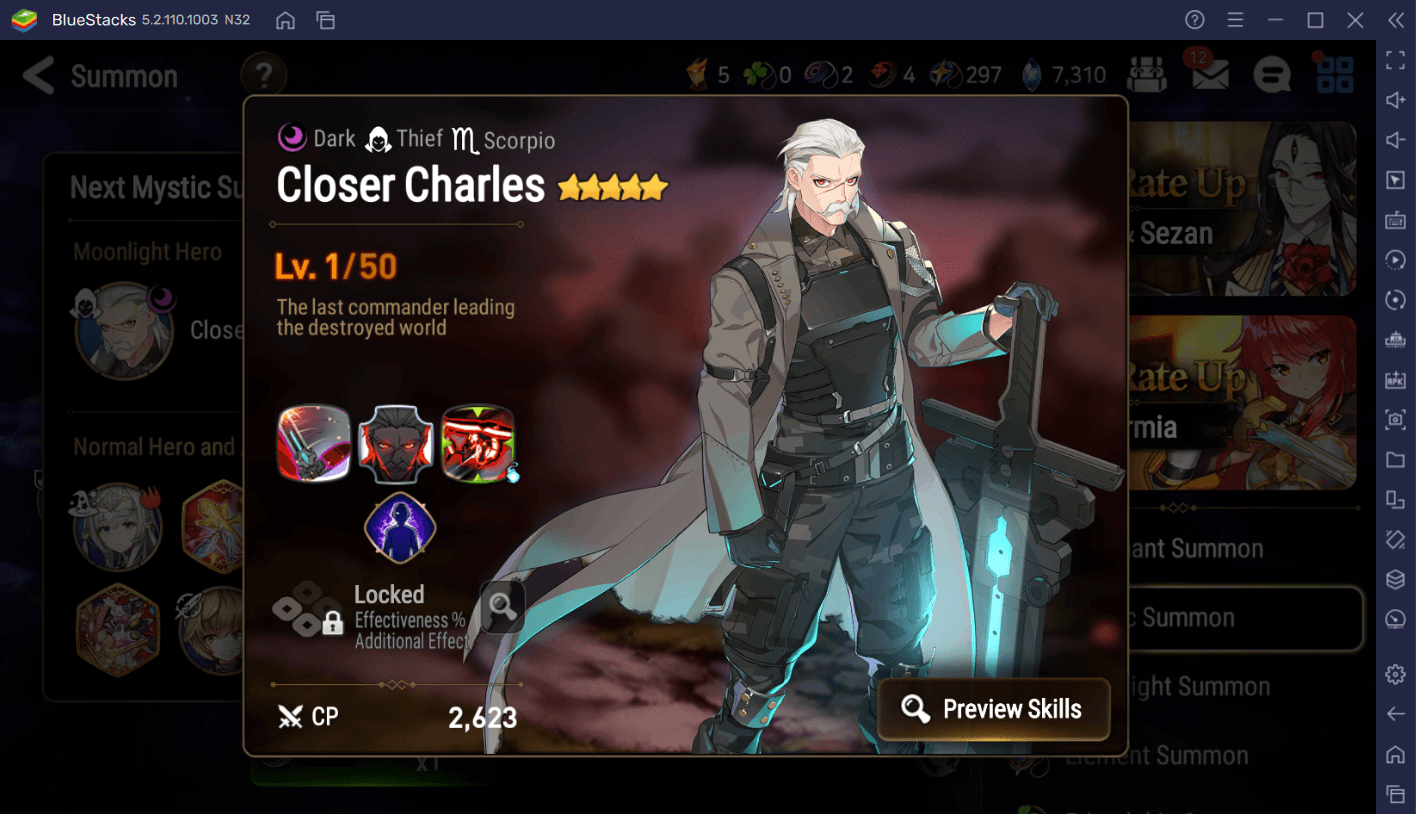 Summertime Iseria is expected to be a top-tier unit with the upcoming rework coming to Bombs. We say this because her main DPS comes from placing bombs with her Passive and Artifact Star of the Deep Sea and detonating these bombs with her 3rd skill Sword of Flowers! Her 1st skill: Are you the Culprit? Is a single targeted damaging ability that can remove 2 buffs from the target with a 60% chance each. Her 2nd skill is her passive Suppression Attempt which we talked about. This passive states that Summertime Iseria's first soul burn does not cost any souls to activate. It also does not let her do any Critical Hits but in turn, increases her Attack by 20% flat. She also uses her skill Suppress whenever an ally except for the caster uses a skill that targets all enemies. Suppress increases combat readiness of all allies by 15% and places a bomb for 2 turns on 2 random enemies. Her 3rd skill Sword of Flowers! Is a skill that targets all enemies and decreases the Attack of all enemies by inflicting a Decrease Attack debuff for 2 turns while also placing an Increased Speed buff on her for 2 turns. This skill will also detonate all bombs on any target that has bombs placed on them.
Her skills are as follows: –
Are you the Culprit? – Attacks the enemy with swords, with a 60% chance each to dispel two buffs.
Suppression Attempt – Does not cost any Souls to activate the caster's first Soulburn. The caster cannot trigger a critical hit, but the Attack increases by 20%. After an ally except for the caster uses an attack that targets all enemies, activates Suppress!. Can only be activated once every 3 turns.
Suppress!: Increases Combat Readiness of all allies by 15% and plants a bomb on two random enemies for 2 turns.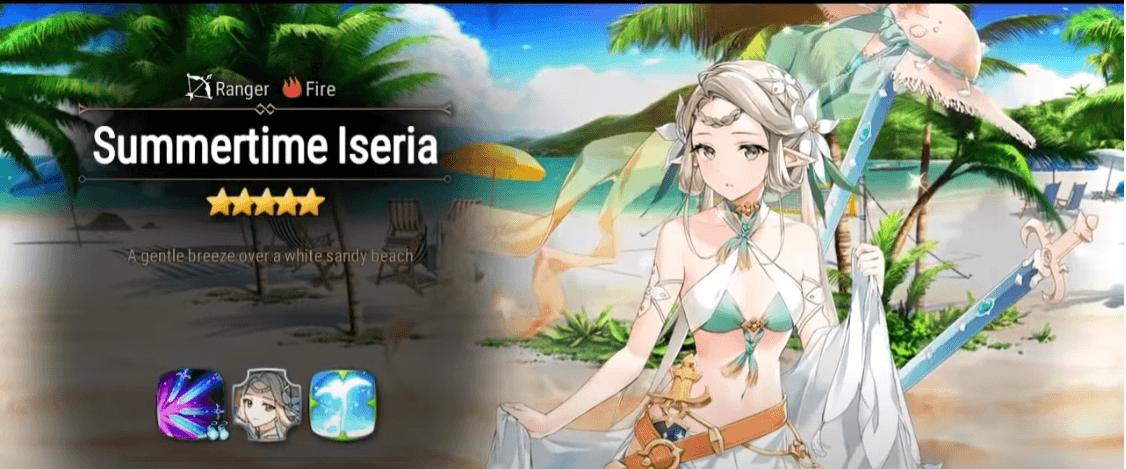 Sword of Flowers! – Attacks all enemies with swords of flowers, decreasing Attack for 2 turns and increasing Speed of the caster for 2 turns. At the end of the turn, detonates bombs inflicted on the enemy.
Summer Special Side Story – The Order of The Sword and The Lord of Summer
Along with the new units and events targeted for the summer season, a new summer special side story called The Order of the Sword and the Lord of Summer is going to be starting with the update on 19th August 2021 after maintenance ends and lasts till 9th September 2021. This is going to be a special 3-week special side story with juicy rewards and exchange shop rewards. The introduction of the side story is as follows: –
"A beautiful beach in the port city of Levulin.
Visitors from everywhere are here to see the re-opened beaches and volleyball matches. An unforgettable summer awaits Alexa, who followed Iseria and Cermia on their suspicious vacation."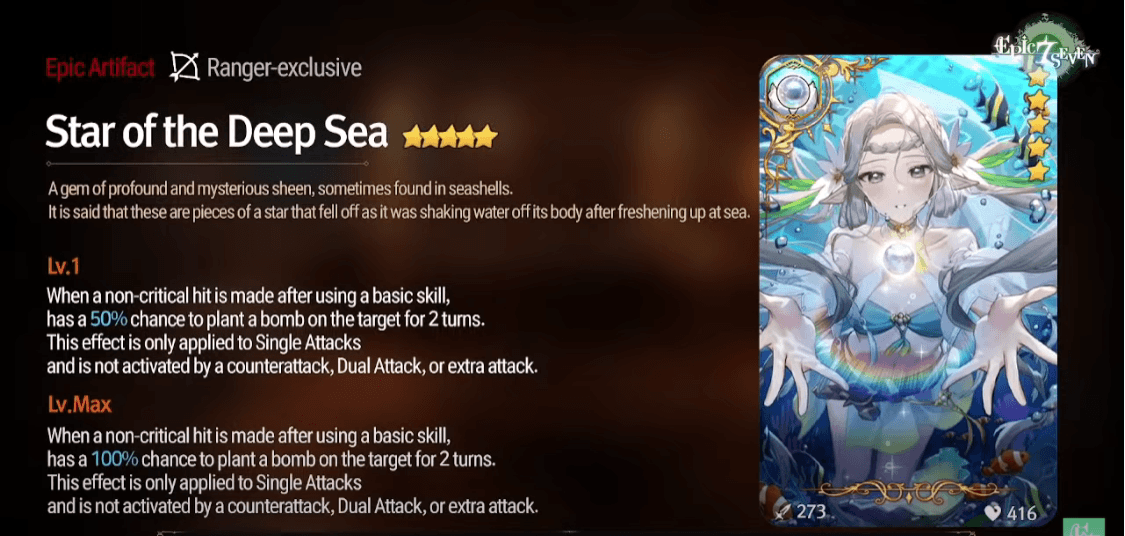 Players who have cleared Chapter 10-10 in Episode 1 are eligible to participate in the side story. This is going to be a 3-part special summer side story where every part opens every week leading to new area stages. Every area has its boss stage and its event currency which can be exchanged in their exchange shop. Effectively, we consider them as 3 separate areas but the story follows an episodic fashion and proceeds according to the areas.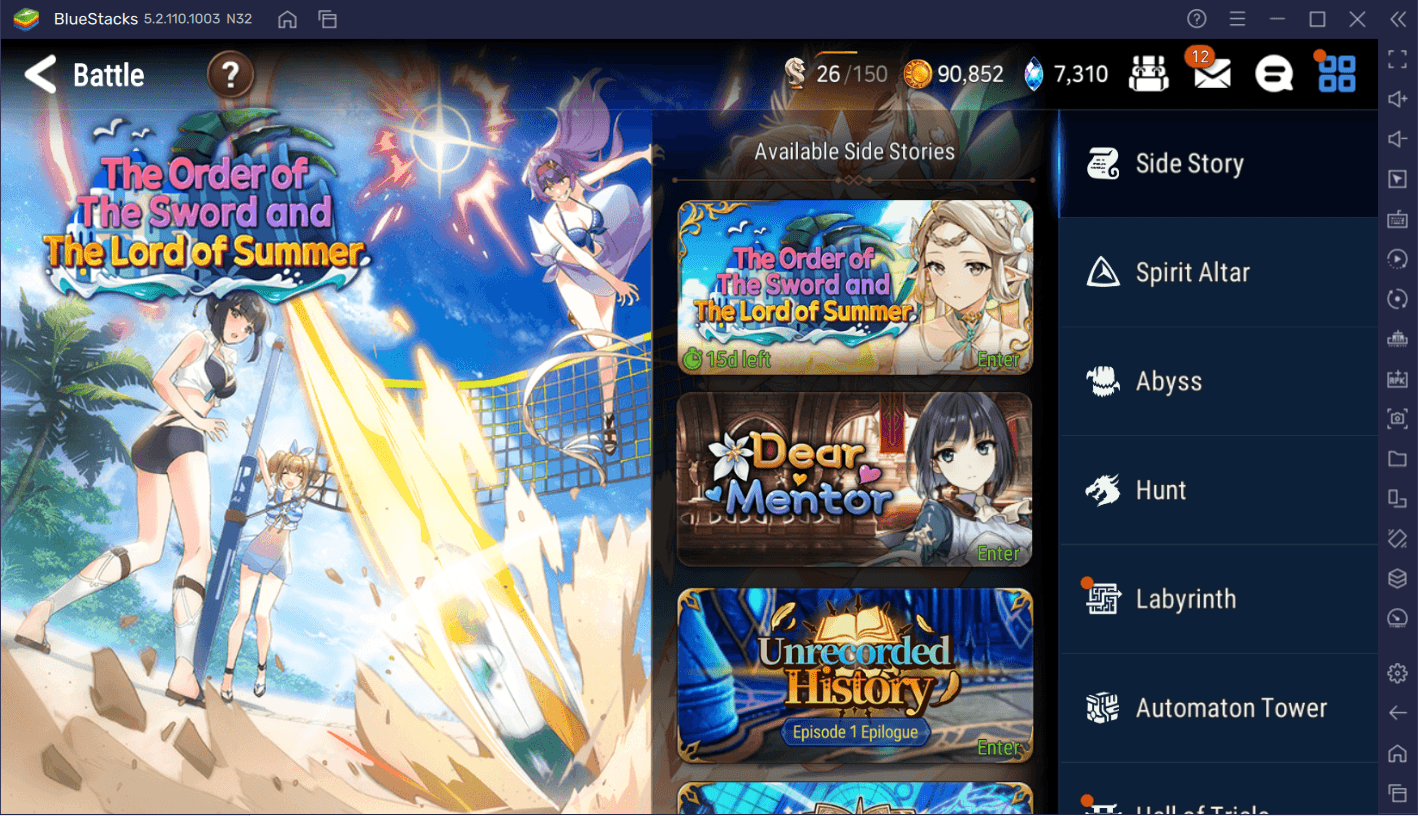 The side story is a 12-stage side story where players can earn different currencies like covenant bookmarks, sky stones, phantasms, charms, penguins, and gold by farming and 3-starring these chapters. Players can also get extra commodities and rewards by completing the various reputation missions and story missions. The event currency for this side story is called "Aqua Crystals' ' which can be farmed by farming the boss stage multiple times. This currency can be exchanged for valuable items in the Event Exchange Shop for different items like MolaGora, Phantasms, Penguins, Covenant Bookmarks, etc. The exchange shop also contains copies of the new event artifact Official Levulin Beach Volleyball as well as Greater Equipment Charm Selection Chests. Try to complete the reputation missions as completing them will give players tons of resources like skystones, bookmarks, Level 78 Legendary Gear as well as silver transmit stones. Completing all the reputation missions will give a Gold Transmit Stone.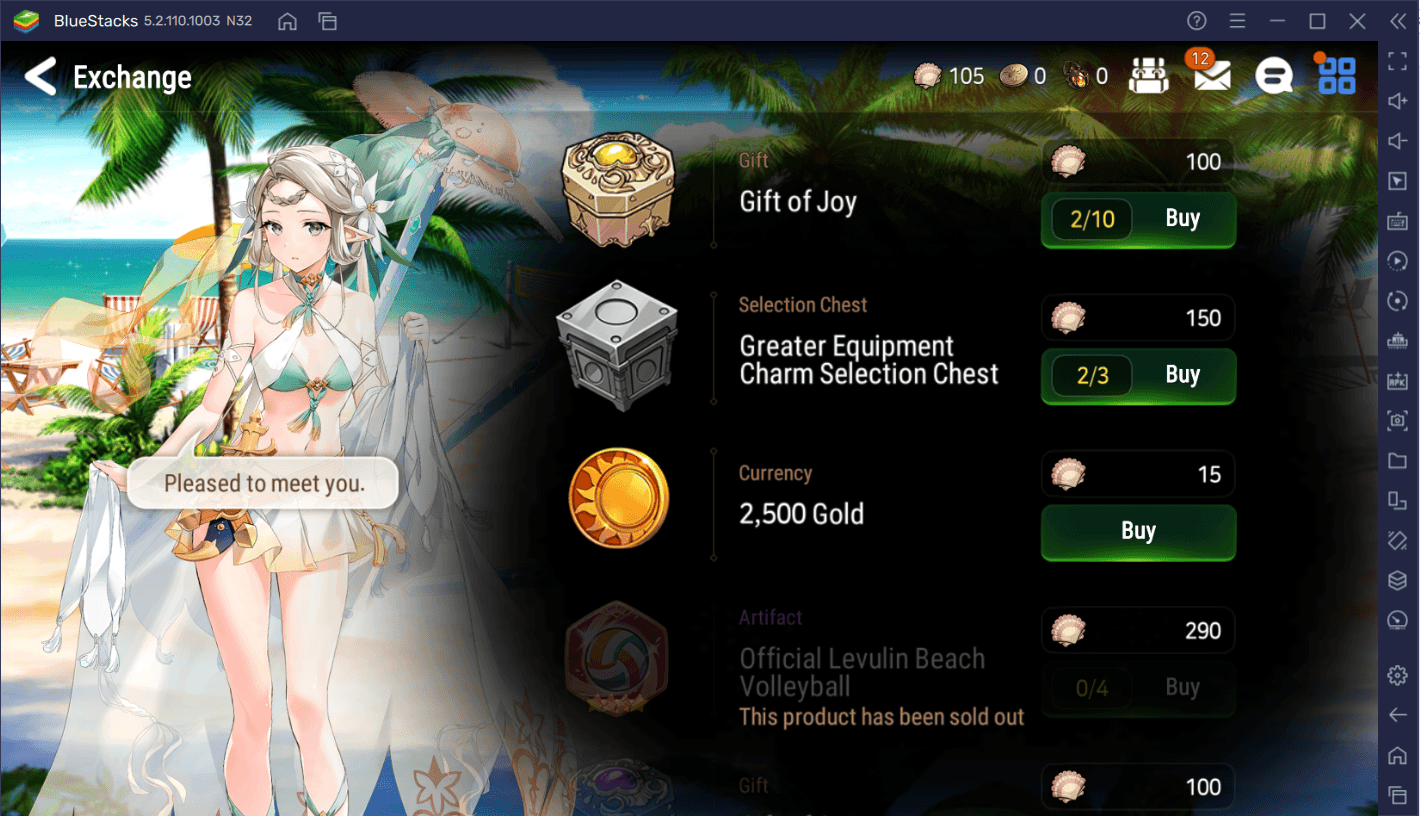 During this side story, if players use either of the heroes – Summertime Iseria, Cermia, and Alexa then their stats will be increased in the following manner: Attack and Health increased by 30% and Level 60 Max Awakened. Iseria, Chaos Sect Ax, Chaos Inquisitor, and Zealot Carmainerose – Attack and Health Increased by 30%. Players can also get bonus event currency when clearing stages with heroes equipped with the following artifacts – Star of The Deep Sea, Official Levulin Beach Volleyball, and Border Coin.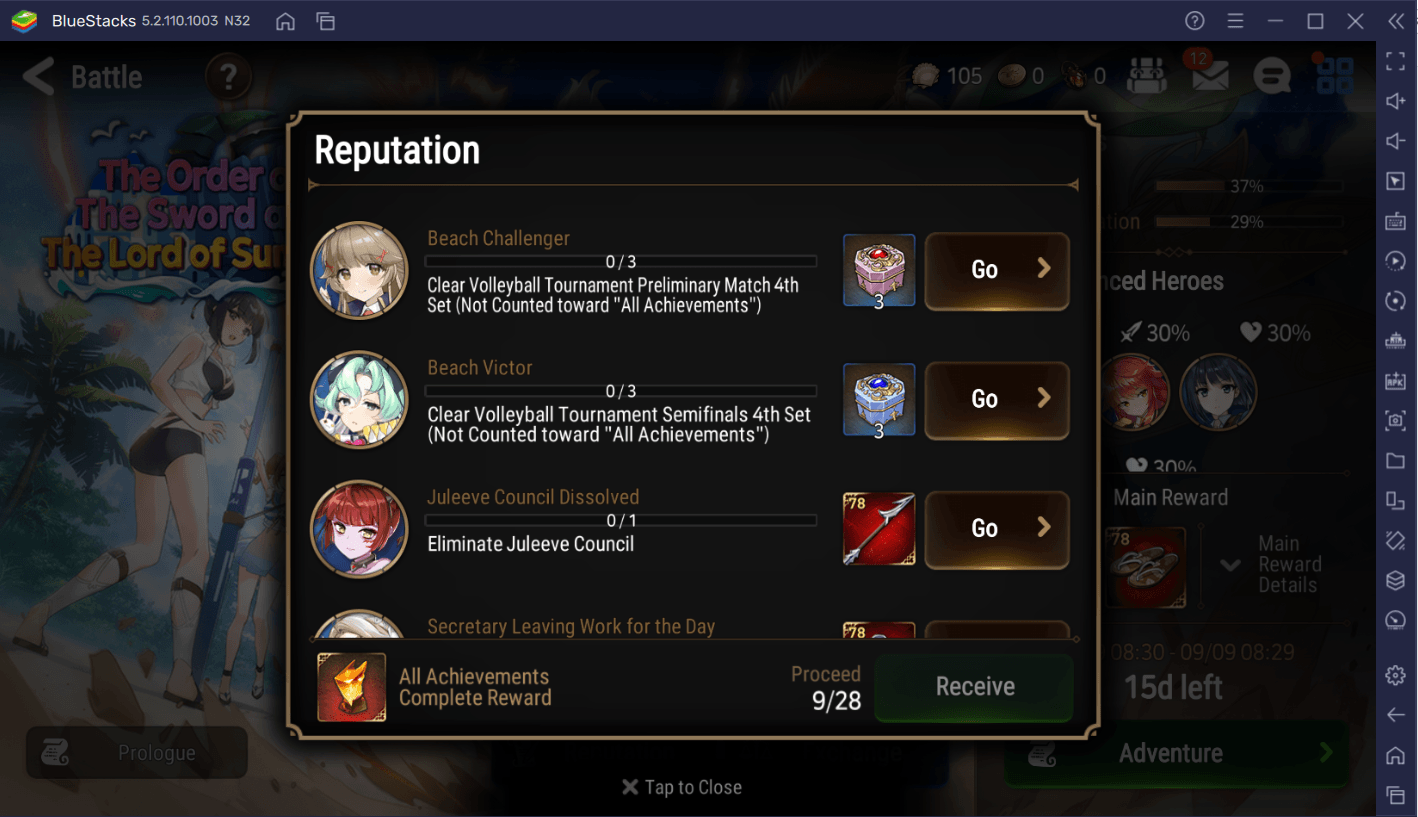 Apart from the usual side story content, during this special summer side story, a new type of minigame called Volleyball Tournament will be held where players can play tap volleyball against A.I. The stages for each tournament are divided into Easy, Normal, Hard, and Hell difficulty. Clearing these tournaments is part of the missions in reputation as well as they give good rewards for clearing them.
Roaming Warrior Leo Recall
A new champion recall is ongoing for Roaming Warrior Leo, a 4-Star Dark elemental Ranger unit. He is being given a recall due to the upcoming changes coming to the Bomb debuff. Players can recall him from the hero menu if he is Level 50 and 5-Star Max Awakened. If the hero was imprinted, they will get Imprint Grindstones in return as well as all the materials required to make heroes till Level 50 5-Star Awakened in the form of penguins, phantasms, catalysts, stigma, and gold. Players will also get a 4-Star Moonlight Selector Ticket along with the recall which lets them choose any 4-Star Moonlight hero that is released till now. Here are our top recommendations for units if you are planning to recall ML Leo: –
General Purrgis

Auxiliary Lots

Champion Zerato

Tempest Surin

Sinful Angelica

Blood Blade Karin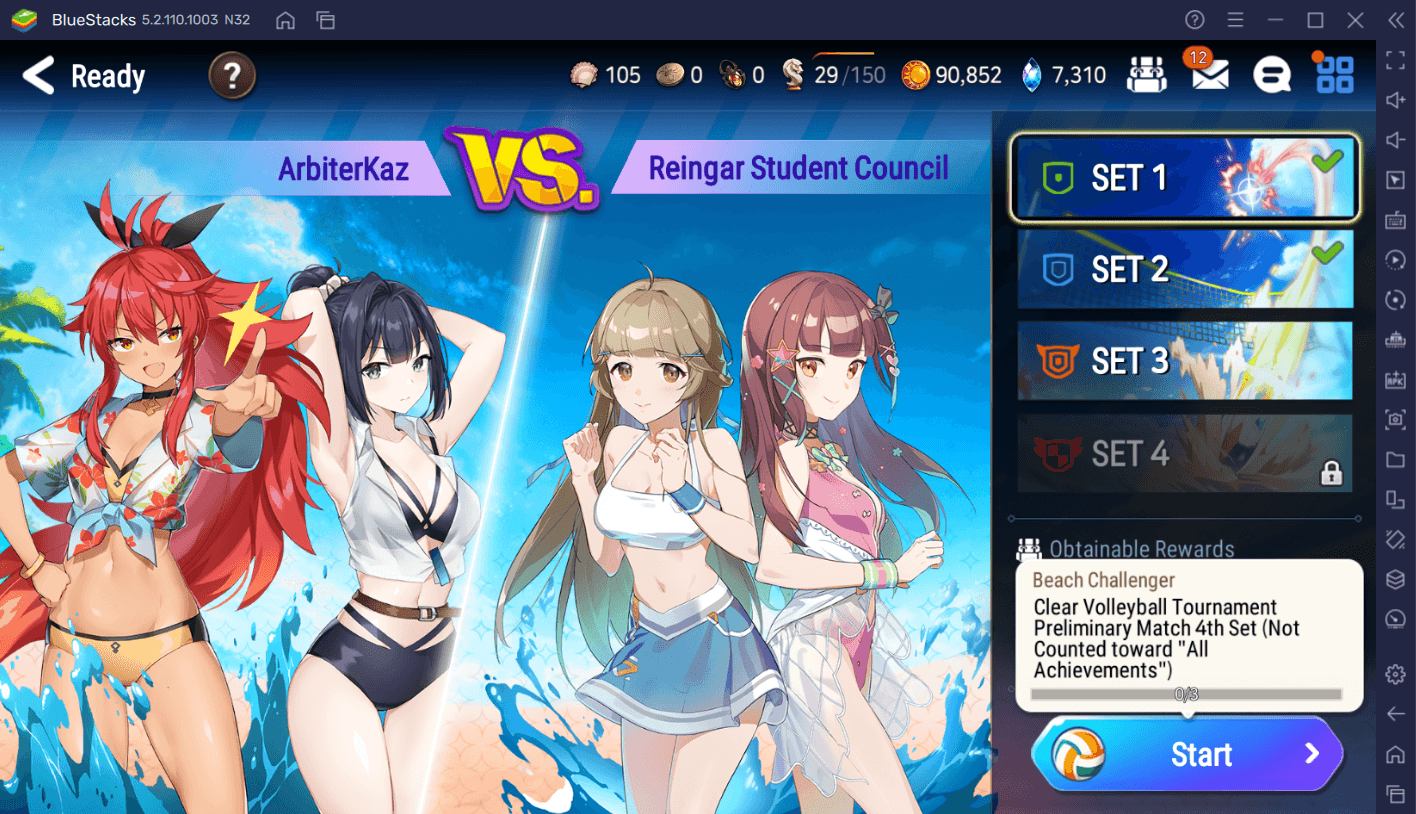 That is it for all news regarding the new heroes and new content. Players can feel free to read the official patch notes to get a better understanding of the content coming. We highly recommend playing Epic Seven on a PC with BlueStacks using a keyboard and mouse.