Updates
RAID: Shadow Legends Patch 4.30 – Saved Teams, Skill AI Management, Playtime Rewards update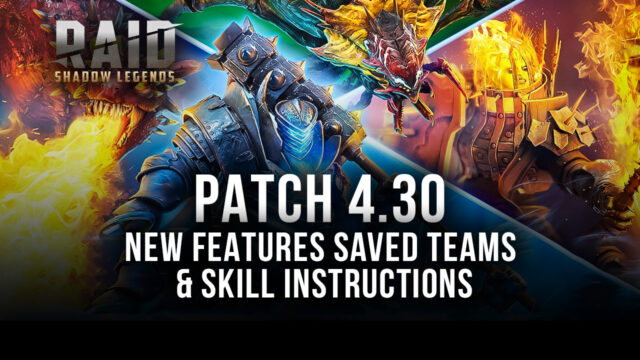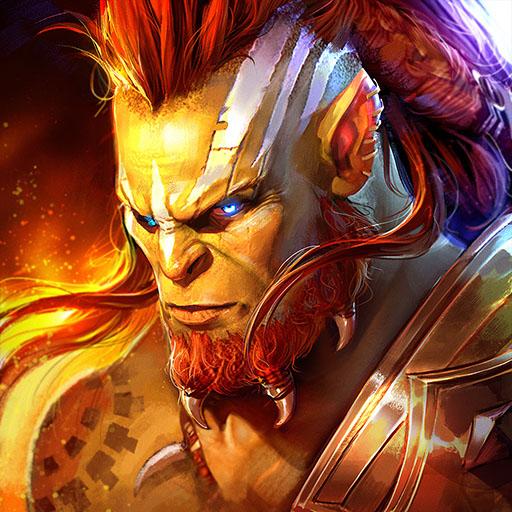 RAID: Shadow Legends, the popular turn-based RPG game by Plarium has just published their official patch notes for upcoming Patch 4.30. Plarium recently celebrated their official 12th Anniversary and are back on track with providing updates and new features for RAID: Shadow Legends.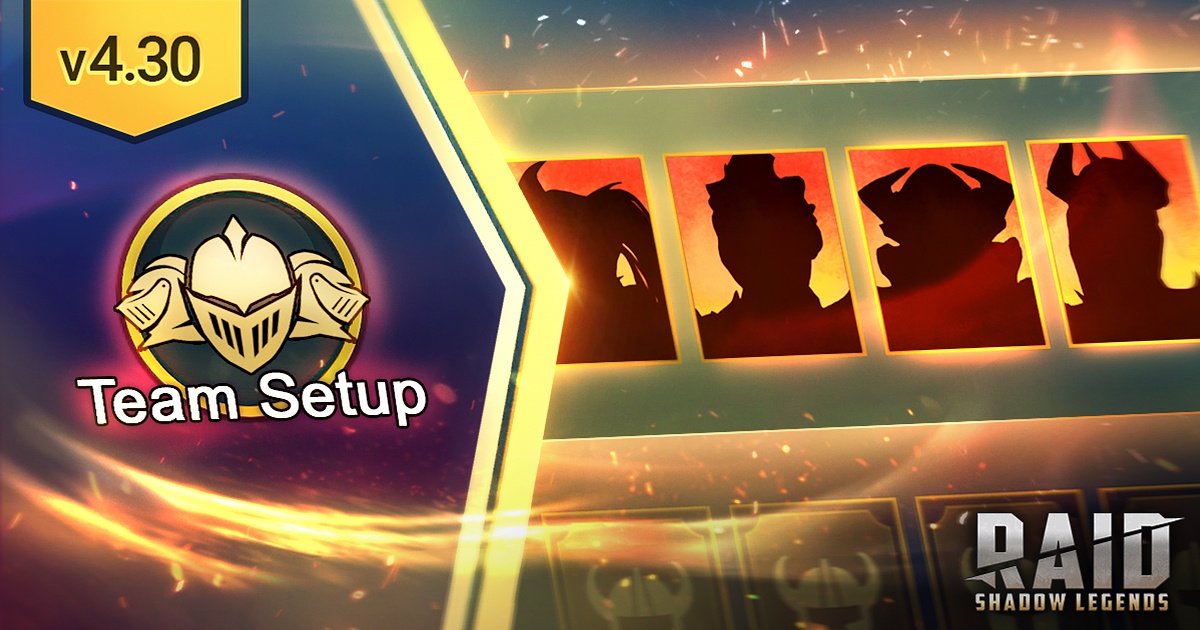 The essential highlights of this Patch are going to be the new features that were teased to their players in the roadmap for RAID: Shadow Legends. A new feature called Saved Teams is going to be added where players can set up pre-made teams which can be used in any content. These Saved teams are going to be separate for PvE and PvP content like Arena, Tag Team battles, etc. Players can save up to 10 of these teams in each of these groups. Another new feature for Champion AI management called Skill Instructions is introduced and players can use this feature in any of their saved teams. We will get more in-depth further down the article. Changes to Playtime rewards as well as new Clan V/S Clan personal rewards are also coming with Patch 4.30. Let's take a look at these features in detail.
New Saved Teams and Skill Instructions Feature
The new feature Saved Teams is coming to RAID: Shadow Legends with Patch 4.30. The feature lets players choose and save teams consisting of 5 champions each. Every player can set up to 10 teams for different areas of the game – PvE and PvP. PvP areas take into account Classic Arena and Tag Team Arena battles. PvE areas are all the other areas like Campaigns, Dungeons, Doom Tower, and Clan Boss battles. Players will be given a new option called "Saved Teams" before starting battles in the preparation menu. They can choose to select any team or make new/modify existing teams. These teams can also be used in any of the mentioned PvE or PvP content but to a limited number of 10 teams per group.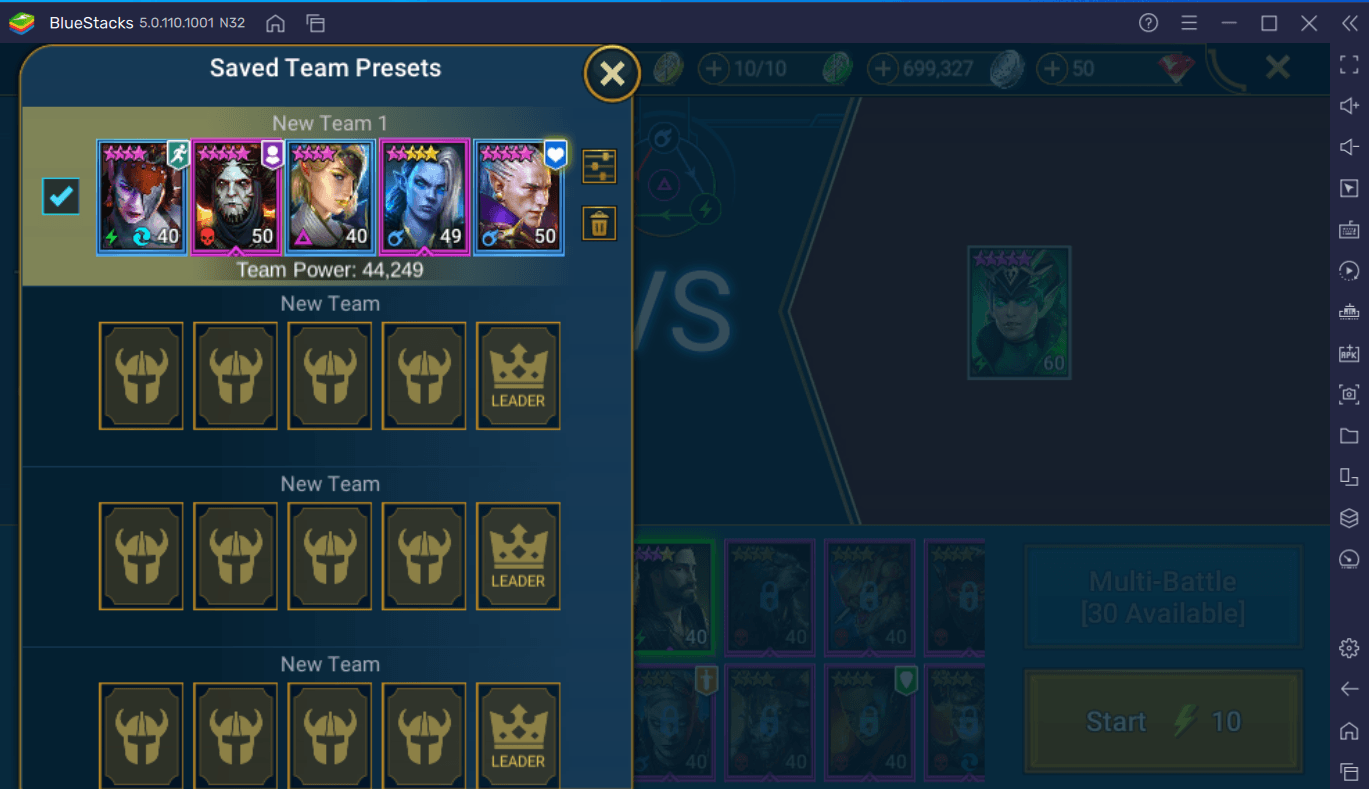 Another new feature called Skill Instructions is being introduced with the advent of Saved Teams. Skill Instructions are essentially Champion AI management with manual modification of how your champion will use their abilities on Auto mode. These skill instructions will only work on champions that are in the Saved Teams presets. They will also work only in Auto Battle or Multi-Battle feature. Players can do many things with these Skill instructions by manually giving them instructions on when to use their Active skills in different situations.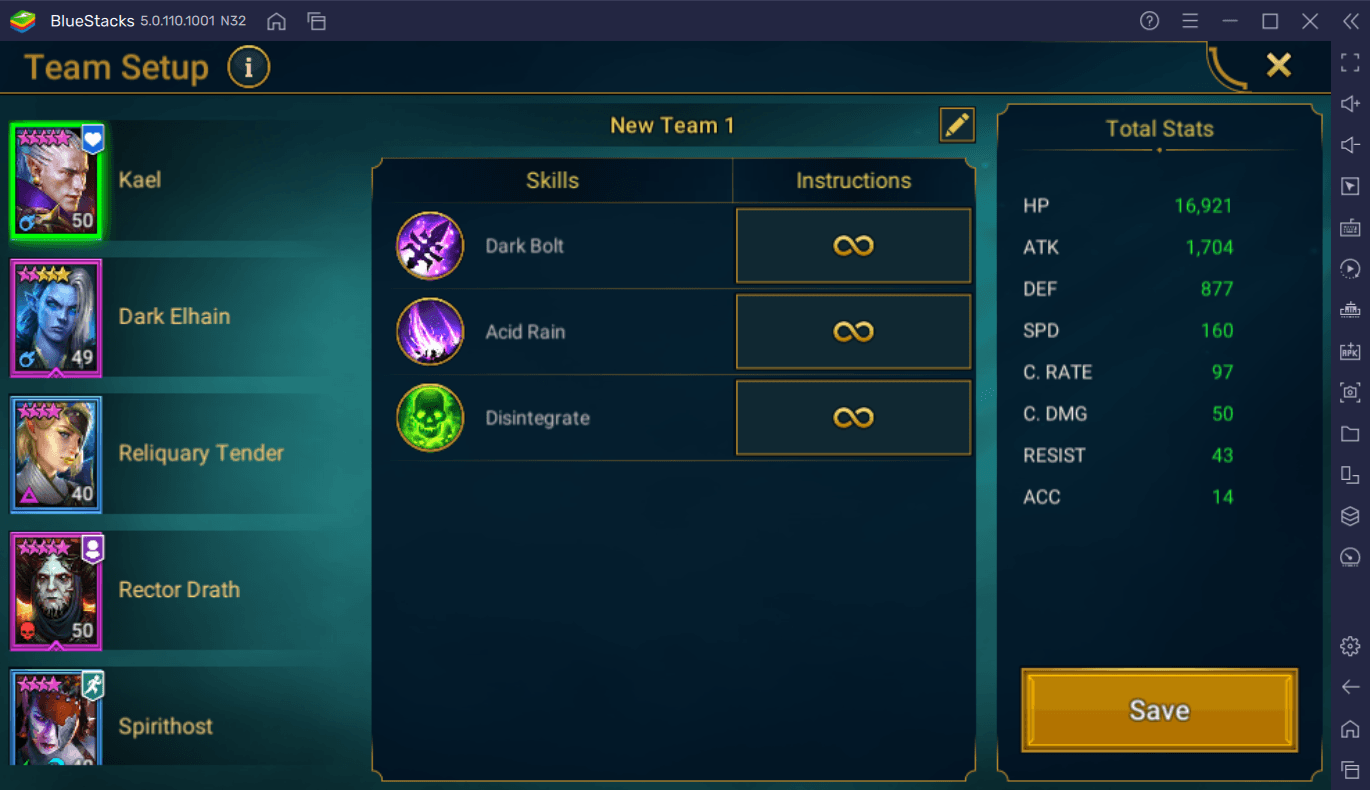 This will also be a positive for Plarium in the long run as they will not have to release new Champion AI Fixes by giving the authority to players on how they want to use their champions. Here are some of the priority options being given in the Saved Teams options:-
Default

– A skill with this instruction is used according to the Champion's standard AI.

Don't Use

– A skill with this instruction will never be used throughout a Battle.

Opener

– A Skill with this instruction will be used the first time that the Champion gets a turn in the First Round of a Battle. After the turn ends, the Skill's priority will change to whichever other Instruction is set.

1st, 2nd, and 3rd option

– Skills can be given an order of usage according to the number of active abilities the champion has. For players who have given an ability the 1

st

option, the champion will prioritize that ability whenever it is available. Henceforth, 2

nd

and 3

rd

work the same. However, if the player has given a skill instruction of Opener to ability, it will override the 1

st

skill option.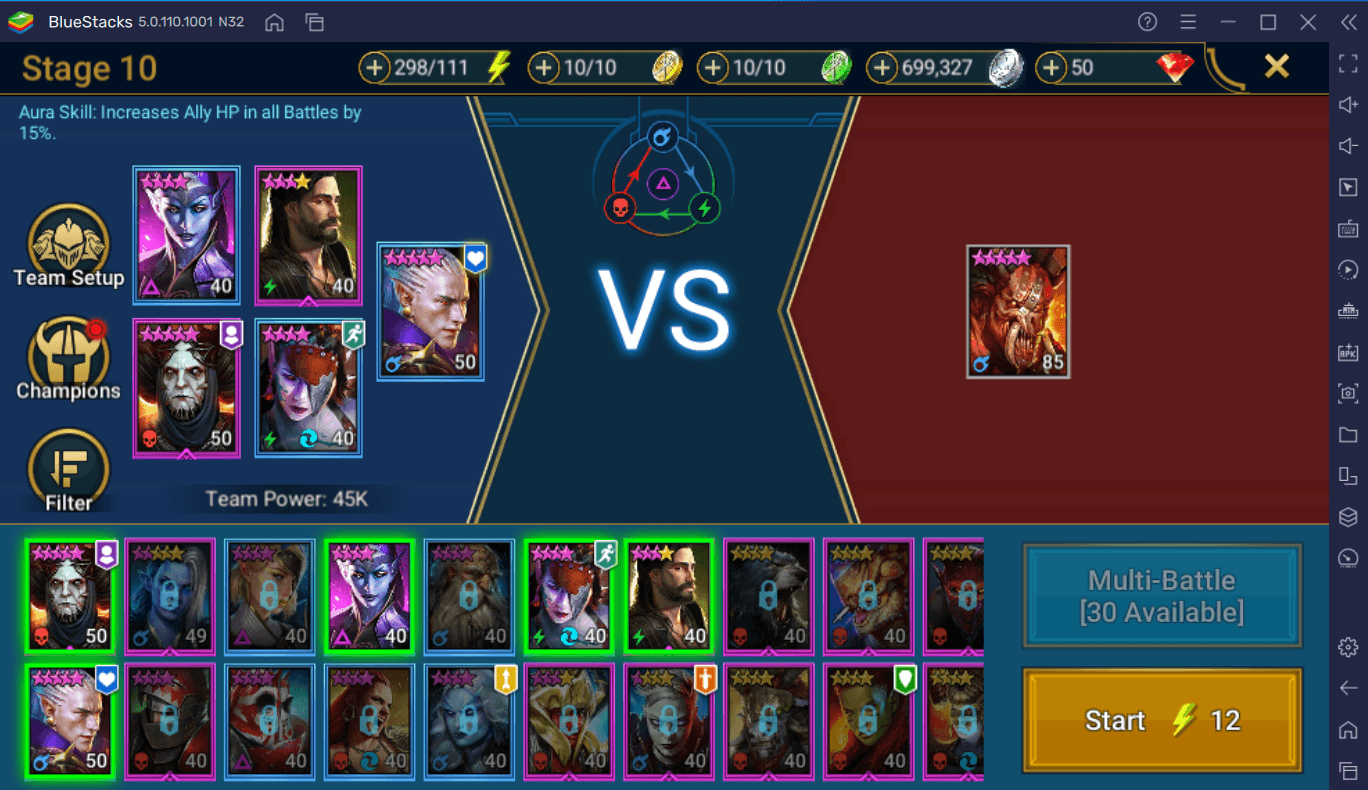 You can give preference of skills to only those champions in the Saved Teams or to champions in Arena Defense. Players can customize their skills to get the best-desired result from their champions. For example, they can set a skill to be used as Opener and Don't Use both where a skill only needs to be used on the champion's first turn and then gets ignored for the rest of the battle.
Clan V/S Clan Personal Rewards
The new Patch notes for Patch 4.30 state the addition of Clan V/S Clan Personal rewards which will be given separately in addition to the existing Clan V/S Clan rewards. This will be a separate tournament in itself and hence, they mention that these tournaments will be separately held and not together with Clan V/S Clan tournaments. The Patch notes also say that there will be 6 different tiers of personal rewards and every player will be put into a tier depending on the number of points they earned for their Clan in the previous Clan V/S Clan tournament.
There will be 10 individual milestones of rewards in each of the 6 tiers and players will be given these milestone rewards only if their Clan wins the Clan V/S Clan matchup. Hence, in brief, they are saying that in the future there are going to be CvC tournaments with Personal rewards added to them and will be like a "Special edition Clan V/S Clan tournament".
Playtime Rewards Update
Plarium has stated that playtime rewards will be changing depending on the player's account level. From Level 1 – Level 30, there will be no changes to the playtime rewards.
From Level 20 – Level 50, the changes are as following:-
5 Minutes of Playtime – 12,000 Silver (Increased from the previous 7,500 Silver)

40 Minutes of Playtime – 1 Greater Arcane Potion (Increased from the previous Lesser Arcane Potion)

90 Minutes of Playtime – 30,000 Silver (Increased from the previous 20,000 Silver)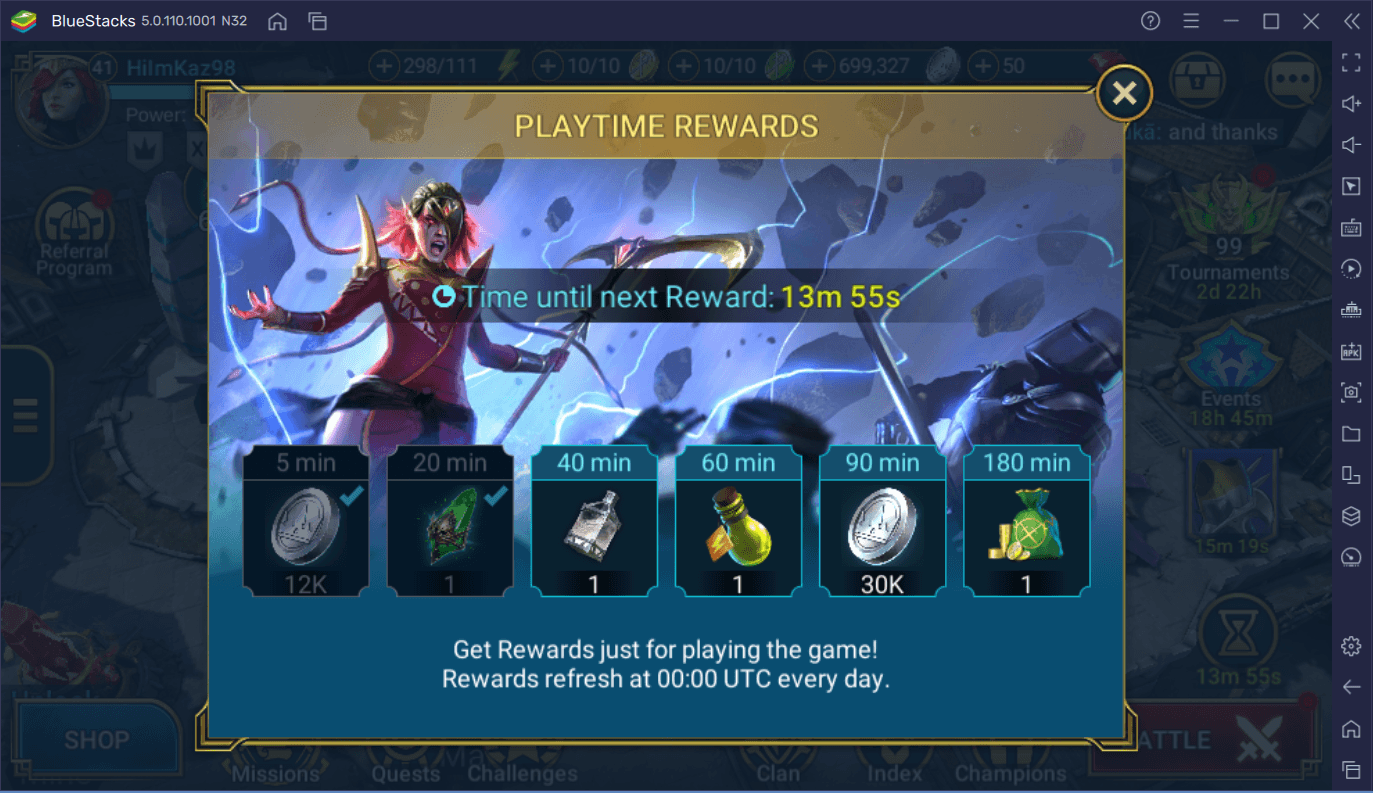 From Level 50 and above, the changes are as following:-
5 Minutes of Playtime – 20,000 Silver

40 Minutes of Playtime – 2 Greater Arcane Potions
90 Minutes of Playtime – 55,000 Silver
Champion and Battle Fixes
Plarium has promised to provide an AI rebalance to champions as far as auto battling is concerned. The new changes are as follows:
New Visual effects are added to the Affinity breaker set.

Fixed Gorlos Hellmaw display model in the Index section.

Improvements to the lighting effects in Doom Tower floors.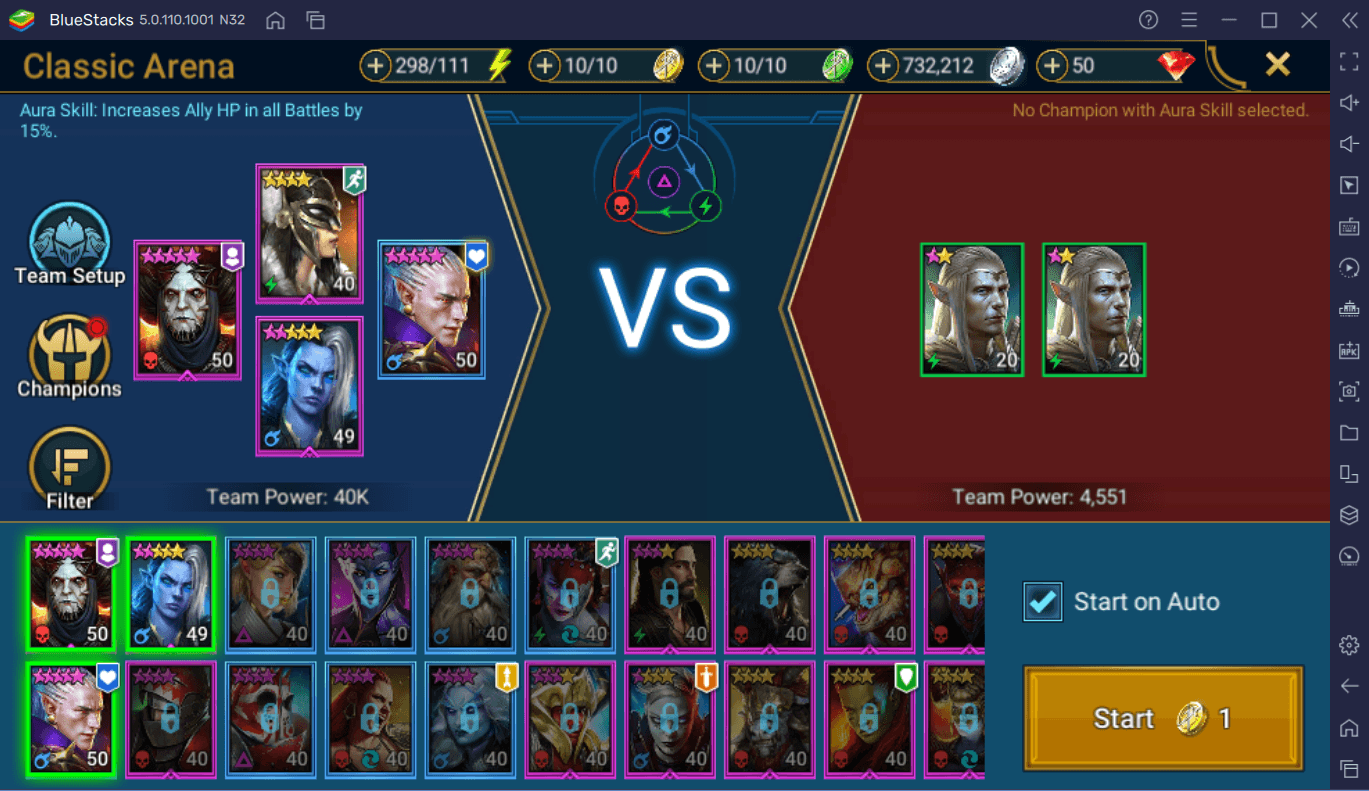 Fixed Champion movement animations that triggered after the damage was taken while Champions were either running or already dead. Shatterbones will now prioritize his Hail Skill in the Fire Knight Castle Dungeon.

Champions who have self revive skills will not waste their skills when they are inflicted with a Revive on Death buff.

Mountain King will now always prioritize targets with the Block Damage buff when using his Regal Force Skill.

Buffs or debuffs that cannot be stripped by enemies now also cannot be removed by allies or the caster or recipient of the buff/debuff. This affects Marquis' Paralyzing Bolts ascended skill and Umbral Enchantress' Undying Evil skill.

Immunity Artifacts now provide the Immunity buff at the start of the Round before debuffs can be placed on a Champion wearing those Artifacts.

Fixed the freezing issue error in Tag Team Arena.

Champion Ratings will now be saved when leaving the interface and visiting locations from the Recommended Artifacts tab.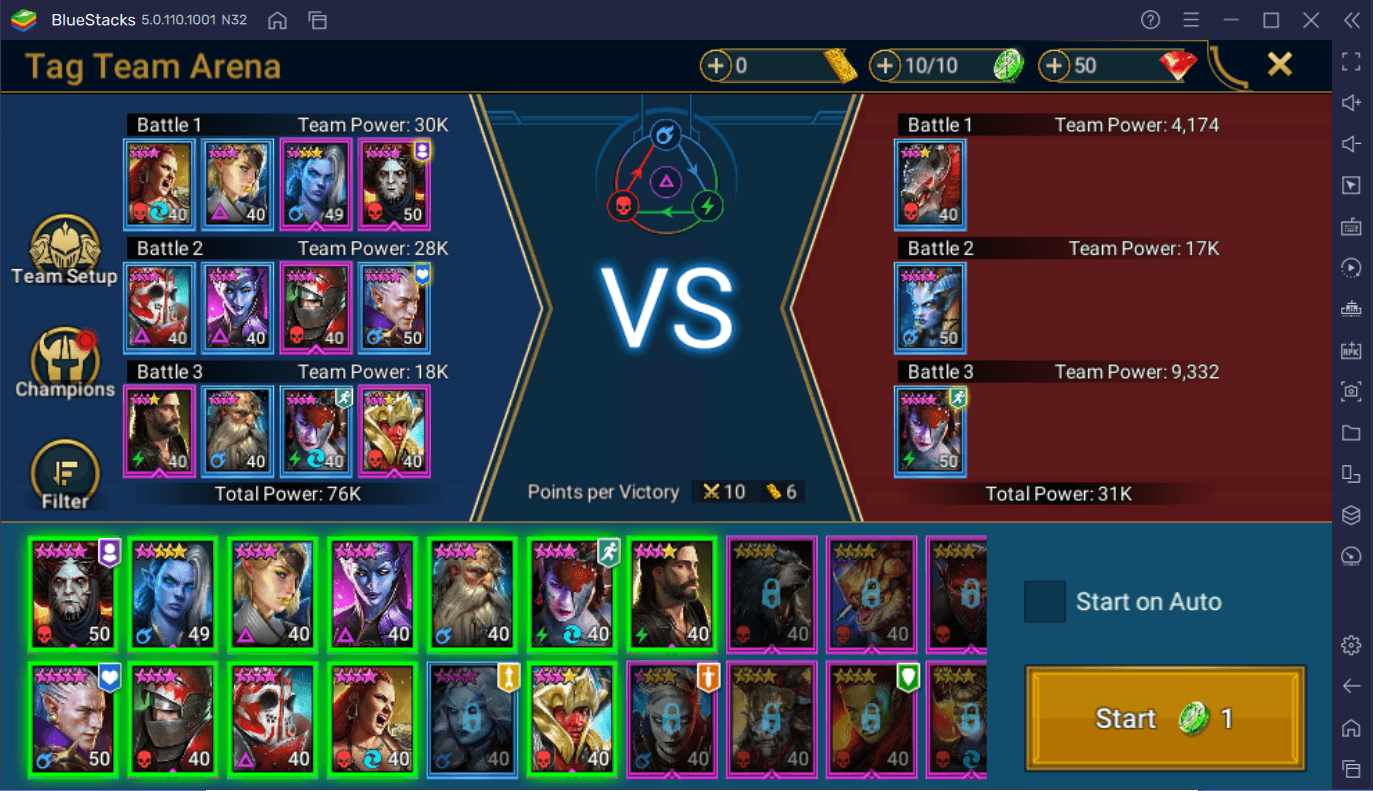 To know the full details of Patch 4.30, you can read the official patch notes. Comment down below your thoughts of this patch!
We highly recommend playing RAID: Shadow Legends on PC with BlueStacks using a keyboard and mouse.