Updates
RAID: Shadow Legends is Collaborating with Tyler "Ninja" Blevins with his In-Game Character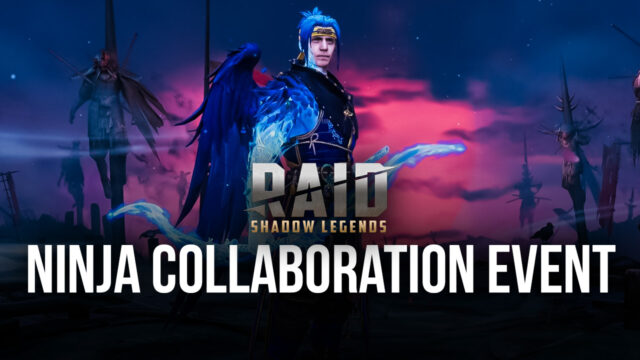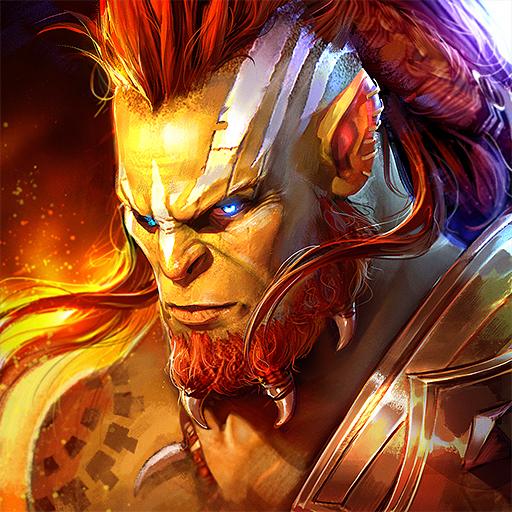 RAID: Shadow Legends, the popular turn-based RPG game by Plarium is introducing a new collaboration! This collaboration will be with the popular pro player turned streamer/content creator Tyler "Ninja" Blevins. Ninja will be coming to RAID: Shadow Legends during this collaboration period between July 15th, 2021 to October 15th, 2021.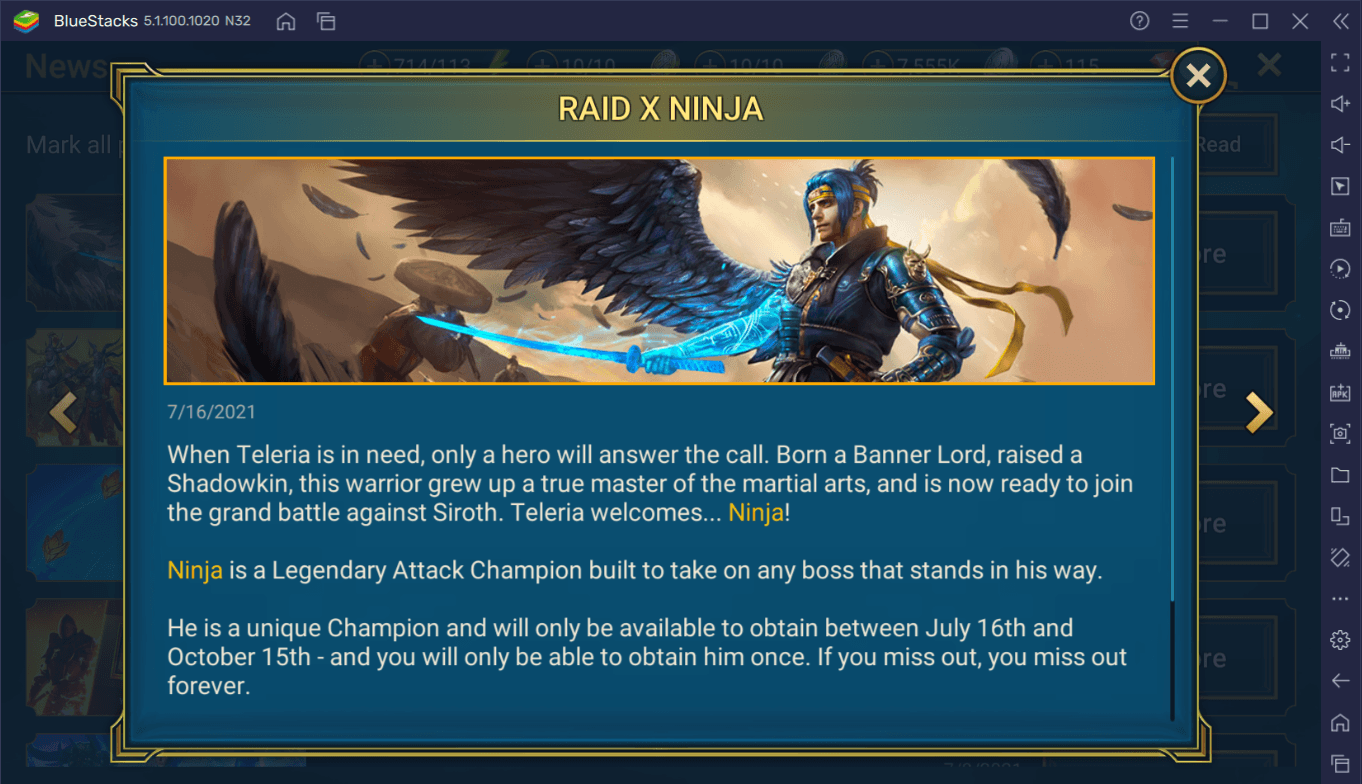 Tyler "Ninja" Blevins has seen his career explode after entering the streaming scene with more emphasis being put on the business aspects of the career path as well. He has seen success with streaming several FPS titles but he has branched out to different aspects of gaming like voicing characters in TV Shows, getting featured in various graphic novels, and getting his character in the popular FPS title Fortnite. This latest stunt see's him being introduced to the game as a playable character in the game with his unique character avatar and skillset. The champion titled "Ninja" will be a legendary grade champion which is the highest rarity in the game. Players will be able to get him for free in a special login event that lasts for 7 days.
NINJA HUNT Event
The new collaboration with Tyler "Ninja" Blevins introduces a new legendary character called Ninja to the game. This character will be available for free to all players in a special 7 Day Login event titled "NINJA HUNT" along with some great Retaliation gear pieces to go along with the legendary hero. Let's take a look at the event and rewards: –
Day 1

– 5 Star Retaliation Weapon

Day 2

– 5 Star Retaliation Helmet

Day 3

– 5 Star Retaliation Chestplate

Day 4

– 5 Star Retaliation Gauntlets

Day 5

– 5 Star Retaliation Shield

Day 6

– 5 Star Retaliation Boots

Day 7

– 5 Star Legendary Champion "Ninja"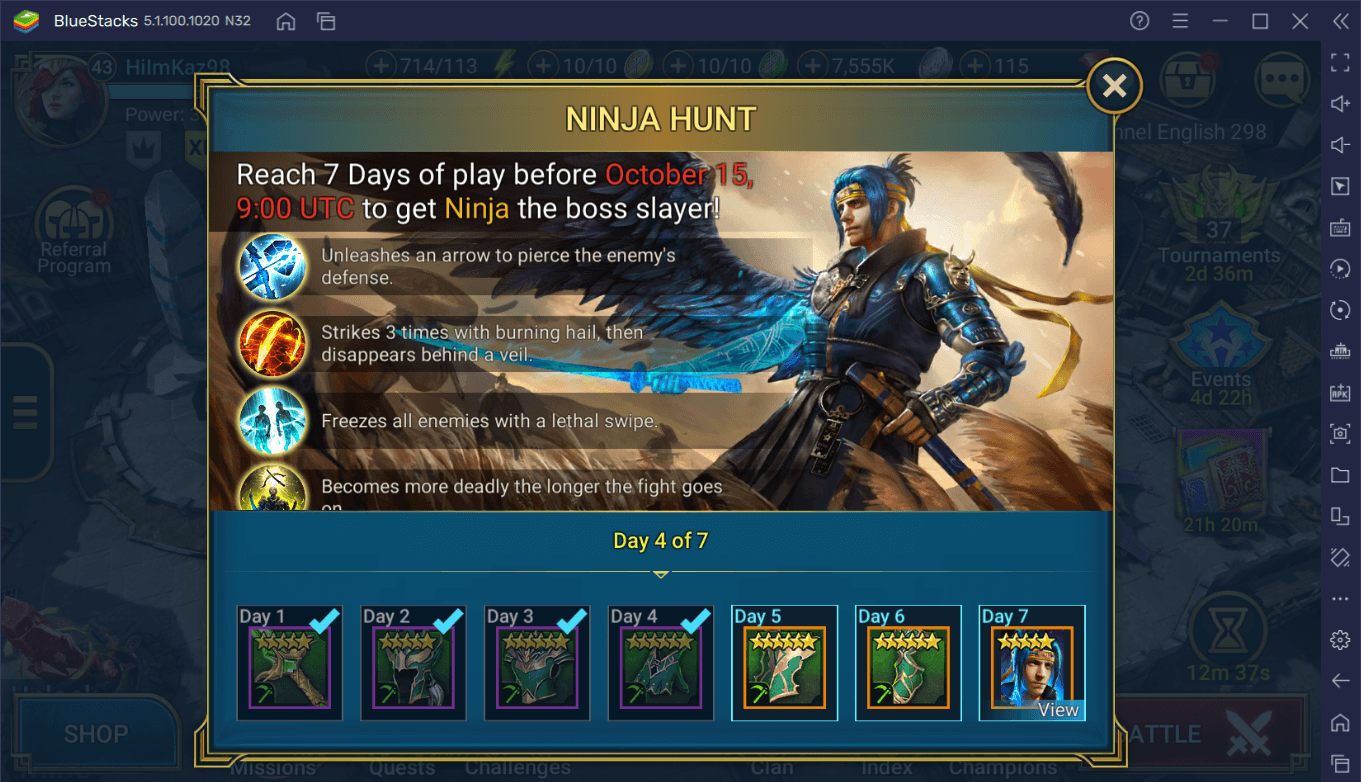 This event starts from 15th July 2021 and runs till 15th October 2021 for an exact period of 3 months. Players can log in anytime during this event to collect their rewards but the total number of logins should be 7 to get the legendary champion Ninja. Plarium also announced a special promo code for this event for all players which will give everyone 150 Multibattles, 3 Days XP Booster, 500,000 Silver. The code is – NINJA and can be entered in the promo code section from the left-hand side of the menu.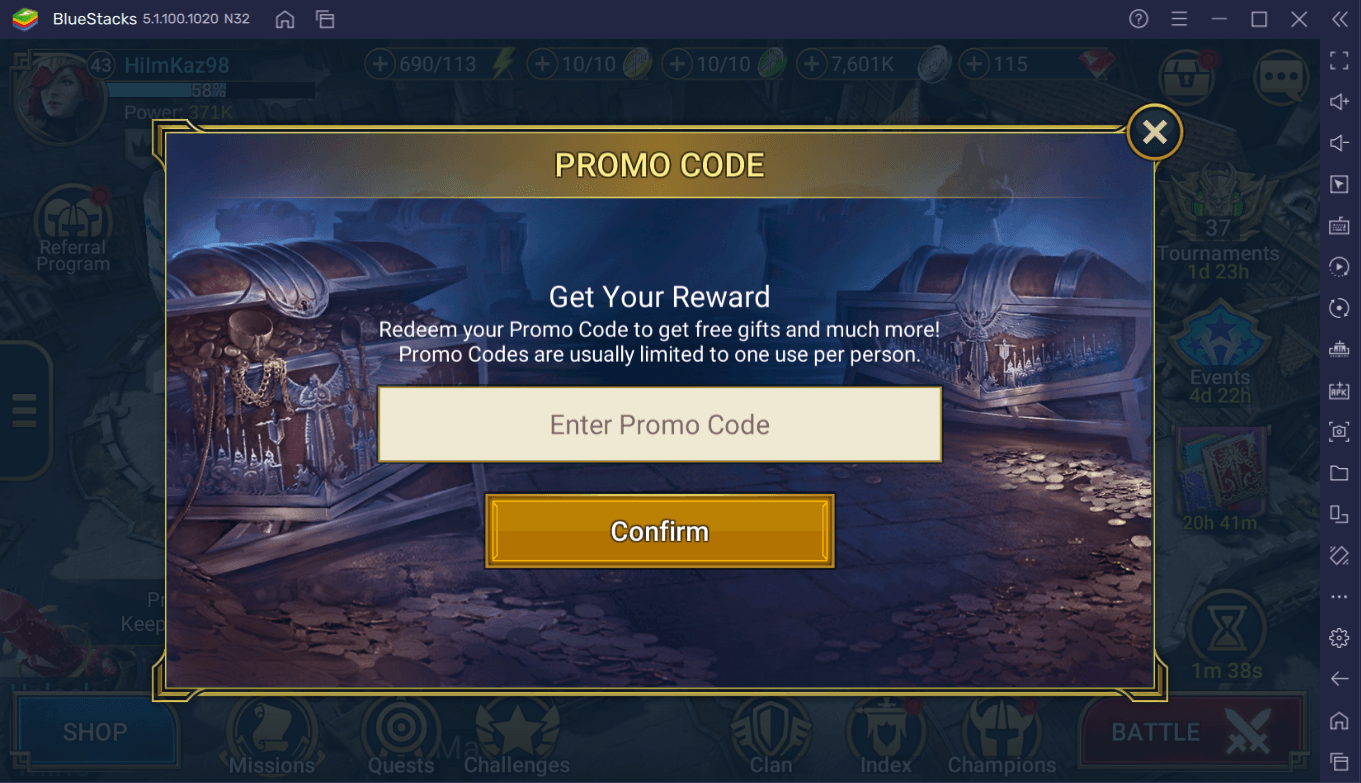 Let's take a look at the new legendary champion Ninja which every player can get for free from the event. The new champion is from the Shadowkin faction and has a unique character design based on streamer Tyler "Ninja" Blevins perspective. He is an Attack type champion with a great kit aimed at killing bosses and providing control over enemies. He is expected to be a great Dungeon farmer and staple unit for any Dungeon team. He is also expected to be a top-tier champion for Doom Tower and Clan Boss with his unique mechanics.
He is the first champion who can increase his Attack Power and Critical Hit Damage up to 100% and 25% respectively depending on the number of hits he makes with his skills. His 1st ability Shatterbolt is a single target damaging ability which can inflict a decreased defense debuff for 2 turns with a 45% chance and increases his turn-meter by 15% only if used against bosses. His 2nd ability Hailburn is also a single target damaging skill which attacks 3 times with each attack having a 75% chance of inflicting an HP Burn debuff for 3 turns while giving him a Perfect Veil buff for 2 turns. This ability will also instantly activate any HP Burn effects on the enemies if used against bosses.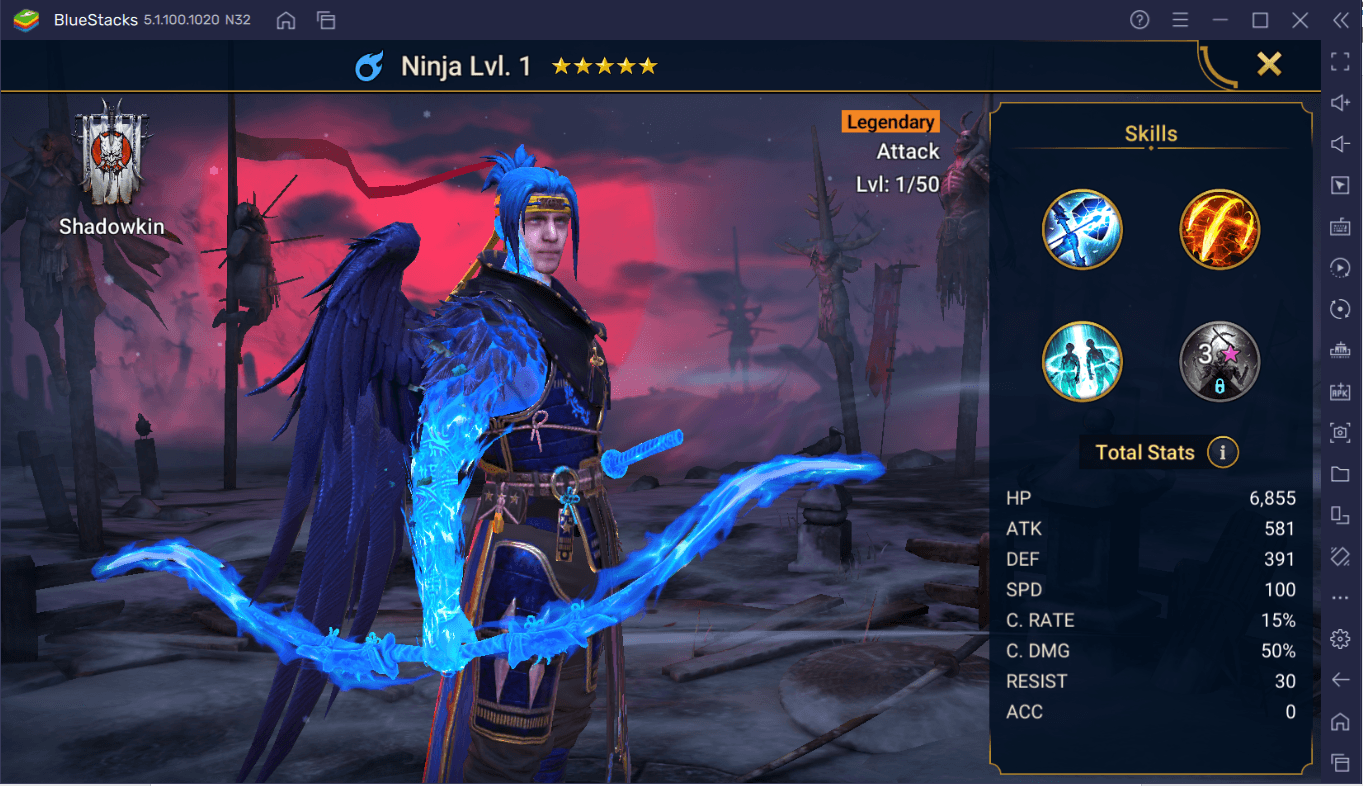 His 3rd ability Cyan Slash is an AOE attack that has a 75% chance of inflicting a Freeze debuff for 1 turn. However, if this ability is targeted towards a boss, then it will only attack the boss and ignore 50% of his defense while also reducing the cooldown of his 2nd ability by 1 turn. This can let him turn cycle into his HP Burns faster. Let's take a look at his skill set in detail: –
Shatterbolt (Active)
Attacks 1 enemy. Has a 45% chance of placing a 60% Decrease DEF debuff for 2 turns. Also fills this Champion's Turn Meter by 15% when used against Bosses.
Hailburn (Active)
Attacks 3 times at random. Each hit has a 75% chance of placing HP Burn for 3 turns. Also places a Perfect Veil buff on this Champion for 2 turns.
When used against Bosses, will instantly active any HP Burn debuffs, including HP Burn debuffs placed by this Skill.
Cyan Slash (Active)
Attacks all enemies. Has a 75% chance of placing a Freeze debuff for 1 turn.
When targetting a Boss, will only attack the Boss (not all enemies) and will ignore 50% of the target's DEF. Will also decrease the cooldown of the Hailburn skill by 1 turn.
Escalation (Passive)
Increases Ninja's ATK by 10% (up to 100%) and C.DMG% (up to 25%) each time a single enemy is hit by all three of Ninja's Active Skills in a single Round. This effect can occur multiple times against the same enemy.
When fighting Bosses, will increase Ninja's ATK by 20% (up to 100%) and C.DMG by 10% (up to 25%) instead.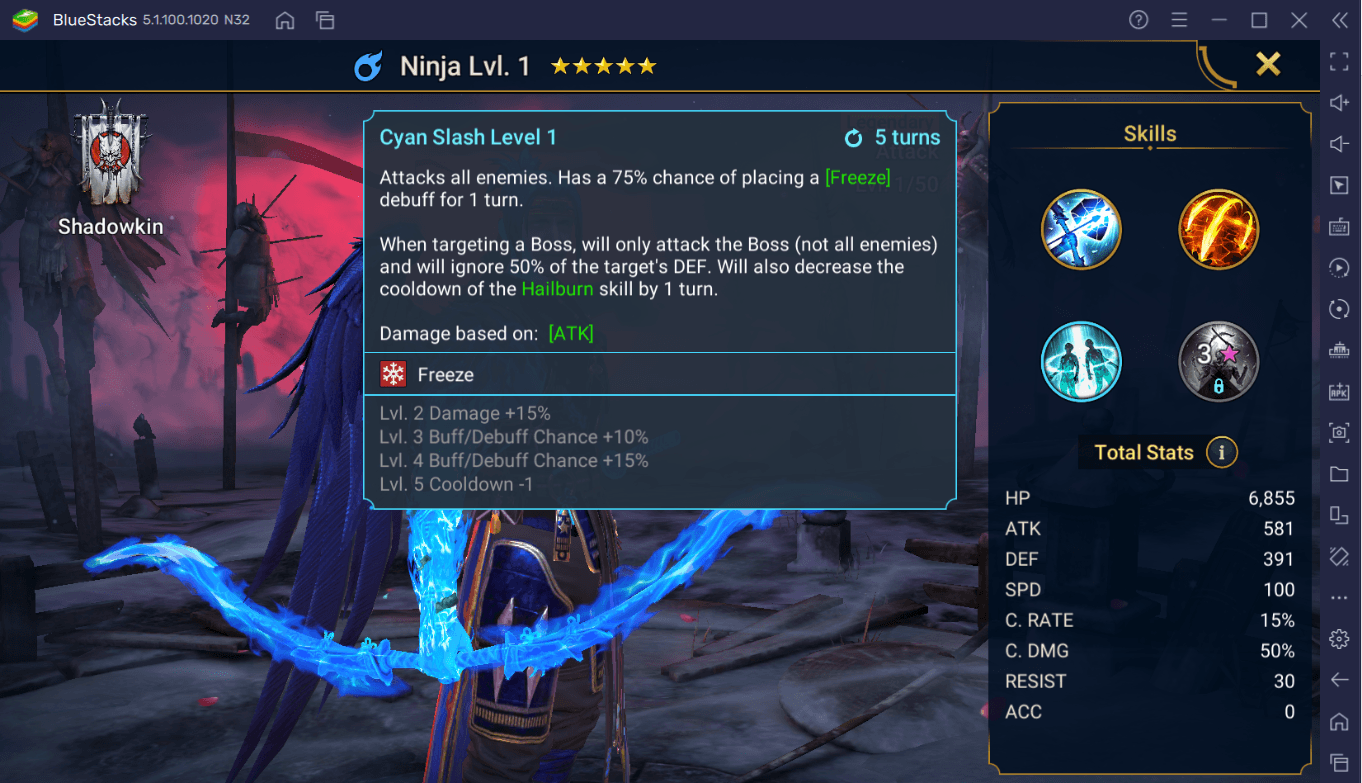 That is everything coming to RAID: Shadow Legends during this collaboration with streamer Tyler "Ninja" Blevins. Don't forget to log in to get your hands on this epic free legendary champion and free loot! Comment down below your thoughts on this collaboration.
We highly recommend playing RAID: Shadow Legends on PC with BlueStacks using a keyboard and mouse.