Updates
State of Survival Anniversary Event Guide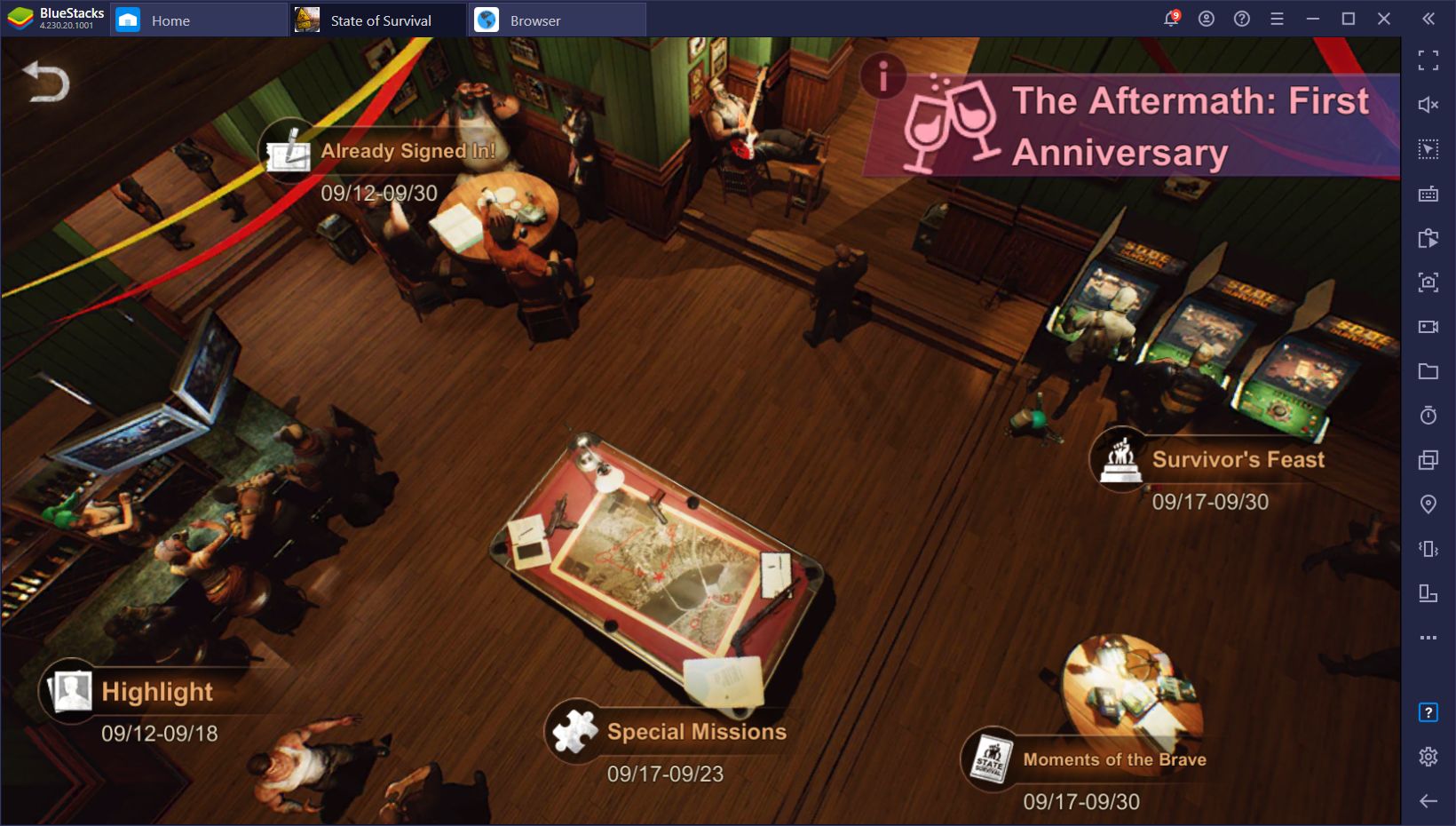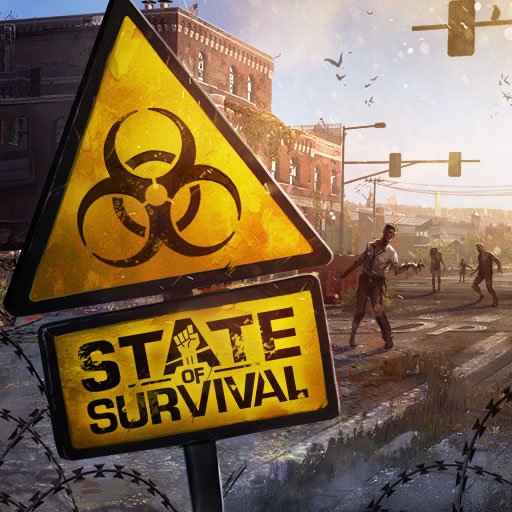 State of Survival is commemorating its 1 year Anniversary with a special event filled with tasks that everyone can complete to score sweet, sweet rewards. In this guide, we'll be giving a brief overview of everything you can find in the State of Survival Anniversary Event.
Accessing the Anniversary Event
You can partake of the event celebrations through the anniversary event screen, which you can access by clicking on the flashing button in the main screen. Inside, you'll find five different sections that you can explore to earn some fantastic prizes. However, while some of these challenges are available from the very beginning, others will unlock at specific dates during the celebration.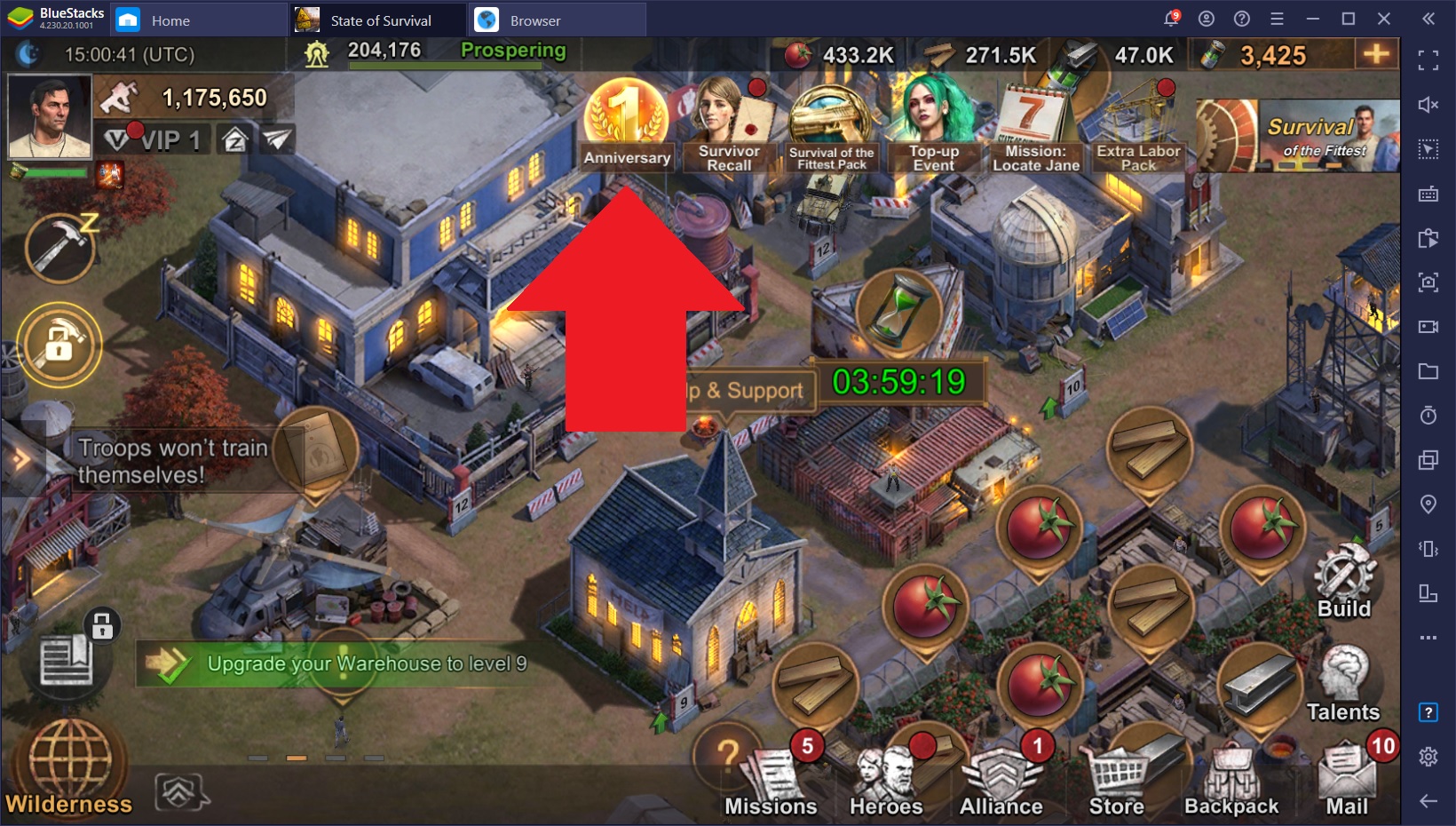 Here are the five categories you can find in the State of Survival anniversary event.
Survivor Sign-Up (Available From 09/12 – 09/30)
The most basic task simply consists of login rewards. For 14 days, you will be able to sign into this category to receive a series of rewards, some of which are quite amazing. From basic items like speedups and resources, to advanced materials like Epic Hero Fragments and tons of biocaps; this is an awesome part of the anniversary event that you should definitely want to visit every day, especially since it's free!
There are a total of 14 sign-in rewards during this part of this event, which means that you need to check in for two weeks. If you want to get all the rewards, you would have at least until September 16 to start checking in. Otherwise, you'll only get partial rewards, which is still great. The sign-in event is also a great source of Cake, which is the event's currency that you can exchange for great prizes later on.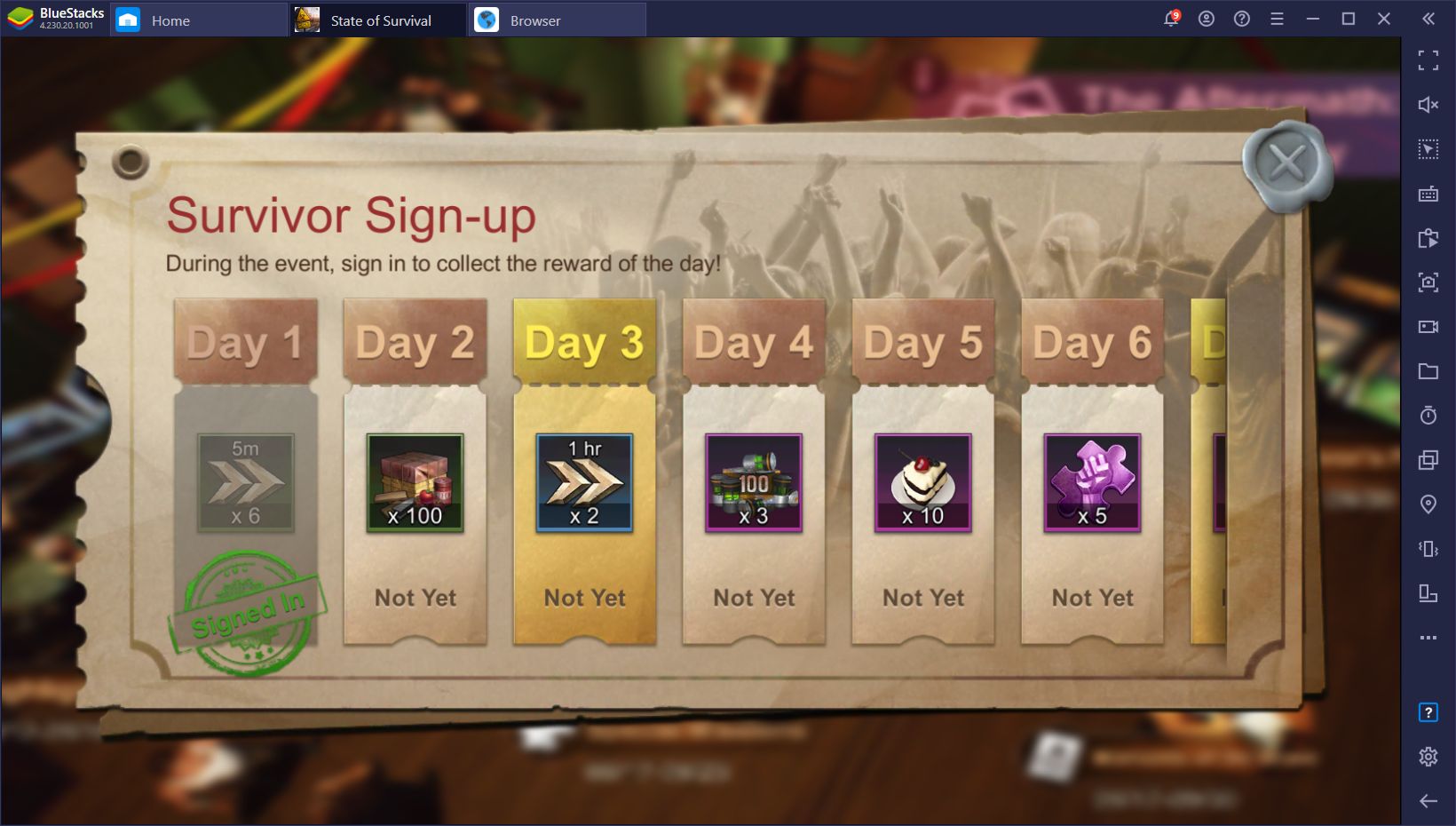 Highlight (Available From 09/12 – 09/18)
This is the social aspect of the anniversary event, consisting of a selfie and a video contest that will reward the top submissions with a whole bunch of prizes.
To participate in the selfie contest, My Spectacular Moments, you must submit a public selfie of your zombified self on Instagram using the filter shared on the official State of Survival account, and adding your character name and state number in the description, as well as using the hashtags #StateofSurvival and #AnniversaryZombie in the post. The top 20 posts that get the most likes will receive some great rewards, including 5,000 Biocaps, 20x 1-hour speedups, 10x combat manual III, and a 3-day special HQ Anniversary Skin. Click on this link to learn more about the selfie contest.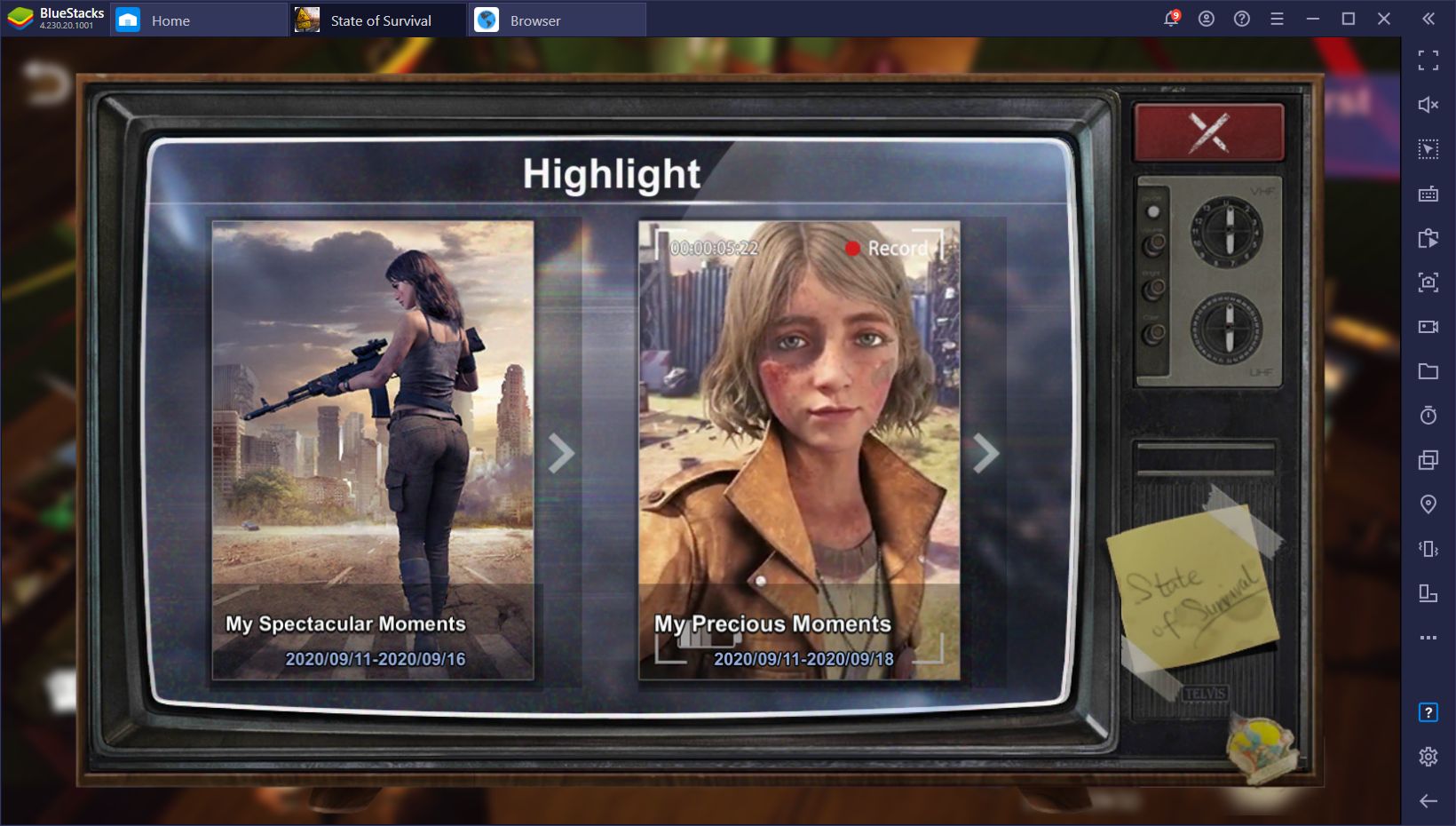 The second part of this category is the video contest, My Precious Moments. To participate here, you must record a video of up to 1 minute in length, where you share anything fun or interesting related to State of Survival and the anniversary event. It could be cosplay, art, or even a funny scene. You must then send your clip to the game's community email address, soscommunityen@kingsgroupgames.com, alongside with the description "SoS Video Competition + your state number + your player name". If your clip is selected as part of the special anniversary video, you will receive a $50 value package of in-game goodies, as well as a limited-edition State of Survival T-Shirt. Check out this official Facebook post to learn more.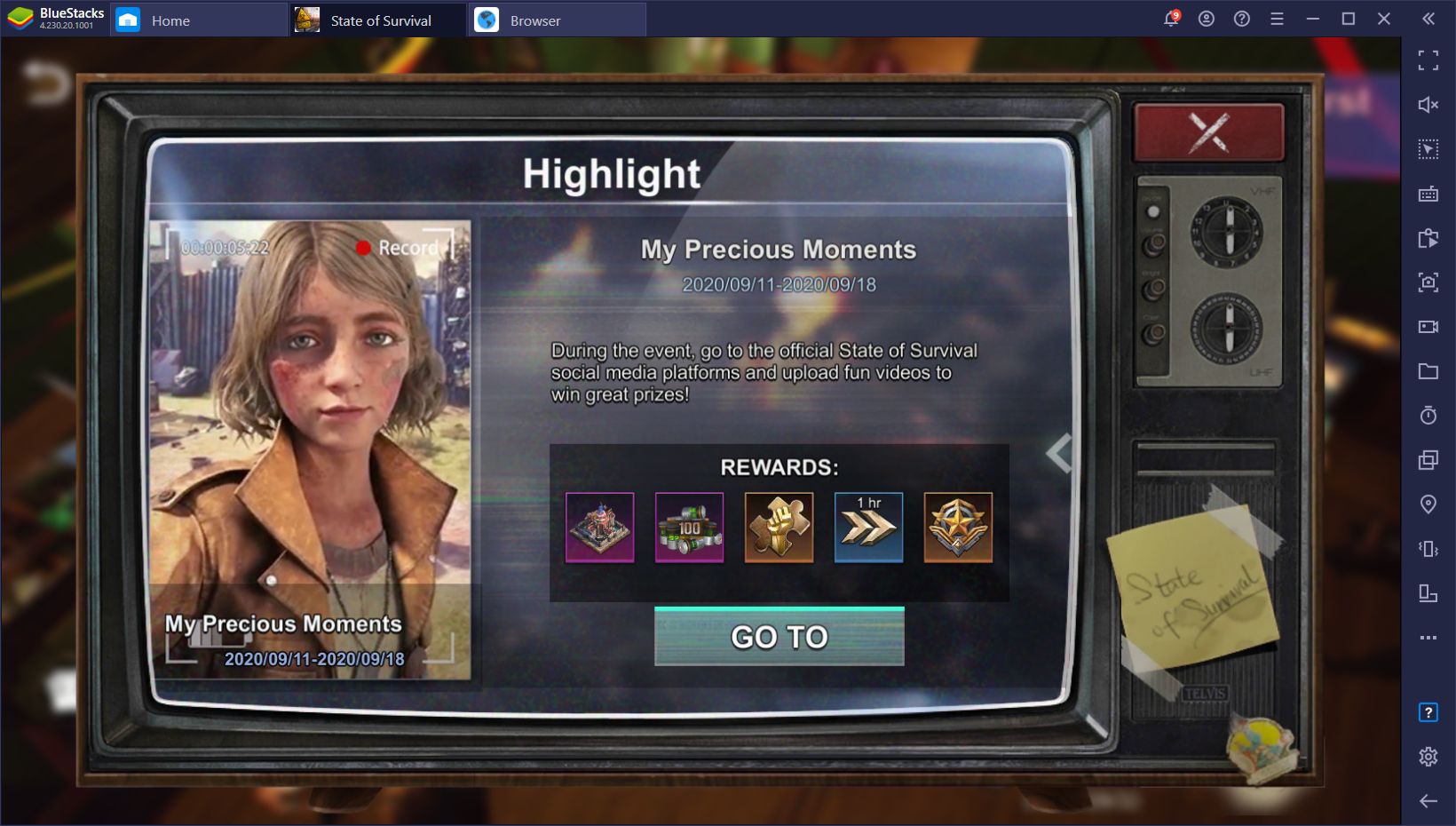 Users have until 23:59 UTC of September 18 to submit their selfies and videos.
Special Missions (Available From 09/17 – 09/23)
Starting on September 17, players will be able to undergo special missions to save Kamute Town from the encroaching zombie horde. This special game mode is played more like a traditional RTS game, where you send squads of units to fight the infected on the world map and receive special rewards for every group that you defeat. Certain monster battles are quite tough and require multiple attempts. Moreover, in the public test server, this even had a special stamina system in the form of oxygen tanks, which are required to participate in most of the activities there. This is because the area near Kamute is filled with toxic gases and soldiers need these tanks to survive.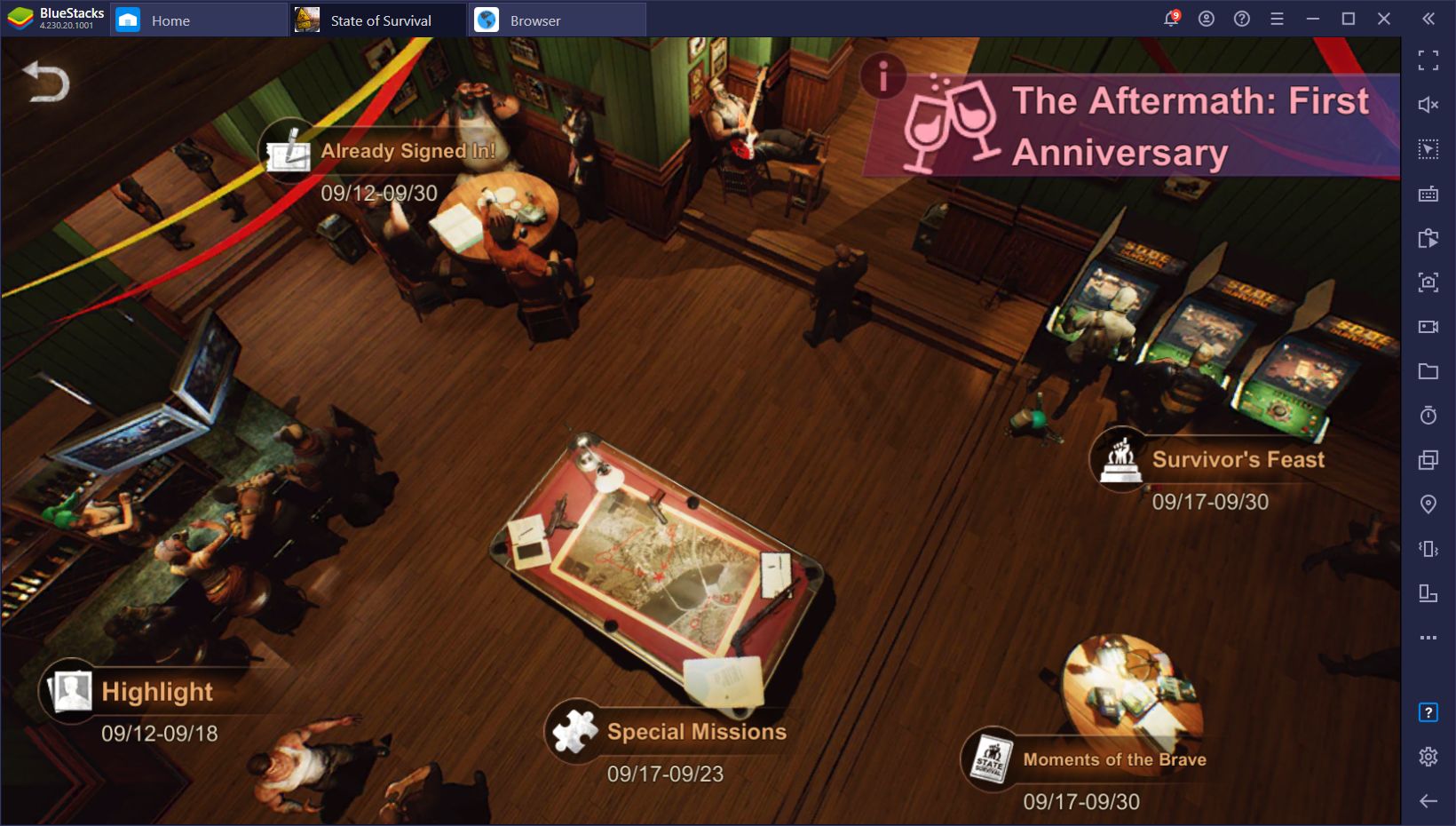 While in the public test server the event lasted around 3 days, these special missions will be available for 6 days, which gives everyone plenty of time to score some awesome prizes and loot.
Moments of the Brave (Available From 09/17 – 09/30)
Not much information is available for this particular category, though we suspect it might have something to do with the selfie and video contests. Namely, it's possible that this is where the best clips will be shown, though it's not very likely since it begins before the submission periods for the aforementioned contests close. We'll just have to wait until this category opens to see what it's all about!
Survivor's Feast (Available From 09/17 – 09/30)
This is the main category where you'll be spending your hard-earned Cake.
If you check out the rewards for the other categories in the anniversary event, you'll notice many of them give Cake. As we mentioned above, this is the special event currency this time around, and you can use it in the Survivor's Feast for multiple purposes. Though they don't really state what kinds of goods or events will involve this currency, we think there will be several challenges that will require Cake in order to participate or to progress.
According to the event description, you will be able to get Cake from many additional sources from September 17 onwards, you'll be able to use them specifically in Legends of the Brave to get rewards. Moreover, when this category opens, players will also be able to share special gift packs with their allies in the Gift Feast.
There are quite a lot of activities planned for the anniversary event in State of Survival, which will span all throughout September. Make sure to visit frequently and participate in as many challenges as you can to receive those sweet prizes.