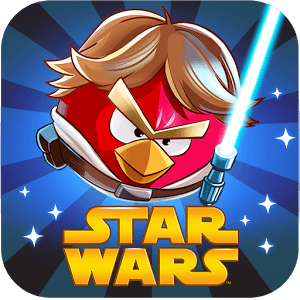 Rovio Entertainment Ltd.
Arcade
Last Update August 25, 2014
The Angry Birds are Travelling to a Galaxy Far Away
Now you can join the Angry Birds on their biggest adventure ever as they travel to distant planets and far away galaxies to do battle with the evil Imperial piggies of the Empire. Imperial Bird forces have begun fighting back against the evil Piggies of the Empire, but they cannot do it without your help. Travel to iconic locales as you play classic Angry Birds levels with a Star Wars twist. New game mechanics have been added that include the Jedi powers and lightsaber attacks for exciting new challenges. Fight through hundreds of Star Wars themed levels and unlock special R2-D2 and C3PO level. If you get stuck, call in the mighty Falcon to rain destruction down upon your enemies. True Jedis may be able to unlock the ultra-exclusive Path of the Jedi episode featuring 40 new episodes with Jedi Master Yoda.