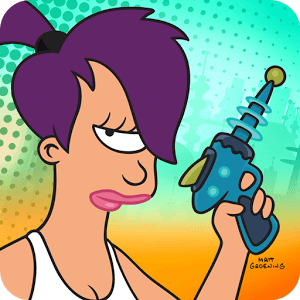 Wooga
Puzzle
Last Update December 15, 2016
More Fun Than a Trip to Ecstasia 9 - the Fun Planet!
Professor Farnsworth has a few missions for the Planet Express crew that will most assuredly mean their glorious demise… I mean, horrible demise. A group of drones has been sent along to ensure this horribly glorious demise occurs perfectly. Help the Planet Express crew by matching 4 or more like-colored drones and watching them explode into a million pieces. Each crew member has their own unique special ability that will come in handy when delivering some of the more dangerous packages. Explore a vast 3D world full of your favorite Futurama characters and locations. Watch for power-ups and special boosts to give your crew a little extra push when the going gets tough.
The point is, there are some things to do and if y'all stop whining and get to moving, things can get done, so says Bender. Play Futurama: Game of Drones on Mac and PC right now.