App Reviews
Brave Conquest Review: Not Just Another Mobile RTS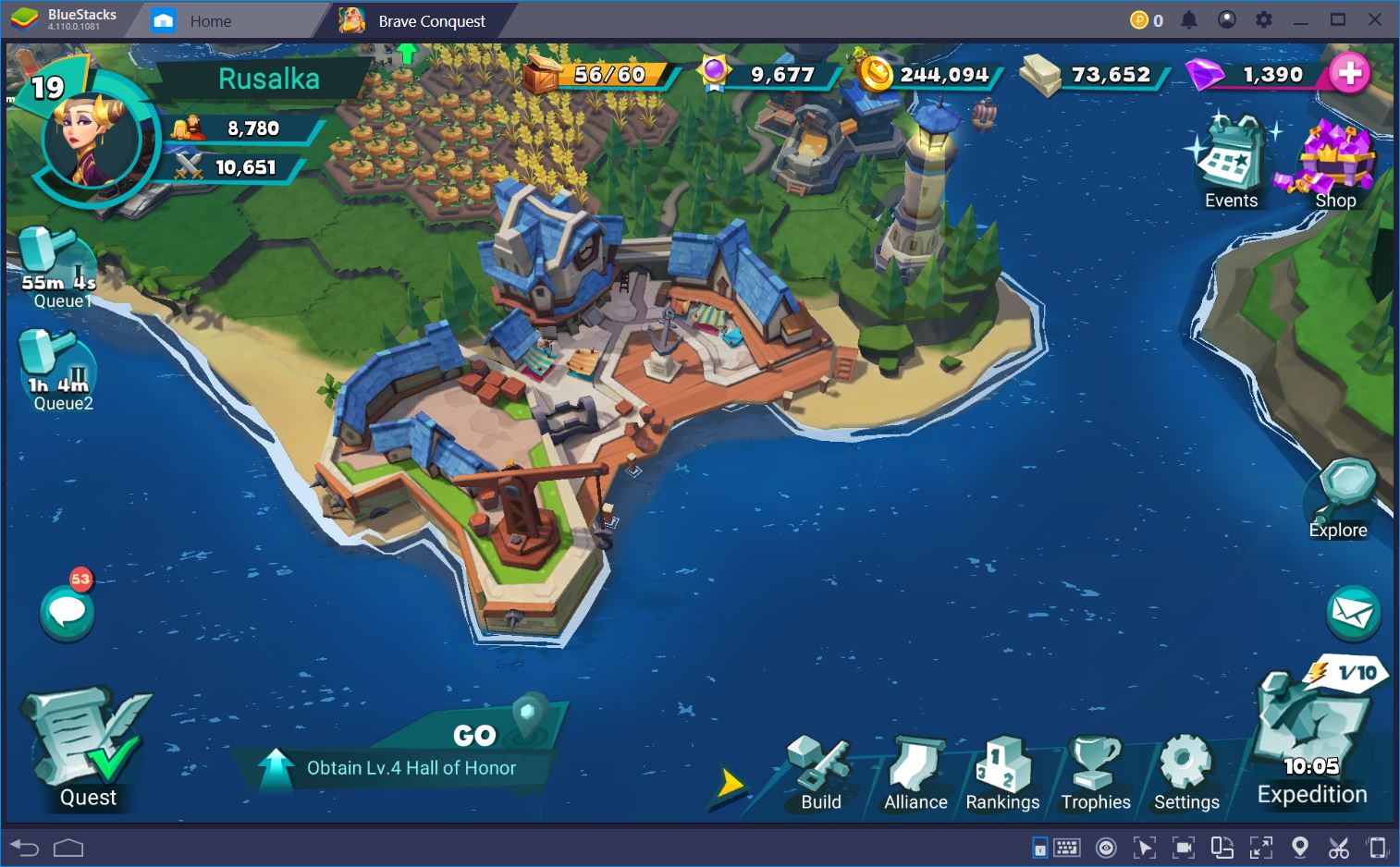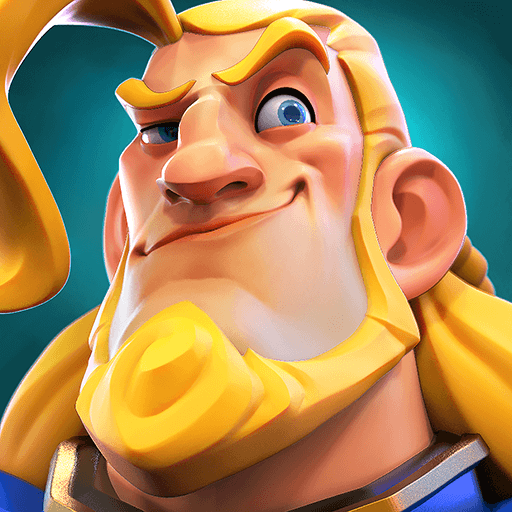 It may be some time yet before we see Brave Conquest become available on the Play Store, but we already have our hands on the latest version of the game and can't wait to share our first impressions with you. What's that? You'd rather know how we can already play IGG's latest release? That's easy: we're using BlueStacks and you can, too, by following this installation guide.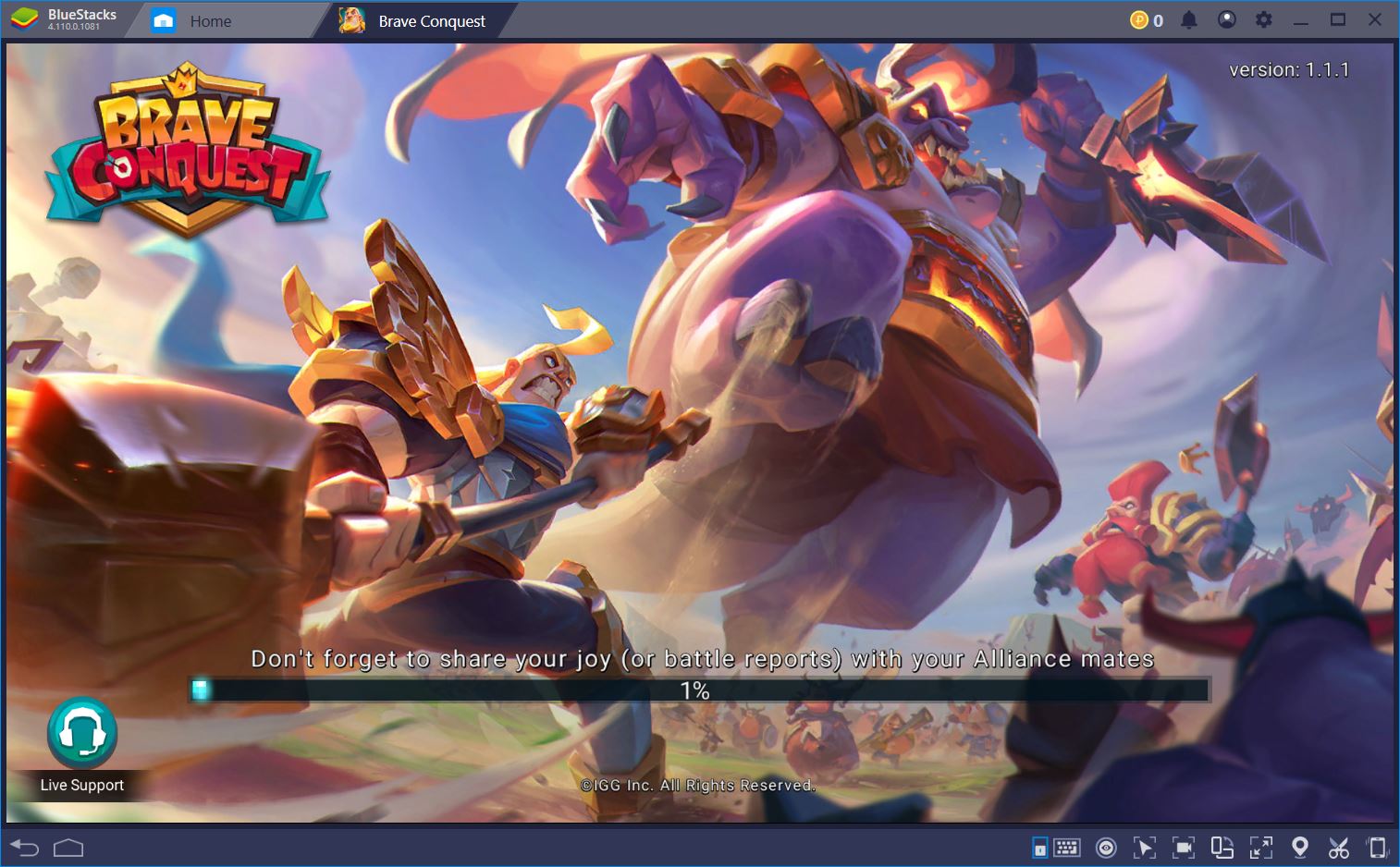 Now that you know you can actually play Brave Conquest – starting right now, you're probably wondering whether this new mobile RTS is worth your time and, possibly, your money. Perhaps you're an F2P player – like we are – and you want to know whether the game will be kind to you or make you want to cry into a pillow during your first PvP encounter. We have all the answers below.
Exciting F2P-Friendly Strategy
We won't lie to you: as you progress in Brave Conquest and meet stronger and stronger opponents, the game takes a severe P2W turn. But that's just the mobile game market right now. Nearly any game with PvP combat will try to slam open your wallet and get you to spend for more. In fact, Brave Conquest is slightly different – in a good way.
Sure, you still have to spend real currency to stand a chance against the best players on the server (who, of course, are P2W), but there is so much fun you can have with other aspects of the game that it almost doesn't matter. There are plenty of F2P players online – even now, when the game is not yet officially released – so you have a good chance to experience strategic combat without being smacked over the head by an army tenfold the strength of your own.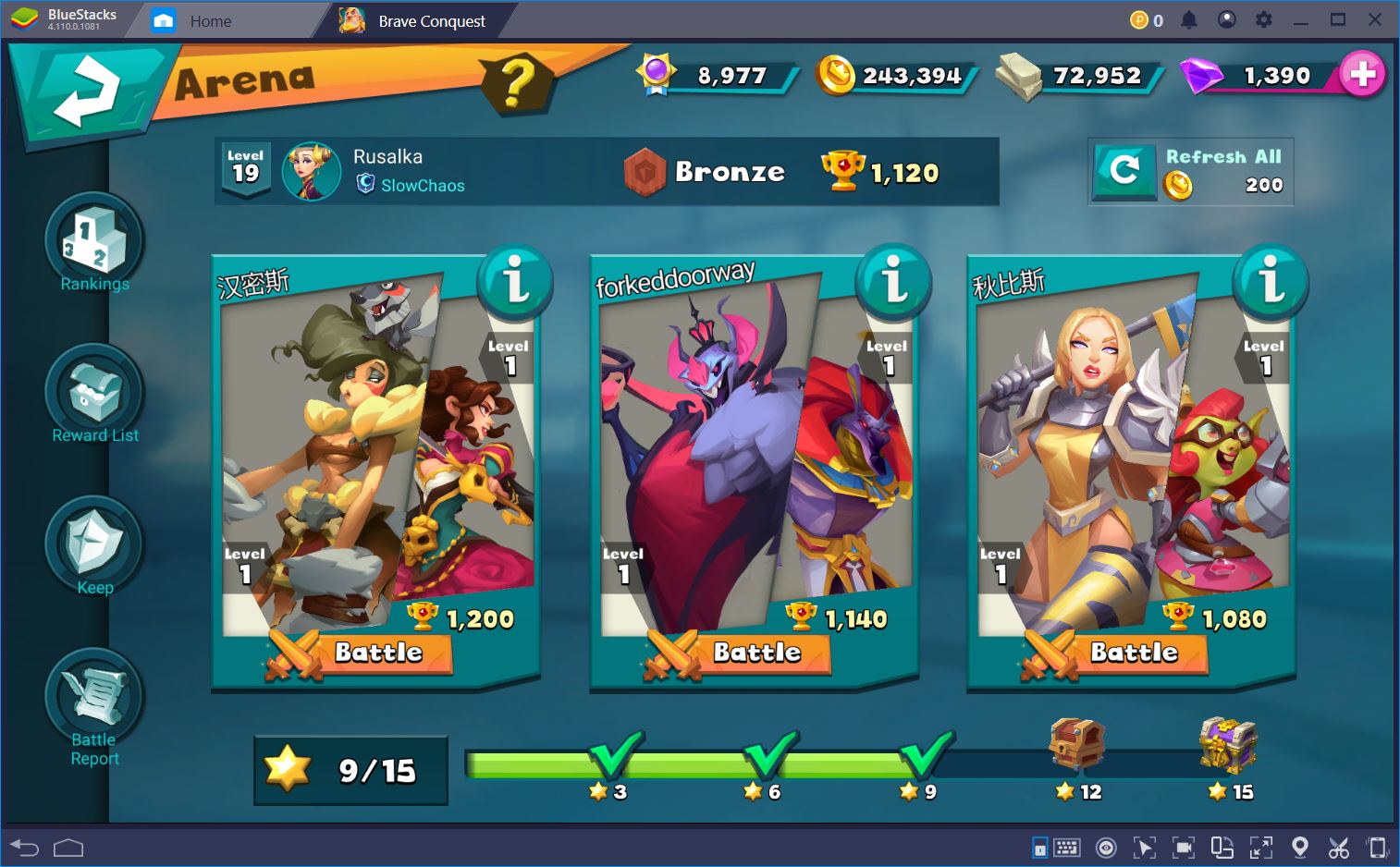 The battles themselves are extremely satisfying; after all, no one expects less from the developers of Lords Mobile. Multiple types of troops and heroes, each with their own weaknesses and perks, but also the fact that you can position your squadrons properly before an encounter gives combat an exciting flavor. More importantly, you never actually lose troops or heroes when you fight! This is a huge win for F2P players who cannot afford to constantly speed up their unit production in order to keep up with others. For this reason alone, we believe Brave Conquest deserves an F2P-friendly medal; and there's much more.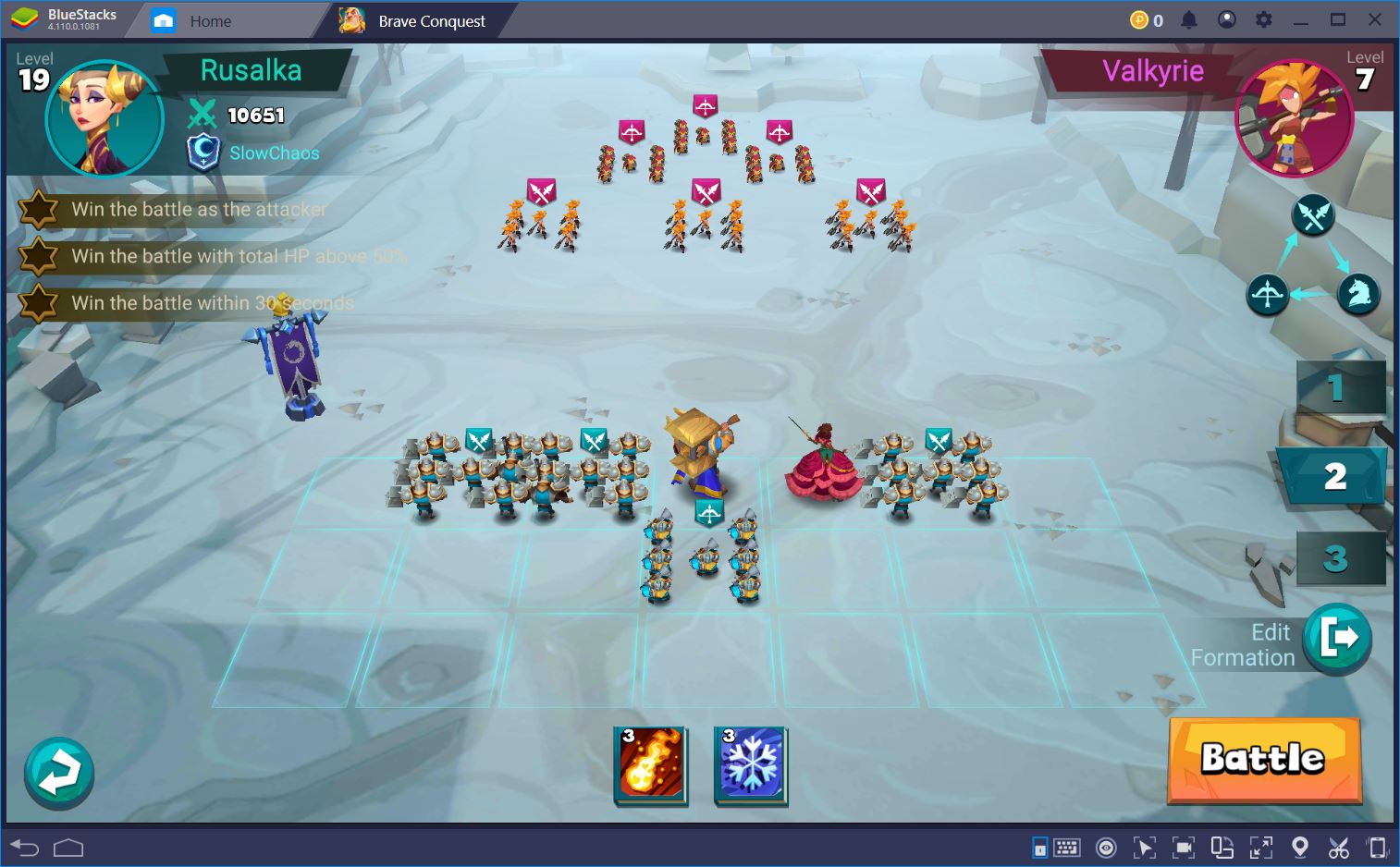 Base-Building with Perks and Quirks
At this point, we're probably all used to dead-serious base-building war games, which is part of the reason why Brave Conquest is such a breath of fresh air. It's not that it doesn't take your kingdom seriously. You still have to multitask, prioritize, strategize, and work with other players to become a powerful contender. Yet everything looks and feels casual and fun. Your advisors and heroes make light-hearted conversation whenever they introduce a new aspect of the game and this makes us feel like we actually want to complete the tutorial.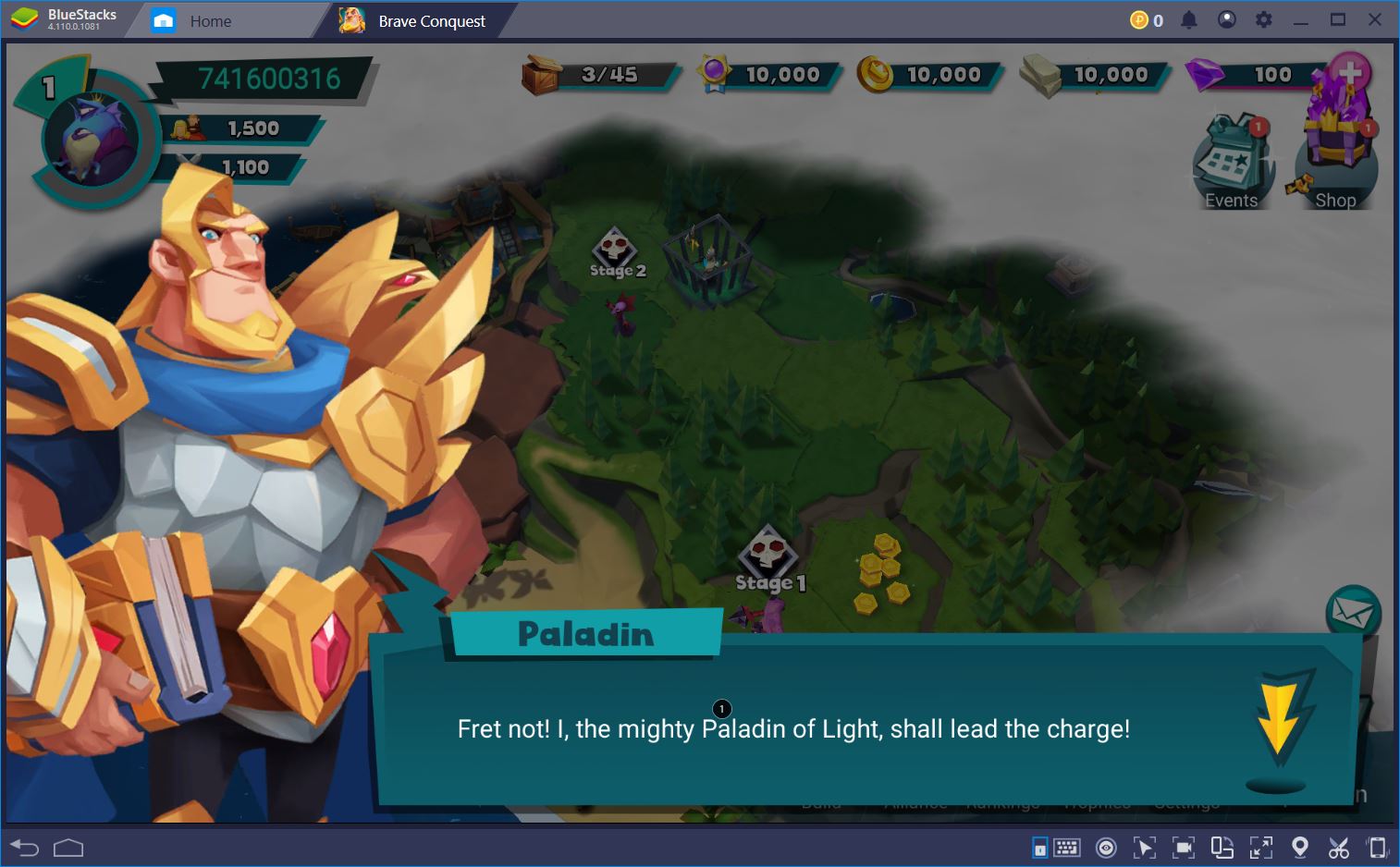 Furthermore, you're in complete control of your base. There are no squares that have been pre-determined for certain types of buildings, no tiny space to work with, no need to arrange things in a certain way. If you want to arrange for your Cabins to be close to a forest and a lake because you think your villagers will feel better about life (and taxation) when such a gorgeous view greets them every morning, by all means, you are free to do so.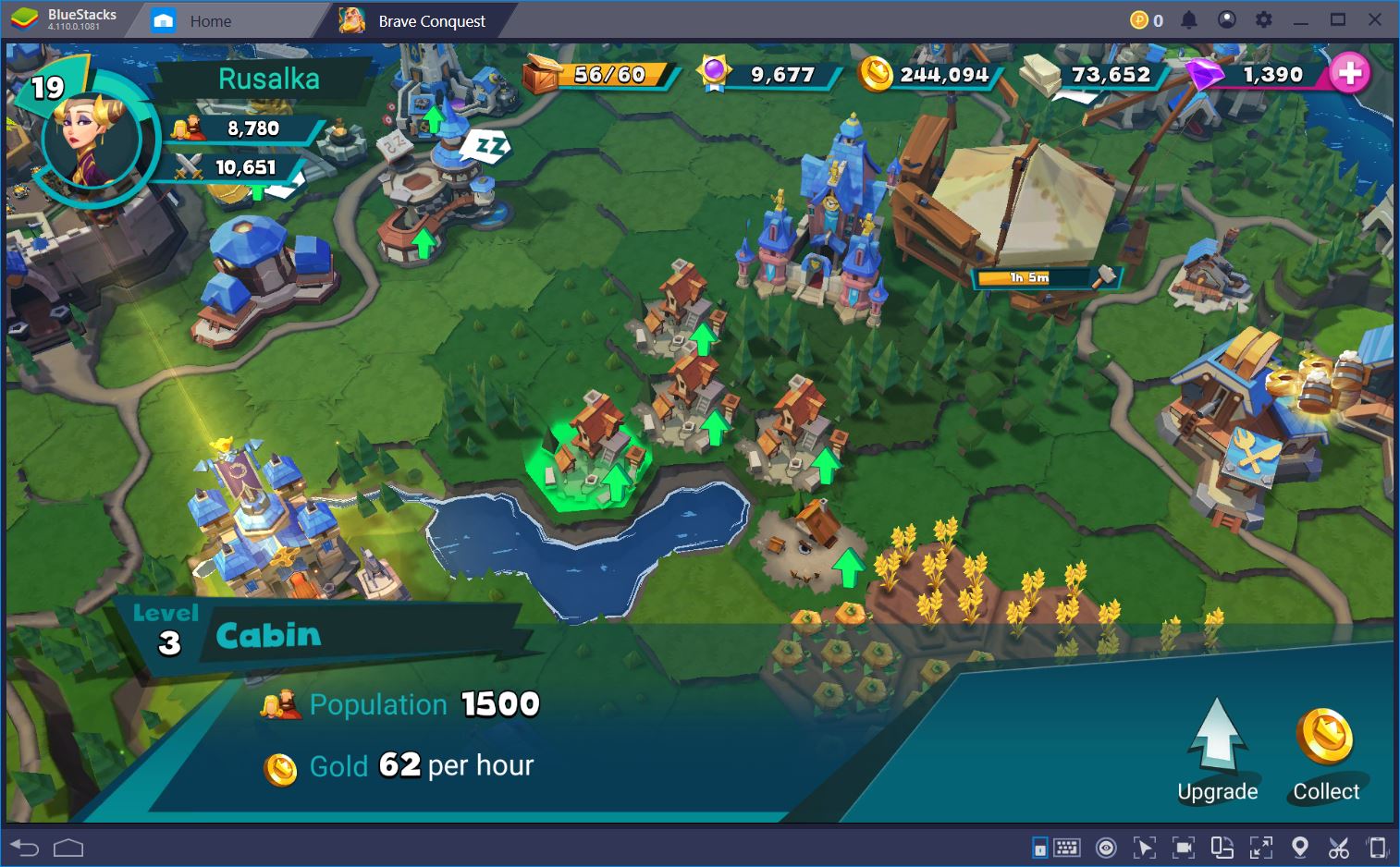 Conversely, if you think you have a super-efficient layout where all harvestable are in close proximity to one another and can be collected in less time, you can put that in practice. It's your base and you make it exactly the way you want it. Plus, you'll find, there are so many things to do around the kingdom. Between training troops and heroes to working the blacksmith's, attending to the crops, and even baking delicious buns, it's no wonder you can easily get attached to the land. We love that.
Expeditions, Explorations, Quests, Events: You Name It
We've already hinted at the diversity of things you can do in Brave Conquest, but you probably won't believe us until you try it yourself. In addition to ruling your kingdom, collecting taxes, harvesting, and producing goods, you can fulfill demands coming from people around the land, as well as from far-off cities where you can send your ships.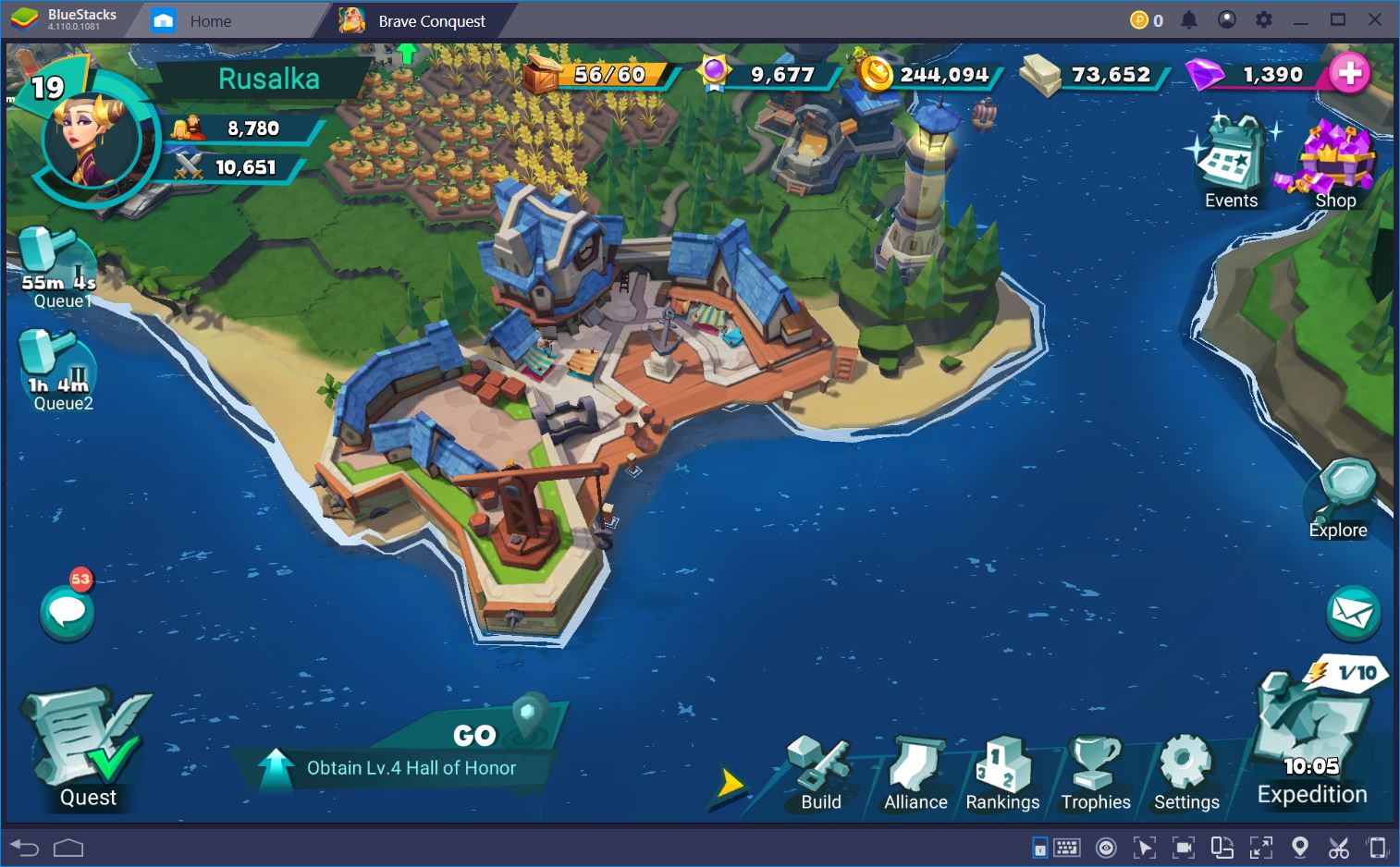 When you start a new game, you have to spend a bit of time exploring the surroundings. Normally, you'd be given a base and your heroes/army would go out into the world to bring riches back home. In Brave Conquest, the entire early game focuses on your discovery of your own kingdom. What you see and what you fight for is what you get. Every time you win a battle, you know that you've claimed the land for your people; and for more buildings, too.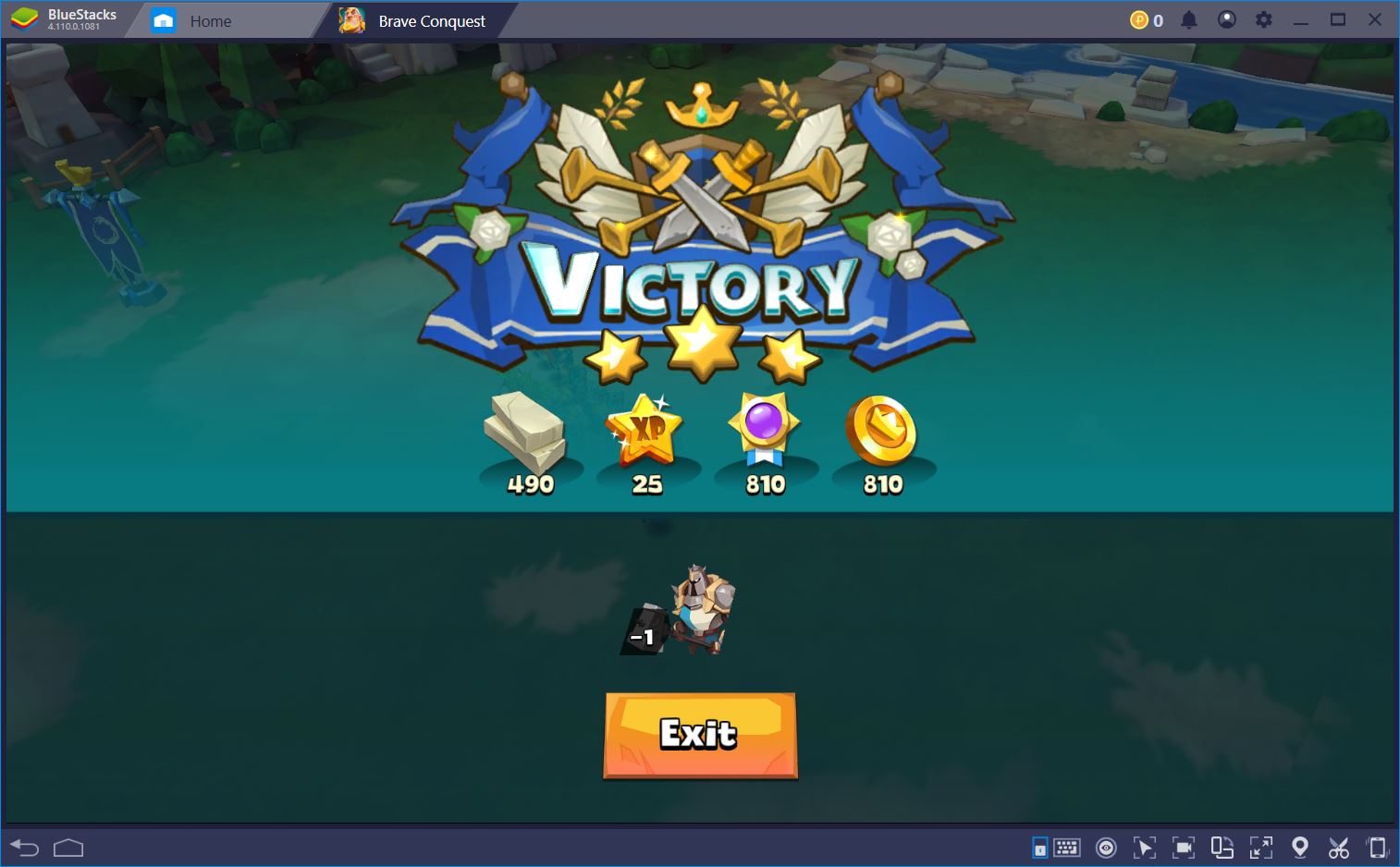 The main quest helps you discover all of these unique features of the game and, of course, you'll spend a lot of time waiting for buildings to be built/upgraded if you're a F2P player. But the good news is that you have all of these other activities to busy yourself with!
Awesome Alliance and PvP Systems
Steamrolling monsters with your superior strategy is fun enough, but it doesn't compare to the sweet taste of victory against another player. Luckily, there are many ways to test your best tactics against other armies – either through Expeditions, in the Arena, or in engagements between guilds.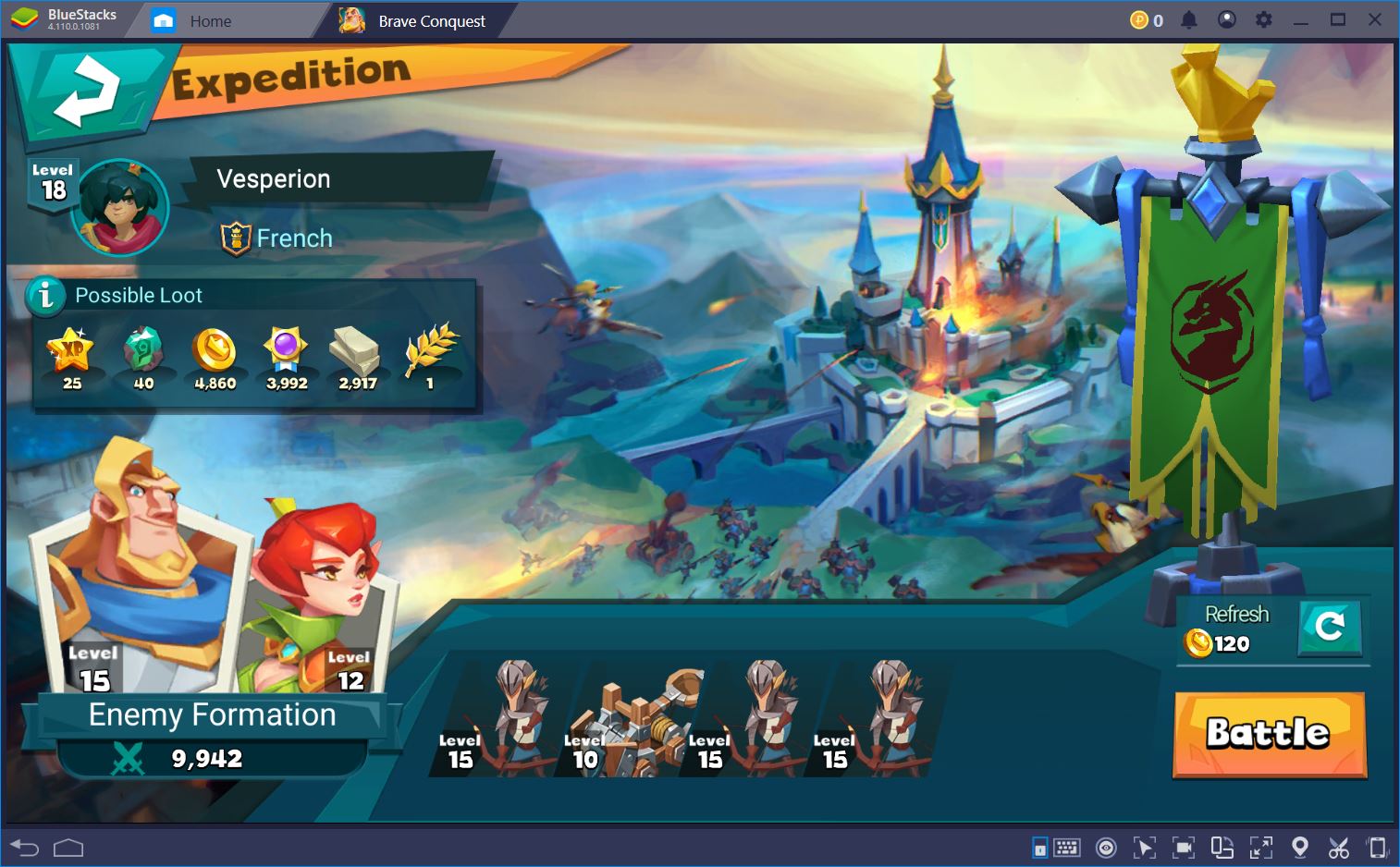 Unfortunately, none of these are real-time matches, which means that the AI will be in charge of the opponent's units and, well, the AI can only do so much. The same holds in your case, however, so you have to plan your defenses extra carefully. At the end of the day, it's more than achievable not only to plunder others, but also to create a garrison capable of repelling the majority of armies. You just have to know how combat works and have a few perky formations up your sleeve.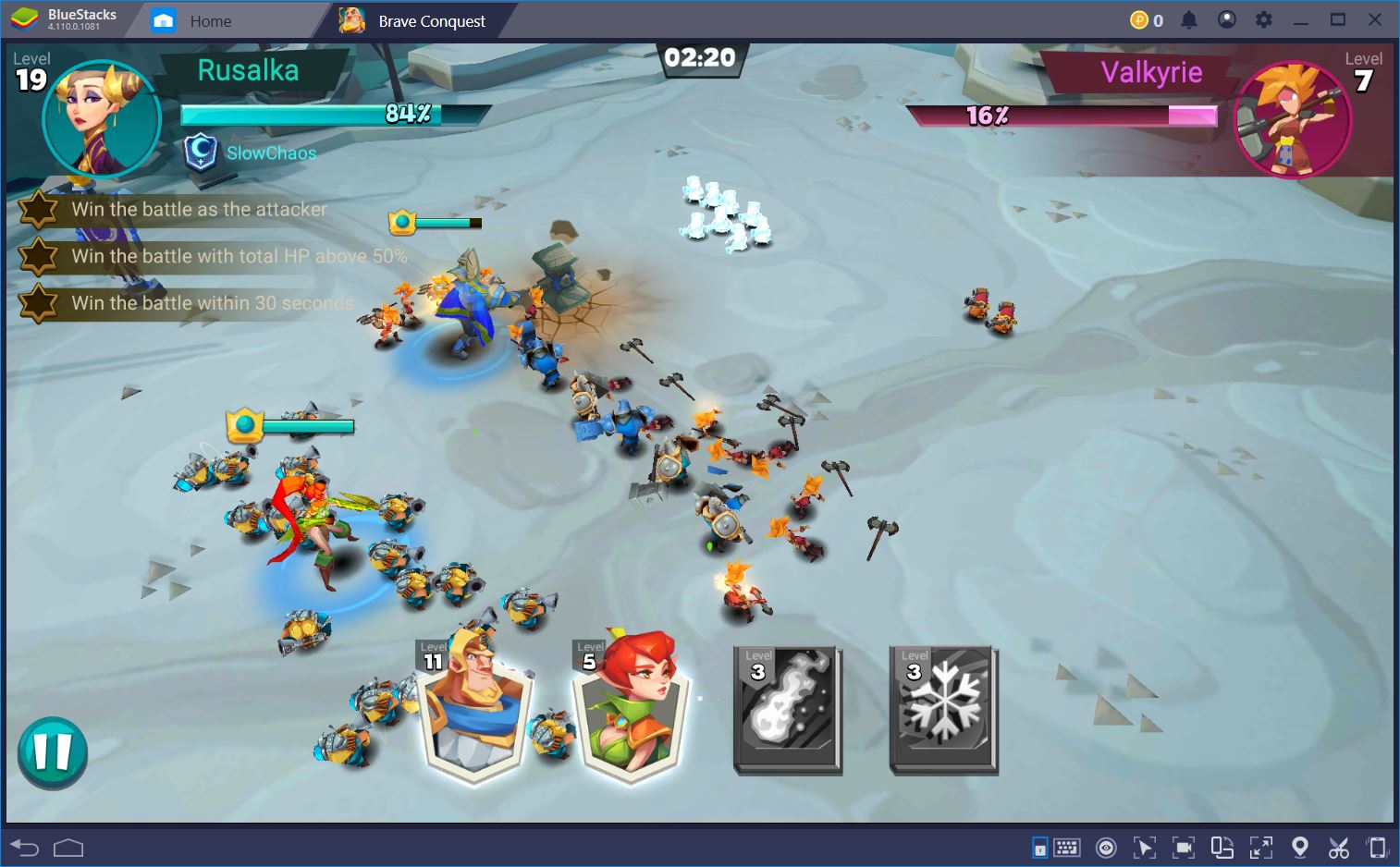 Naturally, you won't be able to take on the world on your own. That's why, as soon as you can build the Embassy, you should join an active Alliance, which can help you defend against foes, purchase more items, and build/research things faster. We just can't find anything that Brave Conquest is missing – short of being entirely free, of course. If all of this sounds as exciting to you as it was for us, then you should definitely get your hands on the game today and get a head start before the game is officially released.