App Reviews
World of Kings: Like World of Warcraft, but on Android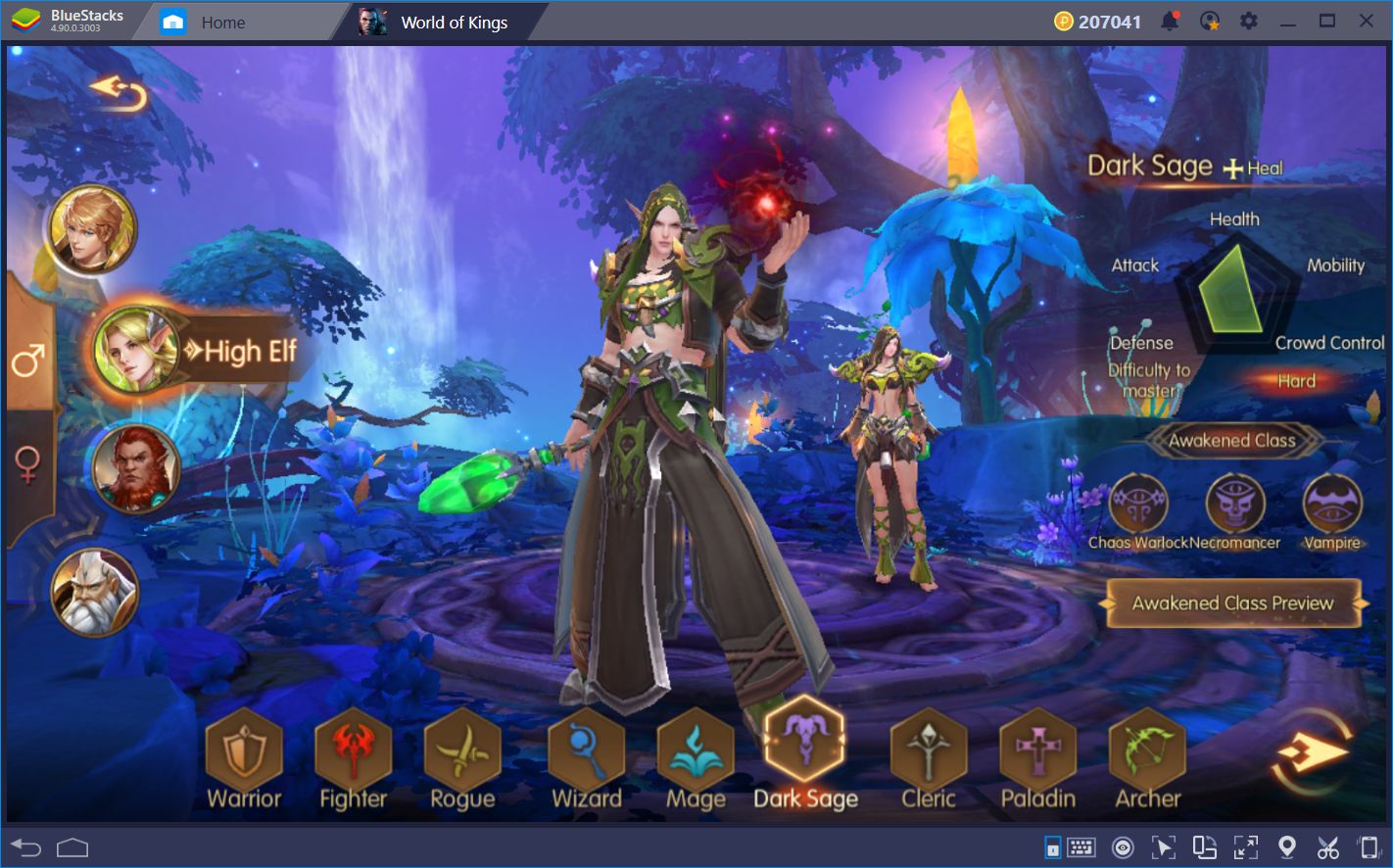 We seldom enjoy using comparisons to describe a specific game since we feel like it doesn't do the product justice enough. However, when it comes to a titan in the gaming industry like Blizzard's World of Warcraft, we feel that comparing another game to the popular MMORPG says enough about the quality of the product, in general. In the case of World of Kings, we can safely say that, despite being a WoW clone, it's one of the most ambitious MMORPG for phones that we've seen in a while.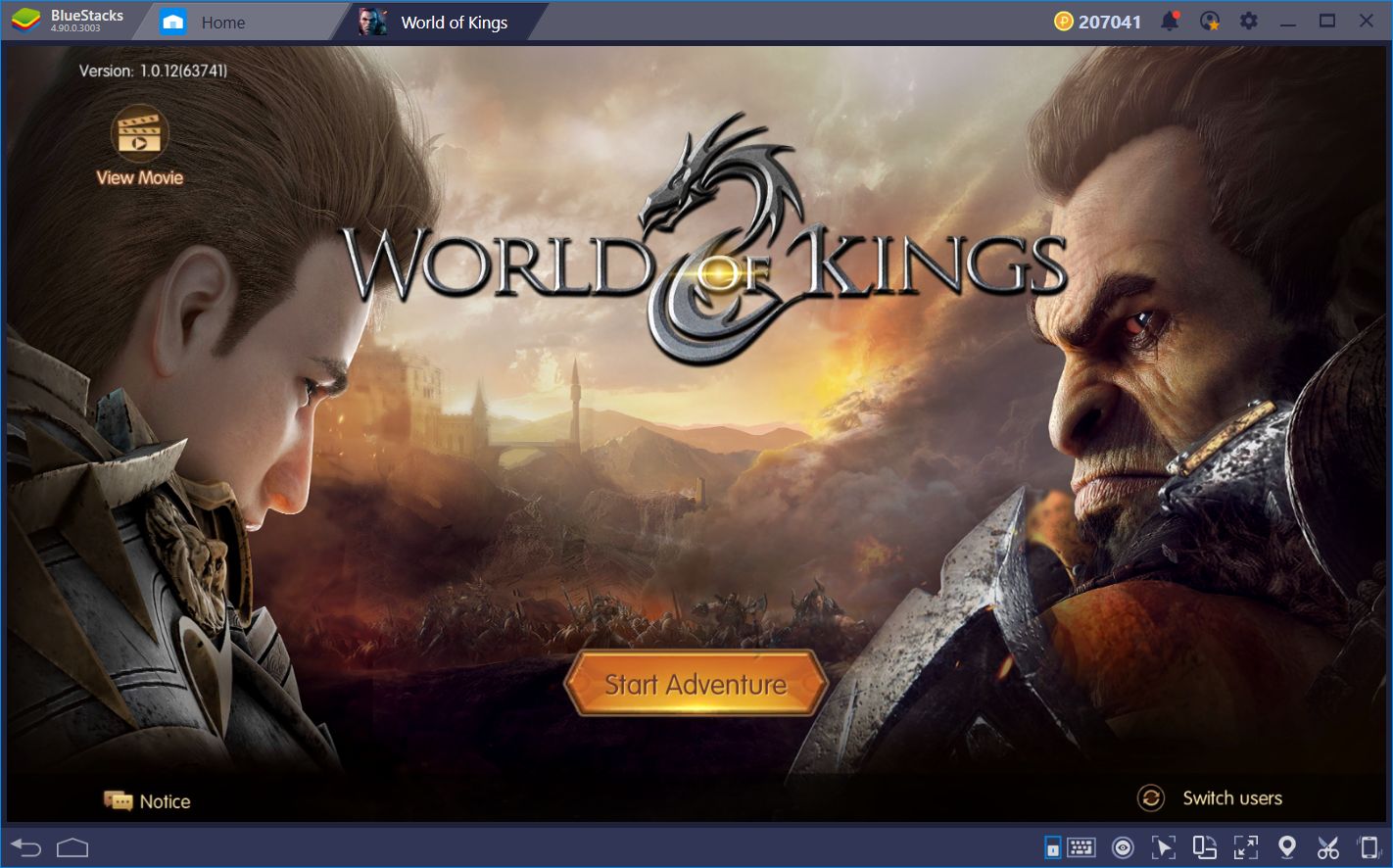 Developer ZLOONG launched World of Kings globally a few days ago advertising it as a stunning immersive MMORPG that will take players on an epic adventure to save planet Ideon from the clutches of the Black Dragon. Now, considering the Asian name of the developer and the generic description of the game, it's easy to dismiss World of Kings simply as another fantasy MMO with auto-play features and a bland story. However, we can assure you that, this time around, this is actually not the case.
In our World of Kings review, we will talk about the game's strongest features and how it distances itself from the other mobile MMORPGs out there.
Multiple Origin Stories
When we said this game is a World of Warcraft clone, we meant it in more ways than one.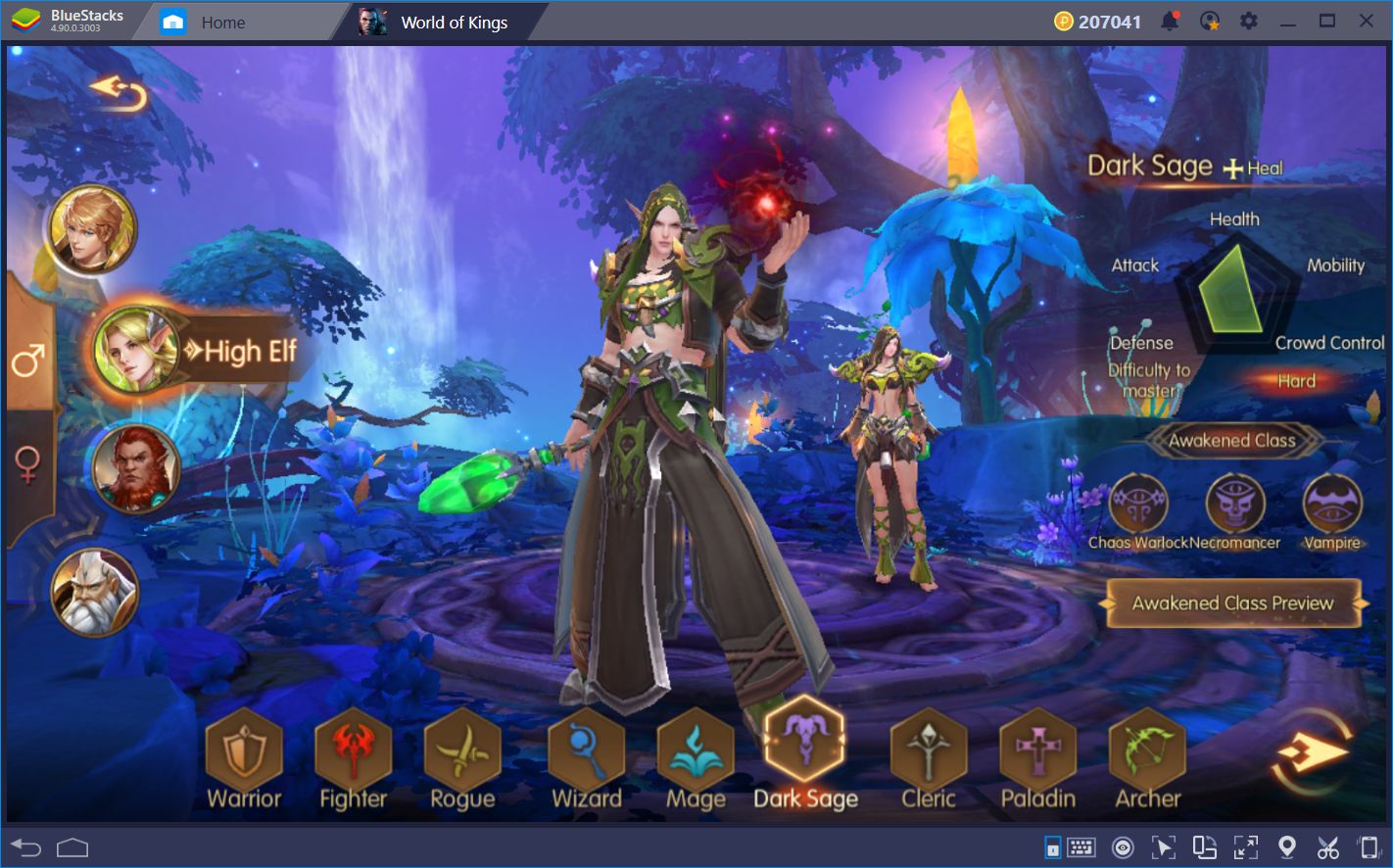 For starters, before entering the game, you must first choose a race and class, as well as customize your character. This is standard for most—if not all—MMORPGs. However, while your choice of race in most games is merely cosmetic, your decision here will influence your origin story.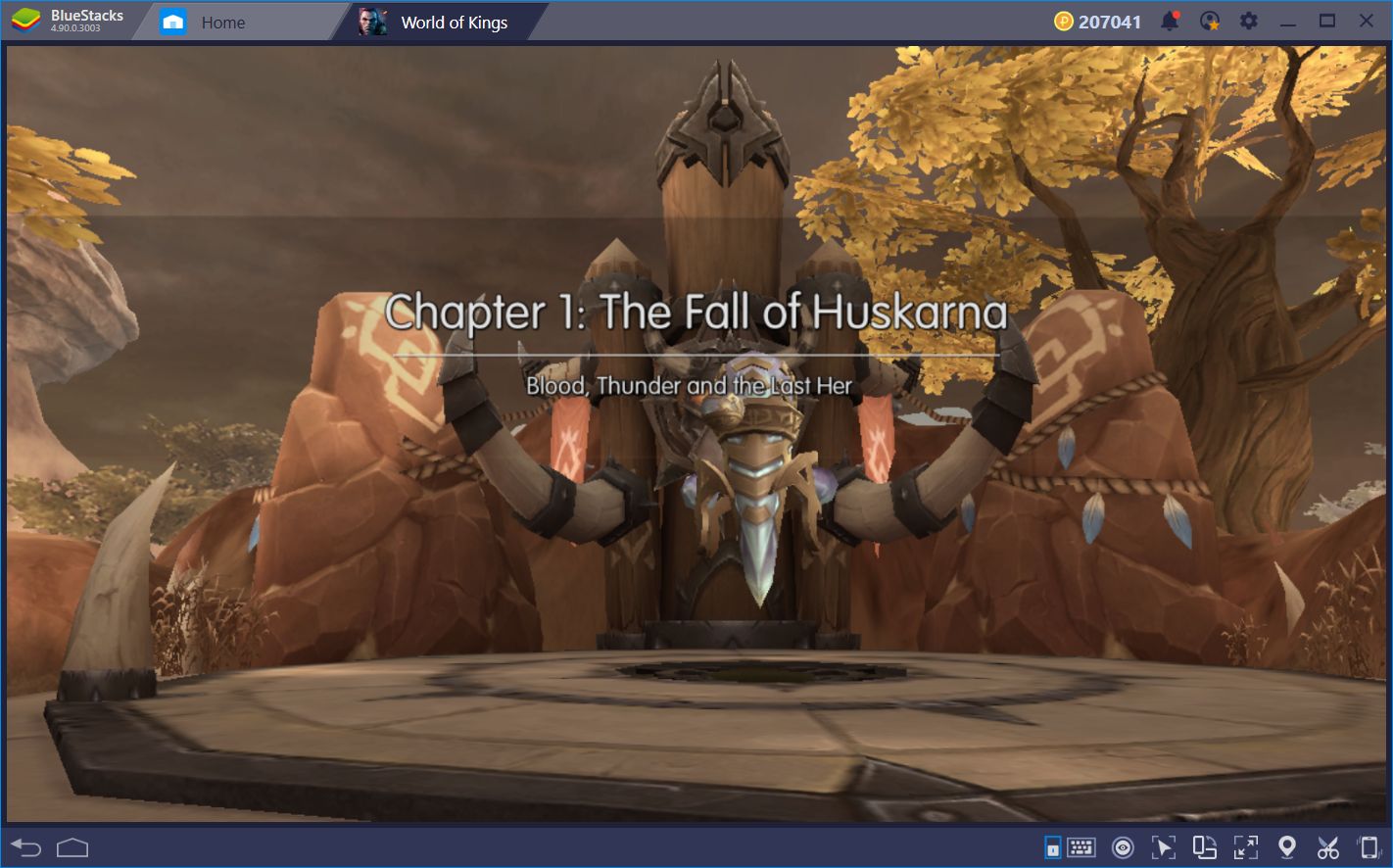 There are currently 4 races available in this game, all of which have their own story and origin that eventually leads to the hero escaping and venturing into the world to stop the forces of evil. Furthermore, instead of a vague attempt at a story meant to give a bit of context, the arguments provided in this game are well-written—if somewhat shoddily-translated—and provide tons of immersion to the player. However, the English localization of the game still needs some work as there are some typos and grammar mistakes. As neat freaks ourselves, we simply couldn't let this pass. However, the origin stories are interesting enough to enjoy them despite their flaws.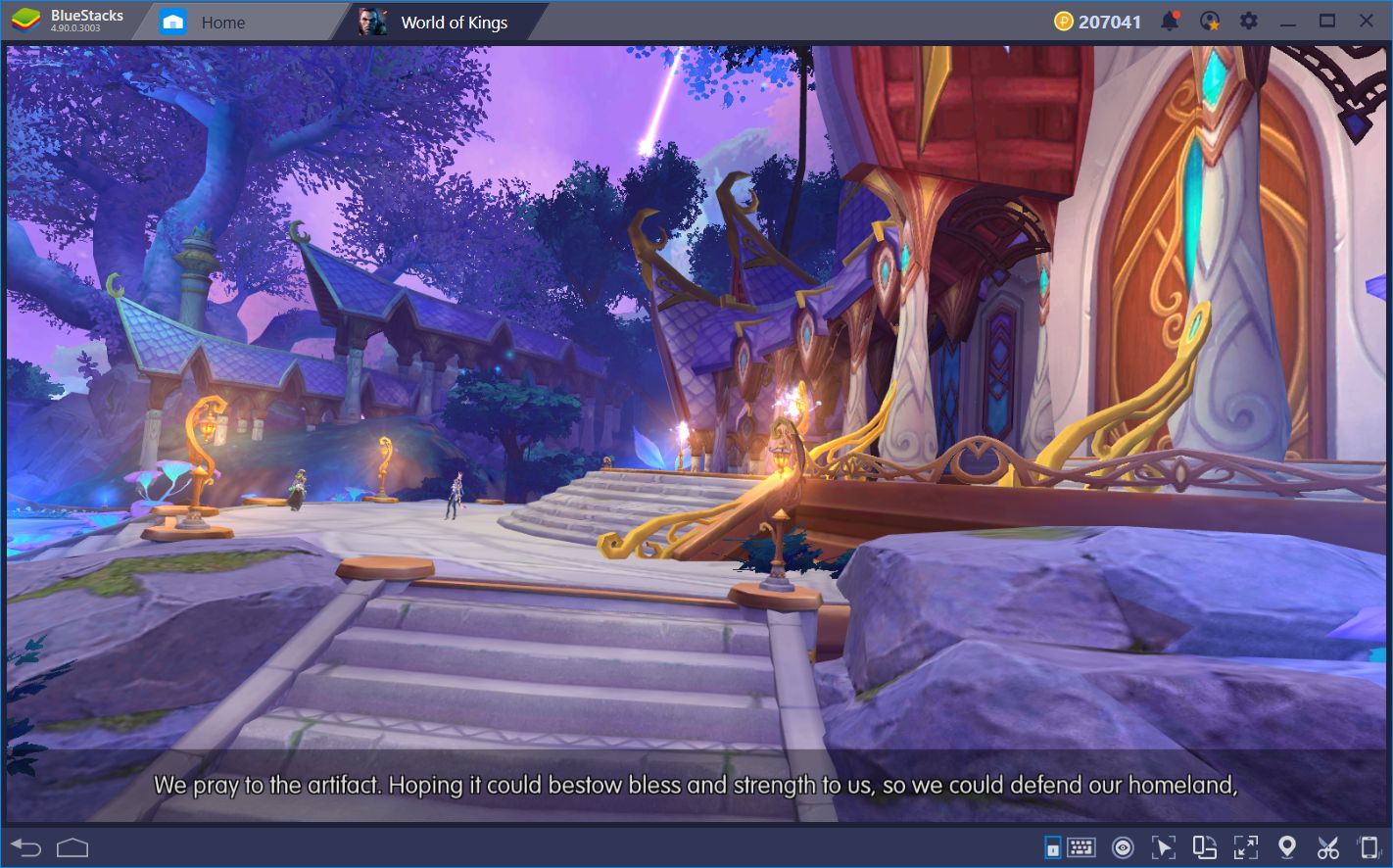 Excellent Graphics and Performance (on BlueStacks)
We're just going to come out and say it: World of Kings has some of the most technically-impressive graphics of any mobile game. The quality of the visuals even surpasses that of some PC games, to the point where we actually doubt that it'll run properly on most mobile devices. However, when played on BlueStacks, you can switch all the settings to the max and laugh as the game warns you about the Ultra-HD settings possibly overheating your "phone".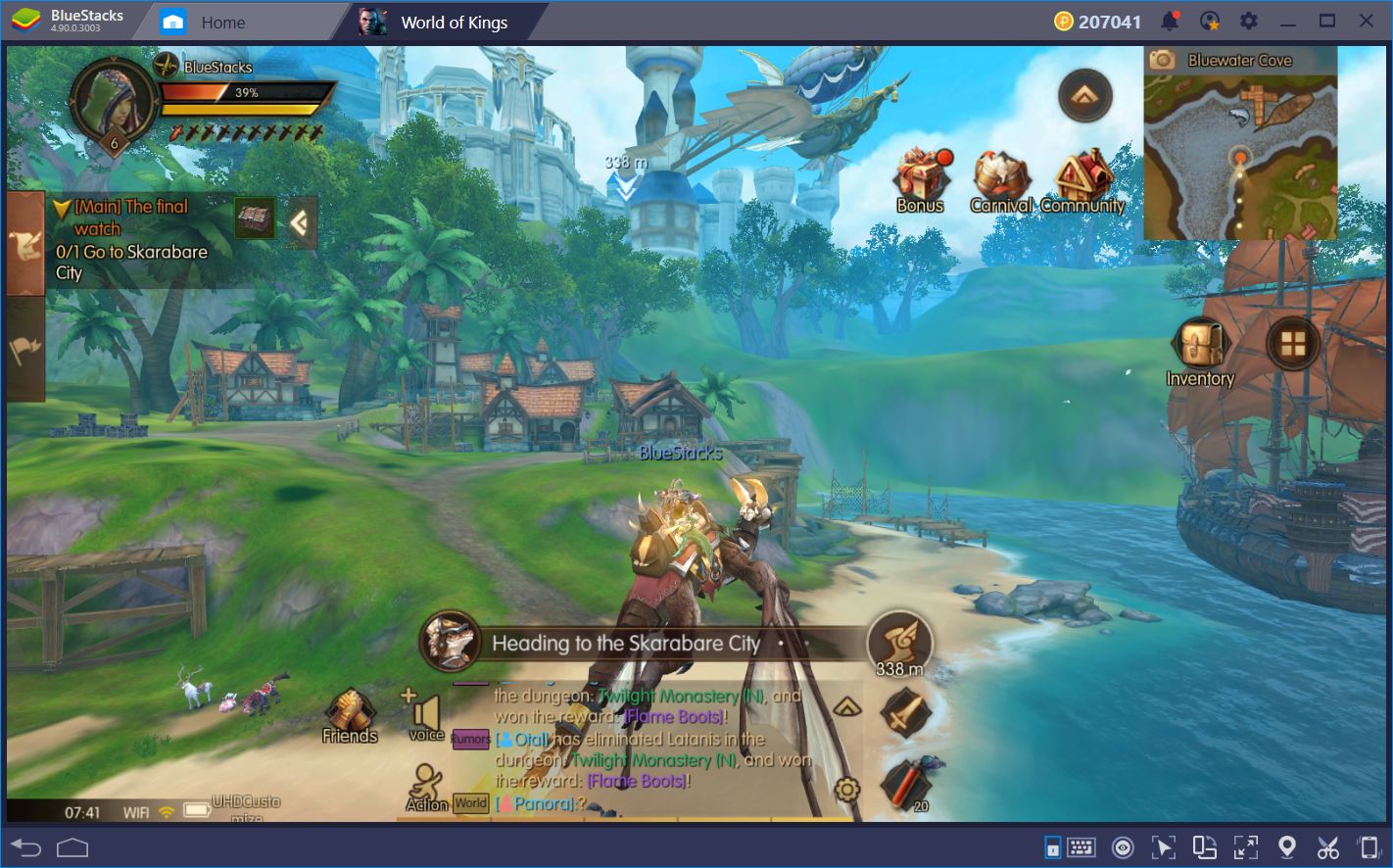 Specifically, we were impressed by the game's textures as they are very sharp and, for the most part, are not muddy at all. One glance at your character's armor is all it takes to know that you're in for a visual feast and that this game is in an entirely different category than the others. Aside from the textures, we can also find some top-notch particle effects during combat, especially when using casters and other classes with flashy spells. However, combat isn't the only thing that looks flashy in World of Kings as this game features some of the most beautiful skyboxes we've seen. Seriously, we've found ourselves looking at the sky, mesmerized, more times than we'd like to admit!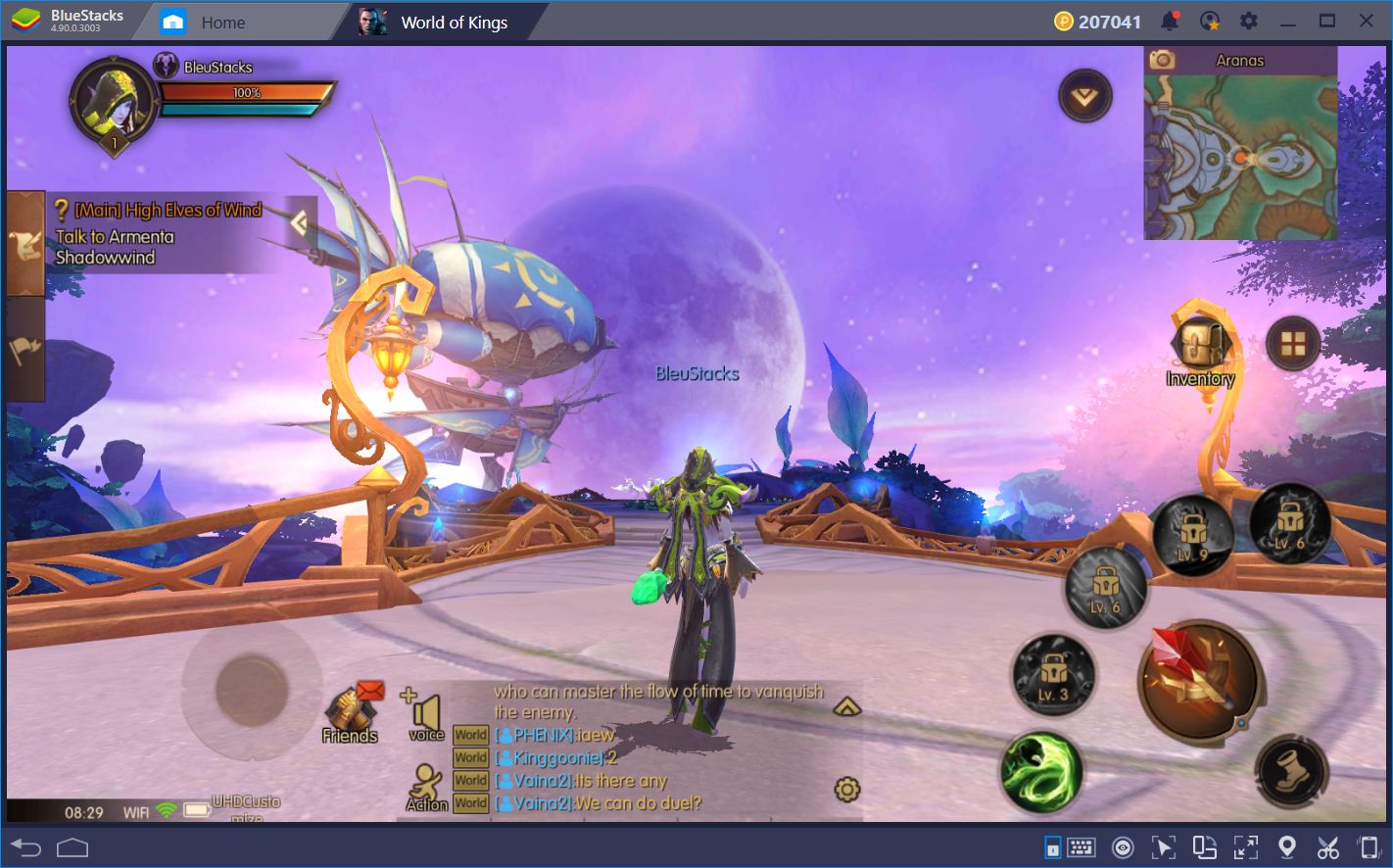 And, as if killer graphics weren't enough, this game also has a fantastic musical score composed by none other than Russell Brower, the man behind some of Blizzard's most iconic music. Brower has composed music for Diablo 3, World of Warcraft, and Hearthstone, to name a few.
Engaging Combat and Controls
In terms of actual gameplay and combat, World of Kings feels more like par for the course. As opposed to the other aspects of its presentation, the combat in this game, from what we've seen, is more like something you'd expect from a mobile MMORPG. It follows the standard control scheme where you use the virtual joystick on the left to move around and the on-screen buttons on the right to attack your foes.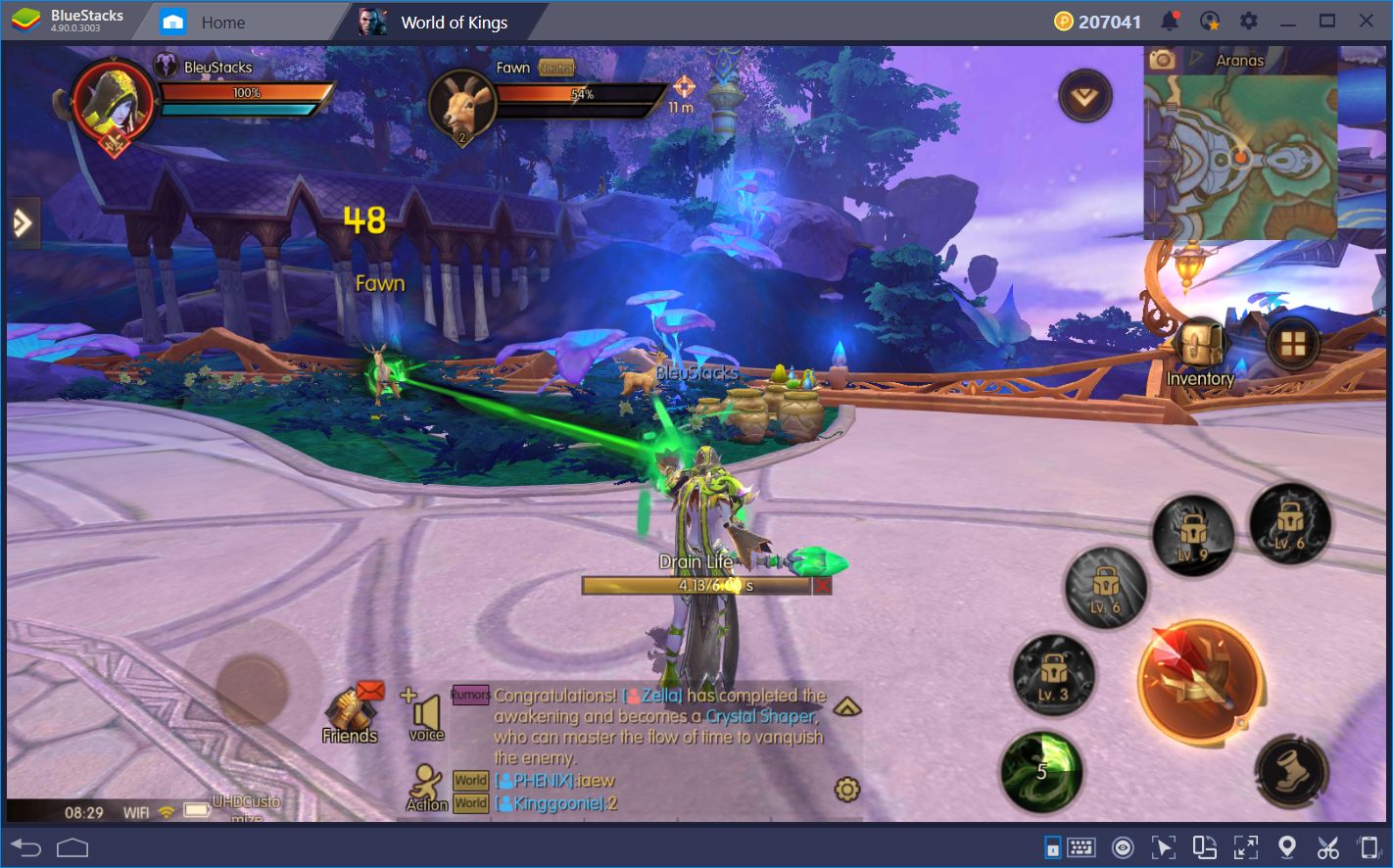 However, while the game doesn't innovate in terms of basic controls, it features engaging quests that frequently require you to perform different tasks using the familiar control scheme. In this sense, while it plays similar to other games, you'll always be doing new stuff, which makes it feel different and in a league of its own. Nevertheless, you can choose from 9 different classes at the start, which evolve into 3 different "awakened" classes each. The possibilities are virtually endless in this game. Keep an eye out for our guide on the different classes in World of Kings if you want to read more about this aspect of the game.
Regardless, whether you choose to be a High Elf, an Orc, a Human, or a Dwarf, we're sure you'll witness an enjoyable story. Couple this fact with some of the most entertaining quests we've seen so far and we have a praiseworthy combination. Seriously, look at this quest where we had to ride a flying mount while pelting a giant enemy with bombs from above; isn't that amazing?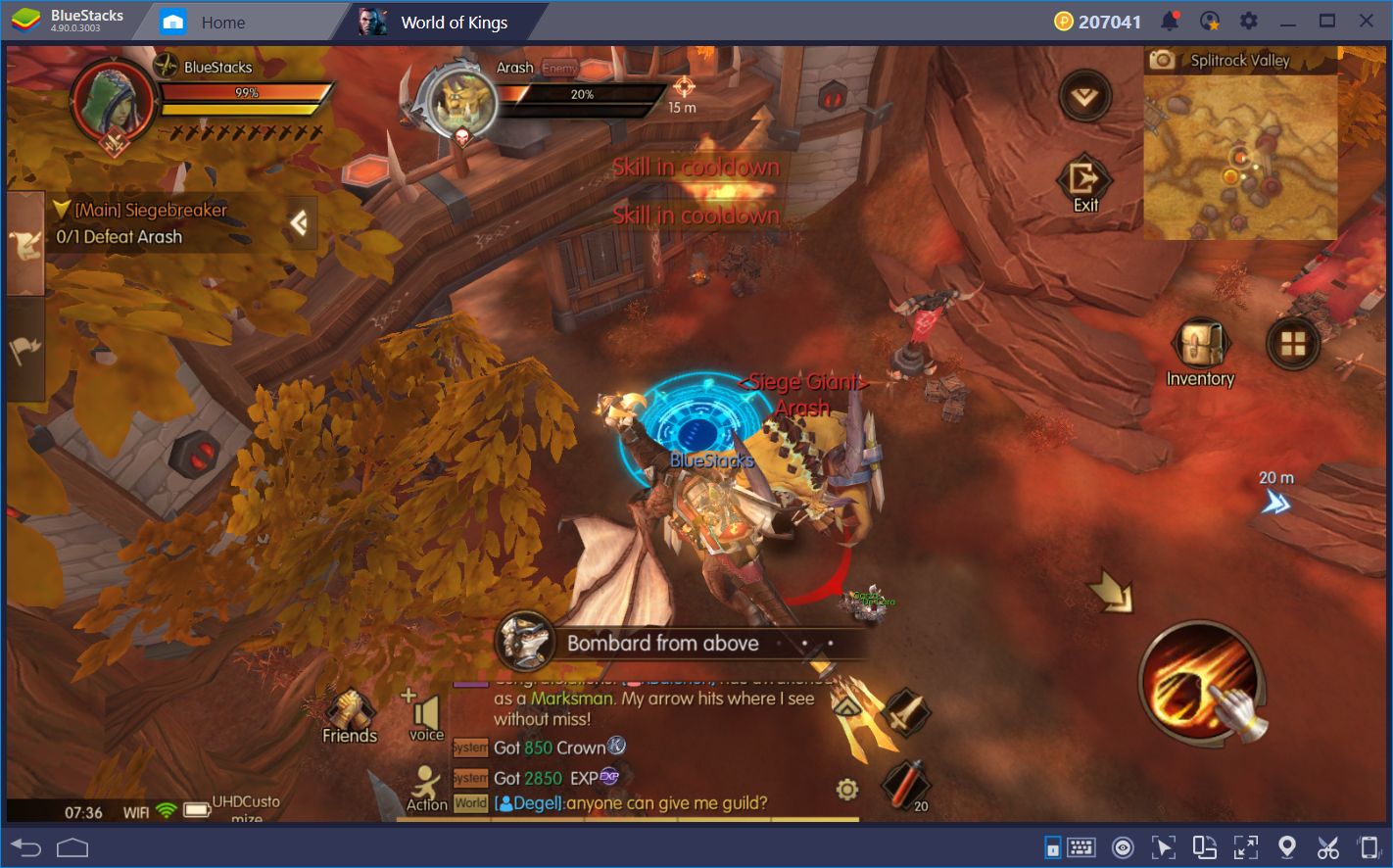 Myriad Classes for Every Playstyle
Like we just mentioned, there are 9 classes to choose from right from the start. These jobs play very differently from each other and cater to a wide variety of playstyles. From the stealthy assassins and the powerful mages to the brutish warriors and dextrous archers, there is something for everyone in World of Kings.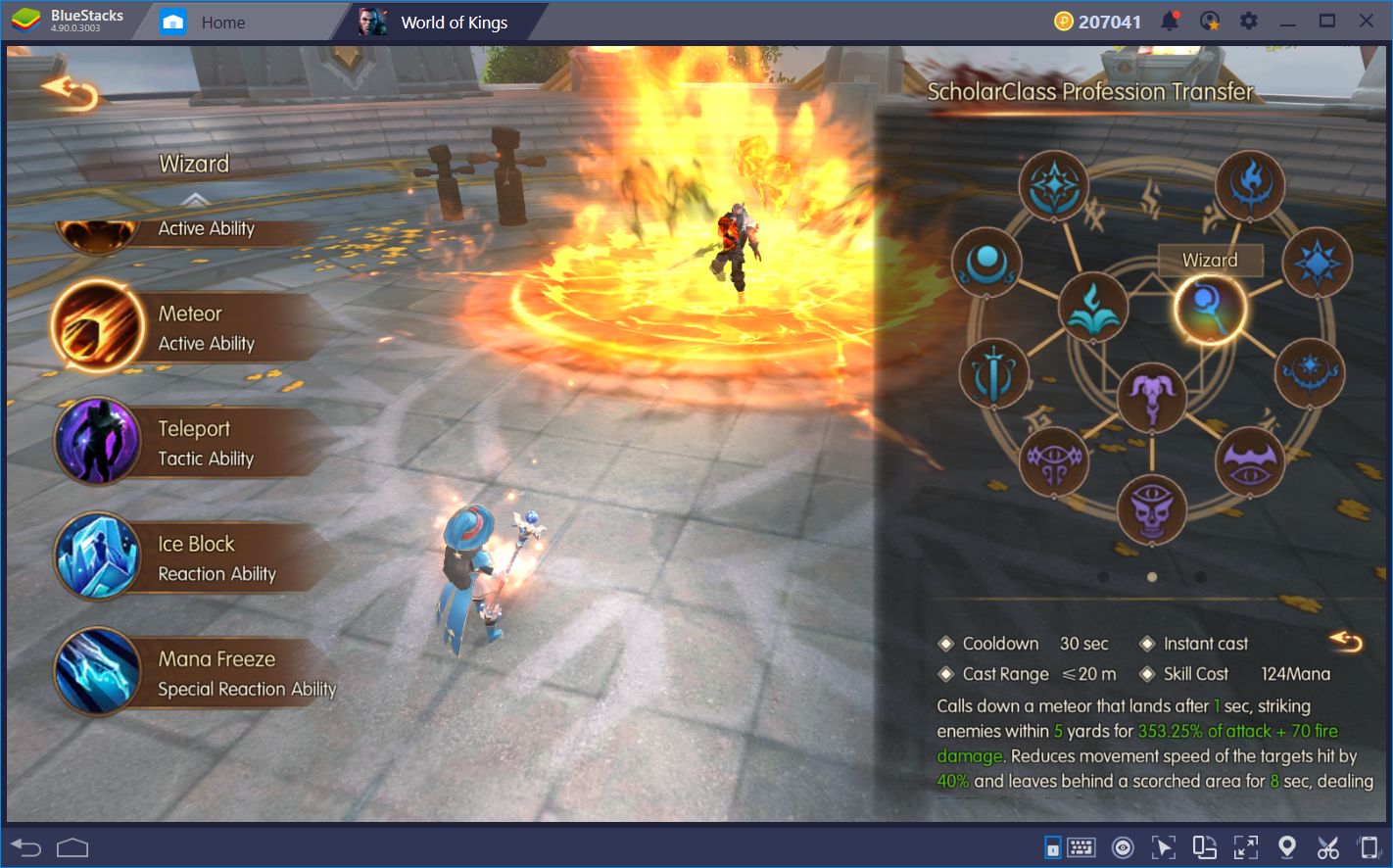 The best part of the class selection is that you can actually preview what each class can do. By clicking on the "preview" on the right side of the class menu, you can enter another screen where you can try out some of the different skills in each class. This will give you an idea of what it can do, as well as what its role in combat will be. If anything, if you're new to the genre, it will allow you to see which class looks the coolest and help you make a decision based on that alone.
We can't stress enough the productions value that went into creating this awesome game. And the best part of all is that it's actually free! We haven't actually viewed the extent of the inevitable microtransactions that this game will surely have, but that's only because we're too busy admiring all of its other aspects. We're certain that, if you're a fan of high-quality MMORPGs, then you'll love World of Kings. Click on the button below and see for yourself!