BlueStacks Exclusives
BlueStacks Version 5.8 Brings the 'MOBA Cursor' Feature for Mobile Legends and Other Games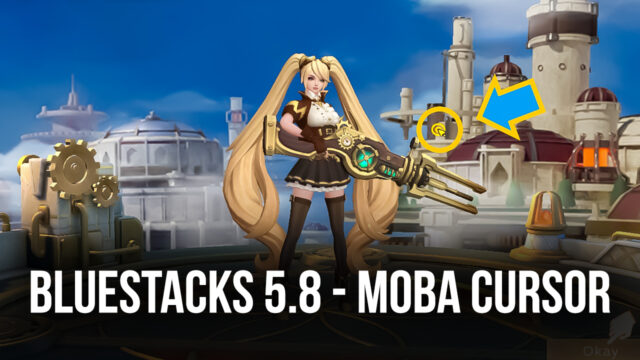 We've all been there: you're wandering around the jungle in Mobile Legends, just farming the neutral creeps for some extra gold, when all of a sudden all hell breaks loose. The people at bot lane started a teamfight, got ganked by the enemy jungler, and then both mid heroes ran down to join the fray. Luckily, you're very close by so you decide to plan your own counter-ambush, only to lose sight of your mouse cursor as soon as you jump into combat, costing you the teamfight, and probably earning you your teammates' collective ire.
Anyone that plays MOBAs seriously and says this hasn't happened to them at least once is a stone-faced liar. And really, whenever this happens, we really can't blame you: Games lArena of Valor, Honor of Kings, Mobile Legends today are looking better than ever, with teamfights quickly becoming a series of light shows and particle effects, especially later into the matches when players have unlocked all their skills. Nevertheless, even though this problem might be somewhat common, it doesn't make it any less frustrating, especially if it happens to you.
In light of these circumstances, we've come up with a brand new feature designed specifically to help you keep track of your mouse cursor in MOBA games, called the MOBA Cursor. This is one of the innovative features that was recently released on our Android App player as of version 5.8.
The MOBA Cursor And How it Can Help You
As we mentioned just now, the MOBA Cursor is a feature that highlights your cursor so you have an easier time spotting it in the middle of teamfights when the chaos and visual effects are at their peak. Whenever you press the corresponding button, a bright yellow target icon will appear around your cursor, which will make it much easier to fight and aim abilities, even when you're surrounded by effects, projectiles, and other players.
Furthermore, depending on the control scheme that you use for your MOBA games, this special cursor is designed to be activated while you're moving around so you can always keep it in sight without even having to think about it.
How to Use the MOBA Cursor
Using the MOBA Cursor is as easy as right clicking, literally. By clicking your right mouse button, your cursor will get highlighted, and will stay that way for as long as you hold it down. In this sense, if you're using the MOBA control scheme when playing these games, the cursor would stay highlighted whenever you're moving around by right clicking.
As we said, the feature is designed to be active without even thinking about it. This design choice is apparent even in the fact that the MOBA Cursor is activated automatically whenever you launch a compatible game, without the need for toggling it or activating it in the settings, which also means that you can't turn it off at the moment, should you want to. Nevertheless, this feature is designed to not be overly intrusive in any case. Moreover, it's worth mentioning that the MOBA Cursor is only available on BlueStacks version 5.8 and onwards, and only for Mobile Legends, though we expect to start rolling out this feature for other games in the future.
What do you think of the new MOBA Cursor feature for BlueStacks 5.8? Leave your thoughts and feedback in the comments below!