BlueStacks Exclusives
BlueStacks Version 4.200 – Play Both 64-bit and 32-bit Android Games Within the Same Client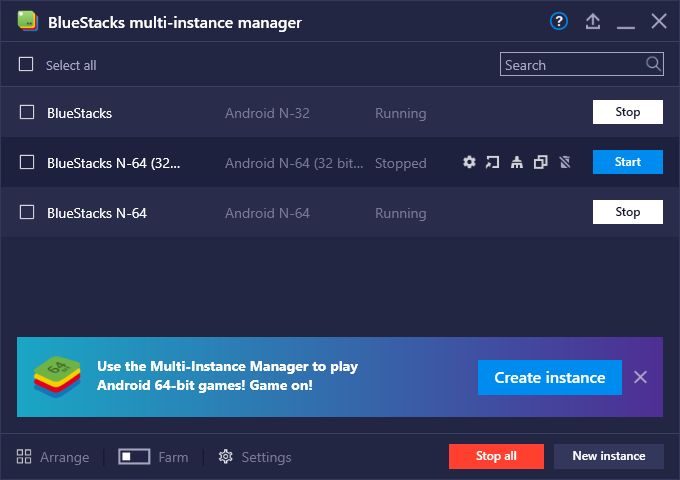 A good chunk of the library of mobile games consists of apps that you can install on basically any phone—or on any version of BlueStacks, for that matter. You really don't need to pay much attention to it as, if you search and find the app in our App Center, installing it is just a few clicks away. However, there are times when a new game comes out, and even though we say it's compatible with BlueStacks, you won't find it listed in the App Center, or if you do, it'll say that it's not compatible with your device. This is the case when you want to install a 64-bit game on a 32-bit version of BlueStacks.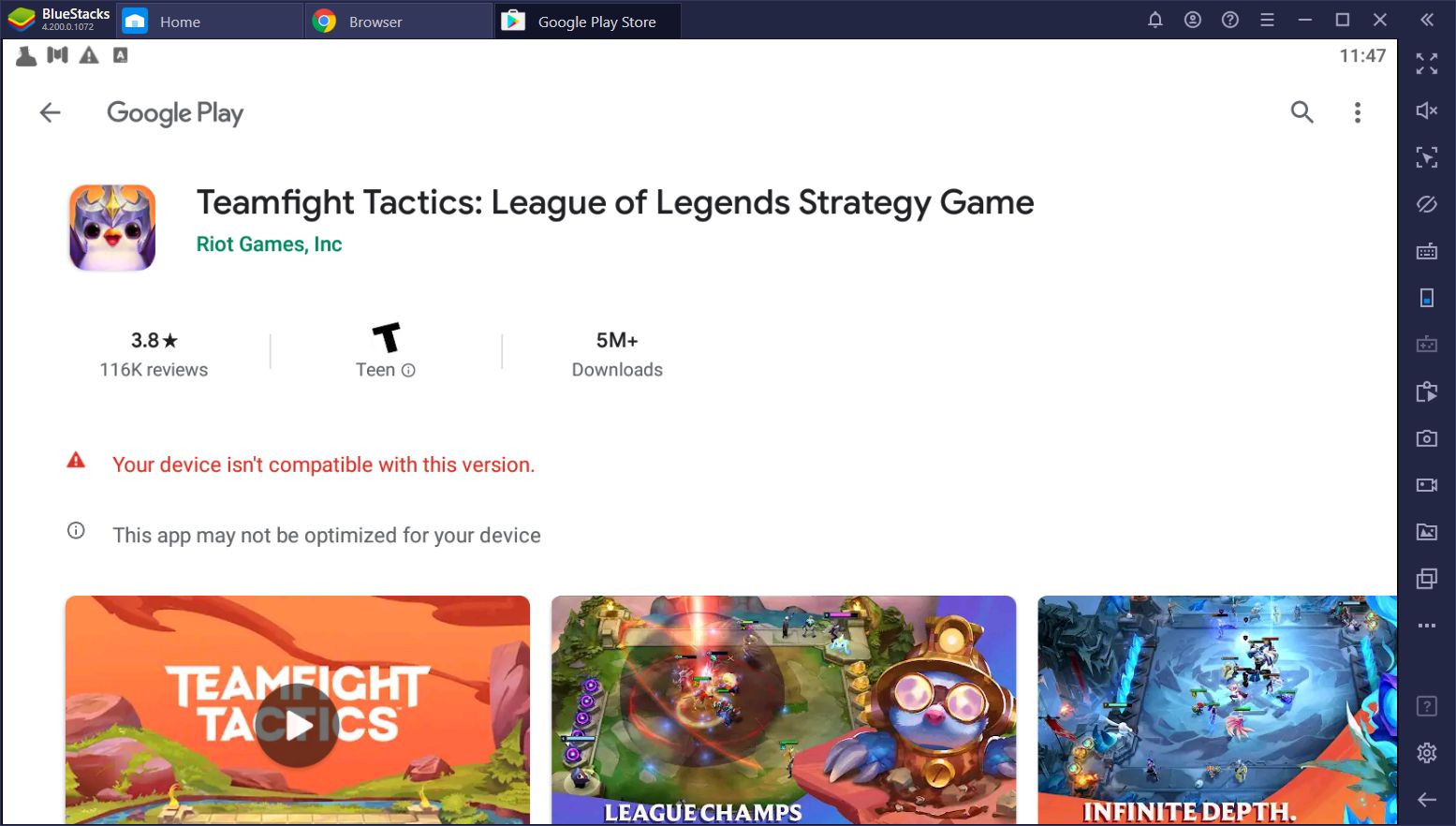 Games like Black Desert Mobile, Teamfight Tactics, Tera Hero, and Rangers of Oblivion, among others, run better on 64-bit Android systems, with some of them running exclusively on these and remaining incompatible with their 32-bit counterparts. Because of this, we had a special 64-bit client available exclusively for players who wanted to enjoy these types of games. However, this meant having two BlueStacks installations, which is fine for the most part but could get a bit confusing down the line, not to mention that two clients take up considerably much more space in your drive than just one.
However, with the newest BlueStacks version 4.200.0.1072, the Instance Manager received an overhaul aimed to correct this issue, and allow you to enjoy not just either 32-bit or 64-bit apps, but both within a single client.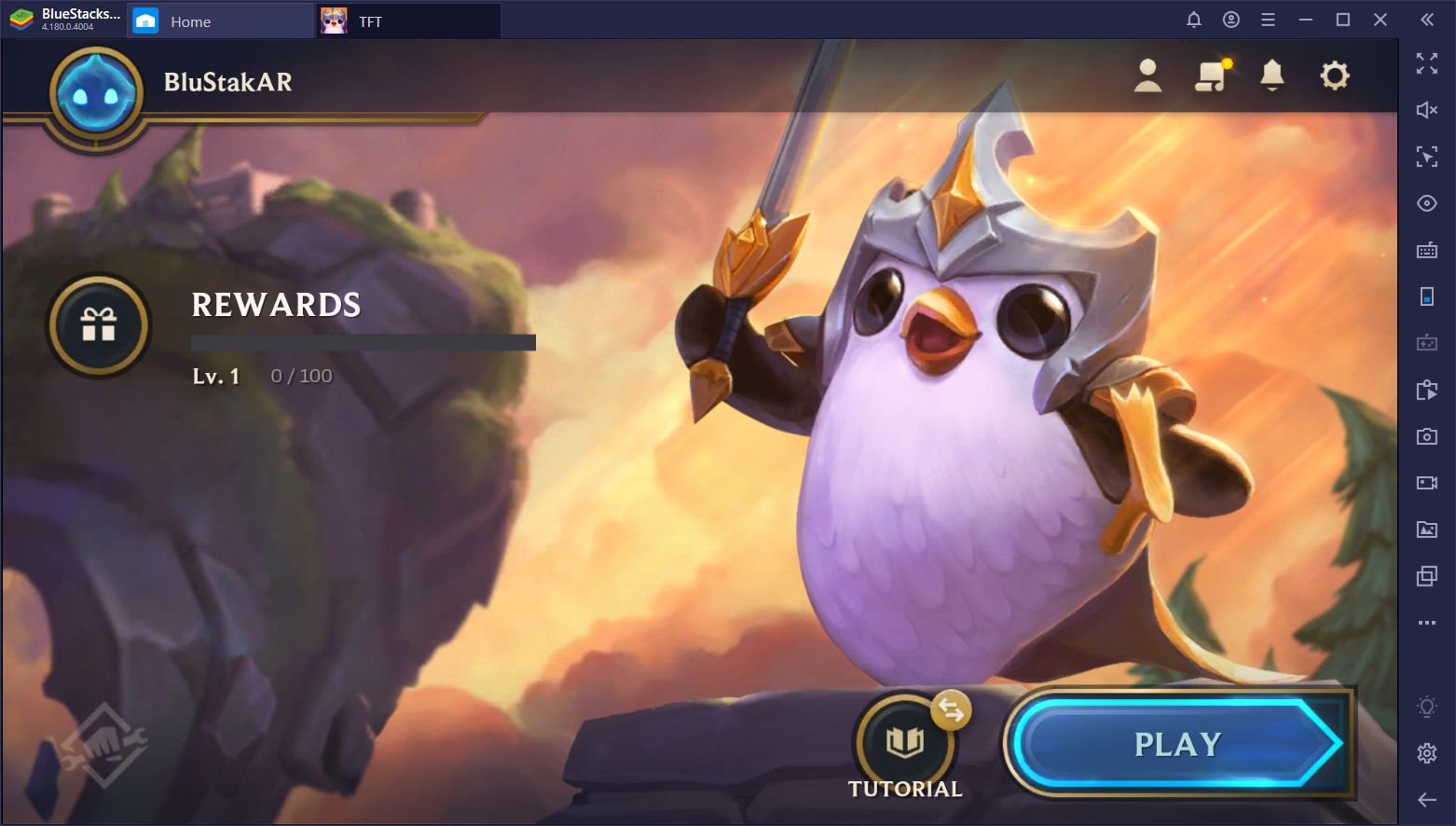 The New and Improved BlueStacks Instance Manager
In the past, we've written in great detail about how the Instance Manager can help to improve your performance with just about any mobile game that requires constant farming. The ability to have multiple instances and access the same title with each of them permits feats of automation and farming that wouldn't be possible on a normal configuration, or when playing on your phone, for example.
Imagine playing Rise of Kingdoms or any other conquest and strategy game in the same vein, and being able to coordinate attacks on multiple fronts, from the comfort of your computer, and without having to rely on other players. Or imagine creating parties in Black Desert Mobile with your multiple characters and having them challenge dungeons without having to wait for the matchmaking system to find other players. All of this and much more is not only possible with the BlueStacks Instance Manager, but it's also easily attainable.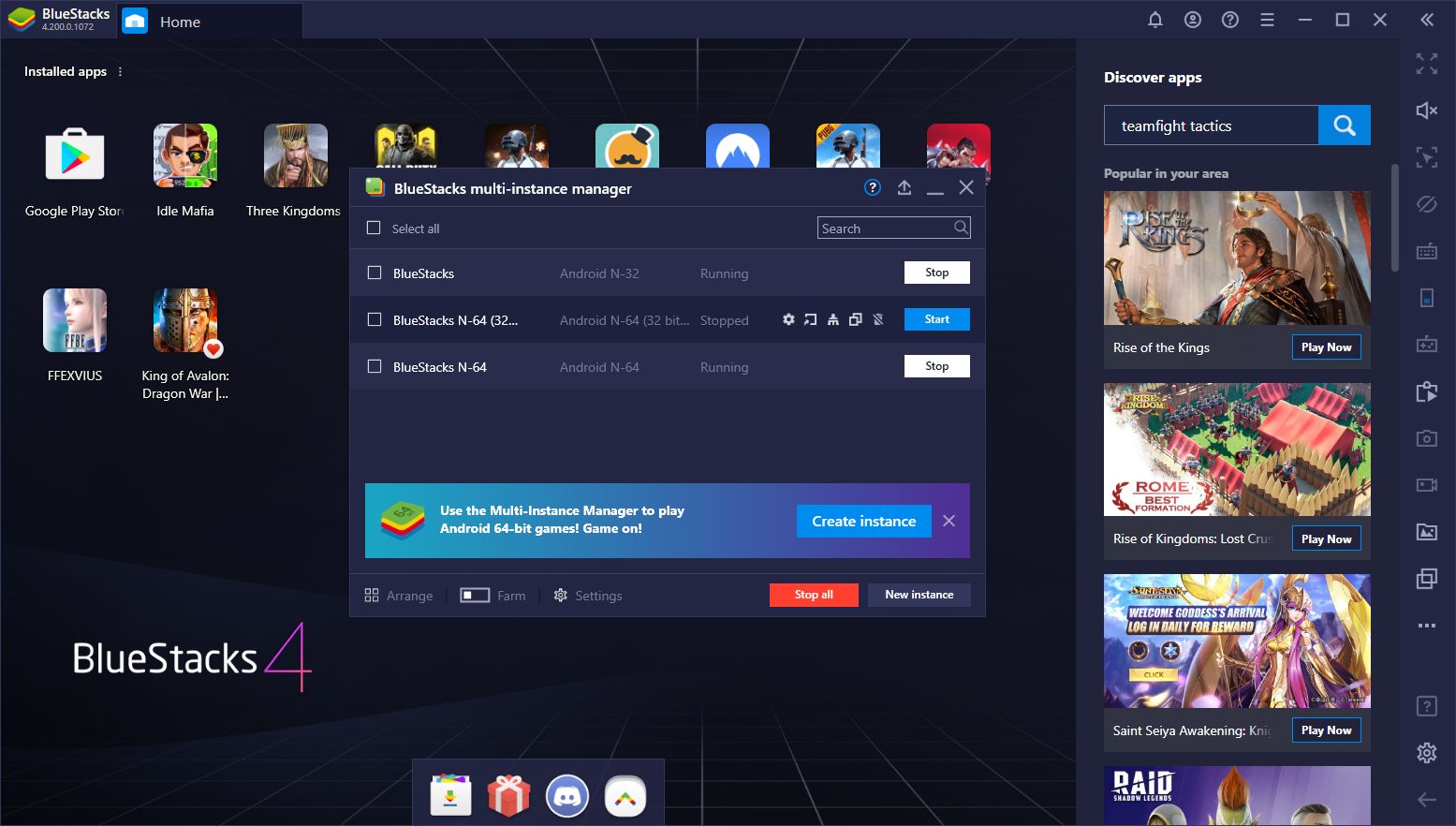 However, the new and improved version of the Instance Manager lets you not only create multiple instances of the same game, as usual, but also to enjoy both 64-bit and 32-bit apps within the same client, without having to install separate versions of BlueStacks, which is amazing for both improving your overall experience with the emulator, as well as for saving space in your hard drive.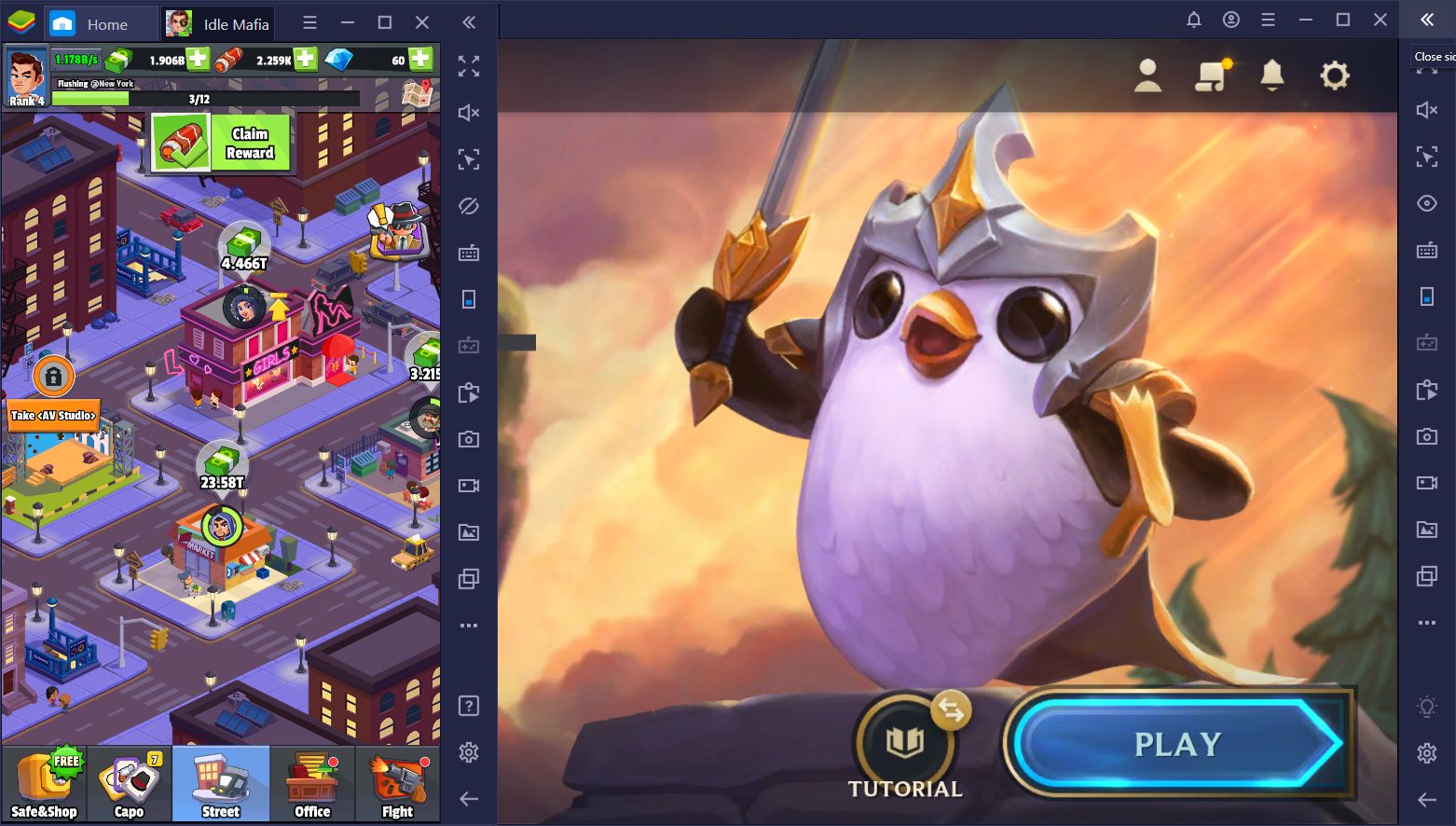 Take a look at the image above where we're comfortably farming away in Idle Mafia, while getting ready to start a match in Teamfight Tactics. The former is a regular 32-bit app, while the latter is a game that runs only on 64-bit Android systems, and we're playing them both on just one BlueStacks installation, which is amazing and convenient.
Let's take a closer look at how this process works.
Using the Improved BlueStacks Instance Manager
If you've already used the Instance Manager before, the process will be similar, except for one additional dropdown menu that we recently added, which allows you to choose the OS of the instance you're trying to create.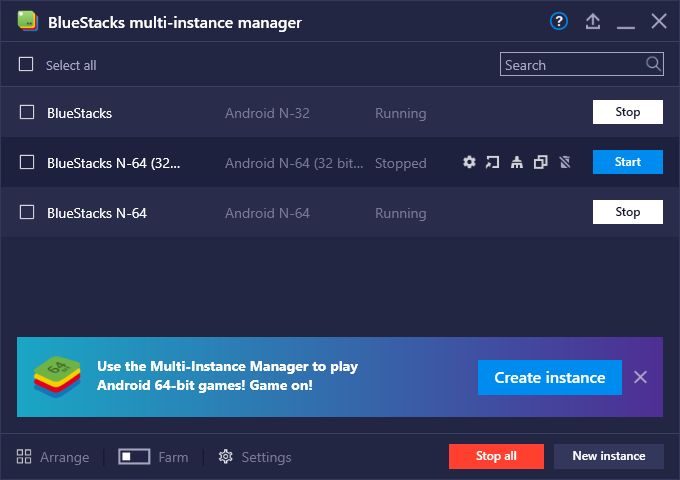 For those who haven't tried out this feature yet, you can access it by clicking on the corresponding button in the rightmost panel of your BlueStacks client, or by pressing Ctrl + Shift + 8. Once in the Instance Manager, you can create, run, terminate, and otherwise manage your instances with just a few clicks.
In order to create a new instance that runs on a specific architecture, either 32-bit or 64-bit, you must first click on "New Instance", and then on "Fresh Instance." In this new menu, you will have to choose the OS architecture of the instance you're trying to create, including either Android N-32, Android N-64, or Android N-64 (32-bit apps).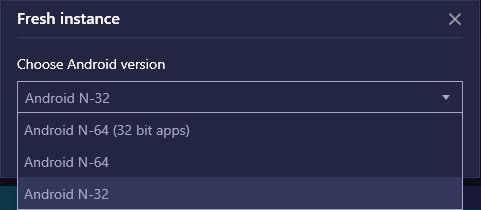 The terminology here is quite self-explanatory, with the first being dedicated exclusively to running 32-bit apps and the second exclusive for 64-bit apps. The third is a version best used when facing compatibility issues in any of the other two, though you won't need it for the most part.
Once created, you can proceed to set up your new instance as you would a fresh installation of BlueStacks, including linking your Google account, configuring the engine settings, and then proceeding to install any game of your choosing.
With the new BlueStacks Instance Manager, you have access to all the mobile games in our App Center, without the hassle of installing multiple versions of our emulator. From Seven Deadly Sins and Garena Free Fire, to Teamfight Tactics and Rangers of Oblivion; all of these are now playable within the same version of BlueStacks. However, remember that in order to enjoy the newest and most powerful features that our client has to offer, you must update to the latest version, which you can download through our website.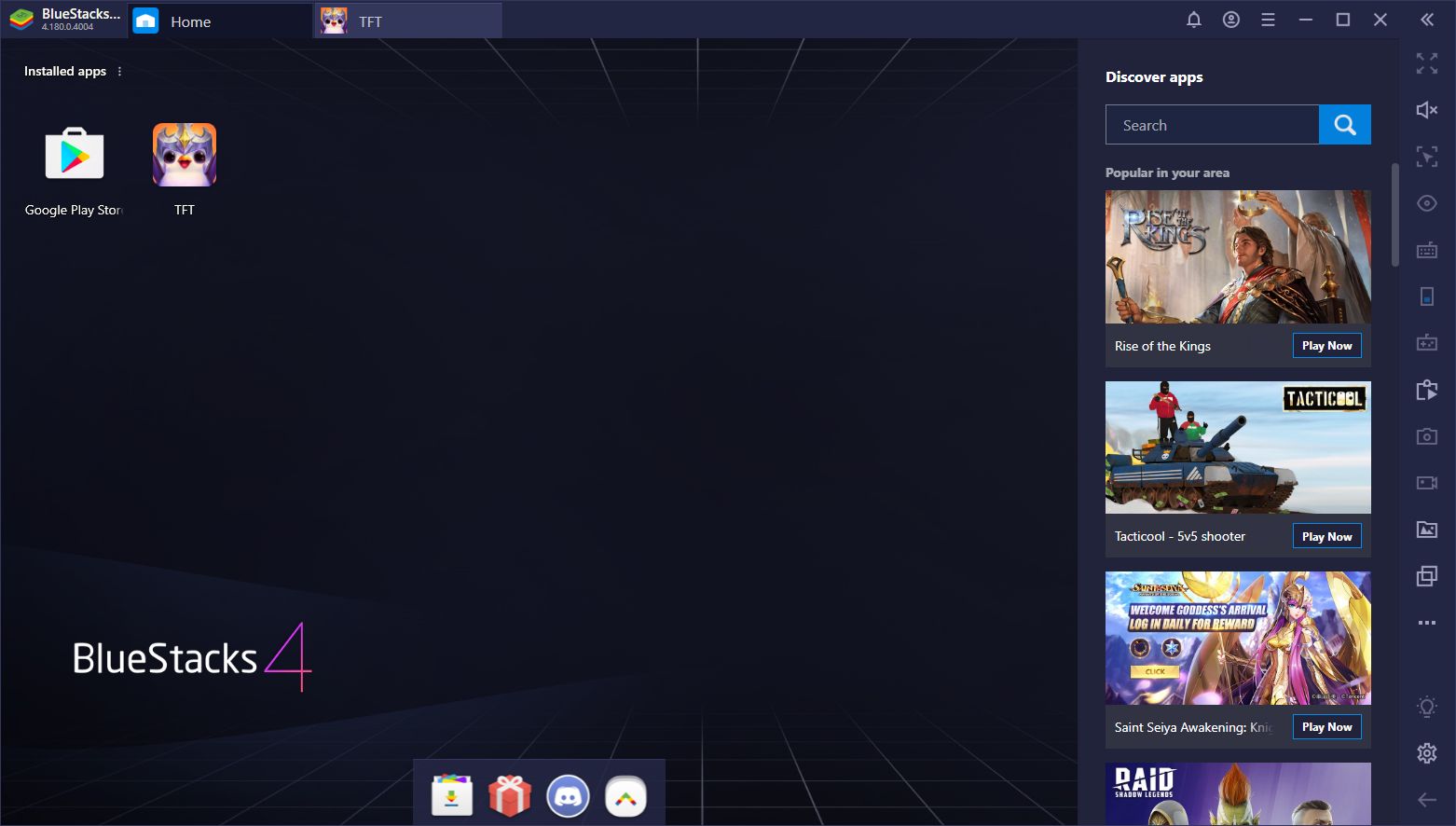 What are you waiting for? Download our emulator and give the new Instance Manager a try!