BlueStacks Roundups
Best Easter Events 2022 in Android games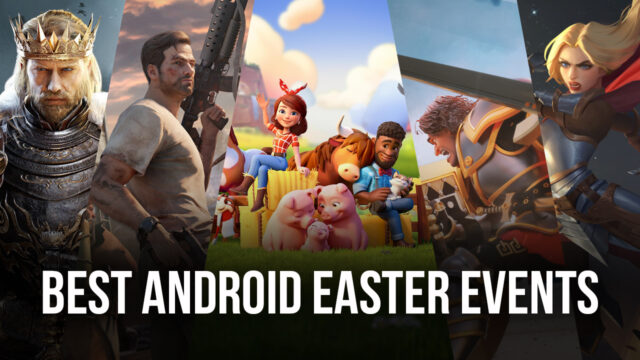 Easter events have been very interesting and amusing for everyone; to find clues, hidden messages, or spoilers and even game developers have adopted the same trend to introduce new upcoming features or give away free items to their huge user base. Each year, different game developers introduce varied easter content relevant to their games. This year is no different, and we have gathered some of the best Easter events in Android games that you can take part in.
Top 5 Easter Events
1. State of Survival
The first game on our list is the State of Survival. The zombie-based strategy game has a list of tasks that have been assigned to the players and completing those will result in rewards such as the Gacha Bunny (Premium) HQ Skin, Gacha Bunny (Classic) HQ Skin, and more. The event is called the Easter Emergency and is already underway. The Easter Emergency event has its own sub-events in which players have to collect their Easter eggs while protecting their settlements in the Paint The Eggs, Luminous Blessings and More is Better Events. You can also play State of Survival on PC.
2. Farmville 3: Animals
Second on the list is Farmville 3: Animals, which is a super fun game, where you need to take care of your own farm and cattle. As you progress through the game you unlock more in-game features and items to make your farm more productive and efficient. Farmville has been one of the top android games since its release. To celebrate Easter, Farmville is allowing players to transform the farm's favorite baker into Katie Bunny. Players can also unlock different trophies throughout the easter egg hunting event. Enjoy Farmville 3: Animals on PC with BlueStacks.
3. Rise of Kingdoms
Rise of Kingdoms is a strategy-based civilization game, where players need to develop their own kingdom and protect it against the enemy kingdoms. The game allows the players to set the layout of their kingdom along with a plan and execute how they want to defend or attack against the enemies. To celebrate Easter, Rise of Kingdoms is giving away free rewards by logging in to the game after the new 1.0.56 "Easter Eggcitement" update. Not only this, but there are also new events namely Bunny Bonanza, Scavenger Hunt, Ceroli Assault, and more events to celebrate the same. You should enjoy yourself while playing Rise of Kingdoms on PC with your buddies and with your audience.
4. Call of Antia: Match 3 RPG
Call of Antia is an RPG game based on a classic three-match puzzle. In order to complete the puzzle, you need to require to fight against heroes and dragons. Like the other games mentioned in the list, Call of Antia is also celebrating Easter with its player base by providing new in-game battle pass missions that will reward players with limited easter game rewards. Enjoy Call of Antia on your Computer.
5. King of Avalon
King of Avalon is another strategy-based game on our list that is celebrating Easter by introducing the new Bunny's Adventure daily quest, Rabbit Rampage, Community Events, and rewards. These events include hunting and painting Easter Eggs, watching videos including Easter eggs, and more. with your friends while playing King of Avalon on PC.