BlueStacks Roundups
5 Reasons To Continue Playing Call of Duty: Mobile On BlueStacks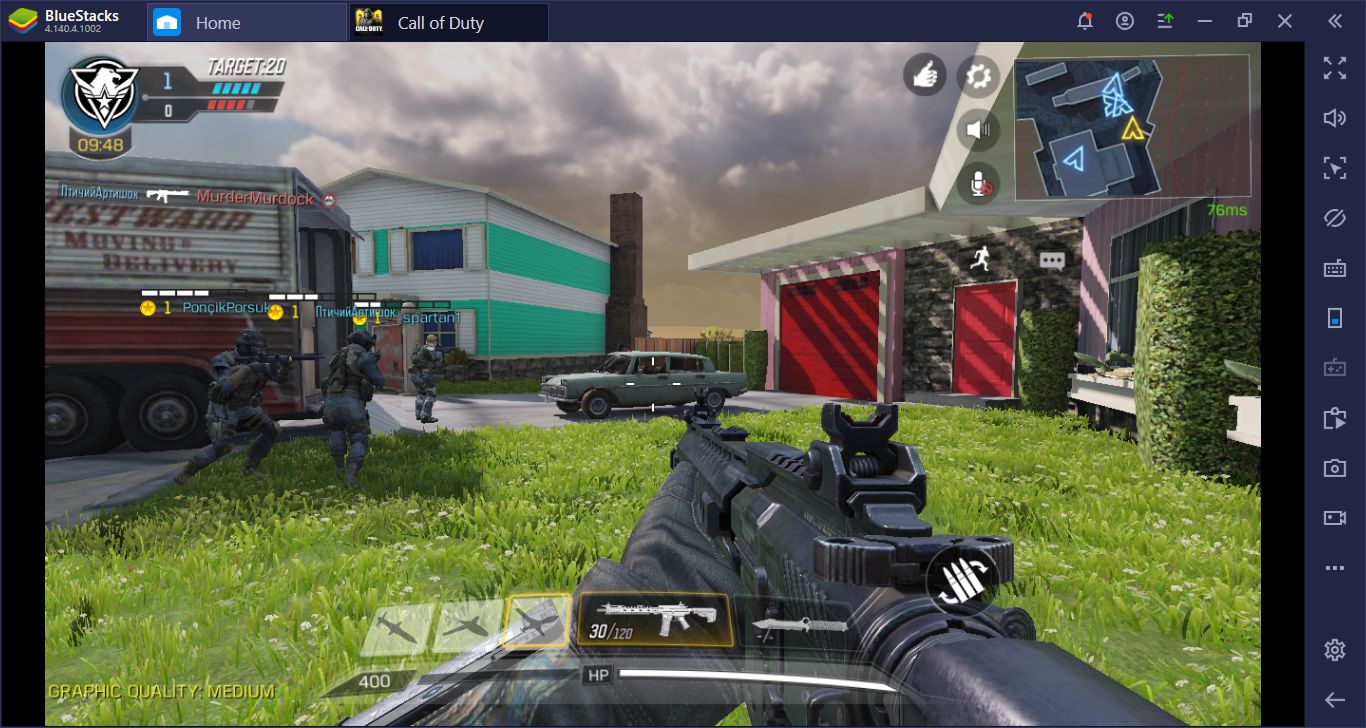 There are lots of FPS games on the Android platform that you can play on BlueStacks: Modern Combat 5, NOVA, Dead Effect 2, and even PUBG, if you activate the first-person mode. However, none of these games can compete with the king of all first person shooters, Call of Duty (COD). As you know, Tencent Games has successfully adapted COD to the Android platform and many of you are already playing it, trying to score more frags every day. And we are sure that you will continue to do so for a long while, because COD is really the best FPS game to play on Android at the moment. Do you wonder why? Well, we are confident that we can show you 5 reasons for this.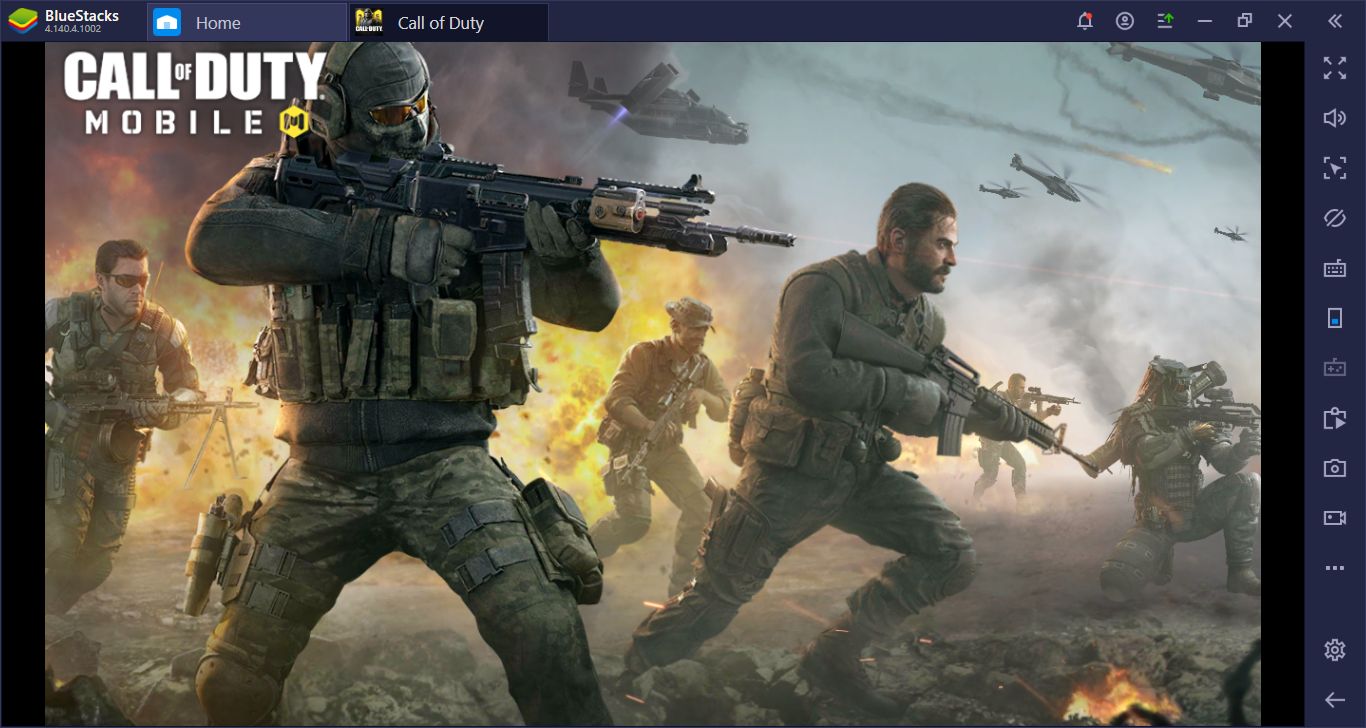 No Performance Problems At All
Let's be realistic: PUBG is an amazing game but it has lots of problems when it comes to performance. Stutters and fps drops are a big problem and even if you lower the graphics quality, most of these issues will still persist. There are lots of reasons for this and know that the PC version has the same problems. Call of Duty: Mobile, on the other hand, is literally perfect in terms of performance: It uses the same engine as PUBG but none of the "usual" issues are here. The game runs incredibly smooth even on netbooks – you won't experience a single fps drop, especially when BlueStacks is using the hardware power of your PC. Call of Duty: Mobile looks good and runs smooth, these are the most important things about FPS games.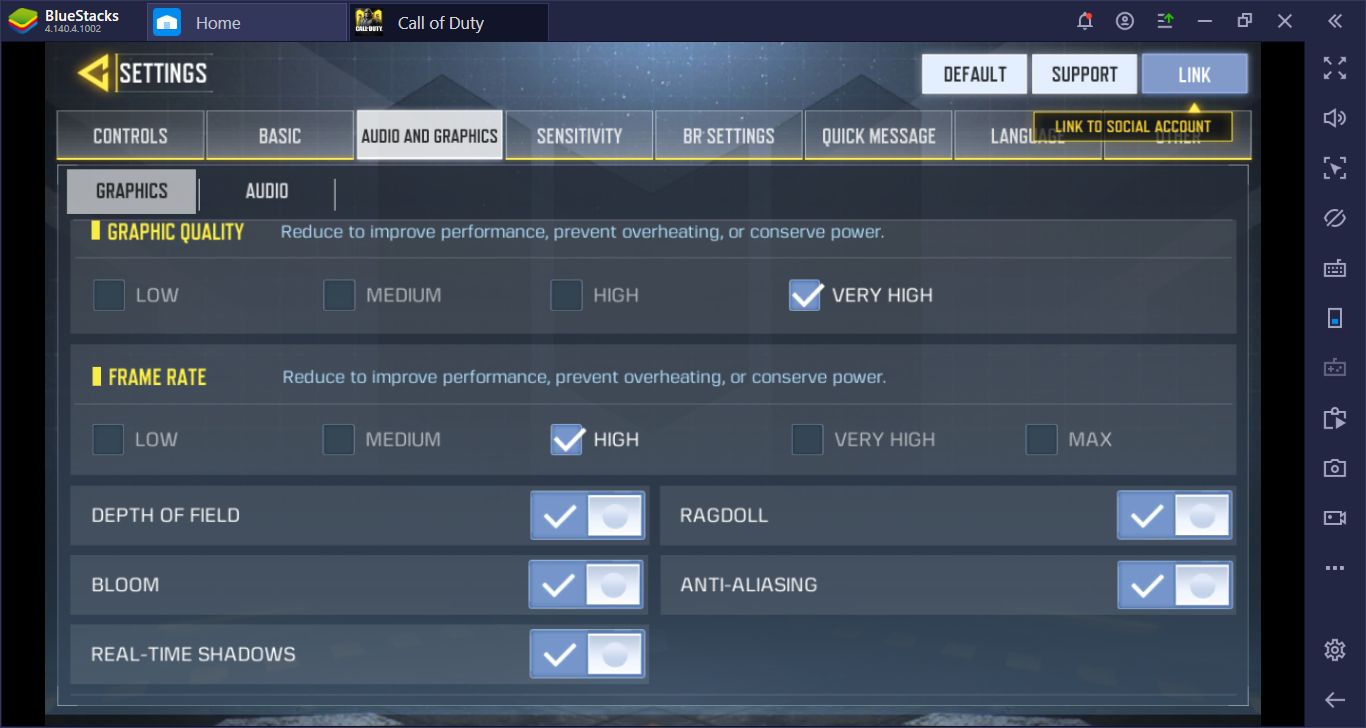 You can even activate ragdoll physics and real-time shadows: The performance will still be amazing.
All The Usual Maps Are Available
We are sure that many of you have played Call of Duty on PC before: That's why it is popular, after all. Well, you will enjoy playing it on BlueStacks too because there is no need to re-learn the maps: COD Mobile uses the same maps as the PC version. And we are talking about "legendary" maps here, including Nuketown. As far as we can see, nothing is stripped – sure, the overall map sizes are smaller but every element on these maps are available on mobile too. So, if you have found the perfect route before, you can continue to use it. Here is the full list of maps and their "origins", for easy reference.
| | |
| --- | --- |
| NAME | FIRST APPEARED IN |
| Crossfire | Call of Duty 4: Modern Warfare |
| Standoff | Call of Duty: Black Ops II |
| Crash | Call of Duty 4: Modern Warfare |
| Killhouse | Call of Duty 4: Modern Warfare (Tutorial) |
| Firing Range | Call of Duty: Black Ops |
| Nuketown | Call of Duty 4: Modern Warfare |
| Takedown | Call of Duty: Black Ops (DLC) |
| Battle Royale Map | Call of Duty: Black Ops IV |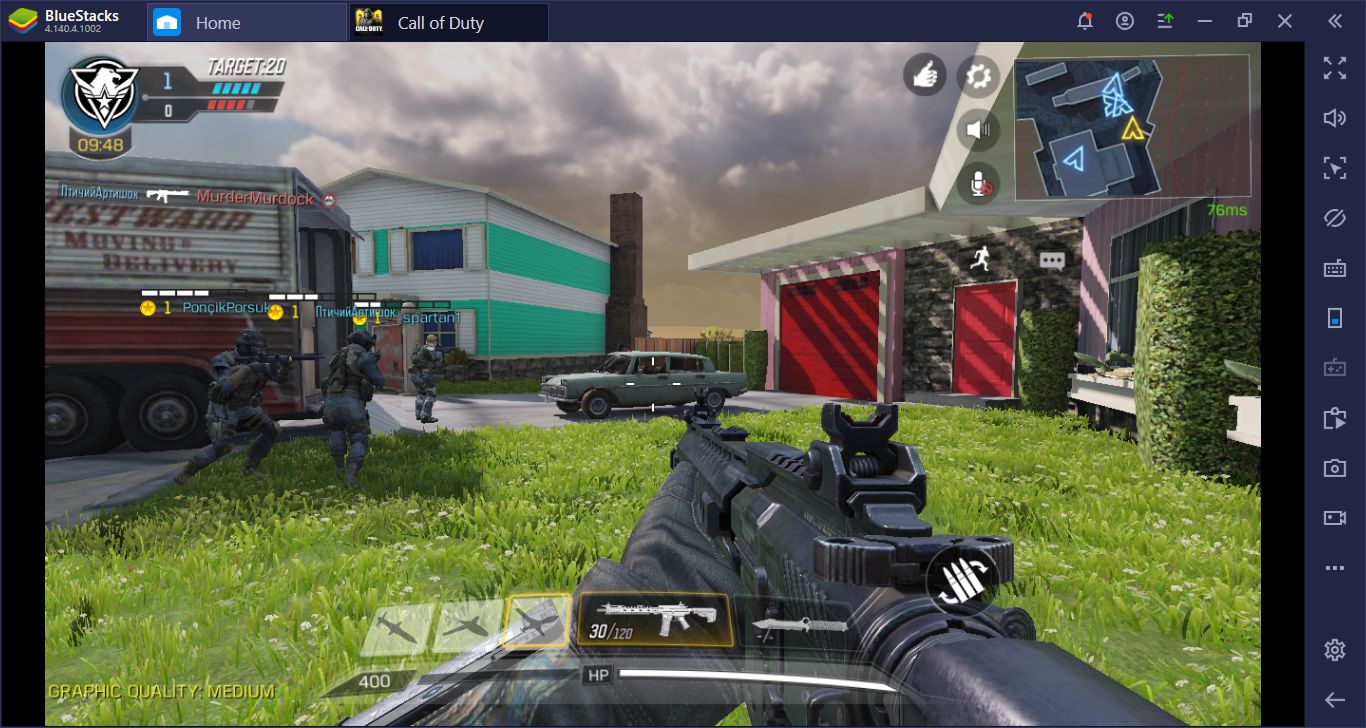 We missed you Nuketown. We really, really missed you.
Lots Of Different Layouts To Play With
Just like the PC version, you can customize your loadout however you want. Grab a sniper rifle and find a cozy spot for a merry ambush. Get an assault rifle and fight at the front ranks. Or grab a couple of SMGs and start running like crazy, while shooting any enemy you encounter. No matter what your game style is, there is a perfect loadout for you. Oh, and, this applies to "cosmetics" too: You can use different skins for weapons, items, and even vehicles. There are tons of things to collect and all you need to do is keep shooting to win them.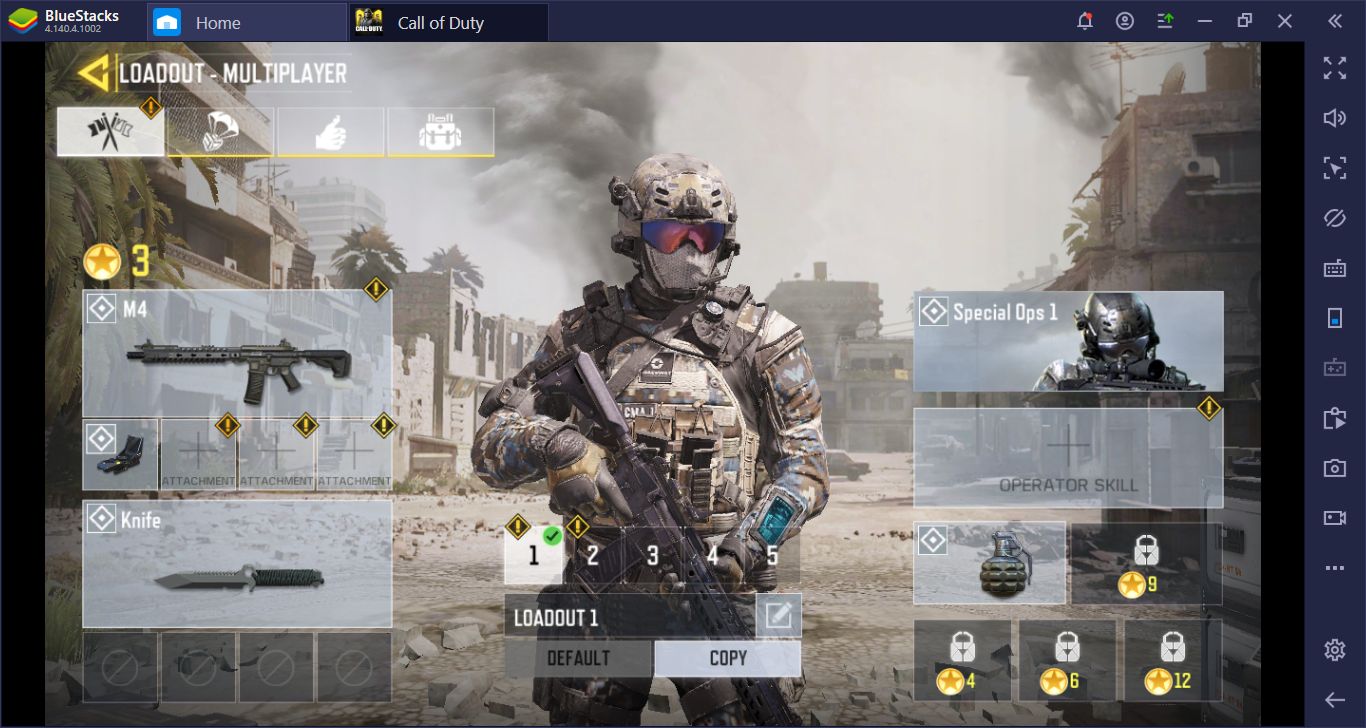 You can create 5 loadouts and switch between them anytime you want.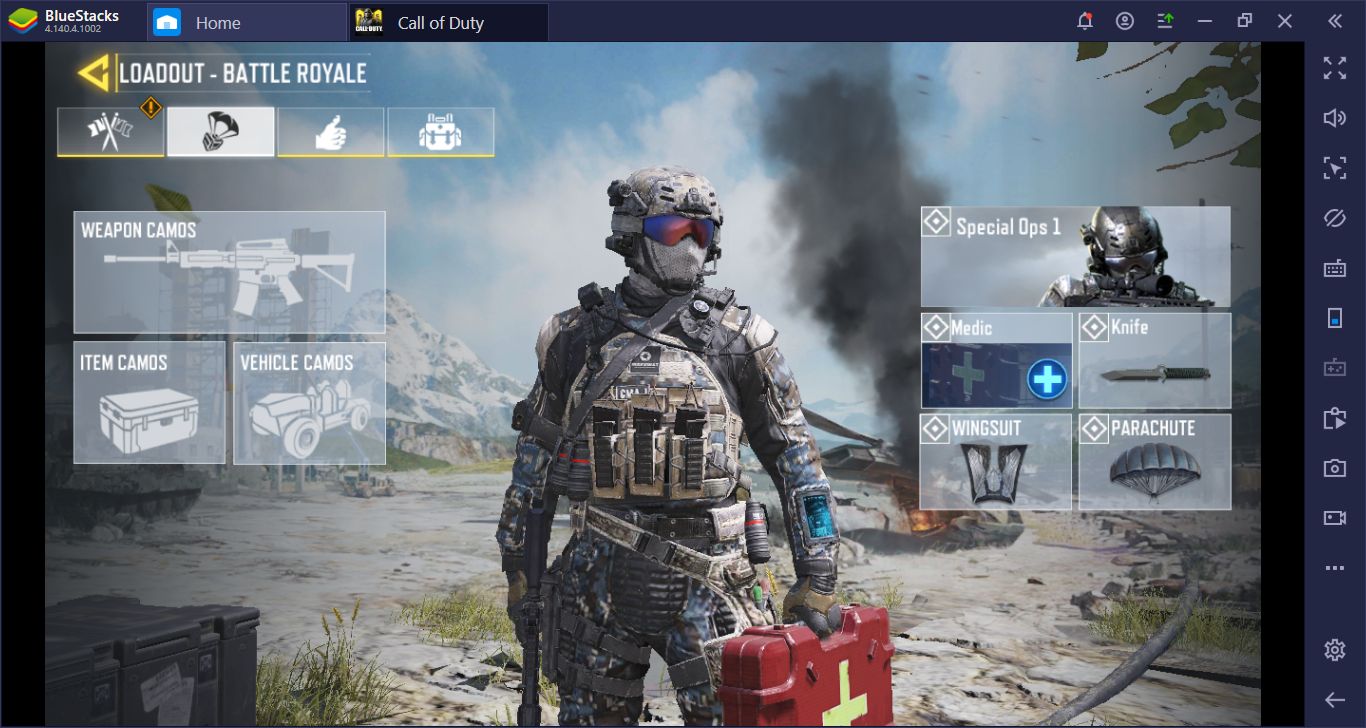 Collect different skins and create a truly unique avatar.
There Is A Battle Royale Mode Too
Just like its PC "cousin" Call of Duty: Black Ops IV, COD Mobile offers a battle royale mode too. So shooting other people in tiny maps is not enough for you, you can do the same in a very big map and try to be the last player standing. And it is a pretty good mode – maybe not as good as the good old PUBG, but it still offers a satisfying BR experience. So, you are actually getting two games with a single package: COD Mobile manages to scratch your battle royale itch too.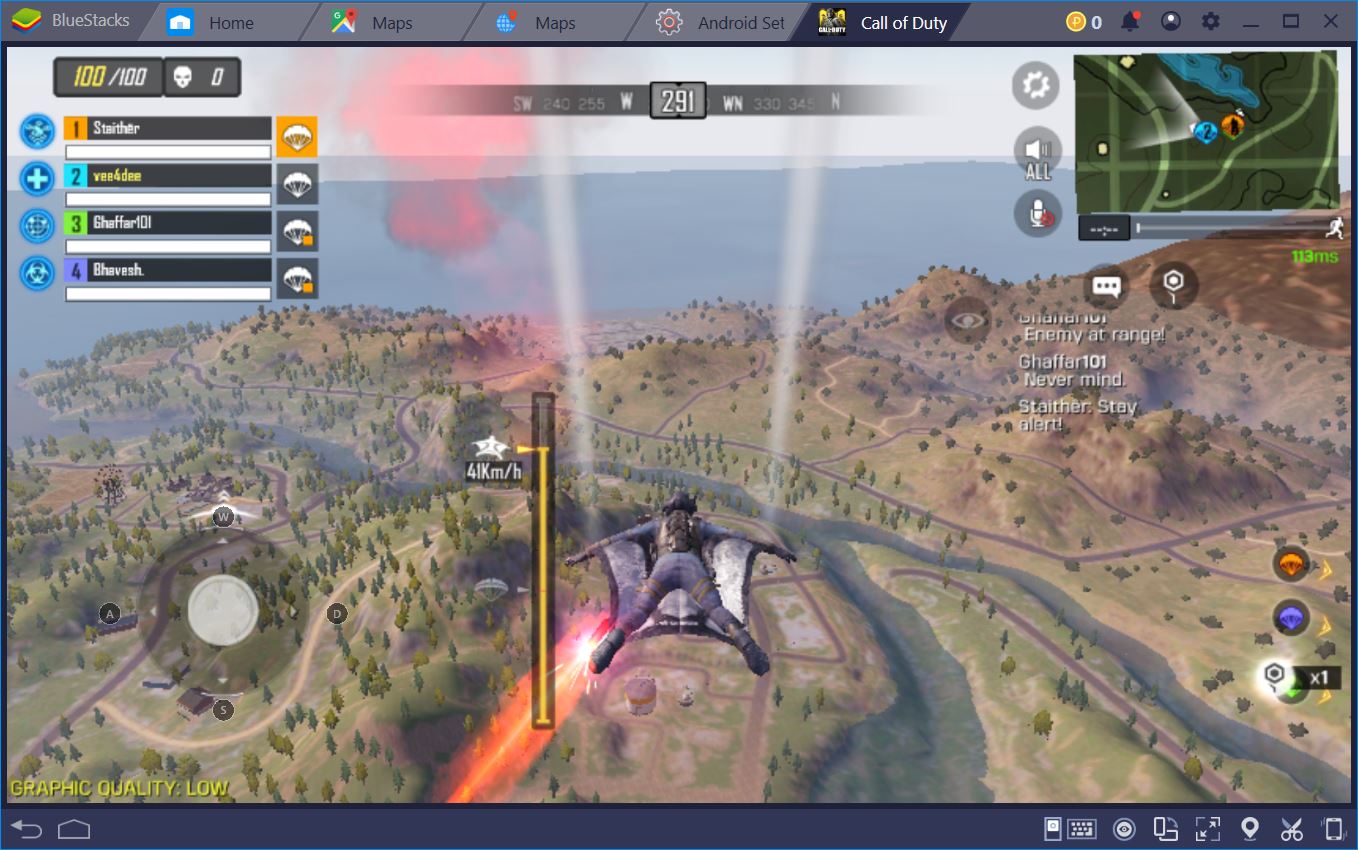 Who needs parachutes when you have a wingsuit?
Play It As You Played On PC
How did you play Call of Duty on PC? Which controls did you use? Let us guess: Pressing "M" opened the map, "Tab" key was for taking a look at the scoreboard, and you used the right mouse button to change the aim mode, right? And, of course, you used your mouse to look around and shoot. You used these buttons, which can be called a "control scheme", for a reason: They were the best way to play the game. Well, thanks to BlueStacks, you can play exactly the same on mobile too. All of the usual controls are supported from the get-go: Move with WASD, shoot with your mouse, and dance around your enemies like a pro. Oh, and, add UHD quality graphics to this list: COD Mobile looks literally amazing on BlueStacks. You don't need to "touch" the screen – just keep shooting like you always did.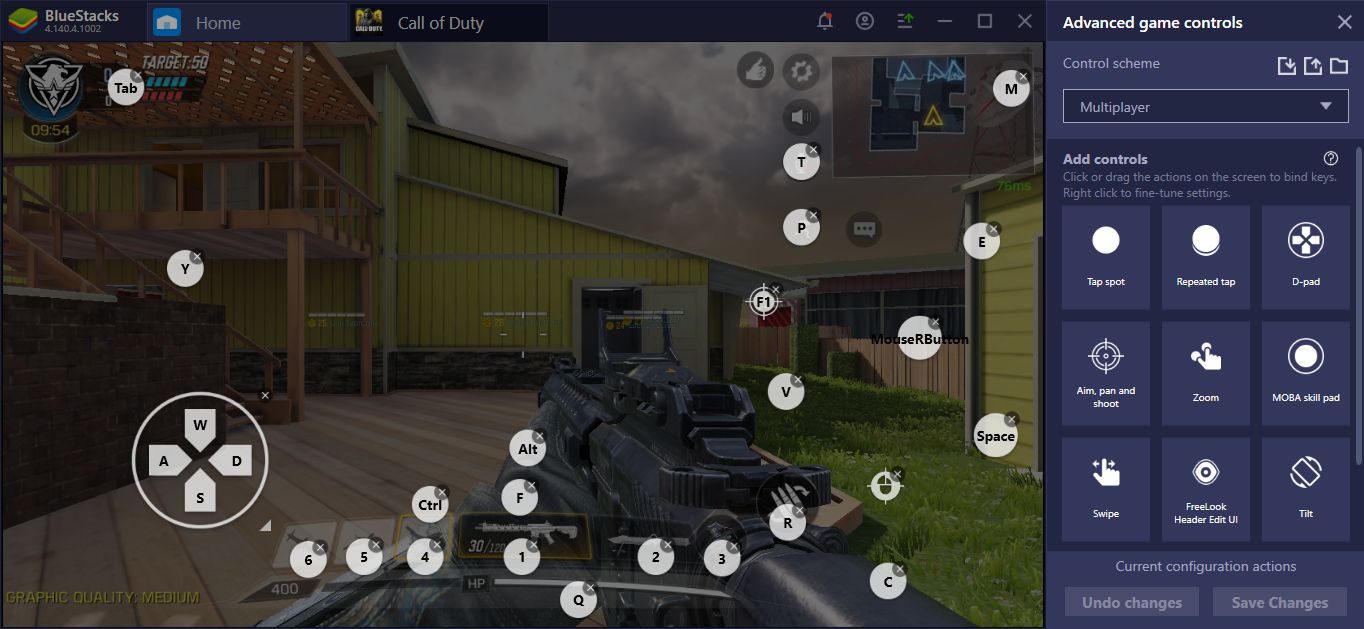 You can also create a personal control scheme – just drag tap spots on top of any action button.
And now, you can continue to take frags and dominate the maps – once again, we are sure that you will continue to do so for a long while. So, why don't you take a look at our Call of Duty: Mobile guides and learn tips & tricks to become a better player? We prepared lots of articles for this amazing game and we will be playing right next to you: Good luck to both of us!