BlueStacks Roundups
5 Reasons That Will Convince You To Start Playing Epic Seven on BlueStacks Again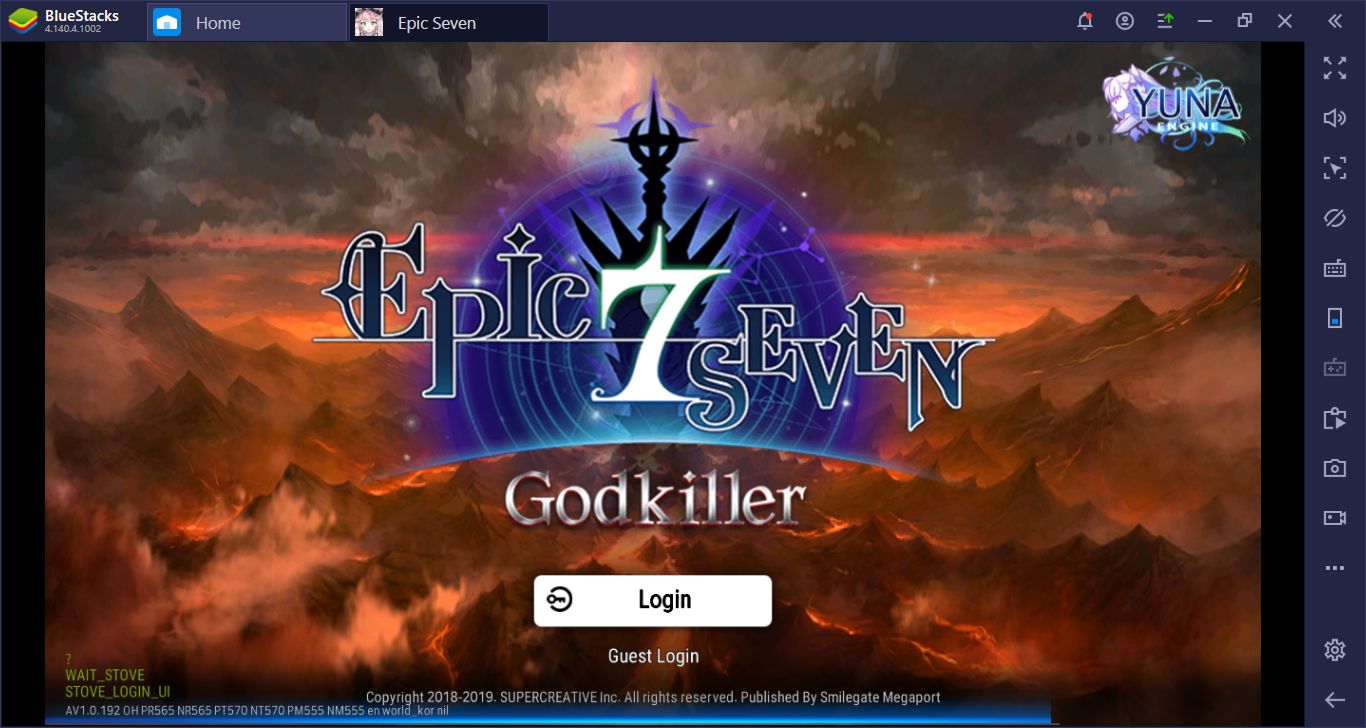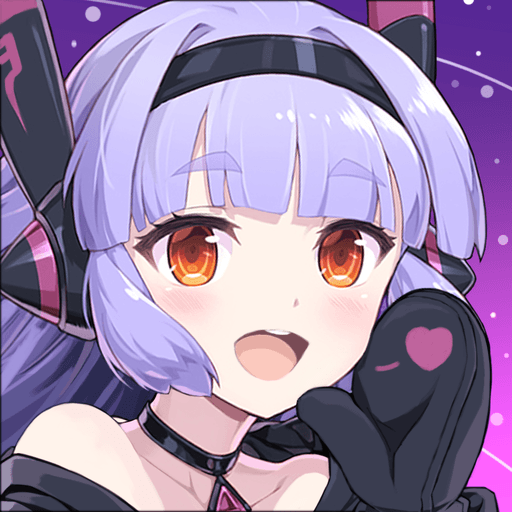 Epic Seven released almost a year ago but it is still one of the best RPG/gacha games around, despite having lots of competitors. But maybe you already moved on to other gacha games like Azur Lane and Fate: Grand Order, to try your chances in different universes and collect new shiny things. Well, we think that it is time to return back: Epic Seven still offers tons of things to explore and lots of unique features. However, if you don't want to take our word for it, that's ok – we can find you 5 reasons to come back.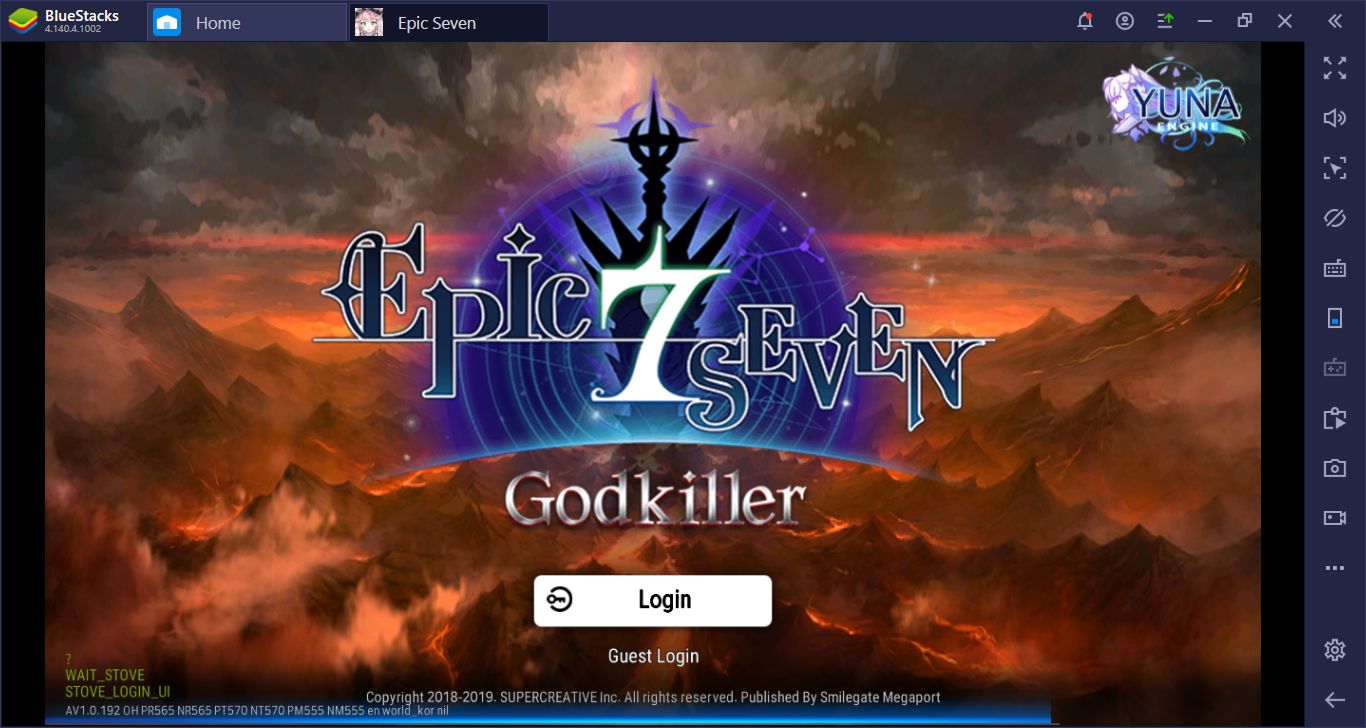 There Are No Loading Screens
Maybe you did not notice before, but Epic Seven has no loading screens. Well, ok, you still need to "load" the game to start playing, but that's it: The transition between different screens is flawless, you don't need to wait for the game to load something. Considering that the game has quite advanced graphics, this is surprising – even simple 2D games with lousy graphics have loading screens. But this is not the case with Epic Seven: The whole experience is uninterrupted.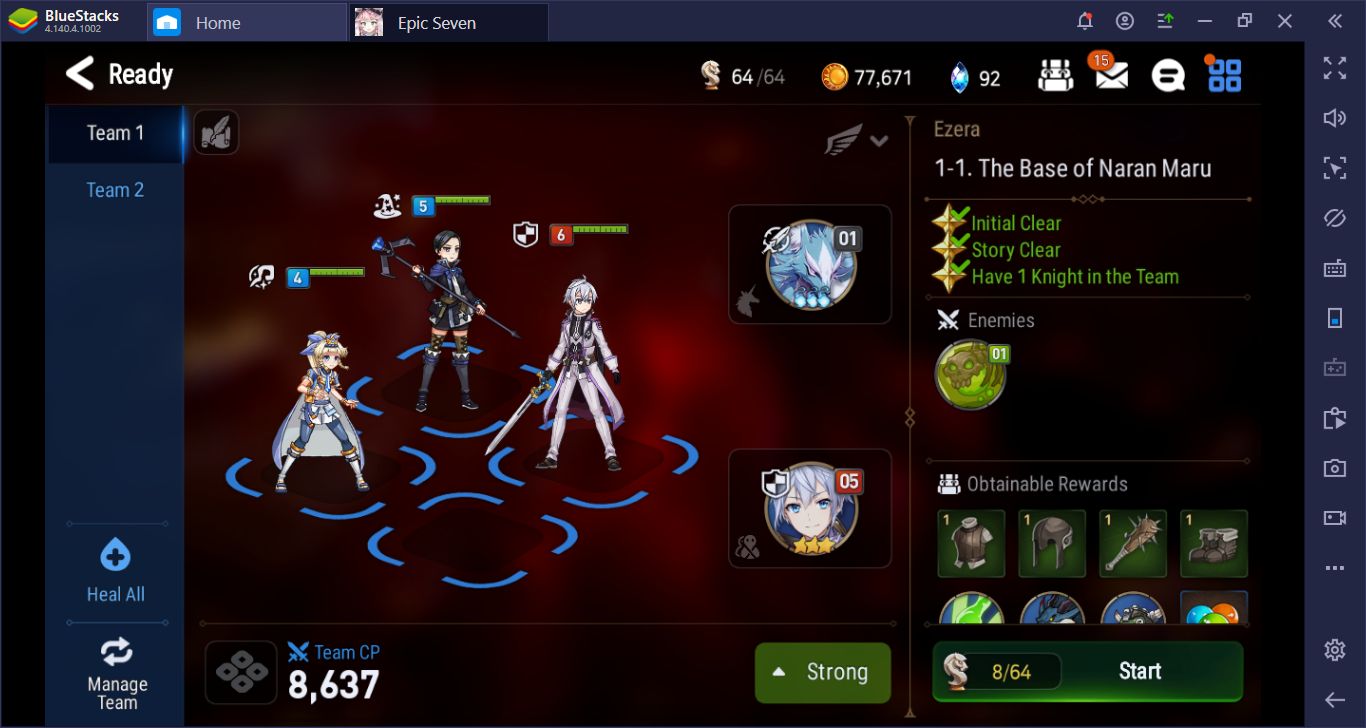 The transition from this screen…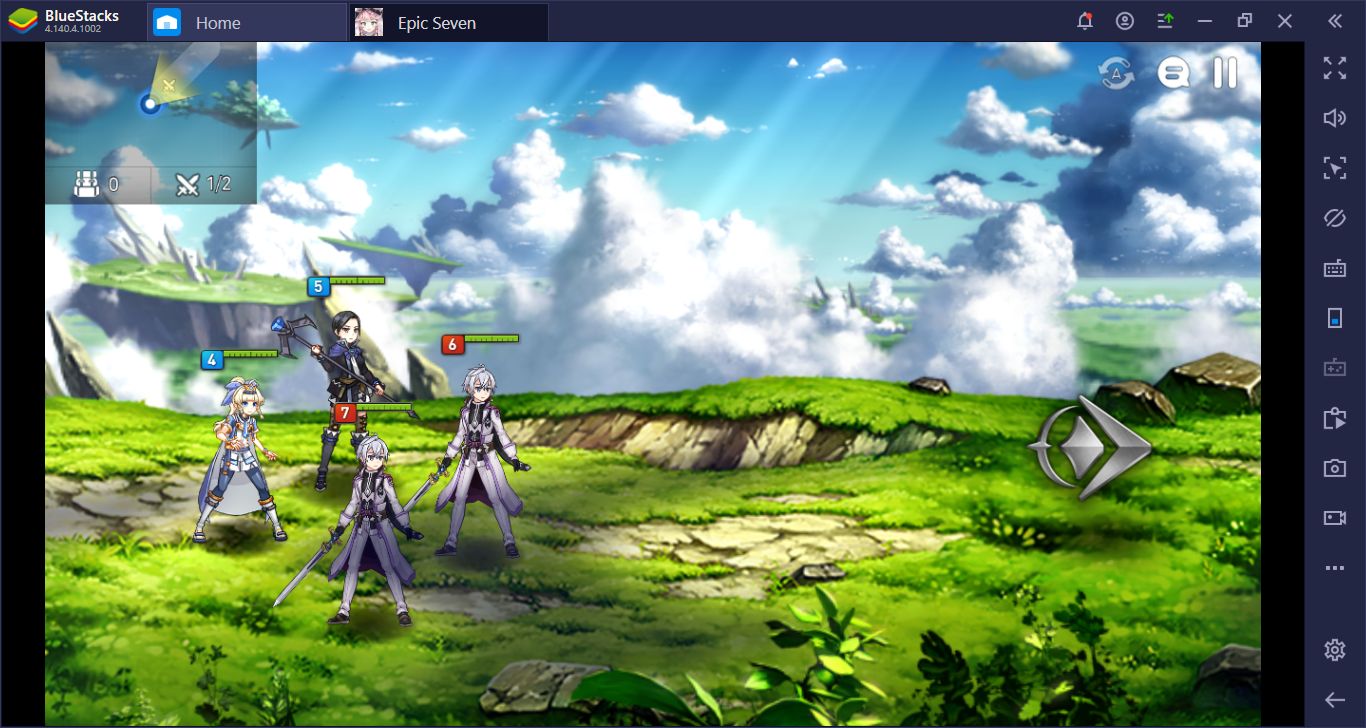 …to this screen is near-instant and flawless. No loading screens whatsoever.
The Story Is Really Interesting
The majority of RPG/gacha games use the standard "formula" when it comes to world-building: There is an ancient threat and you are the chosen one, now go get it tiger. The world-building of Epic Seven, on the other hand, is very impressive: You are just a single pawn in a celestial war that is going on for centuries. Yes, there is still an ancient evil but you already lost the battle 6 times before (this is why the game is called Epic Seven), and there is no guarantee that things will be different this time. You are not the "center of the world" and the story does not revolve entirely around you – things already have happened and you are just a guy trying to do his best. Honestly, the story reminds us the Wheel of Time series, it is that good and interesting.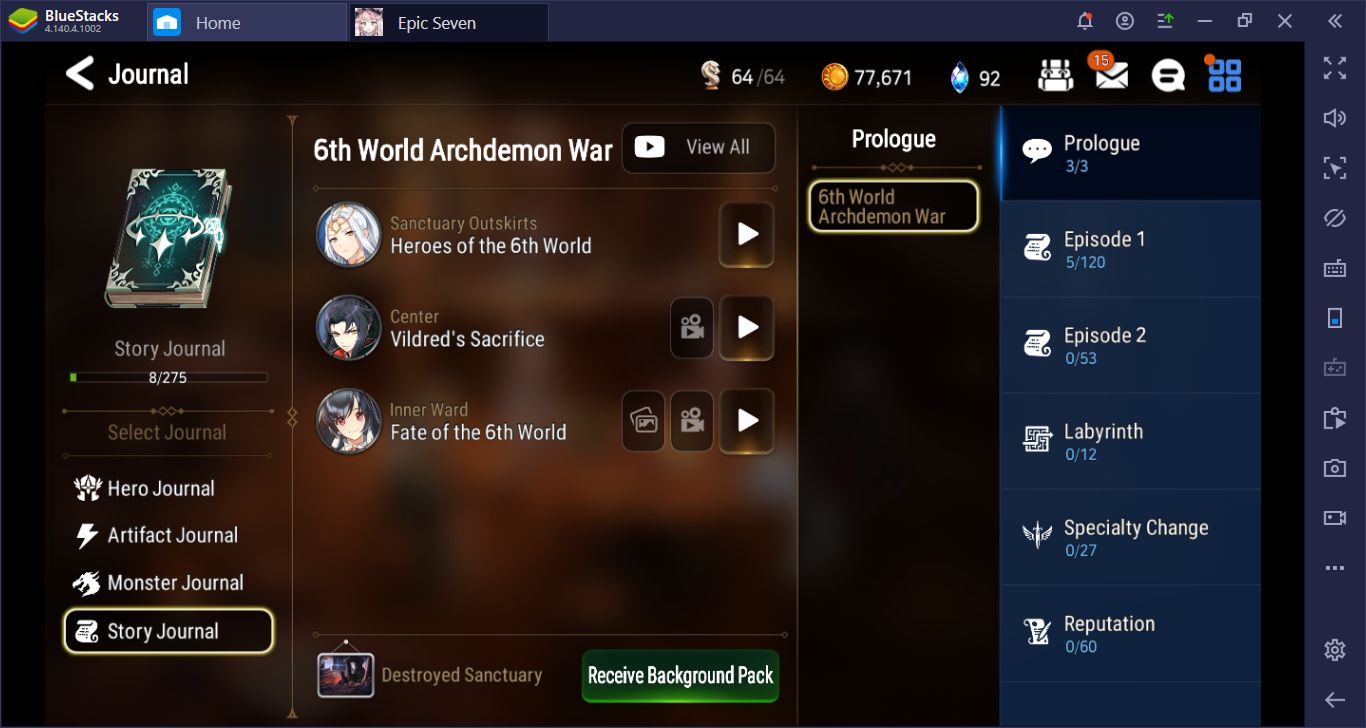 Reading all of these will take a long time but it is worth it.
The Drop Rates Are Not That Bad
Collecting rare heroes takes a long time in all gacha games and Epic Seven is not different. However, if we make a general assessment, we can easily say that the drop rates of Epic Seven are much better than many other gacha games. In addition, you get increased drop rates for specific heroes on a constant basis. If you are after Melissa, for example, just wait for her event: You will have a much better chance of getting her. Don't get us wrong – the drop rates of Epic Seven are not "amazing" and it will still take a long time to collect rare heroes, but your chances will be slightly better than many other games.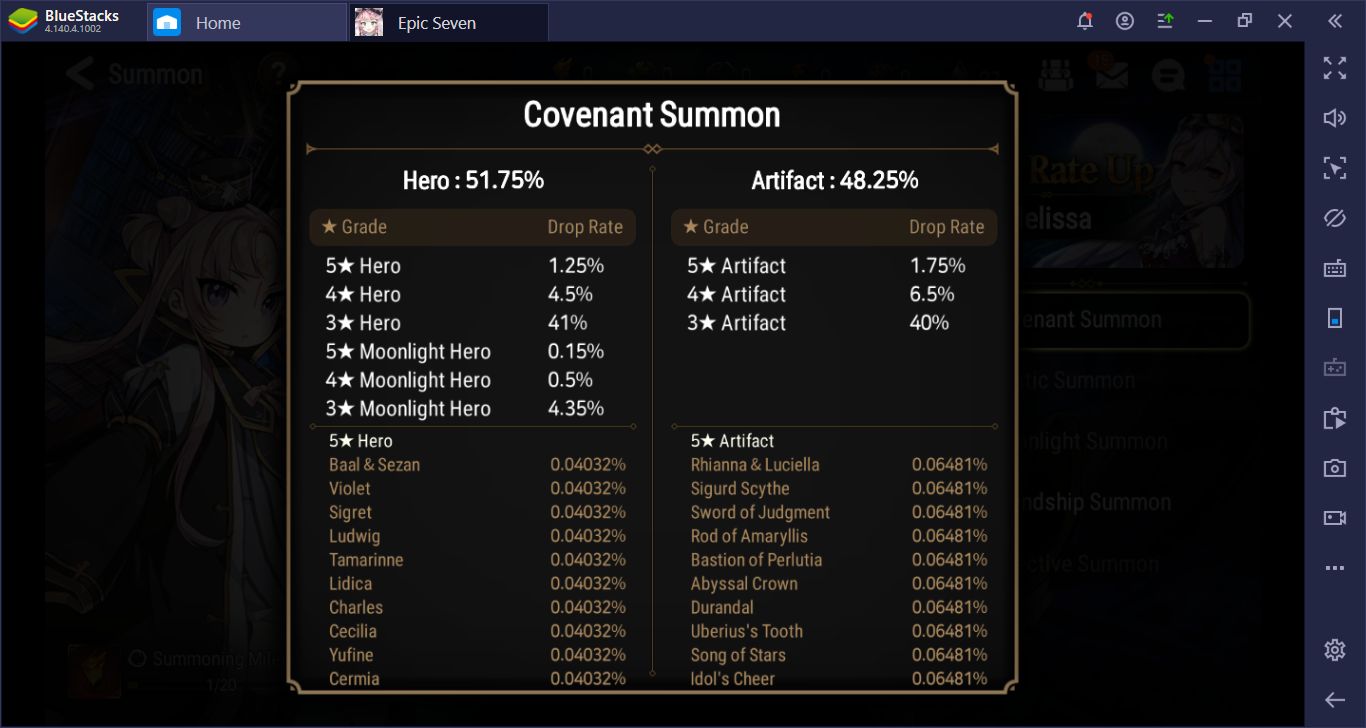 To give you an idea, you have less than 1.0% chance to get a 5-star hero in lots of other gacha games. And this is just the "standard" summon: These rates are much better in high-level summons.
The Battle System Is Amazing
Epic Seven has the most refined turn-based combat mechanics we've ever seen: easy to learn, fast, fluid, and effective. The most important feature of this system is that you can easily defeat even the most challenging enemies by creating the right combos, even if you don't have rare heroes. If you don't plan to play the game at a competitive level, you don't really need "rare" heroes. You can win all battles by paying attention to the skills and using them in a complementary way. Speaking of which, BlueStacks can record and repeat these combos easily, as we will explain below.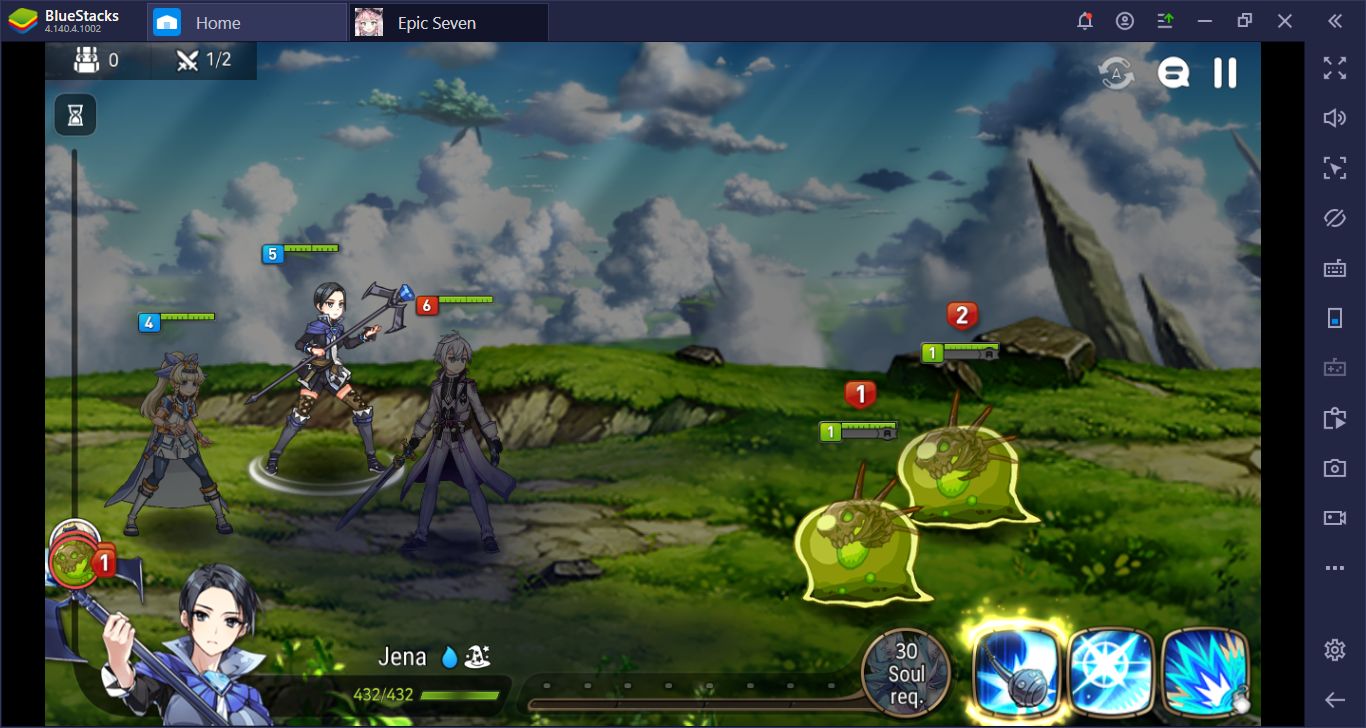 Just pay attention to your skills and use them in a certain order, not randomly. You can easily beat every enemy even without using the best heroes, as long as you have the right team setup.
You Get Infinite Rerolls And Automatic Combos With BlueStacks
And, as always, playing Epic Seven on BlueStacks offers lots of advantages to you. The first one is the chance to make infinite rerolls: If you don't like the results of your first summon, which you make for free at the beginning of the game, you can always repeat it and try your chances again. In fact, you can do this as long as you want, until you get the best possible results. Just create multiple instances and repeat the same summon over and over, it is that easy.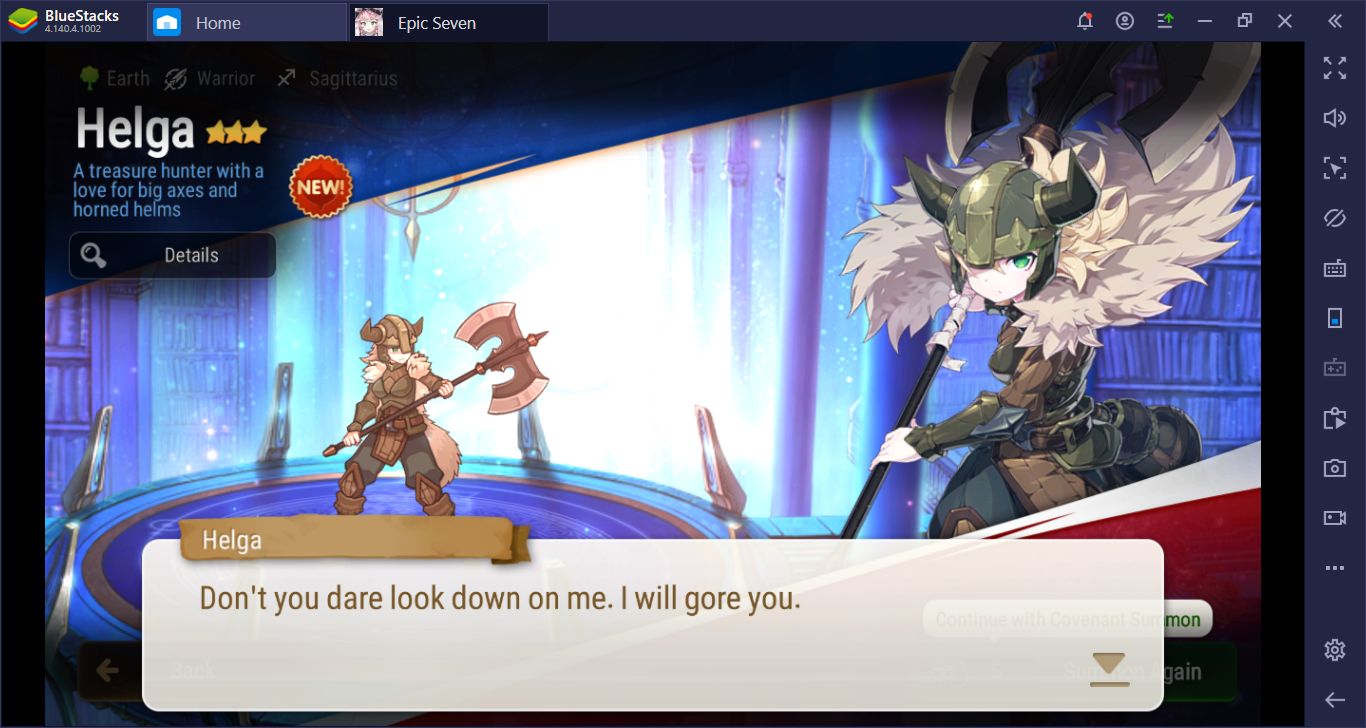 Helga, don't get us wrong but you are not the one we are looking for. It is not you, it is us.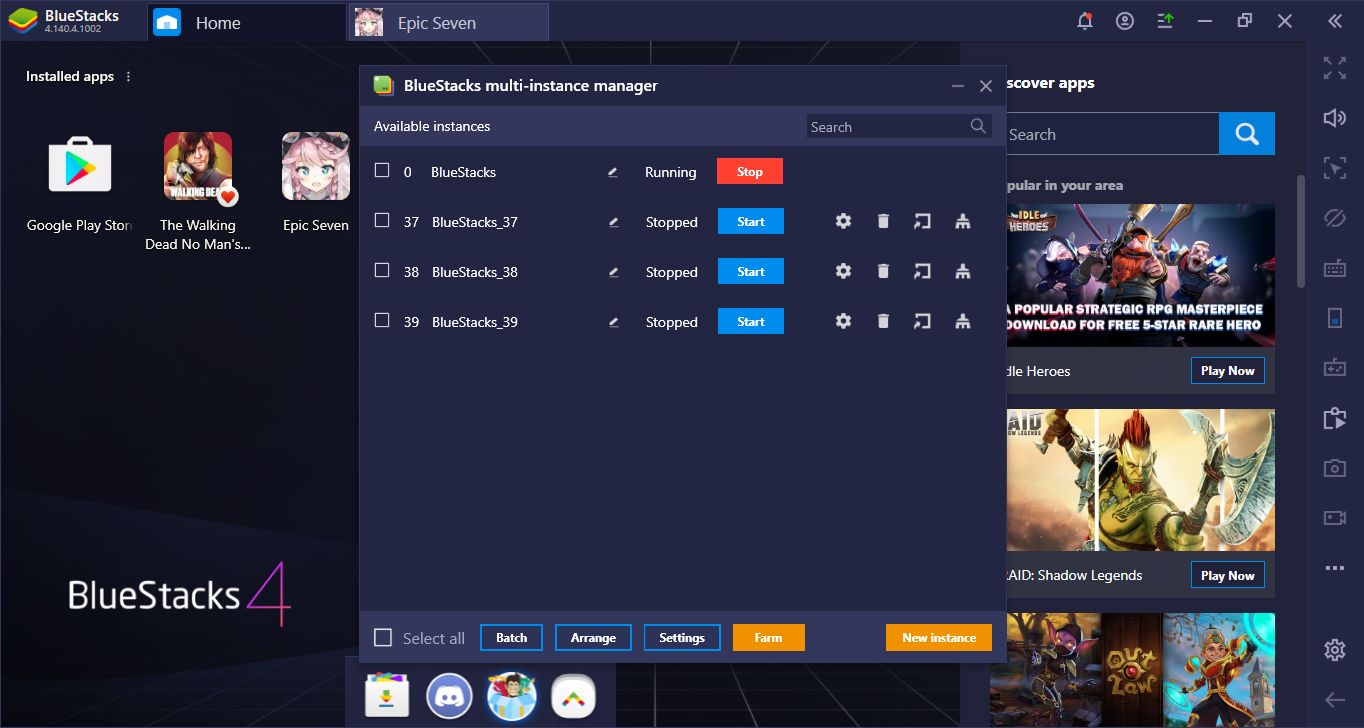 By creating multiple instances and repeating the same summon process, we can try our chances again.
That's not all: Remember the part where we talk about the importance of combos? Well, you don't need to remember every combo you have created: You can just record it and repeat as long as you want, by pressing a single button, thanks to our Macro Recorder feature.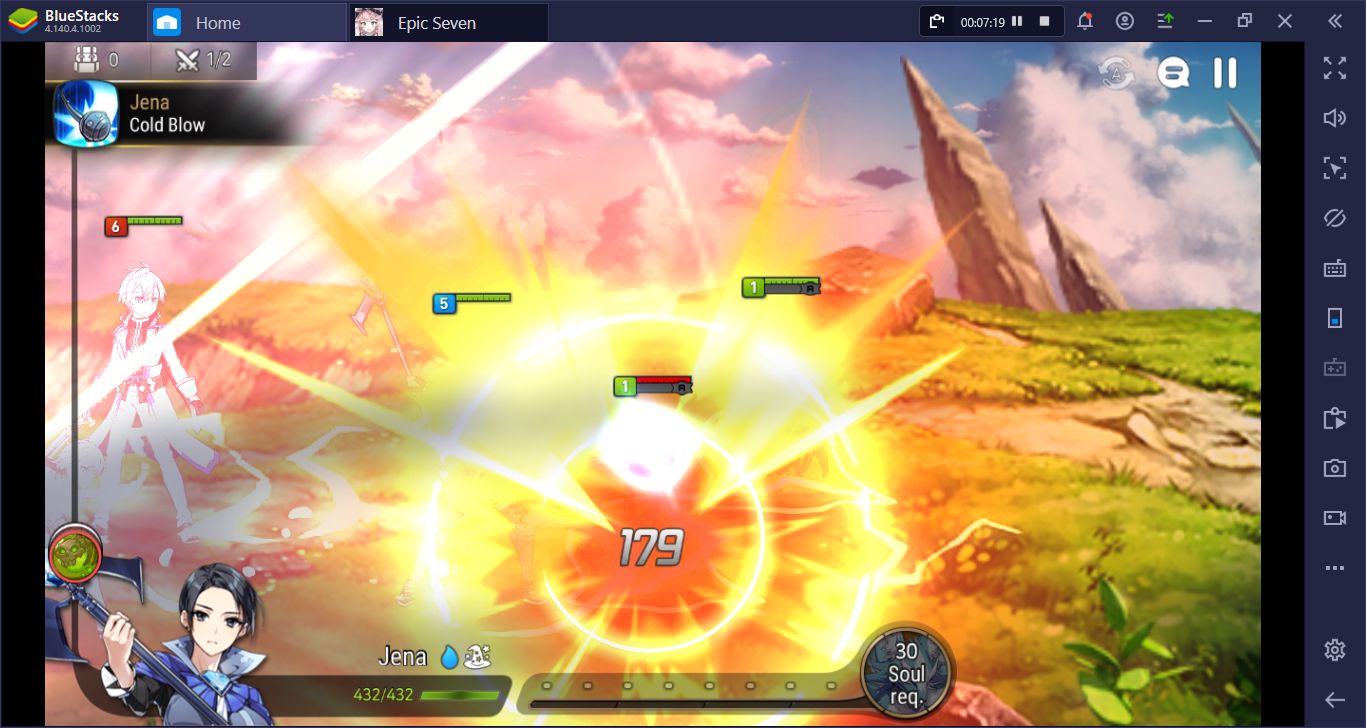 This is the beginning of our combo and our recording.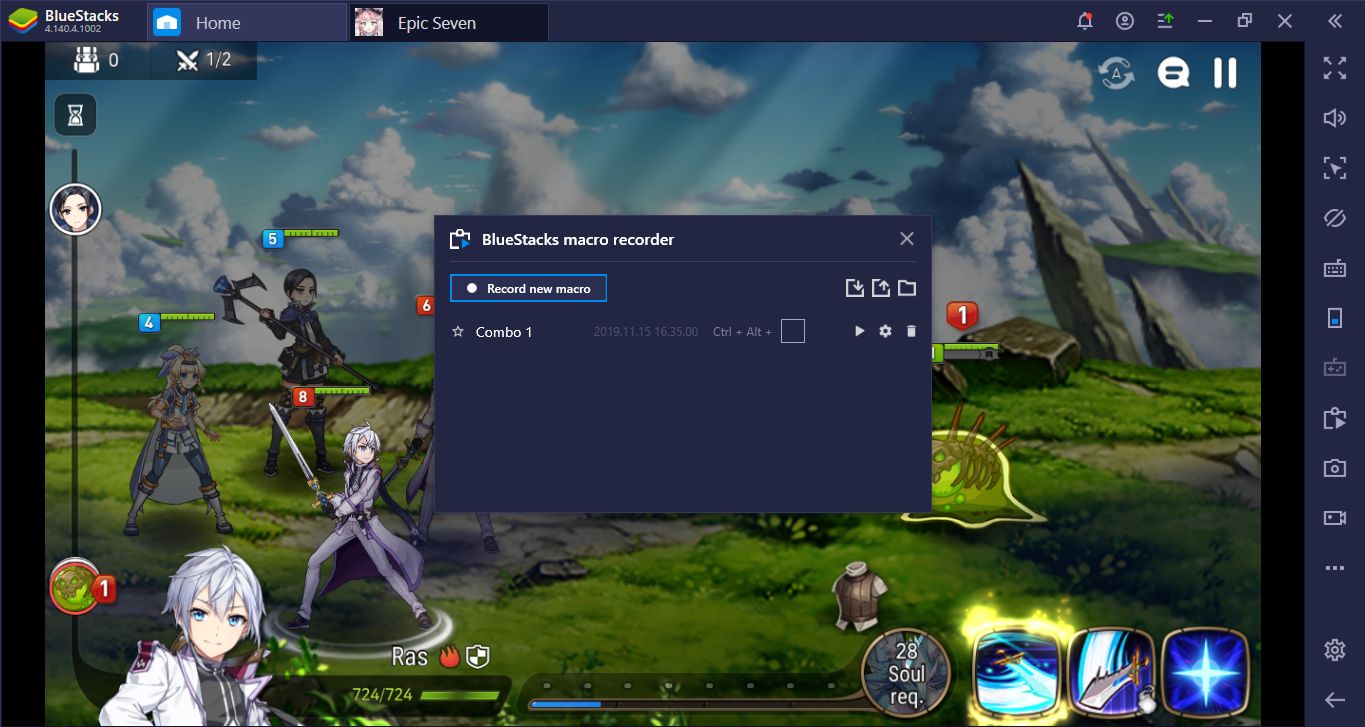 And this is the end of it: We will just give it a name and assign a button. In the future, pressing this button will automatically repeat this combo.
So, did we convince you to return back to Epic Seven? If the answer is yes, make sure to take a look at our Epic Seven guides before starting your adventure once again – it has been a while and you may be a little rusty. We are sure that you will manage to save the world this time: After all, you are playing on BlueStacks and we will be fighting next to you. Let's defeat the ancient evil once again, together!