BlueStacks Roundups
Top 10 Classic Mobile Games According to Reddit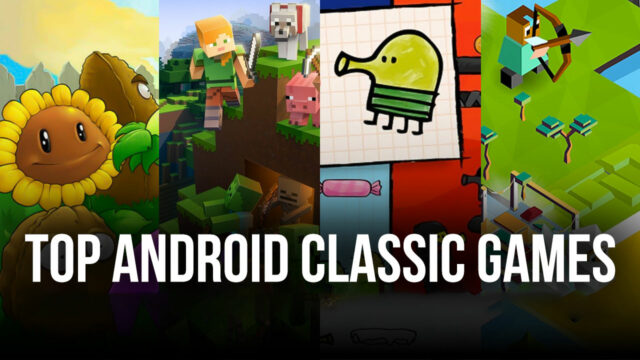 Over the years mobile gaming has churned out some incredible games that have come to be considered classics. This can be due to their amazing gameplay, storyline, game mechanics, or sheer nostalgia value. In this article, we compile a list of the top ten classic mobile games, as enumerated by Reddit users.
1. The Room ($0.99)
"It's a wonderful puzzler, The Room. You may play a lovely, intriguing puzzle game for a little cost, and I like it so much that I purchased all three of its sequels.
However, it has nothing to do with the film."
-ShirleySBrown
The Room is a 2012 release from Fireproof games. The Room is a puzzle game that presents the user with a series of boxes which contain puzzles. These puzzles can be solved using physical mechanisms. Using the various mechanisms of the touch-screen, the game allows you to mimic real life motions such as looking around, turning keys, or flipping switches on and off. The storyline of The Room involves a person researching the fifth classical element of ancient times, which is called "null".
With over one million downloads, The Room is rated 4.8 out of 5 stars on Google Play Store.
2. Tiny Tower (Free)
"It's old but Tiny Tower! I played for YEARS and even saved my progress across several devices. I bet I could still log in now."
-moudine
Tiny Tower is an 8-bit game released by NimbleBit. The idea of the game is to build a skyscraper that is filled with businesses and people of different kinds. Overseeing the building of this skyscraper will be done by the user who will play the role of the tower manager. As tower manager, you will have to look after the building of new floors, attracting bitizens to your tower, providing these bitizens with jobs, and collecting money from them. Along with this you will also have to build and maintain elevators, as well as expand the tower as much as possible.
With over one million downloads, Tiny Tower is rated 4.5 out of 5 stars on Google Play Store.
3. Plants vs. Zombies (Free)
"I still play the original on long plane rides. No internet connection required and love the mini games."
-xiaxian1
Plants vs Zombies is a tower-defence game released by Electronic Arts. The game's plot centres around a zombie apocalypse in which the player must grow various kinds of plants in the garden in front of their home to defend it from invading zombie hordes. Each plant has a special property that the zombies can't stand, like the peashooter plant, which shoots peas at them until they pass out, or the sunflower plant, which yields "Sun," the virtual currency that can be used to buy any of the other plants in the game. Although they appear slowly, "Sun" also appears at random throughout the lawn where plants and zombies are battling; they are a huge help when battling the undead. Plants vs Zombies remains one of the most popular and well loved mobile games of all time.
With over one hundred million downloads, Plants vs Zombies is rated 4.3 out of 5 stars on Google Play Store.
4. Minecraft ($7.49)
"Man even when the maps were tiny, pocket edition was a blast."
-TurretX
The main goal of the sandbox game Minecraft, which has blocky 3D graphics, is for players to do whatever they want. Although it may sound strange, this is precisely what makes the game Minecraft so intriguing. There are game modes like the survival mode where users must make every effort to keep their health and survive in the Minecraft world, as well as other game modes where players must battle AI-controlled mobs, but the most popular and frequently played game mode in Minecraft is the creative mode where players have access to as many resources as they may need as well as the ability to fly.
With over ten million downloads, Minecraft is rated 4.6 out of 5 stars on Google Play Store.
5. Doodle Jump (Free)
"Oh my gosh yes! That was THE game back in middle school. It was so stressful but so fun"
-ibabwab
Doodle Jump is one of the most popular mobile games of the last few years. The idea of the game is for the user to jump from one platform to another in a bid to go as far as possible. Platforms may often move at different speeds and there will also be many obstacles in your way such as black holes. You can also pick up a jet pack to go faster and shoot at enemies trying to push you off using nose balls.
With over fifty million downloads, Doodle Jump is rated 4.4 out of 5 stars on Google Play Store.
6. Data Wing (Free)
"Data wing is a one-of-a-kind experience. The encrypted data files revealing an entirely new story about the game was amazing, and I haven't seen something like it since."
-DRYFT3R_9
Data Wing is a racing game created by Dan Vogt that reveals a surprisingly in-depth story from elements within the game. The mechanics are simple, yet the game is quite difficult to master. You must thrust off walls to gain speed and race against opponents on the track.
With over five million downloads, Data Wing is rated 4.8 out of 5 stars on Google Play Store.
7. Temple Run (Free)
"Had to scroll way too far for this! Temple run was iconic"
-brasskissass
Temple Run is an endless 3D runner game from Imangi Studios. The concept of the game is simple. An explorer is running away from a group of demon monkeys that are chasing him. As the user, you must direct the explorer, swiping left, right, up, and down in order to avoid obstacles and dead ends, as well as to collect as many coins and powerups as possible while you are running. You can change the main character, and also select from a wide variety of powerups to be your main powerup when you collect enough coins. For instance, there is the magnet powerup which allows you to collect coins without swiping. You must simply run and the coins will come to you automatically until the powerup runs out. With an innovative gameplay design, Temple Run is definitely one of the classics of mobile gaming.
With over five hundred million downloads, Temple Run is rated 4.4 out 5 stars on Google Play Store.
8. The Battle of Polytopia (Free)
"The Battle of Polytopia is one of my favorites. It even got a steam version recently"
-FlavorsofPie
The Battle of Polytopia is a low poly strategy game for Android. To ensure that your civilization is the biggest and best among all the civilizations on the map, you must construct and plan. You can choose from three different game modes in Polytopia. The first of these is Perfection, in which you have thirty turns to create a civilization that is superior to all those in the area. This is determined by using the scores assigned to each civilization following the completion of its 30 turns. In the Perfection game mode, you must obtain the highest score among all of the competing civilizations. Domination is the name of the second game mode, which is an all-out war in which each civilization tries to expand and take over as much territory as it can.
To eliminate all of your competitors and become the biggest and best civilization on the map, you must employ every trick, tactic, and strategy at your disposal. The third game mode is called "Creative," and it's a kind of free-for-all mode. You can play however you want after simply setting the playing area's perimeter on the map. In The Battle of Polytopia It's entirely up to you whether you want to be extremely aggressive or defensive.
With over ten million downloads, The Battle of Polytopia is rated 4.5 out of 5 stars on Google Play Store.
9. Honkai Impact 3rd (Free)
"100% Honkai Impact 3rd. Probably the best story I've experienced in a mobile game."
-owl_boy72
Action role-playing game Honkai Impact 3rd combines several gaming genres, including shoot 'em up, dungeon crawling, hack and slash, and social simulation. Since it incorporates many of the same characters from Houkai Gakuen 2 into a new plot, the game is regarded as its spiritual successor. In terms of plots, Honkai Impact 3rd is set in a parallel universe where humanity is constantly dogged by the evil Honkai force whenever it advances too far. The ability of Honkai to corrupt people and transform them into undead creatures will ultimately result in the extinction of the human race.
Humanity is periodically destroyed and then reborn; the most recent instance of this cycle occurred 50,000 years prior to the time in which the game is set. In this world, a group of skilled female warriors known as the Valkyrie are trained to combat Honkai's effects and must overcome numerous hardships and difficulties to preserve humanity. In Honkai Impact 3rd in order to prevent the extinction of humanity, the user must assume control of a group of Valkyries who are also in charge of the battleship known as Hyperion.
With over ten million downloads, Honkai Impact 3rd is rated 4.3 out of 5 stars on Google Play Store.
10. Bounce Classic (Free)
"That brought me way back! I remember being really excited when my dad first got a phone with a camera and full color screen."
-claraalberta
Bounce is a game that most of us will remember playing on our old keypad phones. Now this brilliant game is available on Android devices for Bounce fans all over the world to enjoy. For those that have never played it, Bounce is a game in which you control a red ball and take it through several levels, crossing obstacles of several kinds such as spikes that will pop the ball, or dead ends. The game has the original eleven levels as well as several additional levels.
With over ten million downloads, Bounce Classic is rated 4.5 out of 5 stars on Google Play Store.