BlueStacks Roundups
Top Android Games Like Diablo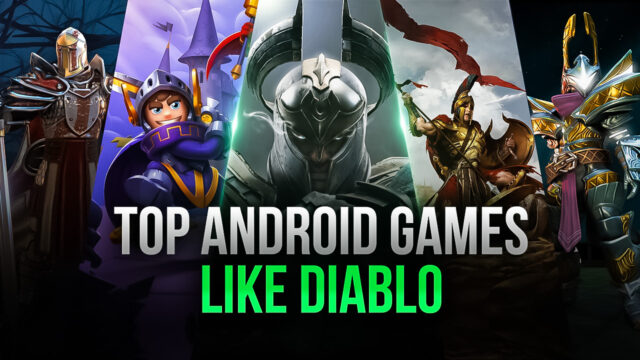 Diablo is one of the most popular video game franchises of all time, not only in the hack-and-slash or RPG genre but overall as well. And there is a good reason for this. Before Diablo, internet multi-player gaming was limited, and most companies were not willing to gamble their money away on an untested idea, in uncharted territory. Modems and LAN were the go-to back then, in the mid to late 90s, when the first Diablo game was released, and it was only after Diablo was released that companies realized how successful the concept of multiplayer play over the internet could be and how vast the market was for such games. Diablo came with a multiplayer option just like any of the games being released back then, but it also came with an in-built matchmaking service called Battle.net, which allowed players to join forces with anyone else that may be playing the game and is also logged into Battle.net. This service led to the skyrocketing of Diablo's sales, with 2.5 million copies selling in a short amount of time.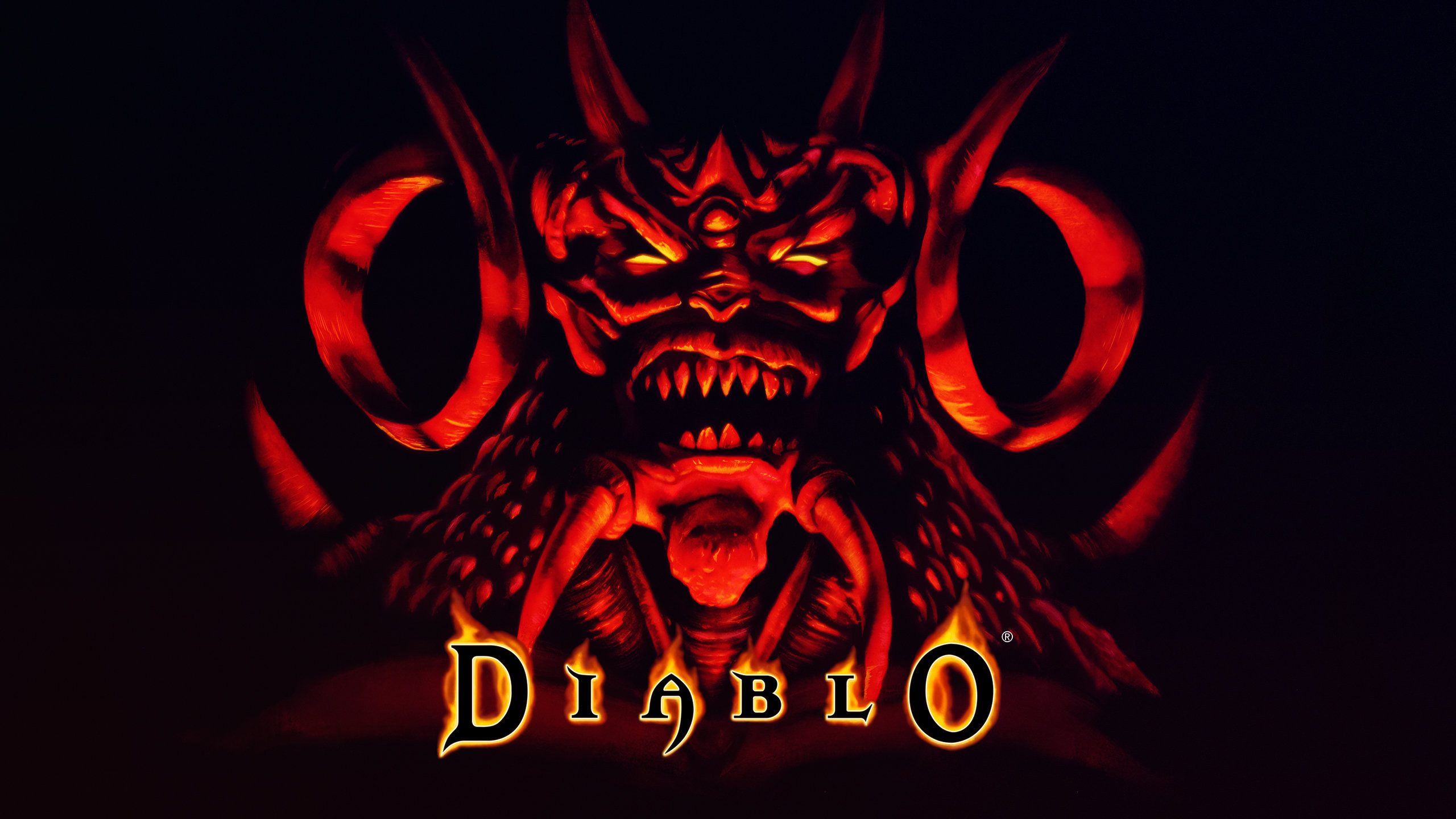 Diablo is a hack-and-slash game, also filed under the action RPG genre, and is known for its dark and grimy fantasy world, its multitude of characters, its riveting story, and the revolutionary gameplay we've discussed above. The game takes place in the world of Sanctuary, where the primary characters are humans, angels, demons, and other monsters. The plot centers on the main character, who must free the town of Tristram from the clutches of evil, descending through twelve levels of hell to finally fight the character of the game's title: Diablo, also known as the Lord Of Terror, who once ruled Hell along with six other demon lords.
Diablo now has legendary status and is revered by gamers both old and new; those who played the game when it was first released, and those who have found ways to play it on old consoles or using emulators on modern devices. Either way, the series is a cult classic, and it's no surprise that the new generation of gamers may want to play the game. Here is where the problem lies, however, since Diablo is currently not available on Android, at least not until the release of Diablo: Immortal, which takes place between the events of Diablo II and Diablo III. This will take a while, since Diablo: Immortal has been postponed. While we wait for it to be released, however, we have compiled a list of nine games similar to Diablo in several games that will help scratch that Diablo itch until an official release date for Android is announced.
1. Eternium (Free To Play)
Eternium is the first game on our list of the best Diablo-esque games. Released by Making Fun Inc. in 2014, the game has enjoyed great success ever since its initial release, and has had a strong fan base that continues to play the game and keep up with its updates. The feature that sets Eternium apart from other hack and slash, or action role-playing games is its controls. Users often complain, and rightly so, that the controls for such games seem clunky, unfinished, and make the game harder to play. This is often accompanied by laments regarding the lack of controller support for most such games. With Eternium, however, what stands out most and is often considered its best feature are the controls, which are so smooth and so well made that one forgets playing the game with an additional controller is even an option.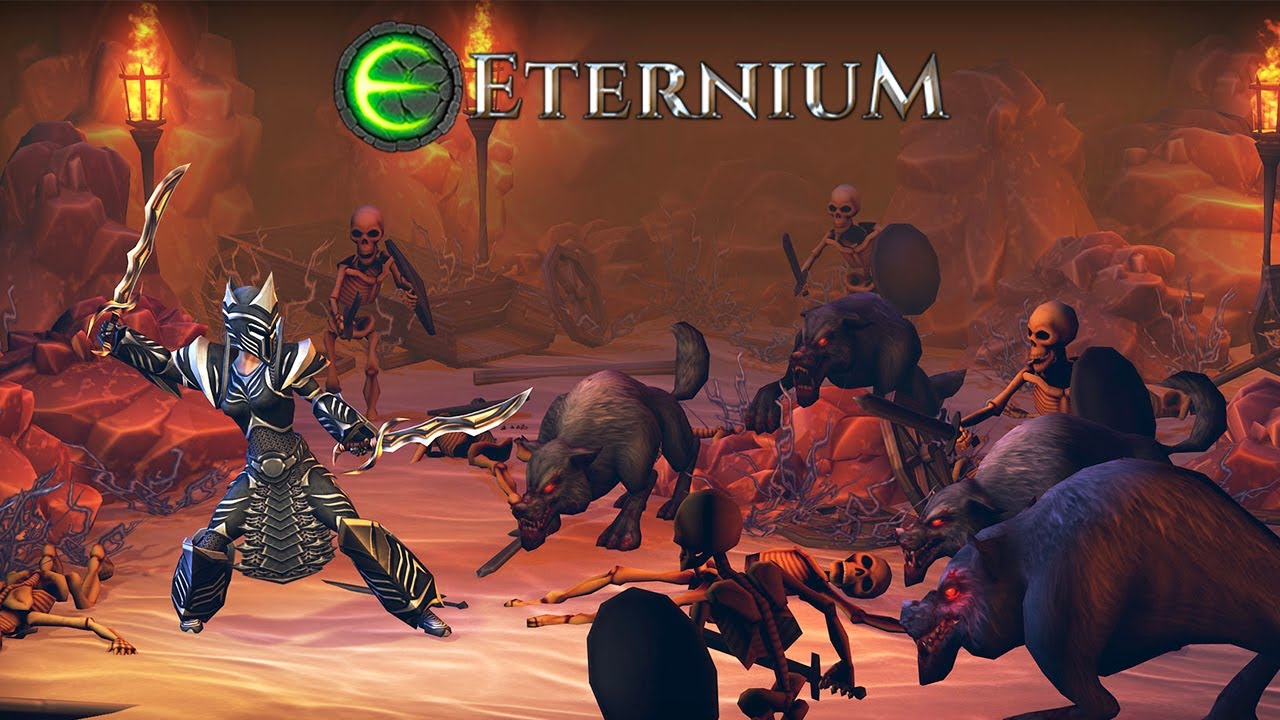 The game begins by asking you what character class you want to choose. There are three options, including Warrior, Mage, and Bounty Hunter. The character class you choose highly affects your playing style, including differences in basic attacks, abilities, passive attacks, and loot. For this reason, it is recommended to make the choice of character class carefully and to choose a class that you think would work with your playstyle. If, for example, you are a more aggressive player that likes to go forward and attack enemies without any care for defense, then Warrior might be the class for you. If, on the other hand, you are more defensively inclined and also require healing for when your character is low on health, then Mage might be the best option for you.
The game has a multitude of enemies, with the user fighting skeleton hordes in the beginning, which are relatively easy to win against, to bigger, tougher enemies, as you get closer and closer to the endgame. The enemies and villains in this game also pay homage to classics such as Diablo and Torchlight, with several enemies being directly or passively inspired by those of Diablo and Torchlight. Similar to Diablo's multiplayer experience, Eternium also allows you to play with companions who can help you on your missions and quests, and playing with other players only intensifies the quality of the experience. As you begin playing the game you come across three different planets, two of which are locked. These symbolize the three different acts in which the story is divided.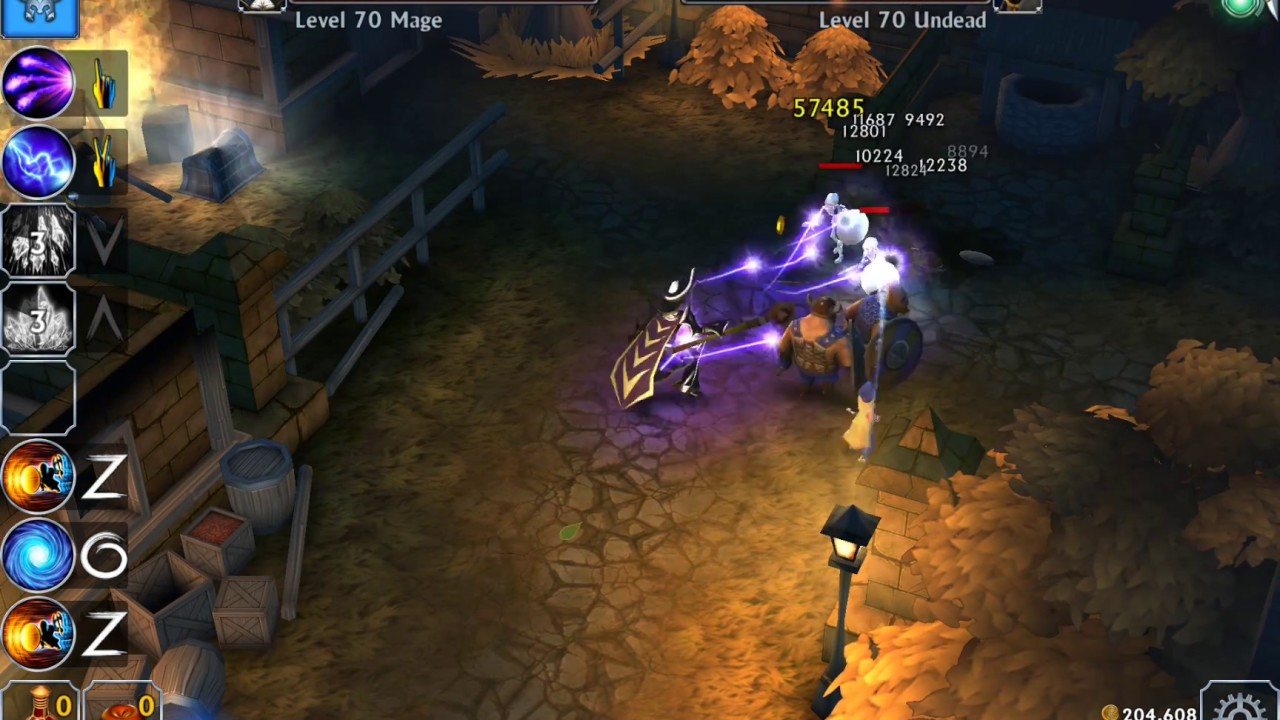 The game is free-to-play, and it is evident from the game's design, its pace, and the overall gameplay, that the creators of the game wanted to create an excellent game that is enjoyable for both Diablo fans and those who don't know what Diablo is, and not just another cheap Diablo copy. No stamina or energy bar in the game runs out quickly and that you must pay real money to fill up either, and the game can also be played offline. Download and play Eternium on PC with BlueStacks.
With over ten million downloads, Eternium is rated 4.8 out of 5 stars on Google Play Store.
2. Moonshades (Free To Play)
Developed by BaldrickSoft Games, Moonshades is a dungeon crawler and quest hunter RPG. Moonshades is a nostalgic play on the dungeon crawler genre, meant to immerse you into the old-school RPG atmosphere of dungeons and quests. Moonshades is a first-person RPG wherein you control two heroes who have to plunge into the depths of the Mountains of Greydawn where a portal to Hell has been unleashed, and their objective is to prevent the spread of a catastrophic plague. Moonshades employs the use of classic dungeon crawler gameplay, the pair of protagonists move together and in coordination with each other and have to move forward by crossing each block in the dungeon. Except, unlike old-school dungeon crawler games, in Moonshades, the attacks on the heroes are perpetrated in real-time. The more enemies you defeat, the more experience points you accumulate, and these experience points enable you to level up. As you progress through the levels, you also receive ability points that you can divide based on what abilities you require.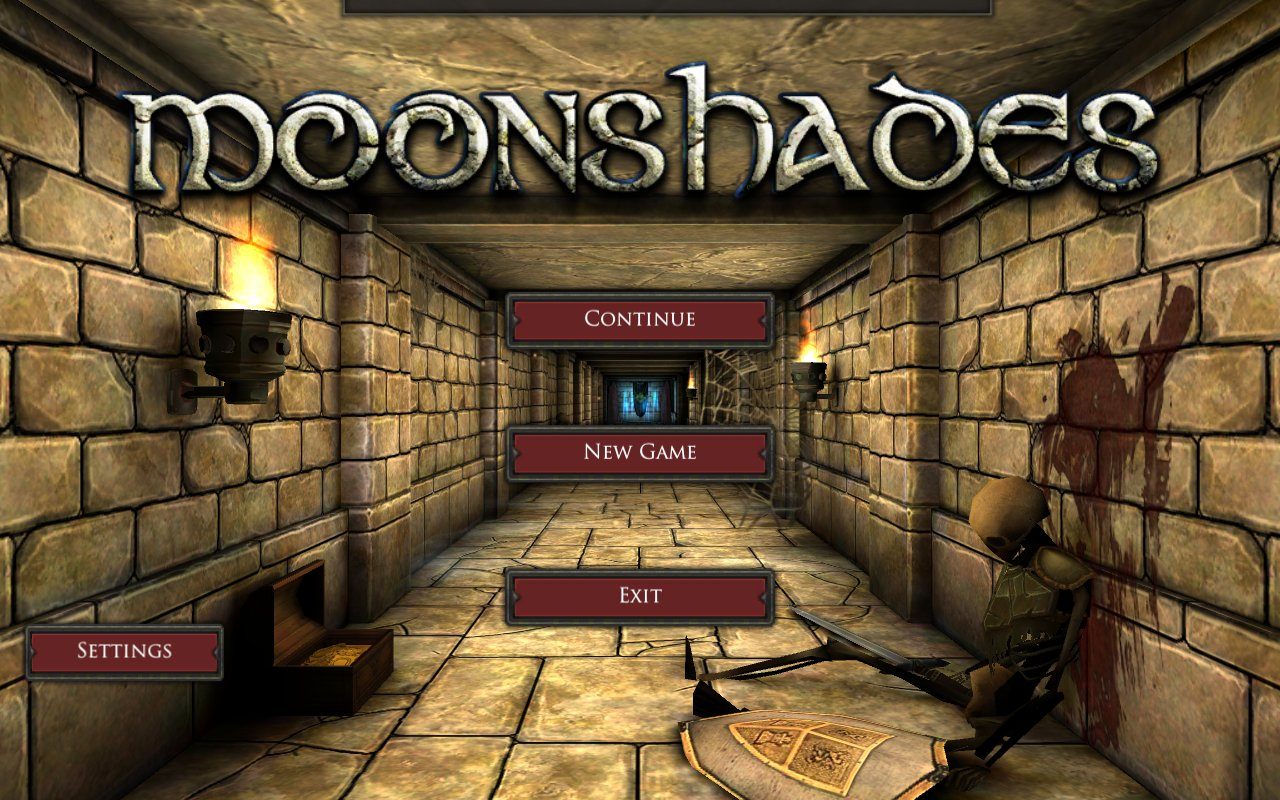 Filled to the brim with mythical creatures and dangerous beasts, this fantasy realm is sinister and mysterious, and the numerous side-quests and missions add a modern element to the classic dungeon and dragon theme. You have access to a wide variety of upgradable items like weapons, artifacts, armor, and accessories and, you can learn charms and healing spells, and protective spells to advance through the game. The gameplay of Moonshades is quite engaging, and recreates the feel of a curated Dungeons and Dragons campaign; as you advance, so do your enemies and the challenges that come your way, the game becomes more riveting and the action more enthralling, and as you gain power you also begin to learn and use magic in the Magic Forge, which allows you to create strong potions, enchant gear, and produce relic items. There are also several well-timed loot drops. You can tap on components of your surrounding environment and gain background information on them to better acquaint yourself with the theme of the story. Combat initially involves the simple usage of a sword to fight enemies, but you can develop your combat abilities after you start to learn magic and attack enemies from a distance. There are several treasures to be collected from the dungeons, as well as scrolls of Harten and Aesthirya to be discovered.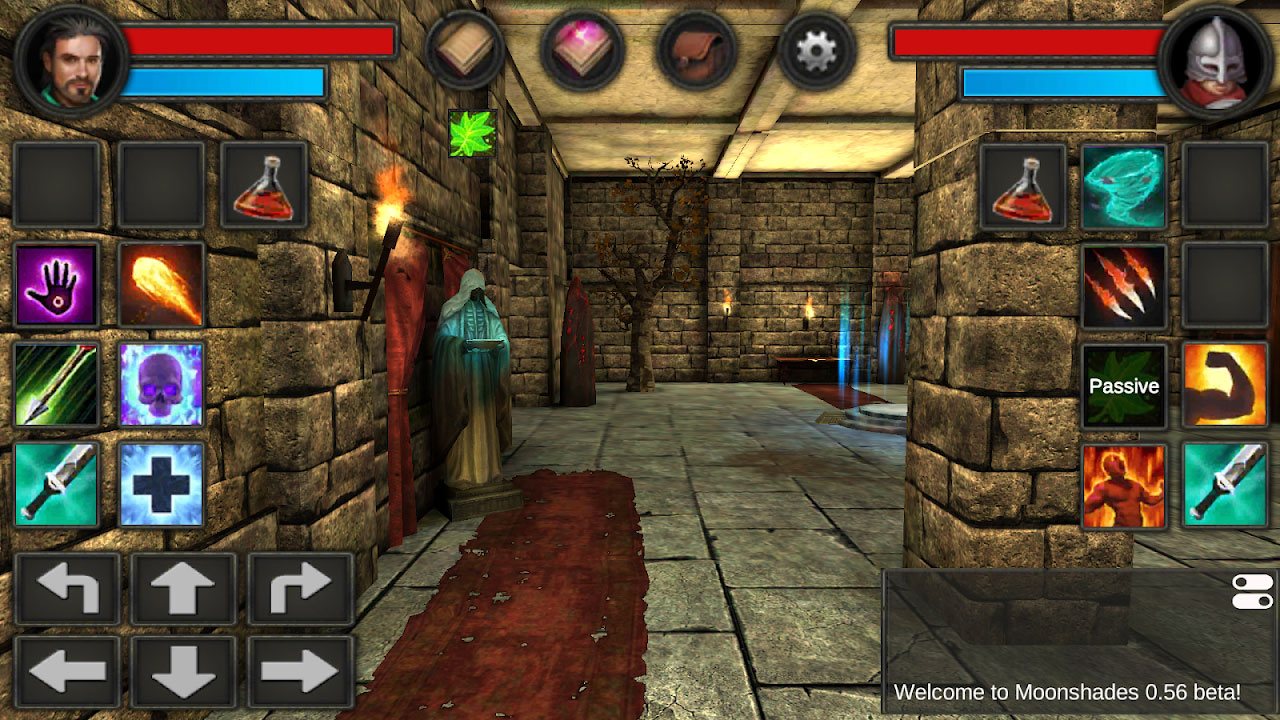 Moonshades successfully restores the Dungeons and Dragons genre without being a blatant copy of it, it comes off as a contemporary adaptation of the old-school quest and crawl-based games by adding an immersive action-driven element to it. The gameplay is smooth, and the graphics hit the nail when it comes to projecting the dark aura of the enigmatic dungeons. The quests and puzzles keep you on your feet and the story keeps you compelled. You don't have to bid farewell to games of this breed just yet.
With more than one million downloads, Moonshades is rated 4.7 out of 5 stars on Google Play Store.
3. Raziel: Dungeon Arena (Free To Play)
Indra Soft's Action RPG offering, Raziel: Dungeon Arena, has been the talk of RPG town for some time now, and for good reason. The game is an excellent modern rendering of old-school action RPGs and hack-and-slash games. Although it takes a lot from its ancestors, Diablo being one of them, Raziel implements every element so well that you don't mind that you've seen it before in other games, because you've never seen it done so well.
Raziel: Dungeon Arena, unlike other recent hack-and-slash and action RPGs, focuses heavily on single-player mode, just as much, if not more, than multiplayer mode. Other games have mostly ignored the single-player mode in the recent past, instead opting to optimize their multiplayer mode as much as possible. Raziel, however, offers over sixty levels across ten different chapters, all of which are yours to fight through at your own pace, without the need to share the glory of your wins with others. That being said, however, Raziel does not ignore the multiplayer mode either and has several different multiplayer modes for you to play through. There are the classic raid parties that allow you to go dungeon crawling with your friends and complete different quests and challenges with them, the co-op bounty hunts that allow you to take down huge bosses with each others' help and reap the rewards, and you can also choose to simply explore the map and fight any monsters or demons you may encounter as you're doing so, together.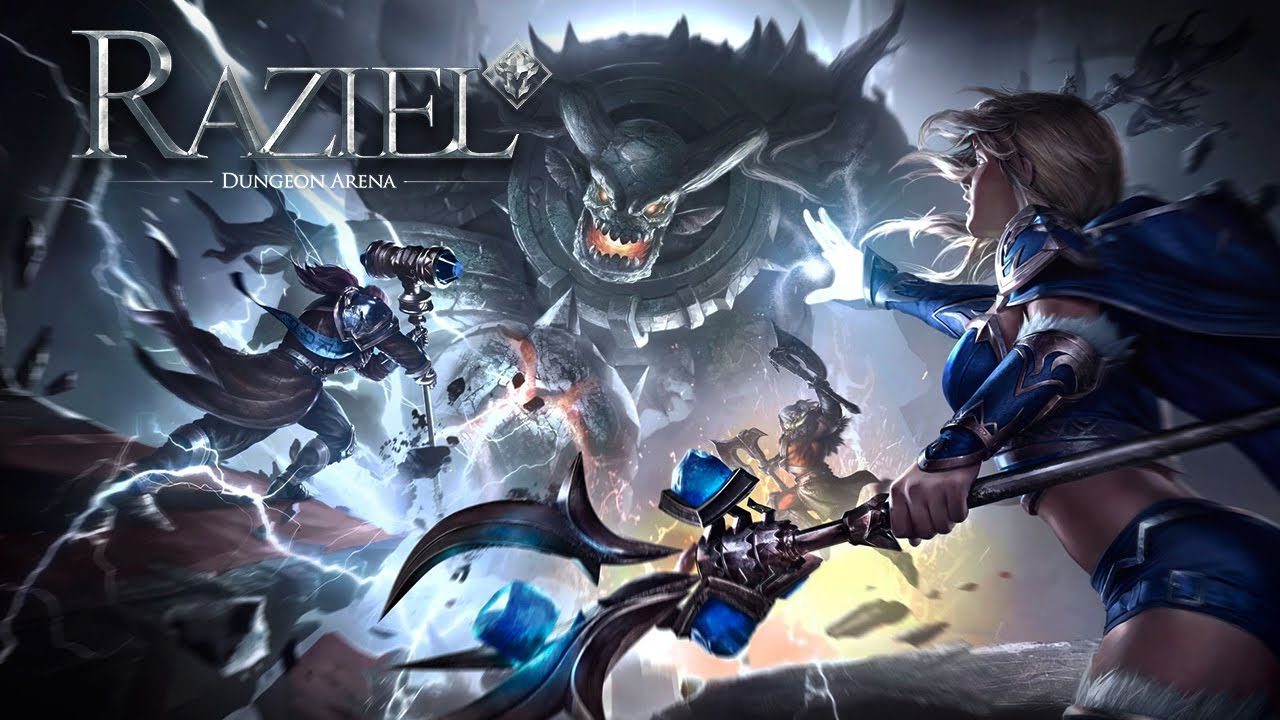 Raziel's talent tree, a staple of the ARPG genre, allows you to choose sixteen different skills for each playable class. Having such a wide range of skills to choose from allows you to balance your style of play, and gives you the ability to prioritize different aspects of your character's abilities to suit your gameplay style as best as possible. Collecting different items is also an important part of Raziel's overall gameplay, whether it be collecting items for your characters, or collecting new characters themselves. You have a multitude of options to choose from when collecting items, and you can find those that suit your character best, from gear to crafting items.
Speaking of characters, the game allows you to choose from five different characters and pick two before each quest. When battling, you can choose to switch between the two selected characters using the tag team function. This allows you to balance different classes and also use the abilities of certain characters when the situation demands it.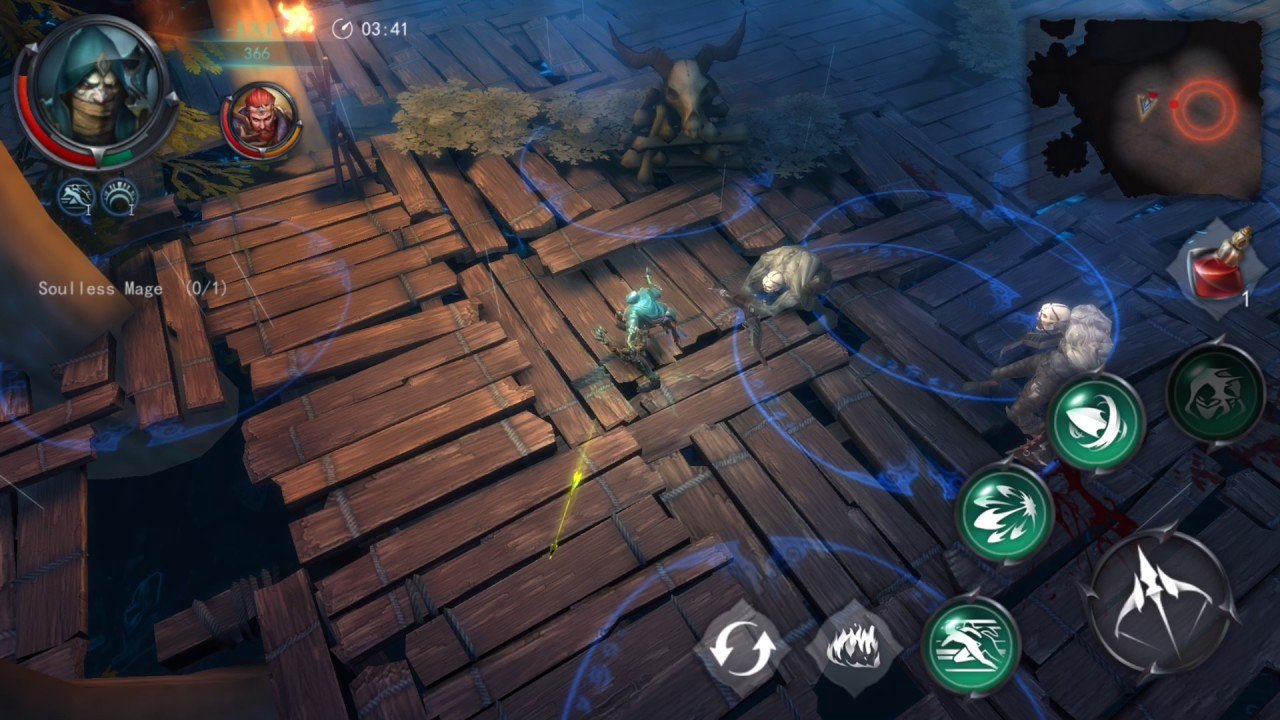 The game, overall, looks stunning and rivals some of the best-looking RPGs available on the market right now. Not only are the graphics visually appealing, but the game also has incredible voice acting and direction, both of which are on full display in the game's cut scenes. Raziel does really well everything it sets out to do and is a must-play for anyone who is a fan of action RPGs or hack-and-slash games. So, download and play Raziel: Dungeon Arena on your PC using the BlueStacks app player to have a lag-free gaming experience.
With over five hundred thousand downloads, Raziel: Dungeon Arena is rated 4.5 out of 5 stars on Google Play Store.
4. Zenonia 5 (Free To Play)
Gamevil's Zenonia 5 is different from the other games on our list so far in the sense that it is not directly a dungeon crawler with dark and grimy graphics and evil monsters that look just as ugly as they sound. In fact, Zenonia 5 seems like a cute little RPG when compared to behemoths such as Diablo, and many who have seen what the game looks like might wonder why or how it even made it onto this list. The reason for this is Zenonia 5's gameplay. Although the game may look cute and appealing when you first begin playing it, you soon realize just how tough it can get to fight through certain levels. In that way, one might even say it reaches the difficulty levels of the Dark Souls franchise, which is notorious for being insurmountably difficult at times. Zenonia 5 has certain levels and certain bosses that can kill you with one or two blows. There are, however, a few ways to get around such levels. The first is to keep trying until you somehow slay the boss and progress on to the next level, the second is to grind it out on lower levels to strengthen your character in order to make it a fairer fight, and the final option is for you to pay to win.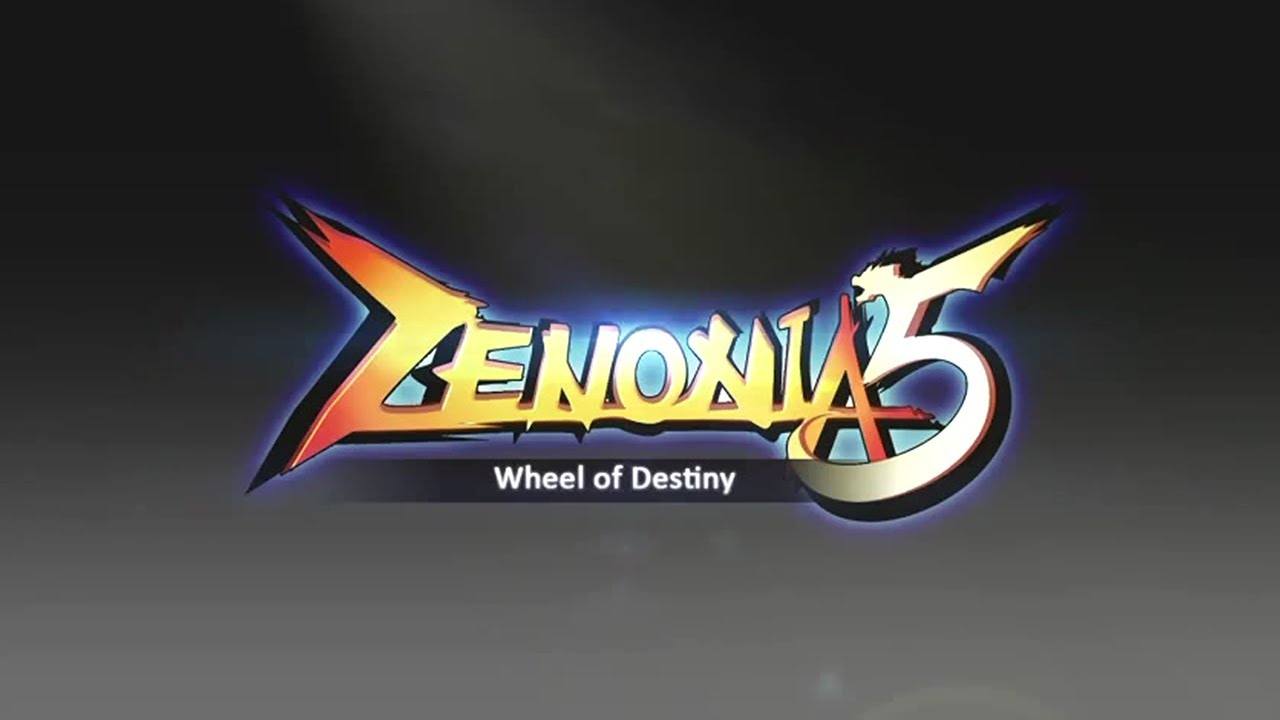 Zenonia 5's combat is simple and is accompanied by great visuals that make playing the game a lot of fun. All you need to do is control your character using the virtual joystick on the left, and use the buttons on the right to execute a series of attacks to lay waste to your opponents. The game functions in a linear manner, and you aren't allowed to explore the map completely and openly as you may have done with other ARPG games. Instead, the game sets an invisible wall in front of you whenever you venture into territory that you're not supposed to go into yet, with the message that you must complete a previous level in order to explore that part of the map. This can turn off many potential fans to the game, and rightfully so, since the exploration of the game's world is one of the most important aspects of an RPG, but others may enjoy it specifically for its linear narrative style and for the fact that there is set checklist you must accomplish before moving on to the next level or next boss.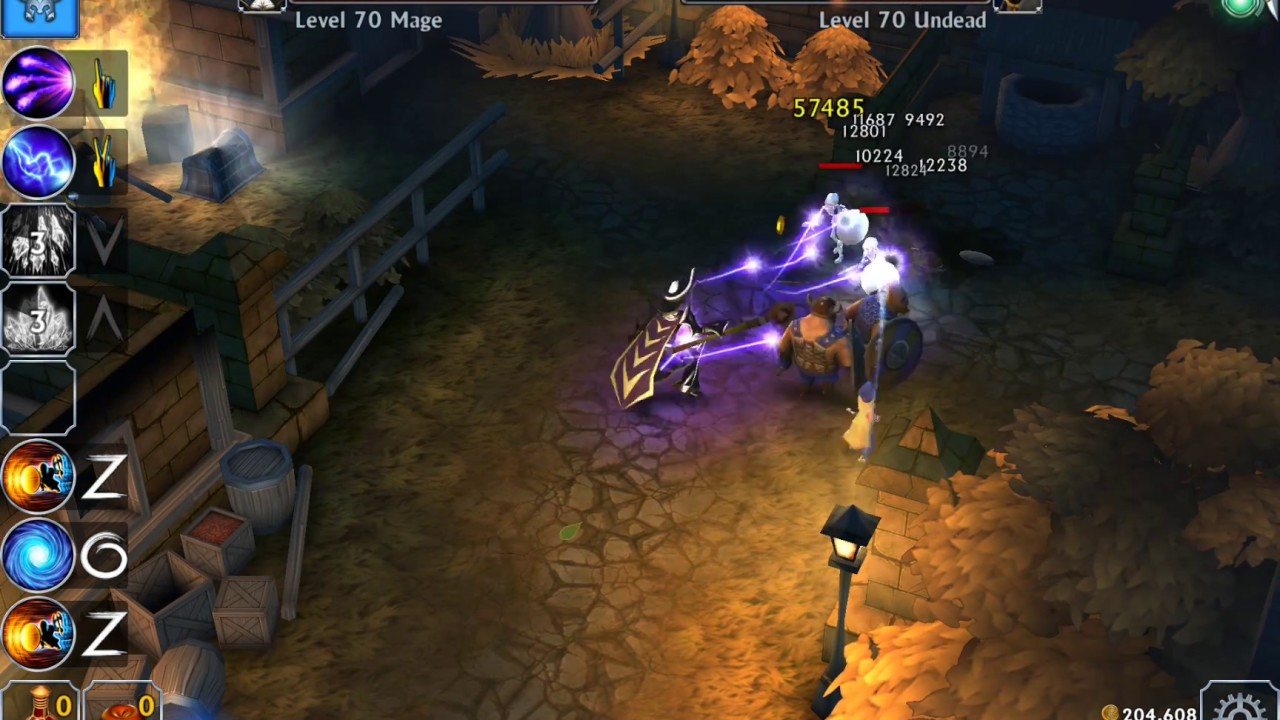 With over ten million downloads, Zenonia 5 is rated 4.3 out of 5 stars on Google Play Store.
5. AnimA ARPG (Free To Play)
Drawing inspiration from classic old-school RPGs like Diablo, Redeev has developed AnimA ARPG, an action role-playing game that brings you a complex dungeon crawl with gripping challenges to overcome in a dark fantasy setting with fast-paced combat.
You, the hero, are an adventurer with the purpose of traversing this expansive realm in a bid for redemption. AnimA has three character classes — Skirmish, Archery, and Sorcery, and you can choose one depending on the distinct abilities and characteristics that you desire to possess. For instance, you can acquire the ability to teleport if you opt for the Sorcery class, or the whirlwind ability if you opt for Skirmish. AnimA has over 40 levels to go through, and in each level in the abyss, you come across terrifying demons, monstrous beasts, sinister dark knights, and many more dangerous creatures, all of whom you have to defeat. You're also challenged by bosses and the more boss fights you win, the more points you acquire. As one might expect from an ARPG, your aim is to defeat every boss you encounter until you finally battle the big boss. Even the bosses have interesting backstories of their own, and these unique backstories help add more dimension to the story.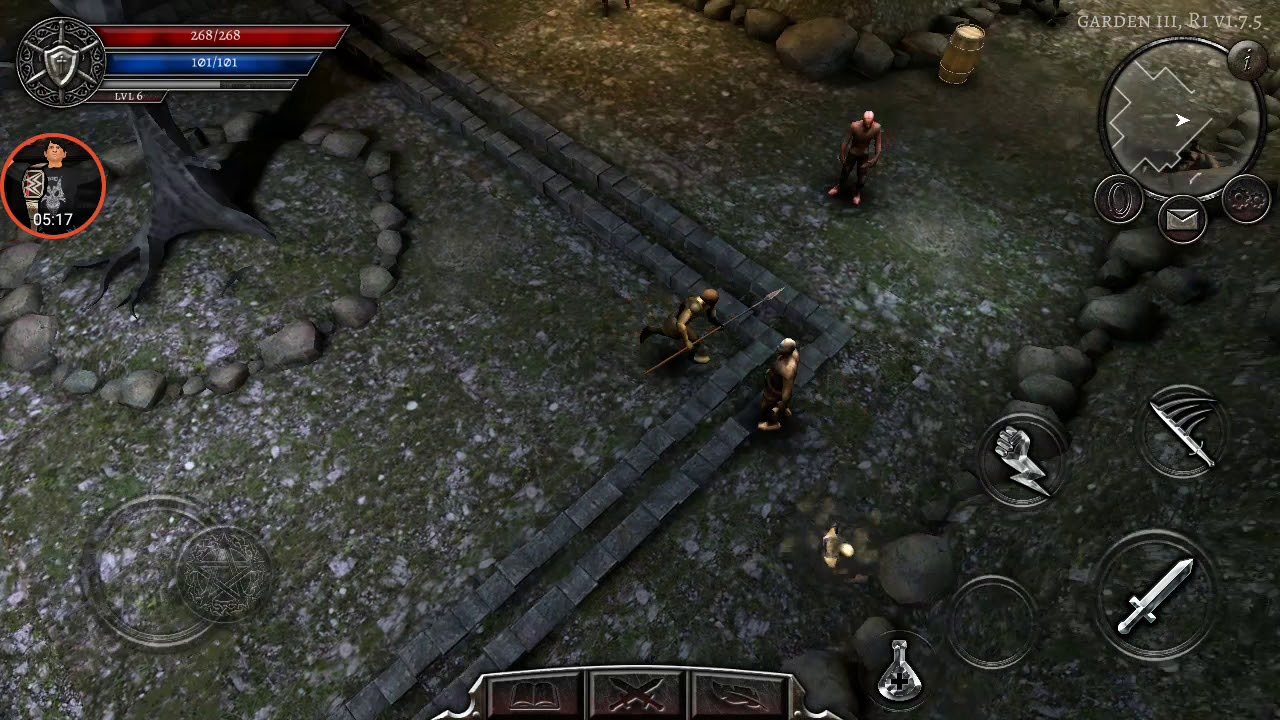 The game is overflowing with a myriad of enemies. From undead monsters to electrified creatures to scorched beasts, there's room for every type of enemy, and these enemies can't be easily defeated because they're surrounded by auras that have the ability to weaken your strength. You can unlock over 45 skills and combine these skills with your specialization to create a strong combination, there are also eight different upgradable gems offered to you, and 200 items ranging from normal and magic to rare and legendary. Grinding is an essential component of gameplay because it helps you win the boss battles. The combat is incredible, with numerous attacks that can be accessed through a skill tree once you level up, but the boss fights remain the most challenging aspect of the game, becoming progressively harder the further you go.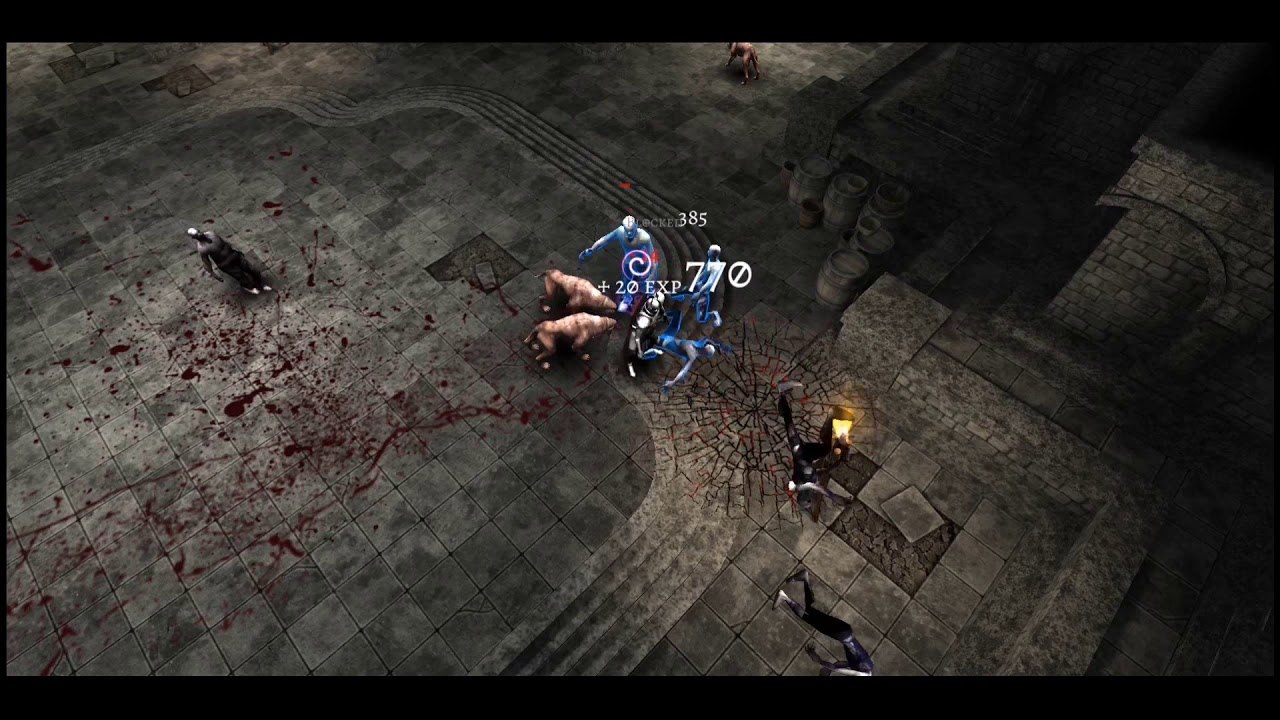 The control system is seamless. As you acquire abilities, you can assign the ones that you intend on using regularly to on-screen buttons, which helps in the fluidity of gameplay. And, of course, AnimA's most appealing quality is the loot. Like Diablo, there's a wide variety of legendary items to loot. You can make a microtransaction of only $0.99 to access three additional character slots, two extra inventory slots, and a weapon upgrade. If you're looking for an ARPG as engaging as Diablo, AnimA is a perfect choice. With impeccable gameplay, an easy crafting system, smooth controls, and action-packed combat, it's bound to keep you occupied. The fun gets even better when you play AnimA ARPG on PC with the BlueStacks emulator that comes with a hassle-free autosave feature.
With over one million downloads, AnimA ARPG has a rating of 4.3 out of 5 on Google Play Store.
6. Nonstop Knights 2 (Free To Play)
Many of us are fans of gaming, and especially hack-and-slash gaming, but don't really have the time to sit down and put in several hours of work to strengthen our character in order for them to be able to beat the monstrous bosses the game puts in front of them. If you're this kind of a person, one who likes to play games but doesn't exactly have the time for it, and is also a fan of hack-and-slash gaming in particular, then Nonstop Knights 2 is the game for you. As the name suggests, Nonstop Knights 2 is a sequel to Nonstop Knights, which was also an endless hack-and-slash game, quite similar to the sequel. In fact, many critics call Nonstop Knights 2 an extension or an update of the original instead of being a proper sequel. Regardless, the second game does improve upon the first game in many ways and makes the gameplay experience a lot better.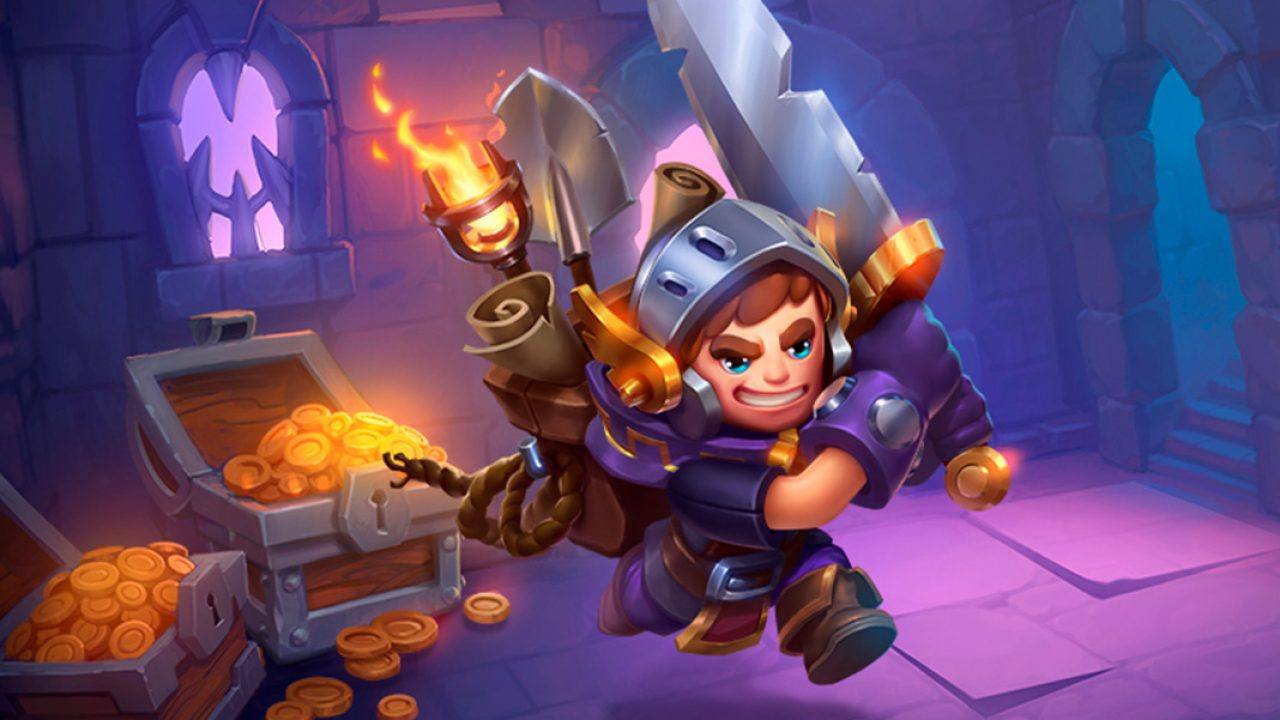 Nonstop Knights 2 is a mix of idle and interactive play, with most of the basic movements such as walking and basic attacks all handled by the game's AI, while more complex functions such as special attacks are available to the user at the bottom of the screen, and they can choose to deploy these moves whenever they feel the need to. Another important component of the game that is under the user's control is the equipment that the knight dons and which pieces of armor the knight must wear in order to be as strong and efficient as possible. Beating bosses and unlocking chests are two big ways you can upgrade your knight's equipment. One change that has occurred in this game as compared to the first one, is that the knight now progressively gets better, and there is no ascension mechanism that functions on the basis of levels. You can upgrade your knight's equipment to the maximum, and then recharge it when it is running low, but either way, your knight will not stop progressing and getting tougher as the game goes on.
One caveat to the game, however, is that although it is partly an idle RPG, it still requires you to play the game in order for your character to progress. Your character may help others and earn a few extra points when you're offline, but you won't progress noticeably when you've kept the game away for a few hours or a few days, which leads to the progression and flow of the game getting interrupted if you're not there to constantly check on it.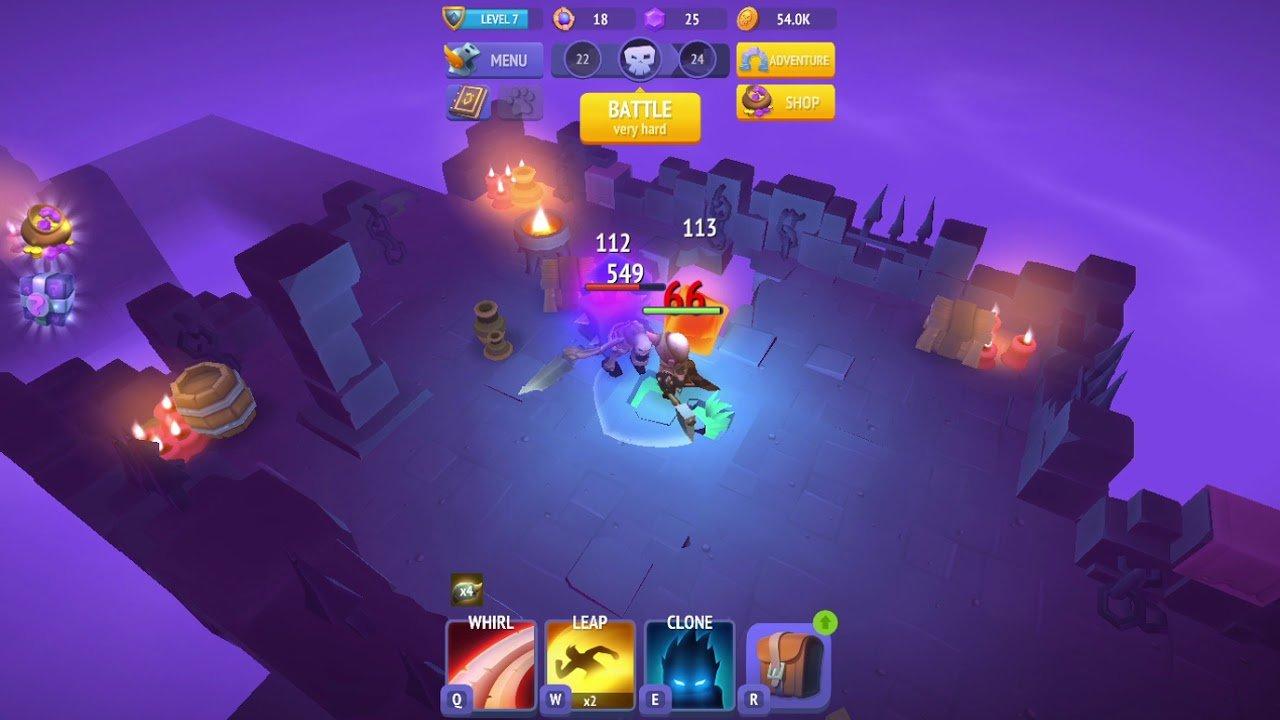 The game, as mentioned, is endless, but it has different types of levels and different settings in which the levels are played. For instance, sometimes you fight alongside another knight, while other times you're completely alone and fighting for your life in the dark. In this way, the game keeps you hooked and doesn't get boring even after several hours of playing it. Play Nonstop Knights 2 on PC using the BlueStacks Emulator and enjoy this game with your favorite combination of mouse and keyboard.
With over one million downloads, Nonstop Knights 2 is rated 4.2 out of 5 stars.
7. Dungeon Hunter 5 (Free To Play)
Published by Gameloft in 2015, Dungeon Hunter 5 is the fifth edition of the long-running Dungeon Hunter series, with the first game having been published in 2009. The game is set in the world of Valenthia, which was destroyed in the previous game, Dungeon Hunter 4, with this game serving as a direct sequel of its predecessor in terms of plot. In terms of gameplay, there are several changes that have been made to the game, and Dungeon Hunter 5 is a lot easier going on its players than in previous iterations of the game. Single-player missions in the game are a lot shorter than they used to be, providing bite-sized content for those who cannot spend hours playing the game. In addition to this, the game also has a Stronghold mode, which allows you to go one-on-one against other players online.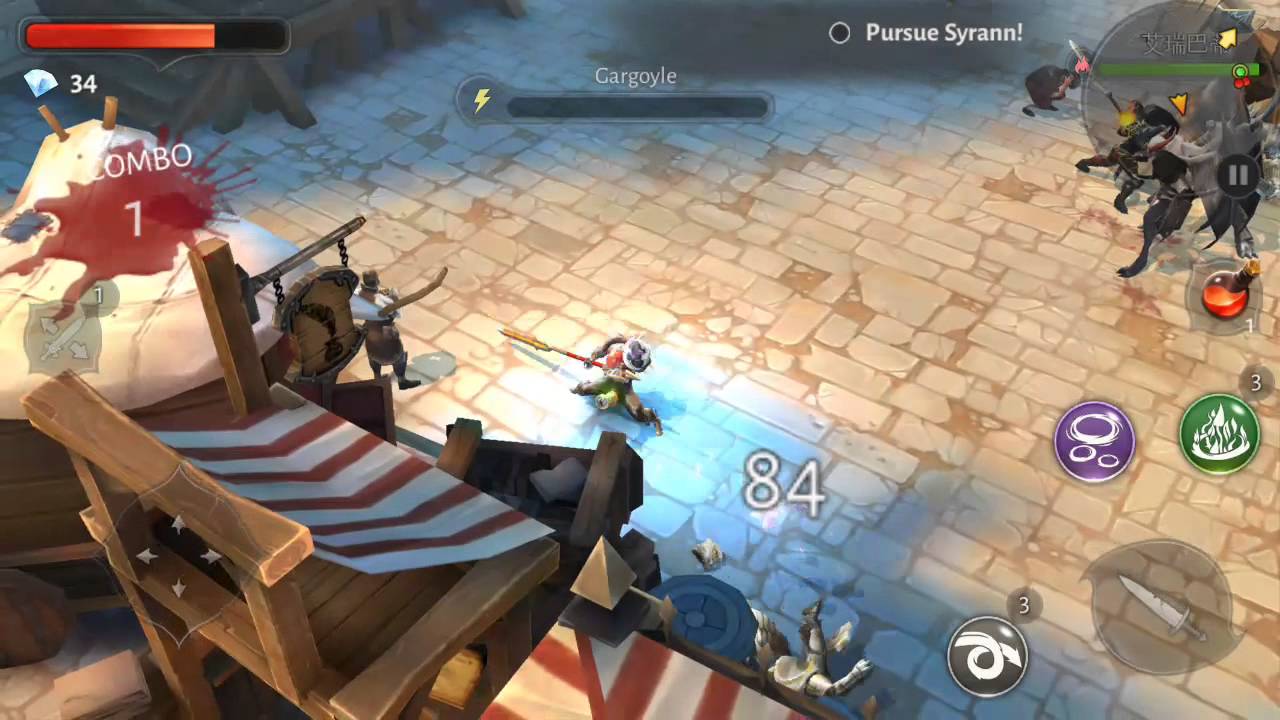 The game's class system is now fully customizable, with five different types of weapons to choose from which affect your character's range, speed, and raw power, amongst other things. Players are allotted two slots for spells along with a belt item which gives the player additional perks.
The game is very well made and has great graphics which still hold up despite the game having been released more than half a decade ago. The colors are bright and vibrant, and the gameplay and combat are smooth, allowing you to play the game for several hours at a stretch. Download and play Dungeon Hunter 5 on PC using BlueStacks emulator.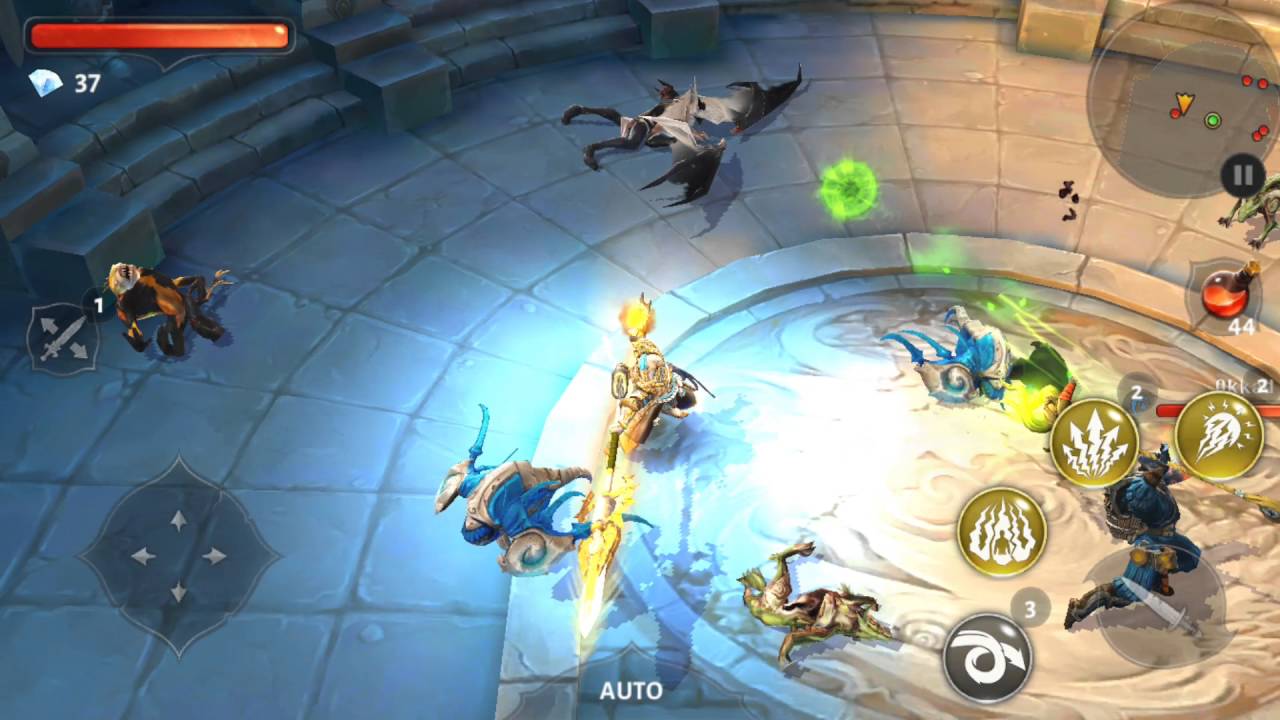 With over ten million downloads, Dungeon Hunter 5 is rated 3.9 out of 5 stars on Google Play Store.
8. Titan Quest ($7.99)
A revered hack and slash game, Titan Quest is like Diablo if it were based on Greek mythology.
Developed by HandyGames, Titan Quest is an action RPG that was first released on PC in 2006. The game centers on the Titans, that is, the predecessors of the infamous Olympians who defeated them in a war between the Gods. These Titans have now escaped the prisons that they had been confined to after their defeat and are now intent on destroying the mortal world for its devotion to the Olympians. It has fallen upon you, the hero, to save the world from impending doom and vanquish the Titans.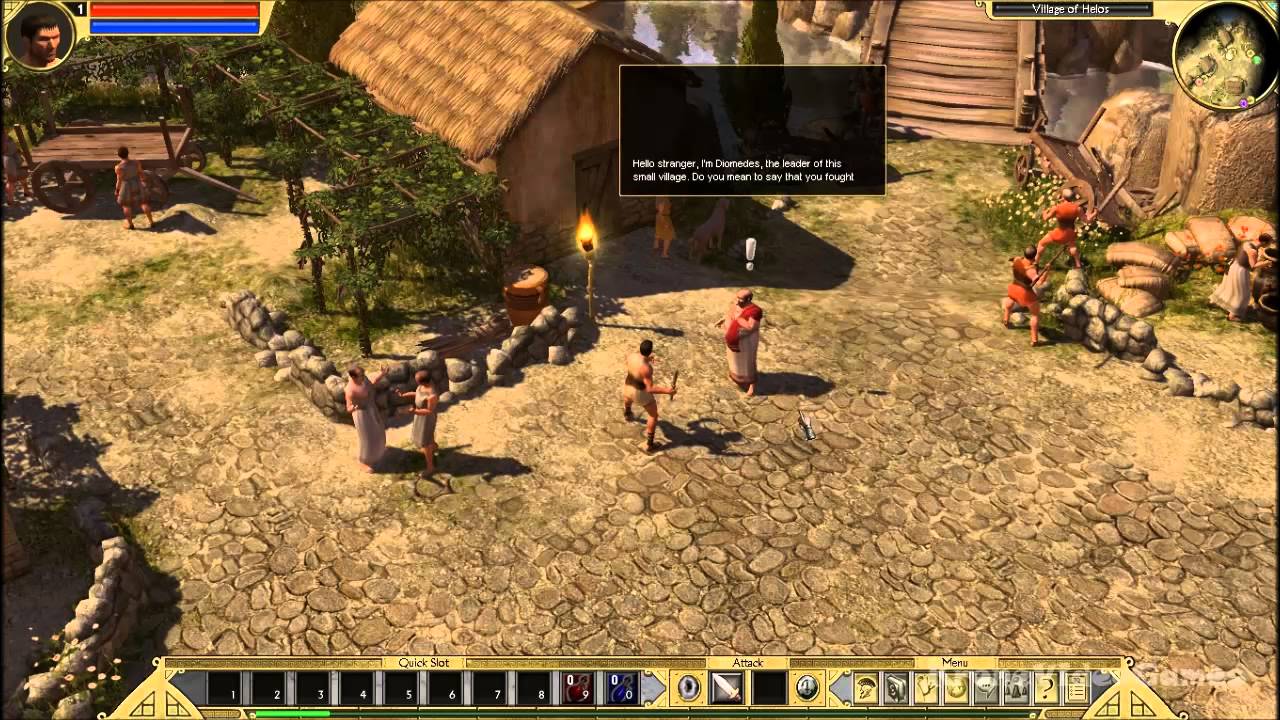 You have to first create your hero persona — name your hero, choose their gender, and the color of their tunic, and then set off on your journey. The basic gameplay is simple enough if you've ever played Diablo. You have to navigate widespread countrysides, farms, forests, ruins, caves, and catacombs through the interface. Each of these environments is swarming with nefarious forces, and you have to battle your way through them while simultaneously collecting treasure. You get to explore the ruins of ancient civilizations in Greece, China, Babylon, and Egypt. Titan's Quest carefully incorporates plenty of elements from Greek mythology; you don't just come across Titans, you also cross paths with creatures like Centaurs, Cyclops, Satyrs, Harpies, and many more. Some attack you from a distance, and some accost you in close quarters, some attempt to use tricks to entrap you and some summon pets to hurt you. Once you've defeated enough monsters, you begin to accumulate experience points, and from there onwards you can decide on the sort of abilities you'd like to possess. For every level you progress through, you're awarded points that you can invest in abilities such as strength, dexterity, and intelligence or in vital attributes like magical energy and health.
There's a separate point system for skills. There are eight different schools of skills to be mastered — warfare, hunting, storm, defense, rogue, earth, spirit, and nature. You can opt for skills based on strategy, some of these skills aid fighters, while other aid spellcasters. Each school has a tier of skills, and the more advanced tiers are unlocked based on points. You can master a second skill as you advance through the level to modify the strengths of your character. The inventory system allows you to curate a personal inventory of weapons, trinkets, potions, enchantments, and armor that you've seized from defeated monsters. There's a wide variety of weapons available to you; swords, mallets, bows, axes, and spears. You can also customize your maps and quests using the mod tool.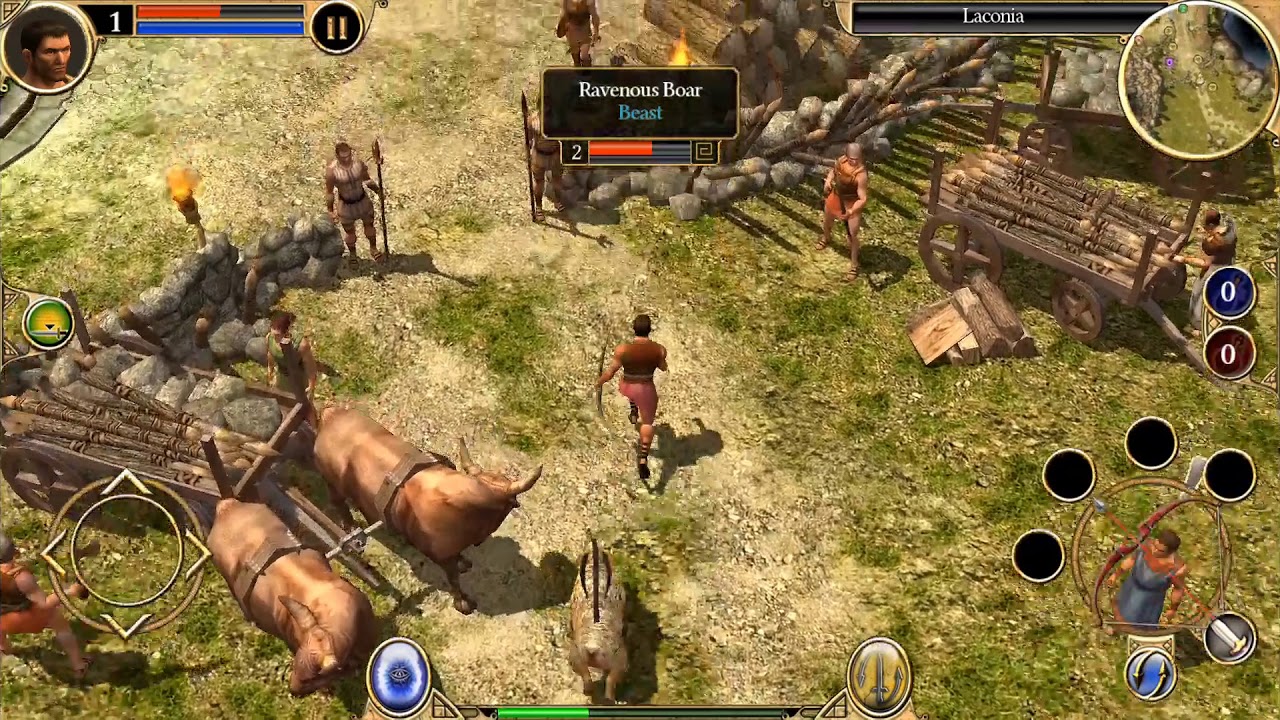 Titan Quest has a single-player campaign that takes up to 40 hours to complete and a seamless multiplayer. It pays obvious homage to Diablo but does so against a gorgeously mythical backdrop. The setting is expansive, and the story unique and engaging. The gameplay is exceptionally smooth, which is quite impressive, considering the age of the game. The mastery system for skills and the inventory system is pretty great, and the customizable maps and quests only add to the appeal. DLCs like Immortal Throne, Ragnarok, and Atlantis are available to retain your interest. All in all, Titan Quest definitely makes for an enjoyable experience. For immersive experience on bigger screen try and play Titan Quest on PC with the help of BlueStacks emulator.
With more than one hundred thousand downloads, Titan Quest is rated 4.1 out of 5 stars on Google Play Store.
9. Crashlands ($4.75)
Butterscotch Shenanigans' Crashlands is a meticulously designed crafting RPG. Like most of Butterscotch Shenanigans' games, Crashlands is a vibrant and creative game that makes for a thoroughly entertaining experience. The basic premise here is that you, Flux Dabes, are a galactic being and also a trucker who works for the Bureau of Shipping and encounter shipping problems on your way to a delivery when your spaceship is tampered with and crashed by the antagonist, Hewgoodoko. Now, marooned onto a strange alien planet called Waonope, you have to find a way to rebuild your ship and deliver the shipment on time, while also battling the menacing forces that obstruct your path.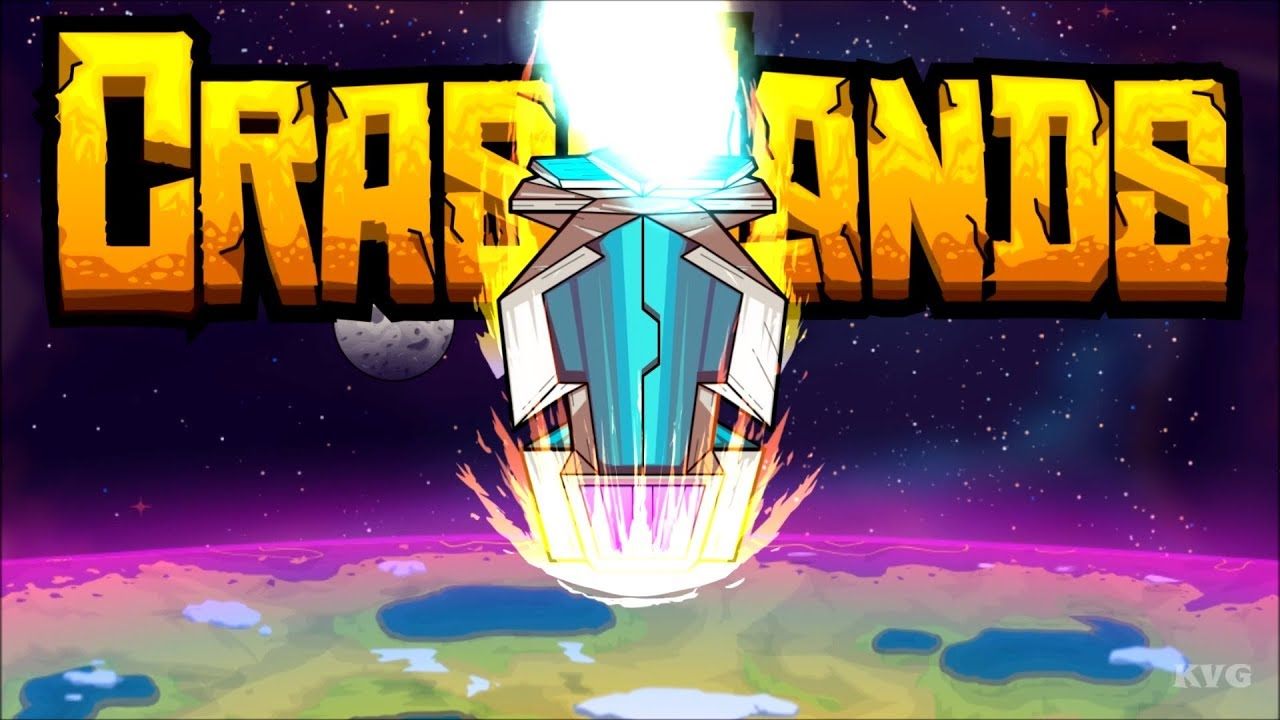 What makes Crashlands unique is the eclectic combination of several gaming genres: crafting, exploration, adventure, survival — to name a few. This combination, along with the compelling RPG mechanics results in an eccentric game. Crashlands features an extensive crafting system, offering up to 500 craftable items as you venture further into Waonope. You're provided with a crafting station that you can use to build almost anything, from basic tools to dangerous weaponry; to do this you have to accumulate a wide variety of raw materials like grass, mud, and wood while exploring the planet. Essentially, you have to collect these raw materials, break down their components and use them to craft tools, weapons, furniture, armory, and gadgets that enable your survival. You're also assisted by Juicebox, a robot sidekick who helps you in your bid to repair your spaceship and leave this planet.
There's a lot of exploration to be done on Waonope, with three expansive continents and four distinct races. The more power you have, the further you can venture into the game; you encounter several characters, each with a side story of their own — some are foes and some are friends. When it comes to your enemies, you can learn and absorb their skills, and enhance your abilities through your crafting gadgets, you can stun them, you can set them on fire and you can flip to slow motion. Basically, there's an unlimited amount of crafting and skill-based combat, and no scope for monotony. The RPG progression in Crashlands is not point-based, instead, your progression depends on the fulfillment of quests. Your progression with these quests awards you access to materials, tools, equipment, and weaponry.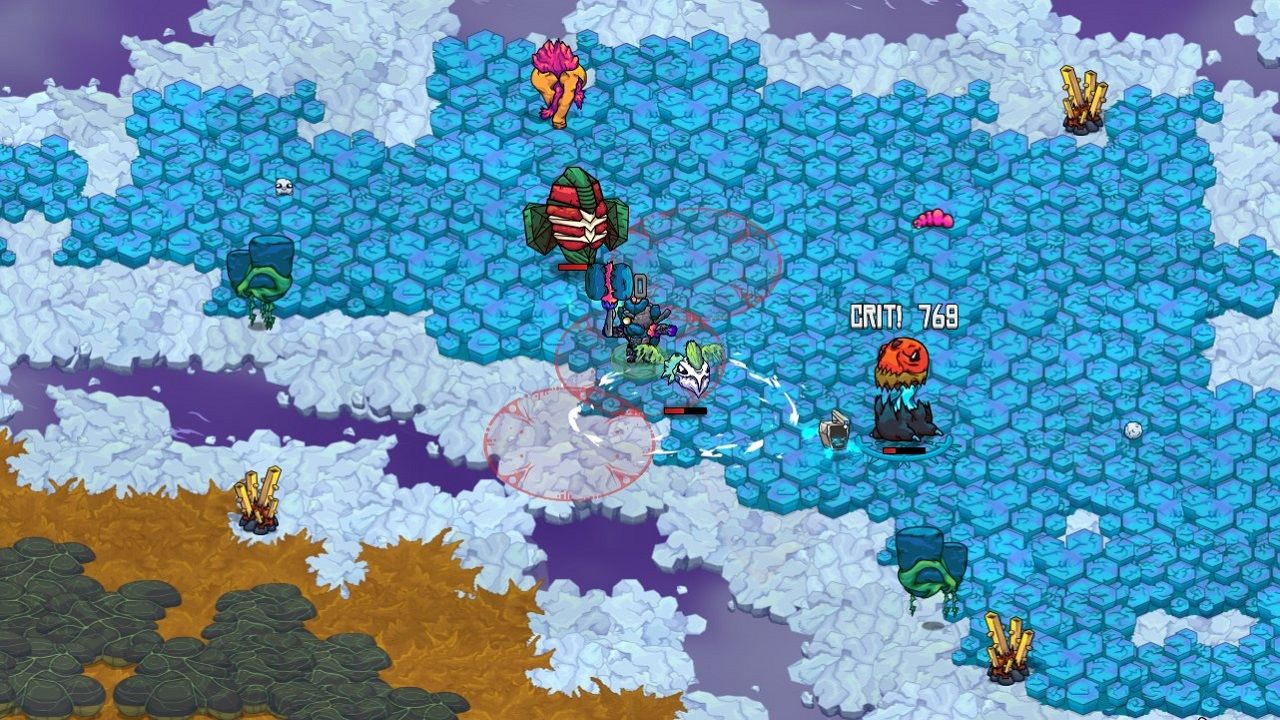 Crashlands is a riveting combination of both crafting and role-playing elements. These elements are carefully curated to produce an enjoyable masterpiece reminiscent of Diablo. You have to explore through and survive several environments, fulfill hundreds of quests, and all the while, craft consistently to make your way through the game. Download and play this RPG game Crashlands on PC using BlueStacks.
With more than a hundred thousand downloads, Crashlands is rated 4.4 out of 5 stars on Google Play Store.