BlueStacks Roundups
Top 10 IDLE Games for Android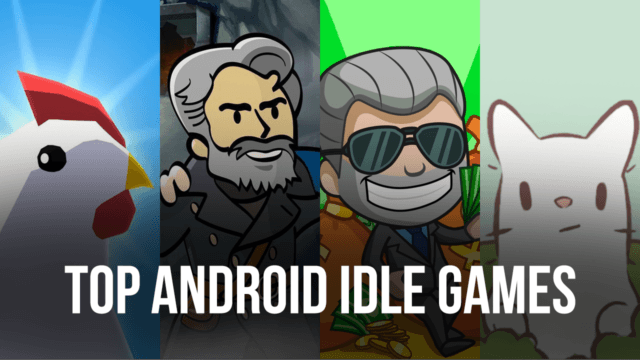 Long grindy video games are notorious for making you feel exhausted and restless, whether you're spending hours eventually acquiring your ideal weapon in Minecraft, or unlocking a certain perk for your character. It's never easy to sit for hours and focus on one thing, which is where IDLE games (also known as incremental games) come in handy. After you've given a few instructions, these games run in the background and provide you with a lot of progress with very little effort, whether you're playing another game, completing homework, or even working your shift. The finest idle games are ones that offer a wide range of features without sacrificing game quality. Even if you've never heard of the Idle genre before, we've made it easy to get started by compiling a list of the top idle games in 2022.
1. CLICKPOCALYPSE II [ Free ]
CLICKPOCALYPSE II is a fantasy dungeon crawling idle game that has over 100K downloads and a 4.6-star rating on Google Play.
CLICKPOCALYPSE II begins by assigning a group of heroes to conduct their dirty deeds. There are several characters to pick from, such as the Fighter (Crowd Control), Rogue (Gathering), two Chicken Kings (Summoner), Barbarian (Melee), Priest (Healer, Buffs), Ranger (Archer), and so on. After the squad of four (Referred to as Party in this game) is formed, they immediately begin exploring dungeons on their own in search of items for you.
This game features a well-designed, button-based graphical user interface menu that includes a miniature graphical depiction of your group as it moves across the game globe. All the player needs to do now is equip the characters with the greatest available upgrades, armor, and weaponry to prepare the way for the expedition while you're at work. The game has been available for a few years and has consistently ranked as one of the finest idle games available.
2. Penguin Isle [ Free ]
Penguin Isle is a calming idle game that has over 10 million downloads and a 4.6 average star rating on Google Play.
Penguin Isle is an idle smartphone game in which you build an ice penguin settlement. The game is filled with charming creatures and gorgeous visuals that put you in a good mood while you're playing. The main goal is to create mini-islands for your penguins to live on, all of which are beautifully portrayed and have enough interaction to keep you interested. As the game goes, it becomes increasingly entertaining, and you'll quickly become attached to the community of penguins you've created.
It also includes a little game set within the universe for added entertainment without jeopardizing the main plot. There are numerous penguin modification choices available, allowing you to show off your creativity while listening to a soothing song and the sound of waves. The animations are very well done, keeping you entertained throughout the game. This is unquestionably one of the games that will bring back memories of club penguins while also providing a soothing gaming experience.
3. Fallout Shelter [ Free ]
On the Google Play Store, Fallout Shelter is an idle-survival game with over 10 million downloads and a 4.5 star rating.
Fallout Shelter puts you in command of a Vault-Tec underground vault. To maintain your vault safe and secure, all you have to do is design the perfect vault, keep your Dwellers happy, and defend them from the horrors of the Wasteland. Your goal is to attract new residents, keep the vault in tip-top shape, and even go on adventures in search of useful survival items. The location is also assaulted by opponents, so you must always be prepared with your forces.
This game distinguishes out thanks to its distinctive art style and playability, providing you a quality experience on your mobile. While Fallout has become a well-known franchise because of its console and PC releases, this is the first Fallout mobile game, which had a difficult debut but has since proven to be one of the greatest idle games on Android. You can also play Fallout Shelter on PC.
4. IdleOn [ Free ]
IdleOn is an MMO game that combines the idle and MMO genres, has over 1 million downloads and a 4.7 average rating on the Google Play Store.
In IdleOn, you make your own guild of unique characters and play as each of them in a vast multiplayer pixel environment, Cast tremendous spells on your opponents, engage with other players, complete big chores, and level up your abilities to make the most powerful team imaginable. Like all the premium idle games, each character works differently at all times, including while they are idle.
This idle MMORPG is a breath of fresh air, with fascinating MMO elements to master. Over 20 specialized characters, each with its own set of powers, talents, chores, and quest chains. Unlike other idle games, IdleOn MMORPG continues to grow, with new content released every few weeks. So, If you enjoy MMOs but find yourself unable to play due to time restrictions, this may be the game for you.
5. AFK Arena [ Free ]
AFK Arena is one of the most popular idle games on the market, with over 10 million downloads and a 4.5-star rating.
AFK Arena is a fantasy hero party game with idle RPG features that emphasizes rapid progression and a large amount of loot. There are over 100 heroes divided into seven groups. You must create the most powerful formations and battle your way to the top. Celestials, Hypogeans, and Dimensionals are the most uncommon. The goal is to equip heroes and construct strategic lineups to defeat your opponents in combat, and each side benefits from formation bonuses and factional advantages.
You may either begin with the well-known campaign mode or move on to PvP combat in the PVP Arena mode; there is a large selection of options to keep you engaged. However, keep in mind that being AFK (idle) will provide you with consistent progress, but there is an alternative to get complete control. It is merely among the list's top candidates, and it runs remarkably well on PC, which means fans of the Idle genre should play AFK Arena at least once.
6. Idle Slayer [ Free ]
Idle Slayer is a one-of-a-kind incremental game with over a million downloads and a 4.5-star average rating.
You play as a monster slayer in Idle Slayer, striving to keep your people safe from the darkness. They will reward you with coins if you deal with them properly. You begin with nothing, leap for a few coins, and improve your gear to run it down once again. Epic features for when you're bored, as well as active playstyle mechanics, medieval pixel art images, and classic 8-bit sounds and music, are all included in the game.

The game's makers have done a good job of integrating achievements into the game, so you'll want to chase them. There are enough weapon upgrades, perk unlocks, and maps to keep you hooked on the game even when you aren't playing it. This game's skill tree generally takes a long time to complete and demands patience hence; This is not an easy game, but it is one to attempt if you are willing to enter the land of idleness.
7. Cats & Soup – Cute idle Game [ Free ]
Cats & Soup is a cat-raising game that has over 10 million downloads and an exceptional 4.8-star rating on Google Play Store.
Cats & Soup is a soothing game with a straightforward goal of raising a cute kitty. It starts with an empty land and a lone cat buddy who starts stirring a pot. You begin to acquire a specific quantity of cash for each bowl of soup that has been served from it. Selling enough soups will provide you with enough coins to improve your workstation. With time, you'll be able to come up with new dishes and build your company.
The game is full of beautiful music and sound effects, giving it a wonderfully relaxing experience. Once you've unlocked a few features, the game also gives you the option of playing a grabber game or fishing for money. Your cats can be upgraded, clothed, and given their own rooms complete with furniture, wallpaper, and other decoration. If you're seeking a cute awe experience, start with this elegant idle game.
8.Egg, Inc. [ Free ]
In Egg, Inc., you're the boss of an egg farm, while the game has over 10 million downloads and a 4.7-star rating on the Google Play Store.
Egg, Inc. is a clicker game that incorporates various features from simulation games to create a distinct feel and play style. Colorful 3D visuals and a lovely depiction of a swarm of chickens grace the game screen, making the greeting highly inviting. Furthermore, while strategically investing in the farm, you must also balance your resources to maintain a smooth and effective egg farm operation.
Casual gamers play Egg, Inc. for its laid-back attitude and attractive look while building a magnificent egg farm and exploring the surroundings. Competitive gamers on the other hand are constantly looking to get to the top and earn more money. The goal remains the same for everyone: to build your farm into a massive business with enormous value, and it is unquestionably a journey worth taking.
9. Idle Miner Tycoon: Gold & Cash [ Free ]
Idle Miner Tycoon is a game about being a wealthy gold miner that has over 100 million downloads and a 4.6-star rating on Google Play.
The game's goal is simple: become a mining factory tycoon, develop an empire, earn money, start a business, level up, earn more money, and become wealthy. In this journey, the idle tycoon simulator game mixes the concepts of money making and simulation games. Your factory's process will be automated as your mining firm grows and productivity rises.
Idle Miner Tycoon is different from other idle money games in that it features more than 15 mining materials and many ways to become a company tycoon. If you enjoy managing money or love gold mining, this is a game you should try. You can also play Idle Miner Tycoon on PC if you want to experience the game on a bigger screen.
10. Idle Power [ Free ]
Idle Power is a programming-based idle game that has received over 100K downloads and a 4.3 star rating on Google Play.
Idle power's goal is to create as much energy as possible by directing the machine with your programming abilities. You must demonstrate to the rest of the world what occurs when an intelligent computer is given a goal to optimize without regard for any considerations, and you must astound them with incredible outcomes. You spin the gears, sell your energy to the grid, and invest money to improve your infrastructure more than ever before.
Energy is generated by turning the gear handles, and incentives are used to improve the machine's efficiency. The expertise you've gained over the years will help you on your path, and investing time and money will eventually result in a superior infrastructure. If you're searching for a quick way to get started, idle power is a great place to start.