BlueStacks Roundups
Top 10 Shooter Games for Android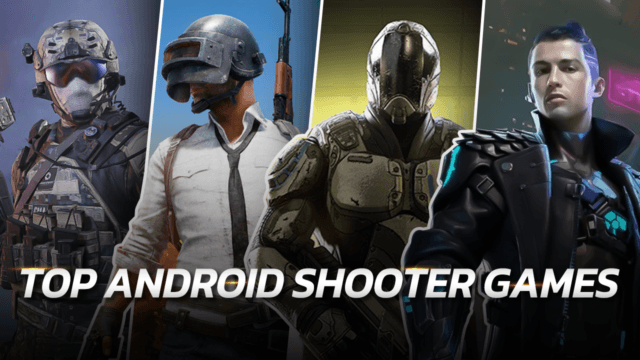 While new genres and styles of games have now become popular, one genre that remains ever-green and always fun to play is the shooter game. In this list, we detail ten such shooter games for you to play on your Android device.
1. Call of Duty: Mobile (Free)
Activision's Call of Duty: Mobile is a mobile shooter game that brings the traditional Call of Duty franchise to your smartphone. Call of Duty: Mobile delivers HD gaming similar to that available on PCs and consoles, with a set of straightforward and adaptive controls. The game is organized into seasons, and each new season's story is developed and new content is offered to the users. In Call of Duty: Mobile, you may play PvP, Battle Royale, and fun multiplayer games like Domination, Kill-confirmed, and Team Deathmatch. This game includes well-known maps from past Call of Duty titles, such as Raid, Shipment, and Standoff.
As you progress through the game, you will unlock and gain access to weapons, costumes, operators, scorestreaks, and gear pieces, giving you the freedom to freely modify your loadouts and play any way you like. You have the option to play in competitive rank mode, engage in both competitive and social play, or sign up for a clan to foster a sense of community. In Call of Duty: Mobile, there are two different kinds of in-game currency: Credits and COD Points. Credits are gained as you progress through the game, and COD points must be bought with real money. Using COD points grants access to exclusive improvements.
The game's distinctive multiplayer modes include Prop Hunt, One Shot, Rapid Fire, Capture the Flag, Gun Game, Attack of the Undead, and Snipers Only. In the Battle Royale mode, you can participate in either a two-person team or a four-person squad.
Each player can choose a skill at the beginning of the game, and each team has a jump leader who decides where the team will land on the map. The map is equipped with a variety of tools, vehicles, and supplies that each player can employ to increase their team's chances of living, but each player starts out with just a knife. The Battle Royale mode can support up to 100 people.
The Battle Royale mode in Call of Duty: Mobile also includes limited modes like Battle Royale Alcatraz, Battle Royale Blackout, Battle Royale Blitz, 20v20 Warfare, and the Sniper Challenge. Players in the game's 2019 Zombies mode must acquire supplies for survival while fending off hordes of zombies.
With over one hundred million downloads, Call of Duty: Mobile is rated 4.3 out of 5 stars on Google Play Store.
2. PUBG Mobile (Free)
Over the past few years, Tencent Games' PUBG Mobile has become a household brand thanks to its outstanding gameplay and aesthetics, which have also contributed to its astronomical popularity.
A huge island with a variety of diverse geographical features serves as the setting for the game. After everyone has parachuted onto the map, a border forms, and over the next five minutes, it steadily gets smaller. The term "safe zone" refers to the entire territory inside the border. The player's health will soon start to decrease at a pace of one HP per second if they don't swiftly get back into the safe zone after leaving it.
In addition to this, the game also includes Red Zones, which can be found at random on the map. Users must instantly hide or leave Red Zones after they are declared since they are soon to be airstriked.
Each weapon that a player is capable of using is present on the map itself. Players must look for the greatest weaponry to employ if they want to win the game. In PUBG Mobile, users have access to a wide variety of weaponry, such as flamethrowers, assault rifles, and SMGs. Like the weaponry, unique packages in the game can be found at random times on the map. Various primary and secondary weapons, protective clothing like jackets and helmets, and first aid kits are all included in these sets.
In PUBG Mobile, players can compete on a number of maps, each with a unique design. Users can also experiment with a wide range of game modes, including Payload, 4v4 Arena games, and Infection Mode.
With over five hundred million downloads, PUBG Mobile is rated 4.1 out of 5 stars on Google Play Store.
3. Dead Effect 2 (Free)
The survival horror game Dead Effect 2 from Badfly Interactive is set in space. In order to identify a new planet, top scientists from Earth board the spaceship ESS Meridian. In the end, these researchers misuse their abilities and end up creating devastating monsters. These monsters are created by a virus that spreads fast and does not have a cure. The only survivor of this calamity, played by the user, now has to figure out how to safeguard the ESS Meridian while also defending themselves from the incapacitating infection. Gunnar Davis, Kay Raynar, and Jane Frey are the three character choices for the regular classes, and each has a unique fighting style. Gunnar Davis uses heavy weapons, Kay Raynar uses melee weapons, and Jane Frey uses shotguns.
More than 40 upgradeable weapons, 100 upgradeable gear sets, and 100 upgradeable body implants are available. Dead Effect 2 is a video game that primarily blends elements of horror and sci-fi adventures. It features zombies, drones, mutts, monsters, and warriors. A woman named Dannette, a brain-damaged mechanic named Minikin, and a scientist named Dr. Bielik will direct you toward objectives as you progress in the game and help you acquire skill-based points and physical enhancements.
Dead Effect 2 provides several story modes, including Generic Missions, Biohazard Mode, Survival Mode, Infestation Mode, and Lone Wolf Missions. It also has a lot of gunplay. A different challenge is presented by each game mode. For instance, in Infestation, you must actively engage the undead enemy forces in combat, whereas, in Survival Mode, your objective is only to escape being assaulted by them.
These story modes help players gain more collectible credits for improvements while keeping them interested in the game and preventing repetition over time. You periodically need to work through quite simple problems in order to get ammunition.
Dead Effect 2's multiple spaceship-based sequences have spectacular visuals and convincing audio effects. The information is fascinating, the gameplay is intriguing, and the music is exquisite. Dead Effect 2's 20 action-packed story missions will keep you engrossed.
With over five million downloads, Dead Effect 2 is rated 4.2 out of 5 stars on Google Play Store.
4. Garena Free Fire MAX (Free)
Free Fire MAX is a Battle Royale game that was published by Garena International and is a part of the wildly popular Free Fire series. Many players were confused about the differences between Free Fire and Free Fire MAX when the latter game's successor, Free Fire MAX, was released. In essence, Free Fire MAX is the former game's entire visual overhaul, with superior visual effects, enhanced playability, and enhanced combat.
Both games' essential components are the same. Like PUBG or the Battle Royale mode in Call of Duty: Mobile, Free Fire MAX is a Battle Royale game in which 50 players simultaneously spawn on a specific map and engage in combat until only one person or squad remains. The game starts with a plane flying over the island that serves as the match's assigned map. The island is divided into many areas with unique landscape features like lakes, bridges, and other architectural features. Numerous types of weapons and artillery are available throughout the island's surface, including shotguns, handguns, automatic rifles, and snipers, are available in Free Fire MAX.
For a longer lifespan and to lessen the damage from other players' guns, you can also locate grenades and safety jackets. You can go searching for other players and kill them as you find them once you have located the weapons and artillery you need to kill foes and survive, or you can devise a plan to lure enemies to your hiding location and kill them once they are in your line of sight. The island's numerous physical features and architectural styles keep players on their toes and require them to quickly adjust to any new circumstances.
The necessity to adapt strategy to the demands of the game and the immediate threat posed by opposing players must be learned by players.
Much-improved graphics are one of the significant modifications that Free Fire MAX introduces, as was previously discussed. This also implies that for the game to function at its best, your device needs more storage space and higher system requirements. Because of this, utilizing BlueStacks to play Free Fire MAX on a computer or laptop is a fantastic alternative if your phone is unable to handle the game's system requirements. Additionally, playing on a laptop or computer gives you more precise and accurate control over your character's and weapons' movements, which are two fundamental requirements in Free Fire MAX if you want to win matches.
With over one hundred million downloads, Garena Free Fire MAX is rated 4.3 out of 5 stars on Google Play Store.
5. Apex Legends Mobile (Free)
The next game on our list is Apex Legends Mobile, which was released by Electronic Arts in 2022. Apex Legends Mobile is an entirely new version of the game created with mobile users in mind and is situated in the Apex Legends Universe rather than being a mobile port of the popular console and PC Battle Royale game. The main selling point of Apex Legends are its titular Legends, each of whom has unique skills that may be employed in-game while you are competing with other players for survival on the map.
The core concept of Apex Legends Mobile is the same as those of other battle royale games. Players are thrown into a map location of their choice after establishing teams. Once on the ground, players can pick up any weapons they can find and use them to hunt down opponents until there is only one team left at the end of the game.
For instance, one of the most well-known Legends, Bloodhound, has the skill called Tracker, which may be utilized to learn other players' whereabouts. The Eye of the Allfather ability of Bloodhound allows them to notice the sneaky traps their enemies have prepared for them. These abilities would suggest that Bloodhound is a Legend who specializes in pressing the attack and attacking. Users would be best served by selecting Legends whose gaming preferences match their skills since this would lead to a more successful battle and a higher chance of surviving in-game.
Users of Apex Legends Mobile have access to a number of different game modes in addition to the Battle Royale mode. Both the "Team Deathmatch" mode and the "Quick Battle" mode, a shortened version of the original Battle Royale mode, allow players to select the weapons they want to use in the game before they spawn. Once in the Team Deathmatch, the user must eliminate members of the opposing team as frequently as they can in order to reach a score cap. The team that scores the most goals first wins the game.
Apex Legends Mobile includes a tonne of content that is only available on mobile platforms, in addition to a huge assortment of weaponry and breathtaking maps and arenas. The game offers a customizable user interface and a controller connection.
With over ten million downloads, Apex Legends Mobile is rated 4.4 out of 5 stars on Google Play Store.
6. Into The Dead 2 (Free)
Into The Dead 2 is a zombie-apocalypse survival game that PikPok Games developed and launched in 2017. It has been said that Into The Dead 2's gameplay is really straightforward and that there aren't many gameplay options. Without a way to turn around, the user is forced to advance while wielding their weapon, dodging zombies to the left and right while shooting them with it. However, the plot is interesting and offers the gamer a lot of information to explore. Into The Dead 2 tells the story of a guy who must battle zombies in order to save his family and preserve their survival. Despite being a well-worn plot, Into The Dead 2 gives it new life with seven chapters and more than sixty stages for players to complete.
In Into The Dead 2, which is a survival-based game, you must conserve your ammunition and attempt to be as precise as you can because swarms of zombies will be charging at you at a breakneck pace. You can also earn animal allies in the game, who will aid in both your survival and your fight against the undead. There are many different weapons available, and as you advance in the game, you can improve their potency.
You can also play a tonne of minigames in Into The Dead 2 if you want to try something other than the main campaign mode. Into The Dead 2 is a fantastic game to play offline because of its ominous and gloomy graphics and excellent sound design.
With over ten million downloads, Into The Dead 2 is rated 4.6 out of 5 stars on Google Play Store.
7. Unkilled (Free)
The next game on our list of the top shooter games for Android is Unkilled, which was published by Madfinger Games. Unkilled, a zombie apocalypse survival game, is regarded as a follow-up to Madfinger's Dead Trigger 2. It was downloaded three million times in the first ten days after its release in 2015. The story of the game centers on Joe, a member of a WOLFPACK unit from a private military company who is tasked with stopping the zombie apocalypse before it spreads globally and kills billions of people. Joe is sent to New York, where he must use his abilities and any weapons at his disposal to combat zombies in order to preserve the city.
Because it plays so much like the Dead Trigger series, this game is regarded as the series' successor. Unkilled forces you to wander around and battle hordes of the undead until you complete your objective, even though you still need to kill waves of zombies that are trying to get you. This game isn't strategy-based, where you utilize different techniques to complete tasks. Despite this, there are certain significant ways in which Unkilled differs from the Dead Trigger series. The game's story mode comes first and is the most significant.
Unkilled features more than 100 missions for you to finish, which means there is a lot of content and gameplay for you to experience. Dead Trigger 2 has a passable campaign mode with more than 16 missions for you to complete. These levels are also not comparable to one another. The missions in Unkilled may need you to find and save a person who is lost someplace in New York or destroy a target that is essential to stop the zombie apocalypse, but the first level might be simply eliminating all the zombies you see in front of you. The trigger is automated, and the controls are easy to use.
This implies that you don't need to aim and fire; all you need to do is point your gun at the swarm of zombies, and it will start firing on its own.
Unkilled's aesthetics are another fantastic feature, including a vividly colorful setting and distinctive (and occasionally hilarious) character designs. Even though the game's language might not be the finest in the business, Unkilled accomplishes its goals and offers a satisfying gaming experience.
With over ten million downloads, Unkilled is rated 4.4 out of 5 stars on Google Play Store.
8. Infinity Ops (Free)
Infinity Ops is a cyberpunk shooter game from Azur Interactive. As one might guess from the game's title, Infinity Ops is set in the distant future where humanity has unlocked the secrets of interplanetary travel, and has thus come into contact with other species and has furthered its own race to other planets. What follows is a long series of interplanetary conflicts and warfare, and it is within this setting that the user finds themselves in the game.
Infinity Ops functions on the basis of classes, with every user being given the option to select between four classes, including Recruit, Saboteur, Tank, and Assault. All of these classes have their own pros and cons, and each has a different playstyle. So, in order to make the most of the game and to enjoy it to the fullest, the user must learn about the various classes and choose the one which suits their playstyle the best. You can also create clans in the game in order to find other players to play Infinity Ops with. The game offers incredible PvP combat, with a wide range of weaponry for you to choose from, including the basics such as assault rifles and grenades, to plasma rifles and laser machine guns. You can even unlock and use jetpacks in the game to make your travel faster and more fun.
The game offers four different game modes for users to try out. The first is Team Deathmatch, in which two teams must fight against each other to score the highest number of points in the least amount of time. The team to reach the score threshold first wins the match. The second mode is known as Deathmatch. While similar to Team Deathmatch, in Deathmatch it's every man for himself, and you must attempt to get the highest score by the end of the round to win the match. The next game mode is called Hardcore. A game mode designed to be difficult, in Hardcore, every hit you receive or dole out does double the damage, severy increasing the chances of players dying, and requiring good strategy and a lot of experience to win these matches. The final mode is called Custom Game, in which you can design your own rules and invite your friends to play the game with you.
With over ten million downloads, Infinity Ops is rated 4.5 out of 5 stars on Google Play Store.
9. DOOM ($4.99)
Next on our list is DOOM, a household name in shooting games that has been rereleased by Bethesda as a mobile port in 2019. However, unlike the original DOOM games that ran offline, the mobile port requires a Bethesda account as well as an active internet connection. The game's plotline surrounds a nameless Marine who is ordered to go to Mars after assaulting his commanding officer who had ordered his unit to fire on harmless civilians. On Mars, the Marine finds out that the Union Aerospace Corporation allows the military to conduct secret experiments surrounding teleportation, one of which goes wrong. The Marine must now set out the secure the area of Phobos where he must fight demons of various kinds.
DOOM is considered the forefather of first-person shooters and offers gameplay way ahead of its time, one that still feels fresh and a joy to play. The game provides you with a simple pistol and is divided into different episodes. Each episode consists of a few levels. To complete the levels, the user must enter a room or a series of rooms, clear it out by killing all enemies, and then proceed to the next level by going through the Exit door. In the mobile port, you have the option of selecting more advanced weapons. Along with this, the game also offers nine extra levels for you to complete.
The graphics remain the same as the original, and the retro feeling is one that transports you back to the early days of gaming.
With over one hundred thousand downloads, DOOM is rated 4.5 out of 5 stars on Google Play Store.
10. Hitman Sniper ($0.99)
Square Enix's Hitman Sniper is a shooting gallery game in which the user controls Agent 47, the main protagonist from the original console and PC Hitman games. In Hitman: Sniper, the user must use their skills to assassinate various high-level targets who have gathered at a lakeside. This is done by sniping these targets without alerting their nearby associates, and, by extension, without getting caught. The game offers a sniper scope view and a whole host of weapons for you to use in order to assassinate these targets.
While this may not sound very fun since there isn't much in the way of a storyline or dynamic gameplay, Hitman: Sniper functions more as a puzzle game, where the main objective is to isolate the enemy so that others near them do not find out if they are attacked or killed. While Agent 47 himself cannot be caught since he is at a distance, the user fails the mission if the enemy becomes aware of the plot to kill them, and hence moves away or alerts others. The game also makes sure that the gameplay isn't one-dimensional. You needn't shoot the enemies directly, but find creative ways to eliminate your target. This involves various other methods to kill them, such as shooting at the glass on which the enemy is standing so that they fall to their death. Another mission involves turning on a fan while the enemy is at the edge of a cliff so that they are knocked out by the fan and fall off the cliff.
You must also make sure to use distractive methods such as setting off car alarms so that the target's security is distracted and you can finish the mission while they look away.
The gameplay is quite simple and so are the controls. In order to shoot at the enemy or at any of the objects in the surrounding environment, the user must aim using their touchscreen and tap at the center of the reticle to fire. You can zoom in and out by pinching on the screen. To reload, the user must tap a button on the screen, after which a quick time sequence follows where the user must swipe at the screen to reload their weapon. The game also has secondary objectives such as getting a kill in a limited amount of time or getting a headshot on a moving target.
New weapons can be acquired by collecting points by killing enemies, collecting blueprints dropped by targets, or by leaderboard scores.
With over ten million downloads, Hitman: Sniper is rated 4.1 out of 5 stars on Google Play Store.