BlueStacks Roundups
Top 10 Tower Defense Games on Android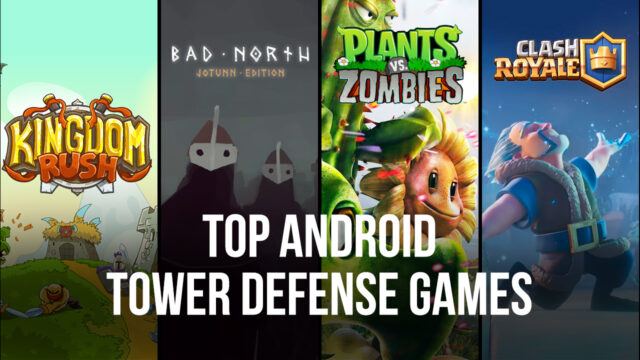 We strive to include every genre in our top games lists so we continue to release new lists to introduce you to new genres and, obviously, to give you more options to choose the game worth your time. We now have the top ten tower defense games, which not only have fantastic soundtracks and force us to brainstorm new tactics, but also look visually stunning taking advantage of the new technology.
In tower defense games, protecting designated towers or a base from the other team is the main goal. These games include simple touch controls, several base upgrades, and many other fascinating features. By taking all of this into account. We list the top 10 Tower Defense (TD) games for you to pick from.
1. Grow Castle [ Free ]
Grow Castle is a hero-based Tower Defense game with over 10 million downloads and a 4.3-star rating on Google Play.
Grow Castle is a simple TD game with the goal of defending the assigned castle from the invading attackers. However, there are 120 heroes presented with different special skills that you may pick according to what strategy feels appropriate. The game also allows you to select the defensive castle based on difficulty or appearance. The opponent waves are difficult at first, but once you've chosen the correct heroes for you, the game will become easier.
The controls are simple for a touch screen device, and the bright, clean aesthetics in the game complement it quite well. The characters in Grow Castle are beautifully crafted, having specific talents such as archery for some and melee fighting for others. When you defeat more invaders and establish colonies, you earn more gold, which can be used to hire workers. There is also a real-time ranking system and an online guild system where you may invite your friends to a bespoke guild.
Grow Castle is one of the original tower defense games, with thousands of fans all around the world. You can even play Grow Castle on PC to enhance your experience of this Tower Defense game.
2. Plants and Zombies Series [ Free ]
The Plants and Zombies series is a TD game franchise that displays the struggle against zombies to prevent your floor from being wrecked. The series includes Plants and Zombies 1 and its sequel Plants and Zombies 2. The games have over 110 million downloads and a 4.3 rating in the Google Play store.
Plants and Zombies is one of the genre's oldest games; the game pits you against Zombies, as the name implies, and it's only a matter of time before one of them grabs the tower. In simple terms, the game lets you plan your way out of a zombie assault. You'll have to protect your base against them by planting unique plants such as energy-giving sunflowers, pea cannons, and carnivorous plants.
The game is extremely popular because of its well-implemented Free-to-Play structure, brilliant lively visuals, and tactical options provided to players. The zombies continue to totter along random lanes, with each new round introducing a new variety of zombies into the mix, as well as additional plant enhancements on every level. The game premise may appear basic, but the obstacles and stages it provides over time are extremely addictive.
The game is hugely popular in the TD genre all over the world; if you're facing difficulty running it on your phone, you can easily play Plants and Zombies on PC as well.
3. Bloons TD6 [ $4.99 ]
Bloons TD6 is a game produced by Ninja Kiwi, the same team behind eight TD games, including Bloons TD. But, their latest version, TD6, tops the charts with
an excellent rating of 4.8 and over one million downloads on Google Play.
Bloons TD6 has a straightforward goal, much like any other TD game: build your ideal defense while deploying a combination of fantastic Monkey Towers, upgrades, Heroes, and triggered powers to explode every last invading malicious balloon on the field. With over 22 Monkeys to select from and 37 completely new levels in the series, it never fails to shock you with its gameplay, so think twice before blinking even for a second.
The unique feature of this game is the 4-player co-op mode, which allows you to play any map and mode with up to three other players in public or private games, as well as various modes like boss events, odysseys, and even a map maker. Bloons TD6 is one of the greatest titles on the list since it has hefty improvements for each type of character, as well as unlocked skins and distinct voiceovers.
Because of its predecessor, the Bloons TD series was known for its extensive micro transactional methods, but the company realized and created TD6 the way any defensive tower fan would embrace it with enthusiasm. The game seems high-end in every manner which is why you can also play it on PC here.
4. Defense Zone 3 HD [ Free ]
Defense Zone 3 HD manages to amaze by combining TD mechanics with war-like action segments. On the Google Play store, the game has over 5 million downloads and a rating of 4.2 stars.
Defense Zone 3 achieves something no other game on the list has: it combines military Sci-Fi with the tower defense genre. We begin by preparing the full army to combat invaders rushing at your defenses. Our goal is to defeat them by any means possible. Although they keep growing more powerful and insane, upgrades and new types of weapons are unlocked from time to time.
You'll have access to classic, tried-and-true turrets like ranged, fast, and damage type, as well as whole new weapon kinds. It is entirely up to you to determine how to use your available funds. Invest in additional towers or improve and strengthen the ones you already have, depending on your plan. There are several challenging levels with different landscapes, and the game features nice music that keeps you entertained.
This game's Sci-Fi setting is a basic yet novel logic, which is why you should play it at least once.
5. Kingdom Rush Series [ Free ]
Kingdom Rush is a century-old TD game franchise with an RPG twist. The original TD game is still going strong, with over 10 million downloads and a 4.6 average rating on Google Play.
Kingdom Rush puts you in the position of defending your kingdom and crushing the invading armies of evil. You have a large arsenal of legendary towers and spells at your command, and your mightiest heroes are always prepared to lead the greatest army to victory in an epic tower fight that will keep you fascinated for hours. There are maps for forests, mountains, and wastelands to pick from, in addition to tailoring your defense strategy with numerous tower tests and abilities.
There are a total of 12 great heroes to pick from, as well as ways to increase your army's might with 18 tower-specific powers. The game also allows leveling up your hero and equipping him with better equipment resulting in being reminiscent of RPGs. The enemies are likewise distinct, ranging from goblins to demons, each with its own special abilities. There are various game modes to challenge your TD abilities, but the sleek, polished graphics make it a veteran experience.
Despite being the oldest game on the list, with numerous modifications and new additions, the developers have shown no signs of leaving support. It plays well on most devices, but you can play Kingdom Rush on PC with Bluestacks to improve the experience.
6. Clash Royale [ Free ]
Clash Royale is a multiplayer combat card game with tower defense elements developed by the creators of Clash of Clans. The game has over 100 million downloads, a 4.3 star rating, and a big international following.
Clash Royale begins with you picking an 8-card battle deck and then heading to the arena to fight. The battle with the other player is a strategic and fast-paced encounter, with the next phase being to strategically arrange your cards and outwit the opponent in order to knock the King and Princesses from their Towers. The game is a real-time multiplayer battle game with amazing features and all of your favorite characters from the clash of clans universe.
With card upgrades and innovative strategies, Clash Royale gives a lot to master, so using your imagination when creating your deck and playing style to locate the loop hole in their defense is important. Because it is a real-time game, a single blink of an eye might lose you the entire battle. There are also competitive aspects such as the replay system to help you improve your game and go up the regional leaderboards.
Clash of Clans, their other game, is also an excellent choice because it blends tower defense with strategy, base development, and resource management, as well as, of course, tower defense. But If you like card games and strategy games, Clash Royale is a great game to try.
7. Mindustry [ Free ]
Mindustry is a cross-platform multiplayer Tower Defense game with over 1 million downloads and a 4.3 star rating on Google Play.
The goal of the game is to make powerful networks of conveyor belts to generate building materials, feed ammunition into your turrets, and protect your structures from waves of invading foes. It is a specialized choice in this genre since you may play with your friends in cross-platform multiplayer co-op games or compete against them in team-based PvP contests.
There is also a campaign mode in which you must conquer the planet Serpulo by progressing through 250+ procedurally generated sectors and 16 hand-made levels. There are over 30 upgrades to master, as well as a custom map editor mode to experiment with. This game's soundtrack style is retro and complements the theme, delivering fantastic vibes.
Mindustry is a retro-style tower defense game with improved gameplay and a diverse range of settings. If you're searching for something fresh in the TD genre, this is an incredible experience.
8. Arknights [ Free ]
Arknights is a Tower Defense game that blends TD with Gacha Elements to give you an authentic RPG experience. The game has over 1 million downloads and a 4.7 rating on Google Play.
In Arknights, you play as a prominent member of Rhodes Island, a pharmaceutical firm that is fighting both a deadly sickness and the rebellion it causes. You recruit Operators, train them, and then deploy them to various operations to defend the innocent with the leader Amiya. Along with an original narrative mode, Arknight has an incredible 200 characters, the most in any TD game.
The game's gorgeous anime-style aesthetics, along with a superb blend of RPG and tactical features, are enough to get it on the list. Each character has their own stats, skills, attributes, and powers that can be raised up with resources obtained from maps, adding to the game's tactical tower defense action.
Unlike other premium TD games, Arknights is constantly introducing new events and maps. You can also play Arknights on PC, which also allows modifications to be added. The modding guide can also be checked here.
9. Bad North: Jotunn Edition [ $1.99 ]
Bad North is a nasty TD roguelite adventure with real-time tactics with over 100K downloads and a 4.4 star rating on Google Play.
Bad North is a lovely yet brutal game that begins like any other TD title but has you defending your gorgeous island kingdom from a swarm of Viking invaders as you lead your people in a desperate escape. Command your devoted subjects to take full tactical advantage of each island's distinctive form. Develop and place your forces to defend a series of battered islands, all while being surrounded by gore visuals.
You direct the broad strokes of your defenses and monitor positions with easy, accurate controls, while your soldiers do the rest, navigating and engaging in reaction to the circumstances intuitively. There are procedurally created islands that are both visually appealing and distinctive in their layout. Smarter defense results in higher rewards, which can be utilized to unlock improvements and turn militia into seasoned fighters.
Tower Defense with Viking Battles seems interesting throughout the gameplay, so it's absolutely worth a look. To enhance your experience, play Bad North on PC and have the best Viking experience.
10. 2112TD: Tower Defense Survival [ $1.99 ]
2112TD: Tower Defense Survival is a futuristic tower defense game with inter-dimensional combat that has over 50K downloads and a remarkable average star rating of 4.6.
2112TD takes place 100 years in the future in a setting wherein you must protect Earth's colonies from inter-dimensional flesh spawn from all around the solar system. In the game, players use numerous weaponry to intercept and destroy their opponents. Players get a chance to improve their power to unlock additional functionalities in anything from machine guns to flamethrowers, artillery, and even plasma turrets, exactly as in previous TD games.
The gorgeous graphic design of 2112TD will undoubtedly make you nostalgic for the RTS golden period, paying respect to titles like Command & Conquer and StarCraft. The battlefield in this journey is a harsh setting, and every second is a stunning experience. There are also achievements, battle data, and a decent overall experience in the game. It's a little more old school than these recent games, but it's worth giving a shot if you appreciate retro games with modern elements.
This game's fantastic campaign mode is far more entertaining than what you'll find in modern Android tower defense games. To improve the viewing experience, you can also play 2112TD Tower Defence on PC.