BlueStacks Roundups
Top 10 Games Like MARVEL SNAP To Play on Android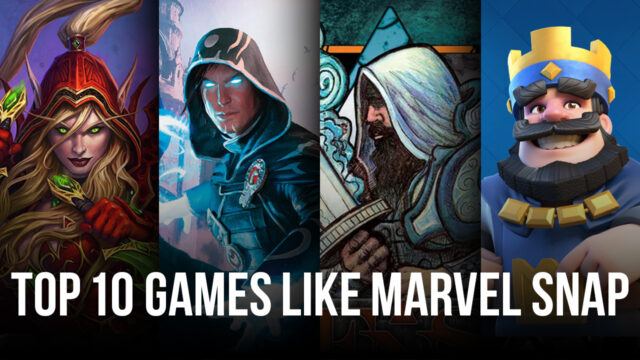 Not everyone enjoys grinding for hours to progress in a game; there are many gamers all over the world that enjoy gaming in their spare time because it gives them a sense of enjoyment and allows them to interact with their fandoms. These games include the well-known card genre, in which you either battle another player with a card deck or assume control of a deck while playing a role-playing game. MARVEL SNAP is a popular card game right now that combines the best of Marvel characters and card battle warfare. If you've tried MARVEL SNAP and are looking for more similar games, or even if this is your first card game. We've got you covered, with our list of the Top 10 Games Like MARVEL SNAP To Play on Android.
1. Hearthstone [ Free ]
Hearthstone, one of the most popular card games in the world , was released in 2014 and has obtained more than 50 million downloads on Google Play.
The same team that created World of Warcraft also created Hearthstone, which is also set in the same fictional world. The fundamental tenet of the game is to build mighty decks using strong cards to reduce your opponent's health pool to zero before they do the same to you. The main focus of the game is crafting your deck with clever strategies to turn the tides of PvE or even PvP battles. Each card animates an extraordinary ability.
Hearthstone has always been a constantly growing universe filled with popular Warcraft characters like Jaina Proudmore and Illidan Stormrage. There are a variety of PvE modes available as well, and if you have friends who play games like World of Warcraft, you may have already tried this. You should go try MARVEL SNAP right away.
Hearthstone is a game you should try out because it helped pave the way for other card games. For a better experience, Try Hearthstone on a PC as well.
2. Magic: The Gathering Arena [ Free ]
MTG Arena promises players the same experience on a handheld device as one of the world's oldest card games, Magic: The Gathering. More than 1 million people have downloaded it since its introduction in the Google Play store only a year ago.
The goal of Magic: The Gathering Arena is to face your opponent on breathtaking battlefields while providing you with fun arena-style battle effects that change the way the game plays and immerse you in it. Even the tutorial mode in the game is beginner-friendly and introduces the user to several playstyles. As you go through the game, additional card decks become available for you to choose from.
Magic: The Gathering Arena offers a variety of game modes to check out, including Draft and Brawl, which will immerse you in the battle's explosive card combination effects. Additionally, tournament modes are available to satisfy your competitive side, and regular thrilling prizes are offered through special in-game occasions.
Magic: The Gathering Arena is a fantastic card game to try, whether you're a fan of the original physical game or simply want to play a new card battler. You can also try Magic: The Gathering Arena on PC to experience the world of magic on a larger gaming screen.
3. Yu-Gi-Oh! Duel Links [ Free ]
Yu-Gi-Oh! Duel Links is a card-based combat game that is a direct adaptation of the trading card game Yu-Gi-Oh!. More than 50 million people have downloaded the game since its 2017 debut, according to the Google Play store.
The main goal of Yu-Gi-Oh is straightforward: you only need to gather cards, assemble decks, and beat other players. A true depiction of the classic table-top is provided by the game. Along with a fiercely competitive mode, there is also a lengthy solo quest that introduces you to the gaming mechanics and guides you through the narrative around the cards.
In addition to promising a beginner-friendly journey, Yu-Gi-Oh also demonstrates a straightforward path to a pro-level hardcore encounter. Additionally, it gives you game currency so you may level up your deck once you've finished the tutorial. Even though it is an older game, Yu-Gi-Oh! Duel Links offers an enjoyable experience and holds up well in the current environment. You can also boost your gaming experience by playing Yu-Gi-Oh! Duel Links on PC.
4. Ascension: Deck Building Game [ Free ]
Award-winning deck-building game Ascension. Despite being available since 2014, the game still outshines other card games in terms of intricacy and has received more than 500K downloads on the Google Play store.
Ascension's main objective is to employ Dreamborn cards and Insight resources to preserve the Dreamscape, therefore the player just needs to link monsters to their decks and use them to combat the evil. While Ascension offers a competitive mode, you may also train against several offline AI opponents. For fans of card games, the game offers countless hours of engrossing and strategic gaming.
Ascension: Deck construction The game is a terrific competitive experience because it was created by former pros of Magic: The Gathering, another card fight game on the list.
5. Reigns [ $2.99 ]
Reigns is one of the most premium games on the list. It's a card game where you control the administration of a kingdom yourself. Since its release in 2019, it has received over 1 million downloads from the Google Play store.
Reigns' straightforward goal is to use card drafting to rule a kingdom. However, it won't be simple to balance the powerful factions of your kingdom while surviving the apparently endless flurry of demands from your advisers, peasants, friends, and adversaries. Each choice the player makes has direct or indirect effects, and you may unavoidably have to deal with the consequences.
Reigns is a standout title on the list with lovely visuals, humorous moments, and a wholly captivating original gameplay. The game is created by the well-known studio Devolver Digital, whose titles have also been included in past listicles like Best Actions Games in 2022.

Even though the game runs without a hitch on the majority of devices, playing Reigns on a PC using Bluestacks gives a more immersive adventure.
6. Slay the Spire [ $9.99 ]
Slay the Spire, a rouge-like deck building game where the finest single-player gaming experiences can be found. Since its release in 2021, Slay the Spire has had over 100K downloads on Google Play Store along with various updates to upgrade the adventure.
The game's basic goal is quite straightforward to comprehend: the player must create a battle deck that fits their playstyle, embark on an expedition where they will face strange monsters and find powerful artifacts, all for the sole purpose of slaying the Spire. Select the cards to assemble the strongest squad against the adversary from among the hundreds of unique cards available.
This game is a must-play for fans of single-player strategy since it offers some of the most unusual and varied deckbuilding choices. As you create synergies as you go in an effort to scale the named tower. As you advance, you'll also come across potent artifacts that might help you farther throughout trials, but the same artifacts don't help continuously, thus synergy is a crucial element. Try out Slay the Spire on a PC to enhance your deck building experience.
7. Shadowverse CCG [ Free ]
Shadowverse is a AAA multiplayer game with card and turn-based combat. The game was released in 2016 and has received many updates since then due to a community of over 1 million players, according to Google play.
Shadowverse is primarily an online card-collecting game with numerous distinct character classes, each with its own set of unique rules. The gameplay is comparable to that of any card battle game, such as Hearthstone. On a board, you face a rival; the first to take 20 HP wins the fight.
The biggest distinguishing feature of this game is the Japanese anime art style, which makes it a worthwhile playing experience for anime aficionados who also enjoy the card genre. Shadowverse is a well-polished mobile game with a variety of modes for everyone. You have the option of taking on the challenge in multiplayer lobbies or learning in the shadows of single-player adventure. The game works well on most devices, however, if you want to improve your experience, Try Shadowverse on PC.
8. Legends of Runeterra [ Free ]
Adapted from the setting of the well-known MOBA game League of Legends, Legends of Runeterra is a strategic card game. The game was released in 2020 for Android, and more than 10 million people have downloaded it as of this time.
Similar to MARVEL SNAP, the primary goal of the game is to defeat your opponent in a 1v1 battle by draining their health. Top champions from LOL are featured in Runeterra, enabling each card to have a unique mechanism based on their original appearance. By playing, you can level up your cards to make them stronger: Every card has a unique attack and health stat, and many have additional features.
The most exciting aspect about Legends of Runeterra is the variety of deck-building possible options. You also have the option of choosing your own path between PvP and PvE. either by beginning with practice or by entering the battlefield right away. If you enjoy playing competitive card games or League of Legends. A game you ought to play is League of Runeterra. You can also play Legends of Runeterra on PC with Bluestacks.
9. Exploding Kittens – Official [ Free ]
Exploding Kittens, another game with a physical to mobile port, is one of the list's easiest and friendliest games. It was released for Android in 2016 and has since received more than 500K downloads on the Google Play store.
Exploding Kittens is a cat-powered variant of the popular card game Russian Roulette.The game's core idea is as straightforward as its name suggests: players draw cards until they draw an Exploding Kitten, at which time that player explodes, is killed, and is eliminated from the game, unless that player holds a Defuse card.
The participants rapidly become furious with one another in this pleasant game of aggression and sabotage. The game is made more enjoyable by the cartoonish graphics and clear in-jokes. Even though it may be played on any device, there may be some technical difficulties. You can play Exploding Kittens on PC at any time.
10. GWENT: The Witcher Card Game [ Free ]
One of the first card games on the list is Gwent, which is based on the world of The Witcher. Although the game was first released as a standalone in 2017, it has been a part of the Witcher series since Wild Hunt. Since its release in 2020, it has had more than 1 million downloads on Google Play.
Gwent offers a variety of decks, each with its own strengths and drawbacks. You don't have a health pool to exhaust as in MARVEL SNAP. Instead, you want to finish each round with the most points possible. The winner of a game is the player with two victories. Playing cards gives you points; each card has a different point value. Building a competitive card collection takes work, but the progression system makes it rewarding. Gwent appears visually. Every card, fight, and battlefield are given life by gorgeous, hand-drawn imagery and captivating visual effects, making GWENT enjoyable to play. The music is equally captivating as in the Witcher games, which thoroughly immerses you in the game. A fantastic game to start with is Gwent, or if you enjoy CD Projekt Red, you must play this! Try Gwent on PC to enhance your experience