BlueStacks Roundups
Best Action Games on Android in 2022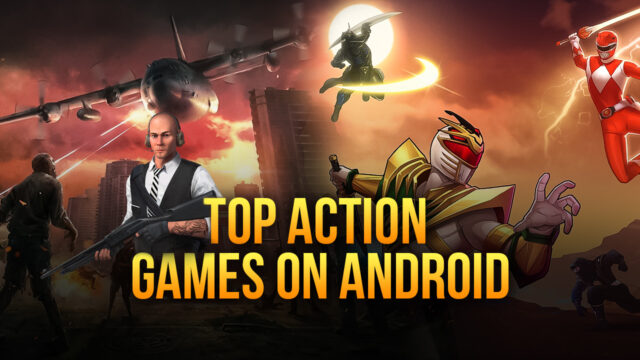 Video games bring fiction to life and allow us to immerse ourselves in fantastical encounters. The experience of discovering something new is always exciting, and it is this feeling that we receive when we play action games, which are the most passionate, energetic, and adrenaline-pumping games. We've seen a lot of action games in the past few years, which has made the genre incredibly competitive. Creators must focus on optimizations, gameplay, and, most importantly, producing the greatest action-packed scenes that will make the user happy. To make the task of choosing an action game for you easier, we've compiled a list of the top action games on Android in 2022.
1. Grimvalor [ Free ]
With over 1 million downloads and an average star rating of 4.6 on the Google Play Store, Direlight's Grimvalor is one of the best examples of the indie platformer genre, delivering an excellent action experience.
Grimvalor is a side-scrolling hack-and-slash game set in a dark fantasy realm with fast-paced gameplay. We play as a lone warrior on a mission to rebuild a ruined realm. In a large story-driven premium experience, the voyage begins with evocative landscapes and dungeons. While the game's gorgeous 3D visuals are seamless throughout the action-packed encounters, there are plenty of customization options throughout the plot to offer you a memorable experience.
The game can also be played without an online connection and features accurate and configurable touch controls, so there's no stopping you from getting the win in epic boss battles. So, If you're seeking some side-scrolling action-adventure, Grimvalor turns out to be a superb platformer with great combat and exploration.
2. Dead Cells [ $8.99 ]
Motion Twin's Dead Cells is another action platformer with over 500k downloads and a 4.4 average star rating on Google Play.
Dead Cells is a 2D game in which you must learn to battle with a range of weapons and skills against ruthless minions and bosses. The goal of the game is to prevent permadeath and finish all of the opponents in the biome as quickly as possible. It's as easy as killing, dying, learning, and repeating. The makers have undoubtedly made this a pretty polished experience, given the game was initially accessible on PC and consoles.
Playing Dead Cells isn't easy, and you'll need to study your foes' tendencies to stay alive, or else you'll be brought back to your cage and have to start all over again. With casual gamers in mind, additional paths open up as you die, expanding the world even further. Since the game's launch, there has been a lot of new content added to it, allowing it to reach its full potential. This gives us faith that the game will not die any time soon and will continue to improve.
3. Ronin: The Last Samurai [ Free ]
Ronin: The Last Samurai by Dreamotion Inc is one of the most unusual games on the list, with over 5 million downloads and a remarkable 4.6 star rating on Google Play.
Ronin is a game with a never-before-seen art style that evokes old Japanese paintings while remaining true to the samurai combat style of the past. In the game, you play as the last living Samurai in Japan, and you must fight your way through to preserve the Samurai's tenets and culture. To survive, you must Counter and Slash several opponents. The only weapon a warrior can rely on is a sword, but mastering it is no easy task; you must become the best in order to keep the last samurai alive.
The combat is hard due to a variety of foes such as zombies, ninjas, Japanese gladiators, and Katana masters. But, the unique Ink-and-wash graphic depicting ancient Japan in anime style never ceases to amaze us. Make sure you play Ronin: The Last Samurai at least once if you are a fan of the slash combat and the Samurai.
4. Into the Dead 2 [ Free ]
With over 10 million downloads and a 4.4-star rating on Google Play, Into the Dead 2 is an action-packed endless runner game.
The purpose of this game is to go as far as possible in order to escape the zombie apocalypse. Travel through oil fields, military bases, and other locations while avoiding zombies. You play Into the Dead 2 as James, a guy on a last-ditch attempt to rescue his family. You'll gain a number of fighting and ranged weaponry as you go through the game, which you may use to destroy zombies in your path.
The developers added new content to the game after it was released, making it more interesting, despite the reality that the DLCs are $4.99 each. As one of the most recent zombie action games, the game features unique components such as a devastating atmosphere, difficult challenges, and even a charming dog companion, giving you a fantastic experience.
5. Apex Legends Mobile [ Free ]
Apex Legends Mobile is a new generation battle royale game with elemental twists, with over 10 million downloads in the first month of release and a stellar 4.4 average rating on the Google Play Store.
Apex Legends Mobile is a Battle Royale game that combines incredible superpowers with unique environmental elements to create a memorable royale experience. The game has been fine-tuned throughout development to retain all of the original's characters, locations, and graphic intensity.
The goal of the game is to stay alive until the depletion zone runs out. However, the characters in this game stand out because they have three distinct abilities: passive, tactical, and ultimate. You can queue with up to three people in a 60-player Battle Royale, warm up in 3v3 competitive combats in the other arena, or join the brawl in the new mobile-exclusive deathmatch mode.
Either way, it's one of the most popular games on streaming platforms and also made it to our list of top Android games for streaming.
6. Crash Bandicoot: On the Run! [ Free ]
Crash Bandicoot: On the Run! is a new generation endless runner that has received over 10 million downloads and a 4.4-star rating on Google Play.
On the Run takes you back to the days when we would squeeze time out of our schedules to hit our hands on our handhelds in order to break the subway surfer record or simply to try out the new temple run version, but Crash Bandicoot does things a little differently; it has new levels to clear, each with its own set of challenges. To progress to the next level, you must defeat the boss battles on each level. To battle the bosses, you'll need to craft resources like explosives and other items, which will be available once you reach certain levels.
On the Run distinguishes itself as a well-optimized game with several cosmetic variations and the ability to create incredible weaponry. The game's surroundings are wild and exotic, bringing back memories of the classic Crash Bandicoot adventures. Playing Crash Bandicoot: On the Run! should be the first thing on your mind if you're seeking an unending runner with spectacular action sequences.
7. My Friend Pedro: Ripe for Revenge [ Free ]
Devolver Digital's action-adventure game, My Friend Pedro: Ripe for Revenge, has over 5 million downloads and a 4.6 star rating on Google Play.
My Friend Pedro: Ripe for Revenge is a hysterically funny shooter that manages to turn bullet-time murdering into a simple but beautiful art form. After his wife and children were abducted and he was left for dead, you take on the role of an assassin supporting the banana in recovering his family, but it's not going to be easy. The game offers spectacular visuals and action scenarios that will remind you of your favorite action movies.
Every level is simply a few minutes long and focuses on slaying in the most beautiful manner possible while keeping you engaged with lively music to groove to. The 2D platformer never ceases to amaze, the Max Payne-style shooting is seamless throughout the story, and the banana friend is absolutely worth it. Pedro started his vengeance story in 2021, and it quickly became one of the most entertaining games on the market.
You can play My Friend Pedro: Ripe for Revenge for the action that it provides but also for the Max-Payne style story arc.
8. DRAGON BALL LEGENDS [ Free ]
DRAGON BALL LEGENDS may be the one for you if you are an anime lover and someone who enjoys action. On the Google Play Store, the game has over 10 million downloads and a 4.4-star average rating.
DRAGON BALL LEGENDS is the newest game on the mobile platform, bringing an anime action RPG with epic 3D visuals and animations to help convey the original tale centered on the enigmatic Saiyan known as Shallot, invented by Akira Toriyama. We team up with Shallot and the other DRAGON BALL characters to help him restore his memories and rescue the planet.
The game features high-definition 3D animations and visuals to provide the greatest action gameplay experience possible. The game contains a fantastic storyline as well as a multiplayer element that allows you to matchmake with your friends or other DB players online. The controls are simple to understand and work nicely with the 3D action. If you're searching for an anime action game, this is a good choice and we've also put up a DRAGON BALL LEGENDS character guide.
9. Brawlhalla [ Free ]
Although Brawlhalla is the only multiplayer fighting game on this list, it remains one of our favorites. The game has over 5 million downloads and a 4.3-star rating on the Google Play Store.
Brawlhalla is a 2D action brawler that can be compared to a cartoony, cross-platform version of Super Smash Bros and the newly released Nickelodeon all-star brawl. The main game mode throws four players into a confined platformer arena and equips them with guns and other items in order to defeat one another. Brawlhalla is a free-to-play game with a vast roster of 50 playable characters and a cash system that you may use to unlock them. As a result, the game is absolutely free to play, but getting all of the achievements takes a long time.
You can play Brawlhalla for all the action it provides and the array of characters on offer. Each character in the game has their own distinct traits that will pique your interest as soon as you start playing them. This might be the game for you if you're looking for an action multiplayer game to enjoy with your friends.
10. Pascal's Wager [ $6.99 ]
Pascal's Wager is a stunning soulsborne-style game on the platform, with over 100,000 downloads and a 4.2-star rating on Google Play.
Pascal's Wager is one of the most similar games to the Soulsbourne series. It's a tough action RPG that assumes the player is familiar with the mechanics of soul games. The game has a variety of playable characters, large landscapes to explore, and difficult boss encounters. The universe is fully immersive, providing you with a high-end hardcore experience.
Pascal includes many characters and downloadable content (DLC) as part of the original game pricing. It also contains a slew of deadly adversaries, plenty of challenges for the player to face, and an amazing soundtrack that never fails to surprise and elevates the experience to new heights. This could be the game for you if you're seeking a serious demon-slaying action game.