BlueStacks Roundups
Top Android Games for Streaming in 2022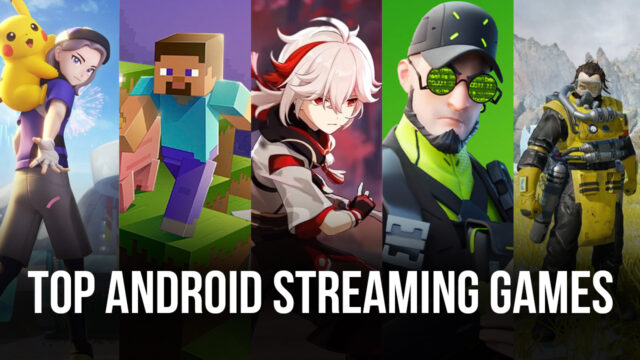 As far as the internet is concerned, gaming content creation has increased dramatically in recent years. Making videos, developing a community, and massive Live Streaming are all examples of content production. There are a variety of platforms to stream on, as well as a variety of games that have been released to give you a platform to show off your skills over the internet, build your community, or simply make a career in streaming.
Multiple pros, content makers, and pass-time gamers are evolving with a great number of games on Twitch and YouTube. Providing you with opportunities to smile, laugh, and celebrate with your audience, and after spending days and nights researching viewership and engagement, we have finally compiled a list of the best Android games for streaming.
1. Fortnite Mobile [ Free ]
Fortnite Mobile is still one of the greatest games to watch and play on the mobile platform, with over 350 million users in the last year.
Fortnite is another famous Battle Royale game, because of the popularity of the Battle Royale genre in the streaming world. It's not your standard royale, though, where the goal is to be the last person remaining. Each battle royale begins similarly to the others, but Fortnite's distinguishing element is the ability to construct structures. Players may build modest walls with the material collected with the harvesting tool, or they can practice and end up building a skyscraper.
Fortnite often introduces new improvements, one of which is the most popular right now, which prevents players from constructing or erecting structures. As a result, the game has taken on a more arcade-like vibe and has set new viewership records. The nicest part about this game is that it supports crossplay, which means it can be played on PC, consoles, and Android phones, making it one of the ideal ones to stream with friends.
2. Genshin Impact [ Free ]
Genshin Impact is a popular MMORPG with over 10 million downloads, a 4.3-star rating on Google Play, and top viewing statistics across all major platforms.
Genshin Impact is one of the most impressive open-world games on the market, with a big universe to explore. You may climb any mountain, swim in every river, and glide around the world below while taking in the breathtaking scenery. The game has a complex past as well as a broadcast of characters with whom you may engage throughout the adventure.
CO-OP for up to four people is one of the greatest co-op experiences in the game, and it's a terrific way to interact with your streamer buddies or simply have a good time on stream. Although high-end equipment is required, the visuals are equally so appeasing and you can navigate the hardware limitations if you play Genshin Impact on PC through BlueStacks. The game continues to receive frequent updates and is well-received by the community, which is why it remains in the top charts on twitch almost two years after its release. You can play Genshin Impact on PC.
3. Apex Legends Mobile [ Free ]
Apex Legends Mobile is a Battle Royale game that combines incredible superpowers with unique environmental features to create a unique experience. The game was initially launched for consoles and PC in 2019, and it is being developed for Android by the same team, Electronic Arts. The game keeps all of the original's characters, locales, and graphic intensity, which have all been fine-tuned throughout creation.
The characters in this game have three different abilities: passive, tactical, and ultimate. You may queue with up to three people in a 60-player Battle Royale or warm up in 3v3 competitive combats in the other arena option; either way, prominent streamers like shroud are calling the game the greatest battle royale right now, and it's certainly worth checking out. The game is presently available in select regions, with a slow rollout planned for the rest of the year.
4. Among Us [ Free ]
The game Among Us was released in 2018 and became famous in 2020. With over 100 million downloads and 12 million reviews on Google Play, it is one of the most popular games on the internet.
As you ready your spaceship for launch, the game may be played with 4-15 people online or over local WiFi, but there will be an impostor trying to murder everyone. Completing all chores or detecting and voting the imposter of the ship are two ways for crew members to win.
Because of how exciting it can be when played with others, the game has a large online user base. There's a lot of excitement, falsehoods, and mayhem among us. You should enjoy yourself while playing Among Us on PC with your buddies and with your audience.
5. Minecraft [ $7.49 ]
Minecraft, created by Mojang, is one of the most entertaining games ever streamed. This app is a smash hit, with over 10 million downloads and a 4.6-star rating on Google Play.
Minecraft is a survival-building game in which you must mine and use resources to help you survive. The game is not only fun to play, but it also requires you to be inventive in order to create and discover new constructions. The compelling setting of Minecraft is frighteningly similar to real life in that it motivates you to seek out more and more resources in order to improve your condition.
You might start your Minecraft adventure with your friends and engage the audience before going on to kill the ender dragon, which you might be able to achieve if your survival adventure is up to standard. The game's possibilities are nearly unlimited, and the creators regularly update it to keep it looking fresh for you to play every now and again.
6. Arena of Valor [ Free ]
Arena of Valor is a popular MOBA game with over 10 million downloads, a 4.4 average star rating on Google Play, and a massive following on YouTube.
Valor is a real-time 5v5 MOBA game that was first developed for Android but subsequently ported to other mobile platforms. Despite the fact that it appears to be one of the greatest MOBA experiences available on mobile devices. The game is simple to start up, but there are a variety of game types and classes. You may play 5v5, 3v3, and a variety of other games, and you can choose whatever combat style suits you best thanks to the variety of classes available.
Arena of Valor is a fantastic MOBA game that you should definitely check out if you enjoy the genre, and it also has a large following on YouTube. To gain a more authentic MOBA experience, you can also declutter your controls if you play Arena of Valor on PC, giving you access to the mouse and keyboard. It's usually on the top of the list of popular games, and viewers are eager to learn new methods from the broadcasters.
7. PUBG MOBILE [ Free ]
With over 1 billion players worldwide, PUBG MOBILE has a 4.1-star rating in the Google Play Store.
If you want a truly premium battle royale experience, PUBG Mobile is the place to go. With enormous regions to explore, PUBG Mobile boasts stunning visuals and an interesting gaming experience. There are more than 5 levels in the game, and you may play in a number of modes, including arcade mode, which lasts around 5 minutes, training mode to warm up, and classic mode, which allows you to get right into battle.
One of the earliest games in the battle royale genre was PUBG Mobile. On both the major platforms of YouTube and Twitch, the game boasts one of the highest viewerships. Because the game runs smoothly on a standard smartphone, you can broadcast straight from a mid-range device instead of utilizing an extra capture card. You have the option of climbing the ranks or maintaining interesting streams for your audience. You can always unlock more frames if you play PUBG Mobile on PC with BlueStacks if you want to take that extra step to gain the edge.
8. Pokémon UNITE [ Free ]
Pokémon UNITE, unlike any other Pokémon game, is a new pokemon franchise MOBA game with over 10 million downloads and a 4.6-star rating on Google Play.
In 5-on-5 team bouts, you compete to see who can score the most points in the allocated time. As you and your teammates battle wild Pokémon, level up, evolve your own Pokémon, and strive to keep the opposing team from gaining points, teamwork is essential. Returning MOBA players will recognize the gameplay, but there are a variety of Pokémon to choose from, each with its own persona.
Pokemon UNITE is attracting a large number of viewers to the Pokemon brand, making it a popular addition to the series and bringing the MOBA genre greater recognition. It is extremely popular among strategic players and has a rapidly rising audience on streaming services. You can also customize your experience further and create a more efficient control mapping system by playing Pokemon UNITE on PC with BlueStacks.
9. League of Legends: Wild Rift [ Free ]
Over 10 million people have downloaded League of Legends: Wild Rift, which has a 4.0 rating on the Google Play Store and a large following on streaming platforms.
Riot Games' strategic 5v5 MOBA, Wild Rift, was built from the ground up for mobile devices. Just as in LOL, each match begins with you picking a champion/agent of your choice. It just takes a few minutes to get started if you've never played a MOBA before. Wild Rift might be compared to a lightened-up League of Legends.
Compete in skill-based matching matches that may be queued in a duet, triad, or a five-stack. Simply add your mobile friends and join the queue for a game. The game was published in 2020 and has only continued to expand since then, with frequent updates and strong Twitch viewership statistics, the game has shown enormous promise.