BlueStacks Roundups
Top 10 Android MMORPGs 2022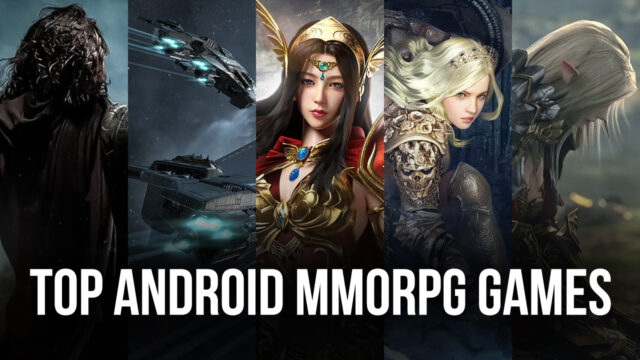 There are two aspects of video games that make them as fun to play and addictive as they are. The first is the ability to control a character situated in a world completely different from yours, and the second is the ability to play these games with your friends. MMORPGs bring both of these elements together and allow you to have a gaming experience that is unparalleled by anything else. From playing in vast landscapes in Medieval era Europe to playing in contemporary times, MMORPGs allow you to enter a completely different world; one that you can share with your friends.
In this article, we list the ten best Android MMORPGs for you to play in 2022.
1. Black Desert Mobile (Free)
Black Desert Mobile is a mobile adaptation of the massively popular PC MMORPG Black Desert Online, which was later published for consoles as simply Black Desert. It was developed by the South Korean game production studio Pearl Abyss. The game had built up a lot of buzz before its debut, with over 4.5 million people pre-registering for it in less than two months. This is due in great part to the game's initial success and critical acclaim.
The aesthetics of Black Desert Mobile are one part of the game that everyone, user or non-user, is familiar with. The game, which is frequently referred to as the best-looking mobile MMORPG available today, is positively magnificent, with the time and effort put into making the game being evident right from the start. The character models, as well as their movement mechanics, are superb. The combat animations, as well as the animations for spells and special abilities, are outstanding, and Black Desert Mobile looks nearly as beautiful as any high-budget PC or console MMORPG. While this game does demand stronger mobile specs than most other MMORPGs for mobile, you can reduce the graphical settings and play the game at a lesser resolution if your phone lacks the necessary requirements.
You can choose whatever server you want to play on, and you must choose from a few distinct character classes, as in practically any MMORPG. In Black Desert Mobile, you can choose from thirteen different characters, including Witch, Ranger, Warrior, Valkyrie, Giant, Sorceress, and so on. These classes all have different styles, abilities, and weapon options. Character customization comes next in the game. Users in Black Desert Mobile have complete control over their character's appearance, with practically every feature adjustable. This includes elements like facial structure, height, weight, hair color, and costume, among other things.
Black Desert Mobile's gameplay isn't groundbreaking, but the makers have adhered to the essentials and done them well. The game includes standard MMORPG features like trading, housing, farming, fishing, and so on, as well as player vs player battles and castle battles. The action and battles in this game are fast-paced, with a big map to explore and fight in, as well as a broad array of weaponry to choose from, keeping true to the elements that made the PC version of Black Desert Mobile so popular. The game is set in a high-fantasy world, and the architecture, weapon design, and atmosphere all reflect this. You can even construct your own camp as you continue to play Black Desert Mobile, which will serve as a haven from all of the game's hazardous monsters.
Although Black Desert Mobile offers in-app purchases and transactions, it is primarily a free-to-play game.
With over ten million downloads, Black Desert Mobile is rated 4.1 out of 5 stars on Google Play Store.
2. AdventureQuest 3D (Free)
AdventureQuest 3D is the successor of AdventureQuest, a 2D internet RPG developed by Artix Entertainment LLC. The sequel, as the name implies, expands the game from two to three dimensions and transforms it from a conventional RPG to an MMO. The game is a fantasy MMORPG with open realms and aspects of both physical and magical combat. You can also choose from a variety of classes depending on the situation and the battle ahead of you, so you're not limited to just one type of character. If you're a mage or paladin, for example, you can use the warrior and necromancer classes once you've unlocked them.
The game's graphics aren't as polished as those found in most recent MMORPGs. Despite the fact that it was launched in 2016, the game appears to be from the early 2000s, which isn't always a bad thing. Many players appreciate and actively seek out retro-styled MMORPGs, and AdventureQuest 3D provides exactly that. The game exposes you to Lore, a fictional world teeming with various monsters, terrifying dragons, and legions of the undead. The huge array of weaponry and armor accessible in the game has also been praised by both users and critics. Because the developers understand that most mobile gaming occurs on the fly, AdventureQuest 3D optimizes mobile gameplay by encouraging users to play the game in short bursts rather than long stretches.
As previously stated, the game retains its old-school charm while also providing a wealth of game features. The game is cross-platform, which means you may play it on your mobile device as well as on your computer. Not only that, but it operates on both Android and iOS, meaning you can play your game on both an iPhone and a PC, or an Android mobile device and a Macbook.
Because this is an MMORPG, users interact with one another, and as with other games, playing with someone whose character is far higher in terms of experience than yours can be frustrating. AdventureQuest 3D, thankfully, takes care of that as well. To provide fair battles and a competitive gaming experience, the game allows you to play with other users on your level. Users can also form groups with their friends and compete in PvP matches against other user groups. Daily login prizes, exploration milestones, and the opportunity to customize your character in any way you like are all available.
Artix Entertainment LLC has also ensured that the game is as skill-based as possible, opting for a gaming style that encourages users to grind for experience levels and work hard for wins rather than a pay-to-win strategy. Another fantastic feature of the game is its dialogue and cutscenes, which are full of tongue-in-cheek comedy and are a lot of fun to watch while simultaneously engaging you in the main plot.
With over one million downloads, AdventureQuest 3D is rated 4.4 out of 5 stars on Google Play Store.
3. Ragnarok Origin (Free)
The next game on our list of the best Android MMORPGs of 2022 is Ragnarok Origin, the mobile version of the popular PC game, Ragnarok Online. Ragnarok Origin, as well as its predecessor, Ragnarok Online, draws heavily from Norse mythology, with the story taking place around the events of Ragnarok, which was a series of different events which involved popular Norse Gods such as Odin, Thor, etc. Ragnarok is also centered around a great war which also plays an important role in the plot of Ragnarok Origin.
The game has an open-world setting that invites players to explore the various landscapes and their features available in the game. The game has a story mode as well as side quests for users to play through. There are dozens of unique missions for you to complete, as well as quests that you can play through in order to get more in-game currency which will help you with character customization.
The user has a choice between six different classes from which they need to pick one for their character. The classes include:
Swordsmen, who are well balanced both offensively and defensively.

Mages, who use their knowledge and magic in order to defeat opponents.

Merchant, who is able to carry far more items than any other class and can hence be very useful on the battlefield.

Acolytes, who don't have any offensive power of their own but help out their teammates with prayers that enhance the abilities of their teammates.

Thieves, who have great dexterity and quick movements.

Archers, who are great with the bow and arrow and can shoot at enemies from a distance, reducing the risk of being harmed by enemy attacks.
Apart from this wide variety of classes, Ragnarok Origin also allows you to customize your character to your heart's content. From outfits, weapons, abilities, to play style, almost every aspect of your character can be customized in-game. The game also has a mercenary system in which solo players who don't jump into the game with teammates can hire mercenaries who can be from different classes and then go on missions together.
The game has wonderful graphics in terms of both character design as well as landscape. The controls are easy to use and the game is easy to navigate. All of these features combined means that you should definitely play Ragnarok Origin if you are an MMORPG enthusiast.
With over one hundred thousand downloads, Ragnarok Origin is rated 3.7 out of 5 stars on Google Play Store.
4. EVE Echoes (Free)
NetEase Games' EVE Echoes is an MMORPG based on the popular EVE Online. EVE Echoes is a detailed sci-fi massively multiplayer online game that has a striking resemblance to EVE Online, which at the time had a cult following.
The main setting and plot of the game are as follows. After the collapse of a portal to Earth, the remains of humanity strive to establish a "New Eden." The Amarr Empire, Gallente Federation, Caldari State, Jove Directorate, and the Minmatar Republic are the five outer space societies that make up this new universe in EVE Echoes.
The setting of EVE Echoes is similar to that of EVE Online. Users can engage in interplanetary exploration, battle, resource harvesting, and other activities in place of open-world exploration. EVE Echoes is a science fiction sandbox game with thousands of solar systems for players to explore and play in. The game's visuals are breathtaking, with cutscenes depicting the vastness of the solar system. The game has a very clean appearance, with only what the user needs being displayed on the screen. Because the game has a large user community, engaging in PvP battle is an experience that never gets old, no matter how many times you try it.
With over one million downloads, EVE: Echoes is rated 4.1 out of 5 stars on Google Play Store.
5. Lineage 2: Revolution (Free)
Released by Netmarble in 2017, Lineage 2: Revolution is part of the Lineage series and takes place 100 years before the setting of Lineage II: Goddess of Destruction. Lineage 2 is an MMORPG that allows up to 200 players to battle on the same map at once in real-time. The map is huge and completely open-world, meaning players can venture to the corners of the world and still find enemies on the fringes that they must battle and defeat.
As with most MMORPGs, Lineage 2 offers clan-based combat in which players can join the game with their friends, form clans, and fight enemies together. Fighting and defeating enemies will reward you with loot which can then be shared amongst the different clan members. You also have the option of forming clans with other players playing online or joining pre-formed clans.
The main combat form of the game is the open-field PvP battle in which every player must fight for themselves and come out as the winner at the end of the match. Another popular combat mode is the 50v50 Fortress Siege battle, in which players are divided into teams of fifty. The teams must then fight each other and try to conquer the opposing team's fort. The team that is the first to conquer the fort wins the match.
Another brilliant aspect of Lineage 2: Revolution is the sheer magnitude and magnificence of the map. With a huge landmass to explore, players can discover wonderful architecture, scenic mountain views, and an overall engrossing aesthetic that is addictive to play in. The game moves smoothly, and so does the combat, with no awkward moves and fights for you to encounter. From the characters to bosses and the dungeons they live in, every visual aspect of the game has been given due attention and time, which reflects in every element as you play Lineage 2: Revolution.
With over five million downloads, Lineage 2: Revolution is rated 3.9 out of 5 stars on Google Play Store.
6. RebirthM (Free)
Next on our list is RebirthM, released by Caret Games. RebirthM takes all the classic tropes of MMORPGs and applies them to a new setting with modern graphics, control systems, and gameplay. One of the most intriguing features of RebirthM is its controls. With most MMORPGs players usually have to control every aspect of their character's movements and choices. From choosing which quest to complete next to picking out which enemies to fight, players have to make every move on their own and proceed through the game thus. RebirthM, however, allows you different levels of automation in terms of controls.
There is an option for you to let the game take over completely and watch your character move through different quests and engage enemies in battle on their own. There is also the option to keep them in defensive mode, in which you must choose where you want to go and your character will only raise their weapon if they are being attacked. Of course, the option to manually control your character is still present, but it is a refreshing change to see an MMORPG include automated controls into its gameplay.
The main premise of RebirthM is based on age-old MMORPG storylines, in which you must play the role of a mercenary and defeat different monsters and enemies in order to save the kingdom of Arcross and its citizens. Most missions include killing a certain number of enemies and collecting their loot as well as items such as plants or other important items which will help you further into the game. The game offers four different classes for you to choose from, including Slayer, Berserker, Wizard, and Ranger.
The game has an extensive open world which you can choose to travel through and explore yourself, and there is much to see and explore. There are various NPCs you can talk to, many of whom will give you important pieces of information, as well as weapons, pets, mounts, and quests to fight through. The game makes it easy for you to identify such NPCs, which keeps you from wasting time trying to talk to every NPC you encounter.
RebirthM also has several other features such as the non-story features, including dungeons, guilds, etc. These are unlocked once you have progressed through a considerable portion of the plot. These non-story features also help you upgrade your character in several ways. As is the case with most MMORPGs, RebirthM also has a multiplayer mode that allows you to go on co-op dungeon raids with friends or guildmates. The game has no level progression cap, meaning you can keep leveling your player up as you continue playing the game, making you amongst the strongest in your guild.
With over one million downloads, RebirthM is rated 4.2 out of 5 stars on Google Play Store.
7. A3: Still Alive (Free)
Netmarble's A3: Still Alive is an immersive open-world roleplaying MMORPG. Project A3, a 2003 South Korean PC game, served as a major inspiration for Still Alive. The game is a gory fantasy set in a bleak post-apocalyptic world with lush jungles, deserts, and snowfields. The player's primary goal is to preserve the world from evil powers. The game features a variety of PvP modes that the player can participate in alone or in a group. Still Alive is a large-scale, open-field game that allows 30 players to play in battle royale mode at the same time; there are 10 teams, each with three players. The members of the last remaining team will compete against one another, and the match will be decided by the last man standing.
The players can engage in brutal battles with other villains in addition to battling between themselves. They fight their way to the top in order to obtain gear, gaining stat bonuses and improved skills along the way. Players can choose from five different classes in the game: Templar, Wizard, Berserker, Archer, and Assassin, each with its own set of abilities. Each character has his or her own backstory. Each sector's gameplay is timed, so if you don't complete it before the timer runs out, you'll be executed by a grim reaper – this adds a competitive element to the game. 'Soul Linkers,' who operate as partners on the battlefield and assist the player in overcoming difficulties, provide an incredible benefit to the gamers. There are more than 270 Soul Linkers accessible, separated into three types: ATK, DEF, and SUPP. The Soul Linkers are beneficial to players since they provide fight assistance based on the needs of the players' current position. Joining a guild allows players to engage in tactical warfare, such as pursuing conquests, raiding, and participating in guild festivals with their guildmates.
The masterfully incorporated Conflict Royale feature, which allows you to score equipment and commodities that aid you in the center battle, is what makes Still Alive one of the best MMORPGs. The Battle Royale mode in Still Alive is unusual in that it lets you select from a number of talents and one of four weapons, each with its own basic attack; it also allows up to 200 players to engage in massive 100 x 100 battles.
A Battle Pass is available in the Battle Royale mode, which allows players to earn awards, obtain new armor and equipment, and establish alliances with their friends. Still Alive reintroduces a retro charm evocative of PC MMORPGs' classic dark fantasy genre. The Battle Royale mode is an unexpected addition to a mobile MMORPG that nonetheless manages to perform flawlessly and offers a subversive distinction among the plethora of nearly identical MMORPGs available today. With basic gameplay that is easy to manage (not to mention the auto-play option), an animation style that evokes the nostalgia of the early 2000s, and dark fantasy content that is compelling to watch, playing A3: Still Alive is an everlasting experience..
With over a million downloads, A3: Still Alive is rated 4.1 out of 5 stars on Google Play Store.
8. TALION (Free)
Gamevil's TALION is a 3D fantasy MMORPG for Android that has gained a lot of popularity in both Asian and Western markets. The game is set in the realm of Nar, where demons ravage and devastate the land, and revolves around a feud between two factions: The Alliance of the Shield of Protection, led by Aegis, and The Alliance of the Flame of Judgement, led by Bident; the former seeks peace and freedom, while the latter seeks absolute and unmitigated power. Warrior, Assassin, Battlemage, and Gunslinger are among the four classes available to members of any alliance.
Most other MMOs can't compete with TALION's character customization. It allows players to customize their avatar's appearance (hairstyle, eye shape and color, lip size and color, the shape of the chin, nose, and so on) and optimize their character's persona through accessories, costumes, rides, and guardian fairies, which not only add a unique and dazzling touch to each character but also enhance combat abilities. The extensive customization is what distinguishes this game from other fantasy-themed games.
The game also has a commendable set of features, including nonstop open-world PvP gameplay in which the warring realms and factions can fight each other or amongst themselves, and the player can choose from four RvR (Realm versus Realm) modes: Team Battle, Death Match, Occupy, and Major Clash; players can also team up as guildmates to raid dungeons and seize armor and weaponry. Another outstanding feature is the availability of features like Auto-Combat and Auto-Questing, which allow the player to take a vacation from gaming while their character continues to fight and complete missions.
The graphics and sights are beautiful, and the excellent upgrading and guild support, PvP gaming for 20 versus 20, and stylized roleplay design only add to the appeal.
With over one million downloads, TALION is rated 3.7 out of 5 stars on Google Play Store.
9. Guardians of Cloudia (Free)
Next on our list is NEOCRAFT's Guardians of Cloudia, a fun MMORPG that harkens back to older MMORPGs and pays them homage in terms of its design and aesthetic, as well as its gameplay and storyline. The game is set in the City of Cloudia, in which you must play the role of a character who is on a mission to save the city from dark beings who are on a rampage and want to destroy peaceful Cloudia. The game features five different classes for you to choose from in terms of character build: Rogue, Archer, Swordsman, Mage, and Oracle. Each of these has different pros and cons and one must choose the class of their character depending upon one's playstyle. Each class also has two advanced classes which can be unlocked after you have played the game for a while and have upgraded your character.
The game also features extensive character customization. Not only can you choose your character's class, but you can also change the way they look as well as their wardrobe. The main game mode is the story mode, in which you play through the game's main plot and interact with the different characters in the game, but apart from the story mode, there are also other game modes for you to play through such as the Battle Royale, 1v1, 5v5, Guild War, etc., all of which can be played with friends of guild members (apart from the 1v1 mode, which is a solo mode).
Guardians of Cloudia also takes the time to make the game as personalized and interactive as possible, and this is done with the addition of pets, as well as 'Heart Hunter'. The game features over a hundred different pets for you to unlock and play with. These pets will be by your side and accompany you on your various adventures through the game. Each pet has a different set of abilities and all of them are unique in their build. What is even more intriguing is that these pets' appearances change over time as they grow and become stronger. Pets give you a definite strategic advantage on the battlefield so it's best to unlock as many of them as you can.
'Heart Hunter' is a fun addition to the game, in which you can find your soulmate in-game and conduct an elaborate wedding. You can invite all your friends to the wedding and also present your partner with a personalized ring. Once the wedding is complete, you and your partner can go on adventures together and fight bosses and monsters in tandem.
With over one million downloads, Guardians of Cloudia is rated 4.0 out of 5 stars on Google Play Store.
10. MARVEL Future Revolution (Free)
The final game on our list is Netmarble's MARVEL Future Revolution, released in 2021. The game is set in Primary Earth, which is a combination of different realities, meaning you see the same characters interacting with each other in different capacities, and the different versions have different goals and allegiances.
The player controls their character which operates in a three-dimensional world. Each character has a total of 32 abilities which are divided into 8 different categories. While all of these abilities can be unlocked, only five abilities apart from the Basic and Ultimate abilities can be equipped at a time. The user will have to face off against a variety of opponents who will be divided into regular, or villain, and boss, or supervillain categories. While villains are fairly easy to defeat, supervillains come with enhanced abilities as well as defenses, making it quite difficult to face up against them. In order to make your character strong enough to face up against supervillains, you must significantly upgrade your character's abilities. This can be done by upgrading their skills, using Omega Cards and Battle Badges which can be equipped to improve your character's abilities, as well as other ways such as Energy Cores and Companions.
Players also get the full Marvel experience when they play MARVEL Future Revolution as the game lets you play using all the major and popular Marvel characters such as Iron Man, Captain America, Black Widow, etc.
With over ten million downloads, MARVEL Future Revolution is rated 3.9 out of 5 stars on Google Play Store.