BlueStacks Roundups
Top 10 Android MMORPGs to Play in 2021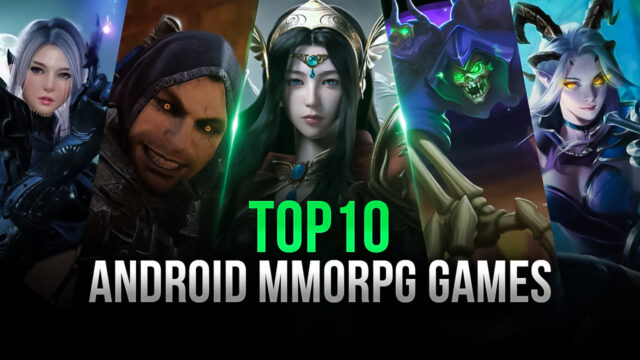 MMORPG stands for Massively Multiplayer Online Role-Playing Game, which essentially means that unlike RPGs, which do share a lot of features with MMORPGs, the world of these online games is continuously evolving, even when a user is offline. The connectivity of MMORPGs is unparalleled, with hundreds, even thousands of users playing the same game, at the same time, in a persistent world that is hosted by the game's developers. The term 'persistent world' was coined by Richard Bartle, a British writer, professor, and researcher in the field of MMORPGs, and according to him a persistent world is a virtual world, such as a game environment, that is ever-changing internally even when no people are interacting with it. So, in many ways, these game worlds are quite similar to the real world in the ways in which they operate.
Although MMORPGs can and do include anything the developers want, and many current MMOs differ greatly from the ones that came before them, most MMORPGs share certain themes and characteristics which have now become universally associated with this genre of games. Things such as a Persistent Game Environment, social interaction with other players, system architecture, player progression, group membership, and character customization, are all some of the basic characteristics that most, if not all, MMORPGs share. A major chunk of these games also share common themes, with most MMORPGs being either fantasy or science-fiction-themed games such as the incredibly popular World of Warcraft or Eve Online.
In this article, we'll be looking at the ten best MMORPGs, in no particular order, available for Android right now.
1. AdventureQuest 3D (Free)
First on our list of the best MMORPGs for Android is AdventureQuest 3D, created by Artix Entertainment LLC. AdventureQuest 3D is the successor to AdventureQuest, which was a 2D browser RPG. The sequel, as the name suggests, takes the game from two dimensions to three, and also changes it from a simple RPG to an MMO. The game is a fantasy MMORPG featuring open worlds, with both physical and magical combat elements. The game also allows you to be part of several different classes based on the situation and also depending on the battle ahead of you, which means you don't have to be tied down to one particular class of character. For example, if you're a mage or a paladin, you can turn yourself into a warrior or necromancer once you've unlocked those classes.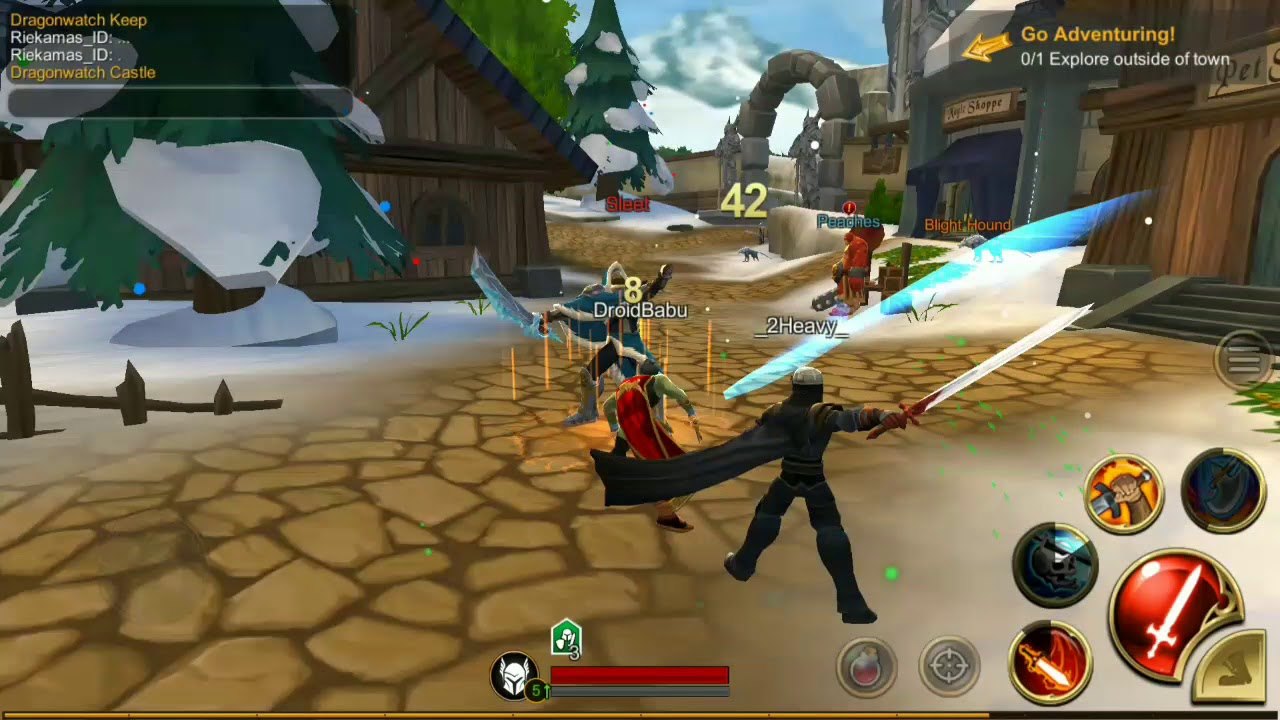 The game graphics differ from most modern-day MMORPGs in the sense that they're not very polished. Although it was released in 2016, the game looks like it was released in the early 2000s, which is not necessarily a bad thing. Many users enjoy and actively seek out retro-looking MMORPGs and AdventureQuest 3D gives you that exact experience. The game introduces you to Lore, a fictional world that is filled to the brim with different monsters, dangerous dragons, and hordes of the undead. Another aspect of the game that has been lauded by both users and critics is the large variety of weapons and armor available in the game. AdventureQuest 3D optimizes mobile gameplay, encouraging users to play the game in quick passes, as opposed to long stretches of play since the developers know that most mobile gaming happens on the go.
As mentioned before, the game maintains its old-school charm but leaves no stone unturned in terms of game features. The game functions cross-platform, meaning you can play it on your mobile device and the game AdventureQuest 3D can be played on your PC as well. Not only that, but it also runs on both Android and iOS, so if you have an iPhone and a PC, or an Android mobile device and a Macbook, you'll still be able to run your game on both devices. Since this is an MMORPG, users play with other users, and sometimes, with other games, it can get a little annoying to play with someone whose character is on a much higher level than yours. Thankfully, AdventureQuest 3D takes care of that as well. The game lets you play with other users on your level to ensure fair matches and a competitive gaming experience. Users can also create groups with their friends and take on other user groups in PvP matches. There are also daily login rewards, exploration achievements, and the ability to customize your character in whatever fashion you like.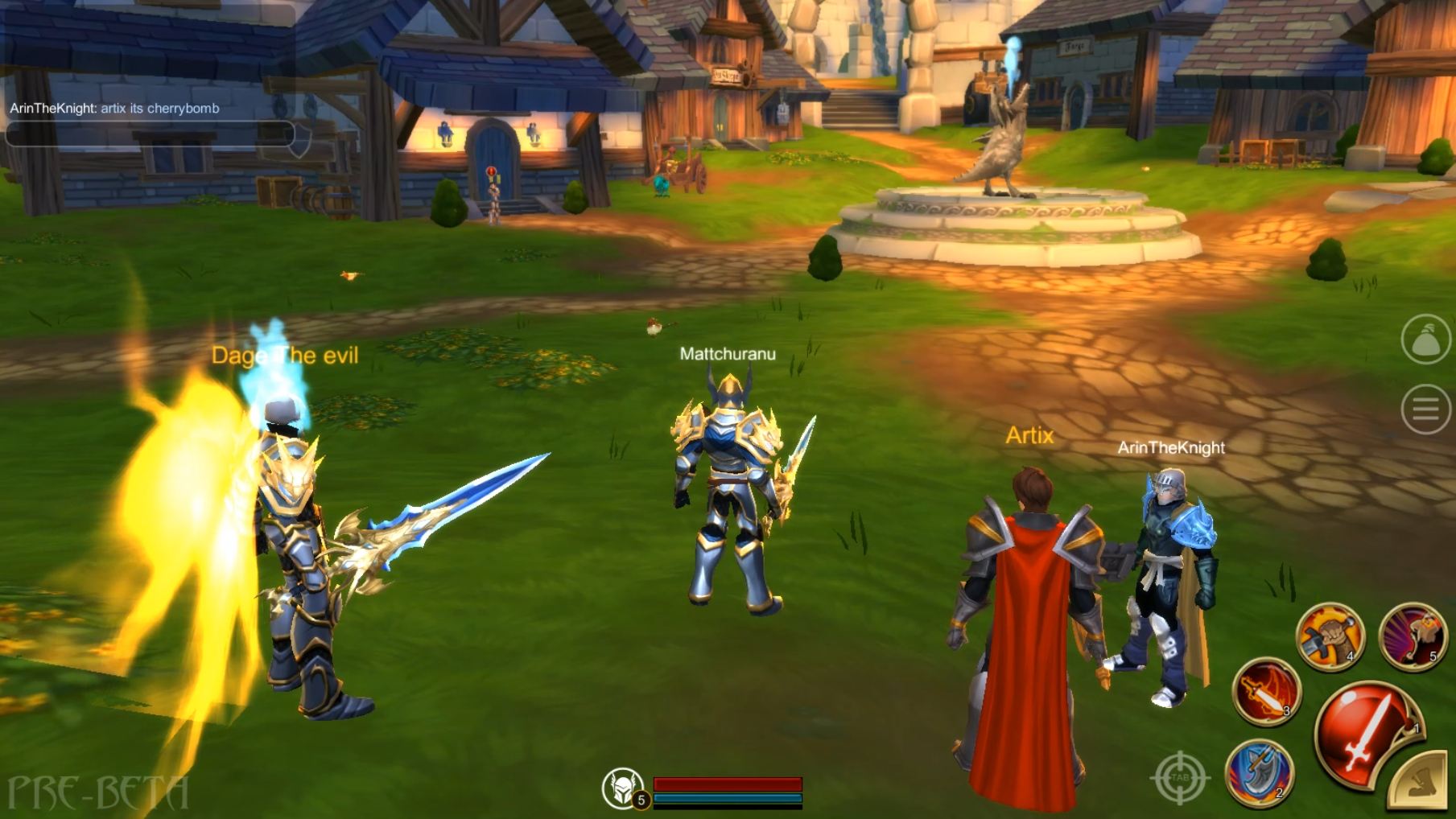 Artix Entertainment LLC has also made sure to make the game as skill-based as possible, choosing not to go with a pay-to-win design, but with a game model that encourages users to grind for their experience levels and work hard for wins. Another great aspect of the game is its dialogue and cut-scenes, which are filled with tongue-in-cheek humor and are very fun to watch, and also engage you with the game's central storyline.
With over a million downloads, AdventureQuest 3D has a 4.3 out of 5 rating on Google Play Store.
2. TALION(Free)
A 3D fantasy MMORPG for Android that has received considerable traction in both Asian and Western markets is TALION, created by Gamevil. Released in 2018, the game is set in a realm called Nar, where demons ravage and devastate the land, and is centered around the feud between two factions – The Alliance of the Shield of Protection led by Aegis, and The Alliance of the Flame of Judgement led by Bident; the former seeks a peaceful co-existence and freedom while the latter seeks absolute and unmitigated power. The players are to choose one alliance, and one class from the four options available to members of either alliance – Warrior, Assassin, Battlemage, and Gunslinger.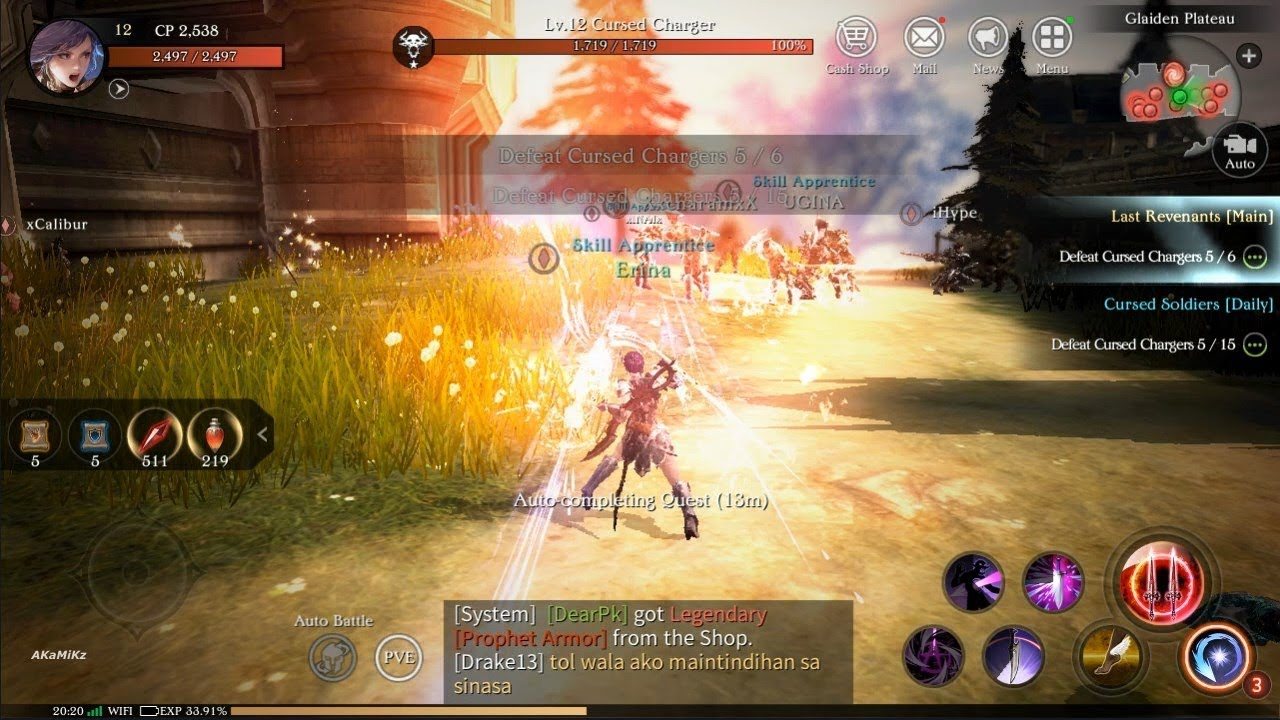 Talion's character customization is unmatched by most other MMOs. It allows players to modify the character's avatar through an endless variety of appearance modifications (change in hairstyle, eye shape, and color, lip size, and color, the shape of the chin, nose, etc.) and optimize their character's persona through accessories, costumes, rides and guardian fairies that not only add a unique and dazzling touch to each character but also amplify combat abilities. The intricate customization is what sets this game apart from similar fantasy-themed games.
The game also boasts a commendable set of features, with relentless open-world PvP focussed gameplay – the warring realms and factions can fight each other or fight amongst themselves and the player can choose one of four RvR (Realm versus Realm) modes: Team Battle, Death Match, Occupy and Major Clash; players can also ally as guildmates to raid dungeons and seize armor and weaponry. Another brilliant quality is the availability of options such as Auto-Combat and Auto-Questing, wherein an automated system enables the player to take a short break amid gaming, as the character continues to engage in combat and undertake quests.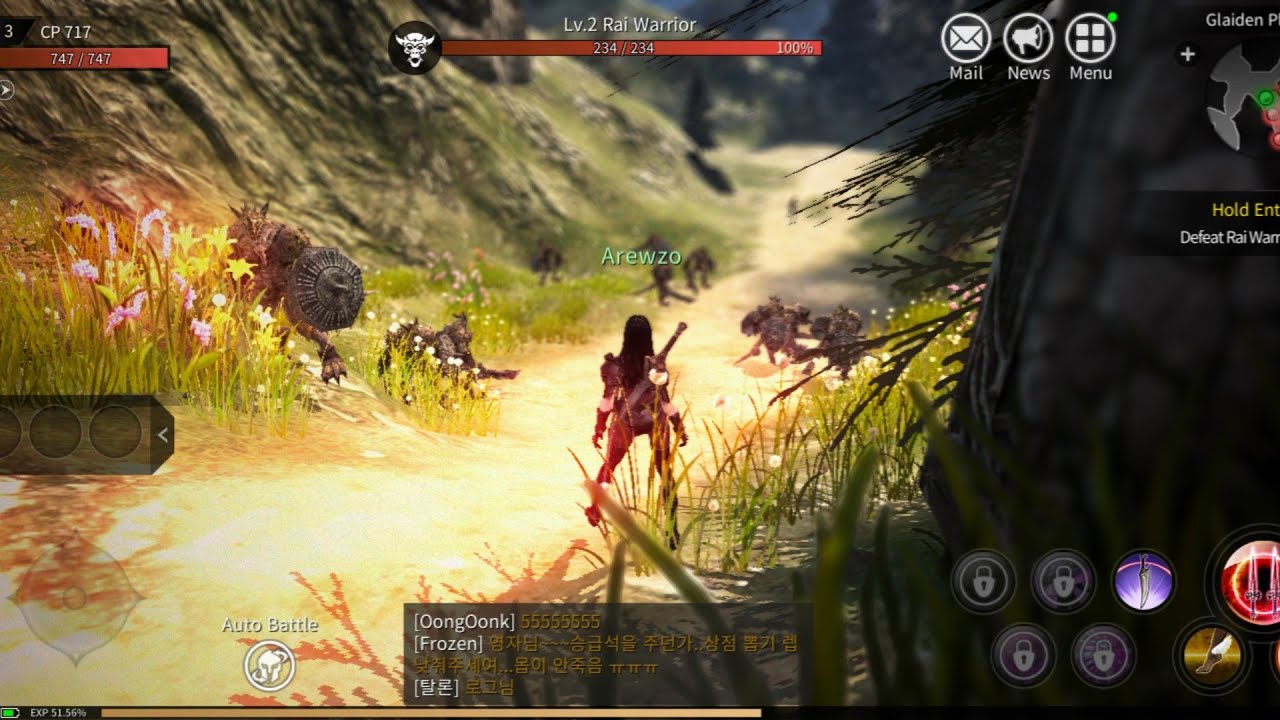 The graphics and visuals are nothing short of breathtaking, the exemplary enhancement and guild support, the PvP gameplay for 20 versus 20 and the stylized roleplay design only further amplify its appeal. So, play TALION on your PC with BlueStacks and enjoy the immersive experience with deep engaging graphics on bigger screen.
With over a million downloads, Talion has a 4.0 out of 5 rating on Google Play Store.
Here is a beginner's guide to classes and character customization in Talion.
3. Arcane Legends (Free)
Another free-to-play MMORPG for Android, Arcane Legends is one of the most popular MMOs currently available for Android. As with AdventureQuest 3D, Arcane Legends also features cartoony graphics and is meant to be seen as a throwback to old MMOs and even older role-playing board games. It was also released in 2012 by Spacetime Games, which is also the reason the graphics of this game are not as polished as those of modern MMORPGs released in the current decade. Arcane Legends is not a completely open, free-roam MMO, but features a three-dimensional, semi-open world that can still be explored to a large extent by users.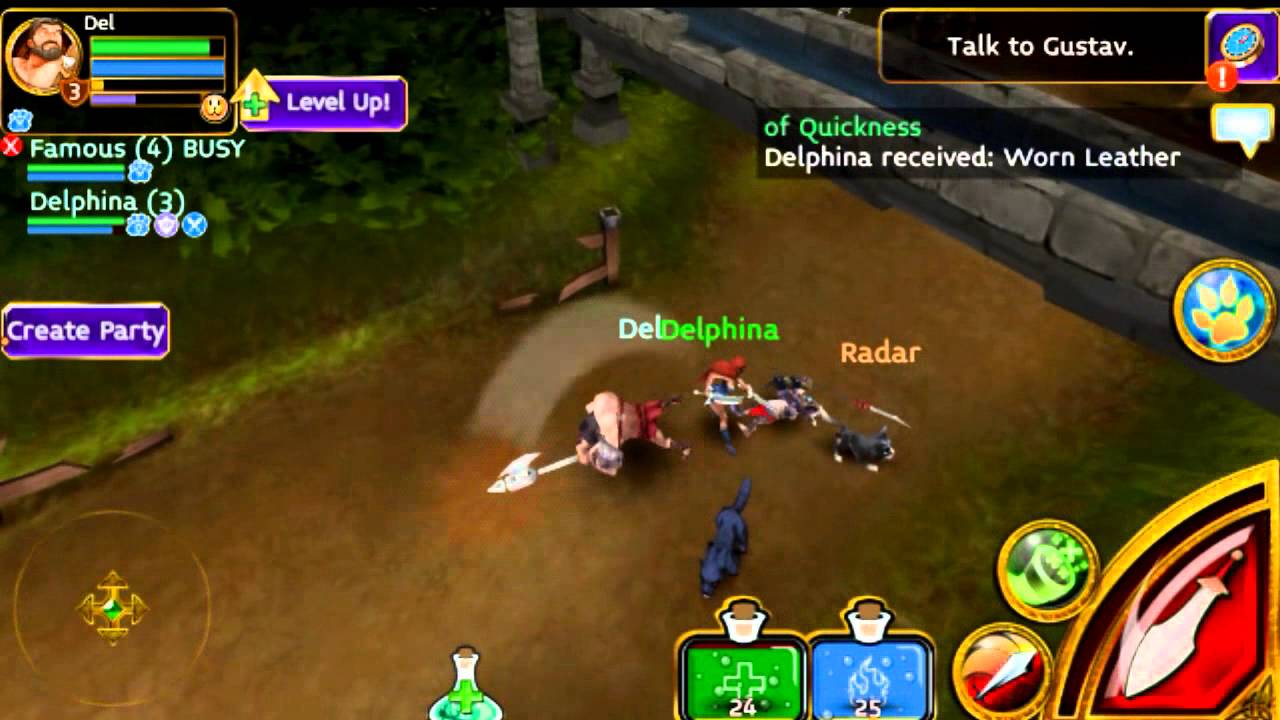 The creators of this game have tried to keep it as simple as possible, which includes not having the users make a ton of decisions regarding their character before they even step into the world of the game. All you need to do before you begin playing is select one of three character classes- warrior, rogue, and sorcerer- make some basic decisions about the color scheme, and pick a pet that will be your companion throughout the game and help you as you play through the game. All three classes have different combat features, and the combat experience is unique to each class.
The controls of the game are simple and easy to use as well, with a virtual hovering joystick on the bottom left of your screen, and a maximum of four abilities on the bottom right. As you progress through the game, you unlock characteristics unique to your character class which you can select to help personalize your playing style and choice of spells. There are also a variety of pets to be collected in the game- 40 to be exact- and these pets help your character out in a multitude of ways, such as collecting your loot for you, which is usually a boring and arduous process. It's also just really fun to have a cute companion by your side as you play the game.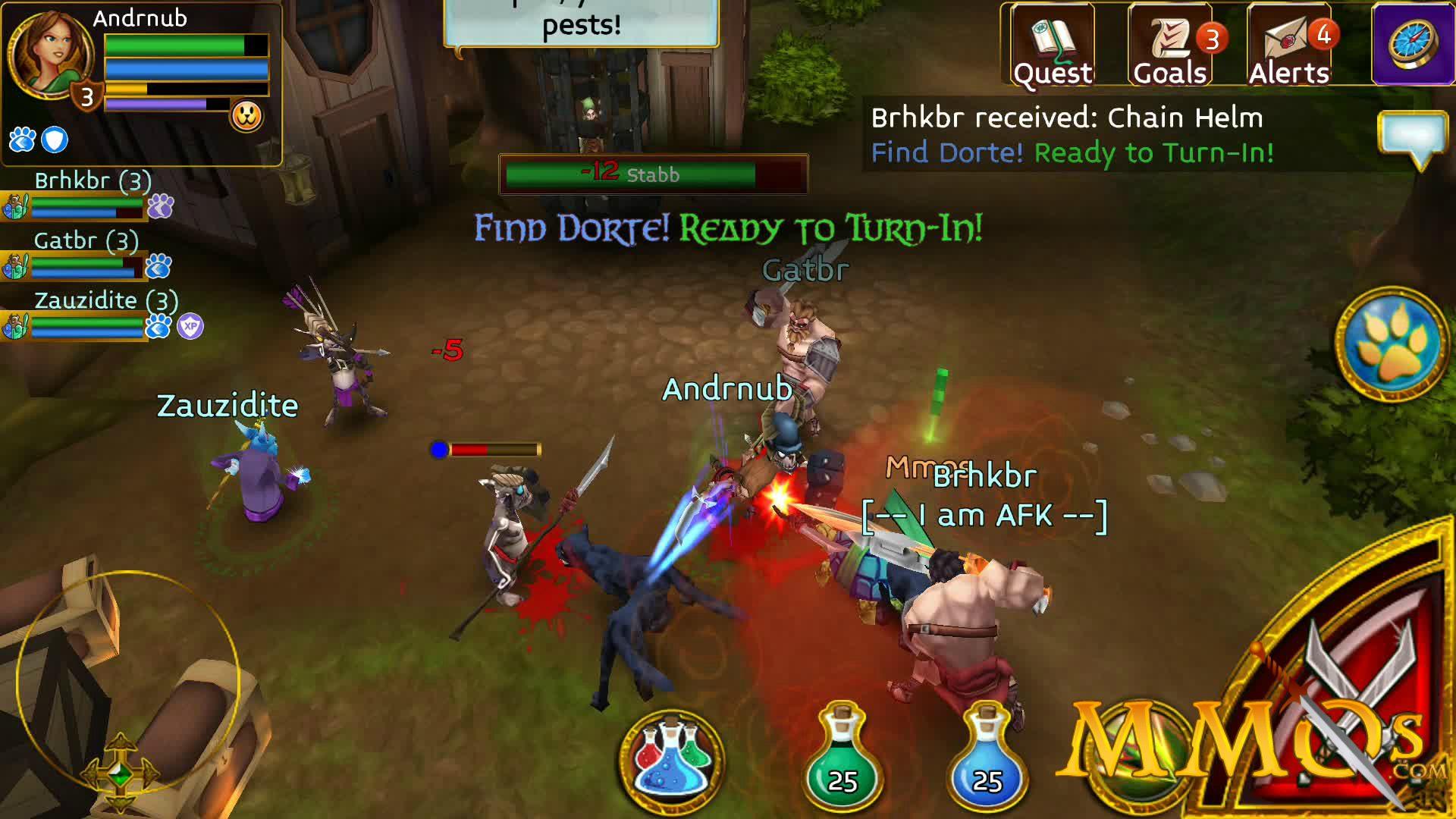 For those who are familiar with Spacetime Studio's oeuvre, Arcane Legends will seem similar to Pocket Legends in certain aspects, especially the map and how much of it you can explore. As mentioned before, the game is not completely free-roam, which means players often have to port from one part of the map to the other to keep on their quest. While this can seem a little tedious at first, one gets used to it quite quickly, especially since the loading times are so short. Although the game does offer in-app purchases, the developers have made it so that anyone who wants to play the game without spending any money can do so without any trouble. The game is wide open for you to explore, even if you choose not to spend any money. The only difference between the free experience and the paid experience is that the game becomes a little easier, and the hordes of enemies easier to kill off when you have paid resources such as extra healing and mana potions with you. The game has thousands of different weapons for you to collect and use, and has a dedicated fan base of active users who make playing the game a lot of fun.
With over 17 million downloads, Arcane Legends has an overall rating of 4.2 out of 5 stars on Google Play Store.
4. A3: STILL ALIVE (Free)
A3: STILL ALIVE is an immersive open-world roleplaying MMORPG created by Netmarble. Still Alive derives significant inspiration from Project A3, a 2003 South Korean PC game. The game is a grisly fantasy set in a shadowy post-apocalyptic world that offers an expansive environment in the form of jungles, deserts, and snowfields. The core purpose of the player is to save this world from nefarious forces. The game boasts a variety of PvP modes that the player can pursue alone or by participating in a group. Still Alive is a large-scale, open-field game that allows for 30 players to play at a time in battle royale mode; there are 10 teams and each team consists of a total of 3 players. The last remaining team will have its members compete against one another, and the last man standing is the winner of the match.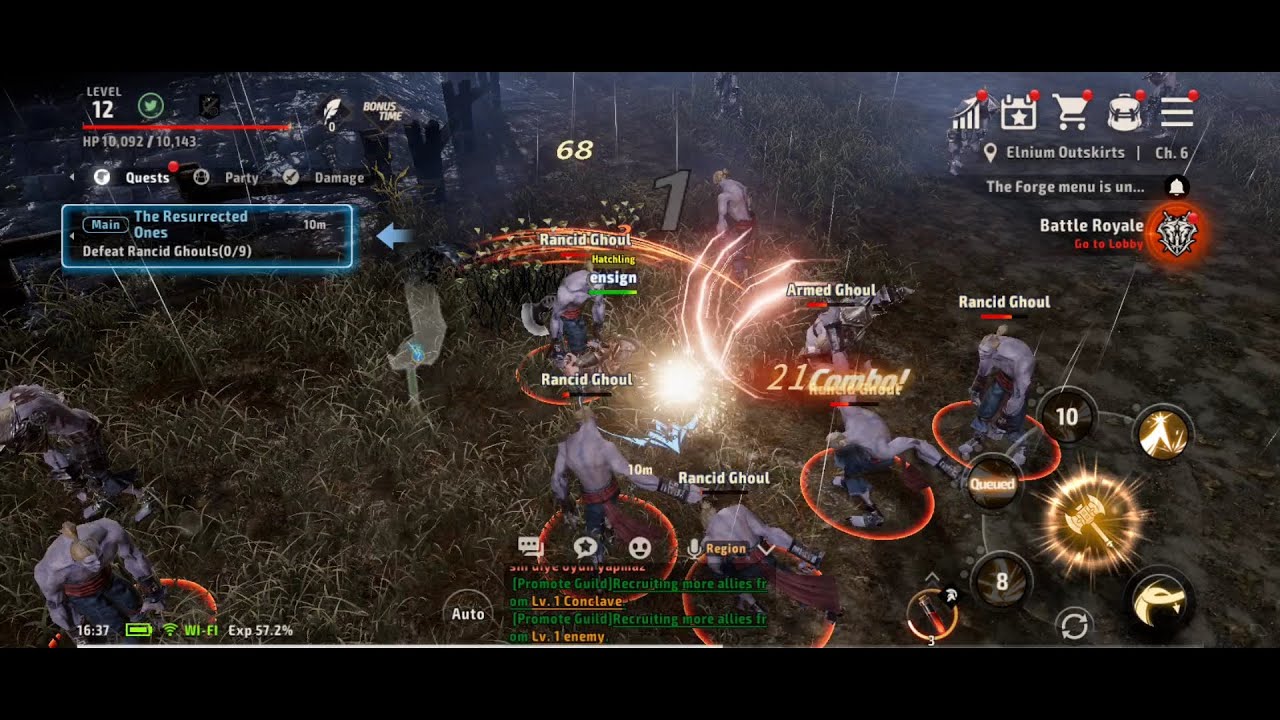 Apart from fighting amongst themselves, the players can also participate in violent combat with other antagonists. In a bid to acquire gear, they battle their way to the top, acquiring stat buffs and advanced skills while doing so. The game features five different classes for players to choose from: Templar, Wizard, Berserker, Archer, and Assassin, each boasting a unique set of characteristics. Each character comes with a unique backstory of their own. The gameplay in each sector runs on numbered time, so if you don't succeed in moving through a sector before the timer runs out, you are executed by a grim reaper – this adds a resourceful competitiveness to the game.
The players receive an impressive benefit in the form of 'Soul Linkers', who act as partners in the battlefield and help the player overcome obstacles. There is an almost limitless amount of Soul Linkers available, more than 270, who are divided into three types: ATK, DEF, SUPP. The Soul Linkers are a fruitful advantage to players because they offer aid in battle according to the requirements of the players' current situation. The players can also fight tactical battles by joining a guild; they can pursue conquests, carry out raids, and participate in guild festivals along with fellow guild members.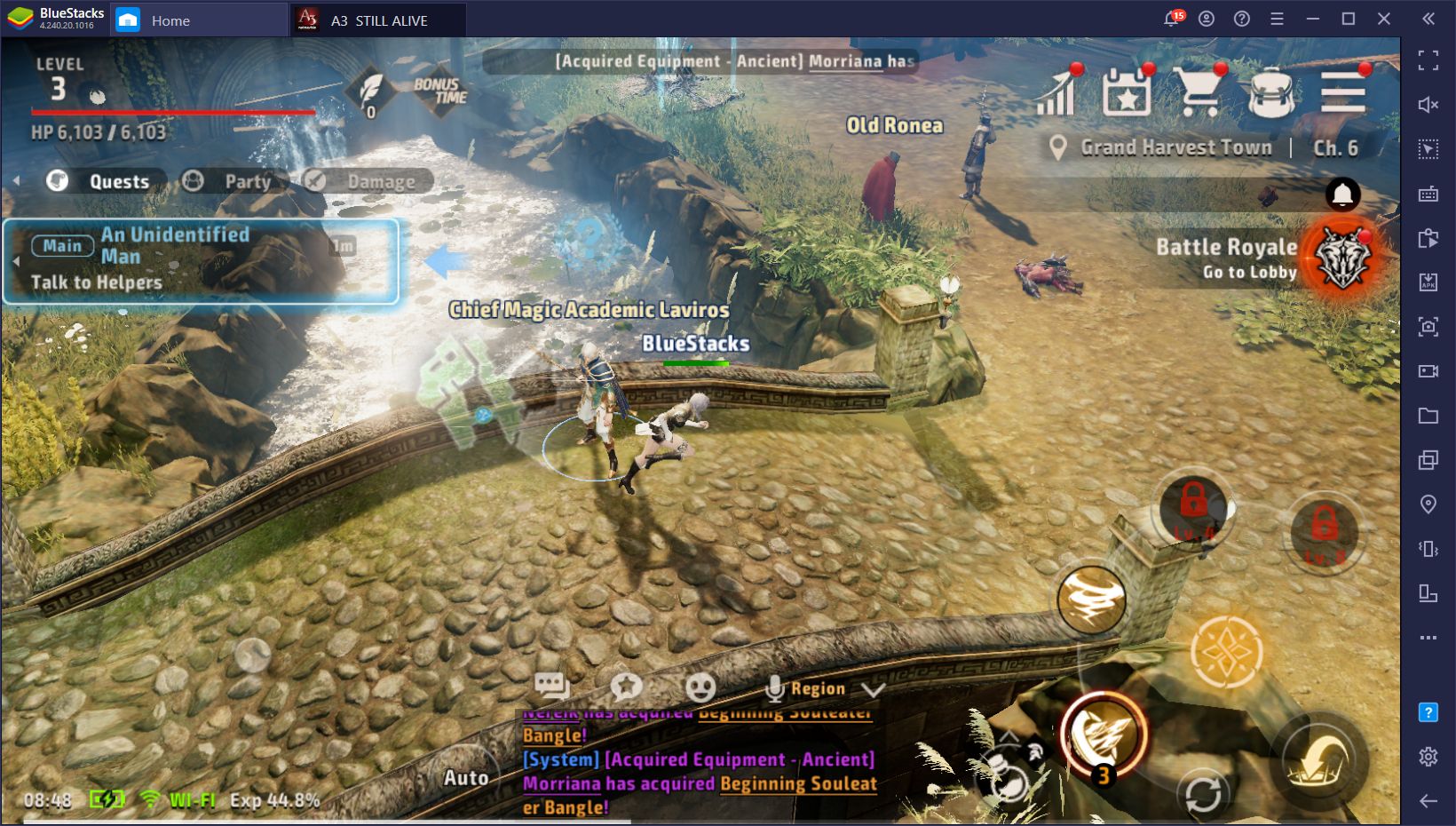 What makes Still Alive one of the best MMORPGs is the immaculately assimilated Battle Royale mode, which enables you to score weaponry and materials that assist you in the central battle. Still Alive's Battle Royale mode is unique in the sense that it allows you to choose from a variety of skills and one of four weapons, each with its basic attack; it also enables a total of 200 players to compete in colossal 100 v 100 battles. The Battle Royale mode provides for a Battle Pass that allows the player to collect rewards, acquire new gear and equipment, and form alliances with a party of friends. Still Alive returns to a vintage charm reminiscent of the old-school dark fantasy genre in PC MMORPGs. The Battle Royale mode is a surprising addition to a mobile MMORPG that somehow manages to work impeccably and creates a subversive distinction within the hordes of almost identical MMORPGs available in the market today. A3: Still Alive strikes quite a commendable impression upon its players, with basic gameplay that is efficient to navigate (not to mention, the auto-play option), an animation style imbued with the nostalgia of the early 2000s, and dark fantasy content that is riveting to the core. So, play A3: STILL ALIVE on PC with BlueStacks for experiencing a lag-free gaming.
With over a million downloads, A3: Still Alive is rated 4.1 out of 5 stars on Google Play Store.
5. Black Desert Mobile (Free)
Created by South Korean game development studio Pearl Abyss, Black Desert Mobile is a mobile adaptation of the hugely popular PC MMORPG, Black Desert Online, which was also later released for consoles as simply Black Desert. Before its release, the game had built up massive hype, with over 4.5 million users pre-registering for the game in just over two months. This is largely due to the success of the original PC version of the game and how highly acclaimed it was upon its release.
If there is one aspect of Black Desert Mobile that any user or non-user knows about, it is the graphics of the game. Often touted as the best-looking mobile MMORPG available today, the game looks positively stunning, with the time and effort spent into getting the game to look just right being apparent right from the beginning of the game. The character models are extremely well made, as are their movement mechanics. The combat animations, as well as the animations for spells and special abilities, are exceptional, and it is not a stretch to say that Black Desert Mobile looks almost as good as any high-budget PC or console MMORPG. Now, one may be asking, if the graphics of this game are so high-end, does my phone also need high specifications to be able to handle Black Desert Mobile? The answer is both yes and no. While it is true that this game does require better mobile specs than most other MMORPGs for mobile, you can tone down the graphics settings and play the game at a lower resolution if your phone does not have the specifications to handle the game at its full graphics capabilities.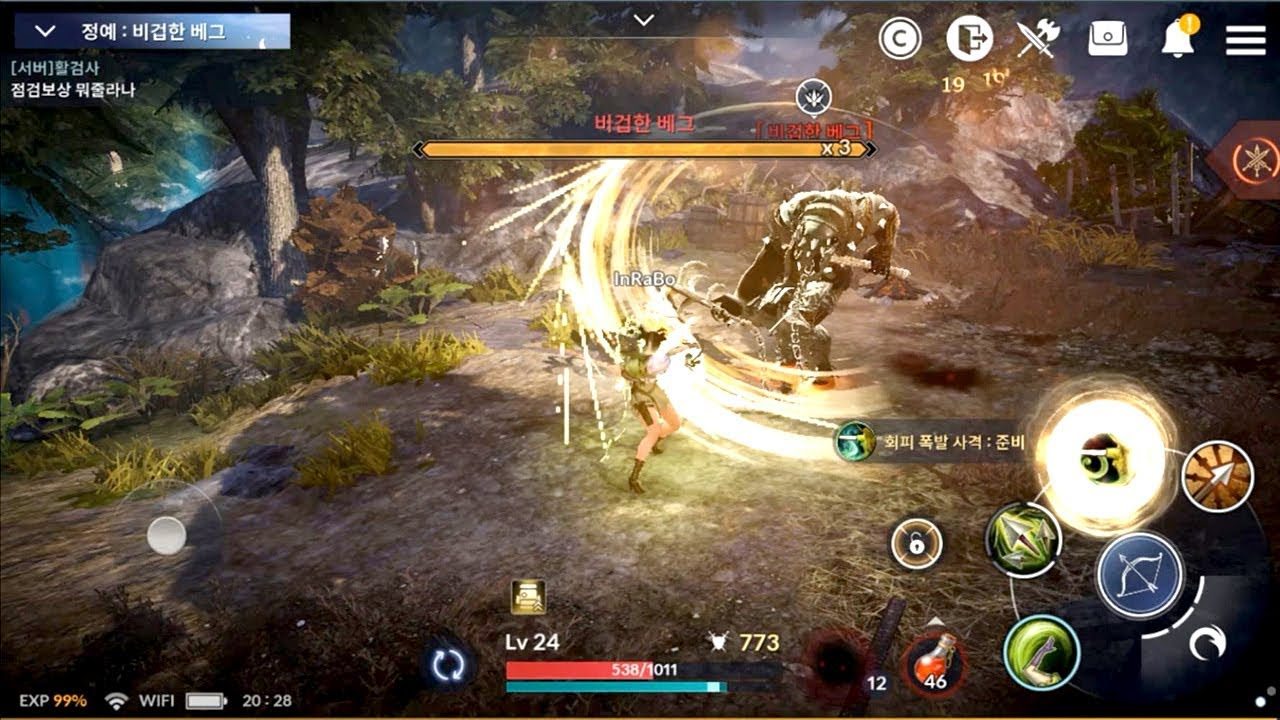 The game allows you to choose the server on which you would like to play, and like almost every MMORPG, you must choose between a few different character classes. In the case of Black Desert Mobile, there are thirteen options available to you, including Witch, Ranger, Warrior, Valkyrie, Giant, Sorceress, etc. All of these classes have varied styles, abilities, and weapon options. Up next in the game is character customization. Pearl Abyss has given its users absolute control over the way their character looks, with almost every minute detail being changeable. This includes things such as facial structure, height, weight, hair color, costume, etc.
The gameplay of Black Desert Mobile is nothing out of the ordinary, but the developers have stuck to the basics and done it well. The game offers the usual MMORPG elements such as trading, housing, farming, fishing, etc., along with player versus player battles, and castle battles. Keeping true to the elements that made the PC version of this Black Desert Mobile so popular, the action and combat of this game is fast-paced, with a wide variety of weapons to choose from and a large map for you to explore and fight in. The game is high-fantasy, and the architecture, weapon design, and atmosphere of the game display this full well. You can also build your own camp after you progress in the game, and this will be your haven from all the dangerous creatures of this world.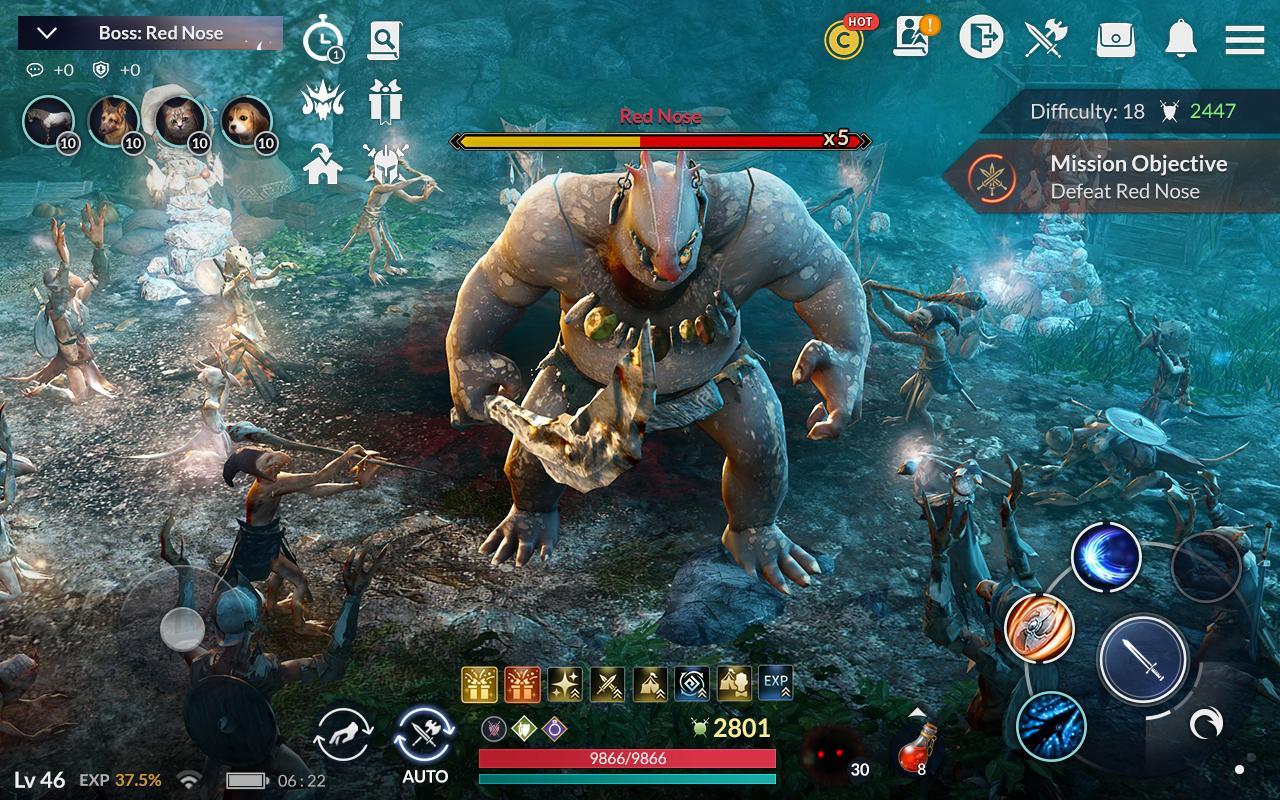 Black Desert Mobile does offer in-app purchases and transactions but is mostly free-to-play friendly.
With over ten million downloads, Black Desert Mobile has a rating of 4.1 out of 5 stars on Google Play Store.
For those new to the game, this beginner's guide to combat in Black Desert Online should be of great value.
6. Toram Online (Free)
Toram Online, a sequel to the widely appreciated Iruna Online, is a 3D open-world role-playing anime MMORPG published by Asobimo Inc. After a century following the events of Iruna Online, Toram Online is set in a land ravaged by catastrophe, divided into four factions, each representative of a conflicting set of principles and beliefs, the player enters this world as an adventurer who travels across this world, acquainting himself with members of the four conflicting factions while also uncovering various mysteries within this world.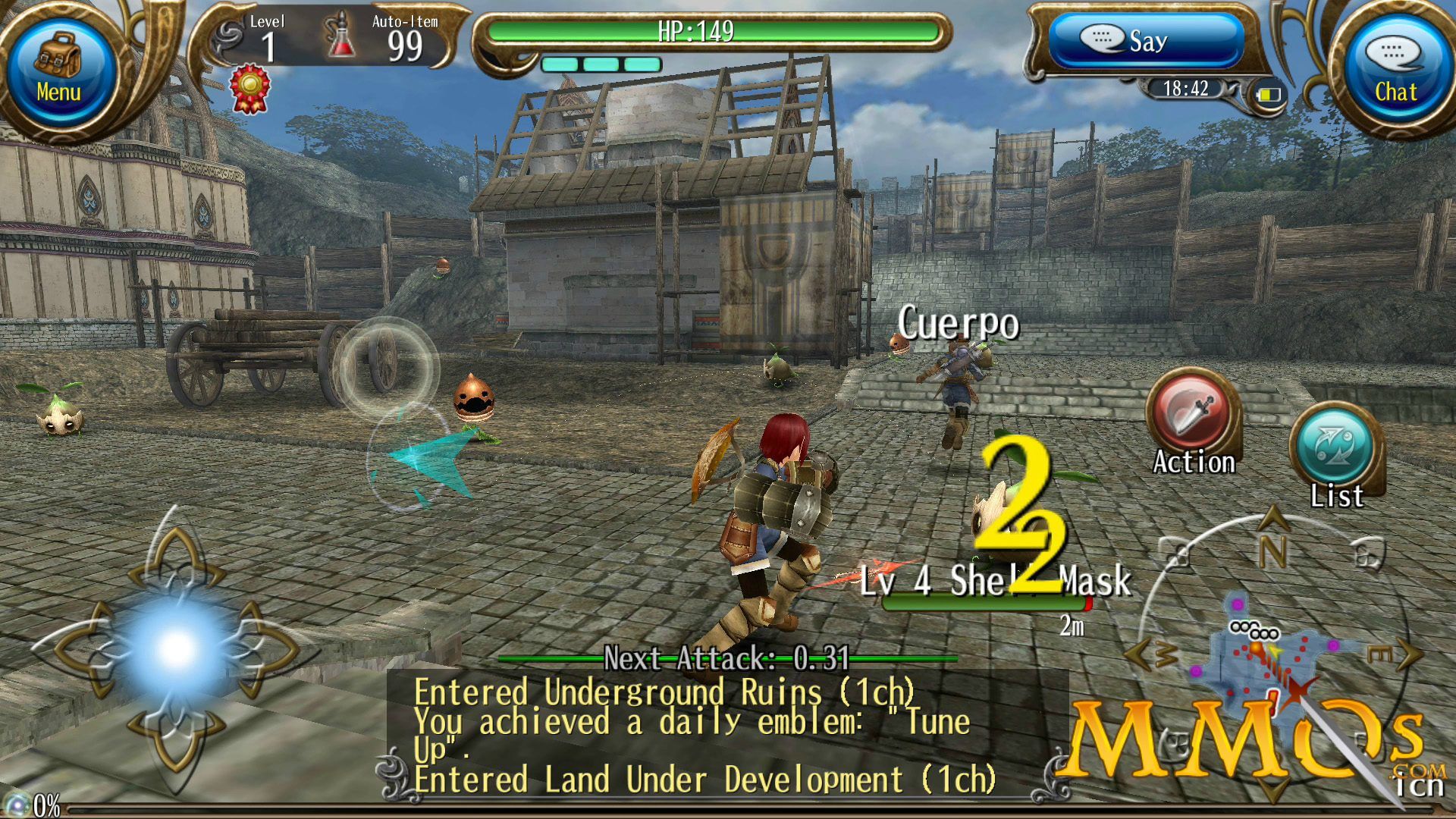 Toram Online is an improvement upon its predecessor, Iruna Online, with impressive graphics and better content, as well as gameplay. Unlike most MMORPGs today, Toram Online does not consist of the choice of a 'profession' or a class system; it does however boast an intricate character customization feature. The absence of a class system enables skill and stat customization, and the customization feature allows for a choice amongst a plethora of appearance modifications to the character, with an almost limitless amount of combinations of skin color, eye color, height, hairstyle, and gendered options, available for customization. Toram Online is subversive in the sense that it does not contain a class system, instead, it uses a weapon system as a substitute for class; instead of a class, the player is provided with a choice of one weapon from the four available options – Sword, Bow, Staff, Knuckle. The weapon system also boasts a 'Skill Tree' feature which means that a player's particular skill set is determined by the skill tree based on your weapon, each of the four core weapons comes with an intricate skill tree of its own.
The skill tree also allows for the player to modify and alter their character as per preference, that is, you can train your character to cultivate the abilities and skills that you believe would be advantageous in the game. This essentially means that the game's unique weapon system allows for a player to acquire a multi-class status through their convoluted skill tree. There is also a provision for hordes of secondary weapons; the weaponry and equipment too are customizable, you can change the color of your weapon if it comes with a 'Color Info' feature and you can customize the skill set of your equipment as you progress through the game. You can either opt to play with friends, or part play solo by fighting along with a mercenary, or with a partner from within your own sub-characters.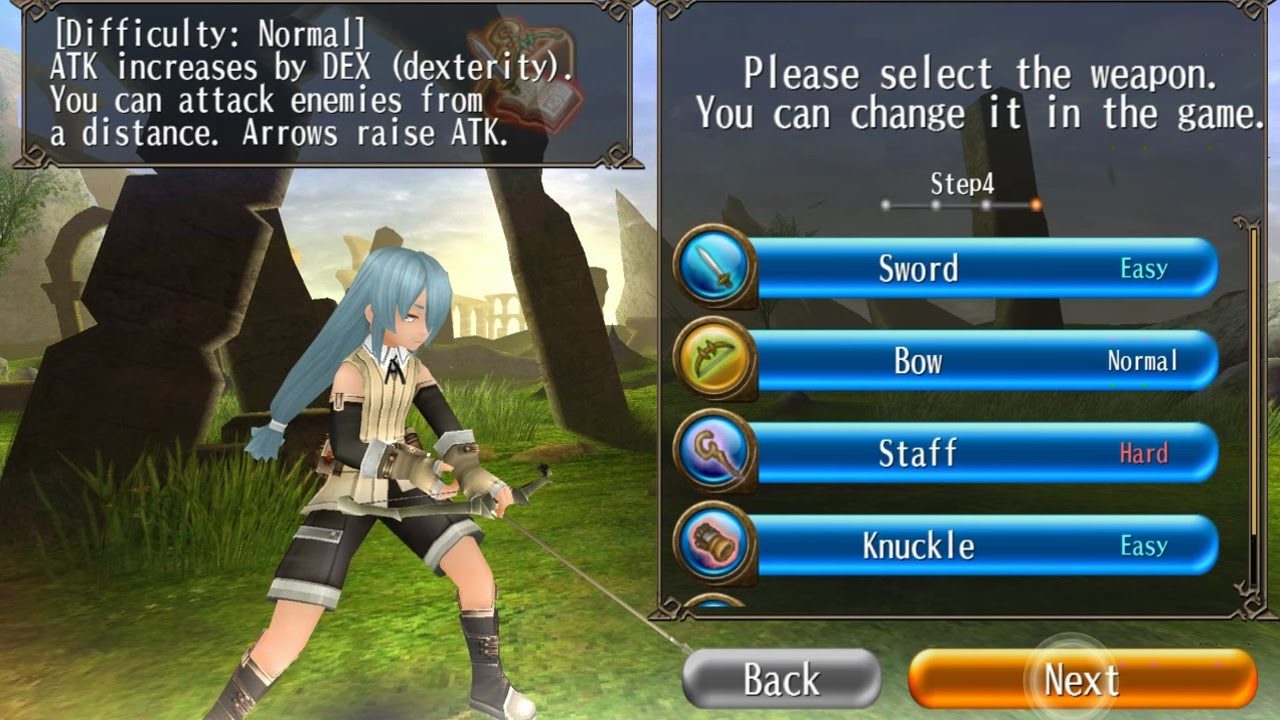 The plot and quest-based story progression of Toram Online is quite engaging, with resplendent landscape settings, NPC dialogue, an alluring score, and an interactive experience. The graphics of Toram Online set it apart from its competitors, a lovely anime-inspired aesthetic that serves as a departure from the monotony of almost identical graphics in most mobile MMORPGs. Toram Online does not provide for an auto-combat option, which allows for users to enjoy a more hands-on experience, thousands of players can join without any hindrance. The class system, or lack thereof, creates a uniquely enjoyable experience, not to mention the competitive weapon system and primarily story-oriented PvE adventure setting which renders Toram Online one of the best MMORPGs for android today. The enjoyment goes to the next level when you play Toram Online on PC with the BlueStacks emulator that comes with a hassle-free autosave feature.
With over 10 million downloads, Toram Online is rated 4.5 out of 5 stars on Google Play Store.
7. Grow Stone Online (Free)
The first and only 2D MMORPG on our list, Grow Stone Online distances itself from the more serious storylines and art styles of other MMORPGs, instead focusing on making the game as fun to play as possible, with a simple, yet effective design, great controls, and very cute character models. The essential theme and objective of the game are extremely simple; almost too simple at first glance. What you need to do in Grow Stone Online is exactly what the name of the game suggests- grow stones online. Players mine stones within the game, then combine these stones to form even more powerful stones and then use those stones as their primary weapons when entering mob-infested zones for combat. The world in which this game operates is infested with invading Golems, and the user must take it upon themselves to save the world from these creatures. The user must work their way up to large, powerful stones, starting from simple pebbles, mining stones, and combining them until they collect shurikens and hadoukens, and throwing objects.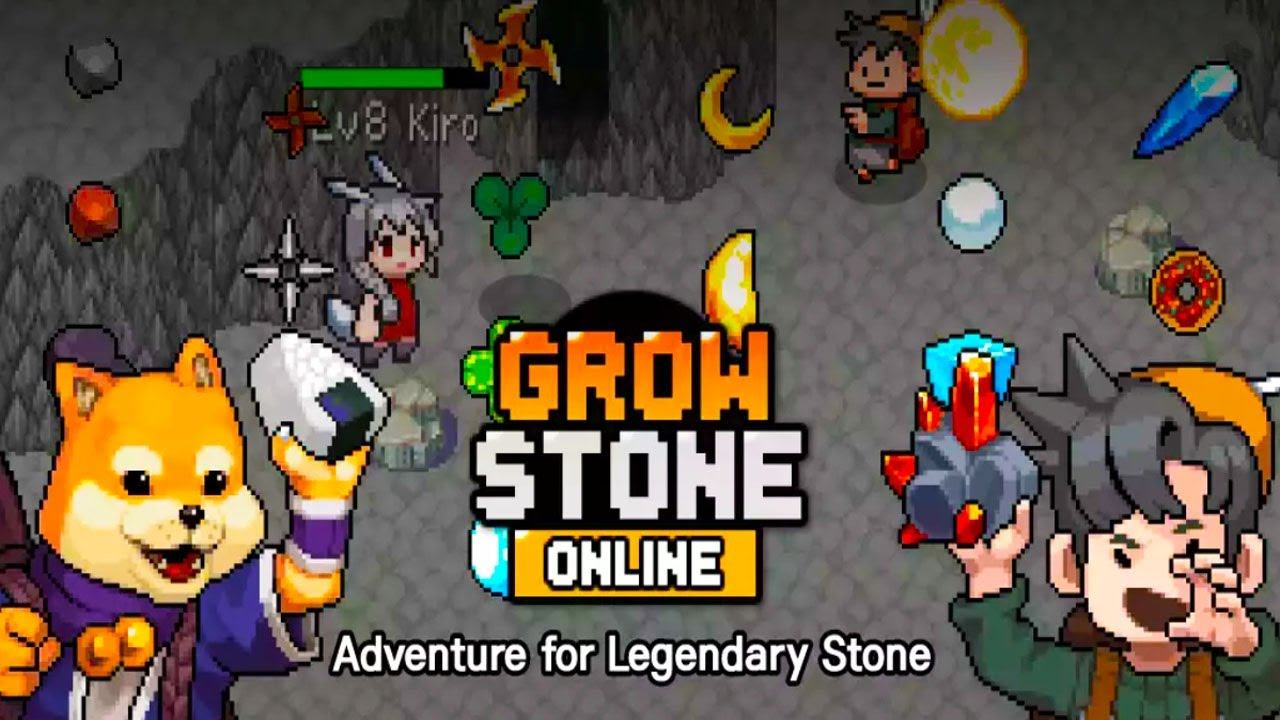 The game emphasizes the mining of these stones, and the user can occasionally switch to those areas filled with monsters, slaying them to collect gold, which can, in turn, be used to upgrade weapons, buffs, and other such items. Users also have the option of running solos or groups in specific dungeons. The game also lets you trade certain items, which is a great help if you require specific items to upgrade your weapons. Grow Stone Online also has an auto-play feature, which lets you take a break as your character goes on auto-pilot and mines or fights on its own, turning the game into an idle-MMORPG. The inclusion of PvP also makes the game a lot more exciting, since you can test your skills and the effectiveness of your weapons against other real-life users. To have an all-round gaming experience and make the best use of its features to get an edge over your enemies, download Grow Stone Online on PC with the BlueStacks Android emulator.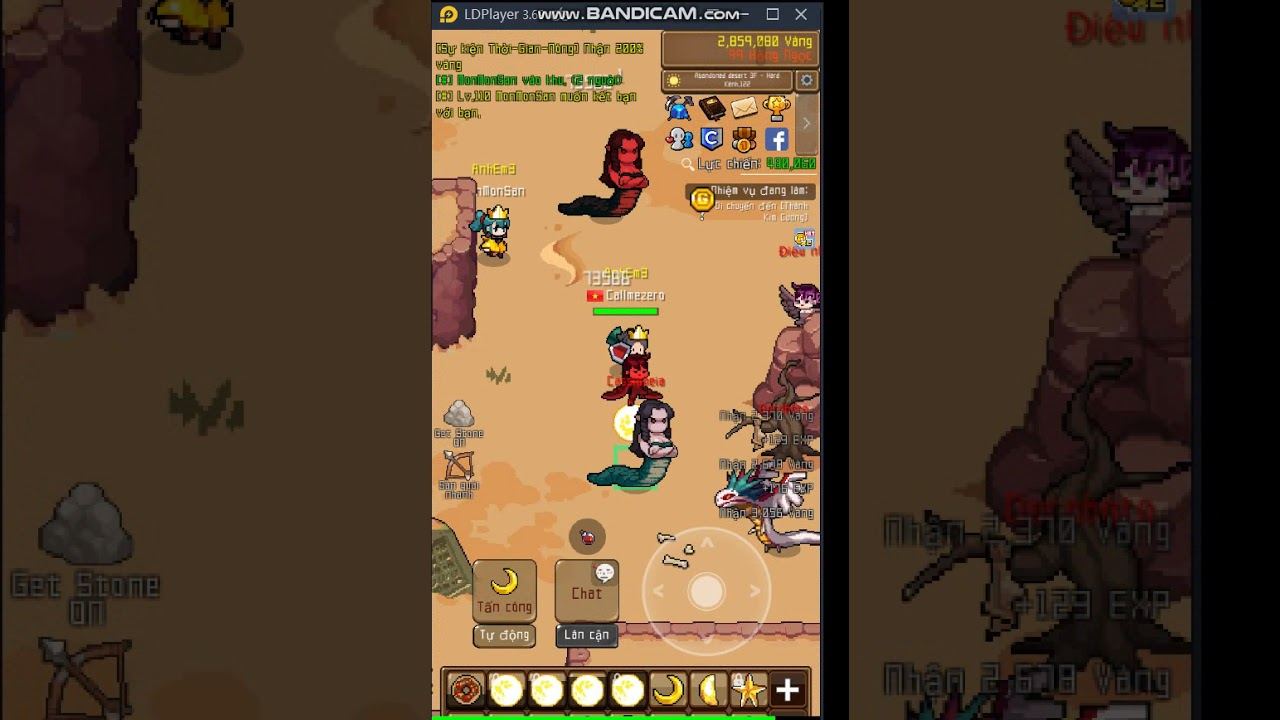 With over a million downloads, Grow Stone Online has a rating of 4.2 out of 5 stars on Google Play Store.
8. World of Kings (Free)
World of Kings is a user-interactive mobile MMORPG for both Android users, published by ZLOONG in 2019. World of Kings is reflective of World of Warcraft's considerable influence in the gaming world; it emulates a style significantly inspired by World of Warcraft, going as far as using music by Russel Brower, the composer for World of Warcraft.
World of Kings features an elaborate narrative, one that deftly engages the player from start to finish, with quests, sidequests, accumulation of gear, and stimulating exploration of the colossal amount of zones. The objective is simple, to conclude quests and progress through the levels, while also simultaneously pursuing sidequests and acquiring loot. The game's most commendable feature is the availability of four diverse race options (Human, High, Elf, and Orc) and within each race, nine class options (Warrior, Fighter, Rogue, Wizard, Mage, Dark Sage, Cleric, Paladin, and Archer) with three advanced variations per class (Healer, Tank, and DPS). Each class boasts a unique set of features and the player's backstory, journey, and role are uniquely altered depending upon the specific race and class chosen.
Set against the backdrop of the persistent and expansive realm of Ideon, boasting land of 26 square kilometers, The World of Kings is perhaps one of the most visually stunning MMORPGs today, with outstanding animation and gorgeous visuals of a thoroughly intriguing and enormous world – comprised of frigid tundras, sweltering wastelands, and dense forests. The most prominent difference between World of Kings and World of Warcraft is that, unlike the latter, World of Kings offers an auto-play mode – the gameplay depends entirely on the completion of daily tasks; however, as we progress through the gameplay, the complicated dungeon tasks require our undivided attention. The PvP option consists of 20 Versus 20 modes in battlegrounds, arena duels, and guild battles; you can join friends to ally the battlefield.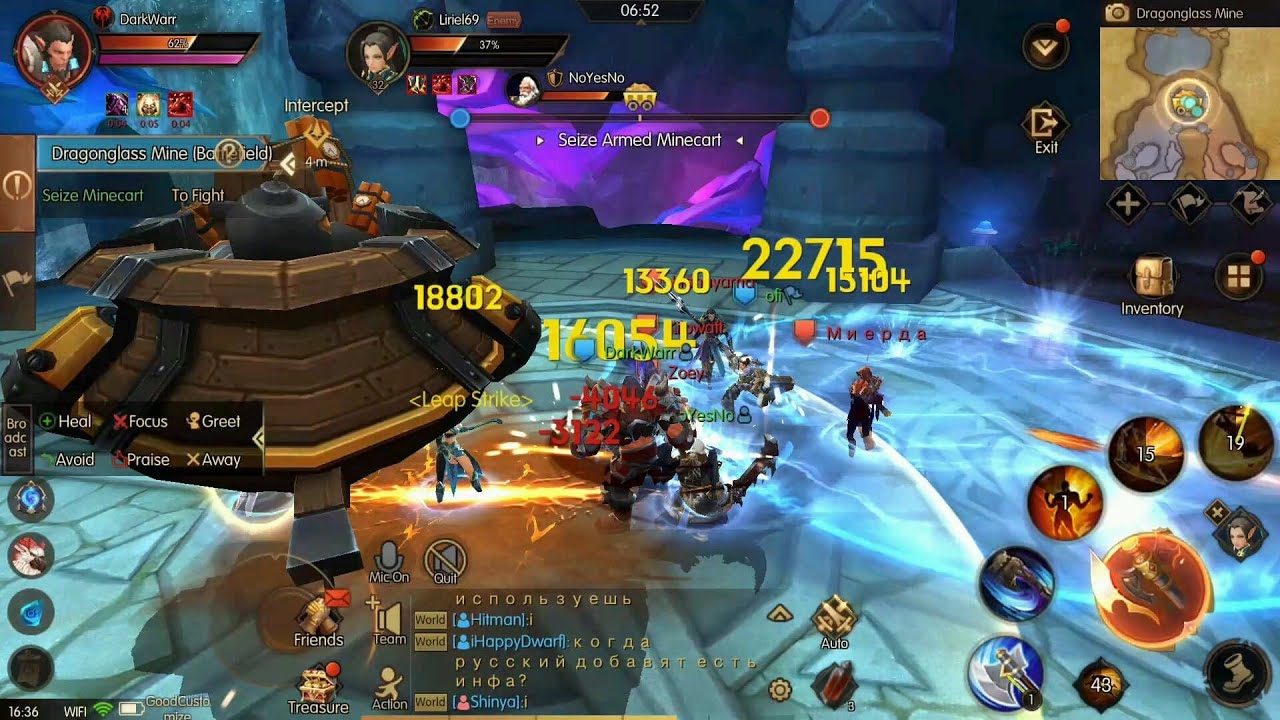 The game also offers a feature that allows you to modify or customize your character's appearance; the World of Kings deviates from the exorbitant pay-to-win norm of most MMORPGs – you can unlock certain treasures, pets, abilities, skills, and mounts as you progress through the levels and the pay-to-win standard is relatively low. The production quality is nothing short of excellent, with clear and distinct audio for voice acting and a fluid gameplay technique and fighting system that enables the player to enjoy a fulfilling experience. But the most defining and impressive feature of World of Kings is the impeccable quality of the graphics, which are both transcendent and realistic, they capture the user's attention from beginning to end, and are perhaps, more riveting than the story itself. The stunning graphics and considerable amount of race and class options render World of Kings revolutionary as an MMORPG. If you love World of Warcraft and would like an easily accessible mobile-friendly version of the same, World of Kings is the game for you. Try installing and playing World of Kings on PC with the help of BlueStacks Android emulator.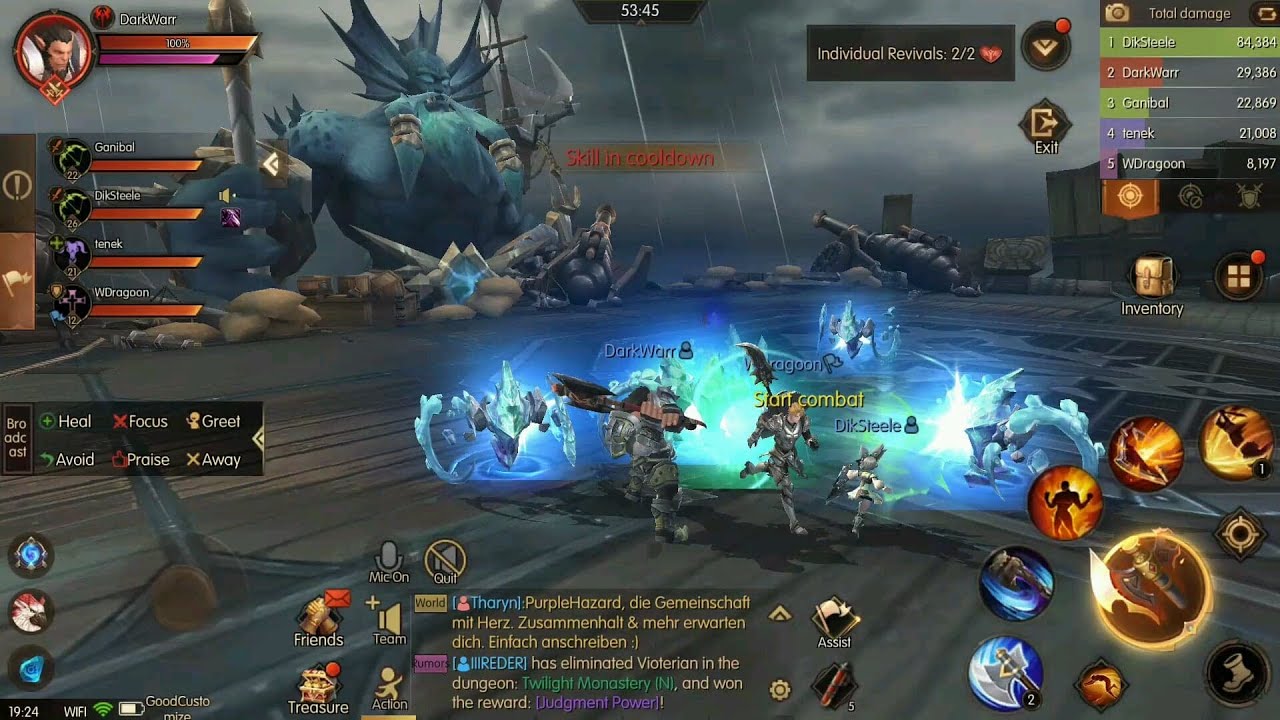 World of Kings is available on both Android and iOS mobile platforms, and with over a million downloads, it is rated a 4.0 out of 5 stars on Google Play Store.
If you're confused about how to get started with World of Kings, we have you covered. should help.
9. Sins Raid (Free)
Released in 2018 by CubeMagicLimited, Sins Raid is next on our list of the best MMORPGs for Android. The game is a three-dimensional MMORPG; a stage-based game that allows you to build teams of up to five heroes and go up against various bosses. Unlike most other games on this list, Sins Raid is not an open-world MMO. In fact, there is not much of a world to explore since the game is stage-based and has a linear set of opponents you must go through in specified dungeons. This can be off-putting for some MMORPG players since the open-world aspect of an MMORPG is one of its most essential components, but still, Sins Raid is an incredibly fun and challenging game to play. The graphics are colorful and bright, with enticing animations, and character models that are very well made.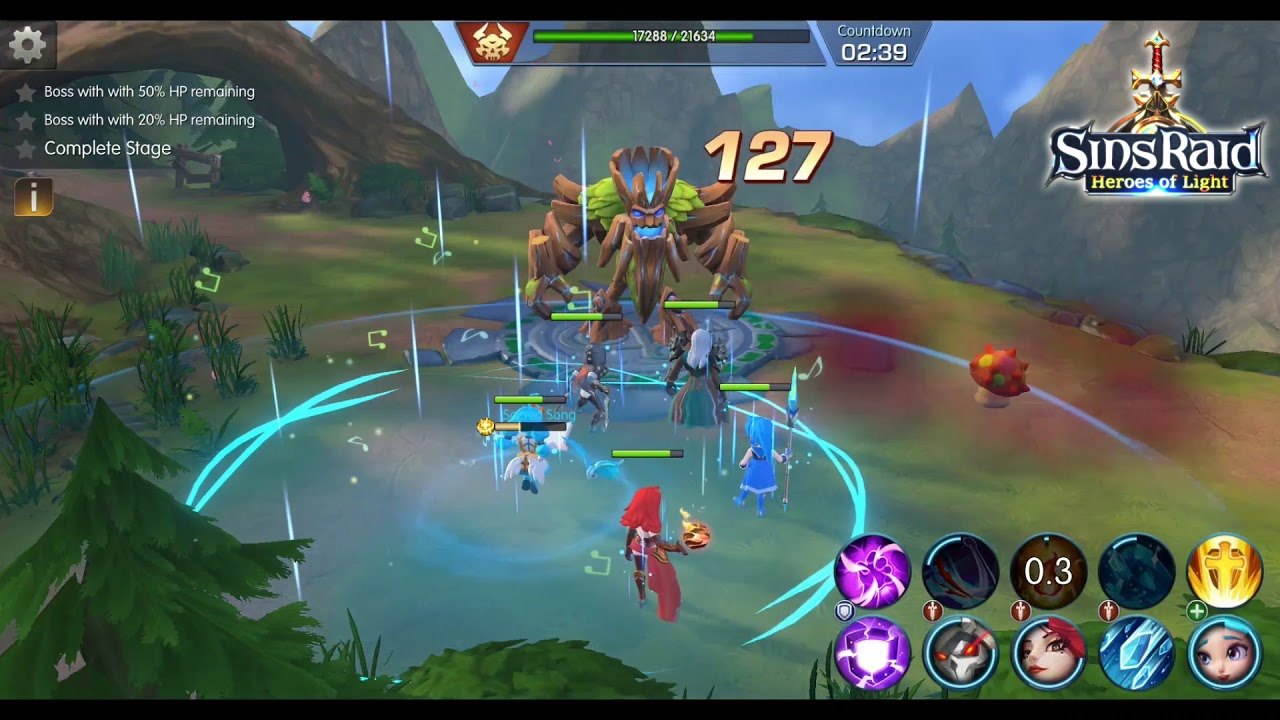 The game doesn't let its users off the hook, engaging them in challenging boss battles right from the beginning. As you progress through the game, the battles become tougher to win and losses come more easily. The gameplay and combat in this game are intuitive and well made, and the game forces the user to make use of tactical plays such as avoiding the area of effect of an opponent's attack and using crowd control to win matches. Boss battles can also be fought with teammates or solo, and both have their unique advantages and disadvantages.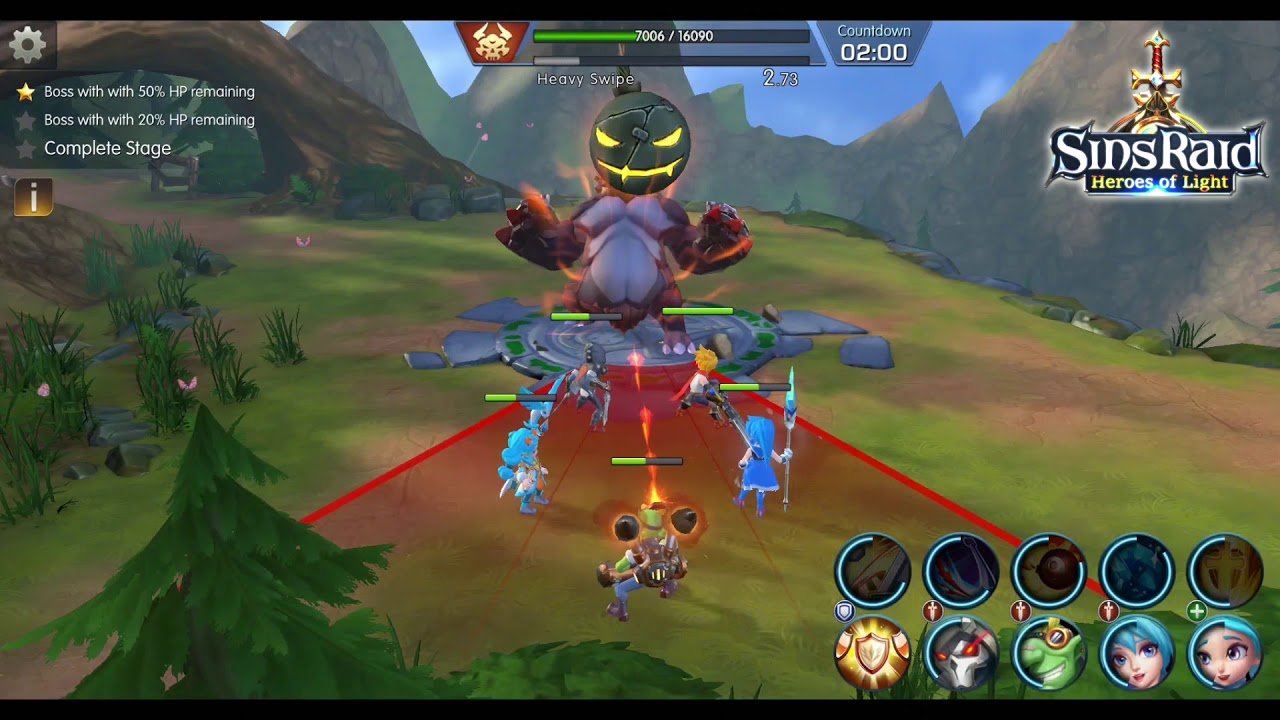 Depending on your skill level, and on how hard you want your boss battles to be, you can choose to enable an option available to you in-game that presents you with the move list of the boss you are about to fight, and also provides you with tips and tricks on how to beat that particular boss. If you would rather figure this out by yourself while matched up against the boss, you can choose to disable this feature. There are over 35 available heroes for you to unlock and use in these boss battles, and the game also has microtransactions in the form of in-game purchases for you to strengthen your team of heroes. Sins Raid is also not limited to simple dungeon crawling, with features such as PvP and various other game modes, which allow you to test your skills against other users. To stand out amongst your friends or other users in the game, Sins Raid also offers in-depth character customization, with almost every aspect of the character being subject to personalization. Play Sins Raid on PC using the BlueStacks Emulator and enjoy this game with your favorite combination of keyboard and mouse.
With over fifty-thousand downloads, Sins Raid is rated 4.2 out of 5 stars on Google Play Store.
10. EVE Echoes (Free)
EVE Echoes by NetEase Games, is an MMORPG adaptation of the popular EVE Online.
EVE: Echoes is an in-depth sci-fi massively multiplayer online experience significantly reminiscent of EVE Online, which had managed to amass a gigantic cult following in its time.
The unparalleled destruction of earth due to overexploitation of its resources has led humankind to colonize outer space; following the disintegration of a portal to Earth, the remnants of humankind attempt to build a 'New Eden'. This new world in EVE Echoes consists of five outer space societies, namely: The Amarr Empire, The Gallente Federation, The Caldari State, The Jove Directorate, and The Minmatar Republic.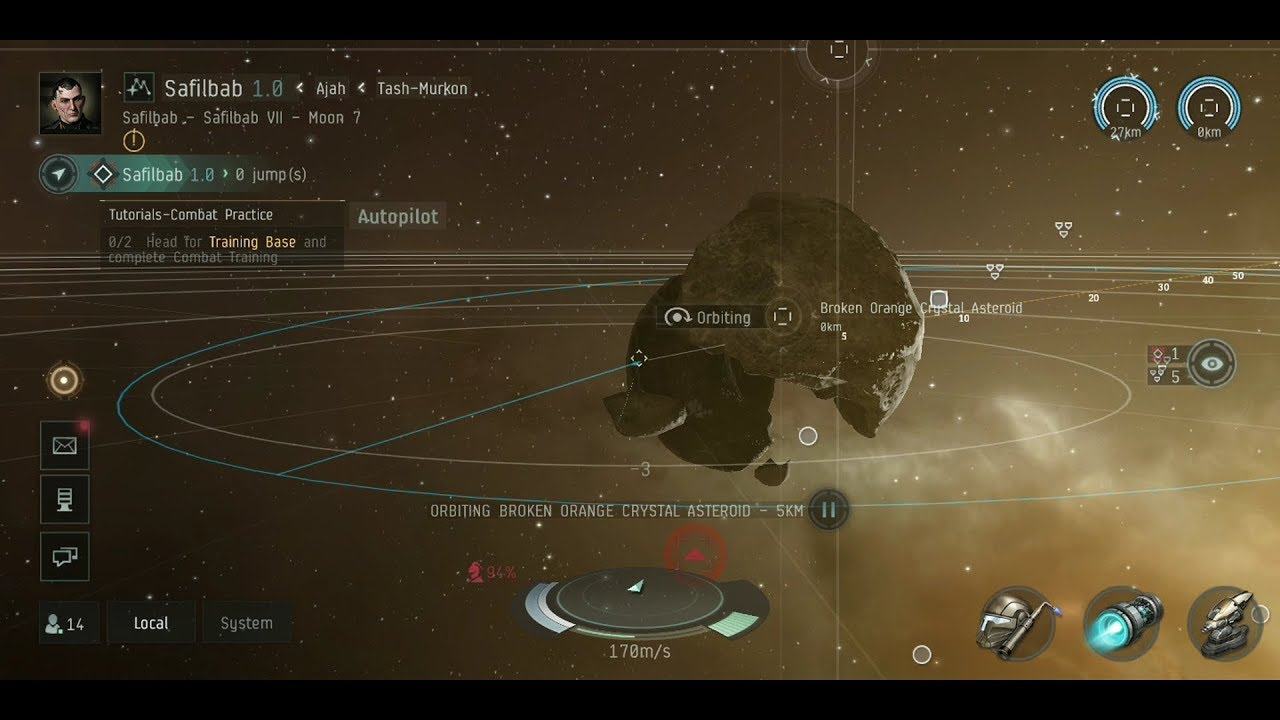 EVE Echoes' setting is parallel to that of EVE Online. The game replaces open-world for open-space, with interstellar exploration, combat, resource harvesting, etc., all being available to users. Being a science-fiction sandbox game, EVE Echoes contains thousands of solar systems for users to explore and play in. The visuals of the game look stunning, with the cutscenes showing you the immense expanse of the solar system. The game is extremely clean looking, with only what is necessary for the user being shown on-screen. The game has a dedicated fan base of thousands of users, which means engaging in PvP combat is an experience that never gets stale, no matter how many times you try it. There are also countless weapons and over a hundred different spaceships for you to unlock and use. Have you experienced this game on big screen? If not yet then play EVE Echoes on PC using BlueStacks emulator for exciting gaming experience.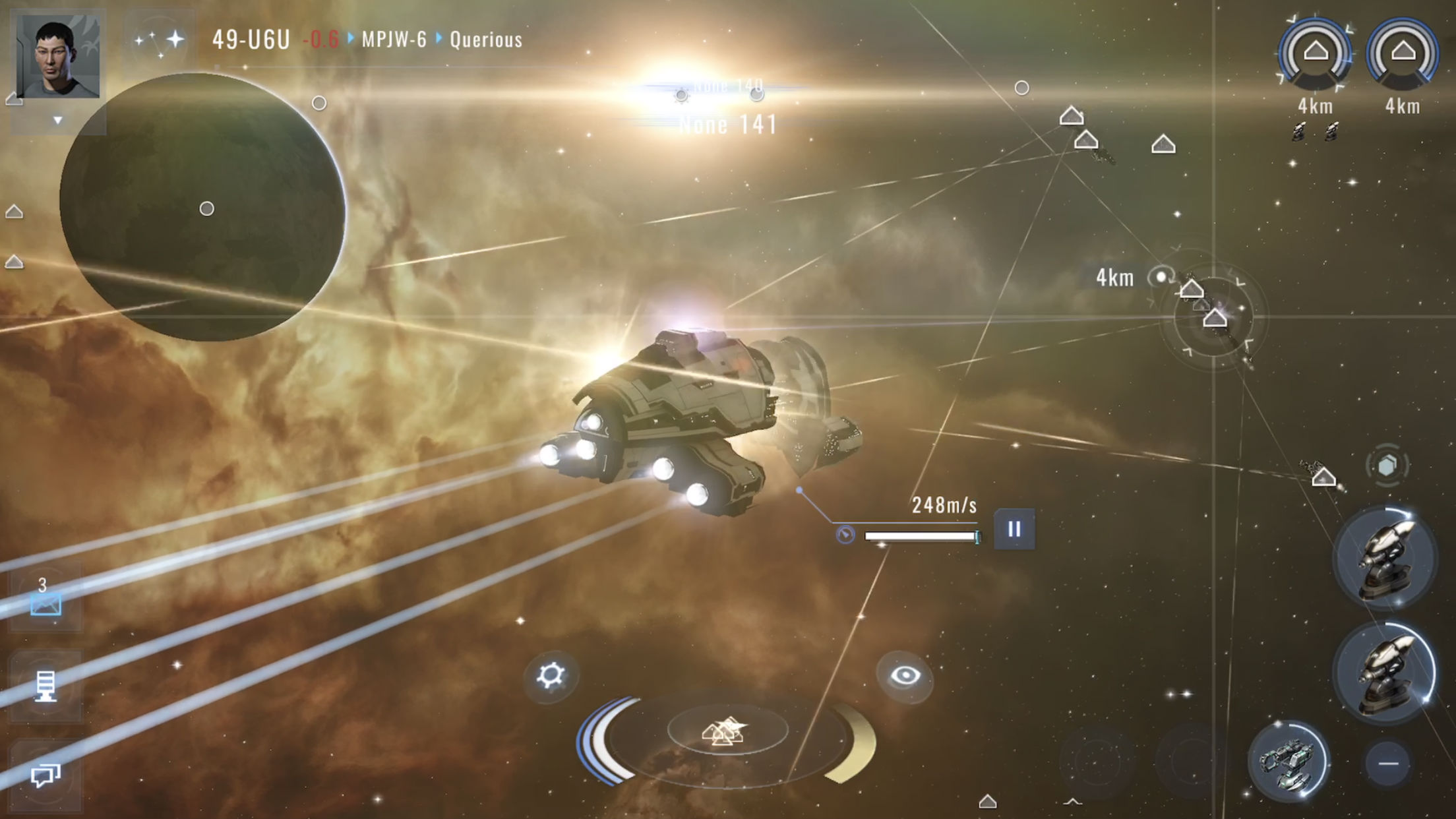 Considered one of the greatest MMORPGs available right now, EVE Echoes rounds out our list of the top 10 MMORPGs for Android. With over a million downloads, EVE Echoes has a rating of 3.6 out of 5 stars on Google Play Store.