Game Guides
BlueStacks Among Us Impostor Guide – Take Meta Gaming to the Next Level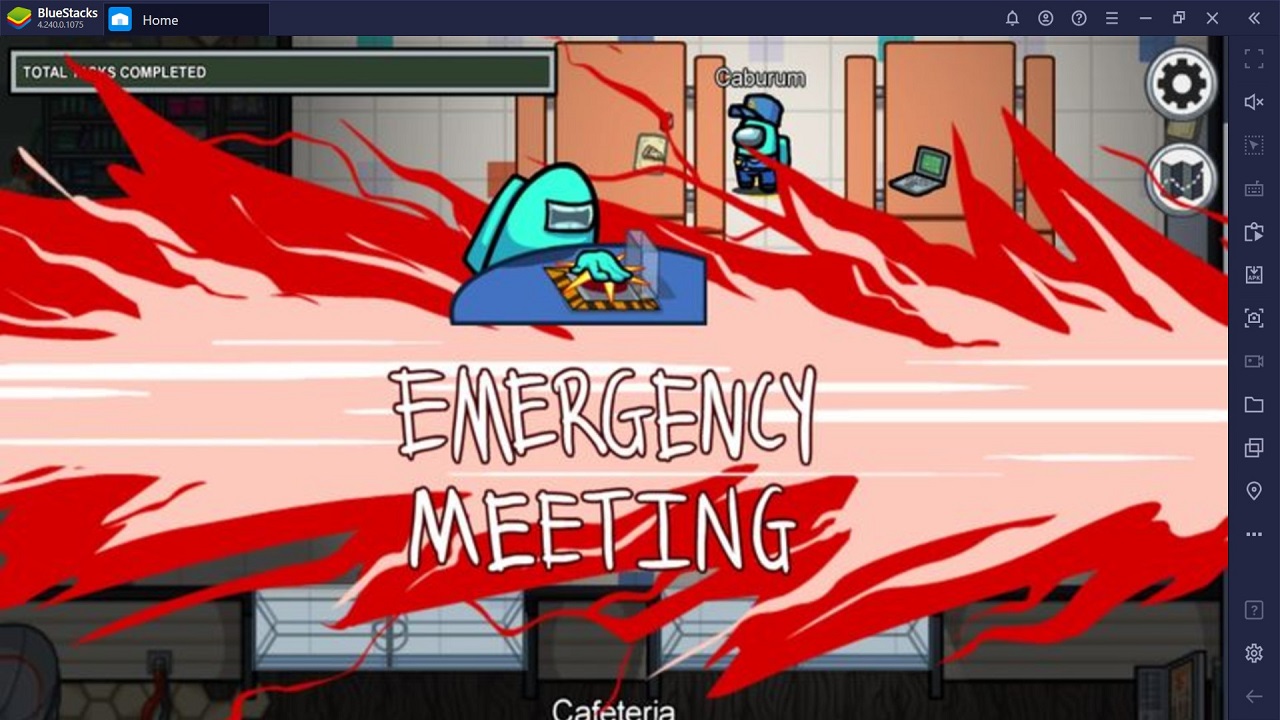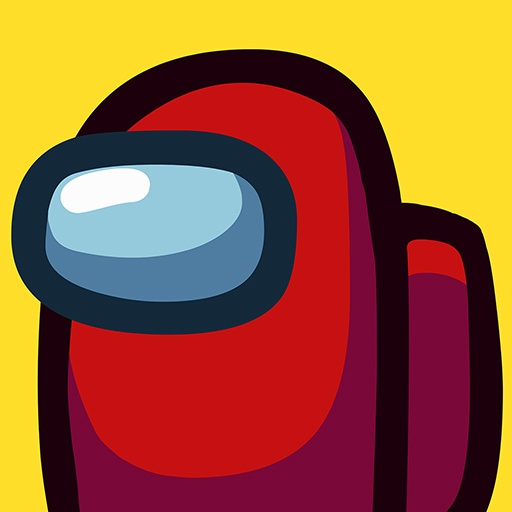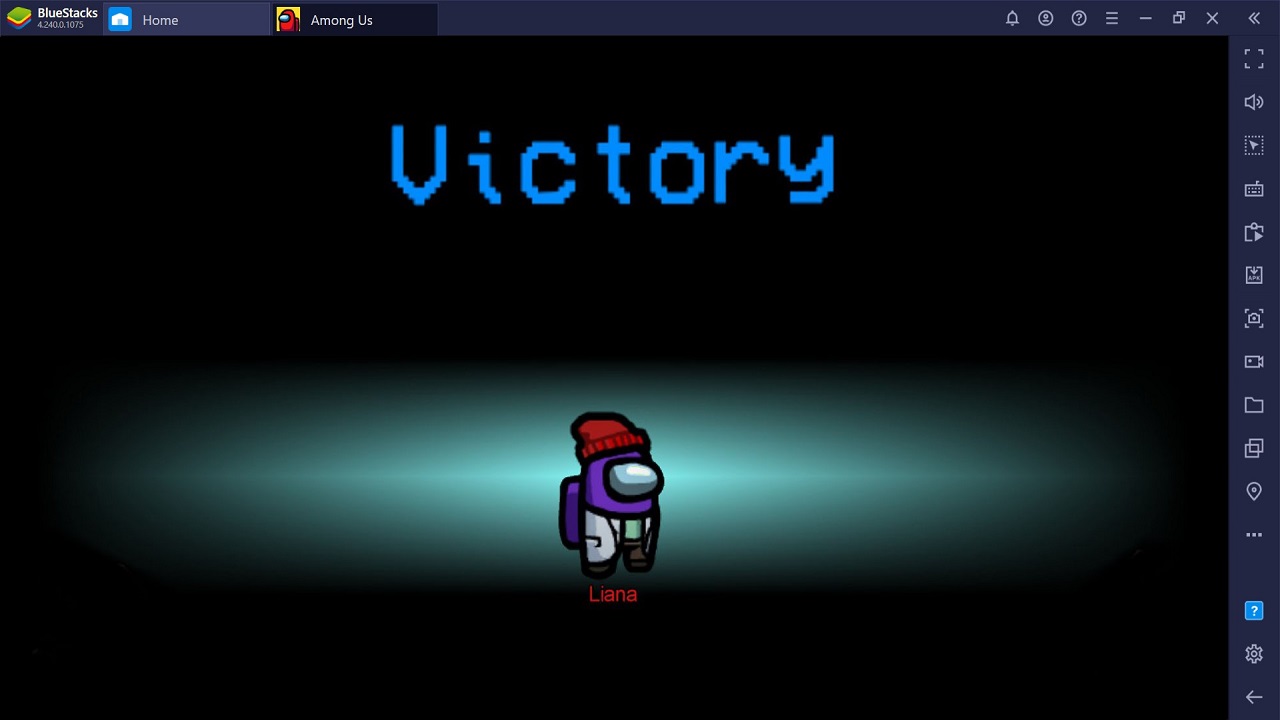 When it comes to Impostors in Among Us there is no such thing as lying or cheating. There is however a thing called losing and if you are losing a lot of games when you become the impostor, then it's time to polish up your skills. Impostors in Among Us are chosen randomly by the game before the match starts so there is no absolute way of knowing if you are the impostor or crew. Having said that, if you do become the impostor then there are things you can do to make sure that you actually win the game.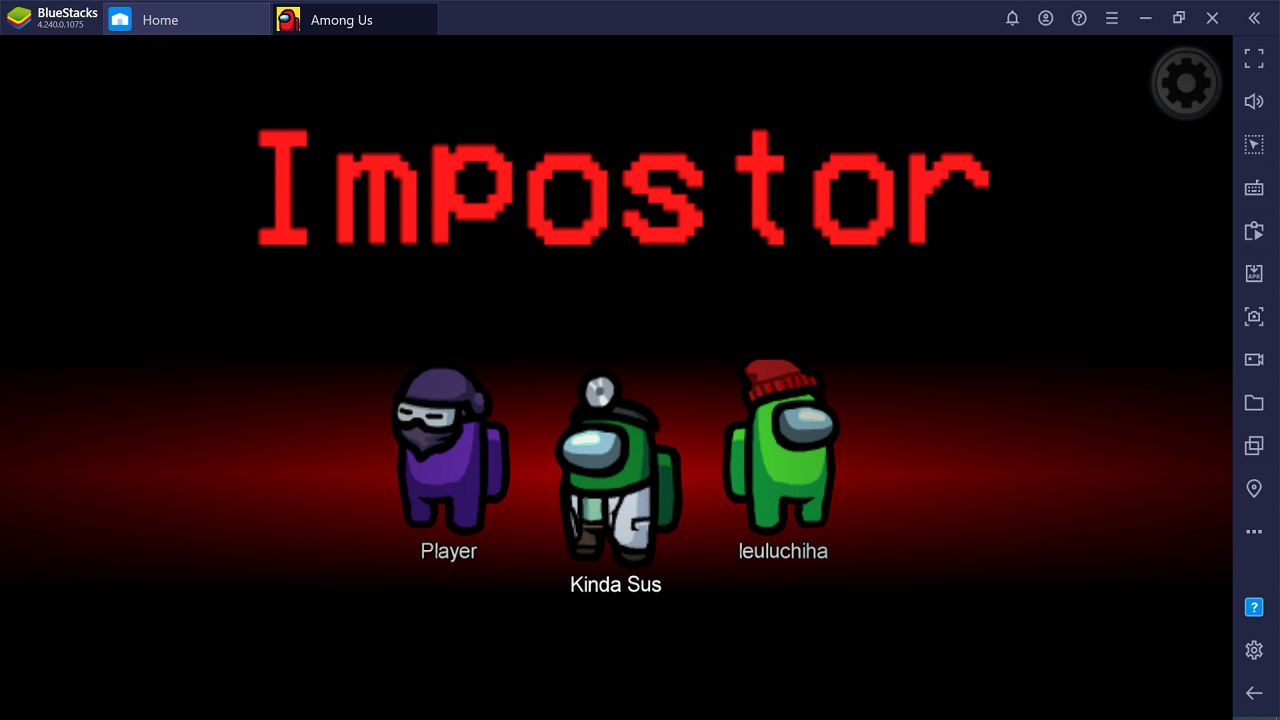 Impostors in Among Us need to have one currency and it's not money. That currency is trust and gaining that trust requires a ton of work and spreading misinformation. As an Impostor in the game, your primary objective is to lessen the number of crewmates and sabotage the ship while maintaining your cover. In order to do that you'll need every trick in the book of villains and here are just some of the tips you can use to spread misinformation and absolutely destroy those pesky crewmates before they can even sus you out.
Alibi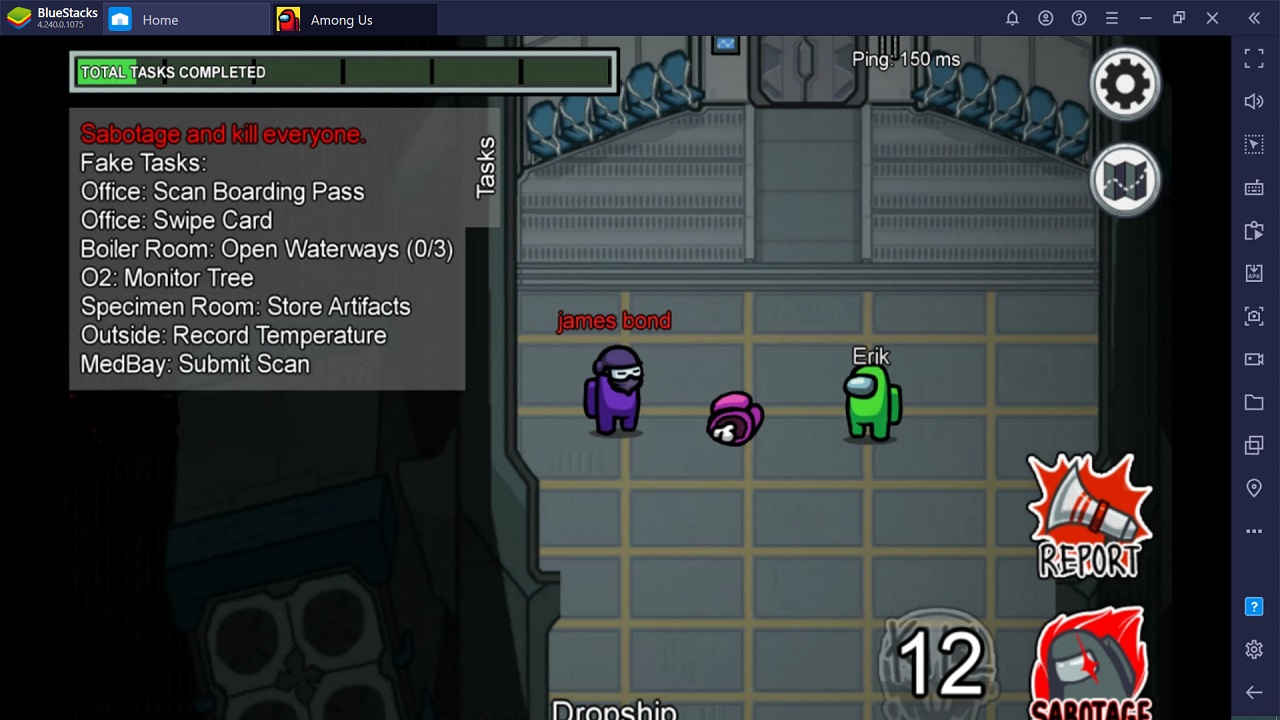 Years and years of detective shows and movies have taught us the importance of alibi and when you are the killer then it becomes even more important. The biggest weakness of impostors in Among Us is that even if they do fake a task it becomes pointless if a crewmate is watching the green taskbar. What you can do instead of faking tasks is to find one crewmate that you think has the least experience in the game and start following them around. Do not kill them immediately since they will be the one vouching for you when a body is found.
Stacking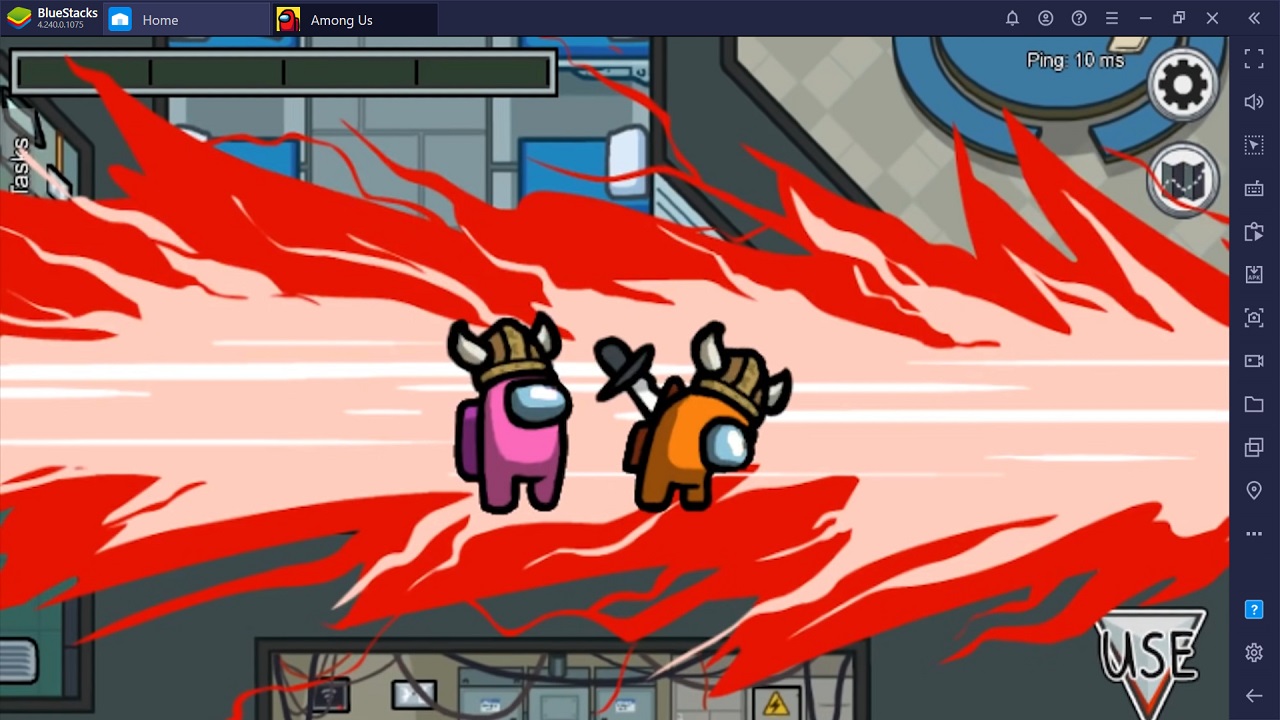 I have never seen any impostor take advantage of stacking. Stacking is when all the players are on top of each other. First seen in PC games like Counter-Strike, Stacking has become a famous tactic in Among Us. Most of the time you will see players stacking in Among Us when Impostors sabotage the lights and the crewmates are going to the electrical to fix the lights. The best impostors take advantage of crewmates stacking on top of each other to slice and dice. Not only you'll be safe but also no crewmate can actually suspect you since you were technically there to fix the lights.
Sus Everyone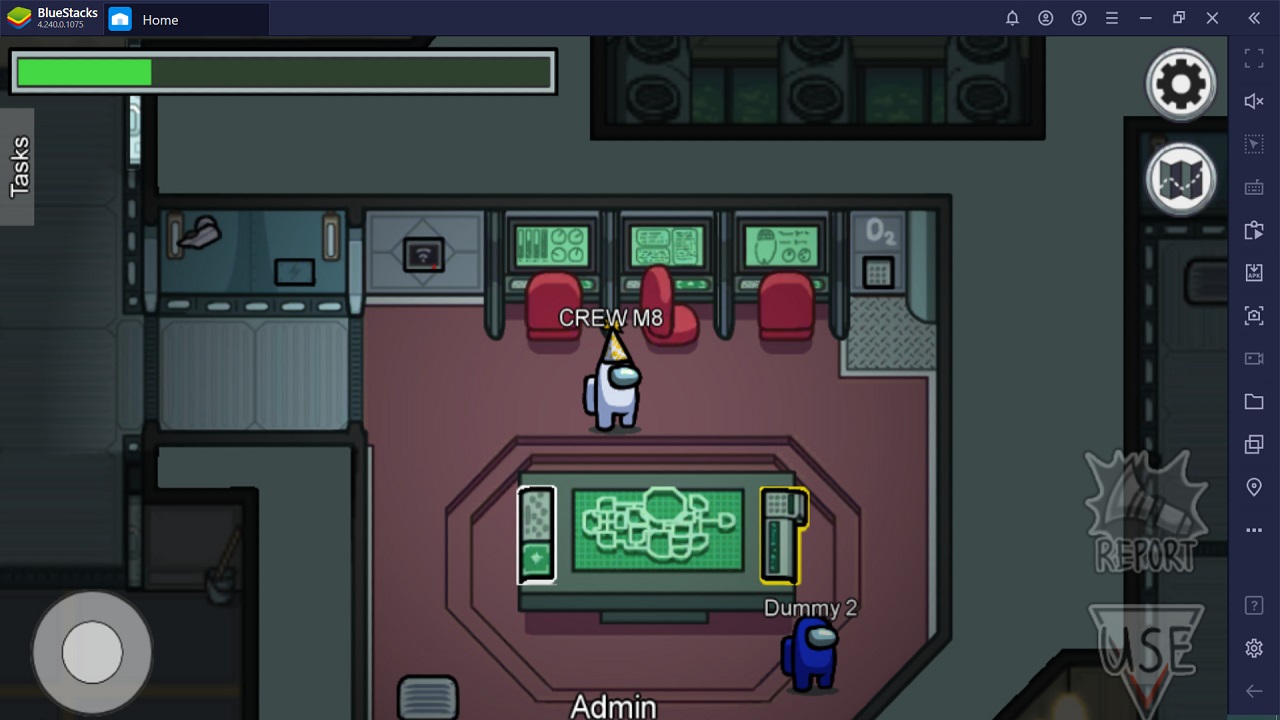 Whenever a body of a crewmate is found in Among Us an emergency meeting is called and the first thing everyone asks is "Where". This is where meta gaming actually comes into play. Let's say you were playing in Polus and the crewmate you killed is in security. All you now have to do is sabotage lights, vent to electrical and go outside to wait for crewmates to come and fix the lights. Join them and walk around until someone discovers the crewmate's body and calls for an emergency meeting and if the crewmate who reported the body was alone then go for "Self Report" hard. You have the alibi and since that crewmate was alone the chances of other crewmate taking your word will be far higher than the player who actually found the body.
Avoid High Kill Cooldown Rooms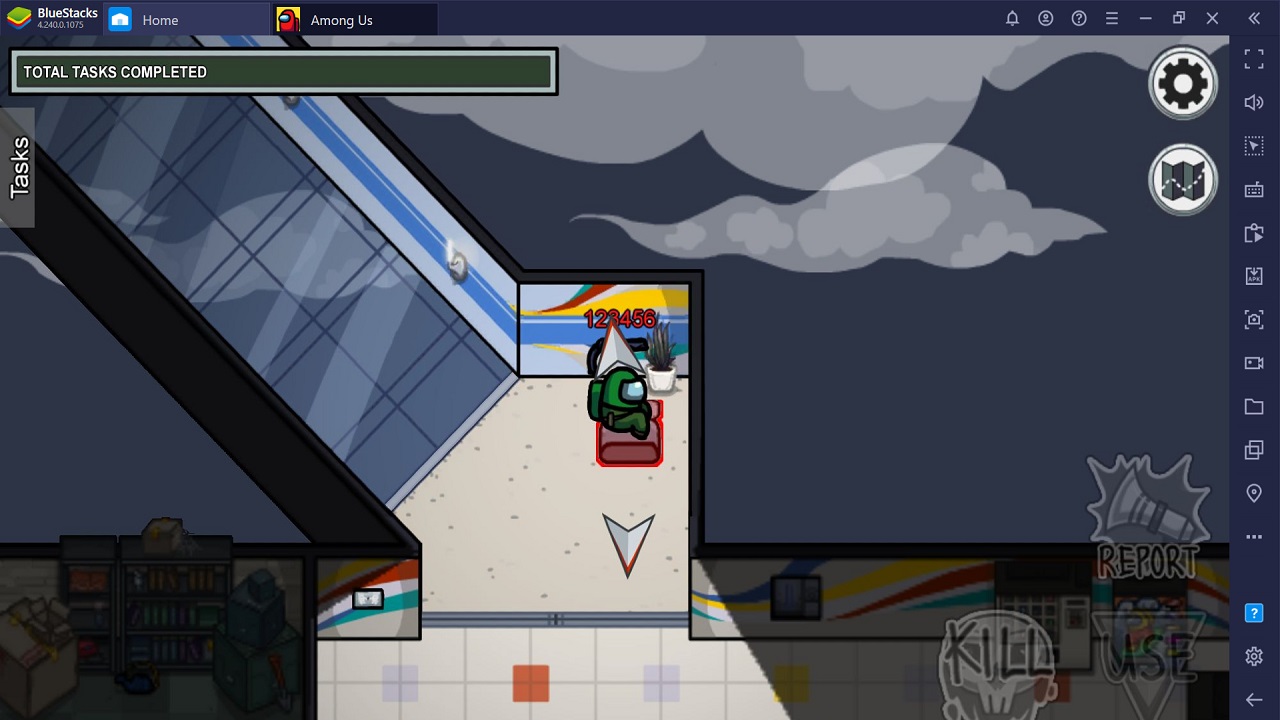 If you have been playing the game long enough then you already are familiar with the kill cooldown time. Basically, kill cooldown is the time gap set in Among Us during which an Impostor cannot kill a crewmate. Now, you can set the cooldown timer to your preference in your own room but if you are playing in a public room then only the room maker can change or set the kill cooldown time along with other options of the game as well. In case you do enter a room where the kill cooldown is set higher than average and you are the impostor then leave. There is no point in being the impostor if the odds stacked against you are set to the max.
Now Play Among Us with Voice Chat on BlueStacks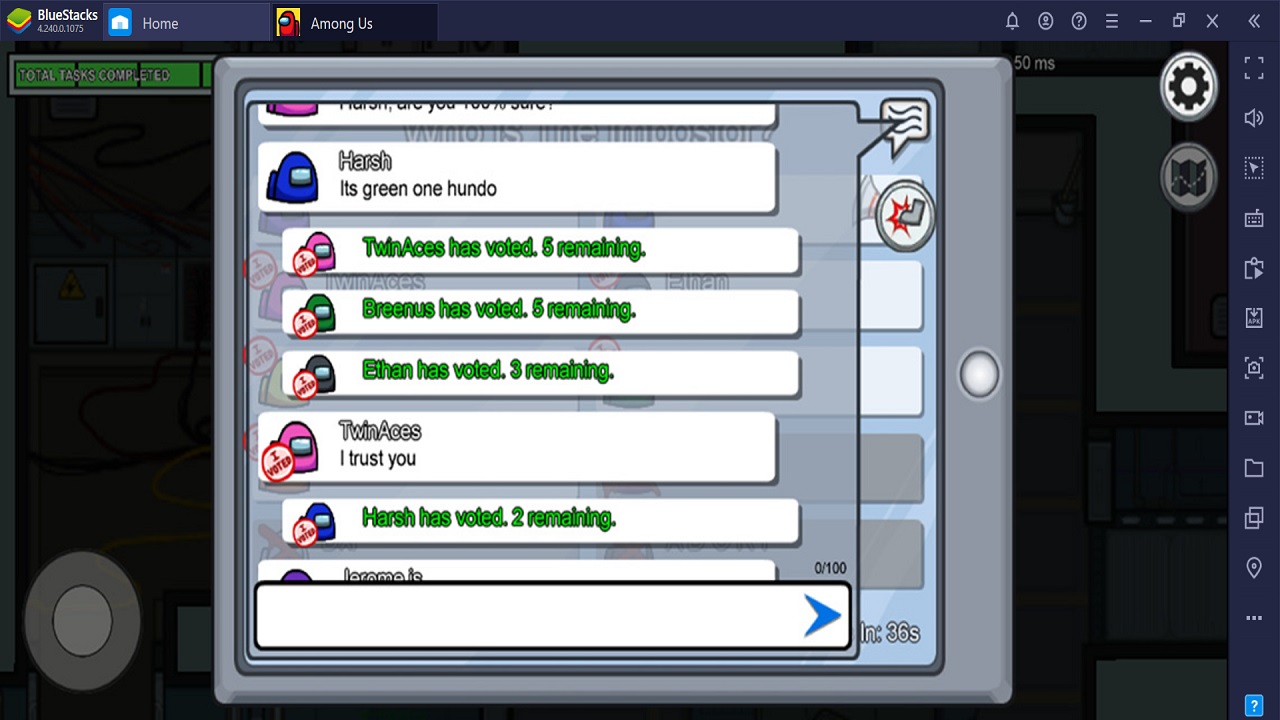 If you haven't used the features of BlueStacks Android Emulator to make your gaming experience smoother then you are surely missing out. BlueStacks has optimized the Android version of Among Us perfectly to give players a seamless keyboard and mouse experience. Not only that but now you can actually play Among us with voice chat using BlueStacks Android Emulator. To enable the voice chat feature in BlueStacks all you need to do is go to the home screen on your BlueStacks emulator and you will find a small phone icon at the bottom left of the screen panel.
Click on the phone icon and you will be greeted with a small blurb that will ask if you are going to start a group call or join a group call. If you are starting the group call then you will have to enter a nickname so it becomes easier for your friends to find you easily. Bear in mind that this voice chat is a BlueStacks-exclusive feature, only available to those who play Among Us on our app player.
Play Among Us on BlueStacks With Gamepad/Controller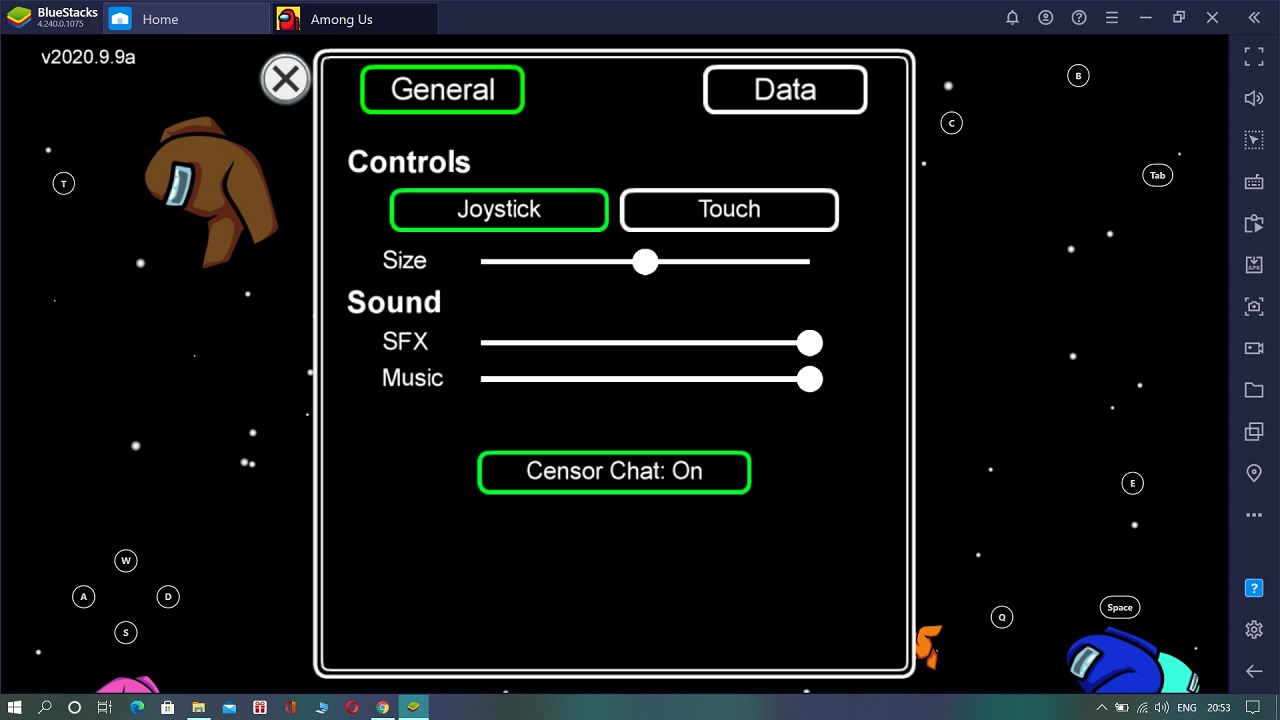 Among Us on BlueStacks Android Emulator has tons of features that can make playing the game not only more fun but also easier. Not only you can play Among Us on BlueStacks with keyboard and mouse but now there is also support for gamepad controllers. All you need to do in order to play Among Us using controllers is to plug it in the USB port and run BlueStacks Emulator. Once the emulator has started then head over to the menu and open preferences.
On the preferences page, you will see an option under the Game Control Settings called the "Enable gamepad detection" function. Select that function and open Among Us in BlueStacks. Go to the in-game controls of the game and select joystick controls instead of touch. That's it and now you can play Among Us using your gamepad controller.