Game Guides
How to Play Arcana Tactics on PC with BlueStacks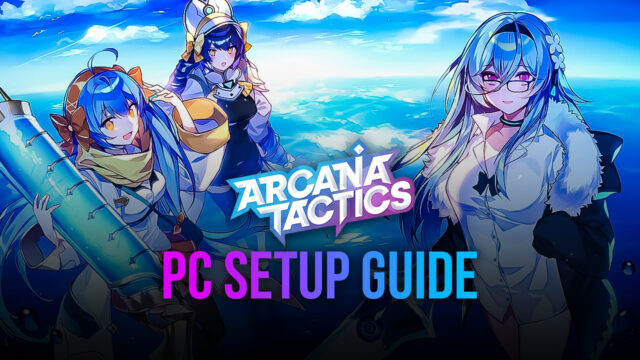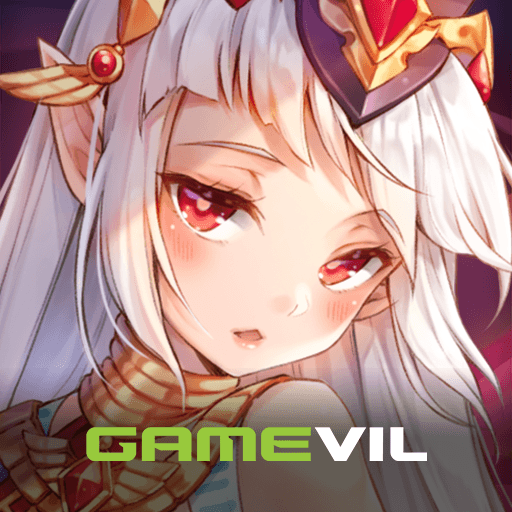 Gamevil has just dropped its possibly biggest game title for the year 2021. It's a blend of strategy RPG, hero collector, and auto chess genre. We are talking about Arcana Tactics. Yes, the game whose advertisements you might be seeing a lot recently on your social media outlets. The game takes pride in being highly complex to master while at the same time rewarding players who dare to take upon the challenge. The game boasts complete dependency on strategy and no pay to win. The concept of Arcana Tactics is unique as no other game of a similar genre exists. Players can choose from multiple heroes of different rarities, classes, and elements. They can fuse different heroes using a fusion system similar to Auto Battler games yet there is a catch; the heroes have to be summoned by the player first to fuse them. Getting confused? Don't worry we will break it down for you to make it simpler to understand.
Players can summon heroes using the Summon Tab for up to 8 heroes at a time. Summoning in Arcana Tactics is very essential as without summoning heroes, you can't use them in battles or fuse them. There are, however, 2 types of summoning in Arcana Tactics. Summoning for heroes as well as summoning for Arcanas. Arcana are cards that can boost your team's overall. Arcana can be class, race or element limited, or a combination of all three. Using the right arcane with the right heroes is the key to victory. The amount of combinations that can be used is high and that proves that strategy is needed.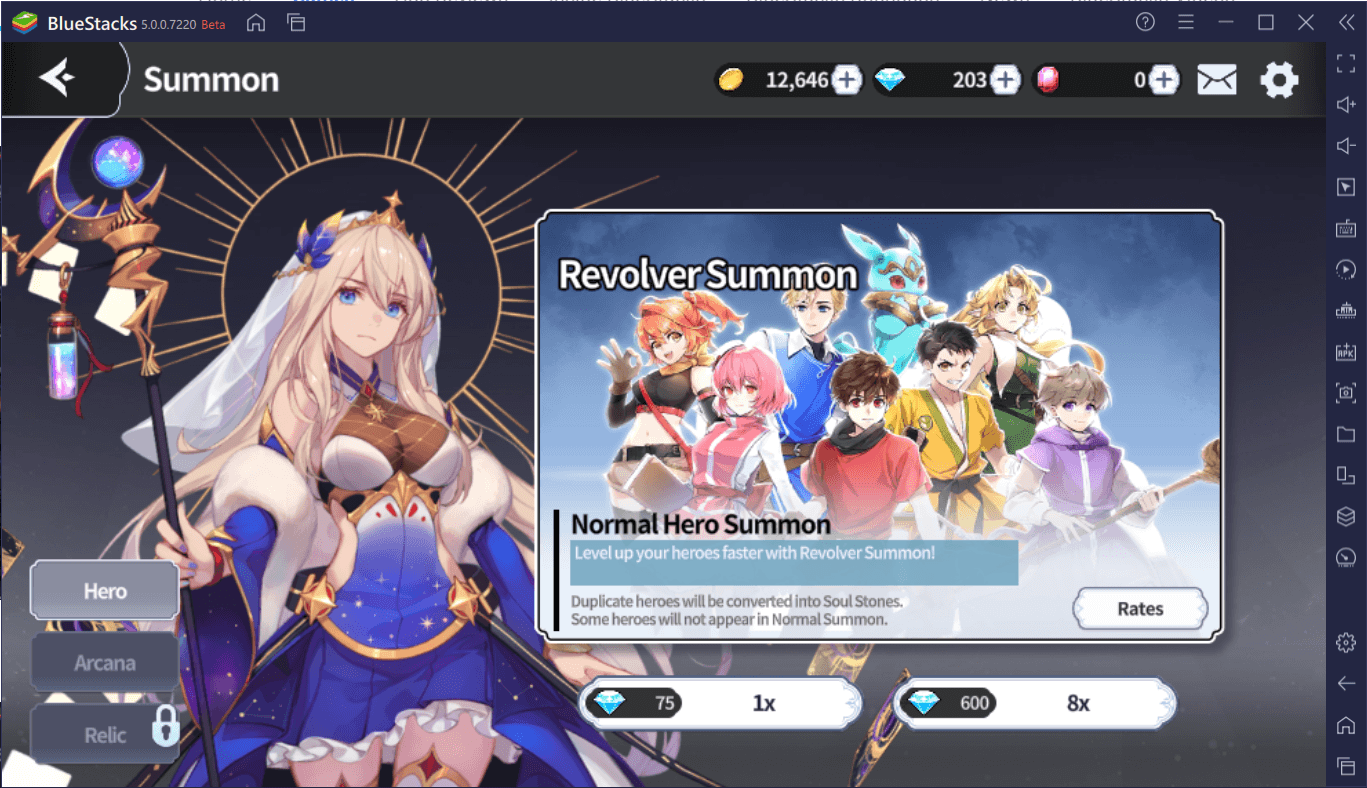 The Battle mechanics for Arcana Tactics are also very challenging and require player attention during the whole combat. In the campaign mode, there are multiple stages. Each stage is divided into multiple rounds, usually ranging from 10-13 with the last 2-3 rounds marked as Boss rounds. Boss rounds are much more powerful rounds with Boss monsters with high stats. They are marked with a Skull sign indicating the next round is going to be a Boss round. Players have 1 minute (60 seconds) preparation time before each round.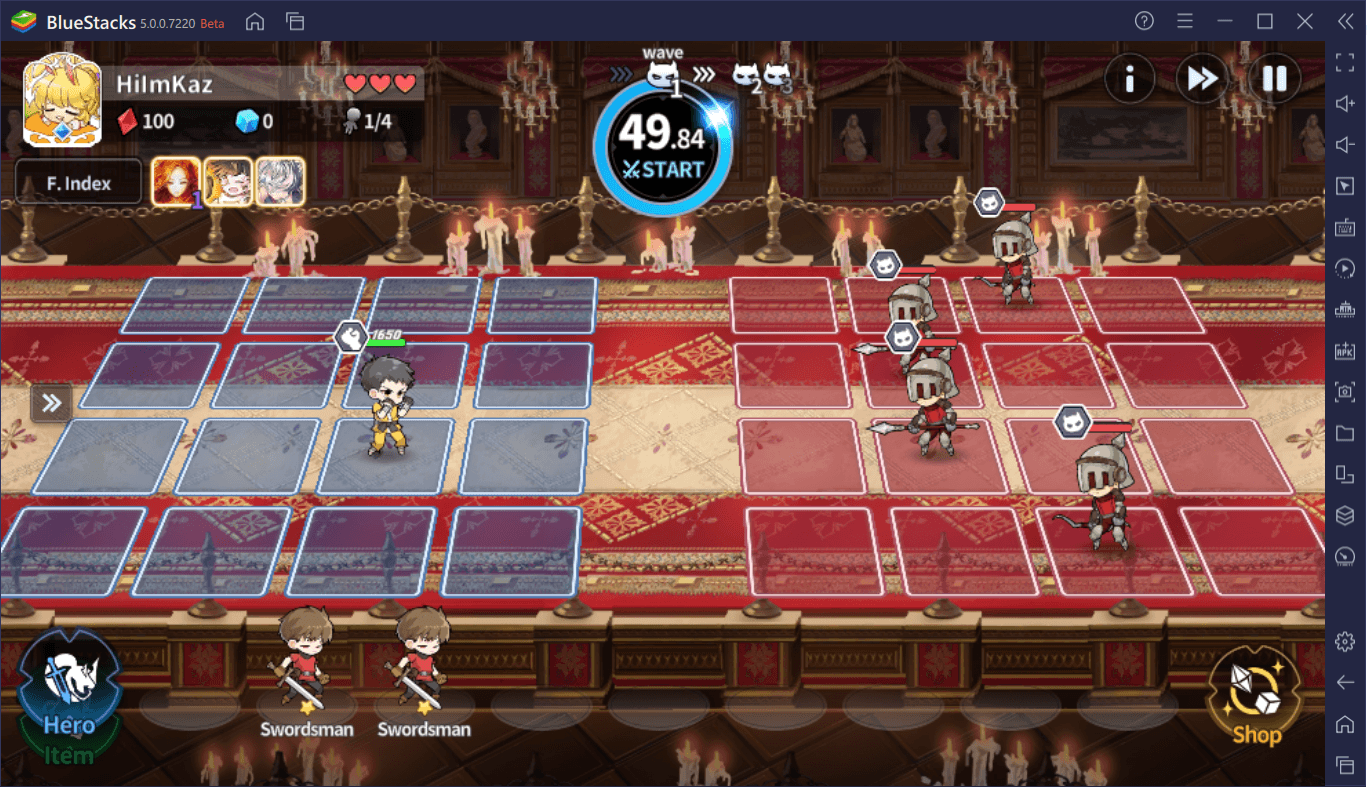 For the basics, players need to know that in the beginning only 1-star heroes can be deployed on the battlefield. Higher-grade heroes have to be fused by following the fusion recipe for them. This fusion recipe can be seen by clicking on the F.Index button at the top left corner. The 1-star heroes can be obtained from the Gem shop or by buying the summon scroll from the Cube Shop. Gems and Cubes are in-battle currencies that can be used for multiple actions. These currencies are earned automatically after each round. Arcanas can be used to manipulate the amount of currencies gathered after each round as well. Gems can be used to buy heroes and items. Cubes can be used to buy additional space for heroes, random item summons, hero summon scrolls, or can be directly converted to gems.
The Basic 1 star heroes that can be obtained and are fused to make other high rarity heroes include the following:-
Swordsman

Archer

Rogue

Wizard

Cleric

Warrior

Lancer

Spirit
All the other heroes existing in the Arcana Tactics universe can be obtained by fusing multiple copies of these 8 heroes, with the highest and most complex heroes being the 5-star heroes.
Interesting right? Well, it piques our interest but we are here to tell you how to enjoy the game even more on a bigger screen with your keyboard and mouse via BlueStacks!
How to Install and Play Arcana Tactics on your PC with BlueStacks
Download and install BlueStacks on your PC.

Complete Google Sign-in to access the Play Store, or do it later.

Look for Arcana Tactics in the search bar at the top-right corner.

Click to install Arcana Tactics from the search results.

Complete Google Sign-in (if you skipped step 2) to install Arcana Tactics.

Click the Arcana Tactics icon on the home screen to start playing.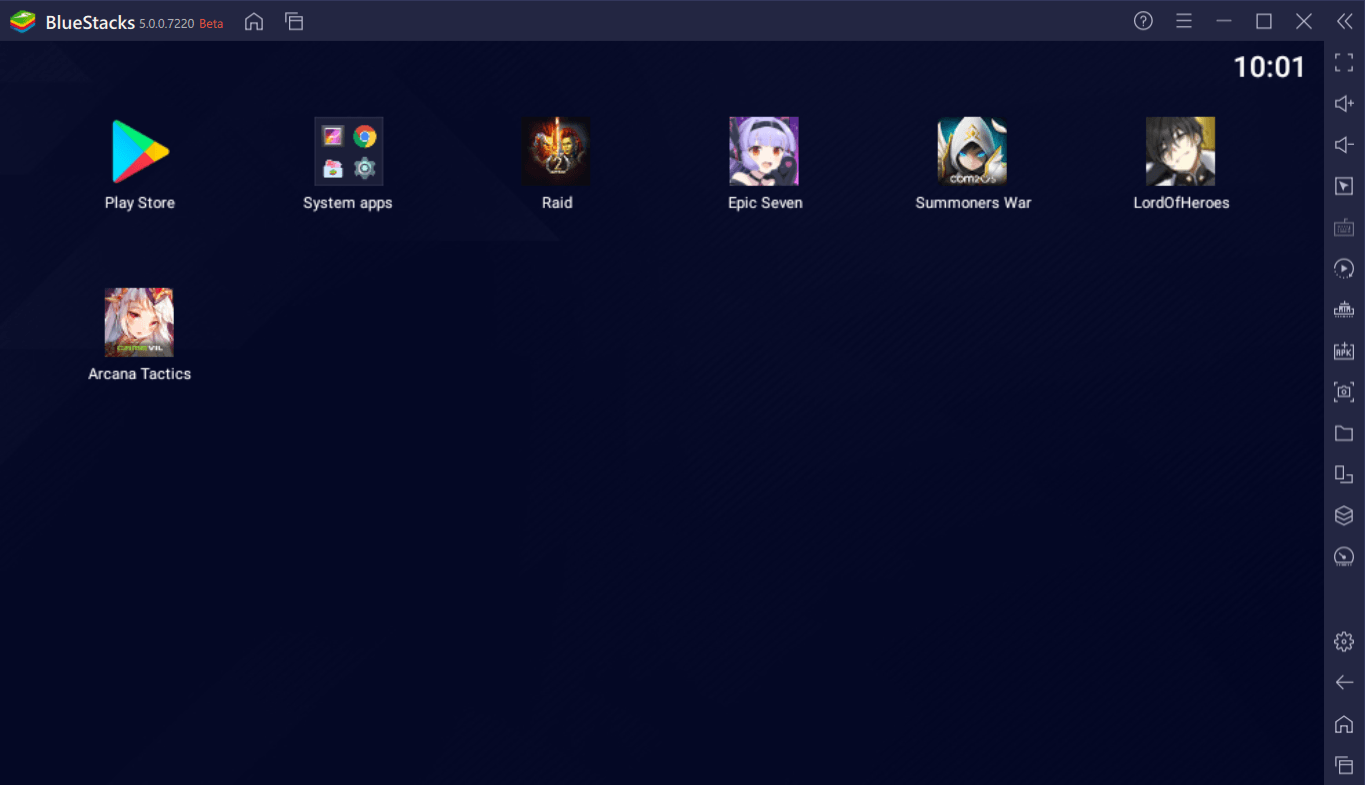 Advantages of Playing Arcana Tactics on BlueStacks
Rerolling is an essential part of games like these where strong headstart matters and can set you up for a smooth journey throughout the game. Playing Arcana Tactics on BlueStacks eases the process for a perfect reroll using its Multi-Instance Manager tool. In Arcana Tactics, players should focus on rerolling for Arcana cards. Players can summon for Arcana after clearing the first 2 chapters in the game. This process can be tiring and strenuous as Arcana Tactics does not have an autoplay feature. Hence, a single reroll can take up to 20-30 minutes.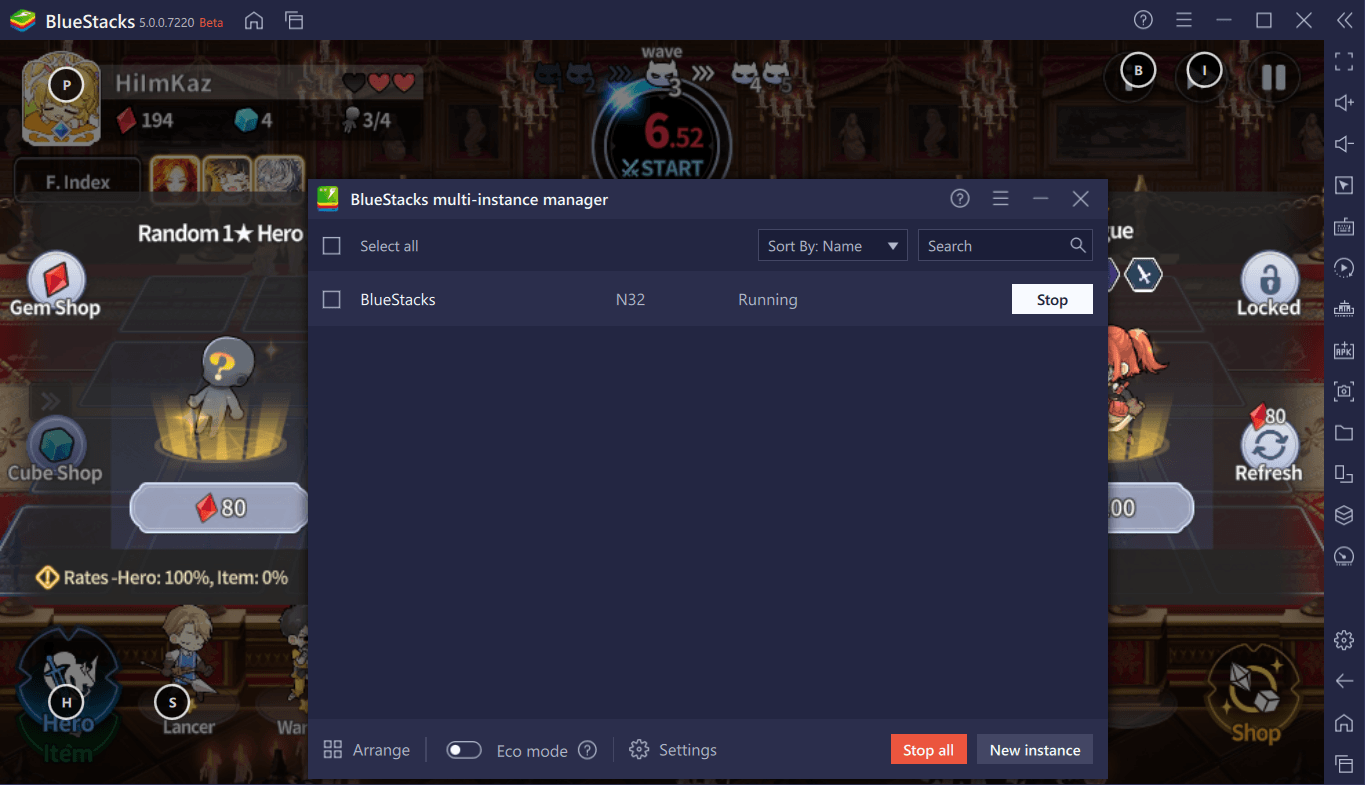 The first Arcana is guaranteed to be a 5-star major arcana, hence, it's important to choose the best Arcana for the early game! Here are our top Arcana recommendations worth rerolling for:
Devil Arcana

Judgement Arcana

World Arcana

The Fool Arcana

Justice Arcana

The Tower Arcana
If you are unable to get one of these Arcanas, simply start over your account's progress. You can do this by going into the game settings in the upper right-hand corner. On the settings menu, select the Account tab then click on the Reset button. Confirming the data reset will delete all your existing account progress and the game will let you restart.
Arcana Tactics requires a lot of frequent taps to do actions. These actions need to be performed multiple times within a limited period of 60 seconds between each round. Such a fast-paced intense strategic RPG requires some shortcuts or key bindings for ease of players. Players can use the BlueStacks Keymapping tool for ease of playing Arcana Tactics. Keymapping not only emulates real mobile touch controls but also lets you customize the keys for different actions in the game. For example, keymapping S key to open the in-battle shop will save players a lot of time than manually clicking on the shop icon after every round.
Arcana Tactics inherently does not offer any auto-play feature, hence it can be very time-consuming and frustrating for players to simulate their combos every time manually.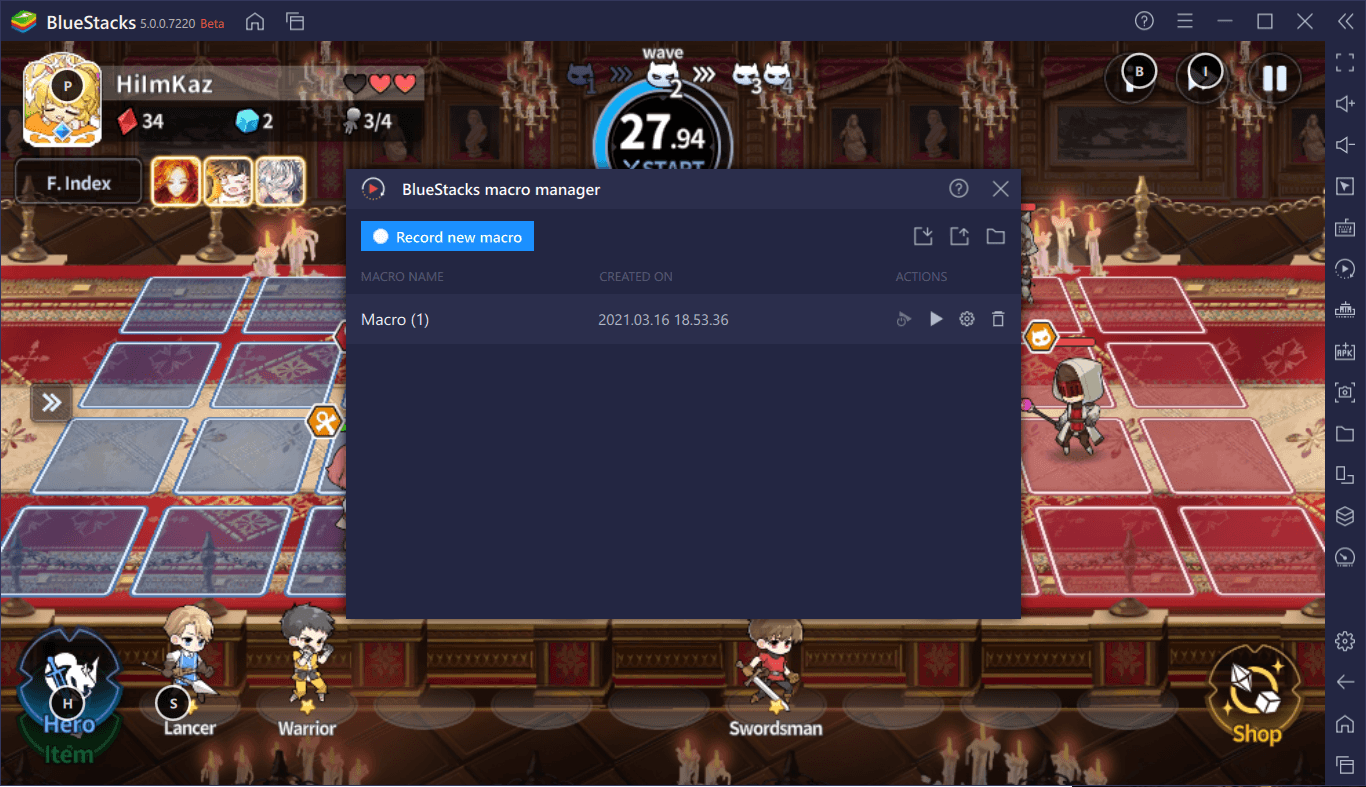 Well, we have good news for you! Using BlueStacks Macros tool, players can record their perfect combos and execute them with the help of a single button.
Lag-free 60 FPS FHD Smooth Gameplay
BlueStacks takes pride in its world-class performance for all its RPG games and Arcana Tactics is no exception. Players can enjoy their favorite game at the best visual settings without expecting lags or crashes. Games like Arcana Tactics which involve fast-paced time-limited strategic gameplay need to be played on a bigger view as mobile screens will hamper the number of actions that can be made with its small screen. Hence, we recommend playing Arcana Tactics on a PC with BlueStacks using keyboard and mouse.
Arcana Tactics Promo Codes
Use these codes below for free in-game loot from the developers!
arcanadiscord – Use this code to get 300 crystals

gold500000 – Use this code to get 500,000 gold

03RANDOMMAJOR10

love10arcana – Use this code to get Arcana Summon Ticketx10

GSIKARCANA – Use this code to get 600 crystals

reward0309at – Use this code to get 3000 crystals
How to Redeem Promo Codes:
Go to the settings tab at the upper right-hand corner.

Go to Info tab > NEW.

Under EVENT, click on Enter Your Promo Code Here.

Type the above-mentioned coupon codes and rewards will be successfully sent to your in-game mailbox.