Game Guides
Badland Brawl: How to Level Up Faster?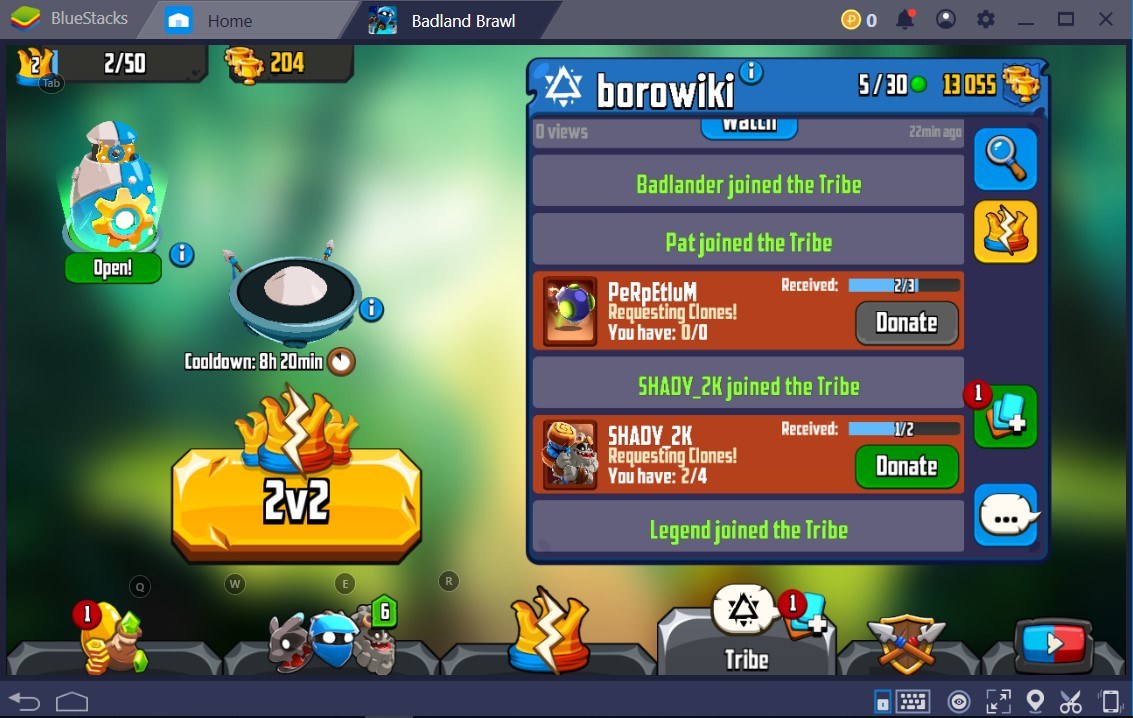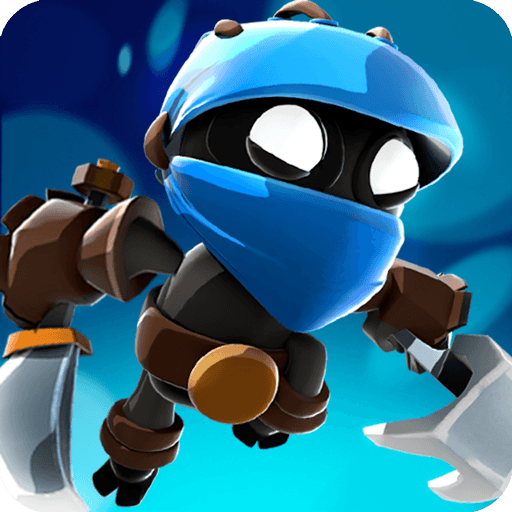 Borrowing ideas and gameplay mechanics from many different mobile games, Frogmind's Badland Brawl is an amalgam of the right ingredients. Angry Birds physics, a colorful world, Clash Royale like real-time strategy action, almost endless progression and many different rewards to keep things fresh. Badland Brawl's differences from other games in the genre and some of its unique features are more than enough to consider it a fresh and original game.
In addition to addicting gameplay, a continuous progression system is prevalent in Badland Brawl. As long as you play the game, you are going to keep earning rewards and get stronger. You'll unlock new clones, upgrade them, earn gold, story scrolls and unlock other new stuff.
Even though there are different branches of progression in the game, they all lead to the main leveling up system, which is related to your tower. When you level up, your tower levels up, or vice-versa. As we all know, Badland Brawl is a game where you win by destroying your opponent's tower, so getting your tower better to level up makes sense. Like in every game, there are some tips you can follow to level up faster in Badland Brawl.
More Upgrades, More Leveling Up
Clones are your army that lead you to the win. The stronger they are, the more chance you have of winning. To level up, you need to upgrade your clone cards. As you keep winning, your trophies will increase and you will come across much stronger foes. To be able to swim against these more powerful tides, you need to make sure that your clones are up to the task.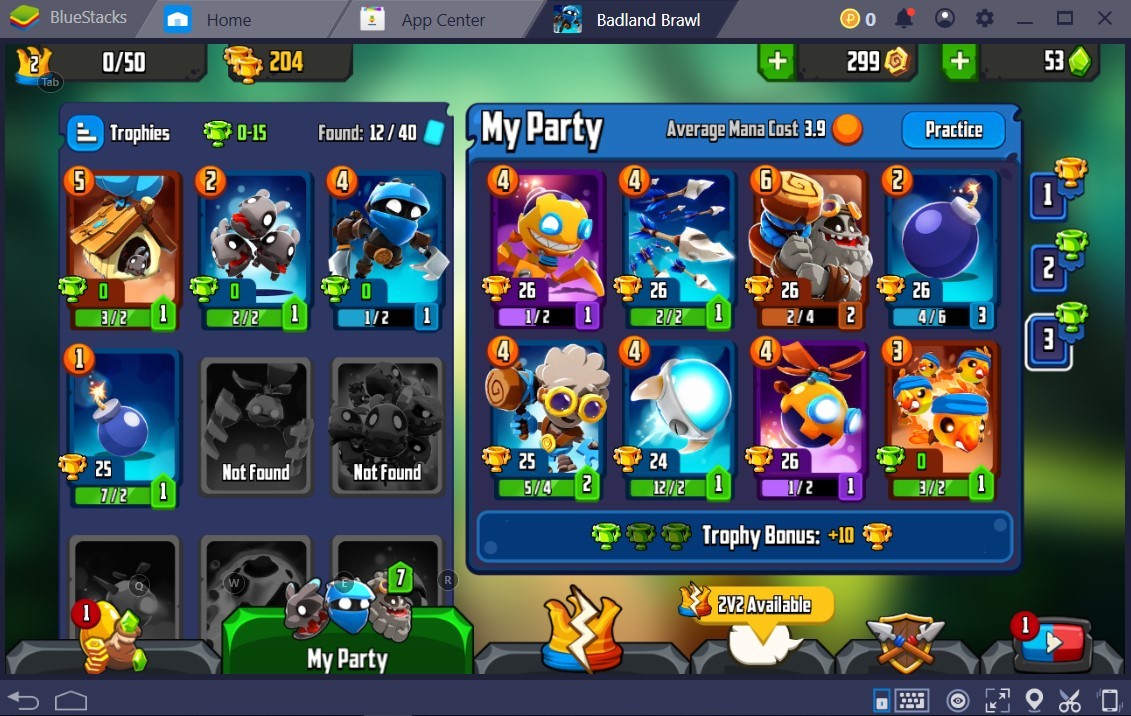 On the left top corner of the image, there is a crown with a '2' written inside it. That's your main level/tower level. As you can see, our current level is 2 and we need 50 tower points to level up. Currently, we have zero. Every time we upgrade a clone card, we gain some tower points.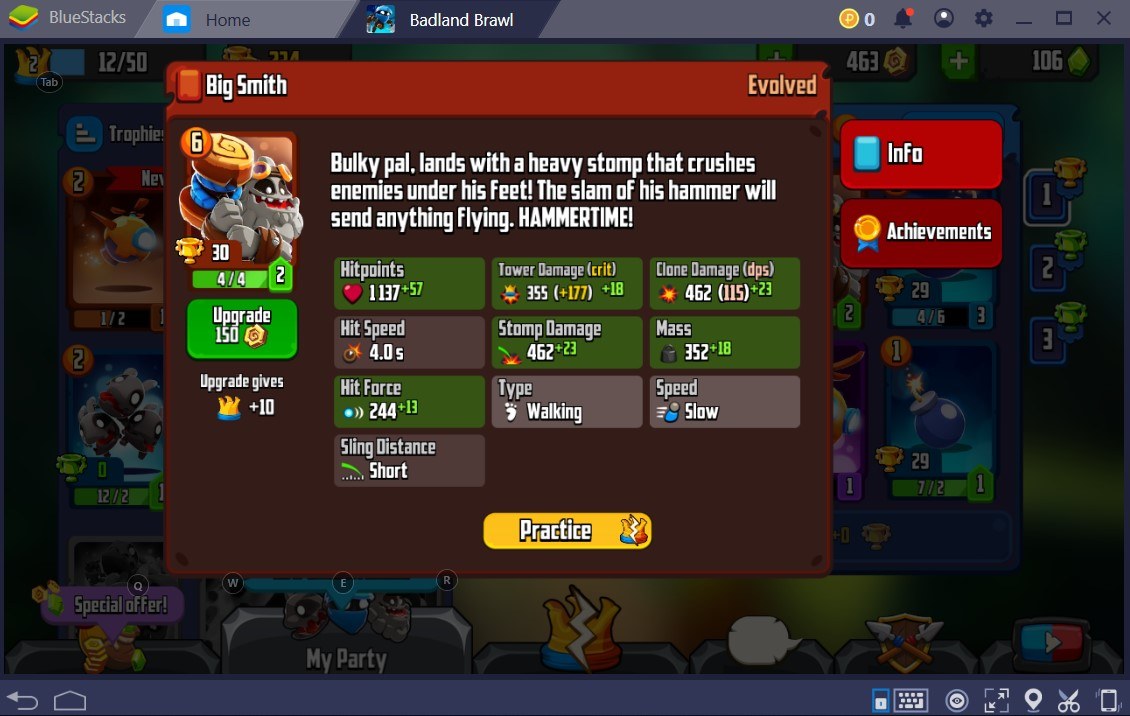 For instance, Big Smith clone card upgrade gives us 10 tower points. The bigger the clone card, the more tower points you will gain. To level up, you will need eggs and gold. Therefore, you need to brawl as much as you can, however, you can still earn a little on the side while not brawling.
Daily Rewards
In Badland Brawl, you will gain some daily items to help you level up. When you launch the game, always make sure to check the daily awards.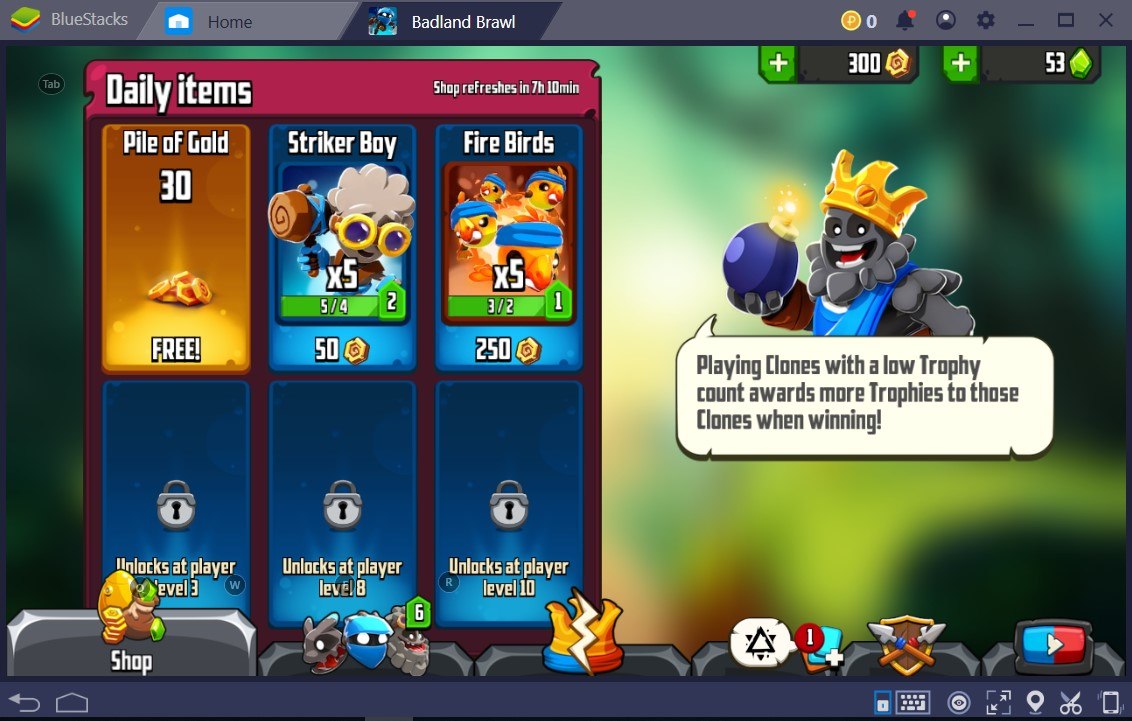 There is nothing wrong about some free gold.
Achievements
Badland Brawl has a lot of different challenges and achievements. Complete these and you will earn many rewards.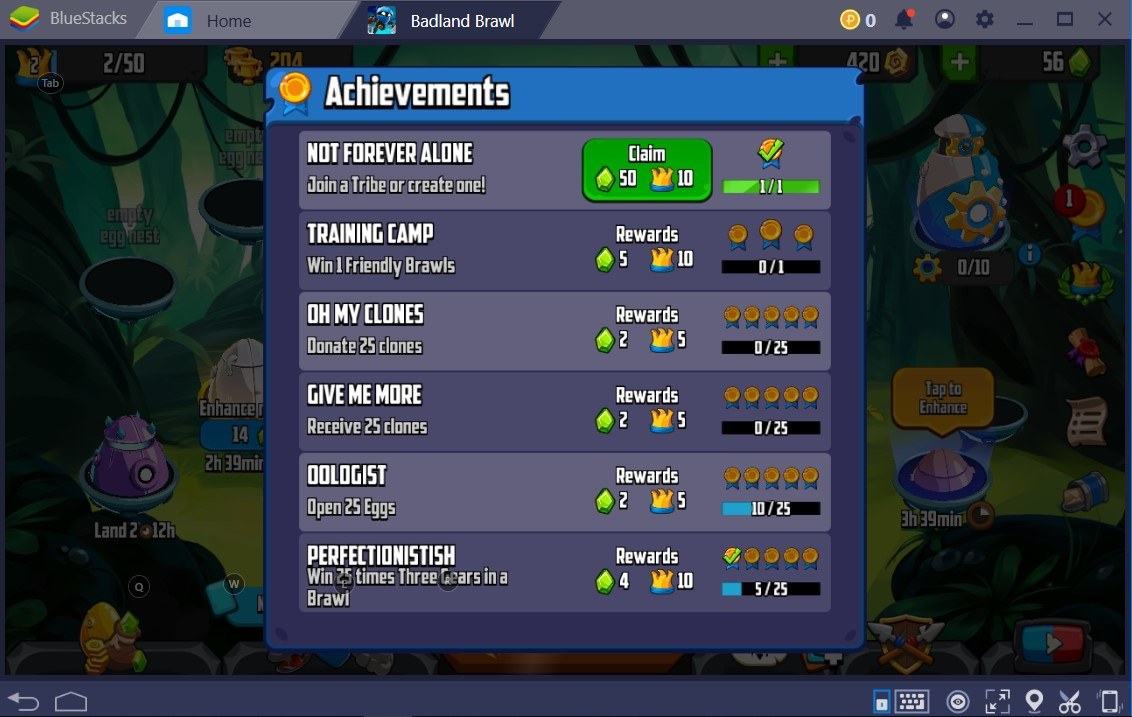 Check out the image above, for joining a tribe, we earned 10 tower points. That is huge! Try to check out what kind of achievements are there. Add more to your rewards while brawling. And by the way, did we say that you should join a tribe?
The Power of Tribes
In Badland Brawl, you can join tribes very easily. All you need to do is enter the tribe page and select the one you want to join.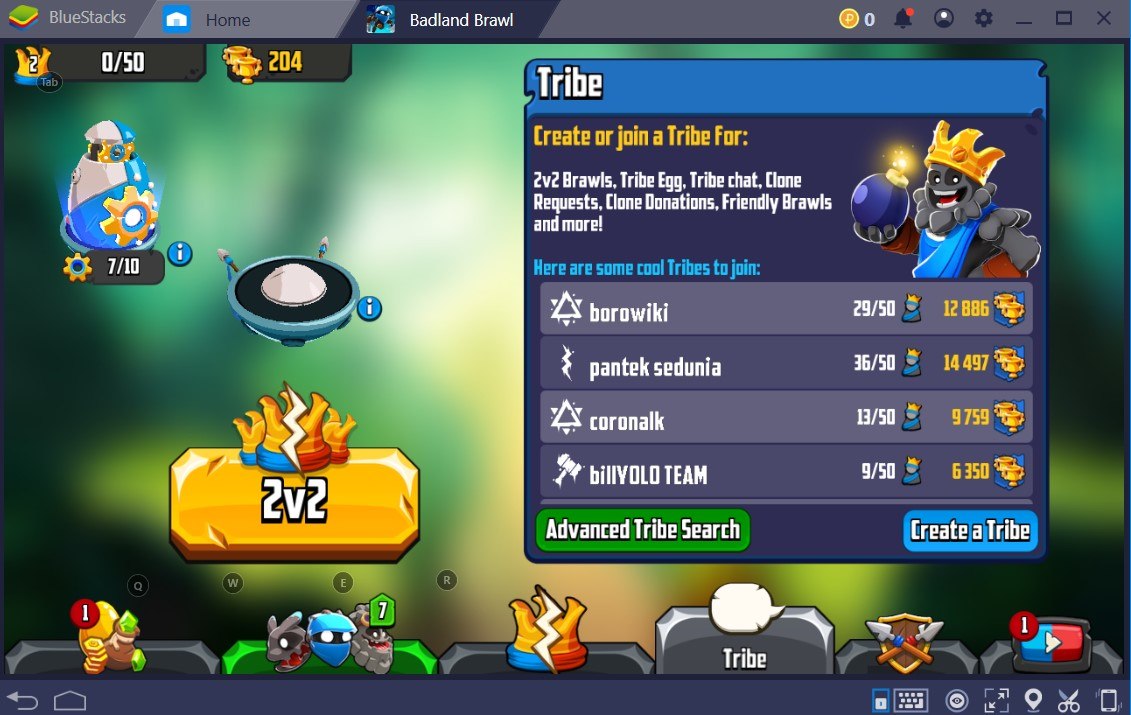 Joining a tribe has many advantages in Badland Brawl. You can make friends with many new people, use the tribe chat and get help from other tribe members, have friendly battles to improve yourself, and many more. However, there are some tribe features that are more prevalent than others. And that's what we want to talk about.
Give Some, Get Some
The tribe is a community. You will engage with many different brawlers. Everyone's goal is to get better. Progression of the tribe members will reflect upon the tribe. For the best outcome, contribution is necessary. When you are in a tribe, you can request clones when in need. This way, you can brawl more and earn more rewards, which eventually leads to getting even stronger.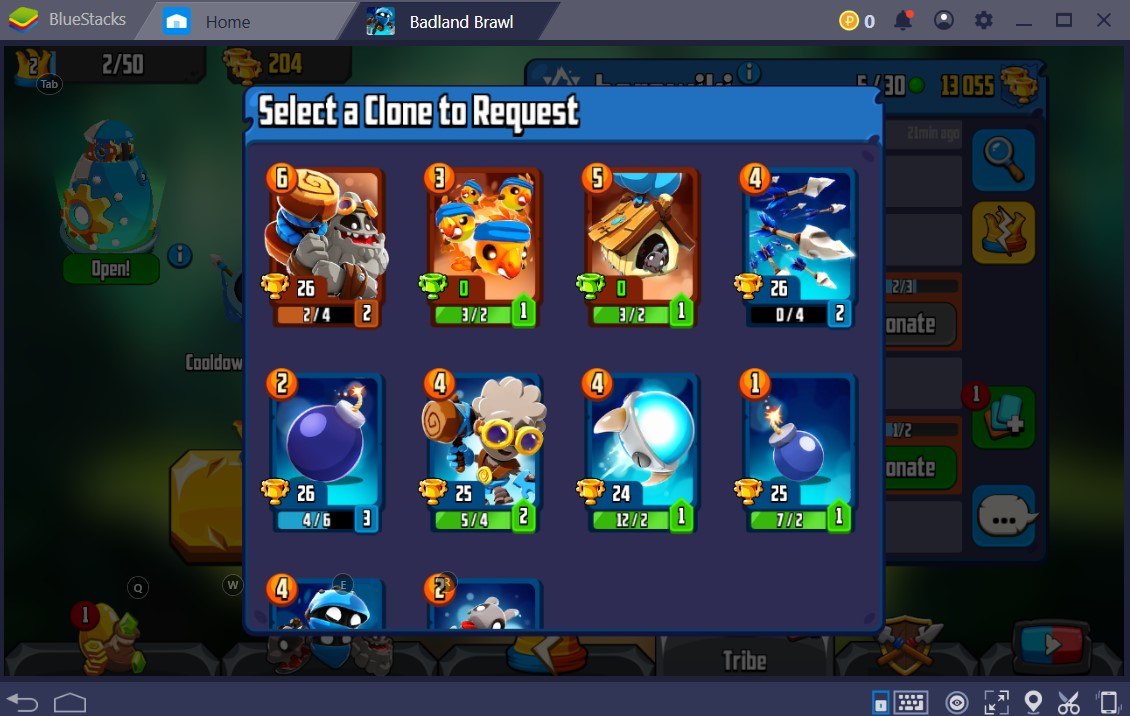 From the tribe page, click on 'Select a Clone Request' and choose the clones you need. Your tribe members will rush in for your help. But you should remember one thing, this is a two-way thing. If you ask for clones and receive them, you should give some back also. Help your tribe members in need. Don't be a leech. If you only think about yourself, you will get kicked soon enough.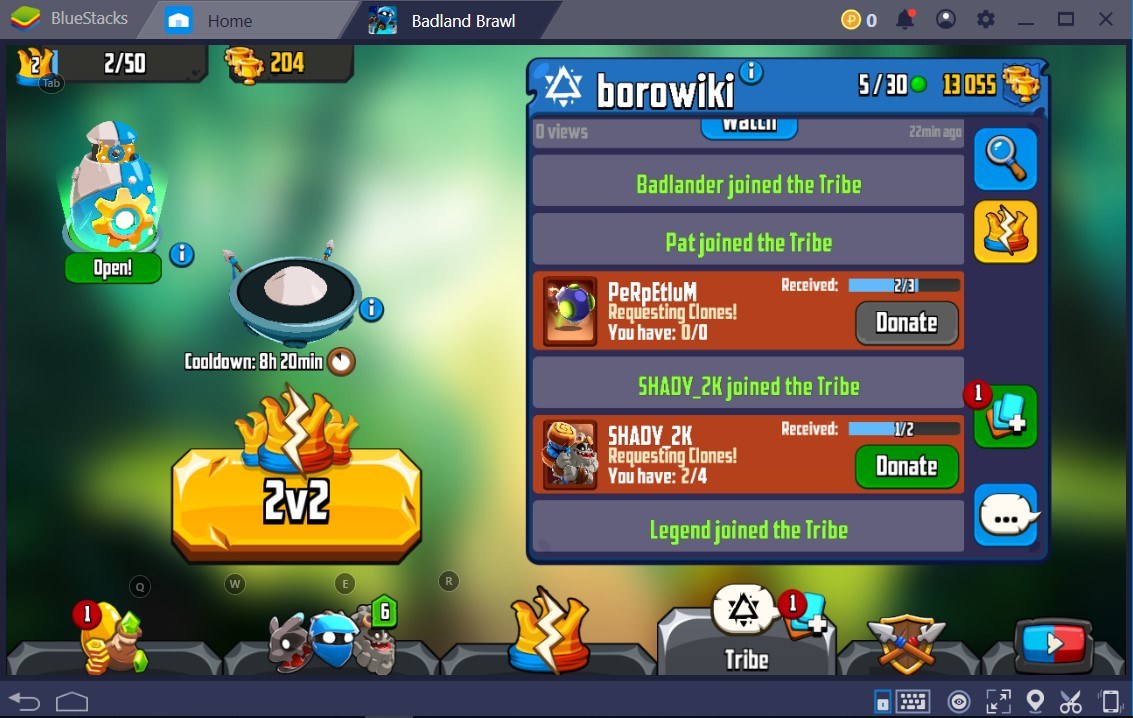 On the tribe page, you will see the requests of the tribe members. With a simple tap on 'Donate,' you can be the exemplary member of the tribe.
2v2 Brawl with the Tribe
Another big advantage of being in a tribe is to fight together in 2v2 brawl mode of Badland Brawl. The 2v2 mode is a blast as it is, but when played with a tribe member it gets more fun and rewarding. Let's focus on the 'more rewarding' part of it.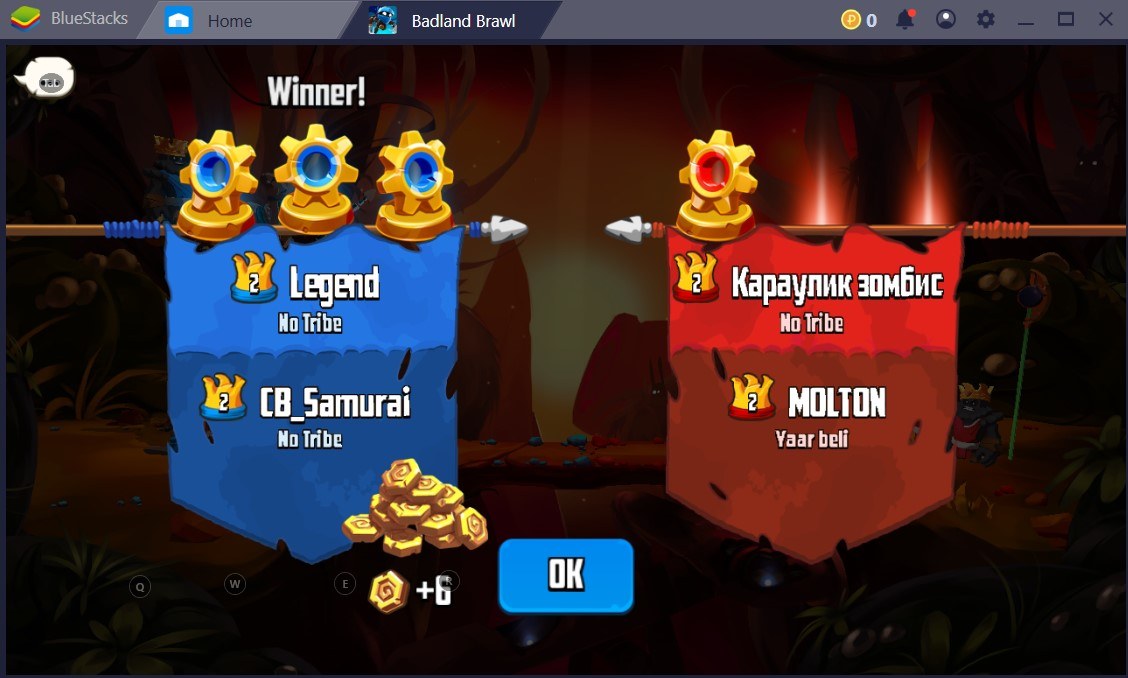 When you brawl, you earn rewards. Win to earn more. Win with a tribe member and you will earn even more!
The screenshot above belongs to a random 2v2 brawl we won. As a reward, we earned 6 gold. When you play with a tribe member, you will earn a lot more gold and some eggs as well.
Get to know your tribe members and ask them to brawl with you. It's a win-win situation. Both of you will earn more rewards and help each other out in the process. If your tribe members ask about how you come up with some incredible slick combos, tell them about BlueStacks. Don't keep it to yourself only. Think about the greater good. The more tribe members use the keyboard and mouse advantages of BlueStacks to deliver devastating combos, the more powerful your tribe's going to get.
Overall, being in a tribe means more clones (thanks to the donations), and more gold (thanks to the 2v2 brawl with a tribe member). More gold and clones mean more upgrades, which, in the end mean, more leveling up.
In the end, Badland Brawl is an addicting fun game that requires you to strengthen your force along the way. Follow these tips and you will level up quicker and more efficiently during your journey.