Game Guides
How to Install, Setup and Play Badland Brawl on BlueStacks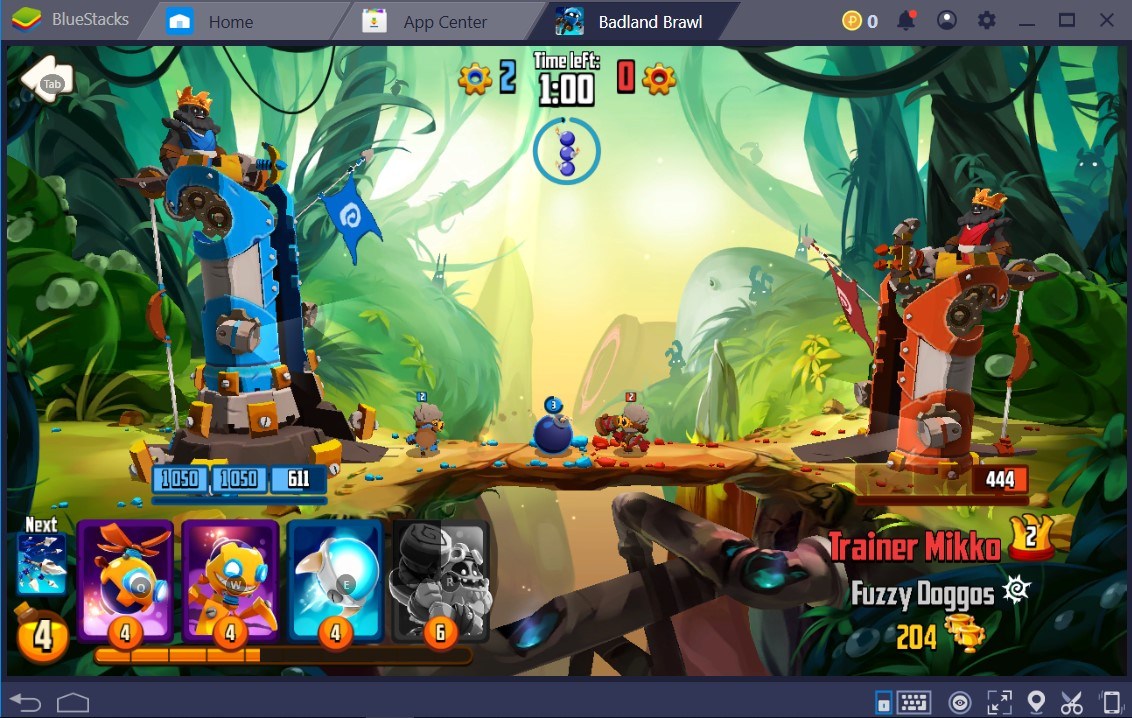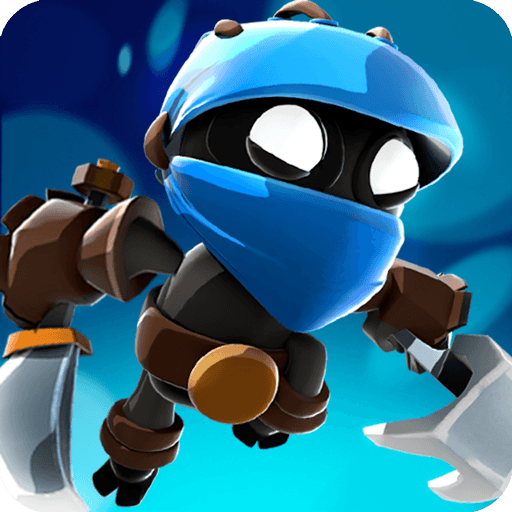 Frogmind's Badland Brawl offers a captivating experience for casual and hardcore mobile gamers. It's easy to get started, earn a ton of awards, and become better in the process. The game offers a mishmash experience of different mobile game genres and borrows gameplay mechanics from prevalent games in the industry like Angry Birds and Clash Royale. It might look like a simple card collector/destroy the enemy base game, but Badland Braws is much more than that.
To become one of the best brawlers out there, you need to think in a strategical way and use your clones, aka your soldier cards, in a timely manner and march them to the enemy lines with precise throws. You will have 4 cards ready to use and another 4 in the rotation. It's important to choose the right card and throw it to the battlefield as quickly as possible. Tapping on clone cards, and launching them to the battlefield requires two separate steps. However, thanks to BlueStacks, you can do these two actions almost instantaneously. By binding your 4 active cards to your keyboard keys and using your mouse to launch them, you will gain a big advantage over your foes.
If you don't know how to install the game on BlueStacks and use it to your advantage, don't worry, we are here to show you how.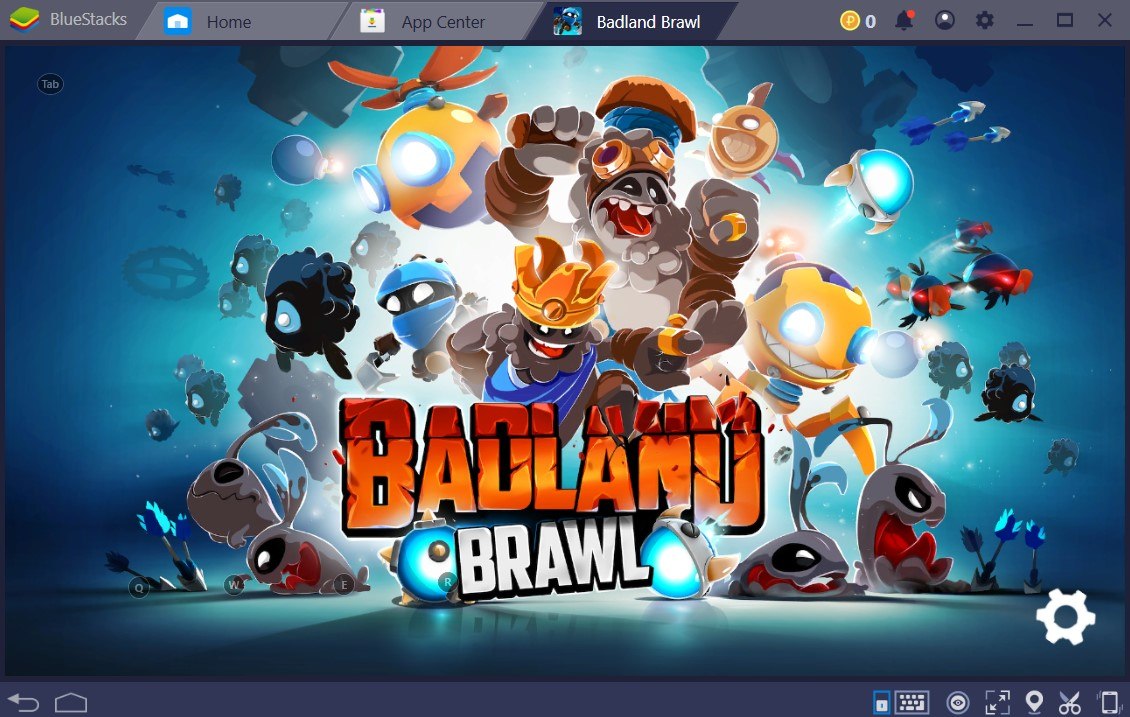 How to Install Badland Brawl
Open BlueStacks. We assume you have it installed by now. You did install it, right? Right? What are we thinking, of course, you have it installed.
It is really simple to install a game on BlueStacks. Badland Brawl isn't an exception. Just type the game's name on search bar, find the game, and install it. It's that simple. You can also use the App Center to find and install it.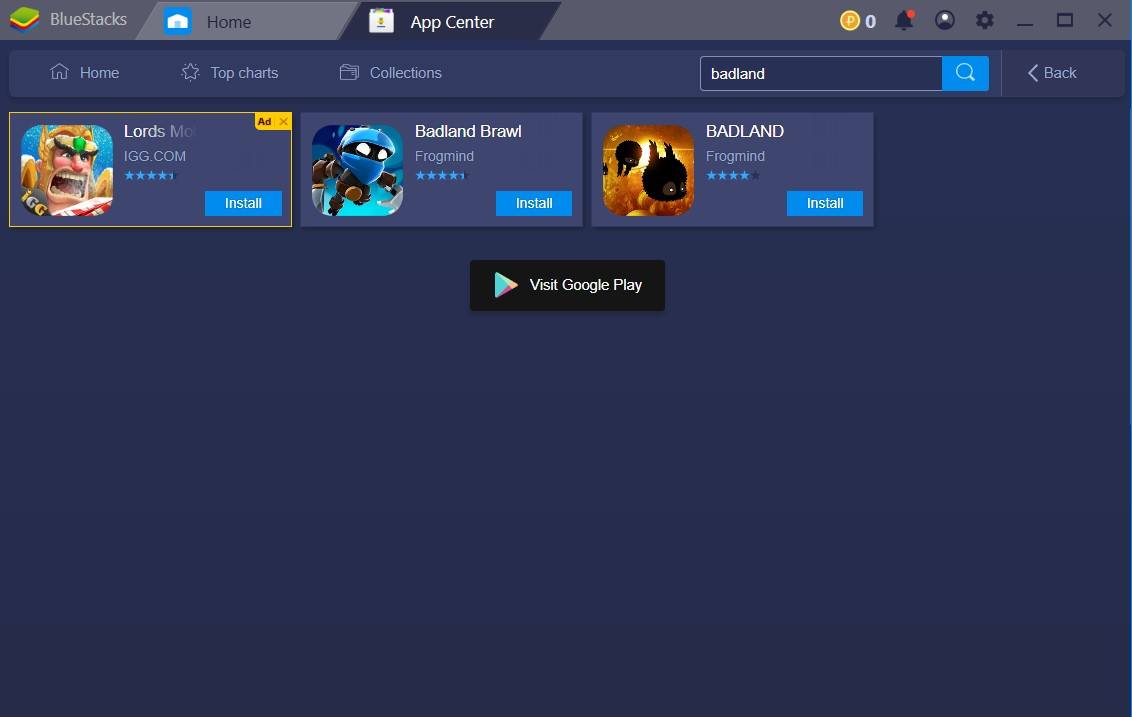 As you can see from the image, Badland Brawl will pop-up when you type it on the search bar. App Center is just another way you can install Badland Brawl on Bluestacks. All you have to do is click on 'Install' and the Apk file will begin to download.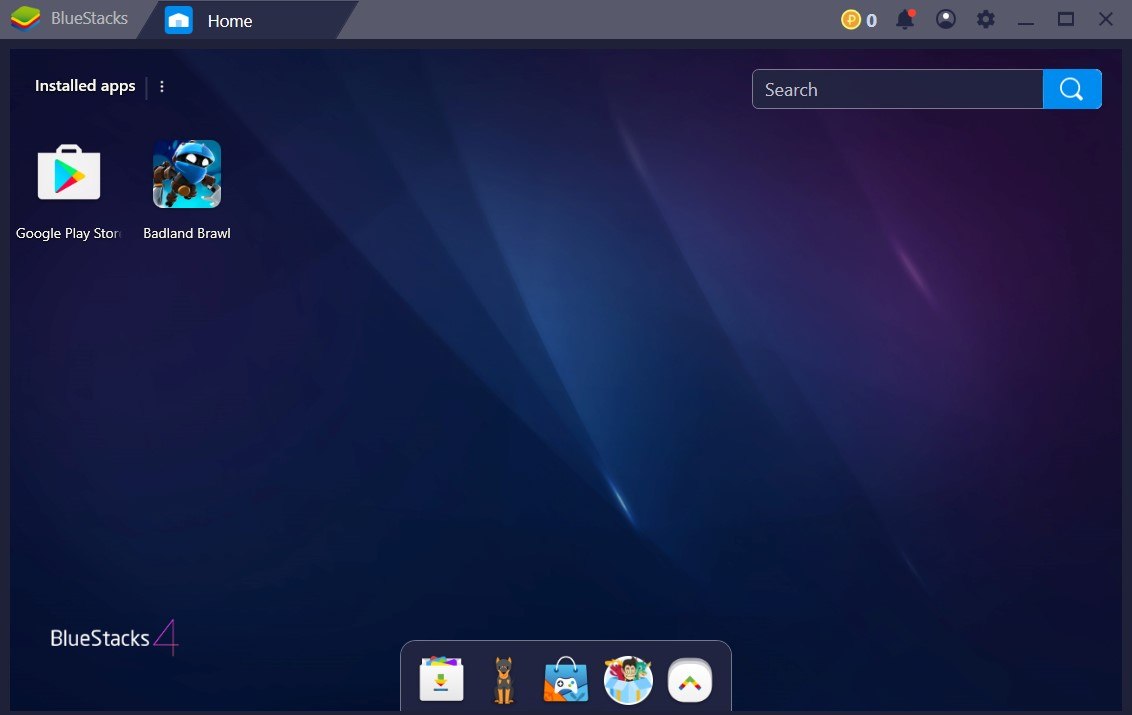 The download file is around 80-90 Megabytes. It depends on what the latest version is. The file we downloaded was 86 megabytes. It's a small file, so it should finish downloading pretty quickly. After the download is complete, the file will be installed automatically and appear on BlueStacks as shown on the image above. All you need to do is click on it and start playing.
Best Badland Brawl Control Settings
At the beginning of this article, we told you about the advantages of playing Badland Brawl on BlueStacks. To have the best experience, you need to make sure you use the right controls.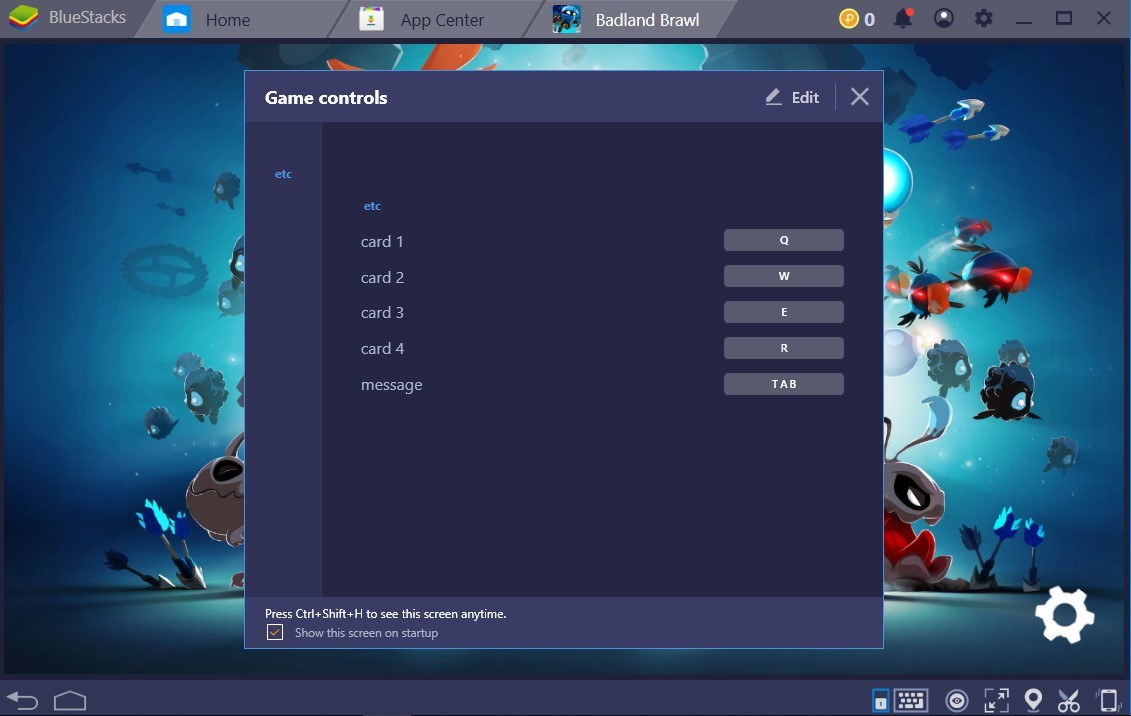 The image shows the default controls of the game. As you should know already by now, you have 4 active cards in your deck. BlueStacks assigns a different keyboard key to every one of four cards you have. This will be a huge advantage when playing Badland Brawl. Badland Brawl requires you to choose a card and then launch the chosen card to the battlefield. As we told before, this is a two-step process. But with BlueStacks key binding, you can choose the necessary cards using your keyboard and launch them to the battlefield almost at the same time.
You can customize the controls to your liking, but Q, W, E, and, R buttons are very practical to use. If the default key bindings aren't for you, just change them. How? It's really easy to change the controls on BlueStacks. On the top right corner of the 'Game Controls' mini screen, you can see 'Edit'. Just click on that and change the controls to whatever you like. Just try and find the best key binding combination for your liking. Be comfortable while playing. Don't worry, BlueStacks will help you.
Good Controls Best Combos
We taught you how to install the game and customize the controls to your liking. It's important to find the best controls, especially for Badland Brawl. If you checked our 'Badland Brawl Tips and Tricks ' article, you may already know that there is a thing called 'combos' in this game. Combos are one of the key factors of winning in Badland Brawl. It's the game-changing factor. Players who can master the combos can easily plow through the regular players and reach to the top to become one of the best brawlers out there.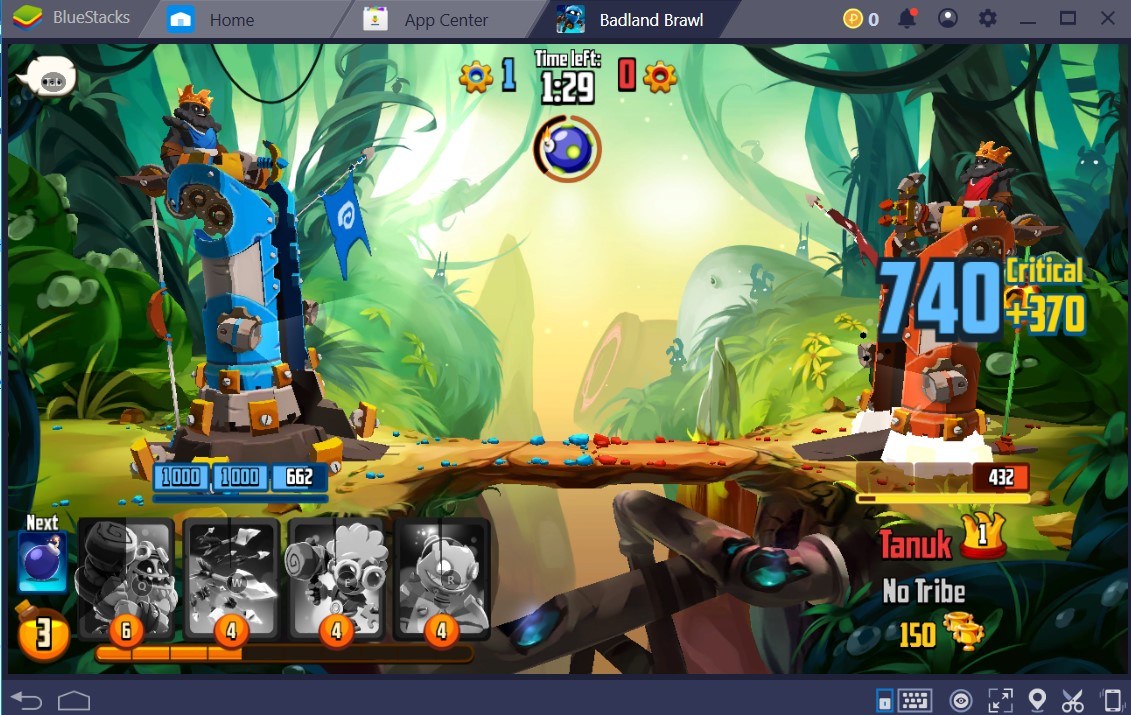 Check out the image. On the bottom left-hand side, you can see your four active cards. If you have a keen eye, you can see that we are using the default key binding, which is, Q, W, E, and R.
In Badland Brawl, some clone cards work together better and they create a combo. It's mostly about delivering the damage making clone cards such as the bomb, to the enemy tower with an appropriate clone card. So instead of randomly deploying clone cards to the battlefield, choose the ones that are harmonious and inflict that devastating damage to the enemy base.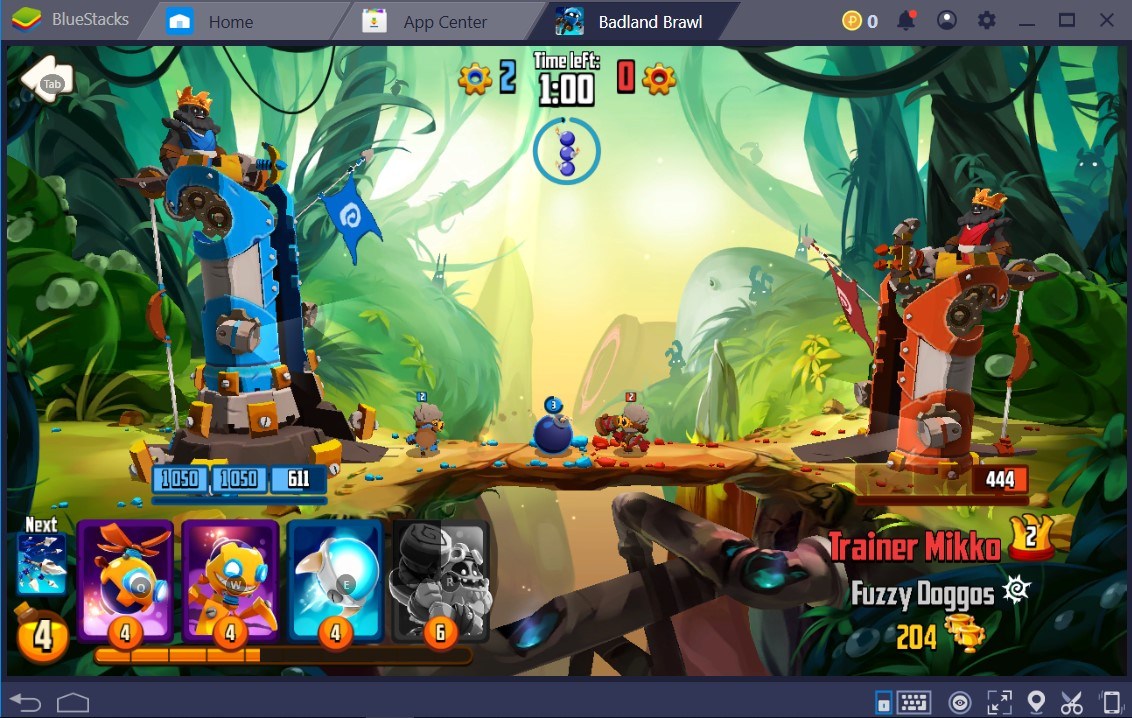 Check out the image for a simple example. We have a big bomb in the middle of the battlefield. Both of the 'Striker Boy' clones are pushing. What is the right move here? You might just say, "Let's just send a bomb drone and deal some damage." Sure, that sounds fun but we are not sure which cards the opponent has. So for a good combo, choose the 'Blast Rocket' and blast both, your bomb and the Striker Boy to the enemy base. This way, you will inflict devastating combo damage to the enemy tower.
Install Badland Brawl on BlueStacks easily and start brawling. Thanks to BlueStacks controls, you will be able to use your keyboard and your mouse to deal that colossal combo damage.