Game Guides
How to Reroll in Bleach: Immortal Soul on PC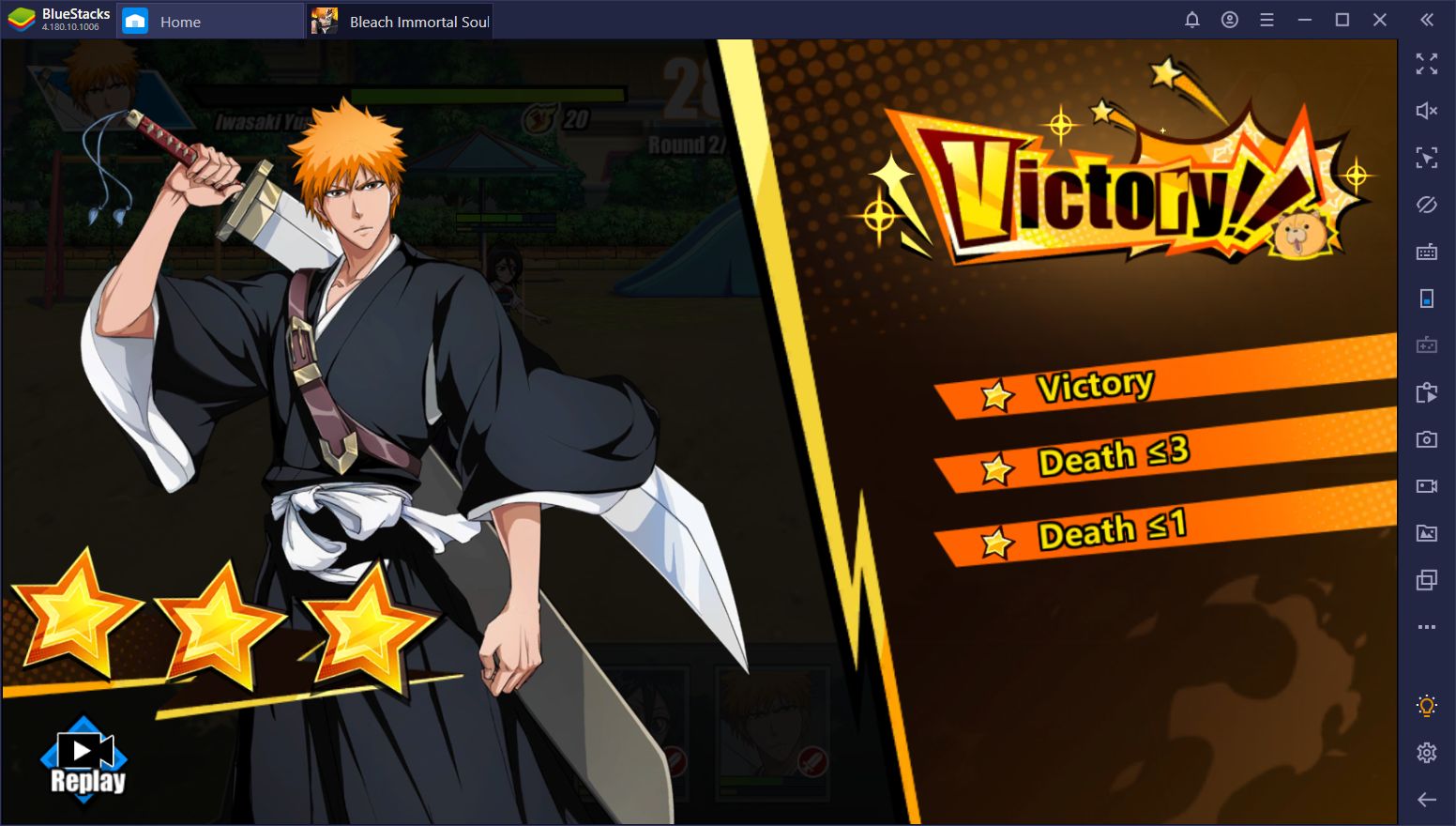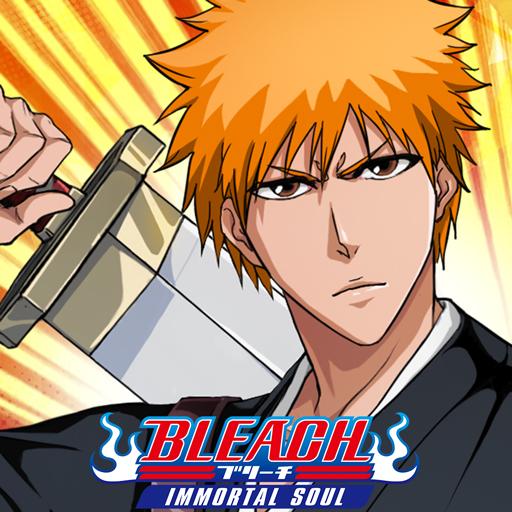 Part of the charm of most mobile gacha games is unlocking the strongest characters and creating unbeatable teams with them. In the case of anime games like Bleach: Immortal Soul, not only do you get to summon powerful characters, but also your favorite heroes from the shows from which they are based. Even if they're not the best, we enjoy having the chance to create teams with some of the best Shinagamis, or creating thematic teams using only units of a certain type.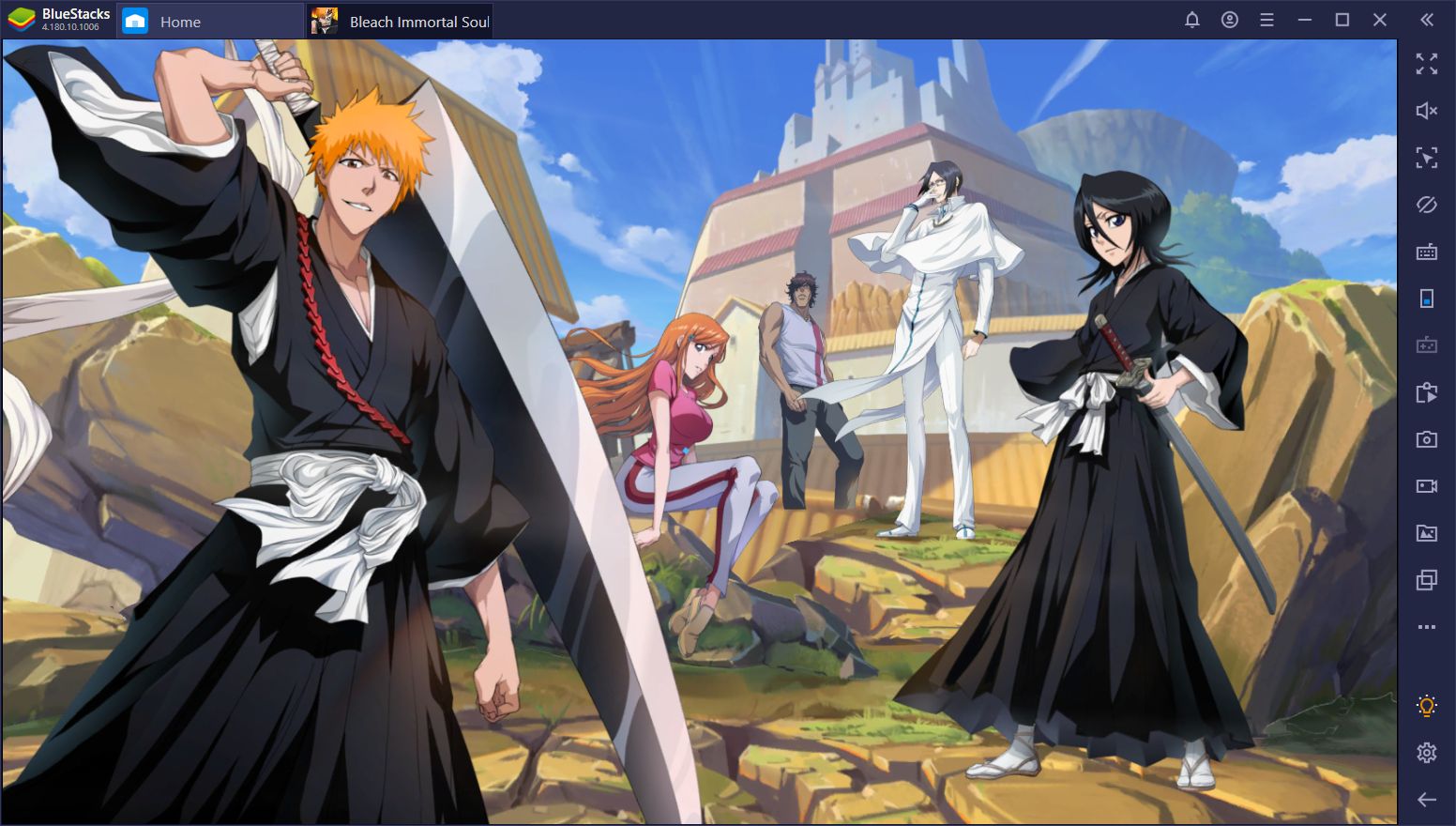 The variety of characters is the lifeblood of any gacha game as, once you summon the meta team, there's really not much else to work towards, aside from multiplayer features like PvP rankings, for those who are interested in such things. The more characters a game has, the more a player will have to work in order to unlock them all and complete their collection. In some cases where the game is well-balanced, the hero variety can also lead to many meta compositions, providing lots of variety and pandering to many different play styles.
In the case of Bleach: Immortal Soul, there are only 39 heroes, at the time of writing, to unlock. In relation to other gacha games, this is actually a very small number. Nevertheless, despite being awesome for a game's longevity, having too many heroes in a gacha game means that summoning the best champions will be quite difficult since the pool will be very large. Luckily, while collecting all the characters is very challenging, there is a process through which you can summon the most powerful heroes from the very beginning, rerolling.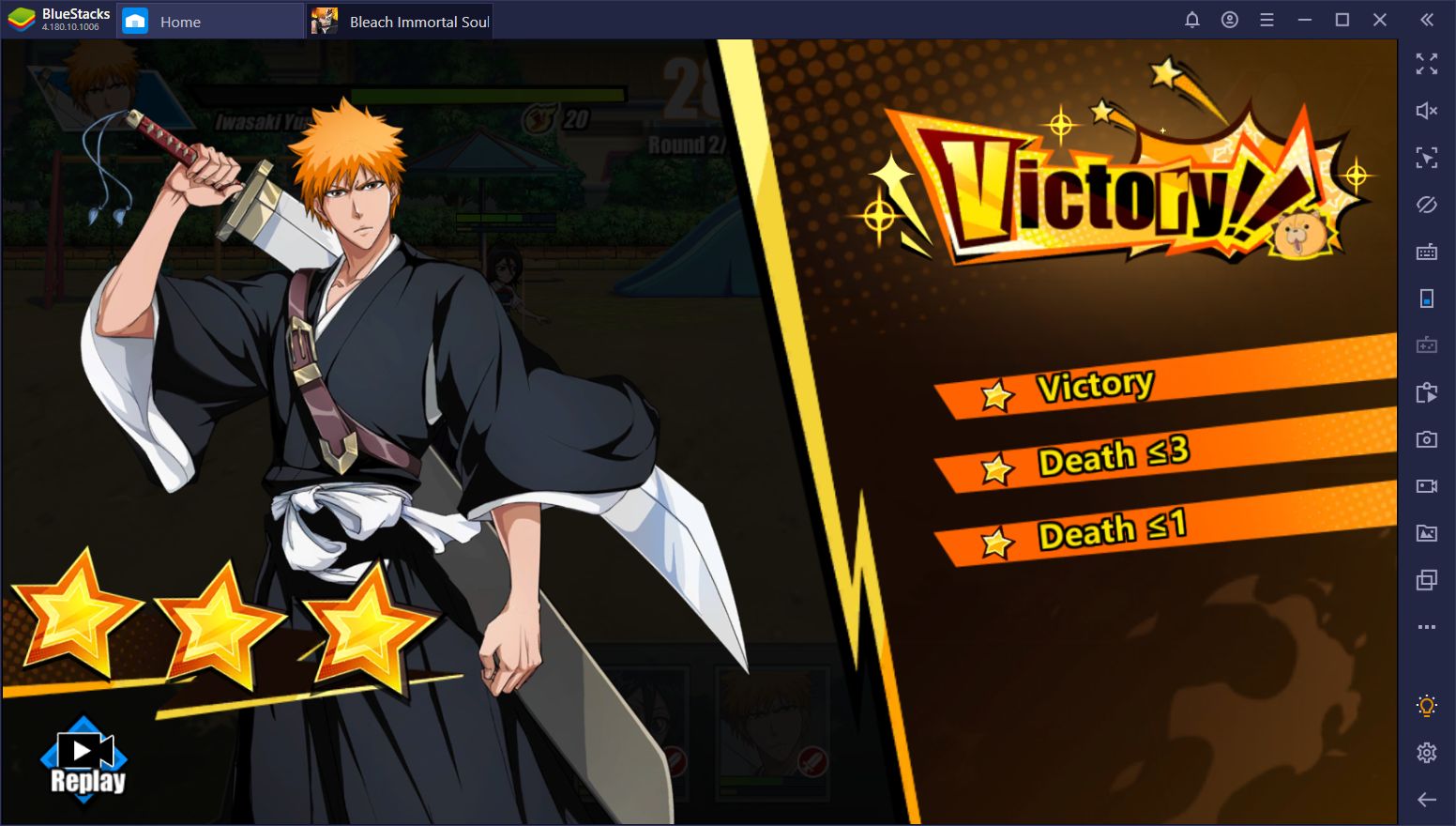 Should You Reroll in Bleach: Immortal Soul?
The process of rerolling is simple: You start your game, progress through the story until you perform your first 10x pull, and then you reset your data if you didn't summon the character you wanted. In most cases, players repeat the process for as many times as necessary until they manage to pull their target hero. The length of the process itself varies per game, with some allowing you to perform your first summoning only minutes into the game, while others require you to farm lots of resources before being able to perform the ritual.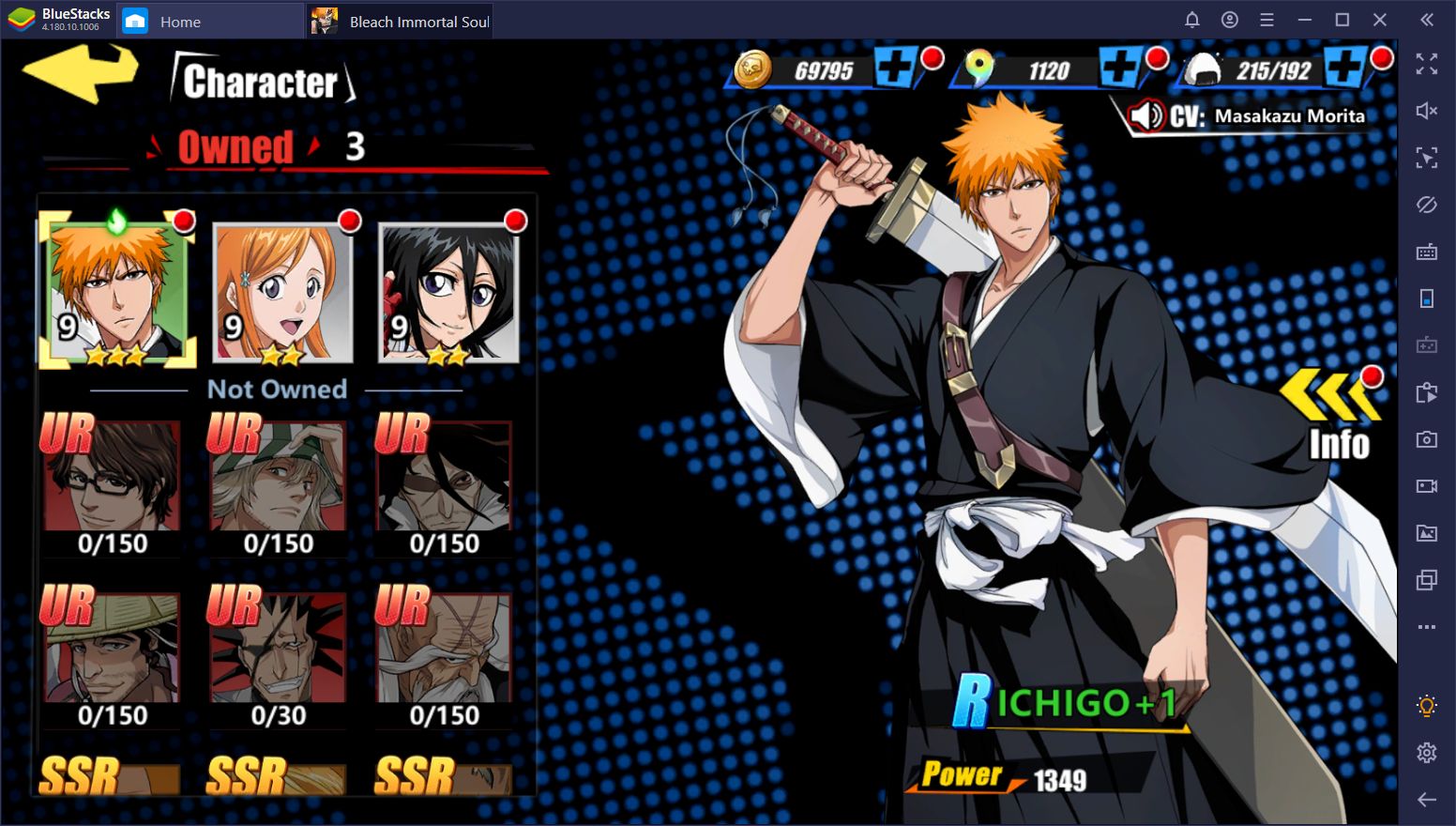 In the case of Bleach: Immortal Soul, you'll need to complete a few chapters in the story in order to save up for your first 10x summoning. The process should take around 10 to 20 minutes, in total, though you can probably shave off some time by playing this game on PC with BlueStacks, thanks to all the tools that our emulator offers.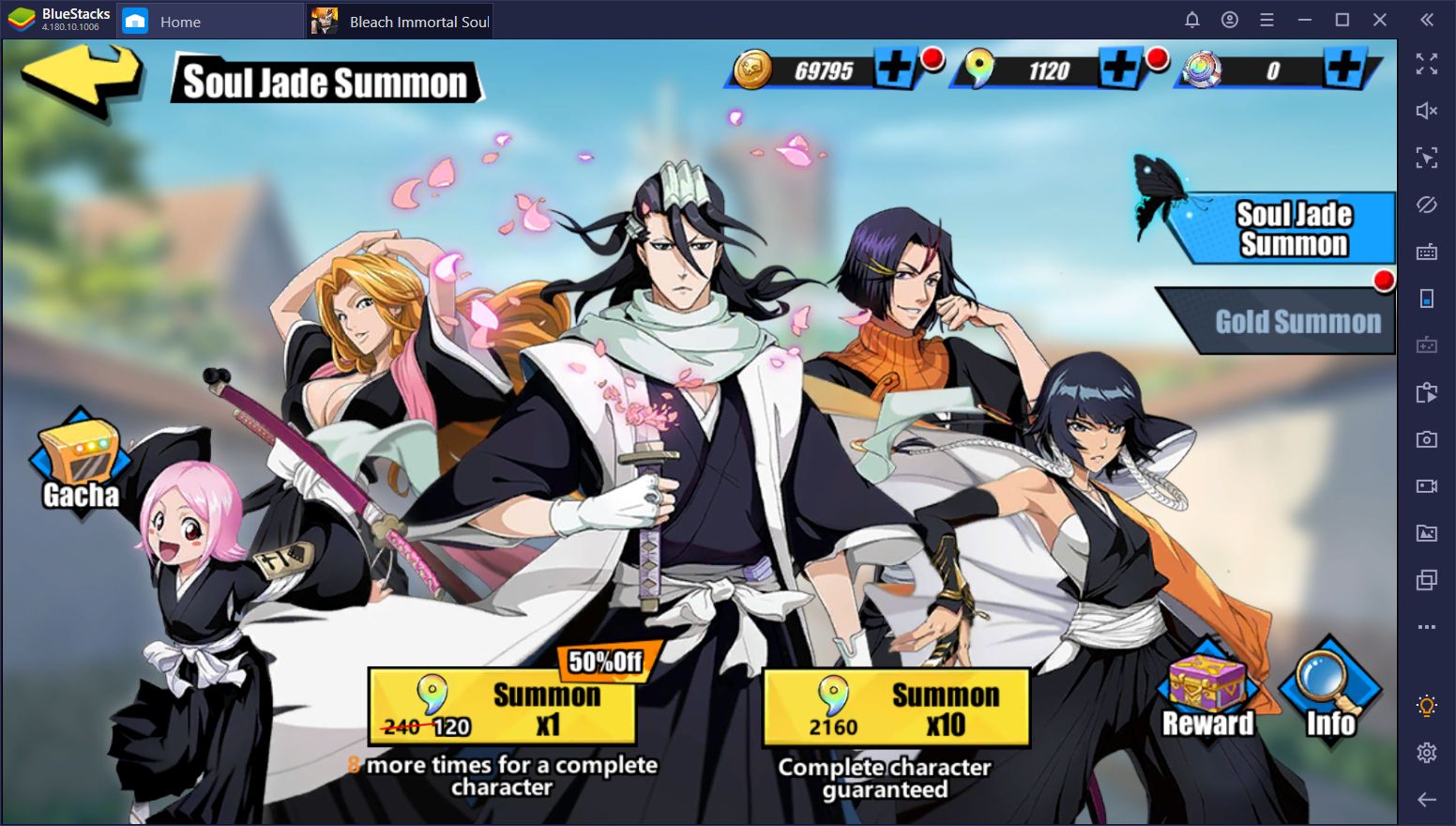 By rerolling in this title, you can summon up to two SSR characters in your first pull, though this is a feat that we've only seen in videos and pictures online as we've rerolled over 50 times ourselves and have only managed to summon a single SSR in most pulls. Nevertheless, while summoning the most powerful characters like Soi Fon and Jushiro can definitely make things easier for you, it's not strictly necessary since you'll receive a few good quality champions by playing regularly.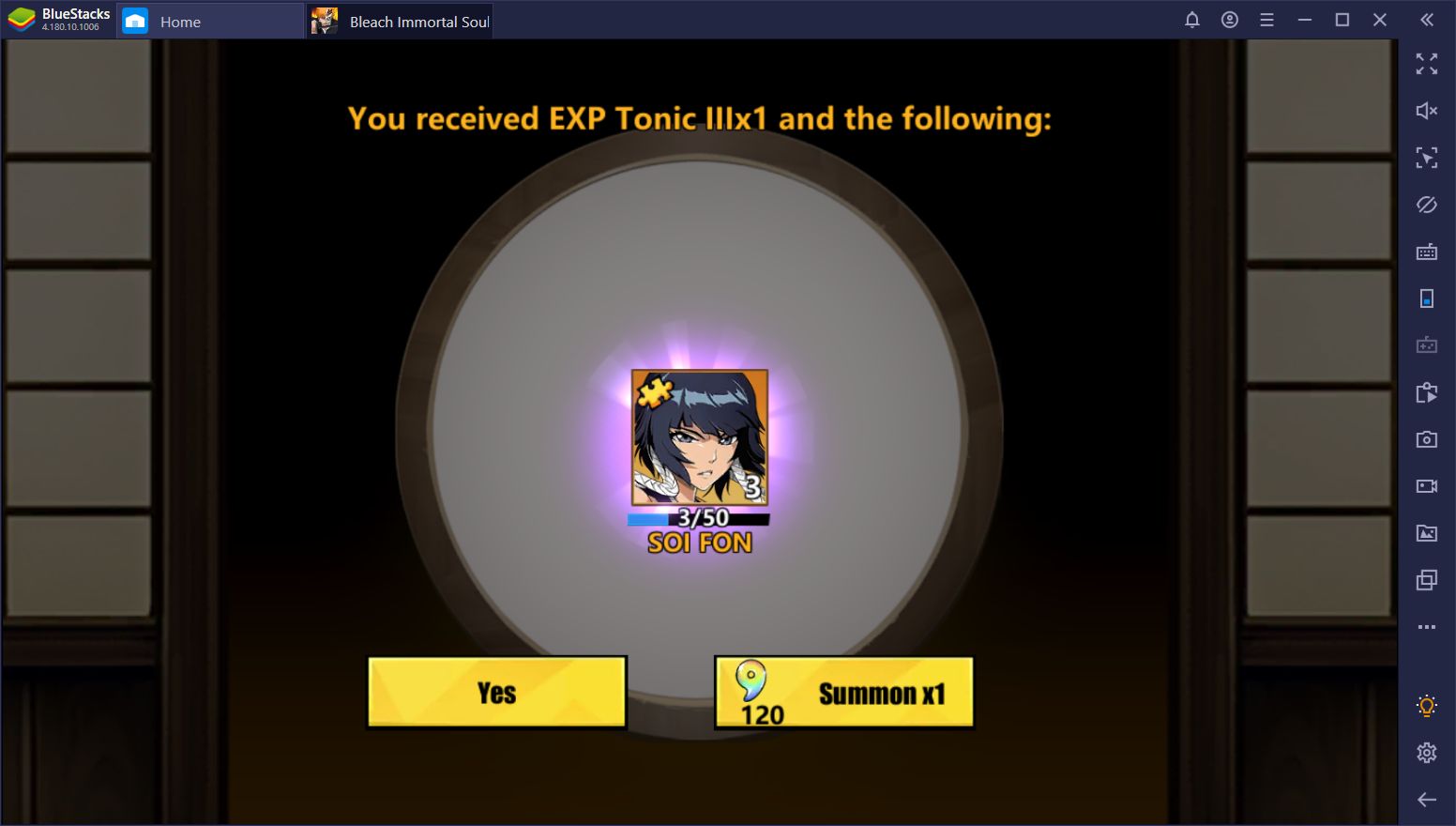 Nevertheless, for those who are interested in learning the correct way of rerolling in Bleach: Immortal Soul, this guide is for you, so read on!
Rerolling in Bleach: Immortal Soul
Luckily, when it comes to rerolling in gacha games, the process is quite simple in this game, if not a bit time-consuming.
The first summoning you'll perform in this game is as early as in the first chapter. However, this summoning is scripted and will always result in Orihime. On the other hand, the first randomized summoning is simply when you manage to save enough Soul Jades either to perform a single summoning, or for conducting a bulk summoning. However, it's much better to save for the latter as this will give you a guaranteed chance of summoning at least one complete character, while the former can actually result in character fragments for the most part.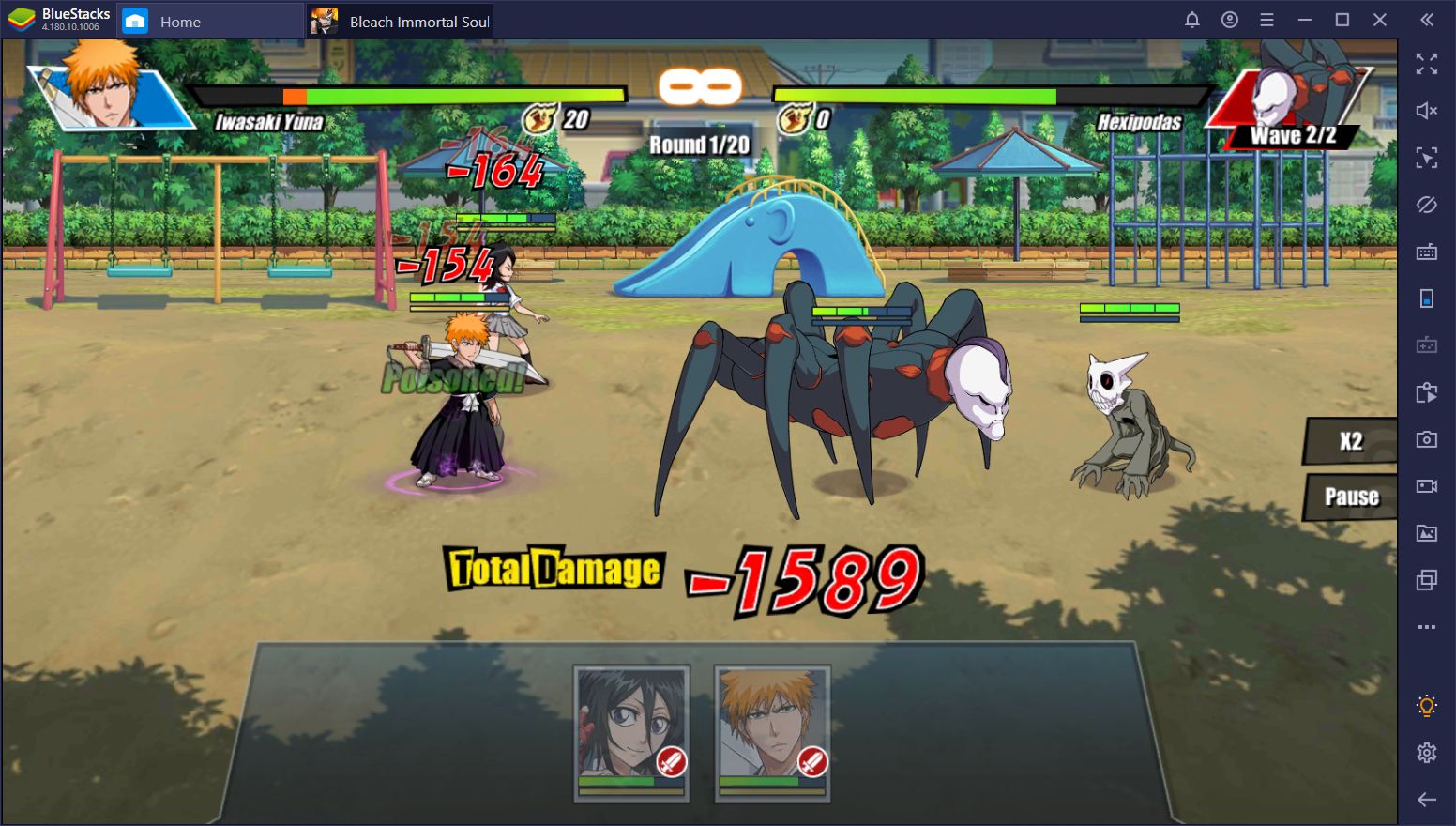 Fortunately, gathering enough Soul Jades for a 10x pull is quite easy as you'll get plenty of rewards for completing the first two chapters. In fact, after you complete these two chapters, you should have enough currency for the summoning. As we mentioned above, completing these first stages can be done in a few minutes, especially when playing on BlueStacks, using auto-battle and auto-navigation, and skipping all dialog scenes.
Once you have 2,160 Soul Jades, simply go to the Summon menu and perform your first 10x pull. Odds are that you'll receive many complete characters, with a good chance of pulling an SSR character. If you're VERY lucky, you might even end up with 2 SSR heroes in a single pull, though this is highly unlikely.
Sadly, it's quite likely that you won't get that coveted Soi Fon on the first try, which is why you'll have to reset your progress and try again. Luckily, restarting in Bleach: Immortal Souls is quite easy. In order to reset your progress, you must simply click on the gear icon on the top right of the screen, and switch servers. Once you select a new server, you will start from the very beginning, upon which you will need to repeat the process to farm enough Soul Jades, and then performing your first 10x pull.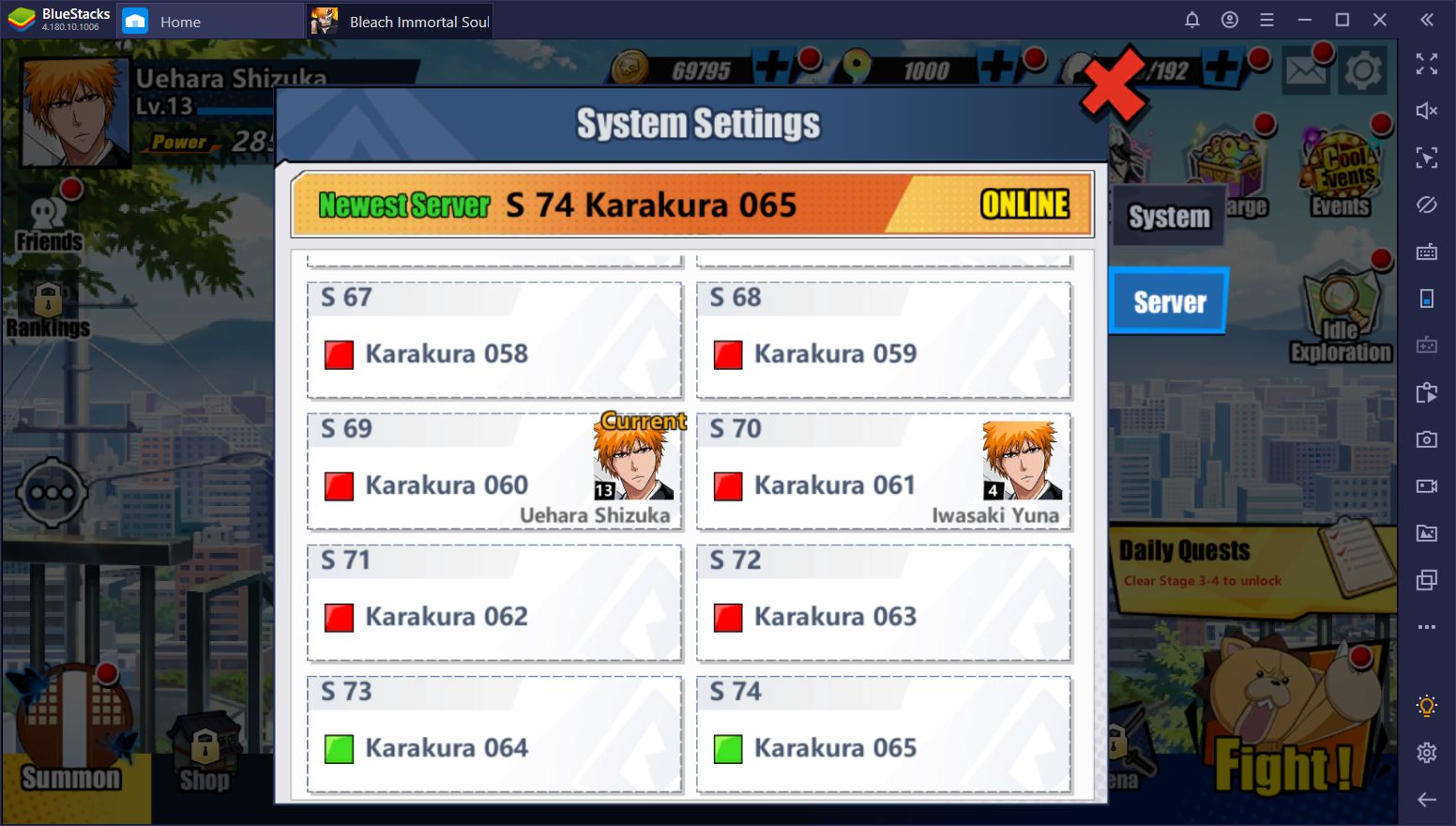 It might take a few tries, but you'll eventually summon the characters you're looking for if you're diligent enough. For better results, you can use our BlueStacks Instance Manager and Multi-Instance Sync tools to reroll with multiple accounts at the same time, and significantly increase the frequency at which you can summon.
There are many advantages to playing gacha games like Bleach: Immortal Soul on PC with BlueStacks, and having a much easier time rerolling is definitely one of them!