Game Guides
Tier List for Bleach: Immortal Soul on PC – The Best Characters You Can Summon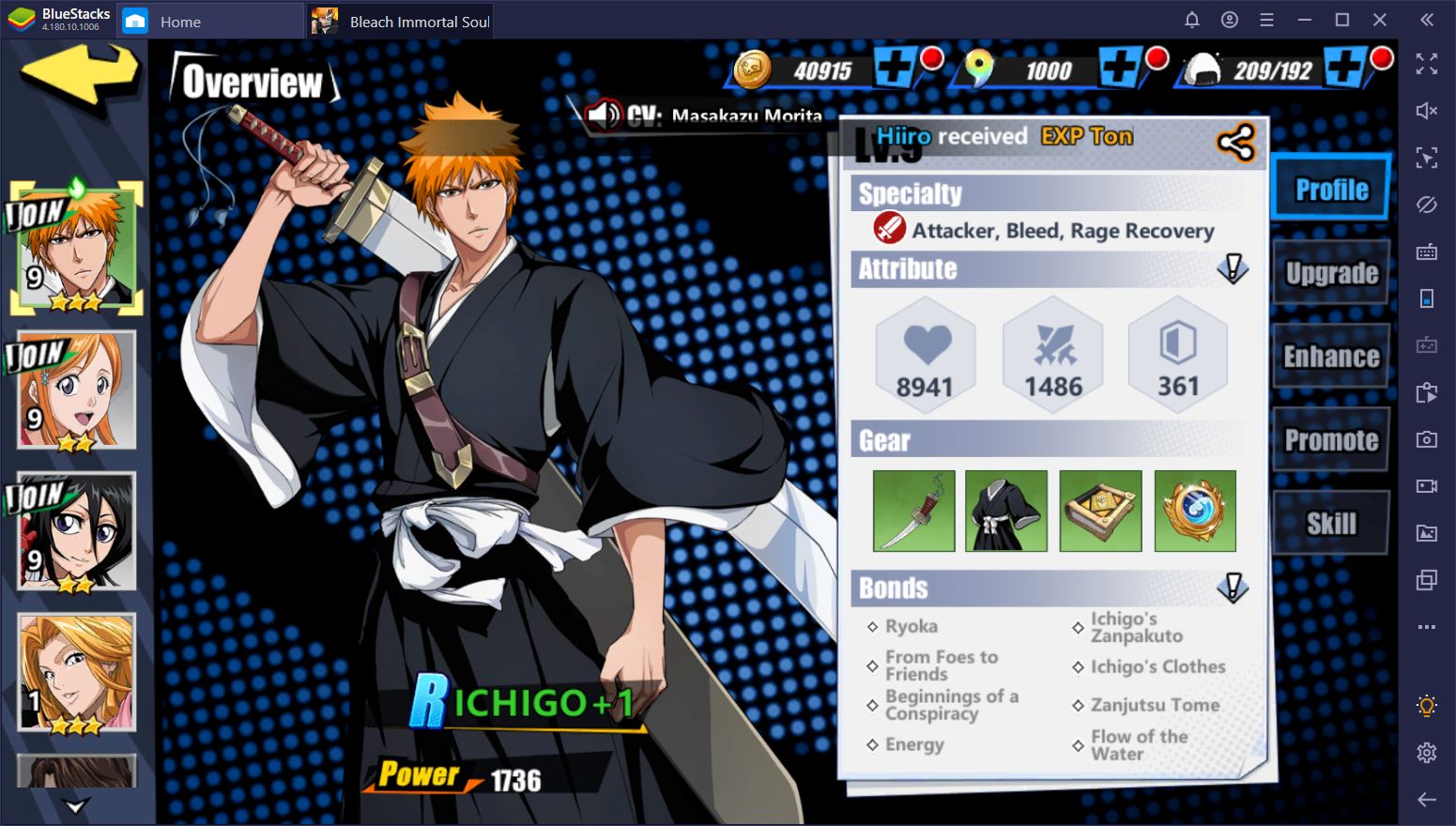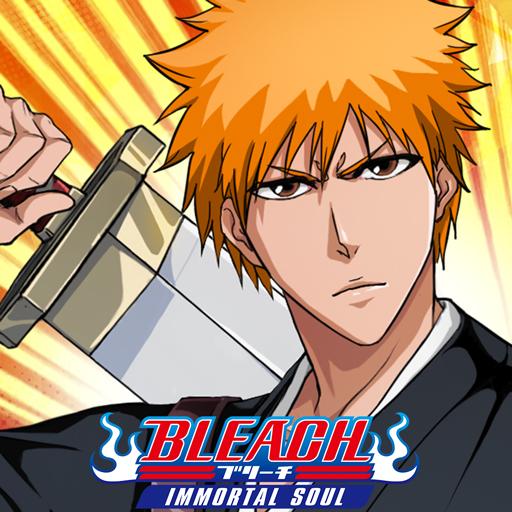 Bleach: Immortal Soul is the gacha game based on the Japanese animated show of the same name, in which you will control the main character, Ichigo, and work your way towards becoming one of the most powerful Shinigami. While Ichigo goes through many hardships in order to achieve this, you will have to jump through many hoops to obtain true power in this game, including rerolling to summon the right heroes and grinding your way to the top.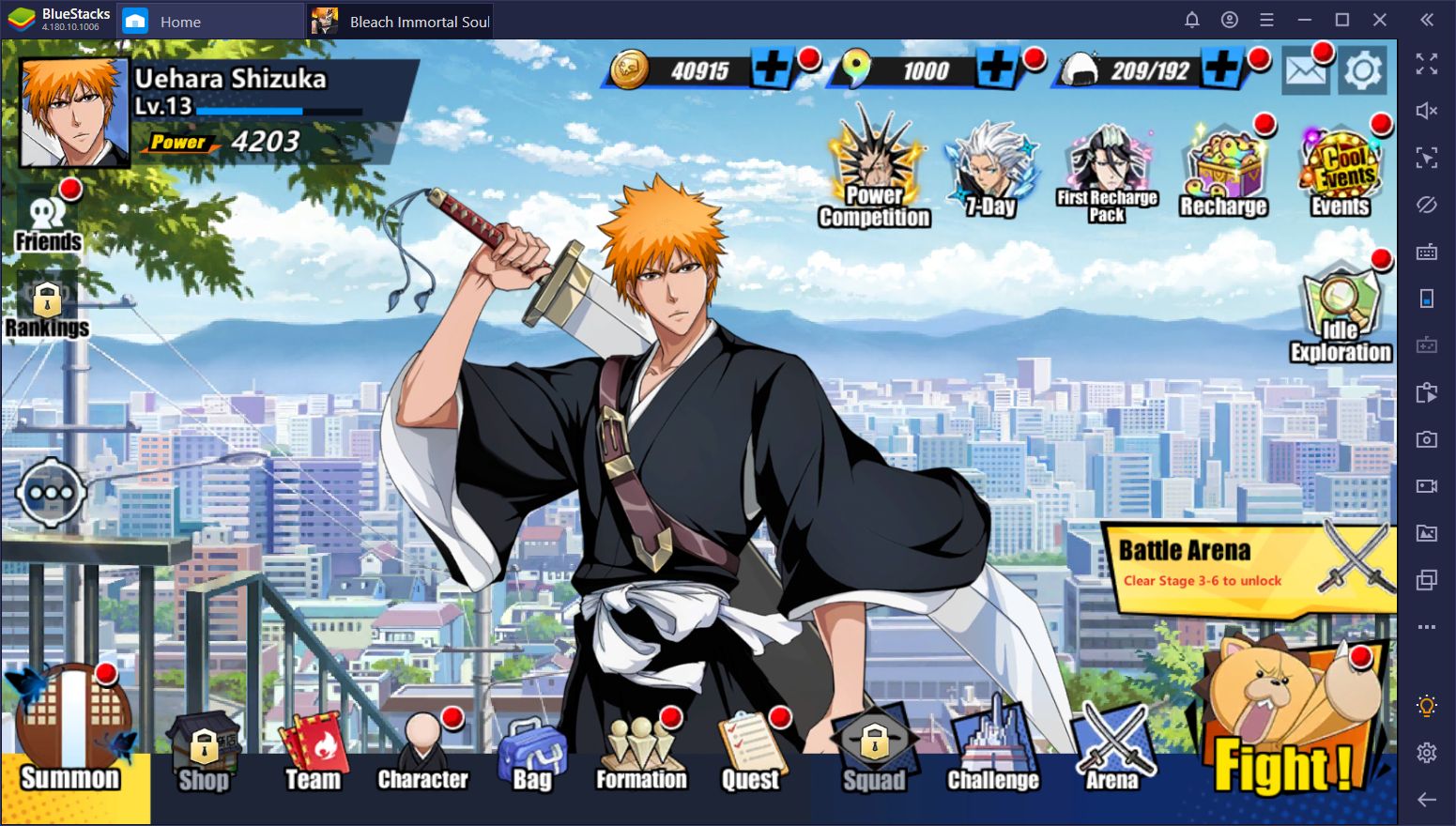 However, in order to become truly powerful in Bleach: Immortal Soul, it's not enough to just grind and power up your Ichigo, like in the anime; you'll also have to unlock the best characters in the game and create amazing teams with them. Sadly, this task is a bit complicated, especially since there are around 40 characters, at the time of writing this article, that you can summon. In this sense, not only is it tough to unlock the best characters in the game; it's also difficult to actually tell which are the best ones.
This is where this guide comes in as, in the following paragraphs, you'll find our personal suggestions for the best characters in Bleach: Immortal Soul. Before we get started, however, we recommend reading up on our rerolling guide for this game, in which you may learn the exact process on how to reroll in Immortal Soul and unlock the best characters from the very beginning.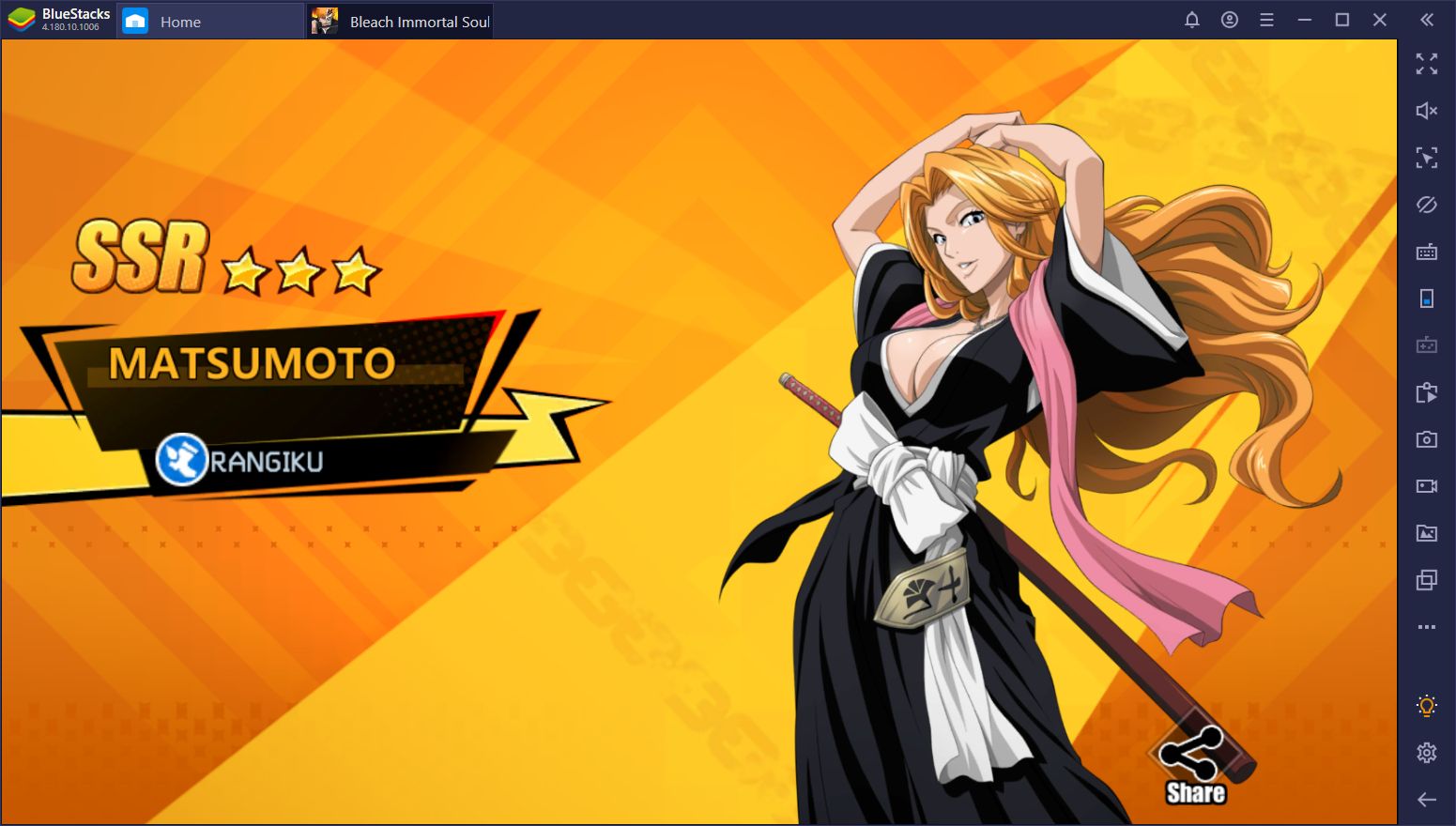 Without further ado, here are the characters you should be aiming for when summoning in this gacha RPG:
1. Zangetsu (UR)
As you'll probably notice from glancing at the character list in the game, some of the most powerful characters in Bleach: Immortal Soul are, understandably, UR rarity and quite difficult to obtain as a f2p player. For this reason, we'll try to keep our choice to SSR and even some R characters. However, Zangetsu is a notable exception since he's just THAT powerful.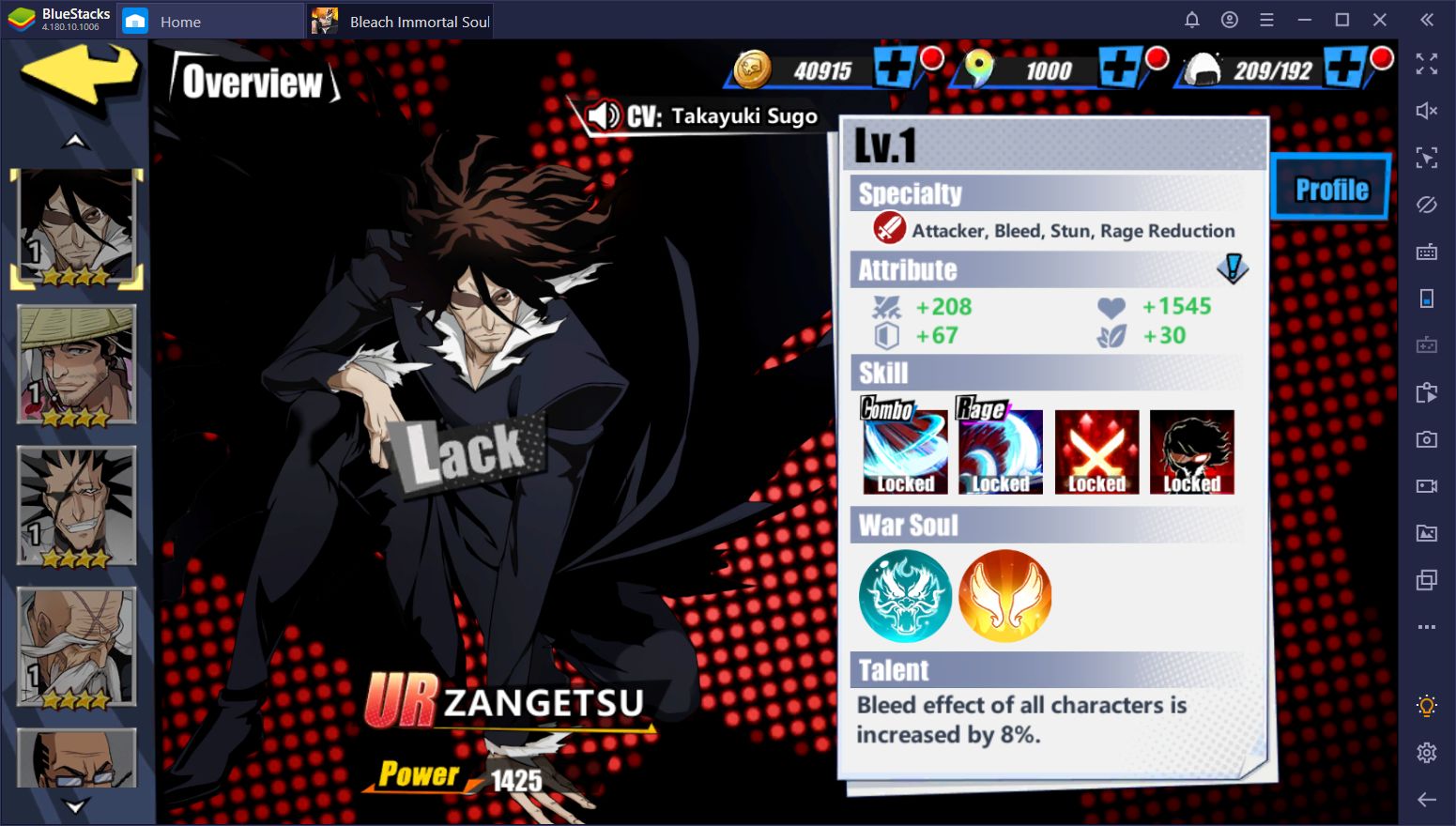 As a master attacker, Zangetsu deals heavy damage even with his basic attacks, a fact that is further compounded by his passive increase to all the bleed damage that your party can dish out, meaning that he goes well in formations oriented towards offense. Furthermore, his War Soul skills allow him to not only excel in the Arena due to his passive increase to the party's stats in this mode but also because he initially generates a chunk of rage, allowing him to use his ultimate skills far earlier than the rest.
Zangetsu´s ultimate skill, like Ichigo's, allows him to deal heavy damage to all enemies in a single column. This makes him awesome when paired with his Shinigami as both their damage outputs can quickly stack and deal with any group of weaker enemies without effort.
2. Ichigo (R)
While of the lowest rarity in the game, Ichigo is actually quite powerful in any game mode, except maybe perhaps when participating in the Arena against other players. He offers a nice combination of powerful basic attacks, with AoE damage that can affect entire columns of enemies with his ultimate skill.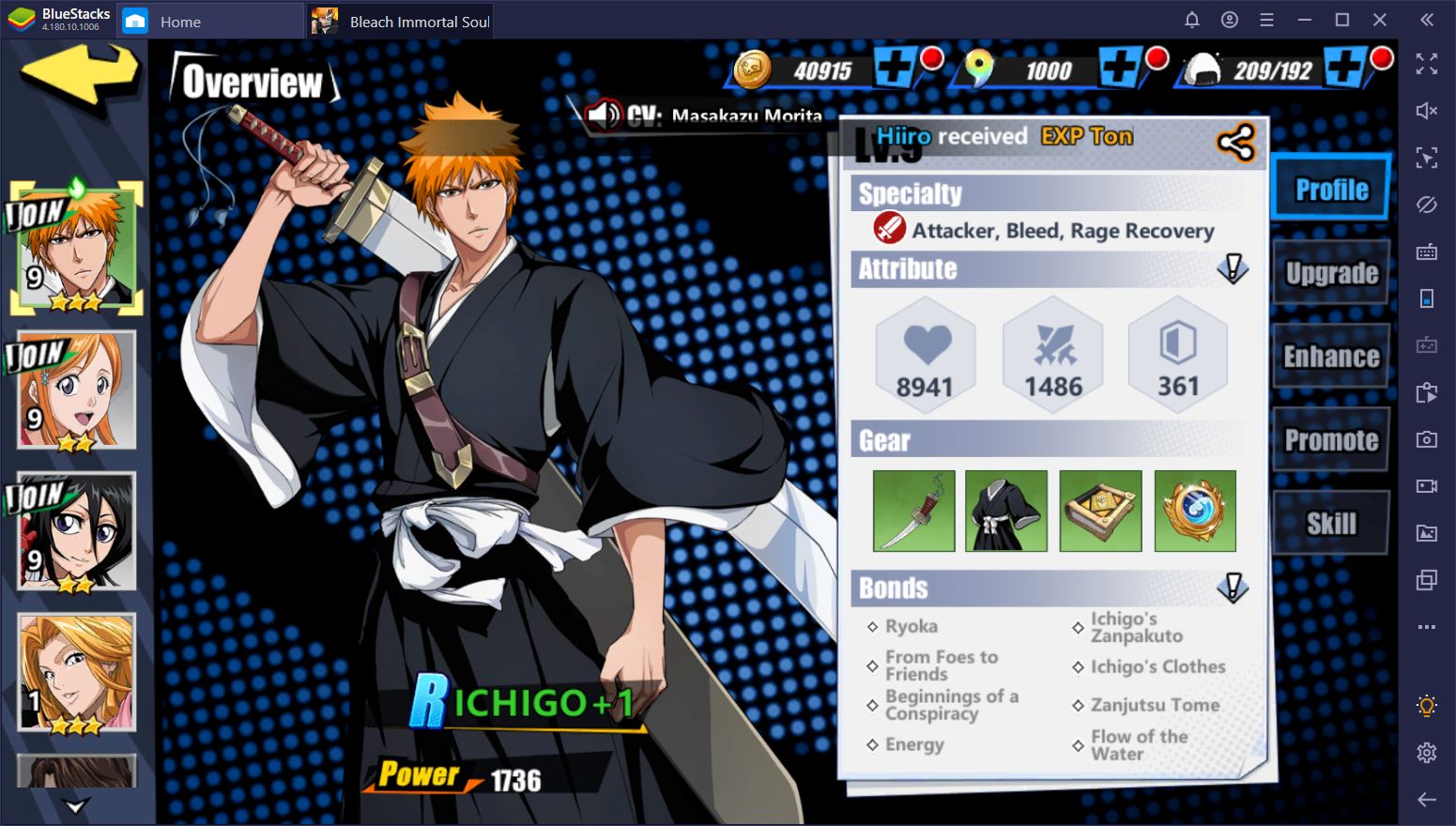 His passive talent further reinforces his power in non-PvP modes since he can increase the ATK, DEF, and HP of all the group by a set percentage. Furthermore, considering that he is a low-rarity character, Ichigo is quite easy to upgrade and power up. Don't underestimate him because of his R-rarity. If you're not looking to do PvP, he'll be a great addition to your team.
3. Toshiro (SSR)
This is one of the best characters in the game, not only because of his strong attacks, sturdy defenses, and reliable AoE CC but also because he's really easy to obtain. In order to summon Toshiro in Bleach: Immortal Soul, all you have to do is log in for seven consecutive days.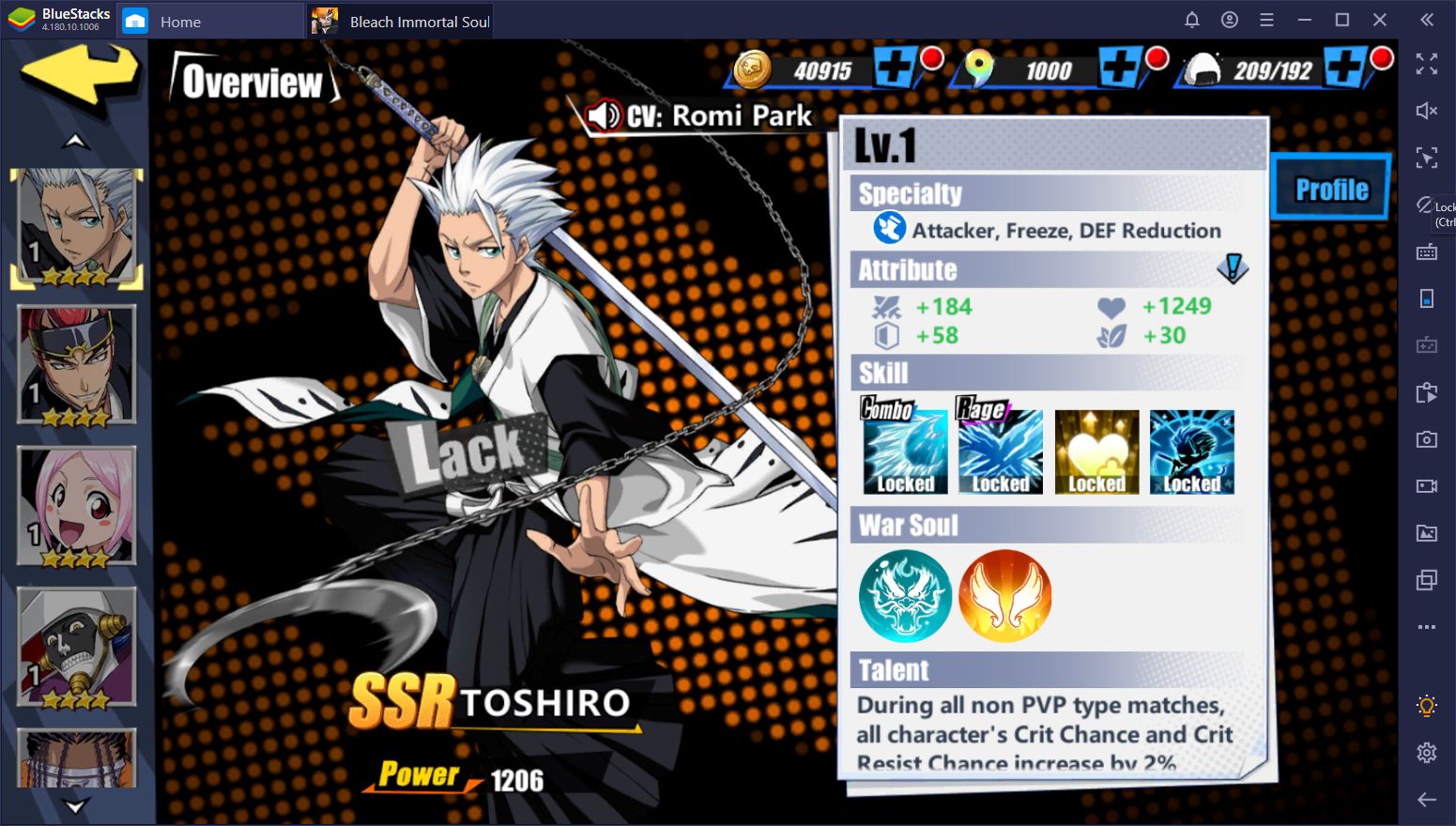 Toshiro is a gem for PvP since he can effectively reduce the healing received by single enemies with his basic attacks, and also freeze several enemies at once with his ultimate skill. Each of these attacks also deal tons of damage, especially if the enemy is defense-oriented since Toshiro can inflict increased damage to defense-specialty opponents. While he is in the field, he can passively increase the ATK of allies in the back row, while also allowing skill-specialty and attack-specialty allies to deal greater damage to defense-specialty enemies.
4. Byakuya (SSR)
While not great exclusively due to his damage potential, Byakuya is a very useful addition to any roster, especially since he can help to obtain more characters and character shards thanks to his passive talent that allows him to perform a FREE Jade Summoning every 24 hours.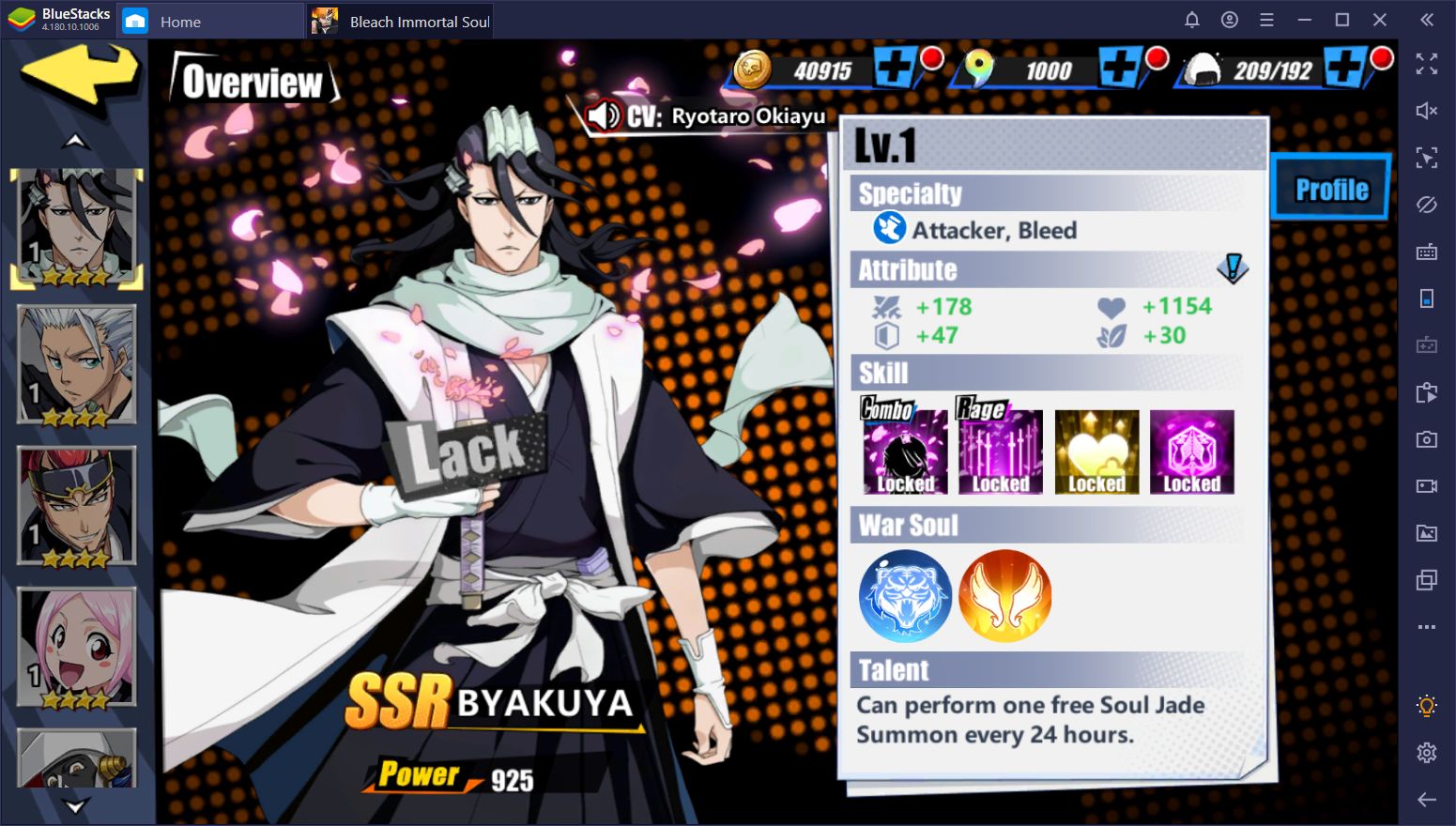 His overall power leaves a bit to be desired, considering he excels at mostly PvE. Nevertheless, he has a few abilities that can boost his own attack while keeping himself alive, especially since he can recover a bit of HP every time he kills an enemy. Nevertheless, he's worth getting exclusively due to his passive skill for performing a free daily summon.
5. Soi Fon (SSR)
With the ability to deal strong single-target damage, and even defeat individual foes outright if certain conditions are met, Soi Fon is a strong addition to any lineup. She excels, however, at dealing with strong tanky characters in PvP since her basic attacks deal additional damage equal to a percentage of the enemy's max HP.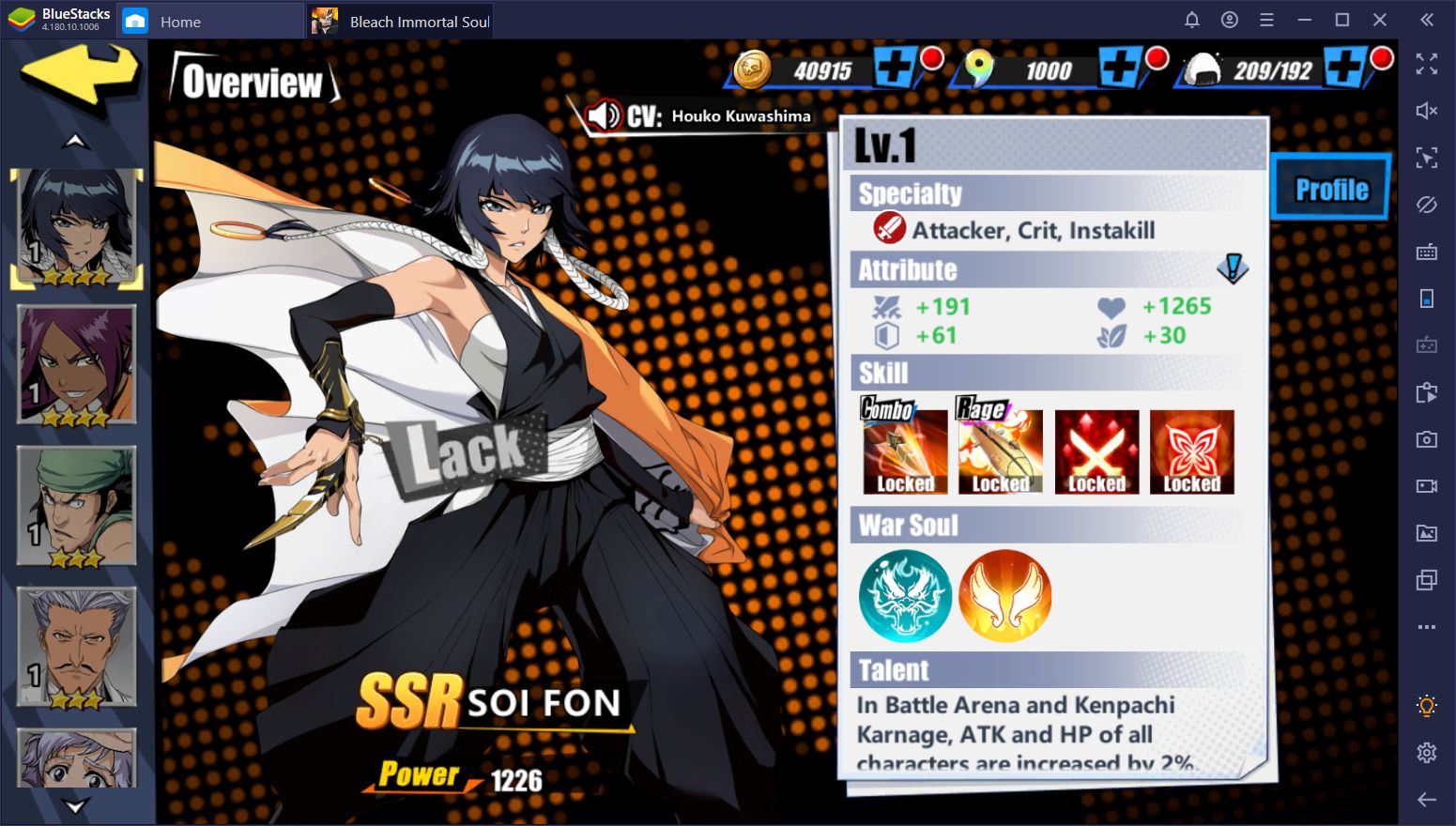 Her ultimate skill can attack the entire back row of enemies, with a 35% chance of activating Ultra Crit for two turns. During this time, Soi Fon can automatically deal critical damage with every attack, significantly increasing her damage output even after unleashing her ultimate attack. However, her most interesting skill is Homonka, which passively applies a mark to any enemy she attacks. If the target's health goes below a certain threshold, and she manages to stack Homonka twice, the enemy will instantly die.
And there you have it, five of the most powerful and important characters in Bleach: Immortal Soul. Considering there are only around 40 characters at the time of writing, there's a good chance that you'll be able to obtain at least one of these powerhouses. Especially in the case of Ichigo and Toshiro, one of which is the starter character while the other can simply be unlocked through logging in for seven consecutive days, assembling strong teams is quite simple in this gacha RPG.