Game Guides
A Beginner's Guide to Coin Dozer: Sweepstakes on PC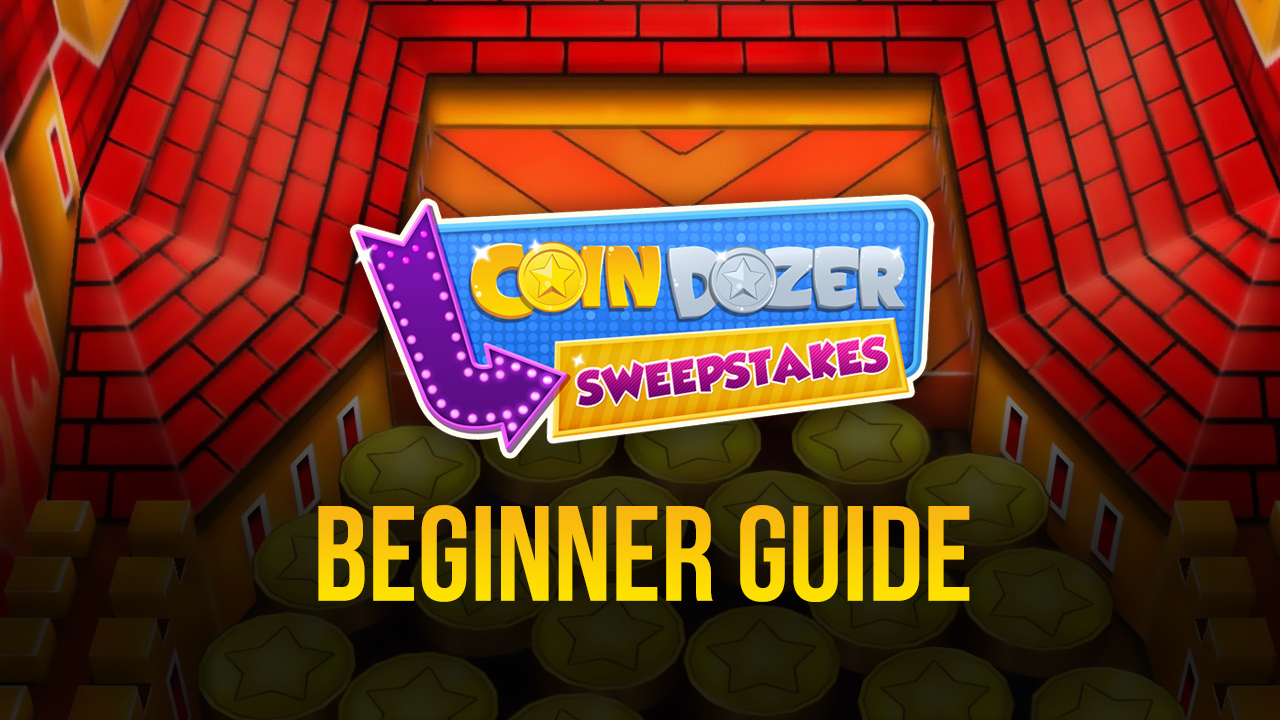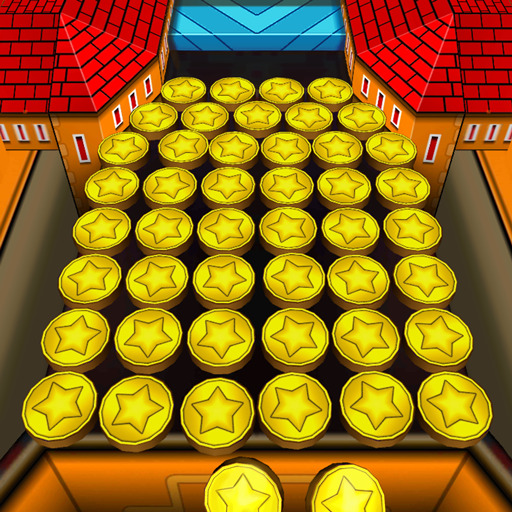 Coin Dozer: Sweepstakes is an addictive game based on the iconic coin pusher game found in the arcade. Game Circus LLC has taken things a step further with the game by adding awesome features that were never before seen in the physical coin pusher machines.
With this guide, we'll show you all of the things that you need to know to get started with Coin Dozer: Sweepstakes and begin your adventure to winning multiple prizes.
The Basics of the Coin Pusher
The rules of the game are the same as the original arcade version. You drop a coin from the top of the machine.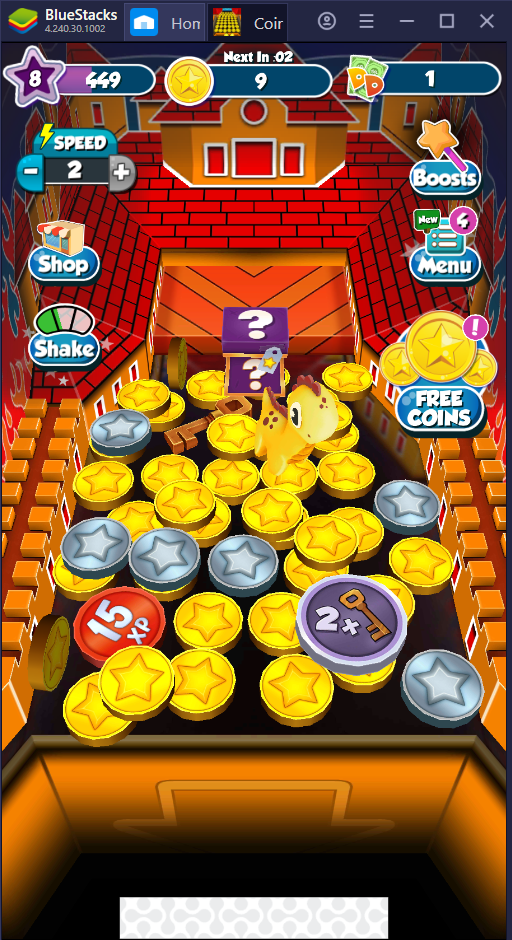 Shortly after, a "broom" mechanism pushes the coin into a large stock of coins piled up in front of it. Some coins would eventually fall of the edges of the machine to make room for the new coin. The goal of the coin pusher game is to push off as many coins to the front of the machine. Coins (or other objects) that fall off the left or right edge (losing sides) are automatically void and will not be counted.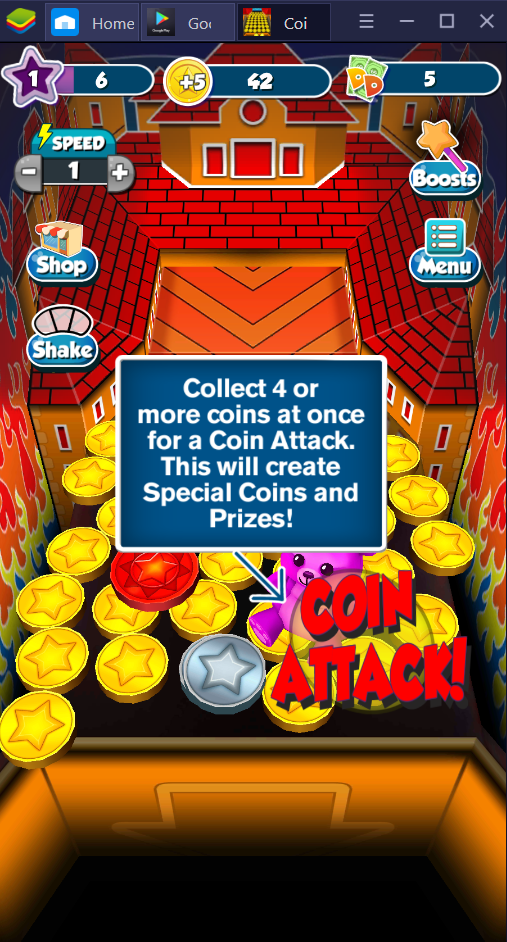 In the arcade, you would receive tickets whenever coins fall off the front. But in Coin Dozer: Sweepstakes, you instead receive XP; and this is used to level up and unlock awesome prizes. What is even more interesting is that you actually reimburse some coins whenever the coins fall down. For every coin that drops to the front, one coin goes back to you. If you luckily manage to drop four (4) or more coins at the same time, this will enable Coin Attack. Coin Attack essentially rewards you with special coins and other goodies on the machine.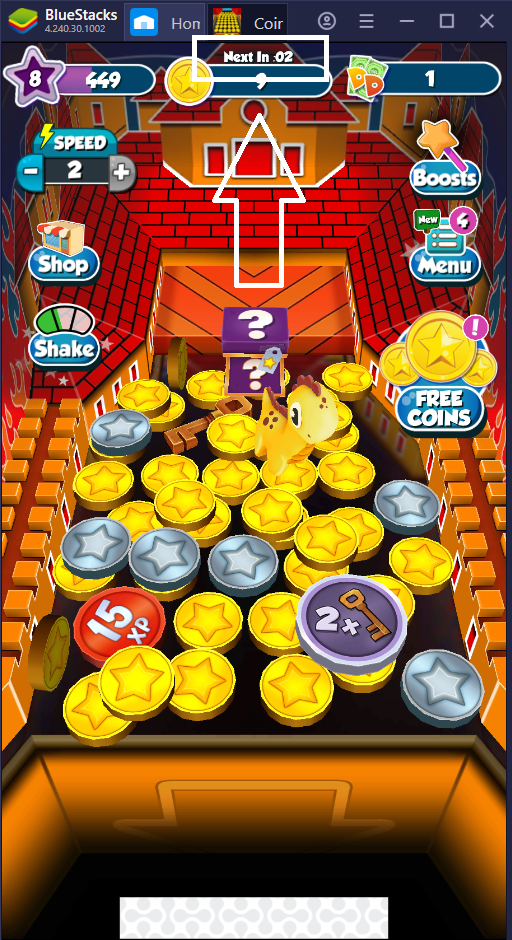 Despite the reimbursement feature, you can still run out of coins. Fortunately, the game regenerates one coin every 30 seconds (can be boosted) and keeps doing so until your coin stock is refilled.
If you want to know how to play the more efficiently, check out this game guide.
Special Coins and Mystery Boxes
Aside from regular coins, special coins provide a unique benefit when they are dropped. This is why you should prioritize dropping these specific coins in order to reap more rewards.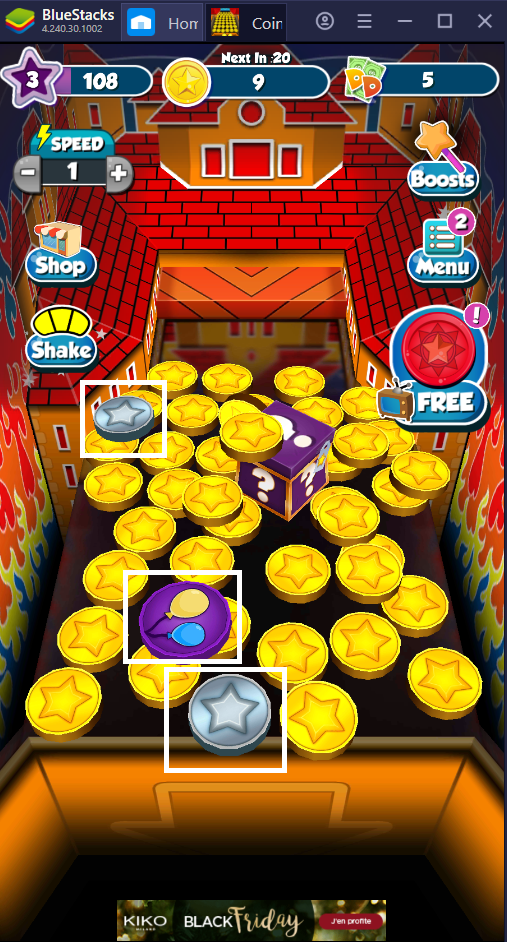 But bear in mind that their effect will automatically be void when they are dropped to the losing sides. Some special coins you encounter throughout the game are silver coins (reimburses bonus coins) and XP coins (gives more XP).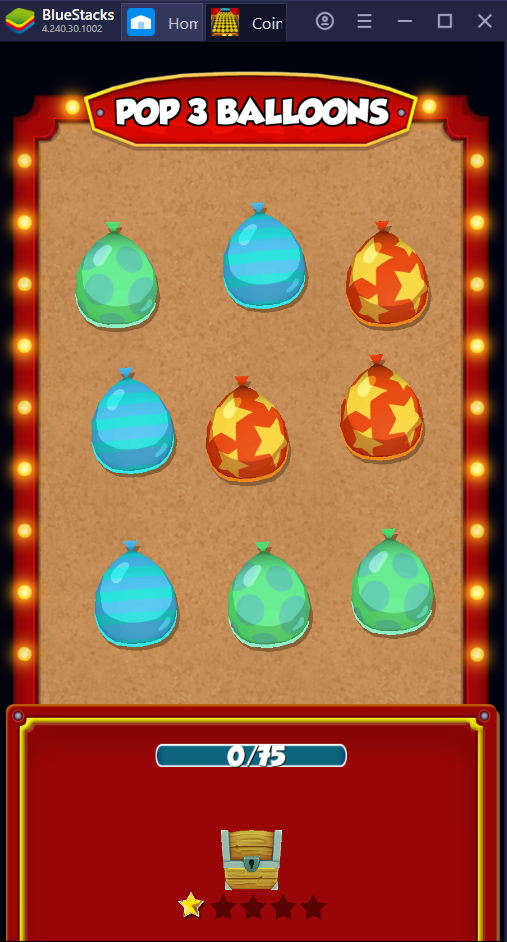 The balloon pop token is special coin that allows you to play a balloon popping mini-game wherein you pop balloons containing points, and these points are eventually used to open a rewards chest.
As previously mentioned, you gain special coins when Coin Attack is enabled. Alternatively, you can buy them in the in-game shop with Dozer Dollars, which is the game's premium currency.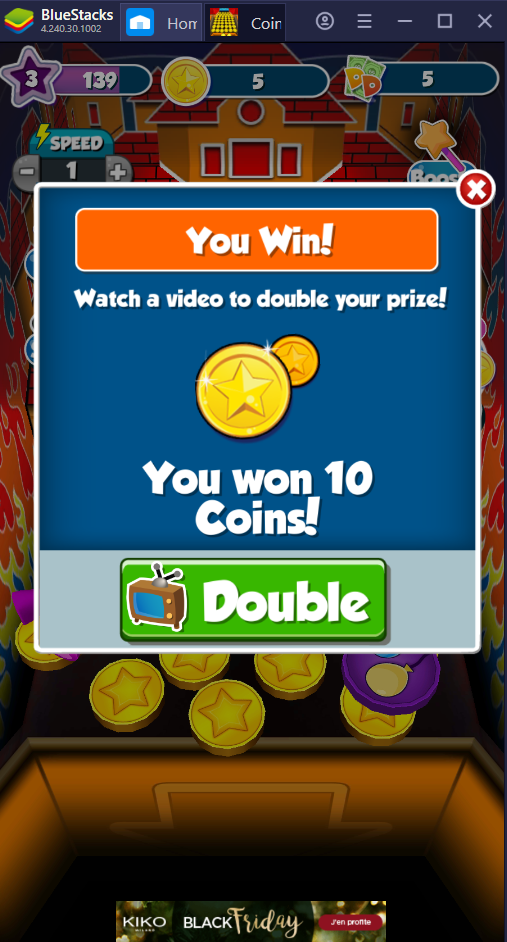 You can also receive special coins from mystery boxes that sometimes appear on the machine. The mystery box, once dropped to the front, can give you random rewards such as special coins, regular coins, as well as prizes.
Shaking the Dozer
Are there coins on the verge of falling? In the arcade, you would usually bump or kick the coin pusher machine in order to shake it and this would force the clinging coins to finally fall down. You can somewhat do the same thing in Coin Dozer: Sweepstakes by pressing with "shaking".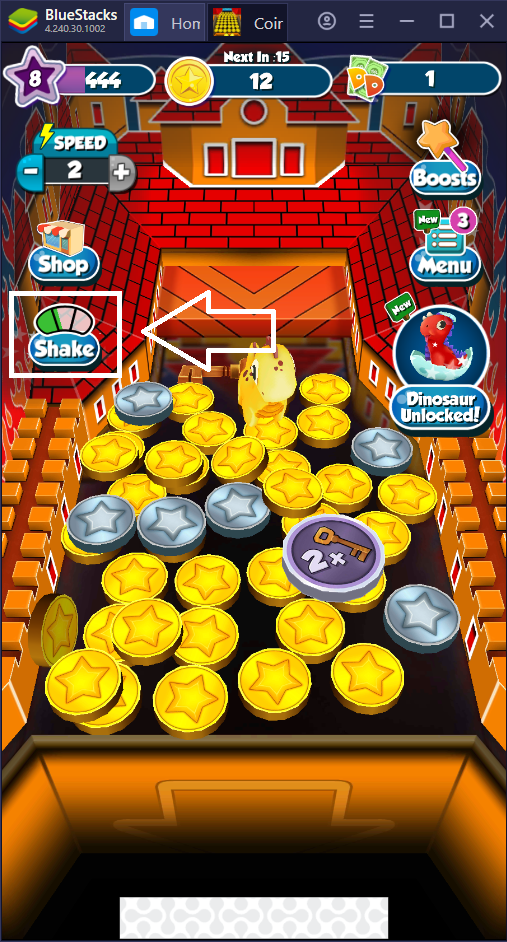 You can shake the machine by clicking the "Shake" Meter. There are three levels of shaking, which are determined by how filled the Shake Meter is. A completely filled Shake Meter will give out the strongest shaking effect so it is best to aim for that. The Shake Meter fills whenever coins fall off the machine. The meter fills regardless of which side the coins fell down to.
Collecting Prizes and Completing Puzzles
Just like in the arcade, you can win multiple prizes by playing the game. And we mean it when we said "multiple" because there are plenty of prizes that you can in Coin Dozer: Sweepstakes.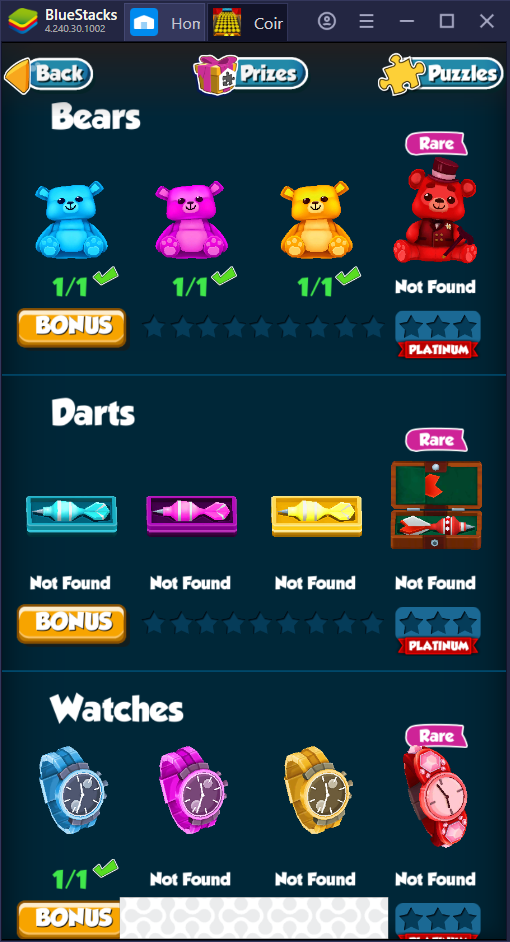 The prizes are not just simply cute stuffed toys; in fact, they actually give off some in-game benefits you can use to your advantage. Some of the prizes you can get early on in the gam are:
Bear –

coins regenerate faster

Dart –

increases chances of getting a rarer prize in balloon pop

Watches –

unlocks a new special coin called Silver Burst

Duckies –

puzzle pieces appear more often on the machine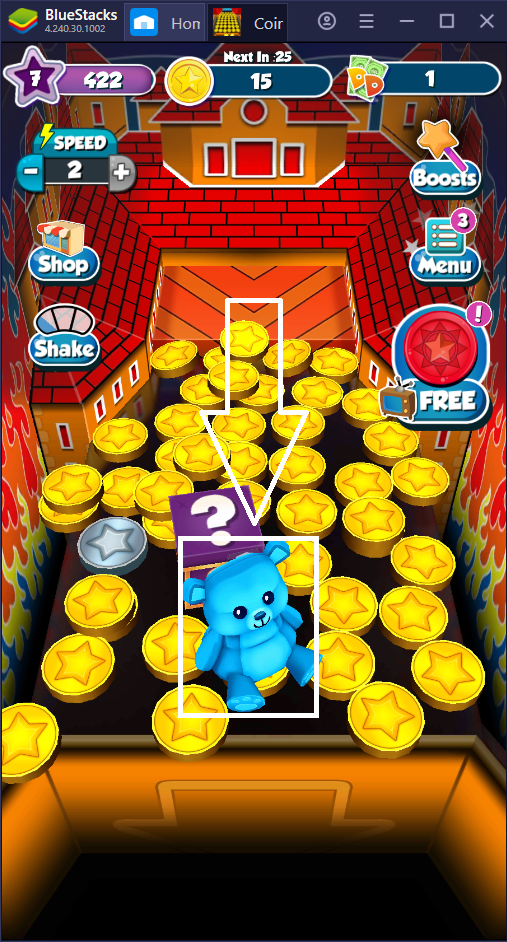 Prizes can show up on the coin pusher machine, usually after a mystery box falls down to the front. Once the prize lands on the machine, you must claim it by pushing it off the front; otherwise it will just go to waste.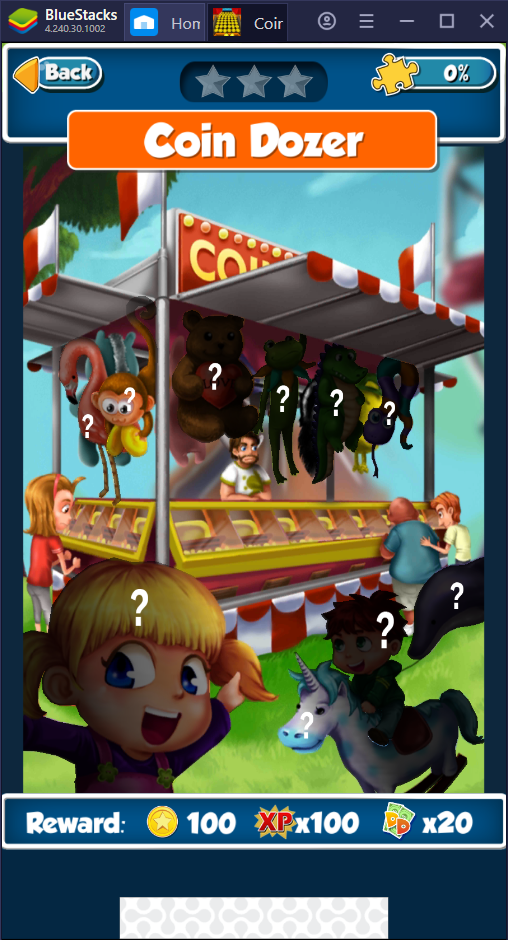 Certain prizes also act as pieces needed to complete one of the game's many puzzles. Completing a puzzle can give huge rewards so make sure to collect all of the needed prizes to claim it.
Use Boosts to Win More
If you happen to have plenty of Dozer Dollars, you can spend it on boosts which will give you benefits that allow you to maximize your winnings.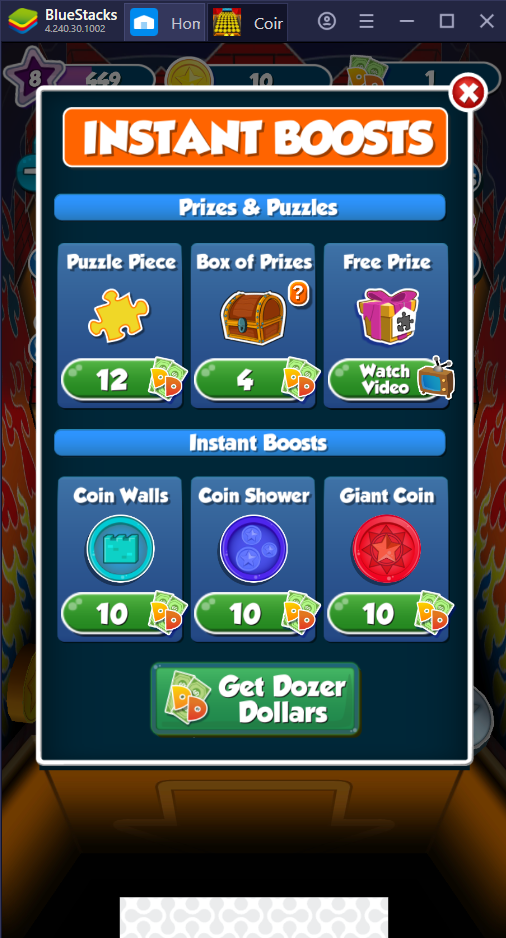 Some of the boosts that you can buy are:
Puzzle Pieces –

drops a prize that is specifically needed to complete a puzzle

Box of prizes –

gives three random prizes (the chances are 97% for normal prizes and 3% for rare prizes)

Free prize –

gives one random prize and can only be opened by watching a short ad instead of spending some Dozer Dollars

Coin Walls –

temporarily blocks the losing sides of the machine which will effectively force all of the coins and prizes to drop to the front

Coin Shower –

drops plenty of coins which will essentially refill the machine's stock of coins

Giant Coin –

a massive coin will drop which will not only cause a very impactful shaking effect but can also reimburse plenty of coins when dropped to the front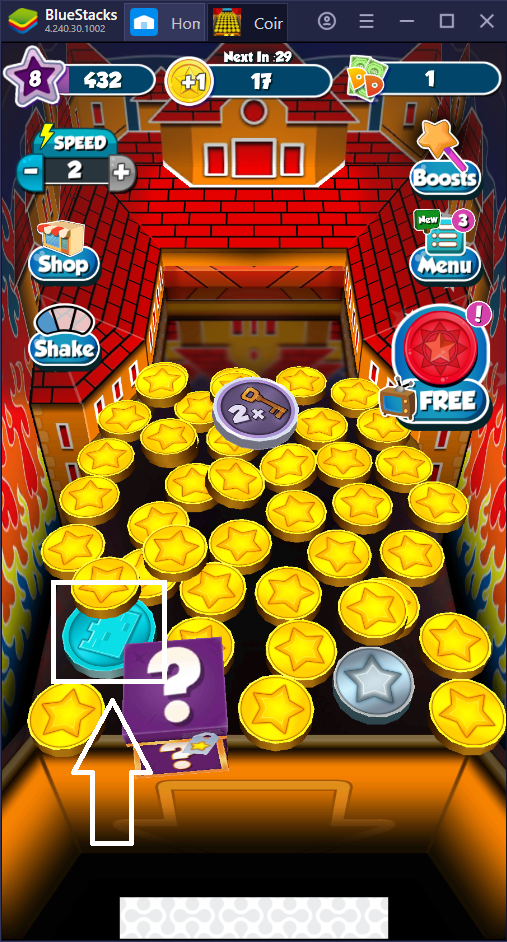 You can also activate boosts by pushing off special coins. The coins for boosts usually don bright colors and has an icon pertaining to the actual boost. As with all other coins, make sure these boost coins get pushed off the front.