Game Guides
A Beginner's Guide to Becoming a Survivor in Dawn Crisis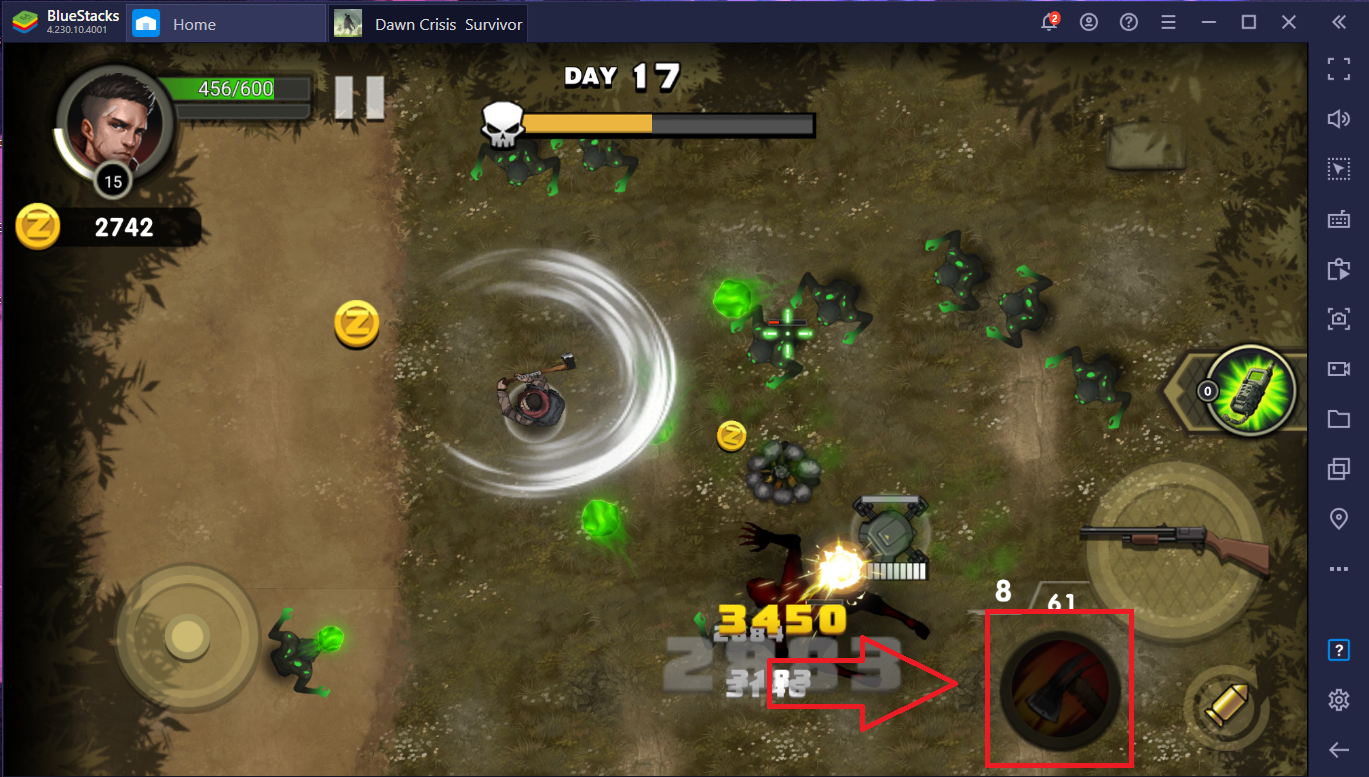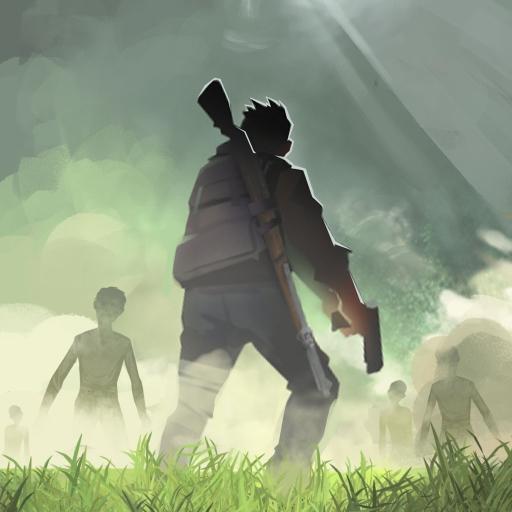 Dawn Crisis by Machbird Studio puts you in the shoes of a survivor whose only objective is to defend himself against hordes of zombies – and even animals – with his arsenal of weapons. Aside from being a very satisfying top-down zombie shooter, another factor that makes this game very addicting is the variety of options to upgrade not only your character's abilities but also his weapons.
In this article, we'll show you how combat works in Dawn Crisis and what weapons and abilities you'll be using to take down the horde. Additionally, we'll also explain how to use gold and diamonds to enhance your weapons and also garner new skills you can use to your advantage.
Combat Basics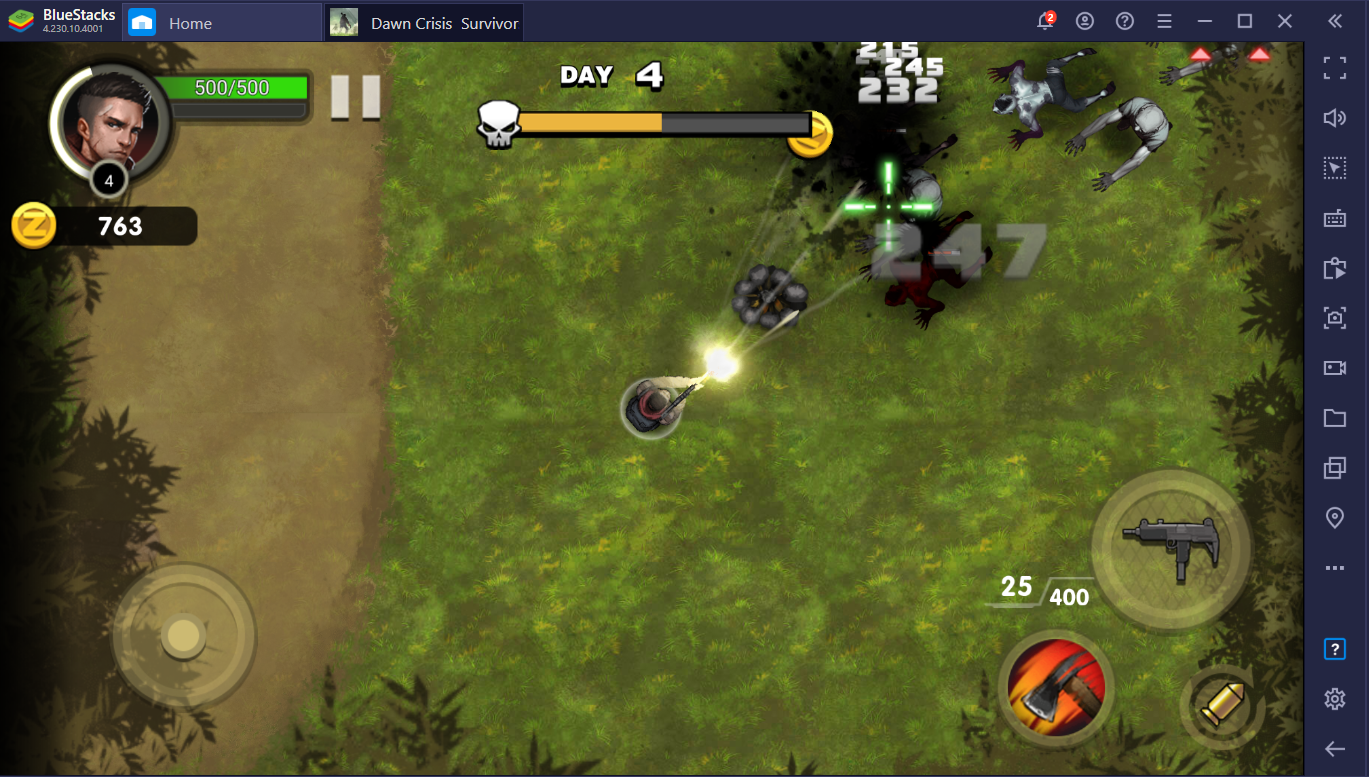 The controls for combat in Dawn Crisis are very straightforward and not mentally taxing. Instead of having the player manually aim the crosshair, Dawn Crisis utilizes an auto-aim system in which your character will instantly lock-on his gun to the nearest zombie. With this system, killing zombies can be as easy as constantly moving around while holding the spacebar (the default key for shooting).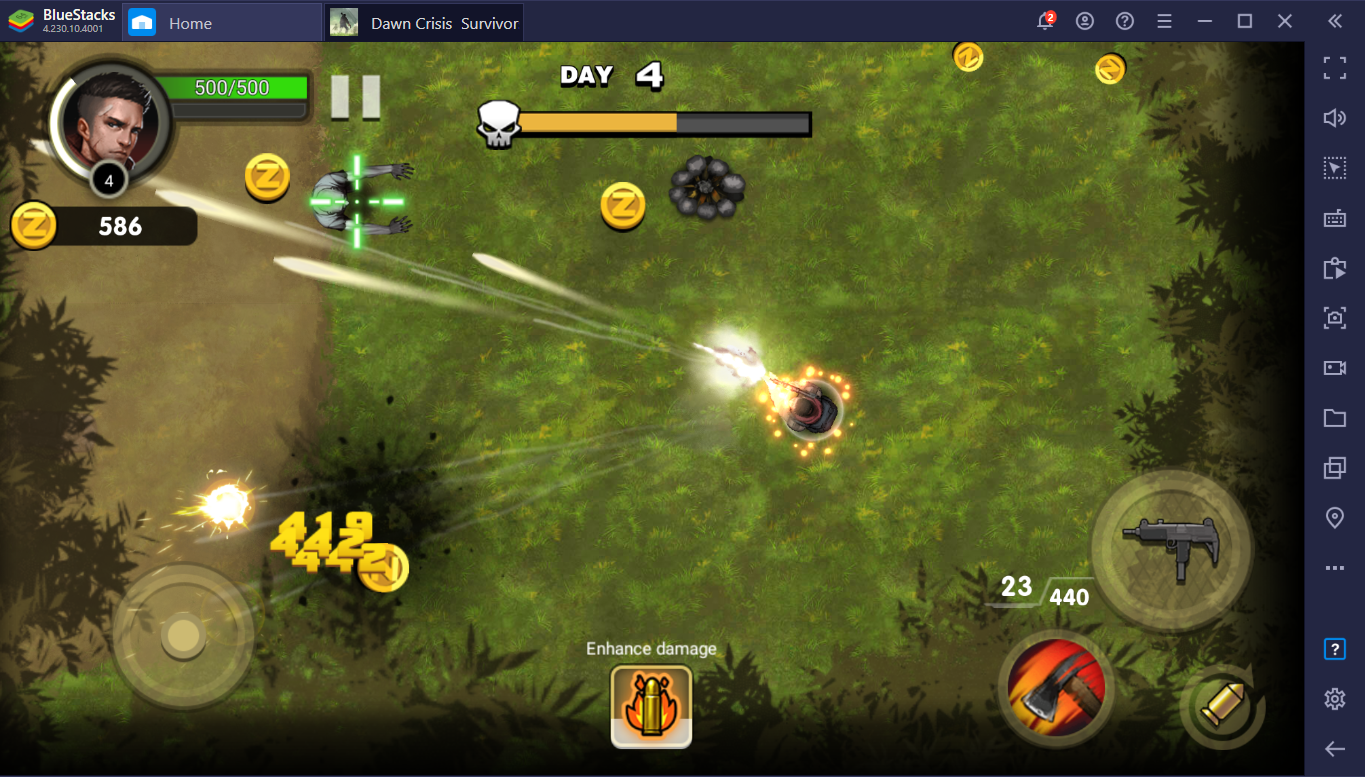 Killing enemies will occasionally drop temporary power-ups which are represented by small icons. There are three of these power-ups in Dawn Crisis and these are:
Enhance damage (represented by a flaming bullet) – increases weapon damage,
Fast step (represented by a white shoe with wings) – boosts movement speed, and
Ultra rapid-fire (represented by a red pistol) – greatly hastens your weapon's fire rate and also grants unlimited ammo.
These power-ups are very useful when fighting against enemies so make sure to be on the lookout for them and do not hesitate to claim one.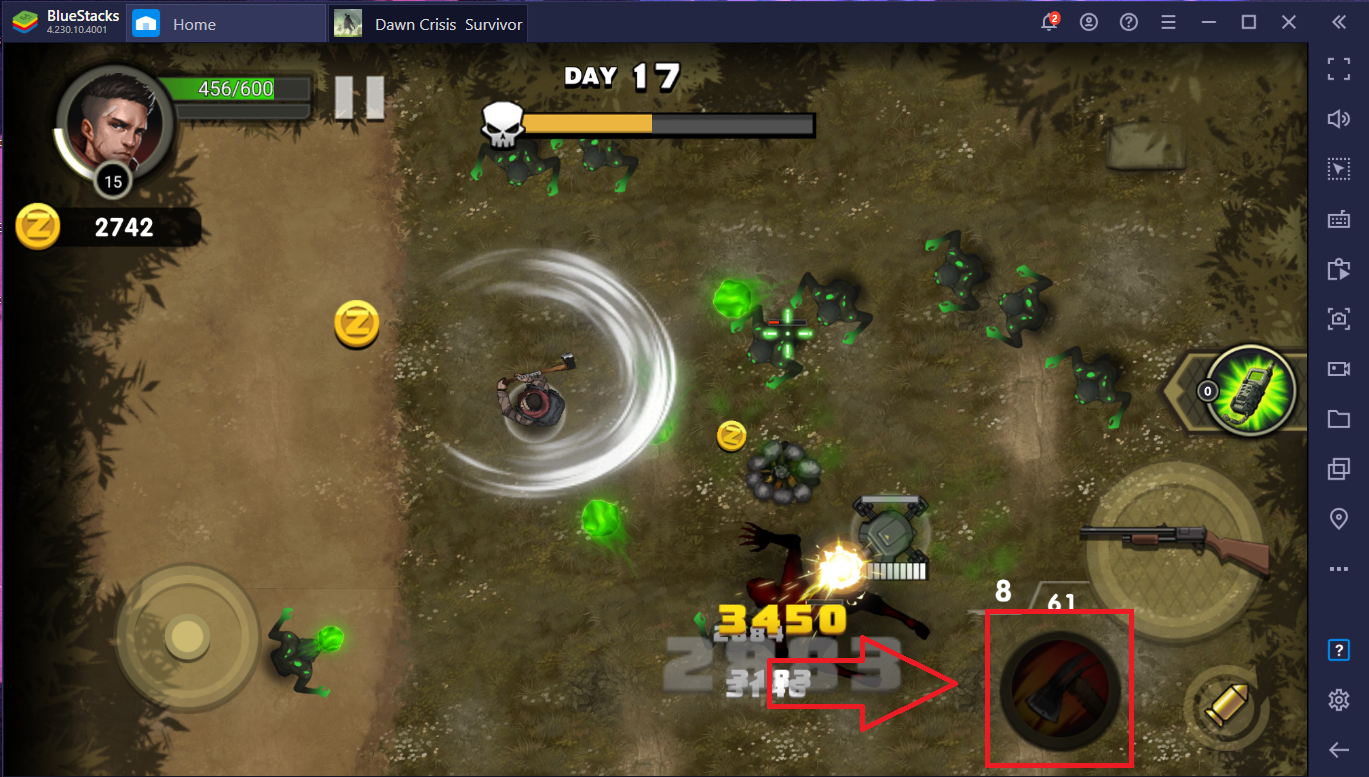 Another useful combat tool is the skill, which can be found on the lower-right side of the screen. The skill can vary from an axe, a grenade, or a powerful C4 explosive. However, what they all have in common is that they can be used to escape dangerous situations, such as when you become surrounded by too many enemies. After using your skill, it will take 15 seconds for you to use it again, so use it wisely.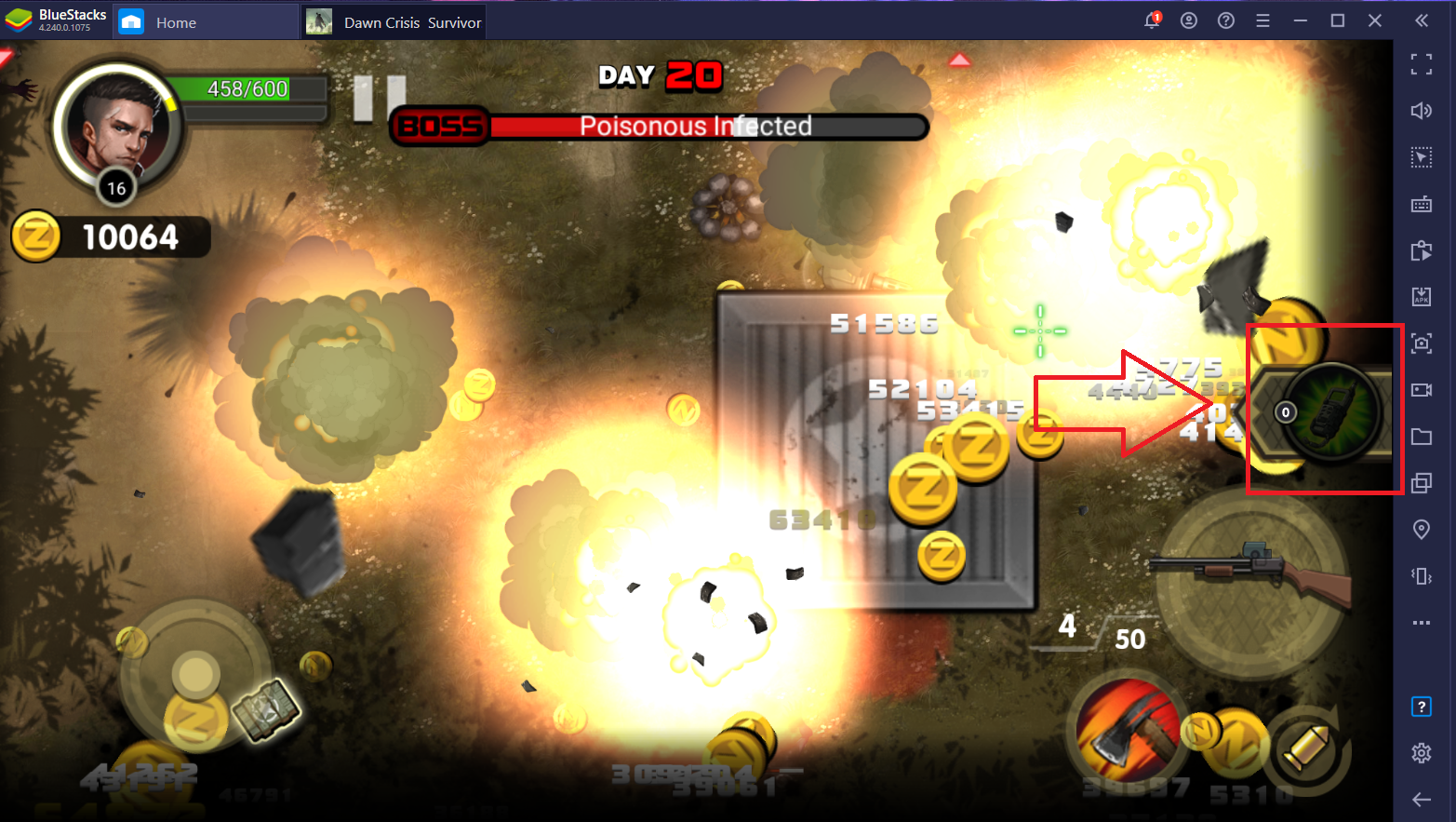 If you get really overwhelmed by zombies, you can call an airstrike (which will unlock on Day 6) and this will call a plane that will release several bombs on your area, dealing massive damage or even killing the surrounding zombies in an instant. Furthermore, the airstrike will also drop a crate full of ammo so consider calling one when you find yourself out of bullets. Take note that the airstrike is a very limited resource and that you can only get one after watching a short ad.
To enhance your combat experience, you can use BlueStacks' Keymapping tool to reassign certain actions (i.e.: calling for an airstrike, activating your skill) to any available key on your keyboard or mouse.
The Camp Site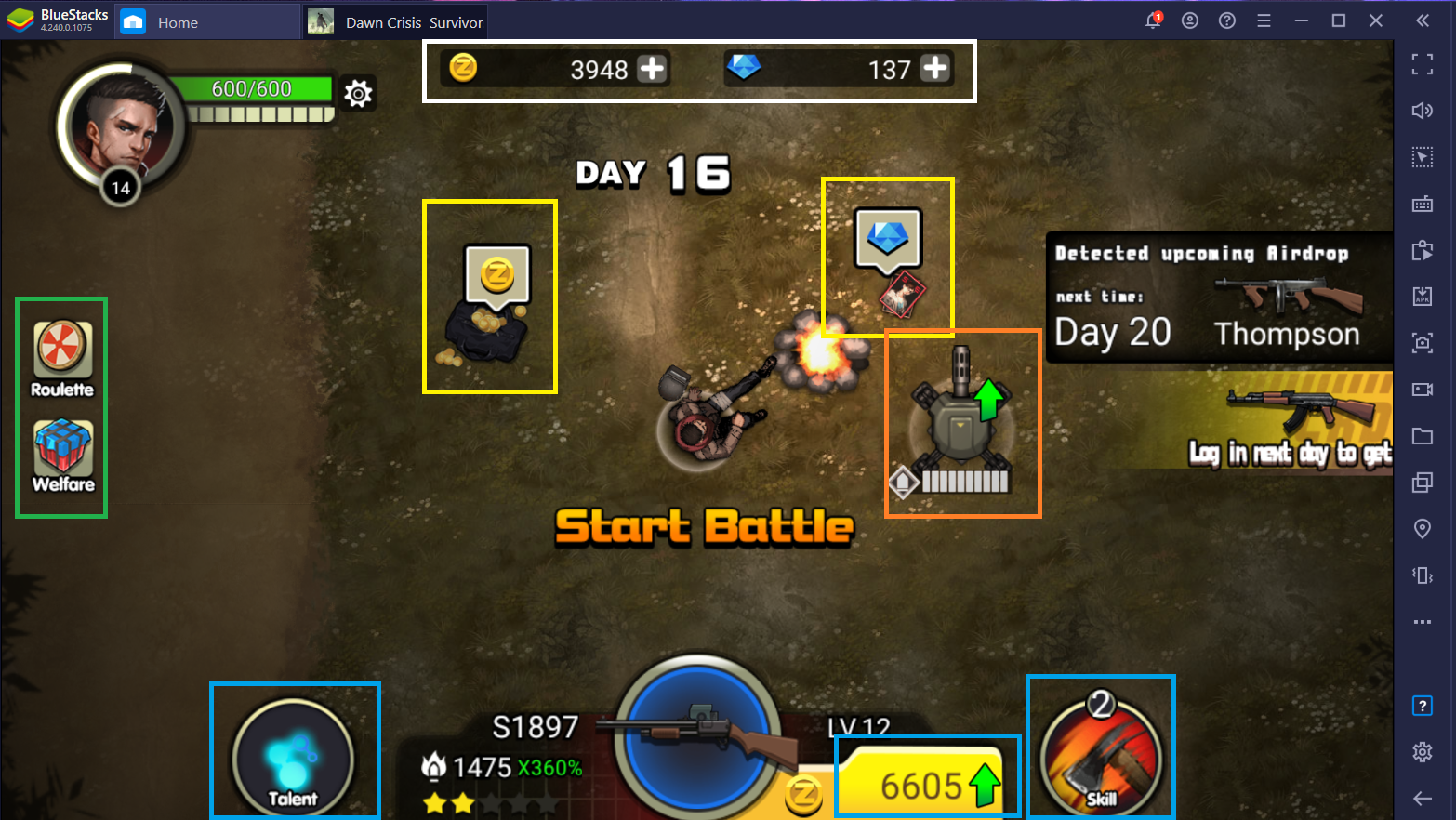 The campsite is your base of operations throughout the entirety of the game. This is where you can spend gold to level up your gun and spend diamonds to upgrade your skills and abilities. Additionally, you can also spend diamonds to upgrade or refill the ammo of your turret – which is a stationary machine gun that you unlock after the 15th day. Aside from spending your currency, you can also earn more through certain features in the camp site.
The top of the camp – marked with white – site displays the number of gold and diamonds you have. You can actually increase your funds for free by clicking on the "+" icon beside the numbers. Fortunately, doing this will not direct you to a page of micro-transactions but will instead offer you a fairly large amount of gold and diamonds for free in exchange for viewing an ad.
Marked with yellow are a bag of coins and a stack of books. The bag of coins contains offline revenue and upon clicking it, you will redeem a fair amount of gold after viewing an ad (despite its name, the offline revenue will not work if you are not connected to the internet). Clicking on the stack of books will let you "read" them and this will reward you with tens of diamonds. You can read the books again after a one-minute cool-down surpasses.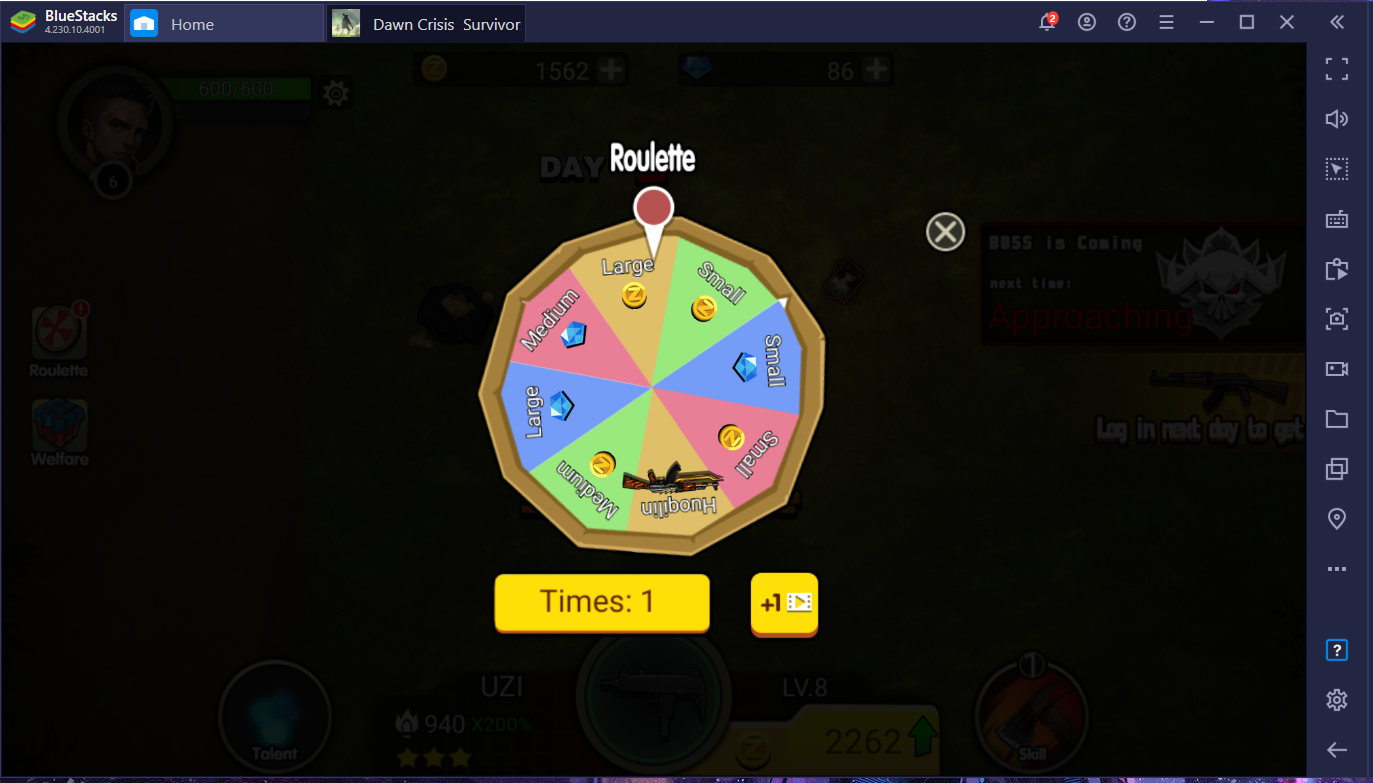 Marked with green are Roulette and Welfare. Roulette is essentially a prize wheel and this is where you can win either a small, medium, or large amount of either gold or diamonds, depending on your luck. If you're really lucky, you may even win a new weapon. You get two free spins when you start the game. Afterwards, you will have to watch ads in order to get more spins.
Welfare is functionally similar to the "daily log-in rewards" of other mobile games. If you play Dawn Crisis every day, you can redeem hundreds of diamonds for free through Welfare.
Weapons, Skills, and How to Upgrade Them
As mentioned, you can spend gold to upgrade your weapons in Dawn Crisis. You can do so by clicking either of the three buttons marked in blue.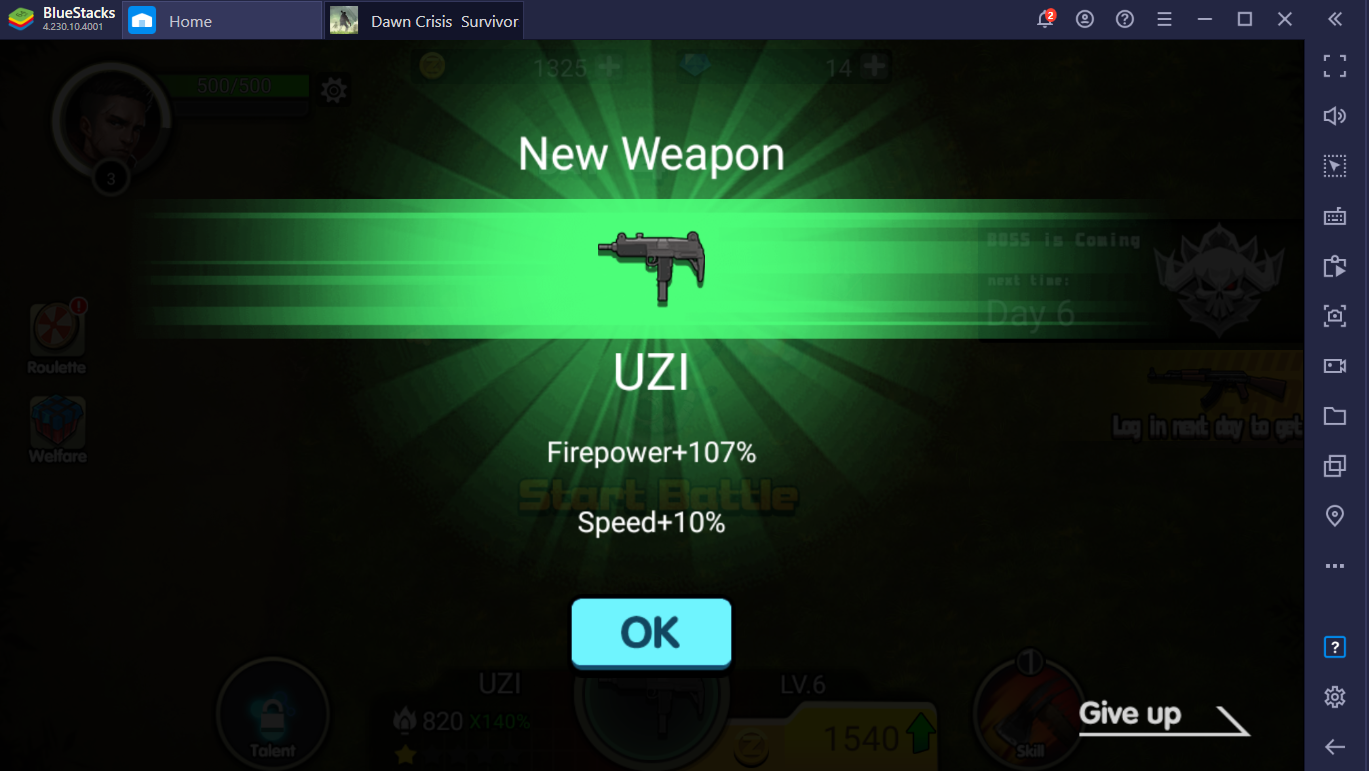 To level up your weapon, simply click on the big yellow button with an indicated price for the upgrade. For every purchase, one star will be added to the weapon. The number of stars can be seen on the left side of the gun's icon. After five starts are filled, the gun will turn into an enhanced version of itself with increased stats.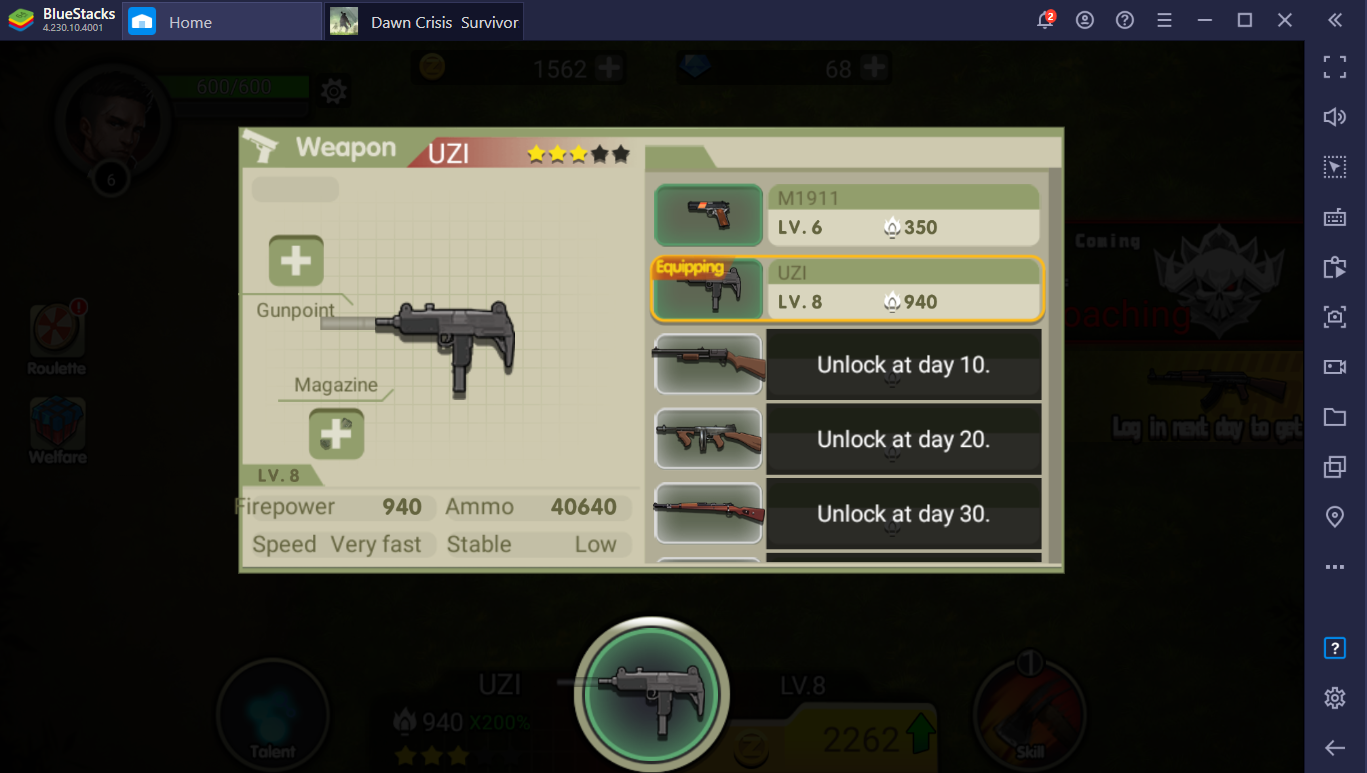 Clicking on the gun icon itself will bring you to a customization menu where you can equip your guns and even buy certain attachments – with diamonds – to further increase its stats. For instance, you can buy an extended magazine so you won't reload as often when in battle.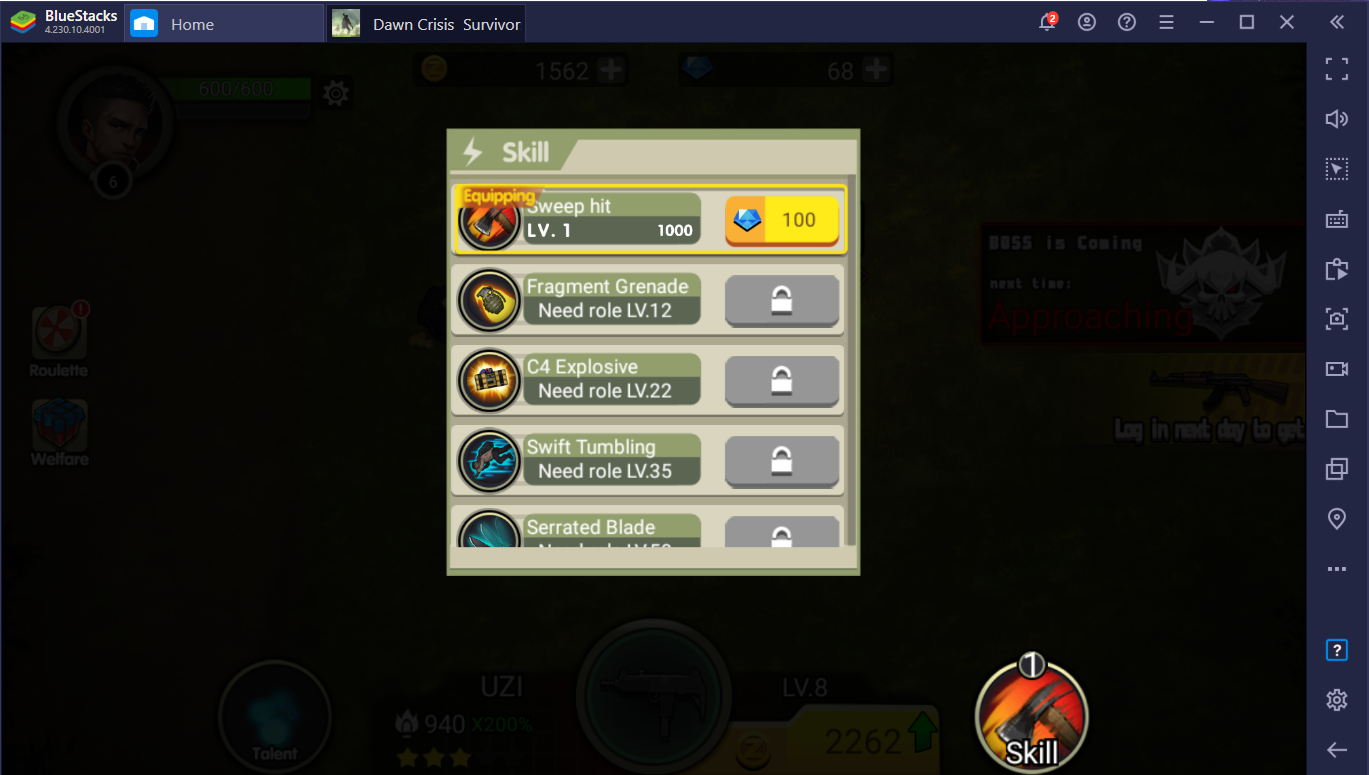 If you click on "Skill", this will then bring you to a menu where you can select and purchase upgrades for your skills. This is also where you can unlock new ones. Like gun attachments, diamonds will need to be spent to enhance skills.
You can read a more in-depth guide for upgrading in Dawn Crisis here.
Talents – Improve Your Stats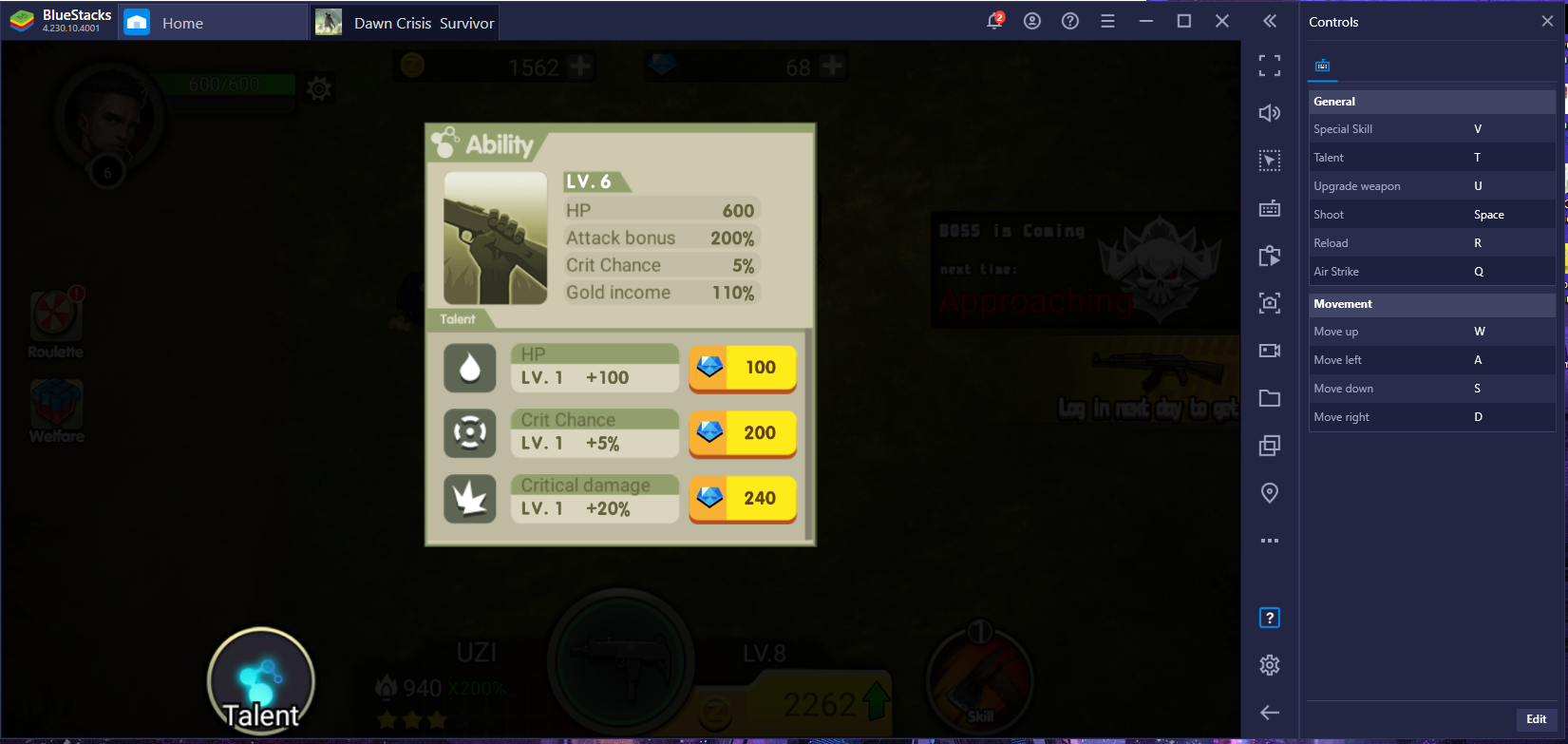 If you want to improve your character's stats, then click on "Talent" and wisely choose which ability to upgrade. We highly suggest investing in an ability that suits your playstyle. For instance if you prefer rushing into hordes with a shotgun, then we suggest investing more on HP so that you'll have enough health to take in more damage.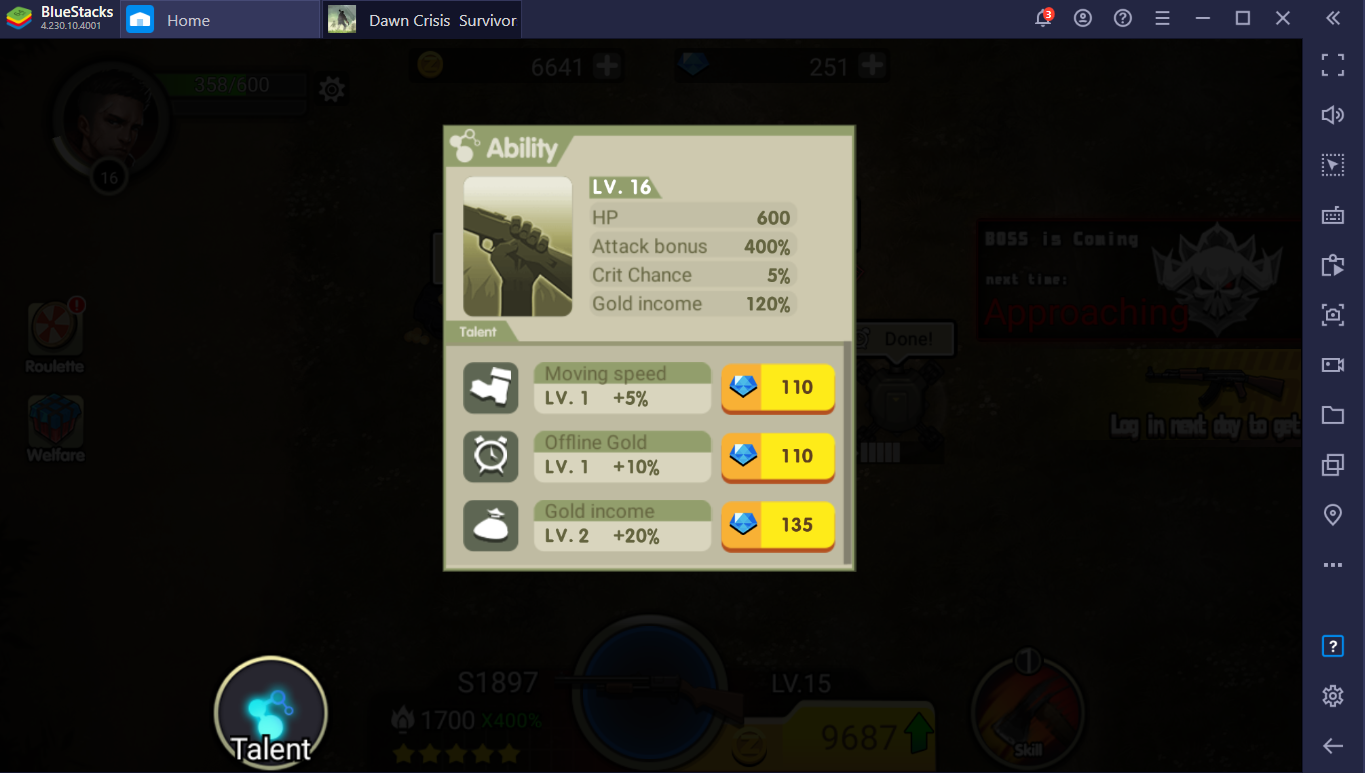 You can also increase the amount of gold you get from both offline revenue as well as during each day. If you want to focus more on earning as much gold and diamonds in Dawn Crisis, then invest in these skills.