Game Guides
How to Earn More Gold and Diamonds in Dawn Crisis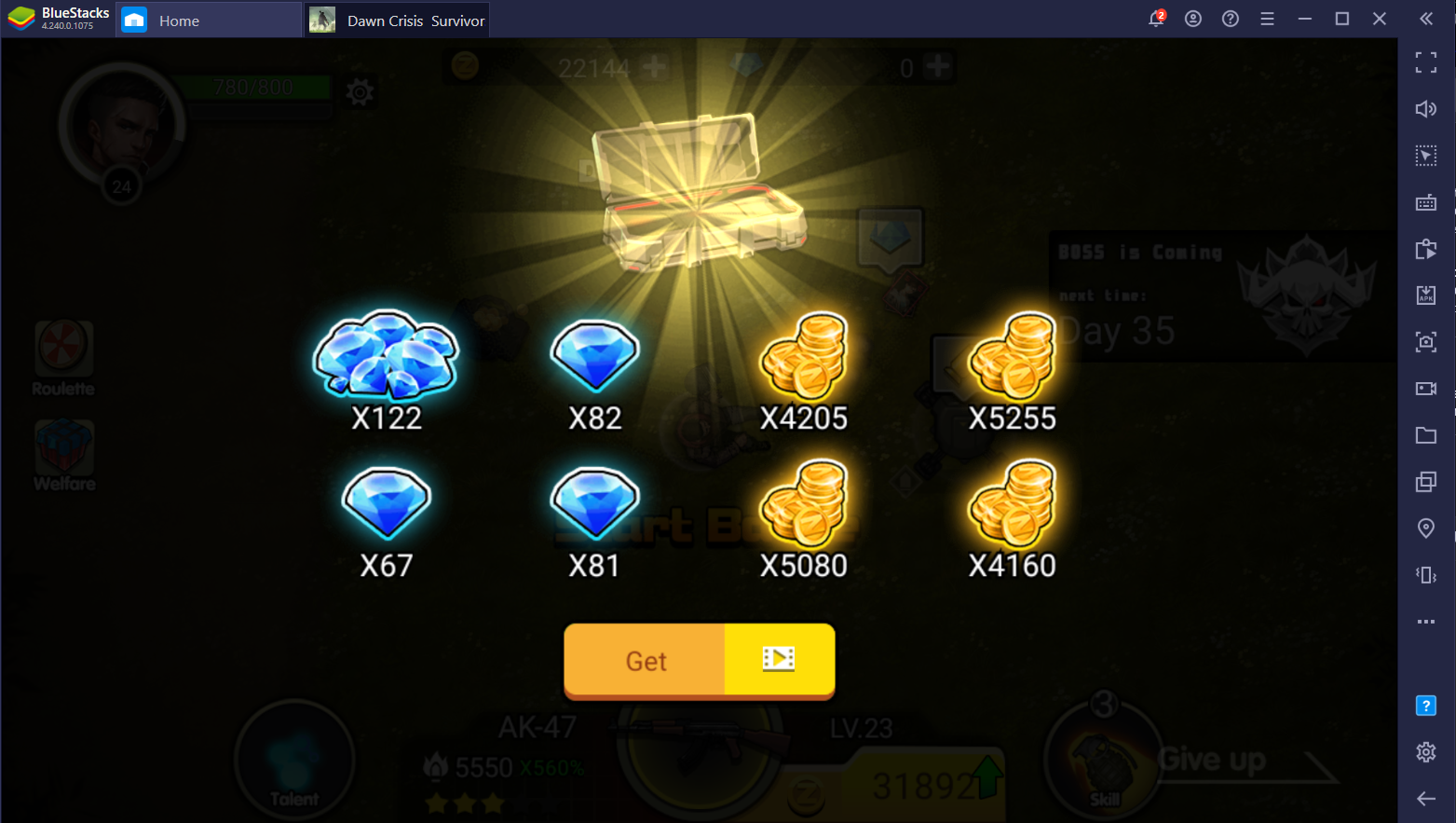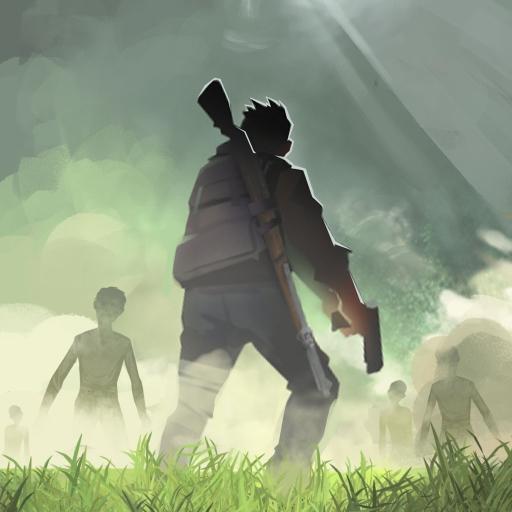 As you survive each day in Dawn Crisis, it is imperative that you spend resources to become more powerful against the hordes of zombies. In the game, there are two currencies: gold and diamonds.
Gold is used to level up your weapons; however, it can quickly run out since leveling up gradually becomes more expensive as your weapon becomes stronger. Diamonds are used to upgrade your skills (i.e. the damage of the Sweep Hit) as well as your player statistics (i.e. health and movement speed). Similar to gold, diamonds also do not take long to deplete; in fact, it depletes faster than gold since there are so many things in this game that can be spent with diamonds and each purchase is quite pricey.
If you want to become the ultimate survivor in Dawn Crisis, you're going to want to ensure that you have a lot of gold and diamonds to achieve that. Fortunately, it's surprisingly easy to earn a lot of income in this game. In this article, we'll show you the numerous ways to earn gold and diamonds in this game and how you can maximize all of these.
Collect as Much Gold and Diamonds Before Starting a Day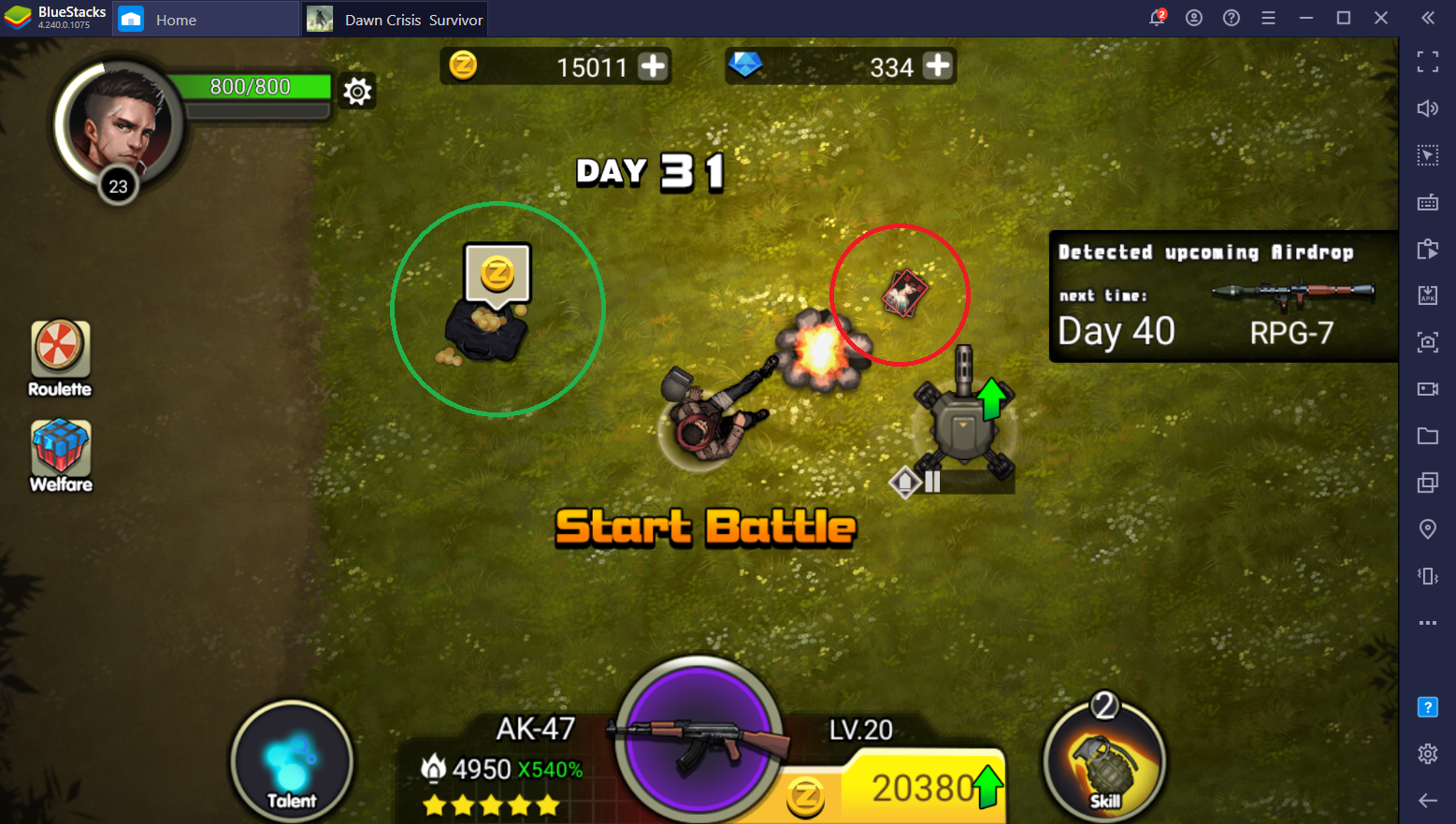 You can already start earning over thousands of gold and hundreds of diamonds even before going into battle against the horde. Beside your character in his camp are a bag of gold (encircled in green) and a pile of books (encircled in red).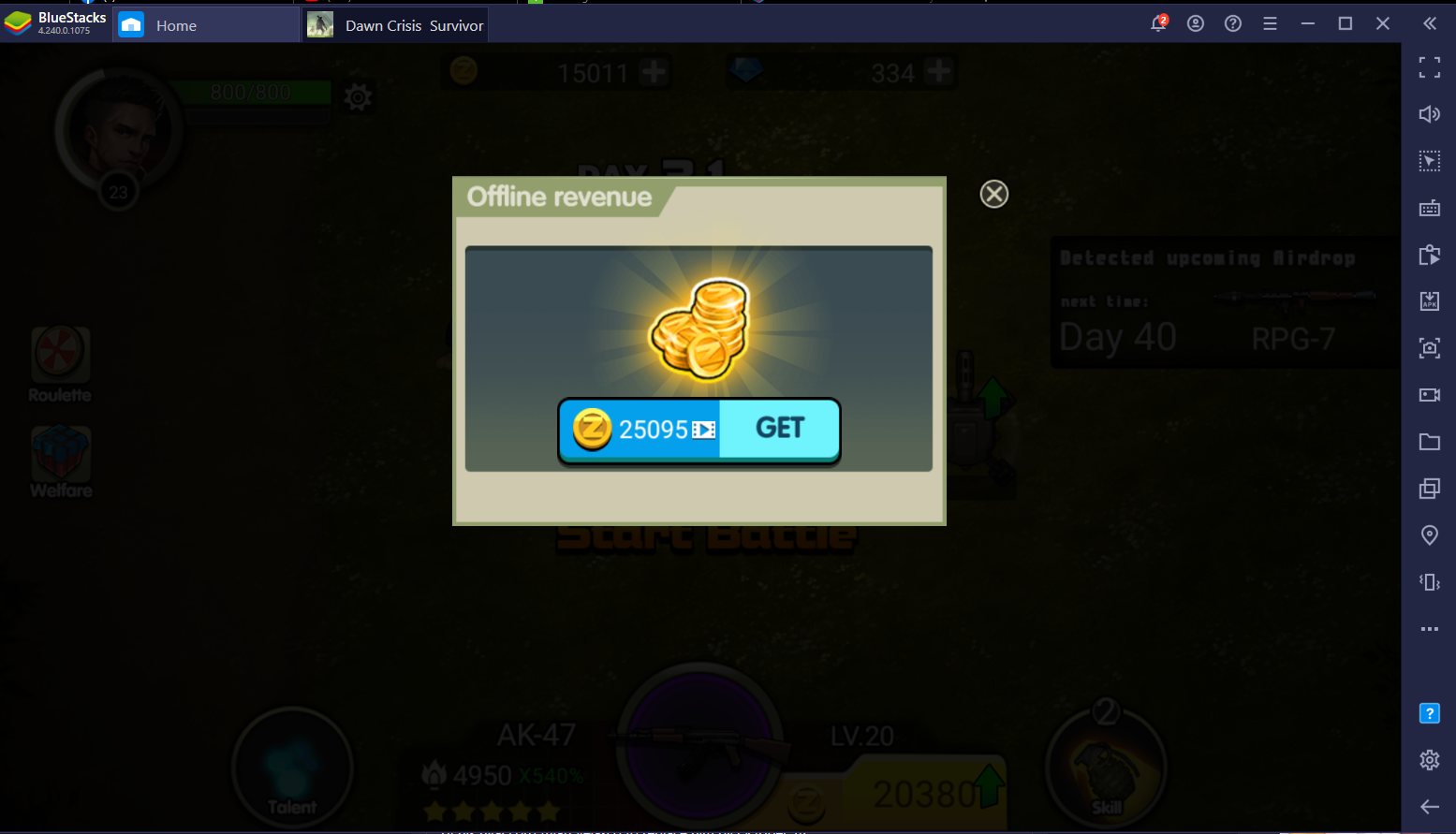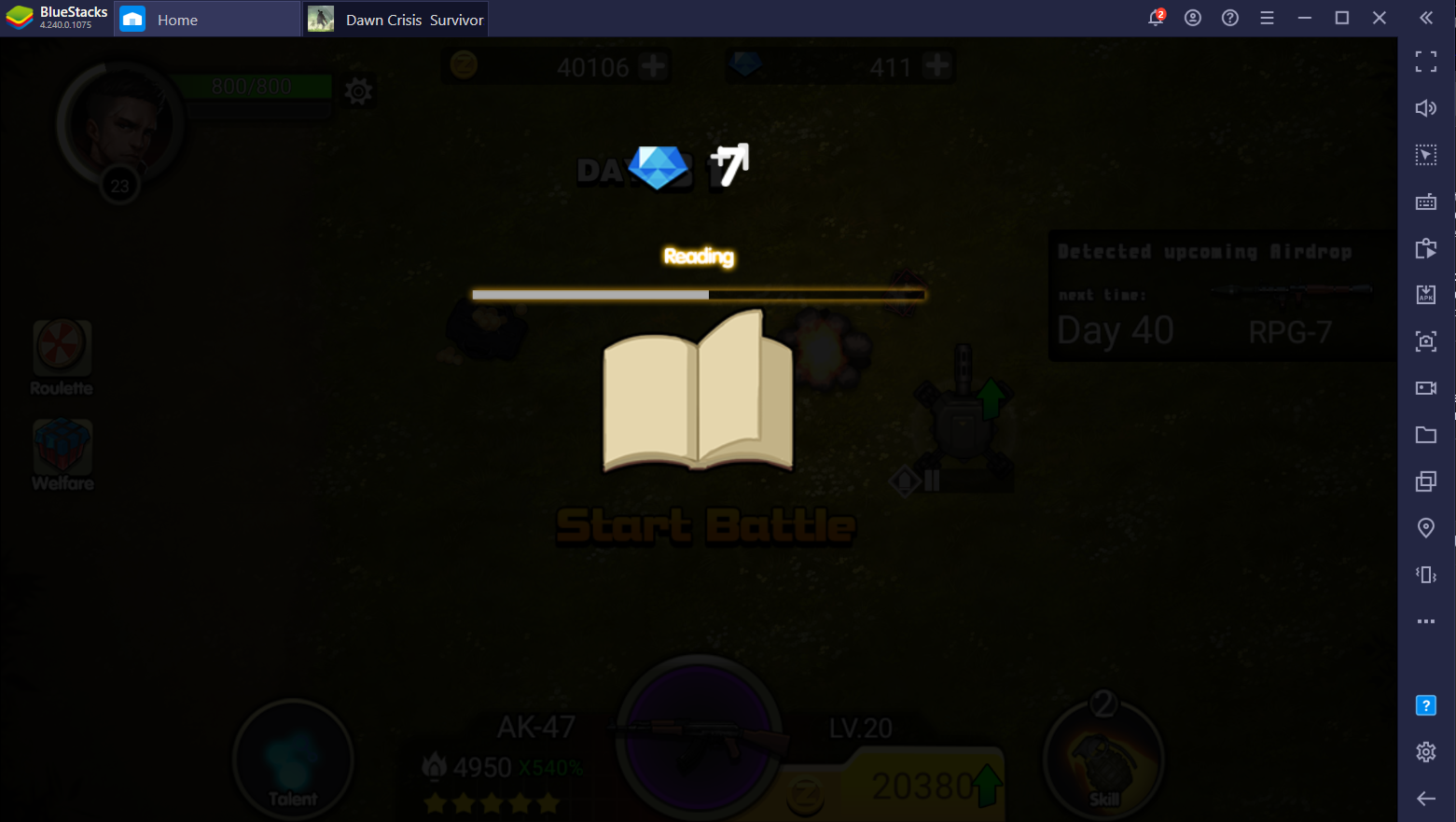 The bag of gold contains offline revenue, which is essentially gold that can be acquired after watching an ad. Meanwhile, clicking on the books will make your character "read" said books for a few seconds and will give you more or less 20 diamonds. Take note, the pile of books refresh every minute and this means that you can earn about 20 diamonds per minute. If you have the patience, keep "reading" the books every minute.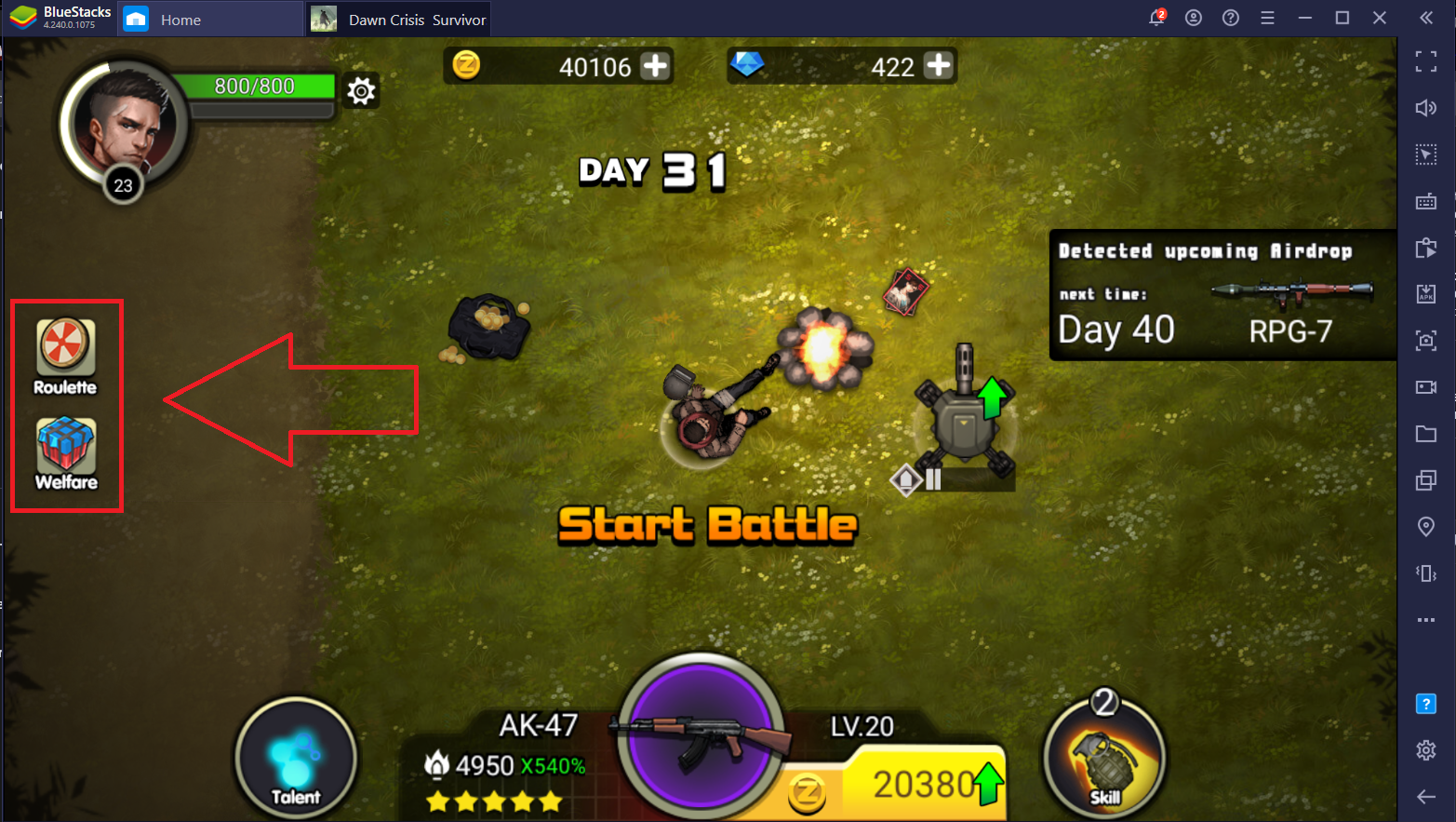 On the left side of the screen are the Roulette and Welfare. In Roulette, you test your luck by spinning a prize wheel and hope that the arrow lands on a large amount of either gold or diamonds. If you're really lucky though, you may even win a new weapon to use against the zombies. The number of spins are very limited but you can get more by watching ads (tap the icon with "+1" on it).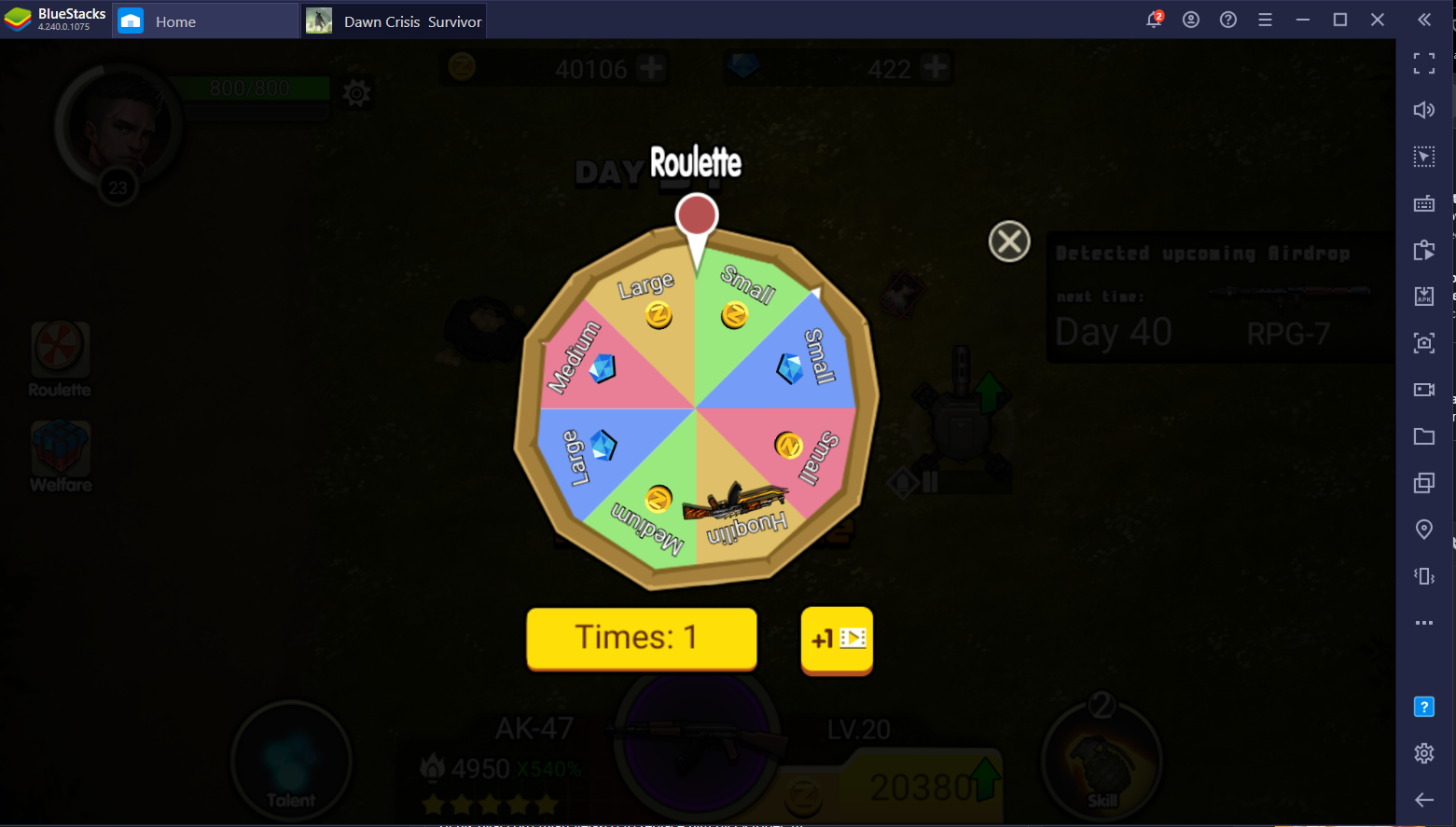 Welfare mode functions very similarly to the "daily login reward" feature of many mobile games. For each day that you play Dawn Crisis, you are given the opportunity to redeem hundreds of diamonds but only after viewing an ad. It will be worth it though and it will only get better since you'll be able to claim more diamonds per login just as long as you keep playing every day.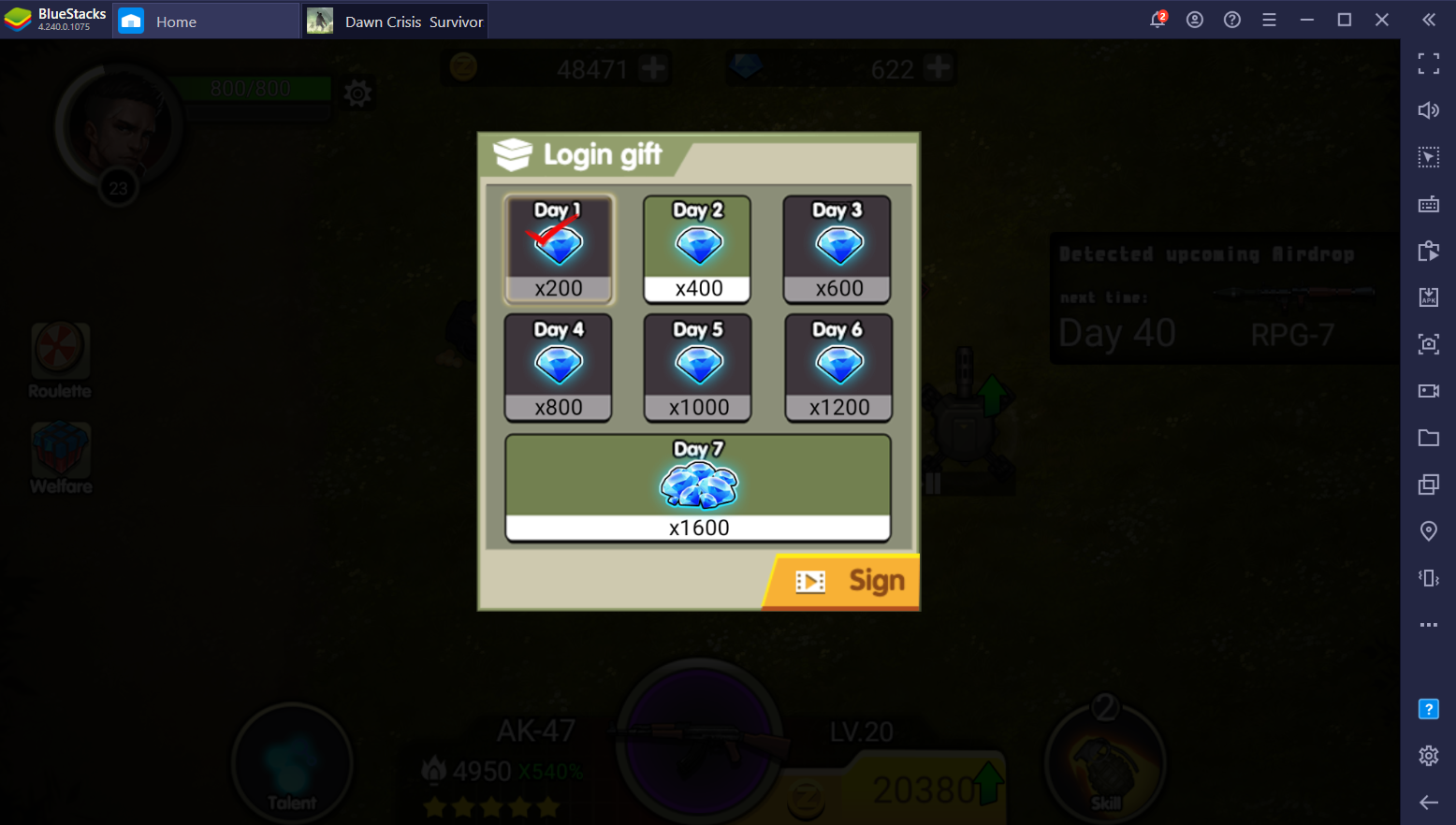 If you really want to earn a lot of gold and diamonds in as little time as possible, you can do so by clicking on either the gold or diamond icons located on top of the screen. Tapping one of these will give you the option to view an ad – which usually only last 30 seconds – in exchange for receiving a large amount of gold or diamonds.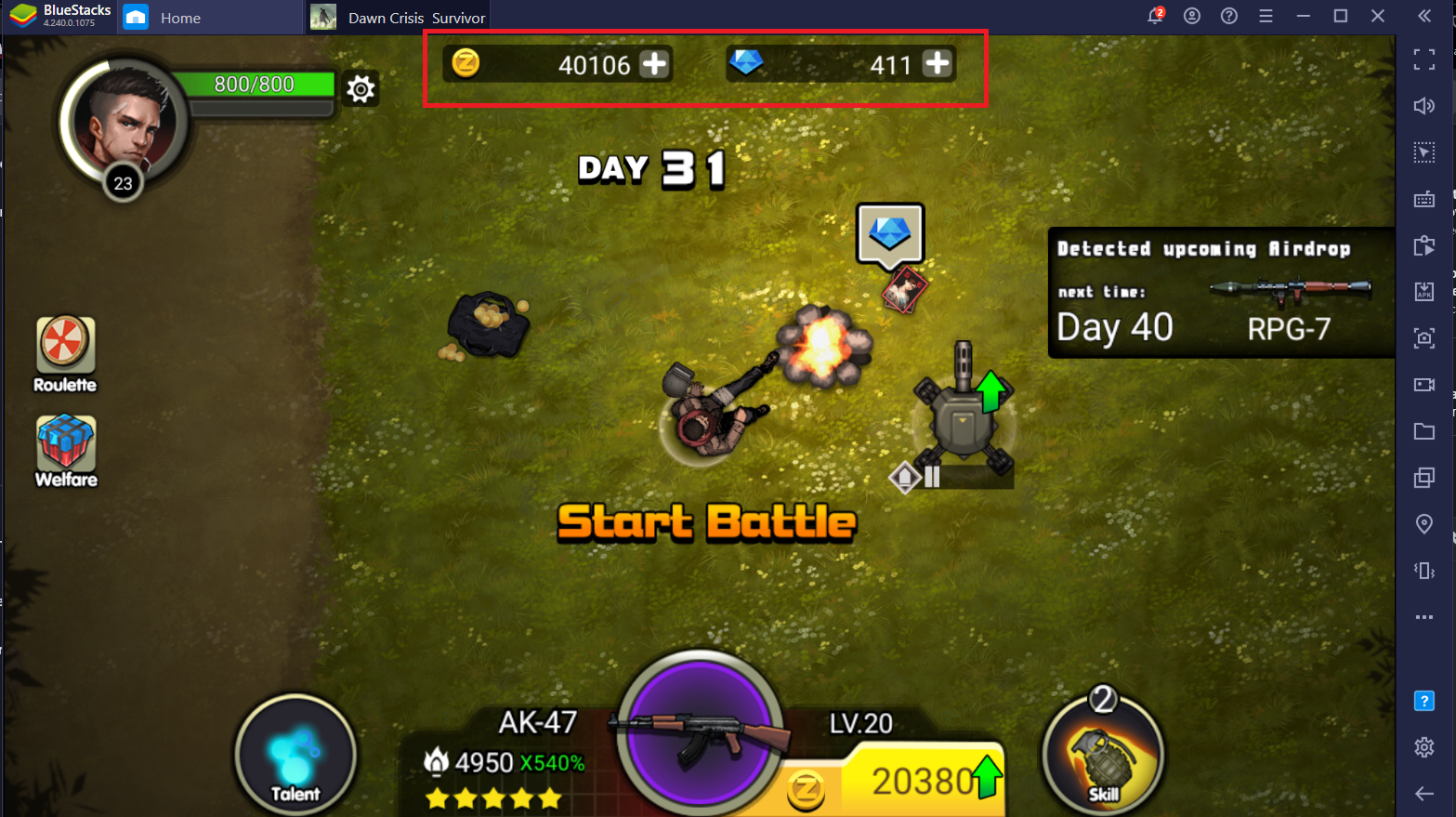 You can earn more than 10,000 gold or even 100 diamonds just by viewing an ad. And the best part, there is no limit as to how many ads you can view and this allows you to keep farming gold and diamonds for as long as you like. Ads may be annoying but at least Dawn Crisis ensures that there is a good trade-off.
Boost Your Gold Revenue by Upgrading Skills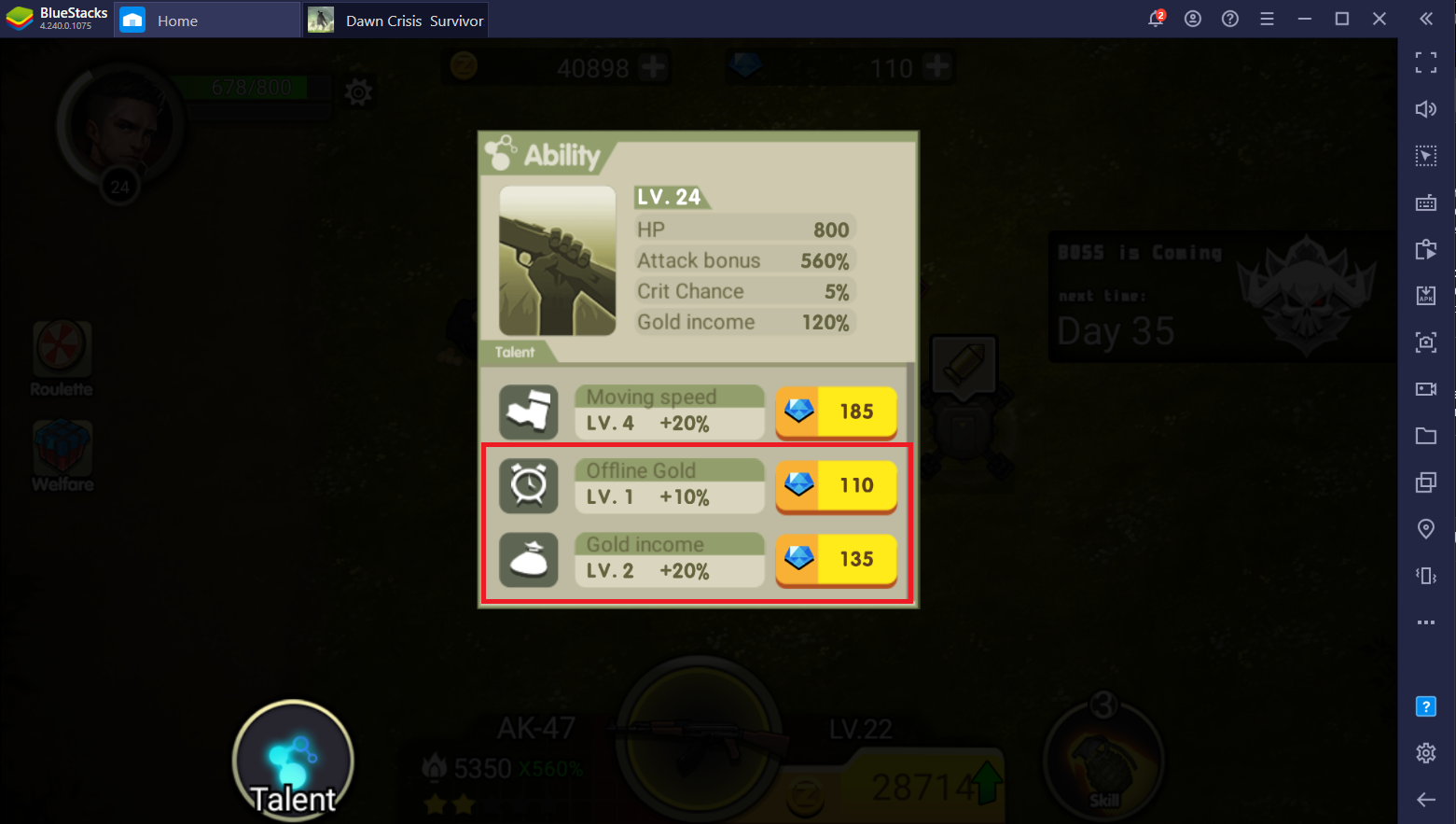 After earning a fortune of diamonds in the game's menu, you can then spend it on skills that will let you earn more gold. In the Talent menu, you can boost either the revenue earned from Offline Gold or the gold earned by killing zombies in-game. We highly suggest that you invest your diamonds in either of these skills – especially if you have just started the game – in order to have the money needed to briskly upgrade your weapon to the highest level.
If you prefer to earn gold by playing the game continuously, then it's best to invest more on "Gold income". Meanwhile, if you would rather view numerous ads to gain more gold, invest more on "Offline Gold".
Survive Each Day and Beat Boss Fights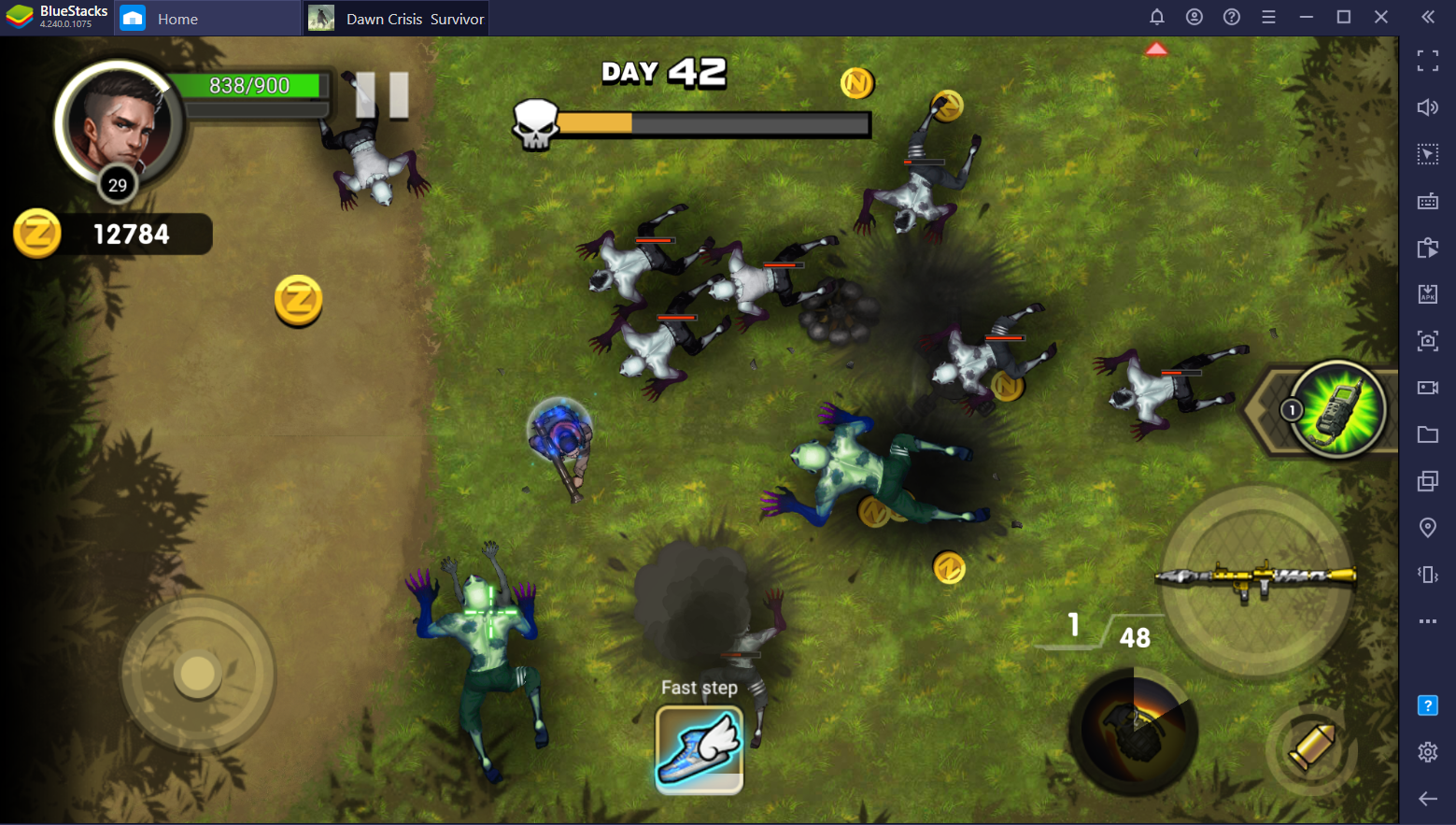 The primary way of earning income in Dawn Crisis is simply playing the game and surviving for as many days as possible. Each day could generate more or less 10,000 credits; however, if you upgrade the skills mentioned previously in the article, you can easily earn double or even triple that amount.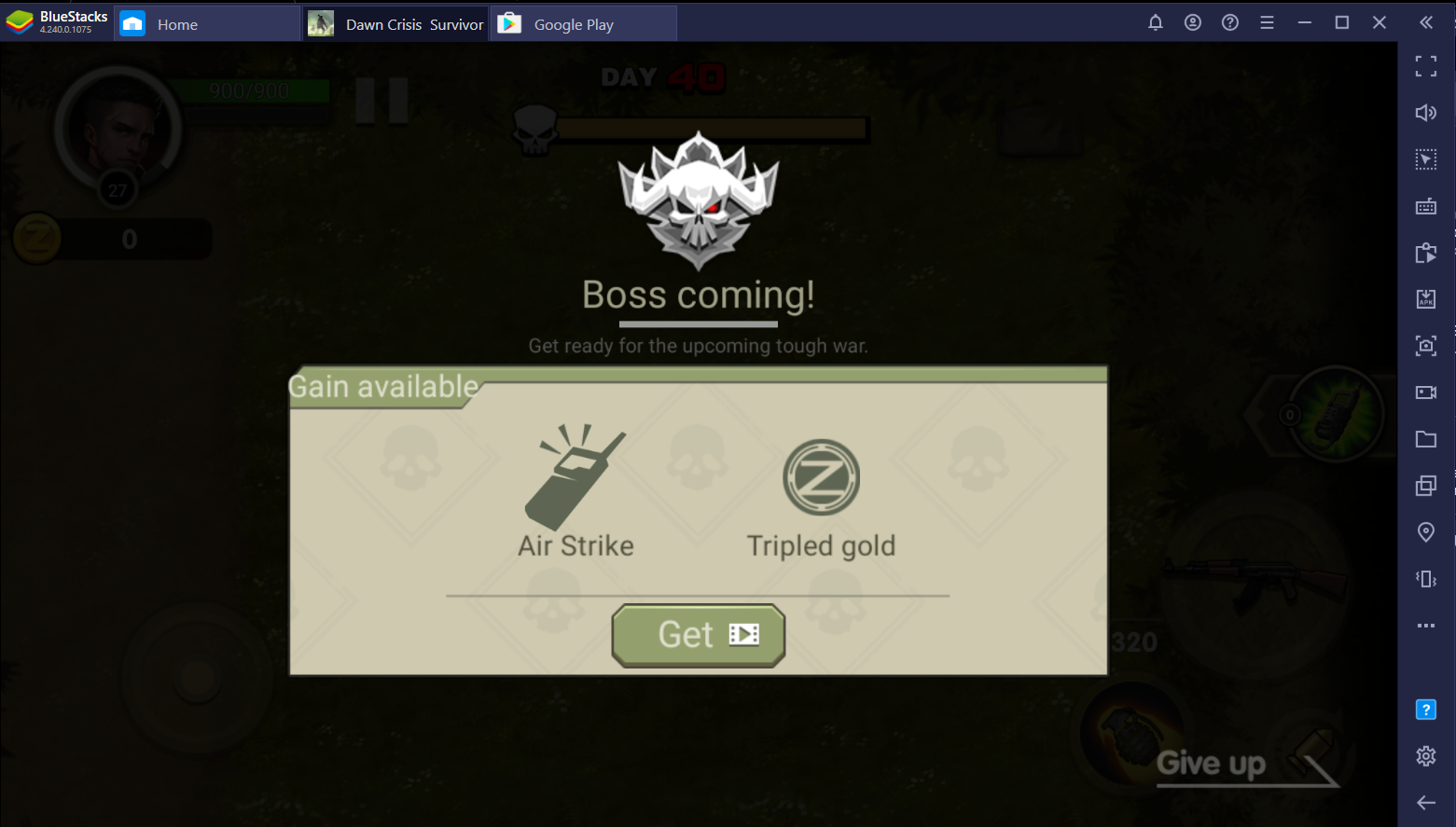 While you can acquire a fair amount of income in the normal days, the boss fights are what really give the most reward. Before heading into a boss fight, the game presents you with an option to claim a free airstrike and also temporary boost that triples the amount of gold earned but in exchange for viewing – you guessed it – an ad. However, if you really want to get the most out of the boss fight, then it is a good investment to spend at least 30 seconds of ad-viewing to get the freebies.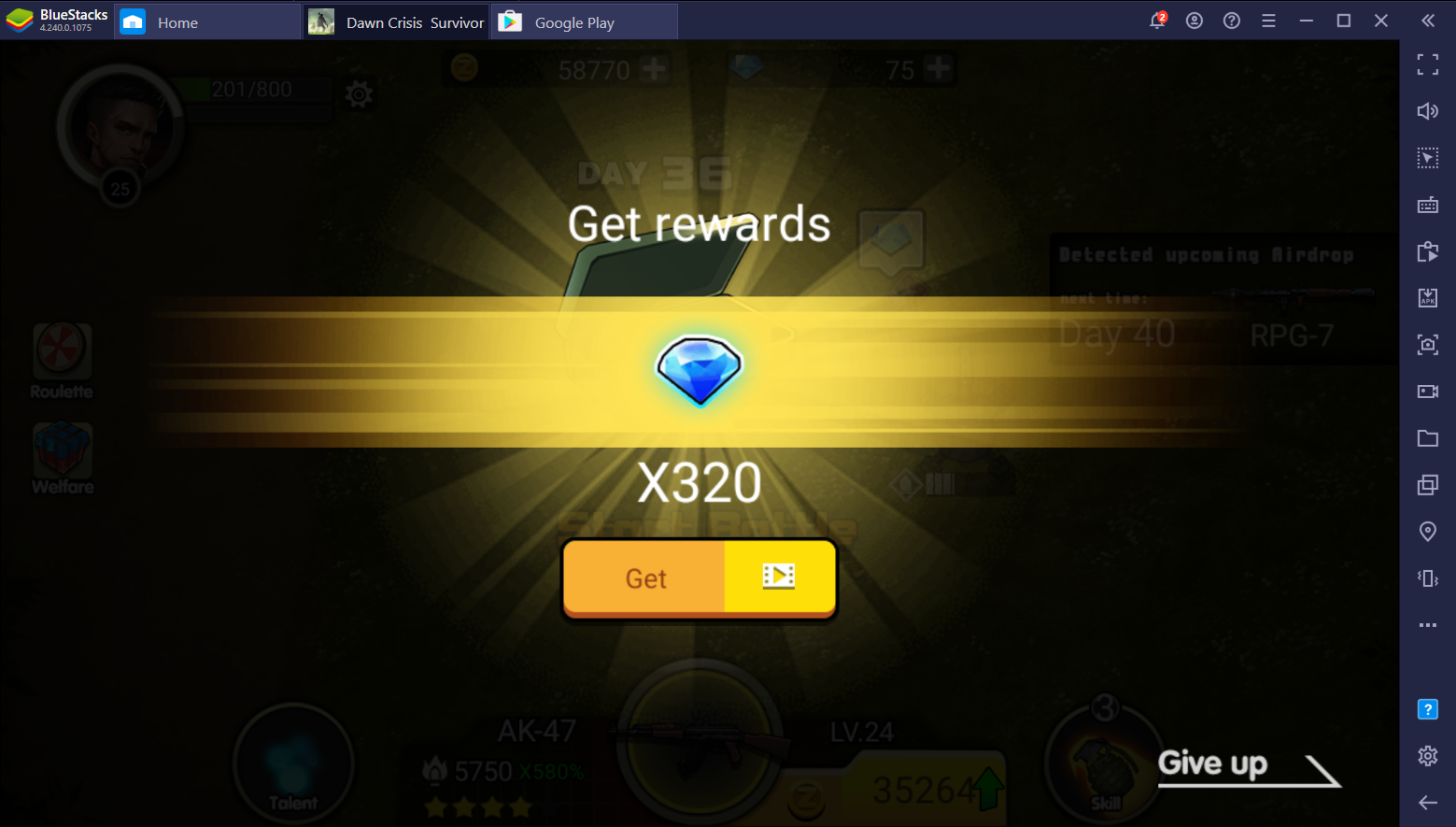 After you beat the boss, the game will reward you with a loot box which will gift you with a hundred diamonds. But of course, you need to watch an ad beforehand. Loot boxes are actually quite common in Dawn Crisis and contain a lot of rewards so make sure that you open one every time you receive one.
Look Out for Loot Boxes and Supply Drops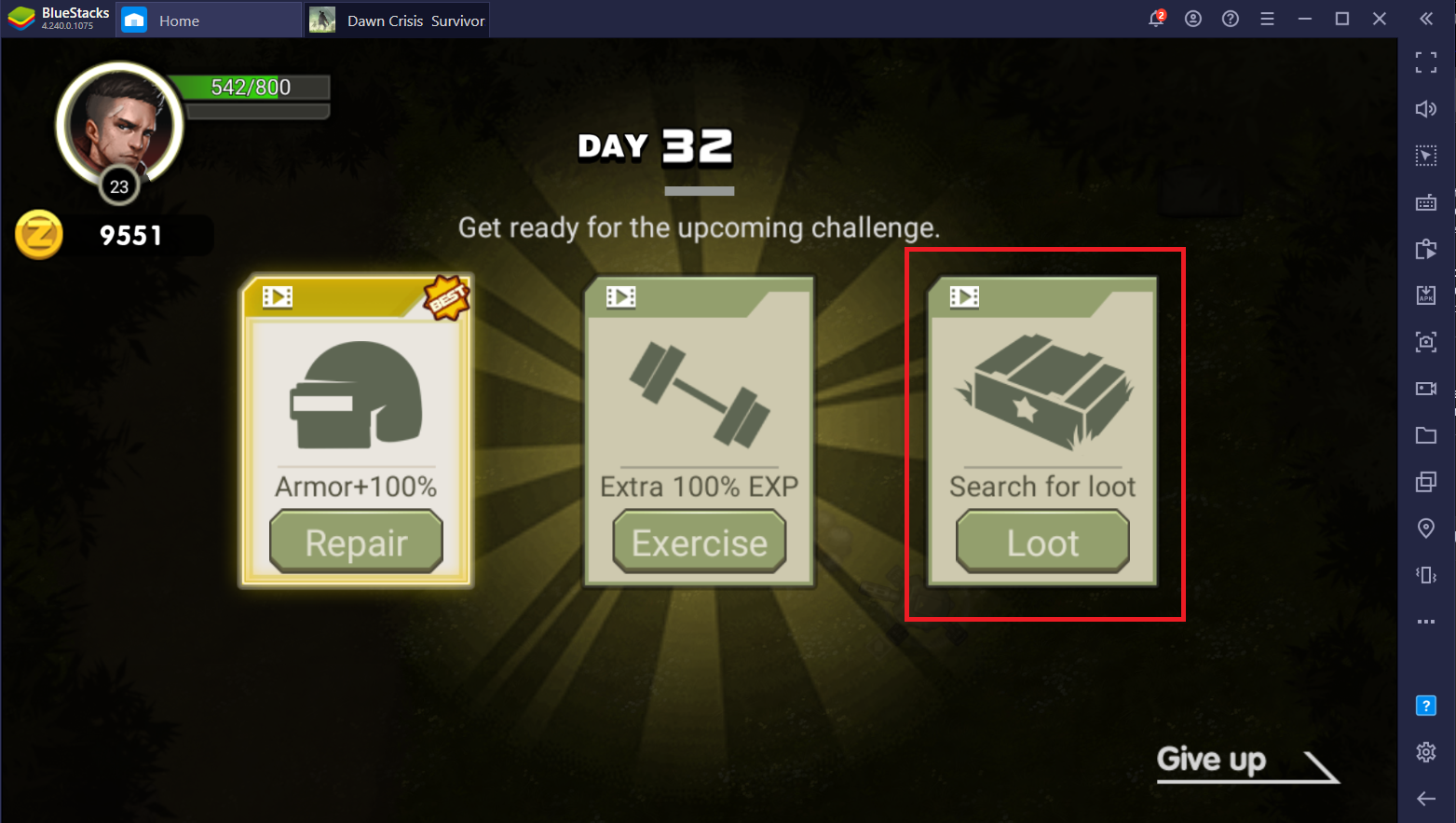 As mentioned, you would want to keep looting loot boxes if you want to maximize your revenue in Dawn Crisis. After each day, the game offers you three options: repair armor, exercise to gain more EXP (to level up your character), or open a loot box. Choosing to loot the loot box will give you a reasonable amount of gold so make sure to claim one after beating each day.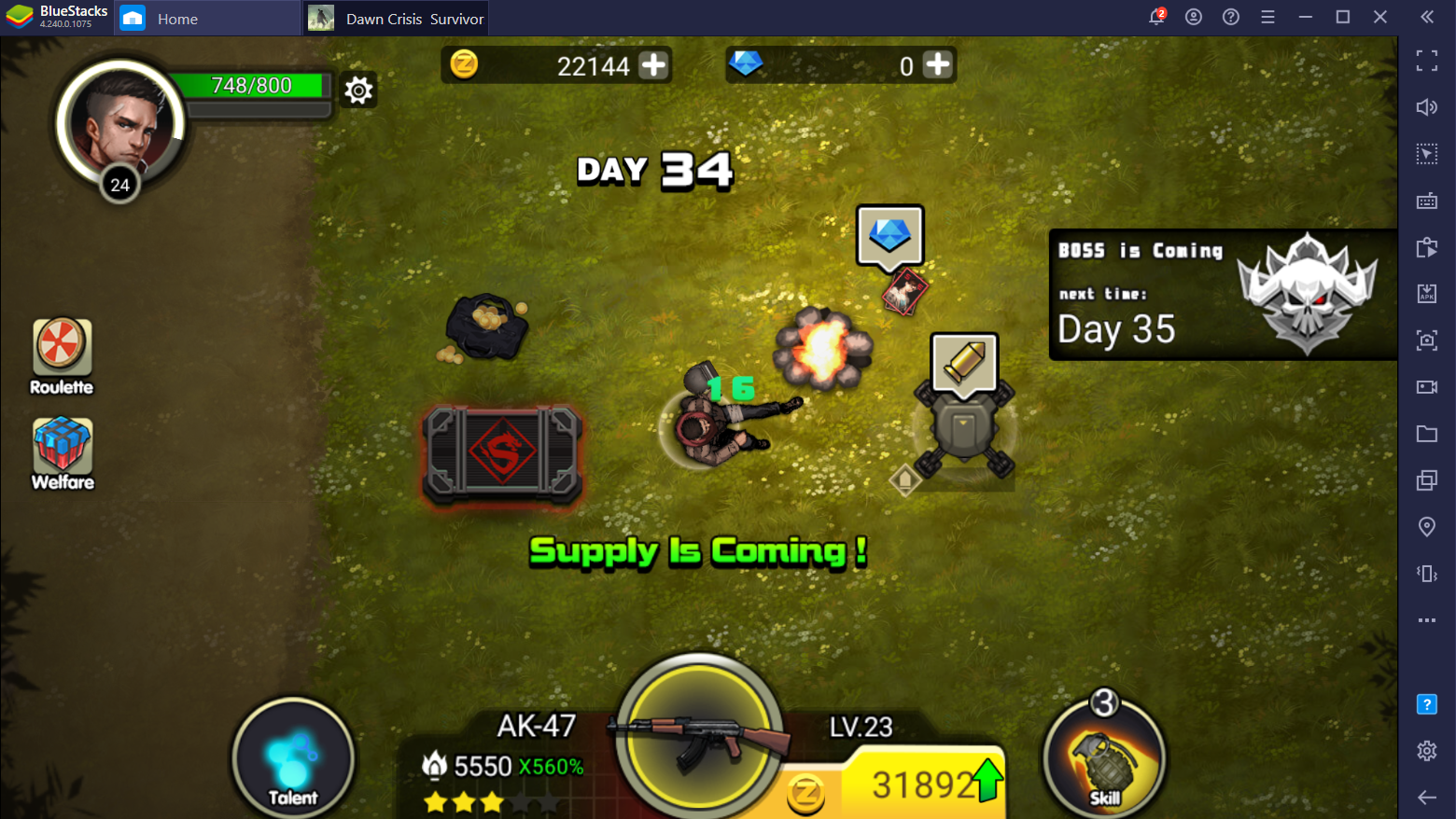 After all the farming of gold and diamonds for a while, an airplane may drop a rare crate called a supply drop to your camp. Opening this crate will generously give you a myriad of gold and diamonds that normal loot boxes don't give. So the next time that a supply drop lands on your camp, do not hesitate to open it.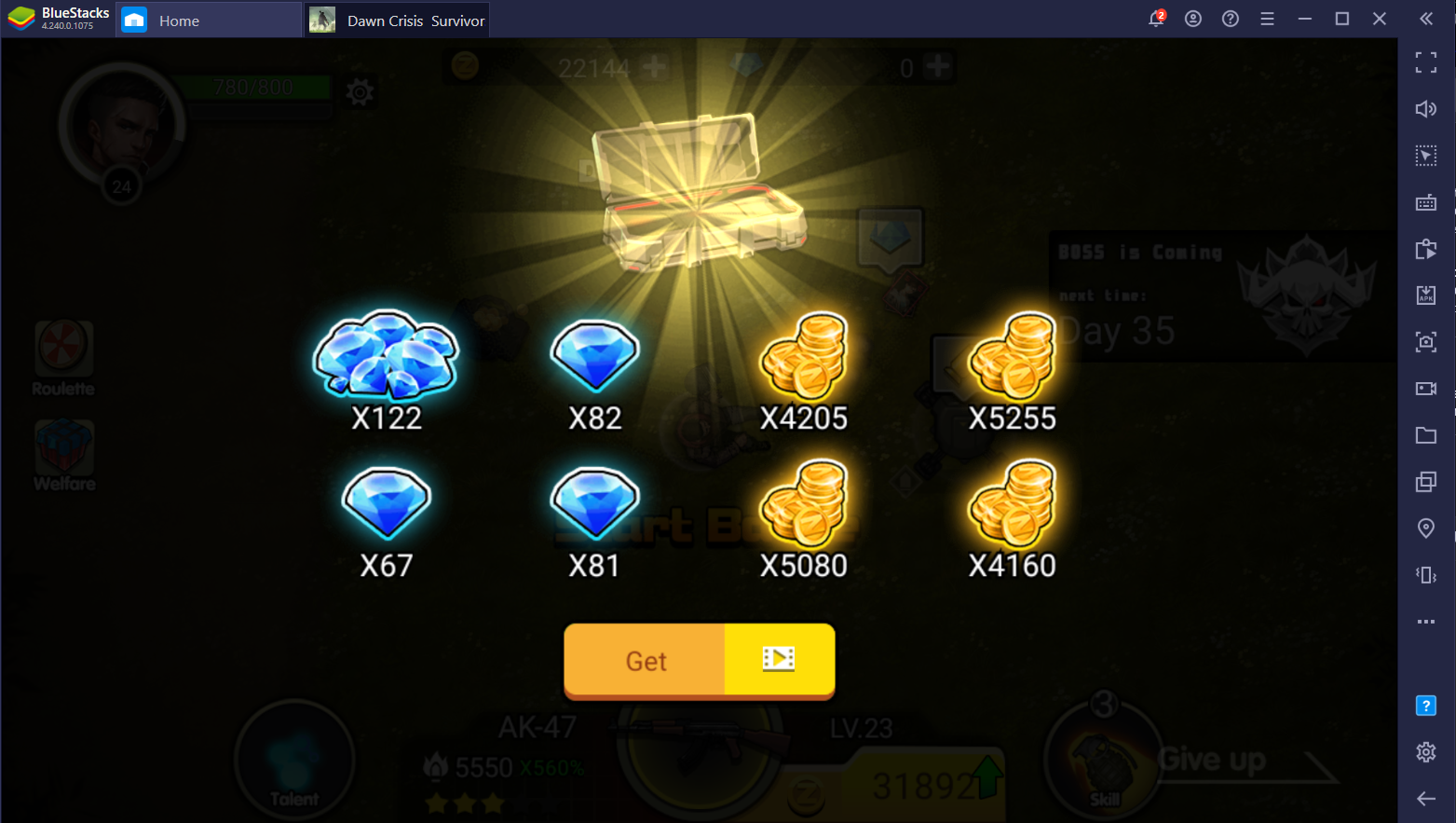 Who knew that surviving a zombie apocalypse would be this costly? Fortunately, this article has presented the numerous ways you can earn gold and diamonds in Dawn Crisis and how you can maximize these. Albeit most of them require you to view ads, the tests of patience will be worth it as you earn the funds needed to become the ultimate survivor.
Want to become an ultimate survivor? Learn how to install and play Dawn Crisis now on your PC here.