Game Guides
Tala Coin, Crystal, and More – Resource Guide for Destiny Girl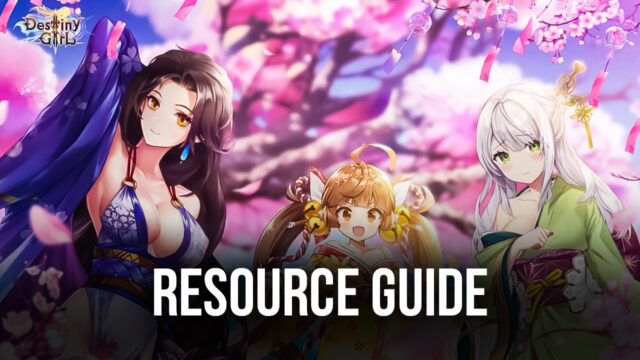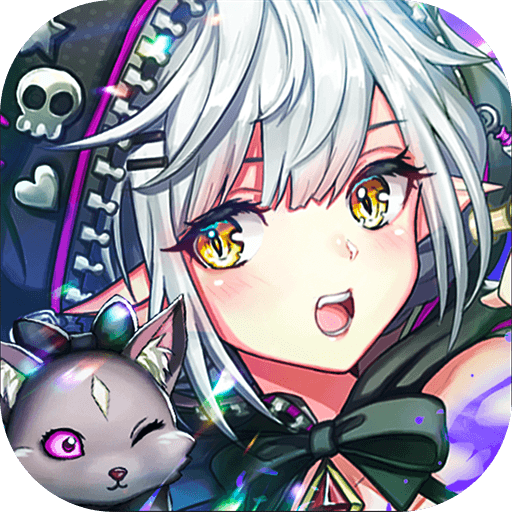 When you play Destiny Girl, there are plenty of resources that you are going to need to keep progressing through the game by upgrading your huntresses. These resources include but are not limited to Tala Coin (the main currency), Practice Points, Advance Gems, Crystals (the premium currency) and the like. As your huntresses reach higher levels, they are going to be much more expensive to further upgrade, so it is wise to stock up on resources. In this guide, we'll show you some of the ways of obtaining these important resources in Destiny Girl.
Main Plot
It goes without saying that the most basic way of acquiring resources is through the game's main questline. There are two ways to earn resources through the main plot section of the game. You can earn them actively by completing main plot stages or passively by collecting idle rewards.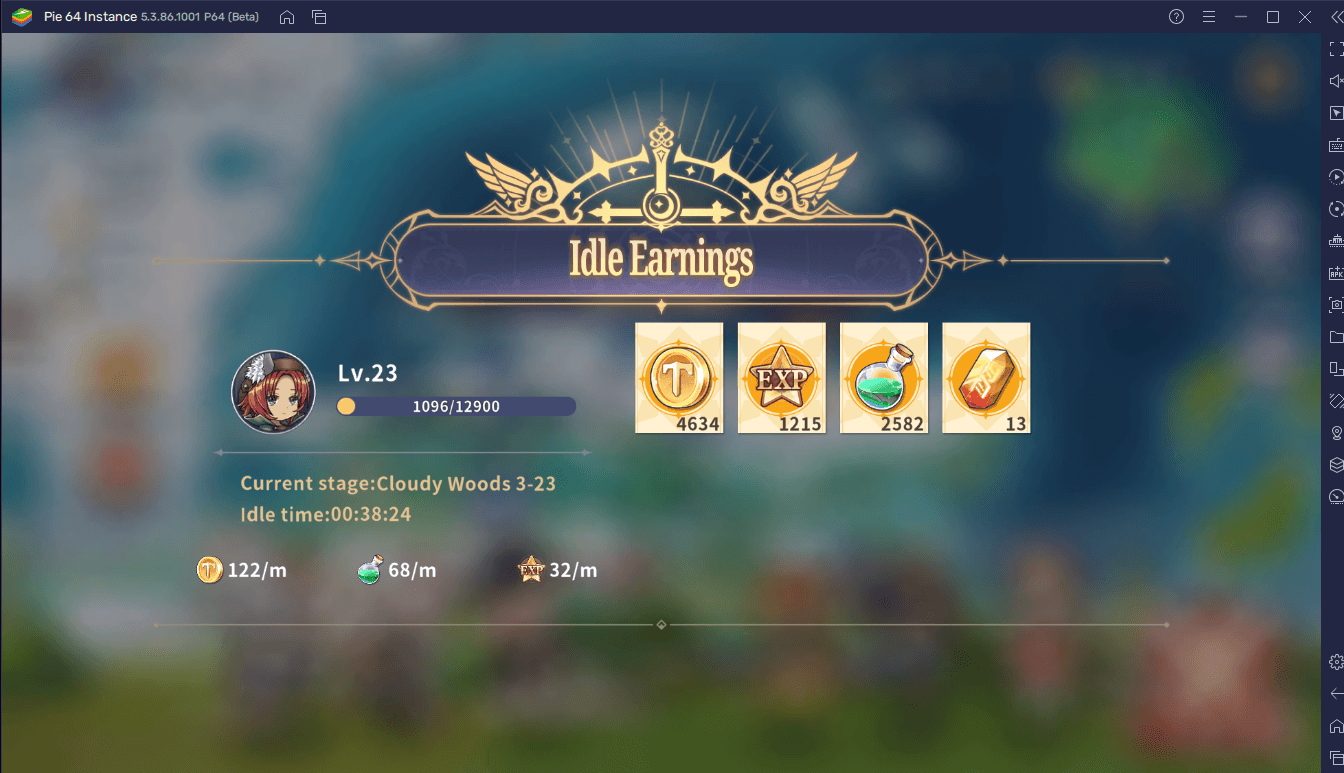 Beating plot stages can be done by clicking on the 'Challenge' button. In this mode, you will need to defeat a team of 5 enemies with your own team of 5 huntresses to collect the rewards and proceed to the next stage. The rewards include Tala Coin, Practice Points, and EXP (which increases your player level). Completing stages of the main plot is not really the most efficient way of earning resources because enemies become harder to defeat as you progress through the stages. Eventually, you're going to be stuck in one stage and would need to upgrade your huntresses.
Fortunately, you can passively earn Tala Coin, Practice Points, and EXP through idle rewards. Every minute, you earn a fixed amount of these resources from your huntresses who constantly fight waves of enemies. All these rewards are consolidated in an idle chest which becomes full after 12 hours. The max number of resources stored in the chest can be increased by upgrading your VIP level (which can be bought with real money).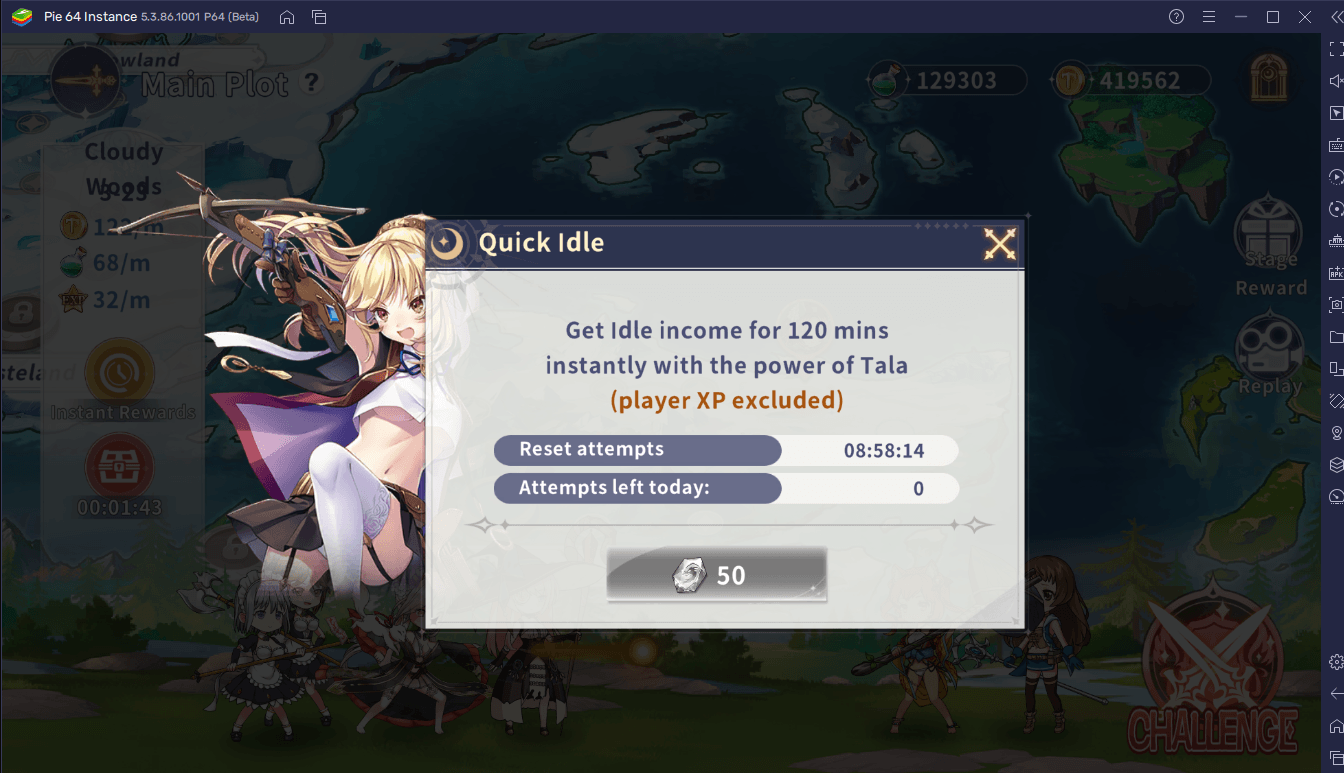 Every day, you can instantly receive 2 hours' worth of idle earnings by clicking on the 'Instant Rewards' button on the main plot's menu.
Tower Challenge (Queen's Tower)
The Tower Challenge provides a very easy way to earn resources in a relatively short amount of time.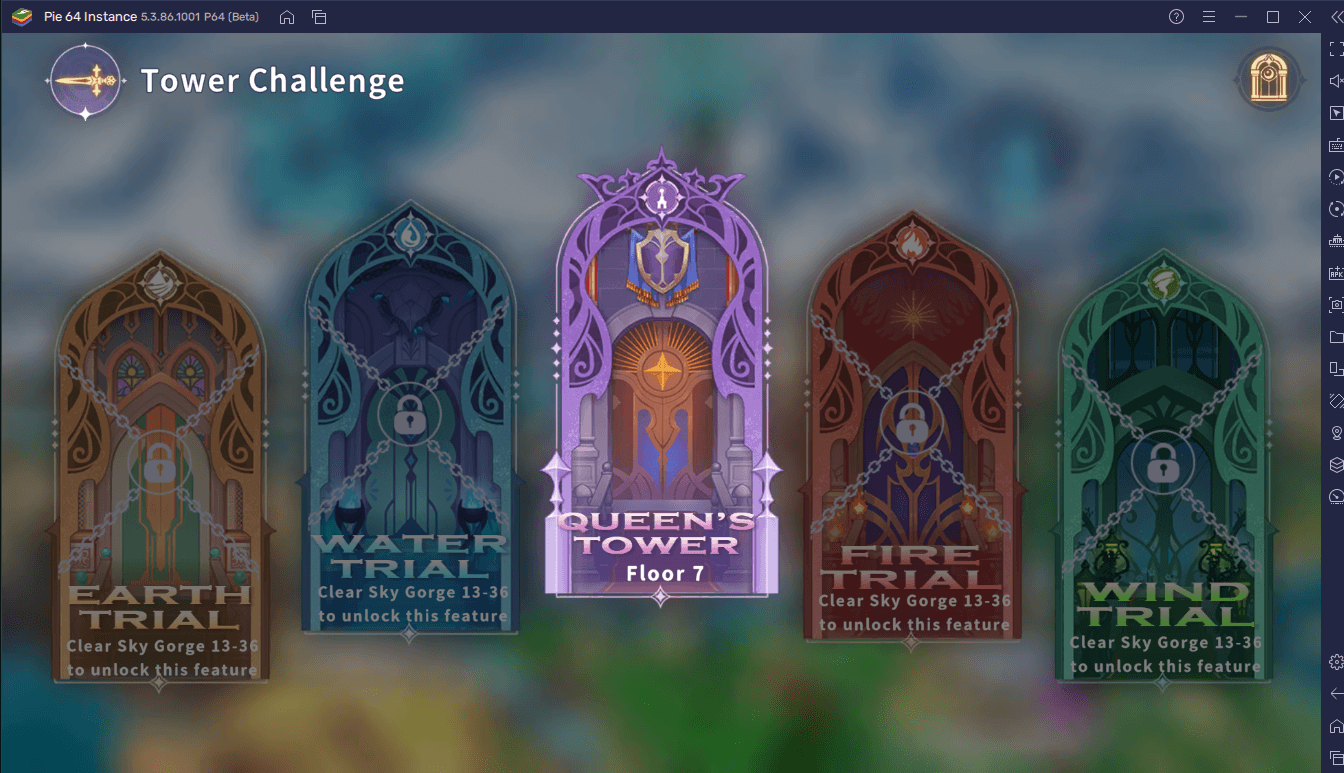 The Tower can be accessed by clicking on the 'Adventure' button on the main menu and selecting 'Tower Challenge'. There are five types of challenges: Earth Trial, Water Trial, Queen's Tower, Fire Trial, and Wind Trial. All challenges except for the Queen's Tower are unlocked only after completing stage Sky Gorge 13-36 of the main plot which is extremely far into the game. For now, we are going to focus on the Queen's Tower.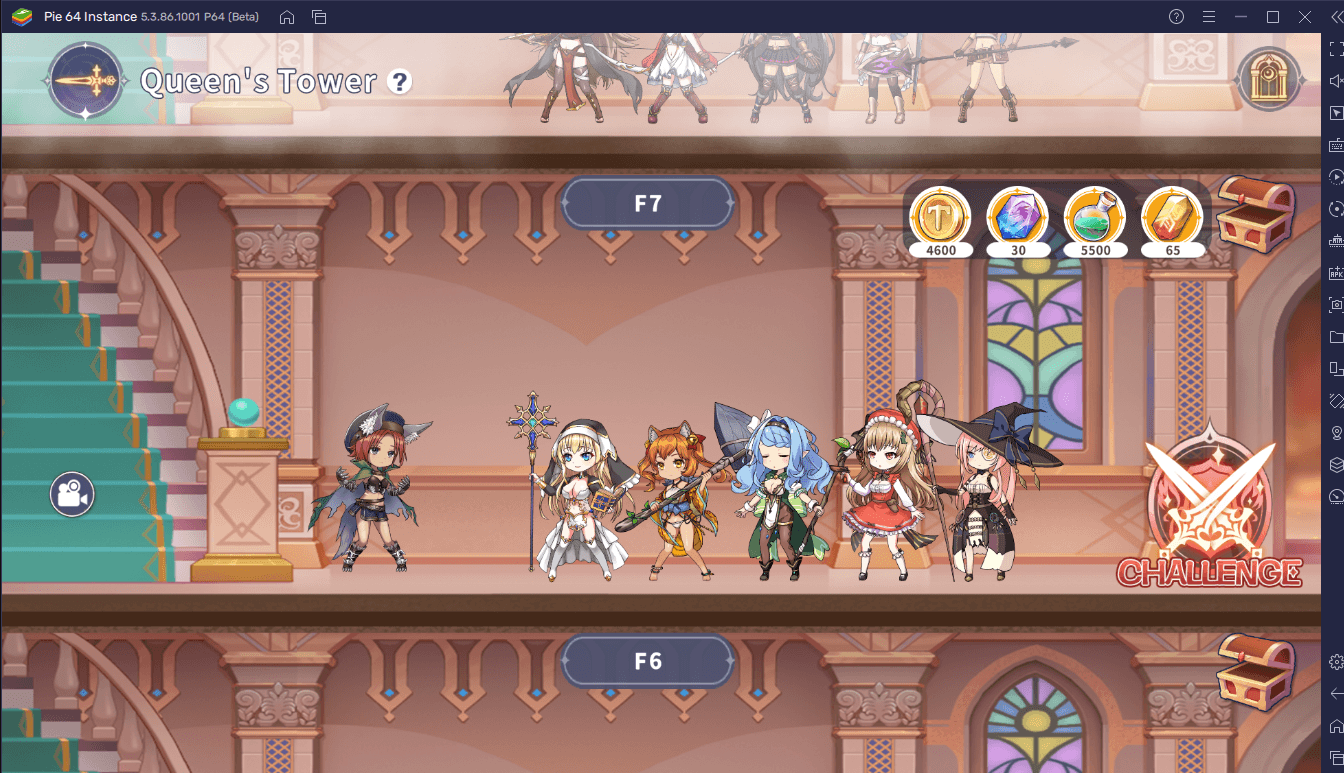 The Queen's Tower is composed of a multitude of floors that each contain enemies. Each floor must be cleared by your team of huntresses to gain the clearance rewards. The clearance rewards comprise of Tala Coin, Crystals, Practice Points, and Advance Gems. You proceed to the next floor after beating the previous one.
What makes the Queen's Tower great is that the floors are quite easy to clear especially when you have a really strong team by the time you unlock the feature. This makes for a very quick and easy way to earn resources.
Interestingly, you can watch how other players cleared a certain floor to serve as guidance in case you are stuck on a certain floor.
Quests
Quests are also an easy way of earning resources. But what makes them different from the other methods discussed so far is that quests can refresh periodically so they are essentially a permanent source of resource income. There are four types of quests in the game.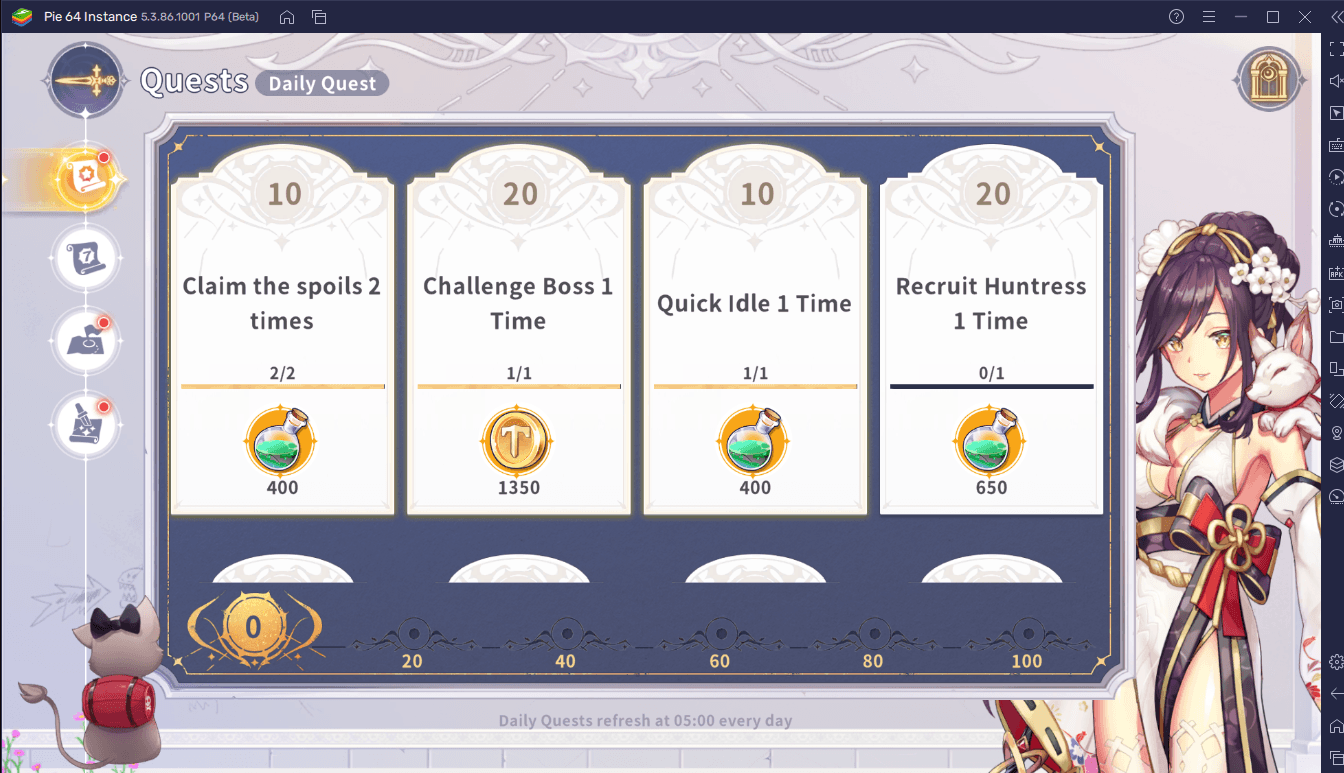 Daily Quest

– these consist of various easy tasks that reward you with Tala Coin or Practice Points upon completion. Aside from those, you are also rewarded with special daily quest points which you can use to redeem bonus rewards upon garnering 10, 20, 40, 60, 80, and 100 of them. As the name suggests, these only last a day and new quests are given in the following day.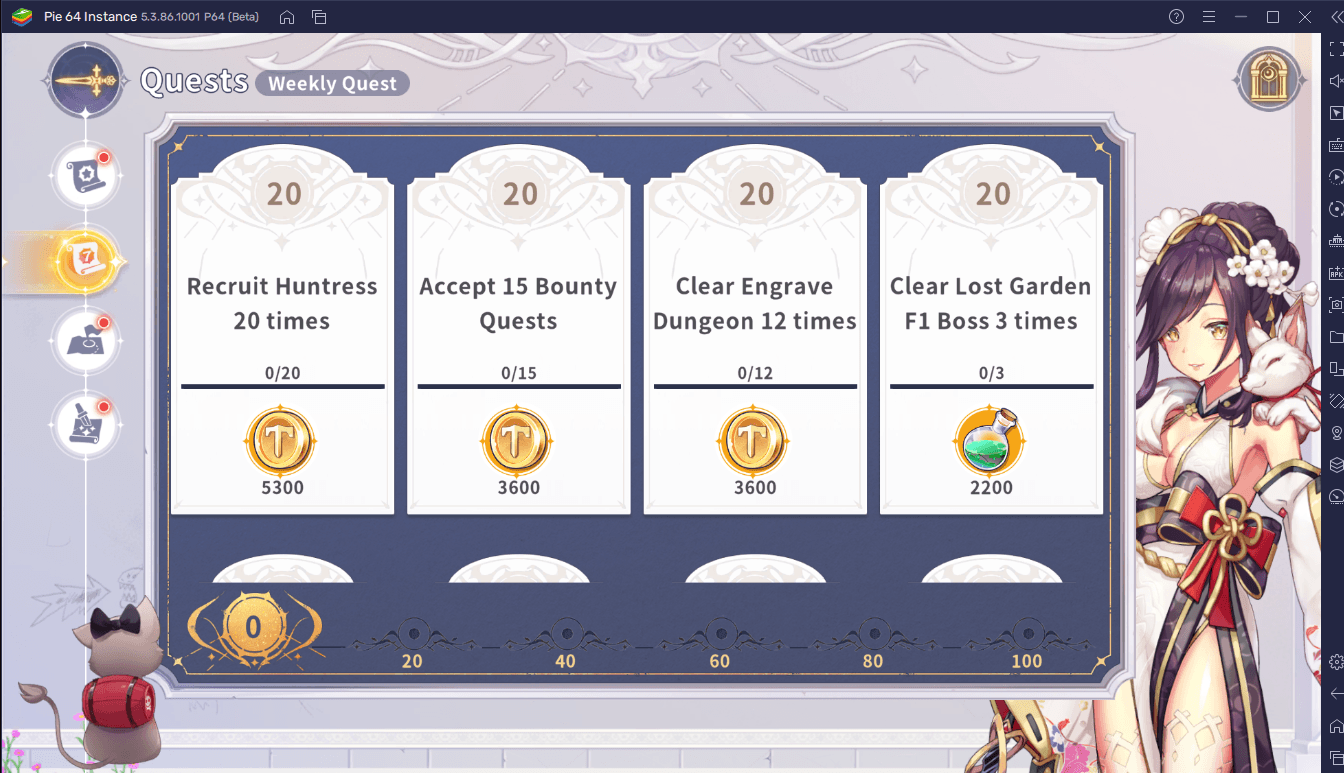 Weekly Quest

– these consists of tasks that are more difficult than daily quests, but the mechanics are almost the same as daily quests. The only difference is obviously these quests last for a week before they are refreshed and the rewards per quest are also much higher. Special weekly points are also given per completion of a quest and rewards can be gained for every 20, 40, 60, 80, and 100 points earned.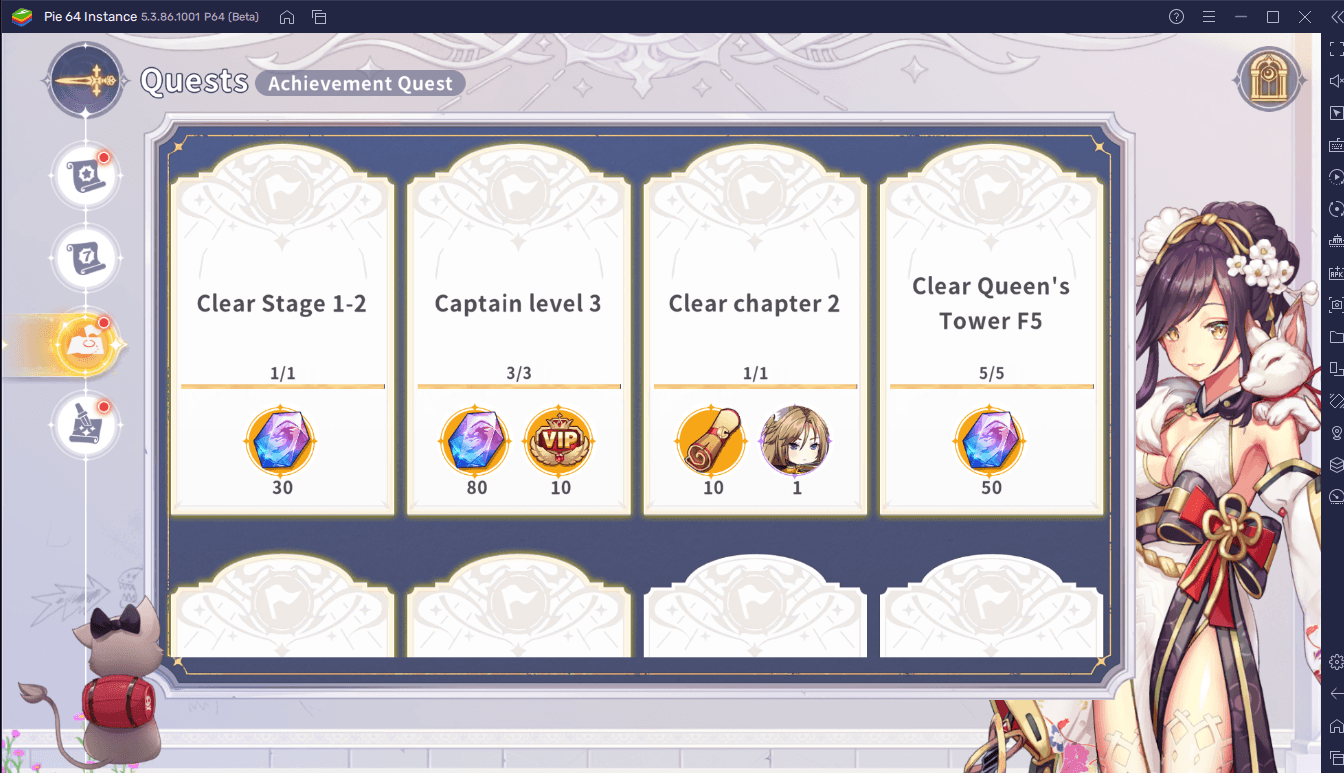 Achievement Quest

– these quests consist of major milestones you can achieve in the game such as clearing a specific stage, owning a certain number of huntresses, and the like. The rewards here are much better as you can earn Crystals, large amounts of Tala Coins and Practice Points, and even a new huntress.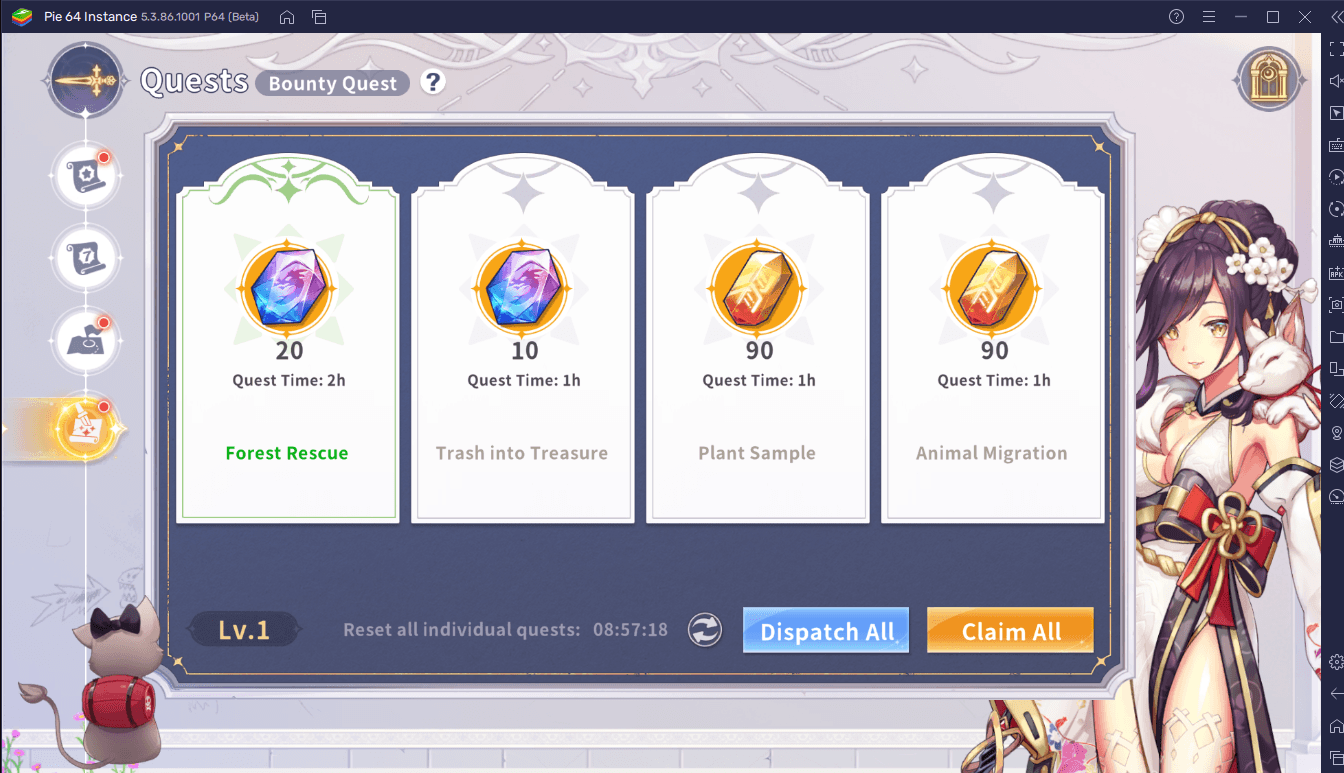 Bounty Quest

– these are quests in which huntresses can be assigned to do. Each bounty quest has a different set of requirements so make sure the heroes you dispatch comply with them.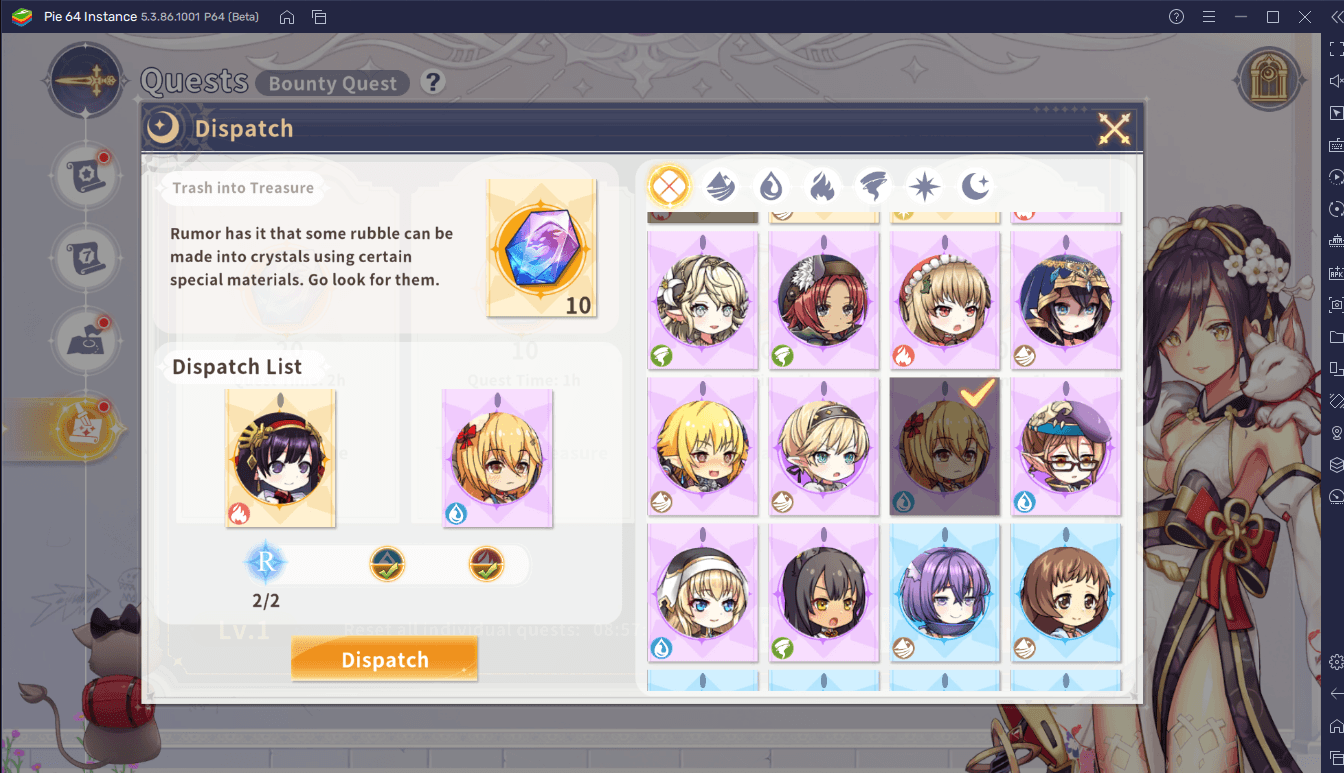 Upon dispatching a huntress to a bounty quest, they become unavailable for a certain amount of time and they cannot do two different bounty quests at the same time. The rewards for bounty quests are usually Advance Gems and 1 hour's worth of Tala Coin idle rewards. Bounty quests refresh every day so make sure to regularly dispatch your huntresses for easy revenue.
Events
Destiny Girl is not shy when it comes to indulging players with plenty of events. Plenty of resources can be acquired from participating in events so it does not hurt to try some of them out.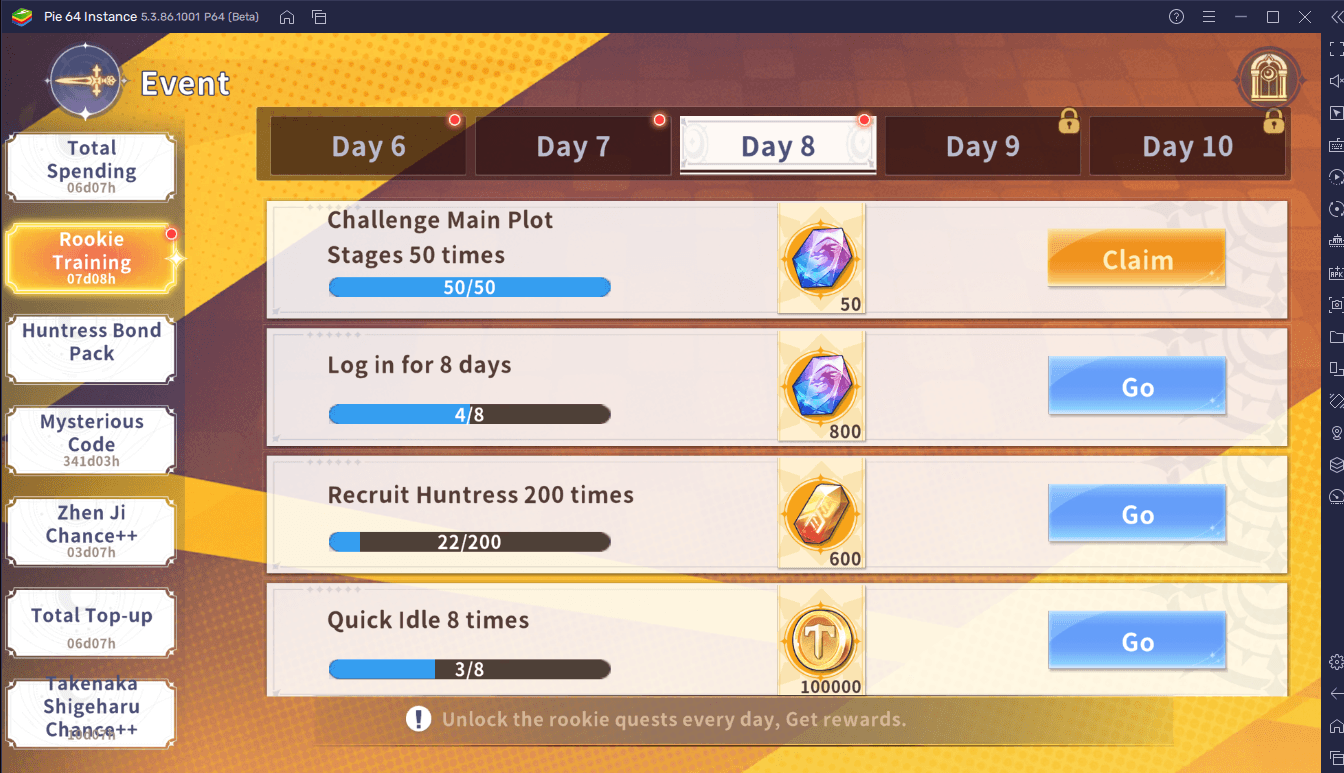 Many in-game events only occur for a limited time so it is best to make the most out of it. The rewards that you can earn from these events include but are not limited to Advance Gems, Crystals, Gear, Recruit Tickets, and more. Each event may have its own set of rules to follow so make sure to browse through them to know how to redeem the rewards.
Free Packs (Top-up)
The game has a hidden bonus where you can redeem Crystals daily, weekly, and monthly for free.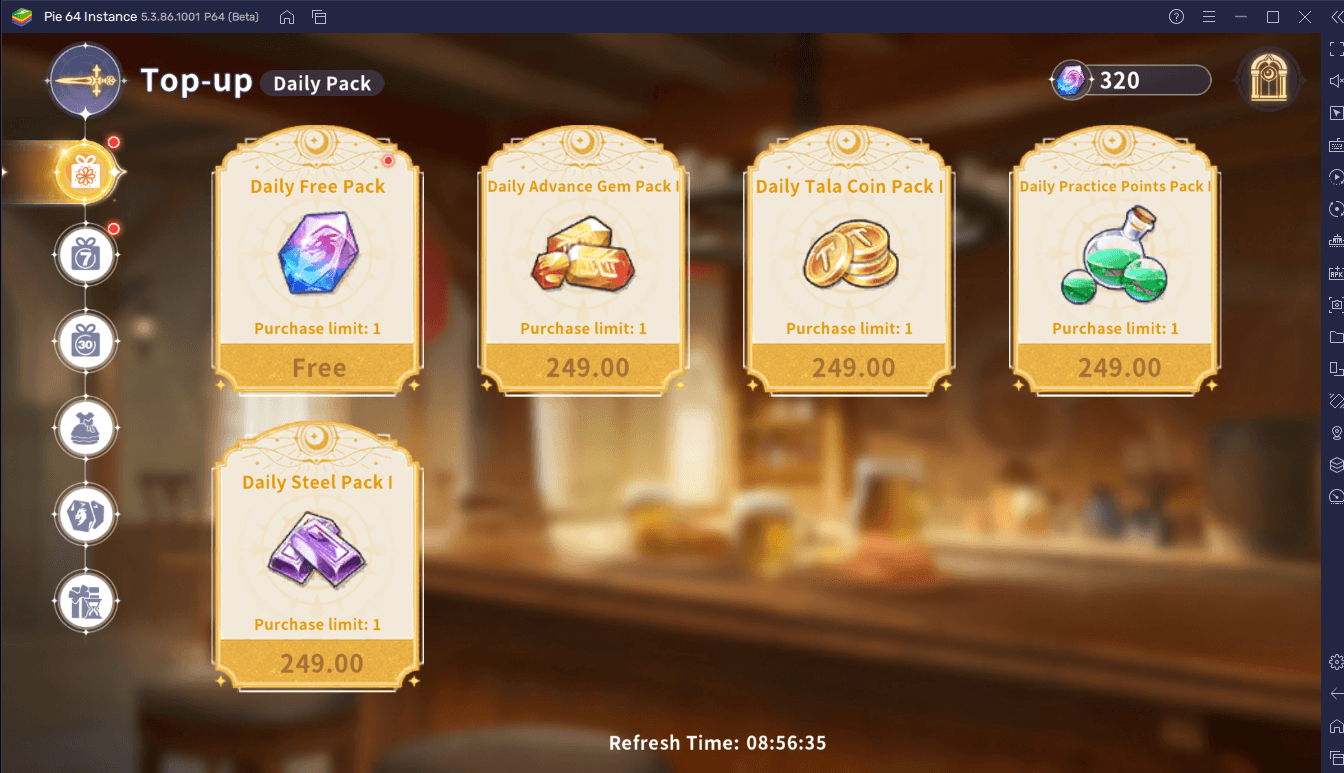 Click on the 'Top-up' button from the main menu and go to the Daily Pack, Weekly Pack, and Monthly Pack sections. You would see that there are items named Daily Free Pack, Weekly Free Pack, and Monthly Free Pack that you can find respectively in these sections. Just click on them to claim your free Crystals and come back after a day, week, and month.