Game Guides
How to Beat Challenges in Destiny Girl – Huntress Upgrades and More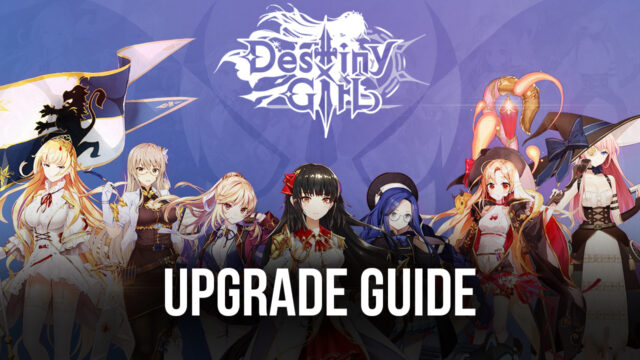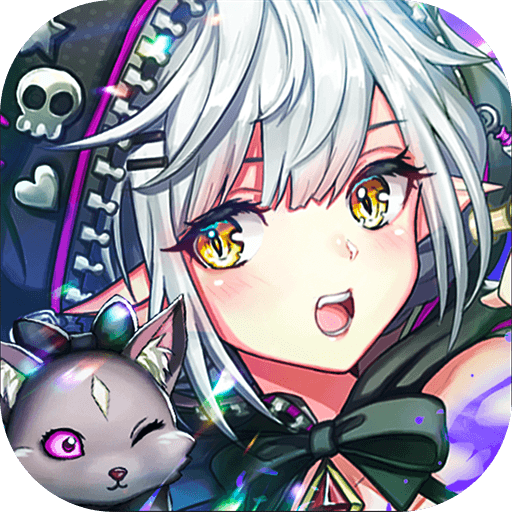 The main plot of Destiny Girl consists of plenty of chapters with each chapter having about more than 10 stages each. As you progress through the stages, enemies can become tougher than before and with that, it is crucial to upgrade your huntresses to win.
In this guide, we'll show you the different ways to make your huntresses stronger and some game features you can take advantage of so that you can keep a victory streak when you play Destiny Girl.
Huntress Attributes
Let's start off with what exactly we are going to upgrade. A huntress is comprised of multiple attributes which are affected whenever they receive some form of upgrade. There are four main attributes are huntress has and these are: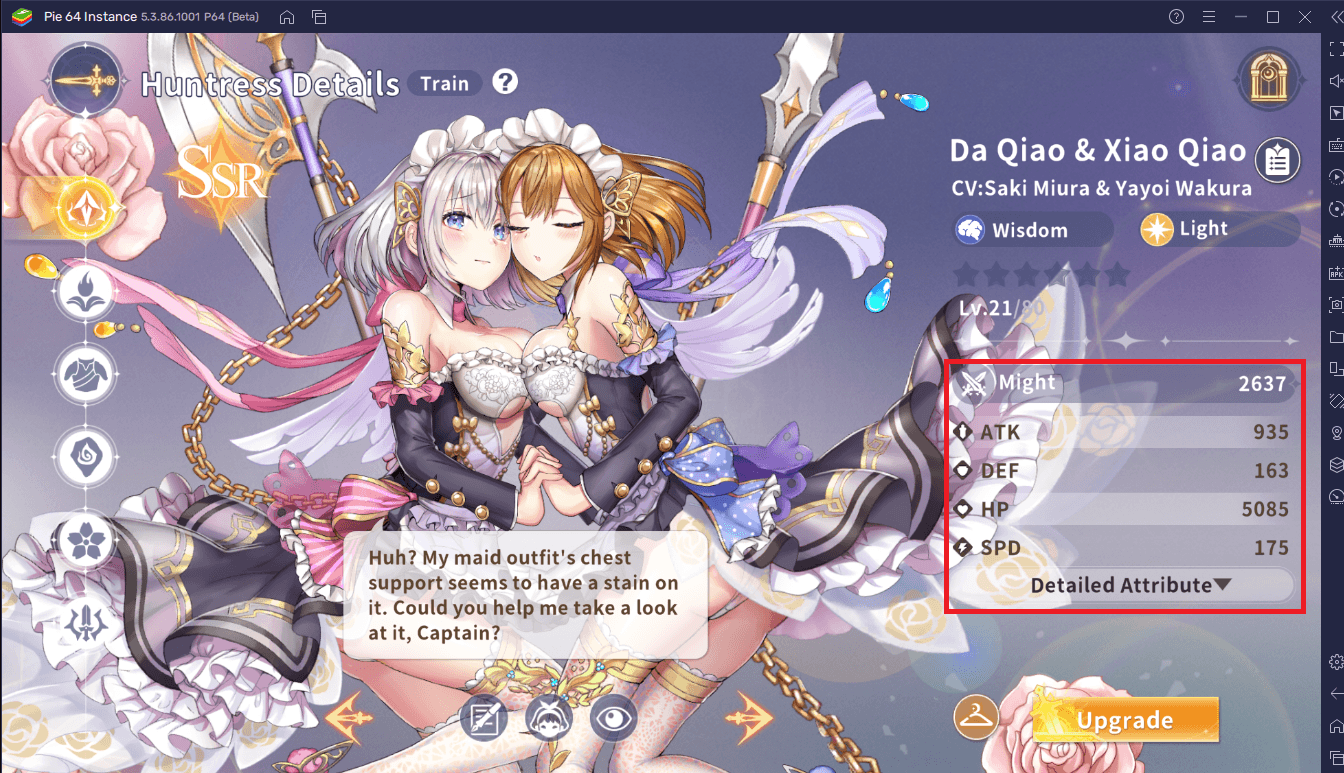 A huntress also has additional attributes called 'detailed attributes'. These attributes serve more as accessory attributes which can greatly help a huntress in combat but are ultimately not necessary.
Hit

Dodge

Crit

Tenacity

Crit DMG

Crit DMG Reduce

P-DMG (Physical Damage) Immunity

M-DMG (Magic Damage) Immunity

Final DMG

Final DMG Reduce
Training, Advancement, and Star Up
The most basic way of upgrading a huntress is through training, advancement, and star-up. These three actions increase your huntress' ATK, DEF, HP, and SPD attributes.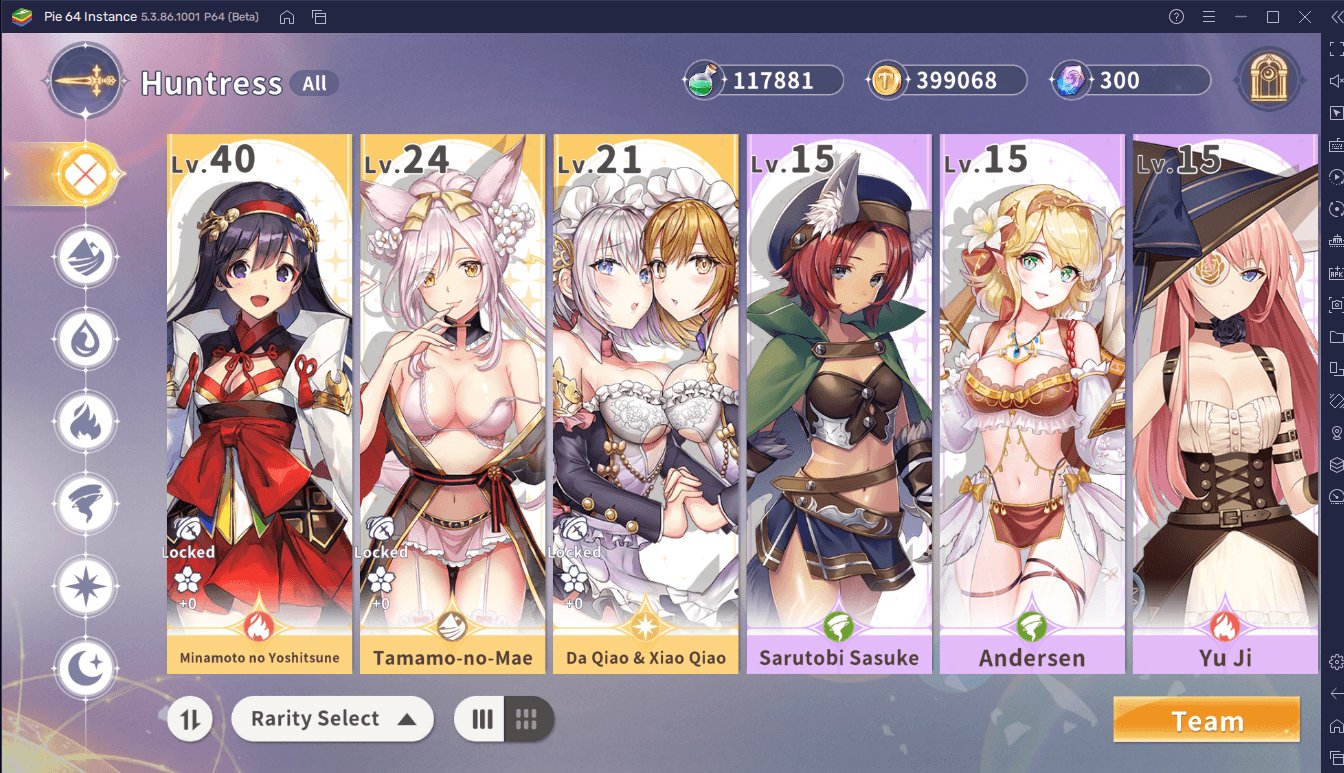 Upgrading a huntress can be done by clicking the 'Huntress' button from the main menu and selecting the huntress that you wish to upgrade. Doing so brings up a special page where you can see every piece of information about your huntress like their attribute values, rarity, element, and more. But we're more concerned about upgrading them.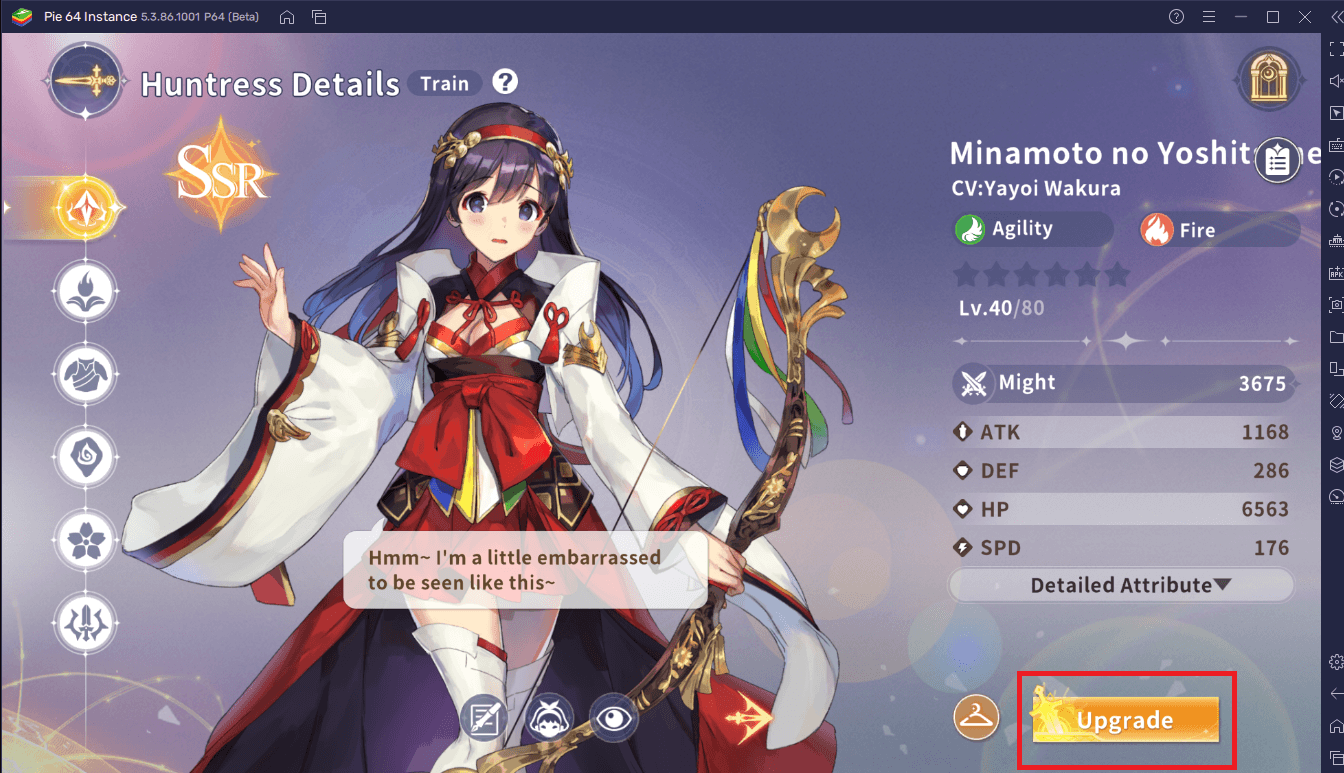 Click the bright yellow 'Upgrade' button to start. Upgrading requires Tala Coin and Practice Points. These can mainly be acquired from beating main plot stages and from idle earnings. You can know more about where to get resources in Destiny Girl in this guide (Tala Coin, Crystal, and More – Resource Guide for Destiny Girl). Upgrading increases your huntress' level by one.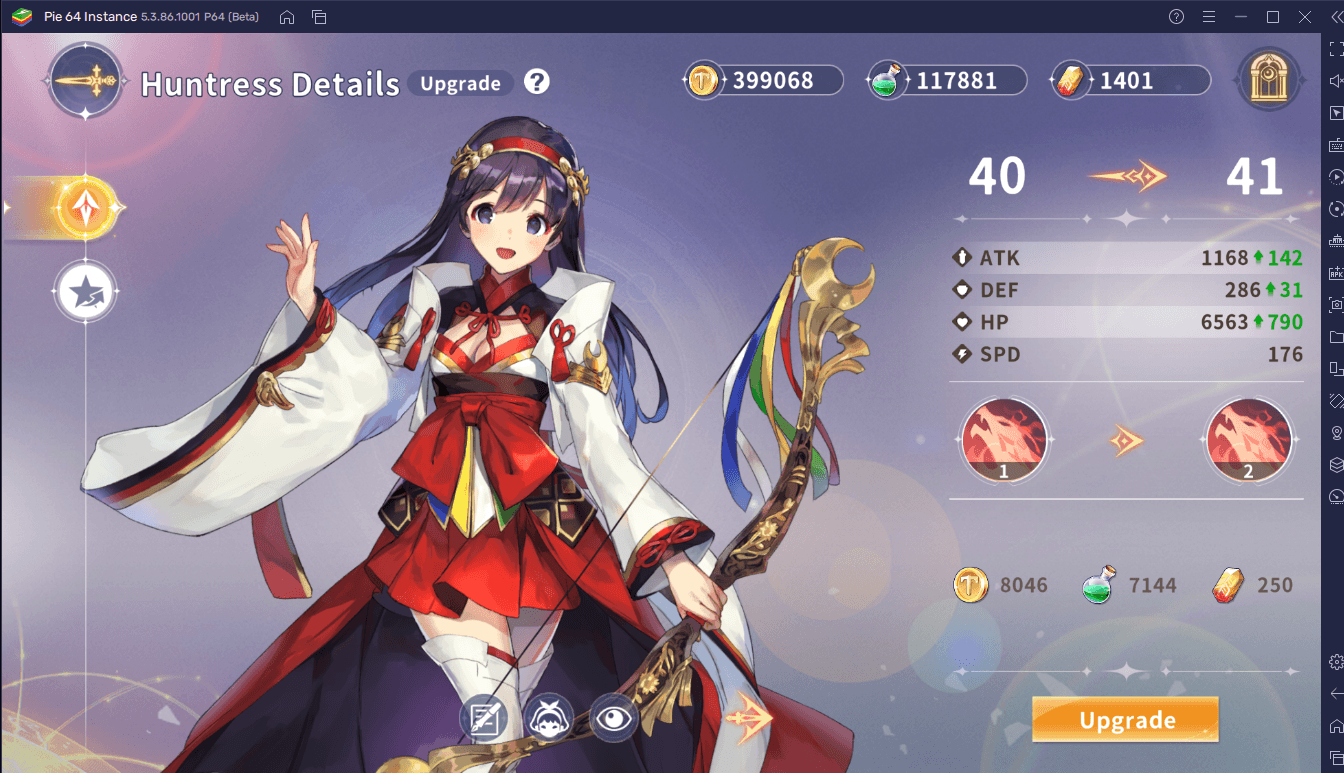 As your huntress keeps leveling up, they'll eventually be required to undergo advancement. For this one, you are going to need Advance Gems in addition to Tala Coin and Practice Points. The special gems can be acquired from beating main plot stages as well as playing the Queen's Tower in the Adventure menu.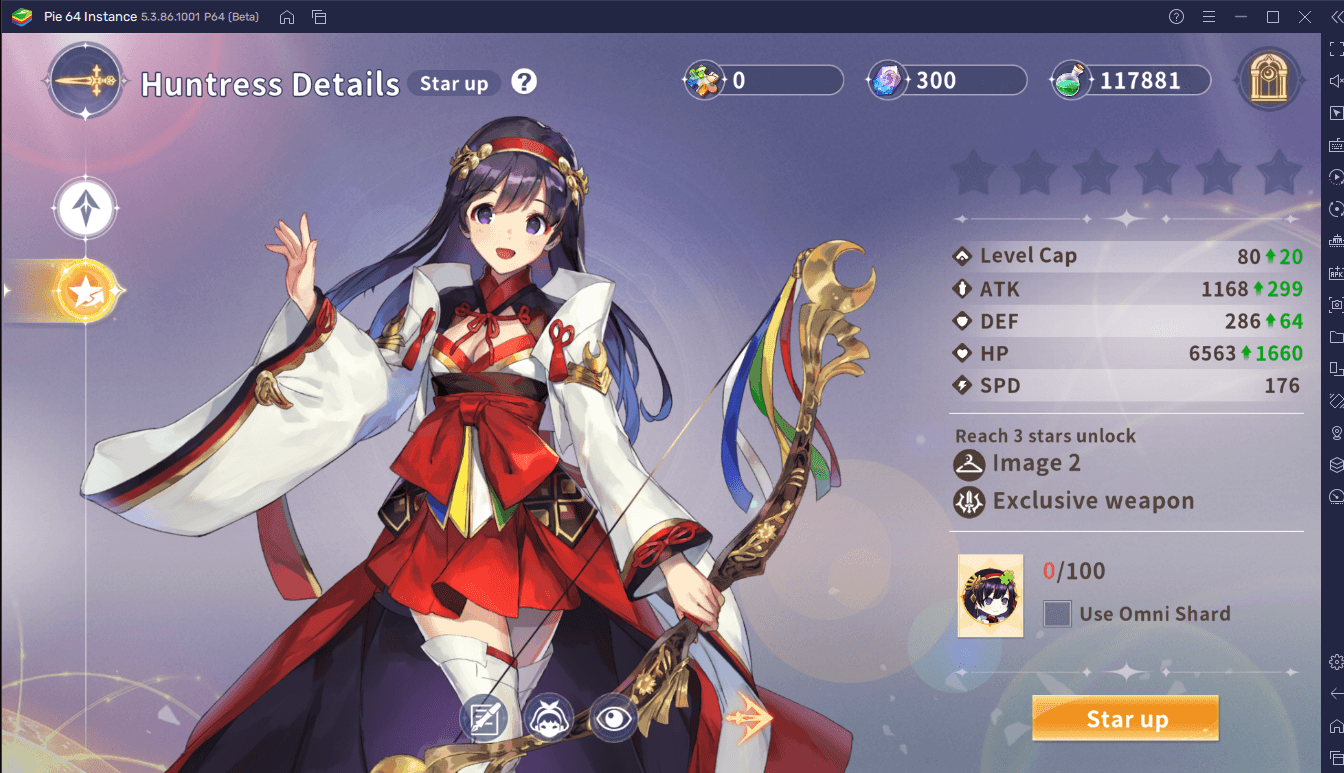 The maximum level your huntress can reach by default depends on their rarity. For instance, SSR huntresses can progress up to Level 80. However, this level cap can be increased when a huntress undergoes star-up. For this one, you are going to need a certain number of the huntress' exclusive shards. Exclusive shards are acquired when you recruit duplicate huntresses.
Belongingness
Additional bonuses to HP, ATK, and DEF can be acquired by engaging in a "bond" with a huntress. This bond is quantified with the Belongingness Level (maximum of Level 50) which can be increased by earning Belonging EXP. There are three ways to earn this.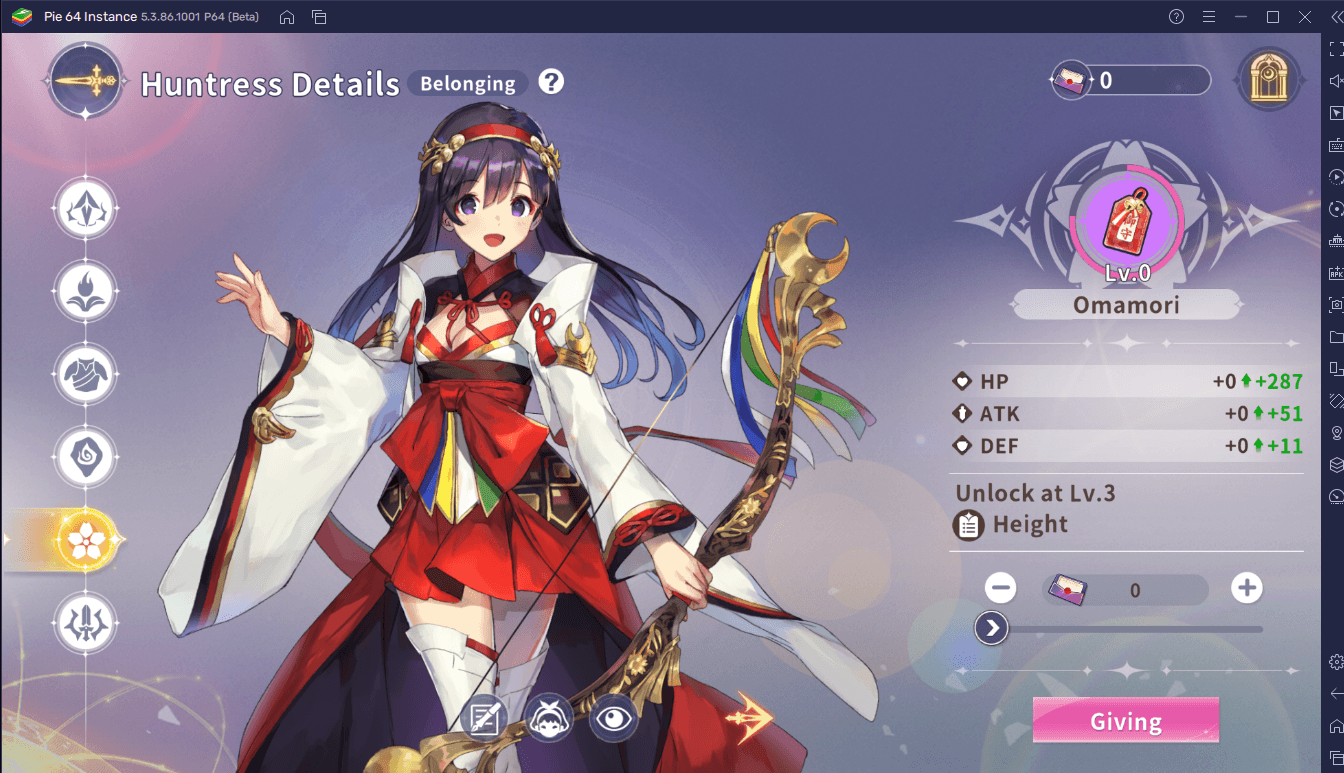 Giving Private Letters

– this option is only available for SSR (and above) huntresses. Belong EXP can be given to a huntress for every letter that you give. Private letters can be acquired as idle rewards or from the Lost Garden. Interestingly, there is a random chance of giving more Belonging EXP for every letter given.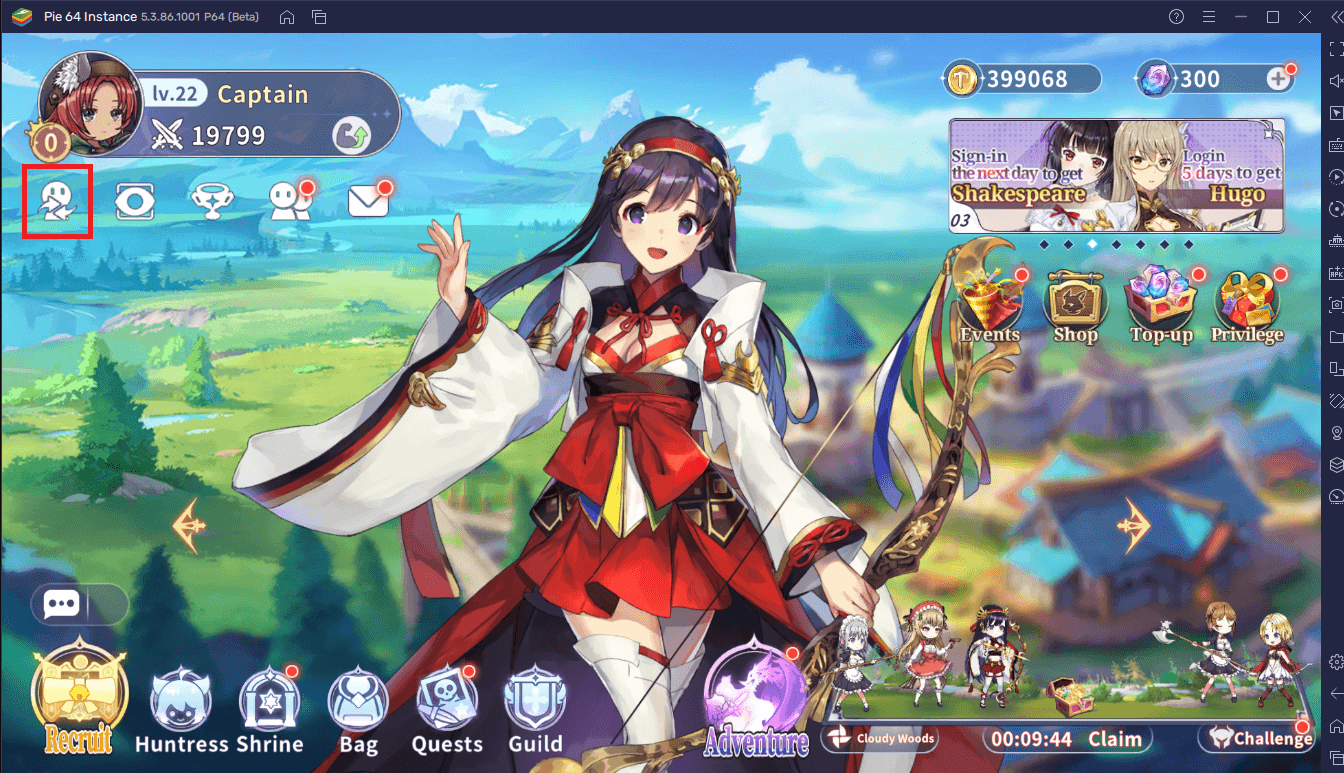 Signboard Girl Rewards

– any one of your owned huntresses can be showcased when assigned as a signboard girl. This can be done by clicking on the signboard girl icon from the main menu.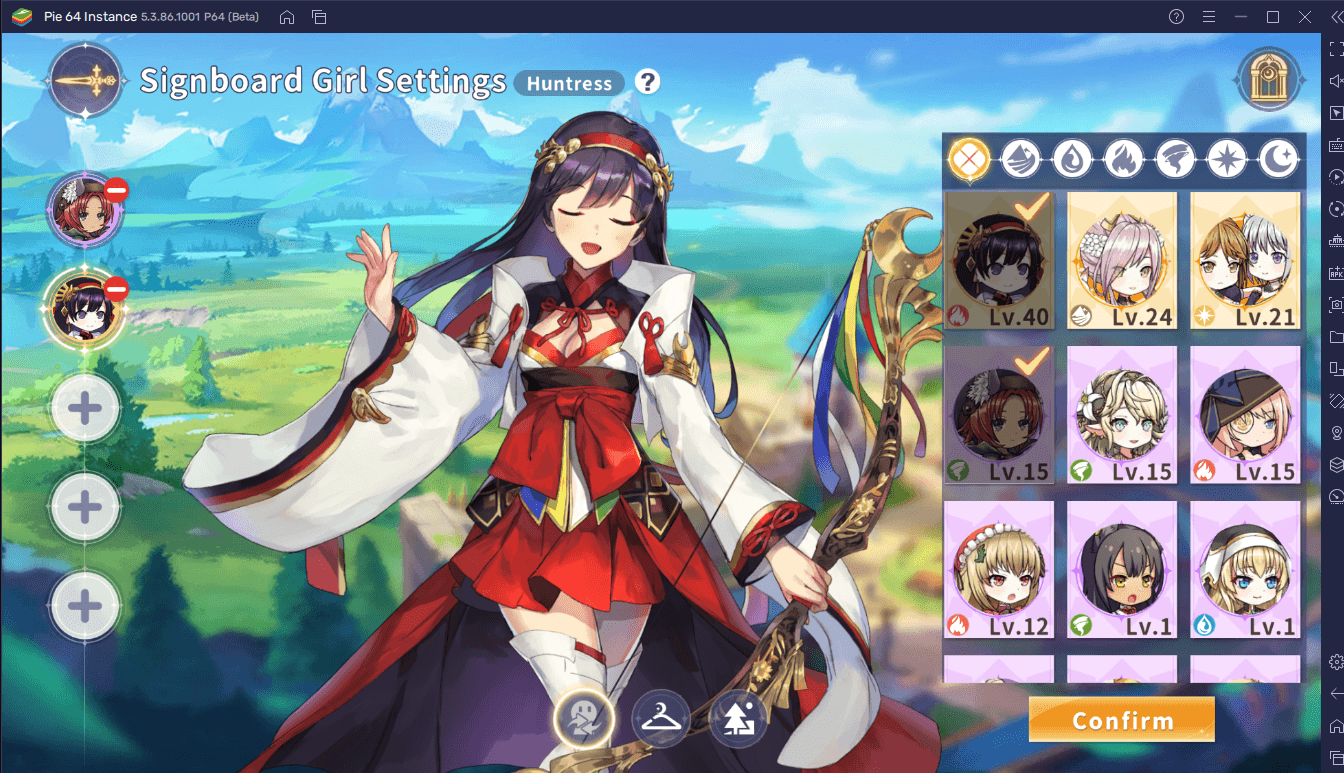 Once assigned as a signboard girl, the huntress passively receives Belonging EXP every 2:30 minutes.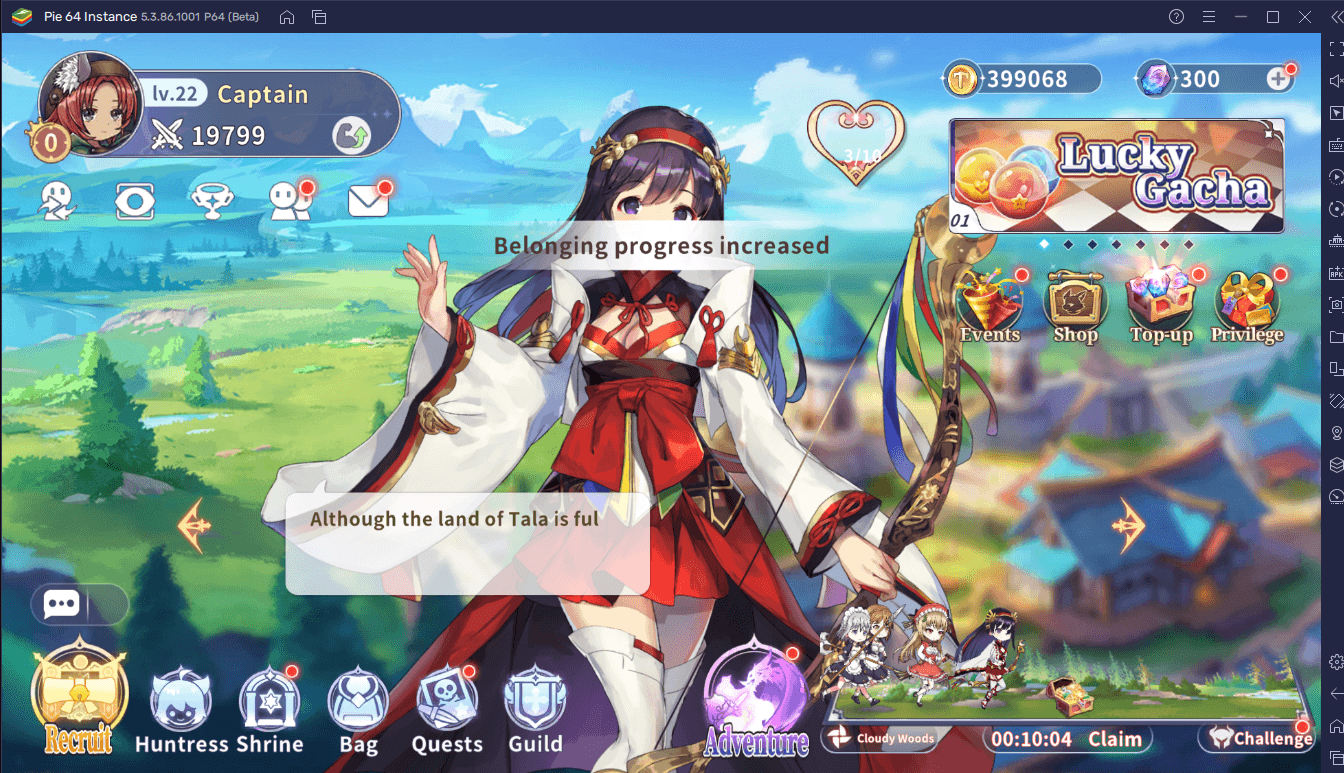 Interacting with the Signboard Girl

– aside from the passive Belonging EXP mentioned above, you can also "interact" with the huntress by clicking them a few times to gain 30 Belonging EXP instantly. This can only be done at most 10 times. You would need to wait for the next day to refresh the interaction count.
Equipping Gear
Gear are pieces of wearable equipment that you huntress can wear for additional attribute bonuses. Each gear piece affects one or more attributes. Gear can be acquired by completing main plot stages.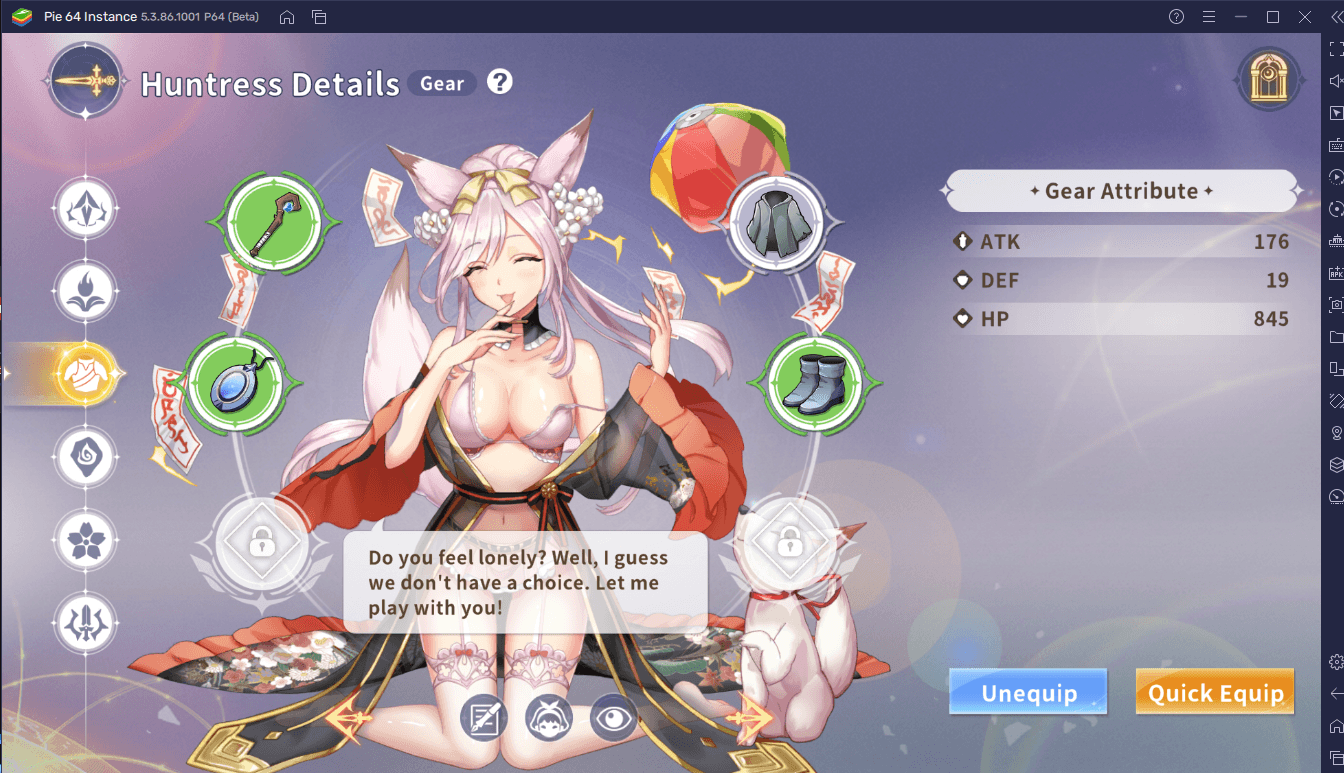 Dagger – increases ATK

Coat – increases HP, DEF

Ring – increases HP, ATK, DEF

Boots – increases HP, ATK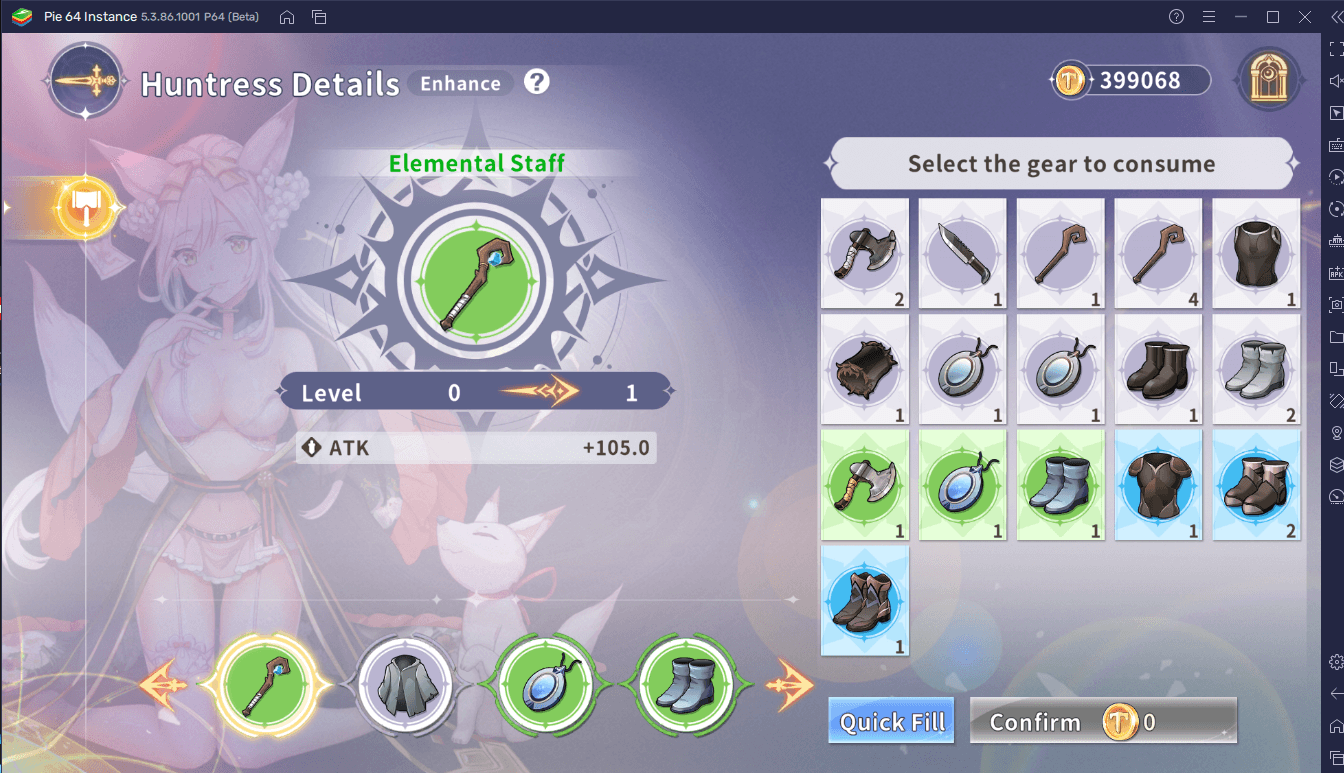 Gear pieces can also be individually enhanced to increase the attribute bonuses that they give. To do this, click on the gear piece you wish to upgrade and click on 'Enhance'. To enhance a gear piece, you simply need other existing gear in your inventory and Tala Coin to pay for the enhancement. You will need to select which gear to consume to convert into EXP for the gear to be upgraded. Like huntresses, gear pieces also have their own rarity and the higher their rarity is, the more EXP you'll get.
Elemental Counters and Bonuses
Upgrades may not always be enough and oftentimes you'll need to take advantage of certain game mechanics to win. Fortunately, Destiny Girl has an Elemental Counter and Bonuses system where attribute bonuses can be received depending on the elements of your huntresses in the team lineup.
The Elemental Counter system allows your huntresses to deal 25% more damage to other elements depending on their own element. Therefore, it's important to check what element your enemies are so you can know which huntress should ideally be used.
| | | |
| --- | --- | --- |
| Element | Deals 25% more damage to | Receives 25% more damage from |
| Wind | Earth | Fire |
| Earth | Water | Wind |
| Water | Fire | Earth |
| Fire | Wind | Water |
| Light | Dark | Dark |
| Dark | Light | Light |
Additionally, you can also gain more attribute bonuses by having at least three or more same-element huntresses in the team lineup and/or having at least one Light/Dark element huntress.
| | |
| --- | --- |
| 3 same-element huntresses | +10% ATK, +10% HP |
| 4 same-element huntresses | +15% ATK, +15% HP |
| 5 same-element huntresses | +20% ATK, +20% HP |
| | |
| --- | --- |
| 1 Light Huntress | +5% ATK, +5% HP, +3% Final DMG Reduce |
| 2 Light Huntress | +10% ATK, +10% HP, +6% Final DMG Reduce |
| 3 Light Huntress | +20% ATK, +20% HP, +10% Final DMG Reduce |
| 4 Light Huntress | +25% ATK, +25% HP, +10% Final DMG Reduce |
| 5 Light Huntress | +30% ATK, +30% HP, +15% Final DMG Reduce |
| | |
| --- | --- |
| 1 Dark Huntress | +5% ATK, +5% HP, +3% Final DMG |
| 2 Dark Huntress | +10% ATK, +10% HP, +6% Final DMG |
| 3 Dark Huntress | +20% ATK, +20% HP, +10% Final DMG |
| 4 Dark Huntress | +25% ATK, +25% HP, +10% Final DMG |
| 5 Dark Huntress | +30% ATK, +30% HP, +15% Final DMG |